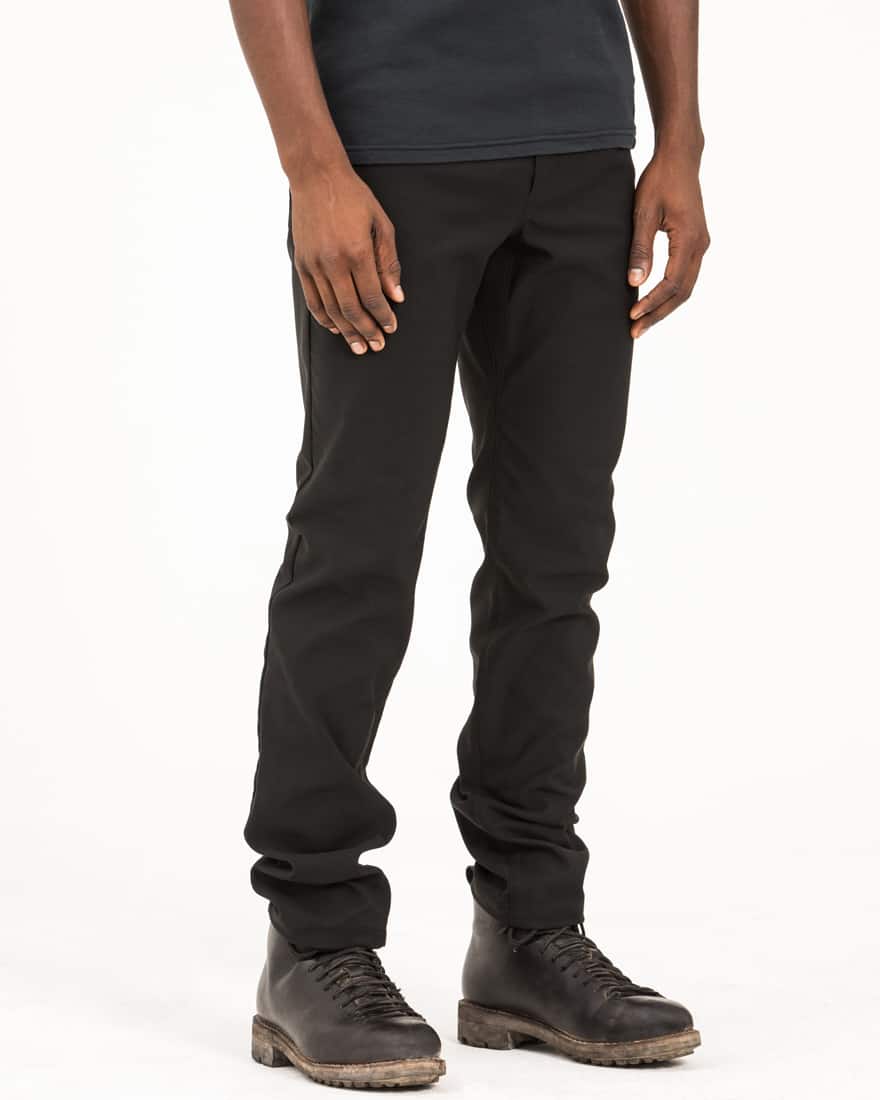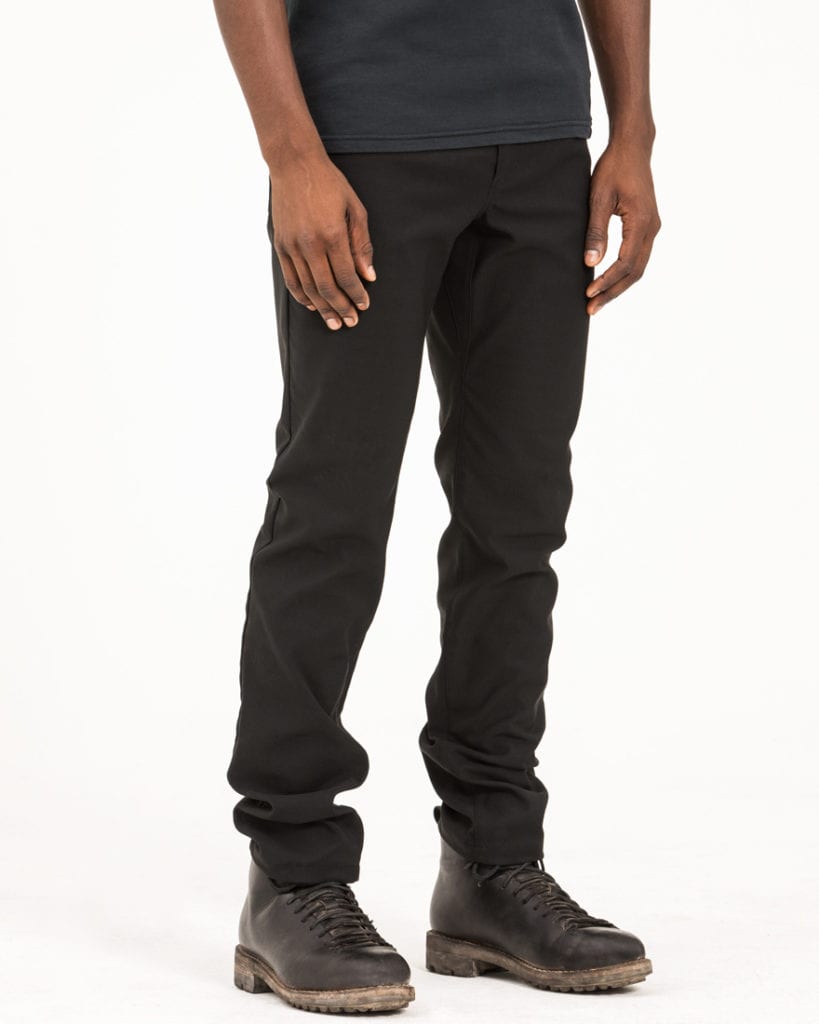 The following is a review of the Outlier Pants suite based on 6 months of travel around Europe and the Middle East with Outlier Slim Dungarees, New Way Shorts, Futureworks pants and the Outlier Strong Dungarees to find the best men's travel pants.
During this trip I've brought only one bag, a 45L carryon sized backpack, to last travels of over a year. I aimed to use these as my only pants and shorts for a year (with the addition of the Columbia Titanium Silver Ridge Hiking Shorts). The review that follows is based on using these Outlier Clothing products for a "one-bag travel" lifestyle.
---
As a long term traveler carrying a single bag and opting for as many adventures as possible, I am always looking for clothing that looks good, is travel friendly, is durable, and stays comfortable. Living out of a carry on sized backpack means I have fewer garments to wear, and I need each piece of clothing to do more and make my life easier.
Outlier Clothing, a New York clothing startup that aims to create great looking technical clothing for hard use, seemed to be the answer to my ever continuing quest for the perfect travel pants. The problem of shirts while traveling is easy: just wear wool. On the other hand, finding great pants and shorts is a different story. I decided to purchase Outlier Clothing's most popular and appealing options to review on my trip through Europe, Asia, and the Middle East: the Outlier Slim Dungarees, the Outlier New Way Shorts, the Outlier Futureworks pants, and the Outlier Tough Dungarees. So what are these garments and what makes them so great?
The Outlier Slim Dungarees – A slim fit jean designed of technical, hiking pant fabrics – not recommended due to durability considering the price tag
New Way Shorts – A Chino style short made of technical fabrics and designed to swim in – highly recommended
Futureworks Pants – A Chino style pant made of technical fabrics to stay dry and resist stains – recommended but expect to tailor them
Strong Dungarees – A jean style pant made of extremely durable fabric, aiming to be the toughest stylish jean ever – recommended if they fit your butt
The bottom line up front: the Outlier gear is impressive for travel. Here's why:
1. Outlier's pants resist dirt and odor well, even after a week of wear
Just as I tested wearing a wool shirt for an entire week straight, I wore the Slim Dungarees, the Futureworks pants, and the New Way shorts for more than a week. In the end the had no odor, they just didn't smell fresh. Also, thanks to light water resistance, they shed potential coffee stains very well. All of this is very convenient for travelers and road warriors without access to a large wardrobe or a washer
2. The New Way shorts are the closest thing to perfect travel clothing available for hiking, swimming, and looking good
The New Way shorts look like a dressy chino short, but still stretch slightly and are great for swimming, thanks to their quick dry nature. They also resist stains and odor which allowed me to go straight from wearing these for a quick workout to heading out for cocktails without anyone realizing
3. All of the Outlier pants dress up better than they travel, keeping you looking good in all circumstances
Just like the New Way Shorts, the Futureworks pants and the Slim Dungarees are stretchy and comfortable enough to wear hiking or on long trips but are still classy enough to wear with a sportscoat
When washed, all of the garments have a snug fit, but within 10 minutes of wear, they always loosen in the right places while staying snug in others. This means that you'll always have a tailored fit without a tailor being necessary (though I still recommend one for adjusting the hems)
4. Each pair of pants is quick drying, making for easy washing on the road
When I did finish my week long plus experiment of wearing the pants until grimy (which I never actually achieved) I could easily wash the pants in a dry bag, squeeze out the water, and expect them to be dry within a few hours
5. Though durability is the single weakness of the Slim Dungarees, they're still very durable
I complain in the review below that the Slim Dungarees tend to snag very easily. Though this is annoying for a pair of pants with a pricetag this high, this is only an aesthetic inconvenience. The pant continue to feel great and perform well without a single popped stitch or hole. Just beware that the pants won't stay pretty forever…but they will still wear awesomely.
Now, on to the individual reviews
---
The original Outlier pants, meant to be an all around performing pant with the cut of a slim fit jean but providing 4 way stretch via stain resistant, water resistant, and quick drying nylon polyester blended material. Think of a breathable, high performing hiking pant that you can wear every day
My Experience with the Outlier Slim Dungarees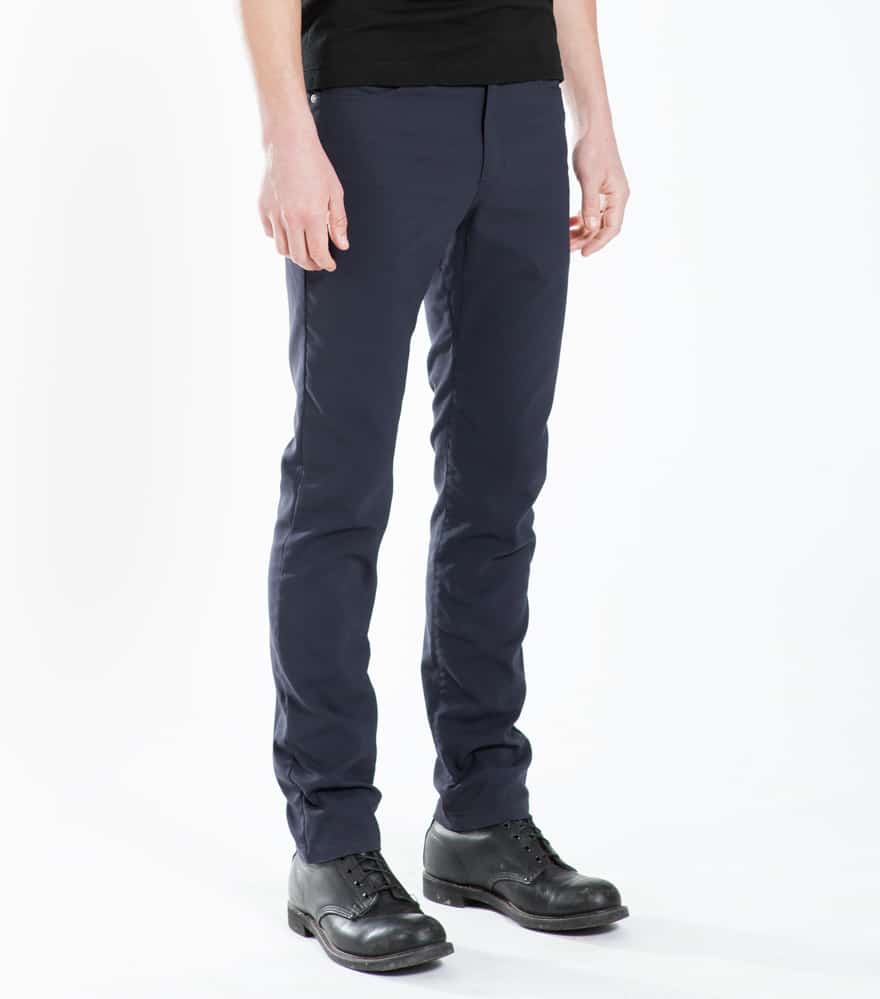 Pros of the Outlier Slim Dungarees
Great fit and design
Four way stretch makes these pants amazingly easy to wear during any activity – everything from cycling, to exercising, to a night out
Innovative fabric stays remarkably cool in the heat, resists water and stains well, and dries quickly
Very light and thin when packed, making them great for one bag travel
Cons of the Outlier Slim Dungarees
Fabric snags much too often during daily activities, ruining the look of the pant. I have about 5 very visible snags after ~6 months of wear- these would be the perfect pant for travel and hiking if the fabric was more durable
Rivets on pocket broke off twice (once repaired by outlier, once during my travels and I re-stitched it to save the pants)
I love these pants for their function and wear them nearly all of the time, but because the look will degrade (due to snagging) and the pants seem prone to falling apart (such as rivets popping), the price of these pants is difficult to justify.
I do hope Outlier keeps evolving these pants into something just as functional (comfortable, four way stretch, quick drying, etc.) but with more durability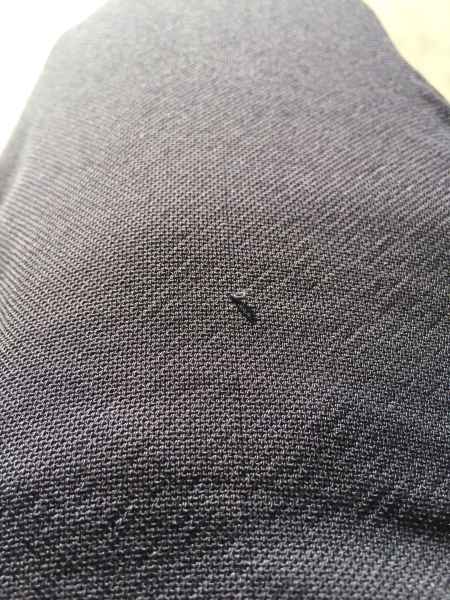 Quick Verdict on the Slim Dungarees: Not recommended (yet). The Slim Dungarees' are an impressive idea and the best delivery I've seen so far in such a pant. Though I've worn these nearly every day on my trip that I'm not wearing shorts, I can't recommend the Outlier Slim Dungarees due to durability in construction and material (snagging fabric and rivets popping off) – which should not be an issue at this price. I was hoping to use these as my go to hiking pant (which I still will), but I understand the rigors of trekking will ruin the fabric. I hope Outlier keeps working on the project, because the perfect travel pant is buried somewhere in this pair of pant's DNA. I'll considered the price paid an investment in their R&D team.
---
A mid-thigh chino short, that is great for as many occasions as a short can be appropriate for, but made of a lightly 2 way stretching, moisture wicking, stain resistant and quick drying. A tough drawstring and mesh flow through pockets aim to make this short just as suited to a beach, as for a hike or rooftop cocktails.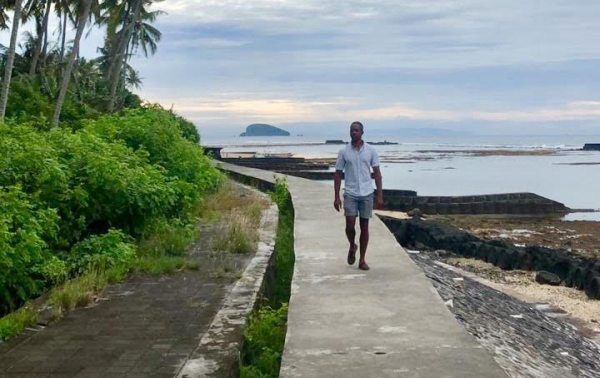 My Experience with the Outlier New Way Shorts
My time traveling has been split between the Slim Dungarees and Futureworks slacks when it's a bit cool, and the Outlier New Way Shorts and the Columbia Titanium Silver Ridge shorts when things got a little warm. At first, when I was in a more active situation getting dirty, like hiking or working out, I would opt for the Silver Ridge.
I didn't want to damage the New Way Shorts because they looked so good and I had bad luck with the durability of the Slim Dungarees…but then I said screw and started wearing the New Way Shorts for everything. I would go to the beach and swim in the shorts, go out at night, travel, hike, and work all in these shorts. The same activities that caused snags in the fabric and pocket rivets to pop on the Slim Dungarees were taken in stride with the New Way Shorts.
Plus, I can't reiterate how good these shorts look. I received complements on them quite often with the "you can swim in those too?" comment.
In terms of functionality, they repel stains and water well. I've spilled coffee on these (and freaked out slightly) only to see the coffee bead off the pants leaving no mark.
The quick drying nature is great and partly why you could do an entire trip with just these shorts…and maybe one spare pair. In Croatia, I spent a day on a boat in these, jumping into the Adriatic, then washed/rinsed the shorts during the shower, laid them out to dry for 30 minutes, and wore them to an upscale club that evening
Pros of the Outlier New Way Shorts
A nearly perfect product as these shorts look great, good enough to be worn stylishly anywhere shorts are allowed
Function is amazing, whether walking around, hiking, working out, or swimming. The short takes it in stride and look just as good after as before, I've literally swam, worked out, done yoga, and dug holes on a construction site, all in these shorts, and they stood up to it all.
Equally good as active wear or "snappy casual" clothing
Could easily be the single short you wear (but I recommend bringing a true active wear short, like the Columbia Titanium Silver Ridge to abuse during hikes and adventures…to preserve the New Way Short)
Consof the Outlier New Way Shorts
I honestly can't think of any. Maybe price, but you get well beyond what you pay for. These shorts are a great investment.
Quick Verdict on the New Way Shorts: Highly Recommended. The perfect travel short in design, style, performance, and all around function…there is seriously no activity or occasion these shorts aren't suited for. The 2-way stretch actually does form to your body and help them wear comfortably and look better. Stain resistance means you can wear these more days between washes without realizing it. The shorts are amazing as a swim trunk because they look really good but feel great in the water and dry quickly. To boot, these pants are durably constructed with no issues thus far. Combine these with a comfortable hiking short that you don't mind abusing (I recommend the Columbia Silver Ridge Short or working out in and you're set. I absolutely recommend the Outlier New Way shorts as an investment for your travel wardrobe.
---
The Outlier Futureworks slacks are essentially the full length slacks/chinos version of the New Way Short. These pants have the same 2-way stretch fabric that wicks moisture, resists stains, and dries quickly. The pants are intended to be a little classier and upscale than the Slim Dungarees.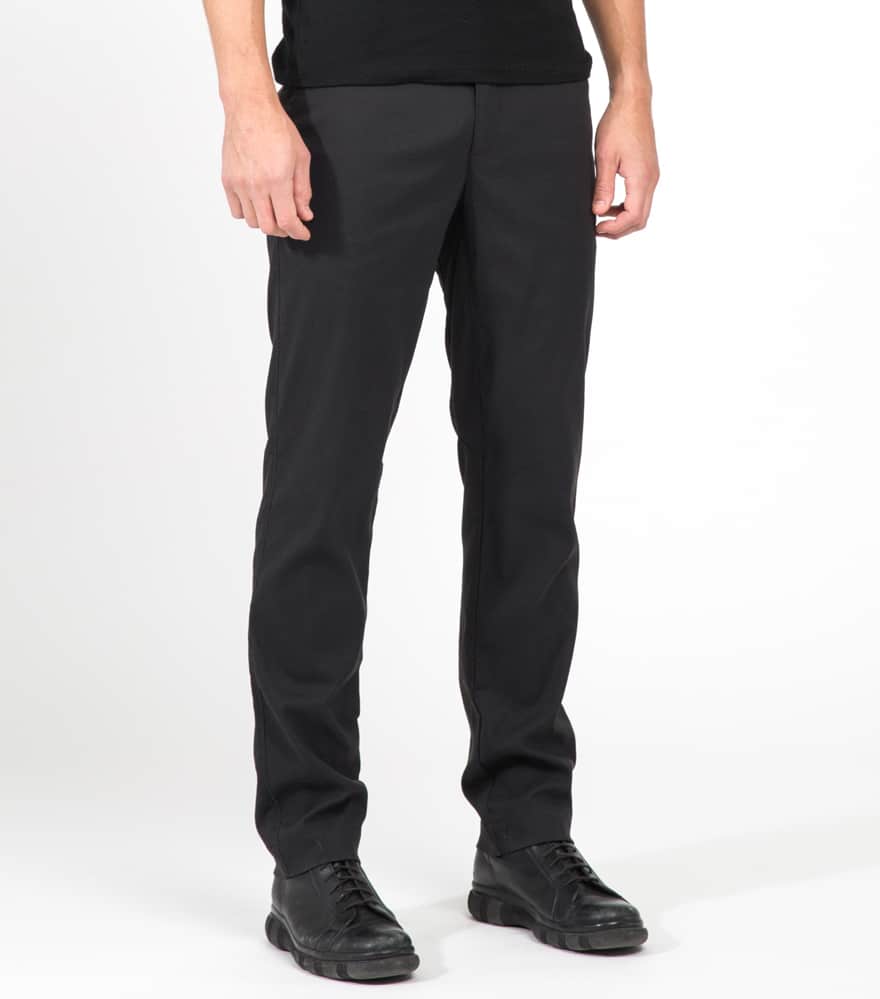 Pros of the Outlier Futureworks Pants
Comfortable, durable fabric and construction
Resists water and stains well and dries quickly
Lightweight and packs small making them great for travel, especially carryon only travel
Cons of the Outlier Futureworks Pants
Pants require tailoring to get the most out of them – adjusting length of pants, narrowing the hem, and tapering the lower leg will make these a near perfect travel pant
Quick Verdict on the Futureworks Slacks: Recommended. These slacks are great, but be warned they require a little tailoring to get the most out of them and make the fit worthy of the design – specifically adjusting the length, altering the hem to be a jean style hem or at least much more narrow so that the slacks will lay naturally, and narrowing the lower leg to your preferred length. Do that, and you will have the perfect travel pant…or at least a better one than you've ever had before. You could easily get away with only owning these, the New Way Short, and a comfortable hiking short (like the Columbia Silver Ridge). For travelers looking for a pair of pants, I recommend Outlier Futureworks…just plan to get them tailored before you go.
---
Designed to be the nearly bulletproof pant that Levi Strauss intended. Made of an extremely tough Nylon fabric and designed to break in over a very long period.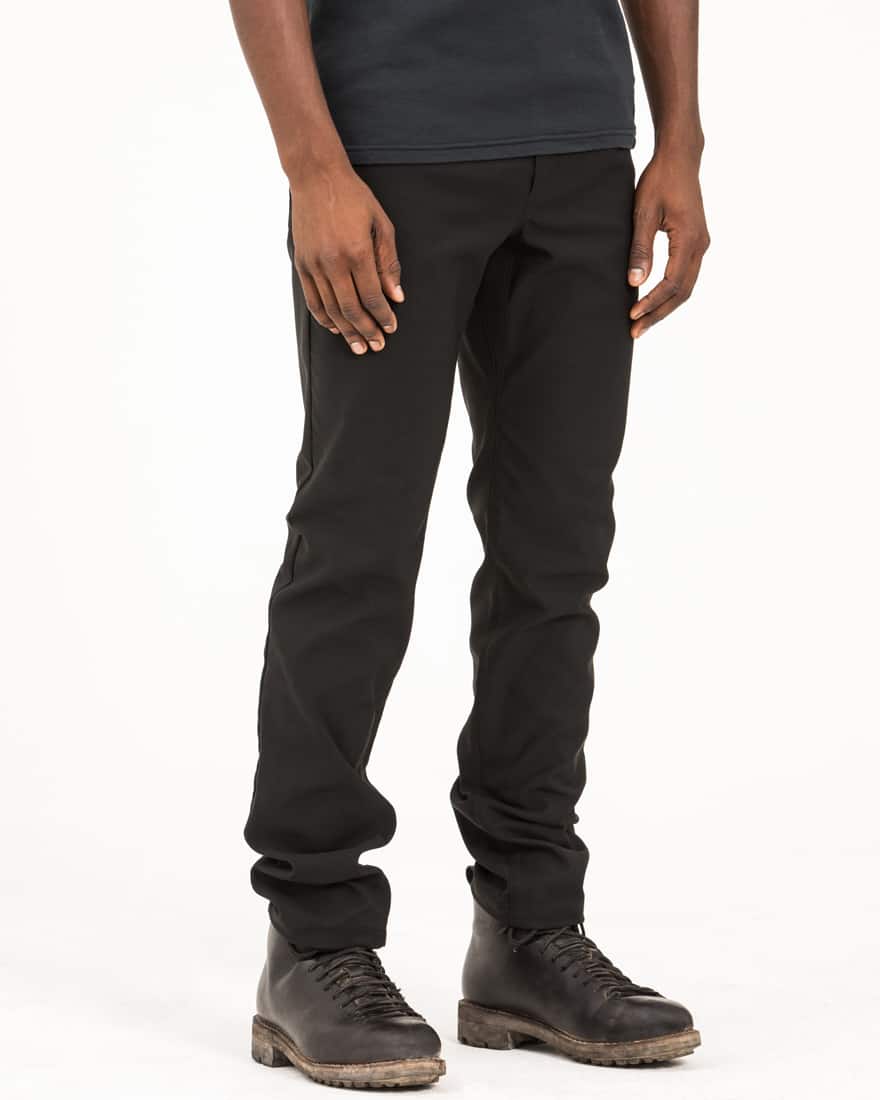 Pros of the Outlier Strong Dungarees
These pants are as tough as their ad copy implies.
Well built. Heavy fabric. Very Durable
One of my favorite Outlier products (next to the New Way Shorts)
Cons of the Outlier Strong Dungarees
Fit is surprisingly slim in a way that isn't conducive to how tough these are. I've tried a few sizes and no matter what, the seat fits my butt while the waist is too loose or the waist fits while the seat is way too tight.
The fit is less refined and more rugged than the Slim Dungarees, so wearing them as a dressier jean is a little more difficult but doable
Too heavy and stiff for hiking or active wear…at least before they're broken in and softened up
Quick Verdict on the Outlier Strong Dungarees: Recommend for some – as long as they fit you. These pants are awesome and tough as hell. In the three months of wearing these pants before I left I still hadn't broken them in. The fabric is noticeably durable and the stain and water resistance are pretty great.
First, these pants won't work well as a hiking pant…at least not until after they're broken in because the fabric is so stiff and strong you will chafe after miles of walking (I know from experience).
I honestly wish I had brought these on my trip around the world or had room to, but there are three caveats you should know about the Strong Dungarees.
With the warning that they might not fit everyone's body shape, I really like the Outlier Strong Dungarees in idea and execution, and I recommend them. Don't expect to hike in them or wear them in hot weather comfortably
Second, the fabric is amazingly strong but ends up being heavier than the Slim Dungarees and Futureworks slacks, so they're a little less than comfortable in the heat, so plan accordingly. Third, the fit on these jeans is slim with little stretch or give in the fabric and the cut is designed more for people shaped like broom sticks – if you have a bit of a butt or a narrow waist, the fit of these pants will be a little off, so test accordingly. Bottom line:
---
The Outlier pants collection is impressive, to say the least, but as is common with any amazing product, no single pair of Outlier's pants will be perfect for everyone. Lucky for you, there are plenty of other amazing travel pants and brands on the market
Don't miss out on the best travel pants for you, check out our list of the 15+ Best Travel Pants for every adventure

Other Great Travel Clothing Content
Did you know...
Women travel 2x as much as men?
76% Travelers wander specifically for food and the outdoors?
95% of travelers have visited Europe, but Asia is the most recommended, France is the most visited, every traveler recommends "just go!"
---
Click here to take the Travel Survey and help us understand how you travel and learn from other travelers how to travel better. We're aiming to find the best destinations for solo female travelers, outdoor lovers, and everyone on tiny budgets...and we need your thoughts to do it! Help us!