Discover the perfect casual and travel pants in this Foehn Brise Pants review – an outdoor focused rock climbing tech pant with a modern and stylish aesthetic that makes them perfect for travel, gym, and daily where, far beyond the crags.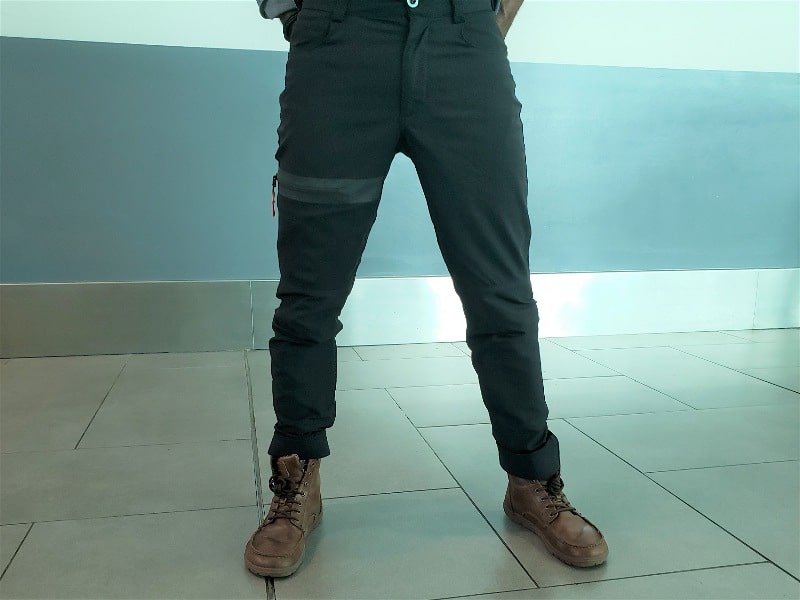 Finding that perfect pair of pants for adventurous travel, that look good, feel comfortable, fallow you to move freely, keep you warm when the weather is cool, but cool when its warm are nearly impossible to find – until now. The Brise pants are perfect for this need, designed of durable nylon that stretches with every move and wicks away sweat while you adventure, sheds moisture and grime, and is still styled like a great, casual wear, slim jogger pant.
The result is an impressively comfortable pair of pants that move with you, keep you comfy and dry, and look good every step of the way.
Read on to discover why I'm so in love with the Foehn Brise Pants
---
This article may contain affiliate links.
---
HIGHLIGHTS OF THE FOEHN BRISE PANTS
The Foehn Brise pants are an awesome pair of travel pants – adventure-ready, lightweight, yet still stylish travel. A cross between a rock climbing / trekking pant, jogging pants, and a pair of tailored Jean's, the Brise delivers comfort, style, and durability with a technical touch that make them wearable anywhere.
If you want one pair of comfortable pants for wandering and adventuring hard, consider the Foehn Brise pant.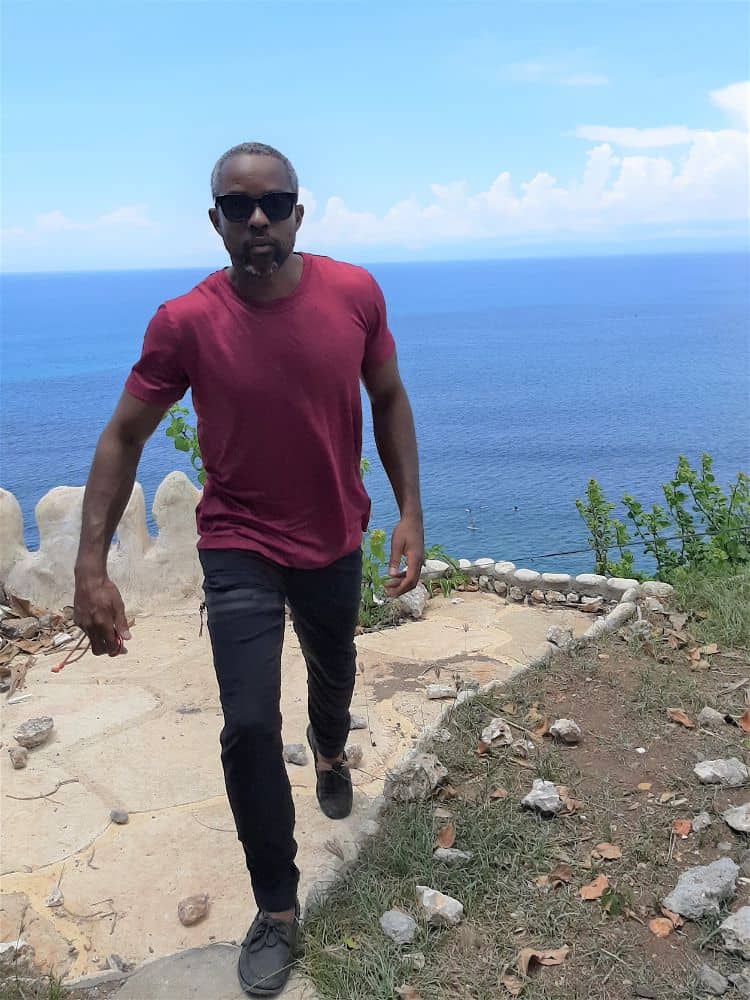 ---
Best Features of the Foehn Brise Pants:
Durable Water Repellant coating sheds water, coffee, and grime to keep your pants drier and cleaner longer
4 Way Stretch makes any kind of movement easy, from rock climbing to stretching, to laying down on a 14-hour flight and everyday wear
Designed like a jean, with belt loops, functioning fly, and pockets
Lightweight tech pants that don't look techy with stretch
Tear and abrasion-resistant material (96% nylon and 4% spandex) wicks sweat and moisture and dries quickly
Combo of travel-ready pockets and practical pockets – zippered thigh pocket with sections secures a smartphone and wallet, and jean style pockets on the back and front
Fits like a slim jogger pant with a black, denim jean look and a modern, stylish aesthetic
"combines style and function by merging technical performance with a modern point of view"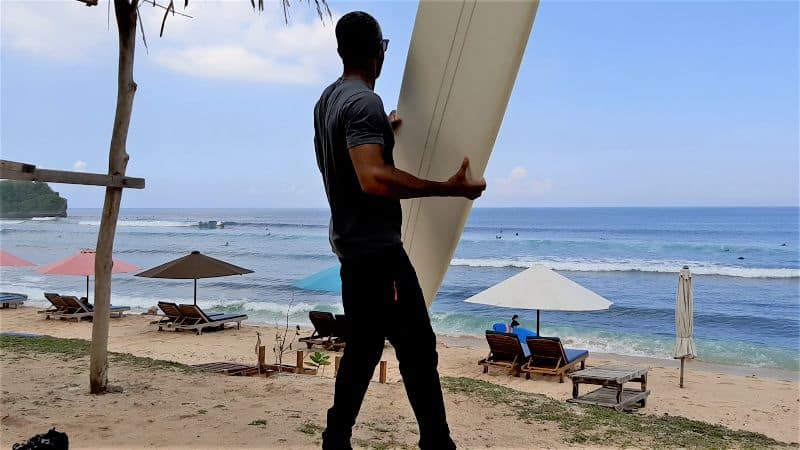 CONTENTS OF THIS FOEHN BRISE PANTS REVIEW
---

QUICK REVIEW OF THE FOEHN BRISE PANTS FOR TRAVEL
---
BACKGROUND ON THE BRISE PANTS
Rock climbing is an awesome yet interesting sport. The challenge, exploration, and adventure satiated my travel bug long before I knew I had one.
Back before my days of surfing, and before rock climbing made it's way into the Olympics, rock climbing was my adventure sport of choice. Whether wandering out to Joshua Tree National Park on a weekend or sneaking out through the Greenbelt and hills of Austin Texas, hunting for a nice crag to crawl was a standard adventure. Through all of that I realized 3 things:
I love the outdoors and adventure (hence the birth of my travels and a Brother abroad)

I love wandering –

Great adventures are hard AF on gear, clothing, and anything you bring along – and picking the right gear can make your adventure more enjoyable, especially clothes
That's where the Foehn Brise Pants come in – a pair of pants that don't look too technical but are designed for the rigors of rock climbing. This toughness combined with practical design and a sprinkle of style ultimately makes them an awesome as hell pair of travel pants.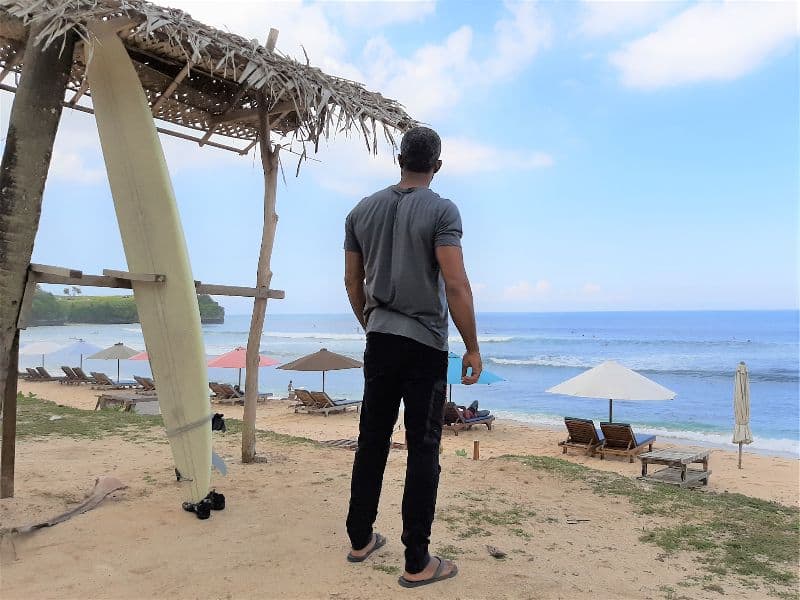 Rock climbers and true dirtbags are limit-pushing minimalists. The only gear they really want to buy is climbing gear (shoes, ropes, protection, etc.) and nothing else. This frugal nature means the clothes on their backs need to last forever whether or not they're meant too.
On that same note, rock climbers are addicted to the outdoors so snow or shine they're going to be outside attempting some new feat – climbing when its sunny and cool, skiing when it snows, hiking whenever else, etc. Because of this child-like, constant need to place outside, the gear they wear needs to be technical enough to keep them comfortable through as many different seasons as possible.
Last, clothes for climbing have to be functional. They need to allow for enough freedom of movement to move up the wall easily and have enough storage that's easily accessible when you're 50 feet off the ground with only one hand free to grab a phone.
The Foehn Brise pants were specifically designed to be this kind of gear, a pair of pants designed for rock climbing – and in that process, they accidentally designed a pair of pants perfect for adventurous travel.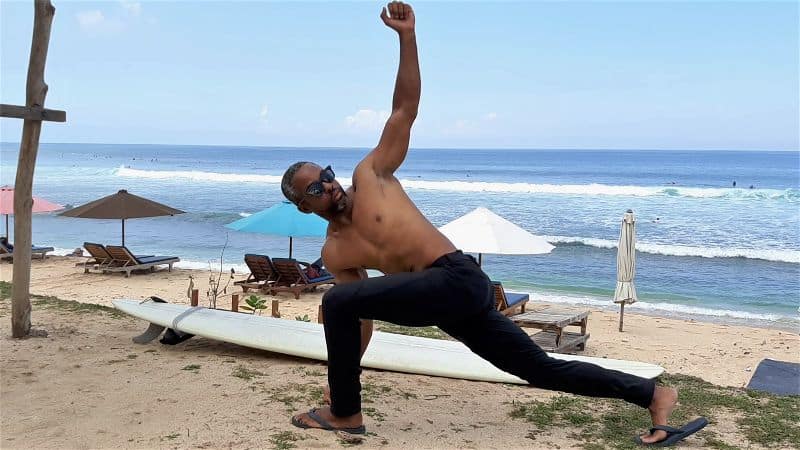 Durable, comfortable, functional, technical, weather-resistant, and lightweight too. These are the traits that make the Foehn Brise pants suitable for wandering.
So now that you know about the Foehn pants roots, let's dig into the details of what makes them great.

WHO ARE THE FOEHN BRISE PANTS FOR?
Adventurous travelers. Whether that adventure is trekking to the top of Kilimanjaro, wandering aimlessly through Southeast Asia, rock climbing in Spain, or trouncing through Patagonia, this pair of pants are solid. The sportier aim in the design and function of the Brise pants makes them 100% suited to trekking, motorbiking, and generally adventuring, unlike the Outlier Futureworks or the Slim Dungarees which aim to balance upscale with travel-ready. Don't get me wrong, the Brise pants look great, but in an adventure-ready way, not a cocktail hour way.
So are the Brise pants better for the tropical life of Southeast Asia or the cool mountains of Patagonia?
Actually…both.
Because the Brise pants are breathable and quick-drying, they're great for Southeast Asia (which is where I am now). During the cooler drier months the pants wear great in the chilly evenings but are still solid for long motorbike rides.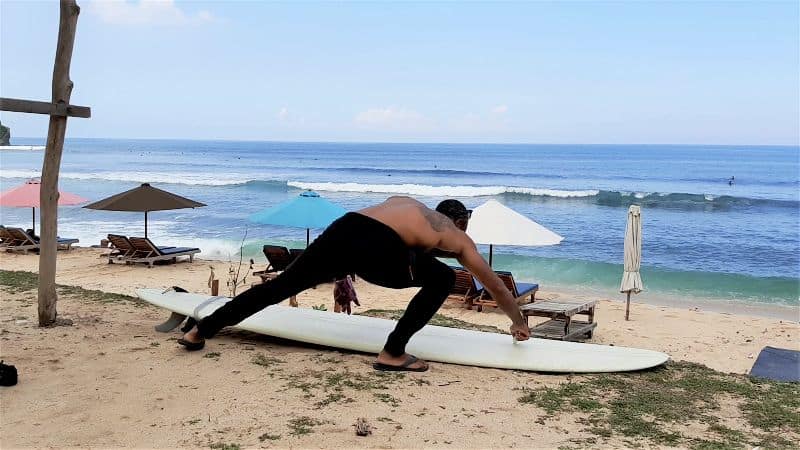 On early morning hikes up volcanoes on Bali and in the Northern Highlands of Vietnam you'll thank yourself for bringing these, but as the sweat gets wicked away and dries in the warmer afternoon, you'll still feel comfortable without having to pull out those travel shorts.
At the same time, Foehn's pants are still great for wandering South America – from trekking the lake districts and Patagonia, to sleeping on overnight buses and evenings in the cool high country of Bolivia and Peru. If you decide to make them a choice for winter, the DWR coating comes in handy and they layer easily over a good pair of long thermals.
Ultimately, no matter where you go in throughout the globe, these pants (coupled with a solid pair of travel shorts) will keep you comfortable and ready, regardless of how adventurous you feel.
(FYI, this is written as I sit on a plane leaving Malaysia after a week-long surf trip…wearing the Brise pants. Every day I wasn't wearing my board shorts I was comfily wearing these – staying toasty during the chilly nights and keeping the mosquitoes away. I'm addicted to the Foenh Brise as a pant for adventurous travels)

CATEGORY BY CATEGORY REVIEW OF THE FOEHN BRISE PANTS
---
STYLE
The blended nylon for durability and slight (5%) spandex for stretch give these pants the look of a black pair of jeans and the fitted cut of a pair of track pants. Functional belt loops up top and a zippered fly make these pants look even more like a "normal pair of pants", not betraying how technical they are.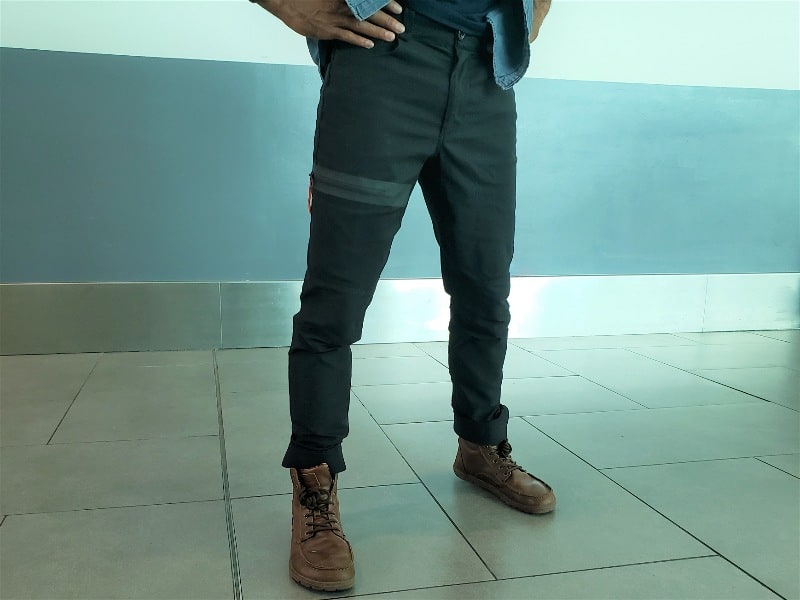 Though there are hundreds of stretchy, comfy pants that dry quickly, the problem is that they look like those kind of "technical pants". The Foehn Brise pants look so normal, and good honestly, that people will do a double take when you wear them.
Dont expect to wear them to a fancy restaurant, but you'll look good enough anywhere else.
---
ADVENTURE AND GETTING OUTSIDE
Performance
That nylon material, blended with a bit of spandex, makes for a stretchy pant that hugs your body without being too tight and while allowing movement. A durable water-resistant (DWR) coating sheds raindrops and coffee spills keeping you comfortable in all kinds of weather and keeping the pants clean longer (meaning fewer washes on the road).
The synthetic material wicks moisture from sweat easily and dries impressively fast. After getting caught in the rain on my scooter (in Bali) I squeezed out the pants and hung them up. They were dry enough to wear again an hour later.
During heavy downpours (like in southeast Asia rainy seasons) don't expect that DWR coating to keep you dry… it's going to suck up a little water eventually. However, even when I was riding in the cool rain of Bali I didn't get cold, thanks to the insulative properties of synthetic fabrics. When I was wearing my cotton Jean's in the same conditions on a motorbike in Laos I felt like I was freezing and nearly hypothermic.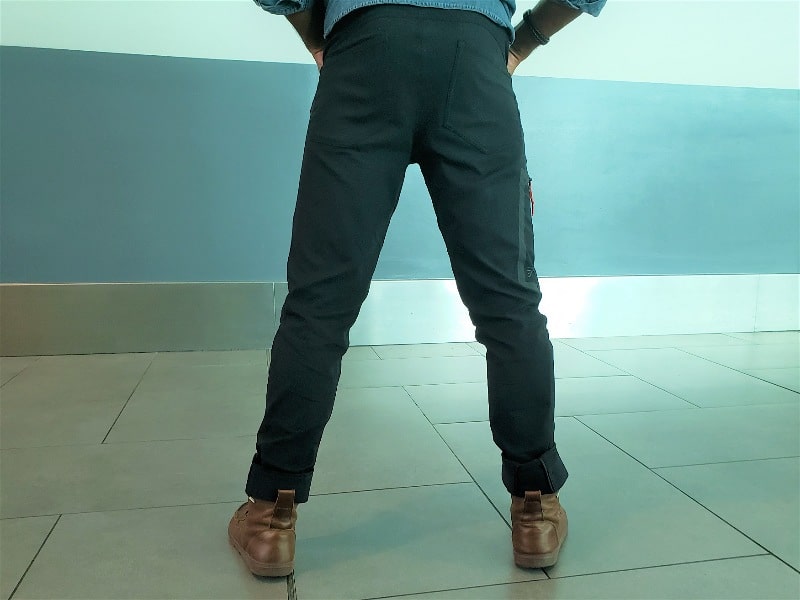 The Bottom Line: Rain or shine, cool or heat, these pants stay comfy and perform well.
Getting Active
The stretch of these pants and contoured knees and the freedom of movement that comes from are the best parts. I've worn them to the gym, run in them, and even used them for morning yoga and mobility sessions on the beach. Through all of those situations, I haven't hit the pants' limits, and they look just as good after exercise as before. Thanks to how good they feel, these pants will also be my pants of choice for some upcoming volcano hikes and motorbike wandering through Indonesia this year.
Bottom Line: Feels great for travel, whether it's relaxed and luxurious or amped up and adventurous
Function
The best parts about these pants are
The stretch and how these pants move without feeling yoga pants and
The zipper thigh pocket
The dirt, grime, and funk resistance
---
DURABILITY
Though durability remains to be tested, from what I've seen these are a rock-solid piece of gear.
The materials have been chosen well. Nylon, the base of the pants, is extremely durable by nature – one of the most durable synthetic fabrics out there, so expect a solid lifespan from the fabric.
The most recent test of the pants has been a little fox-like dog that's been sleeping on my porch. Every morning as I walk out to feed her (more times than I care to admit I've thrown on my Foehn's because they're comfy) her tiny little cat-ish claws dig into the fabric of my pants as she shares her excitement. I like her so much I can't stand to stop her, but all the same, the Brise pants are standing up to her claws well. No snags. No fraying. No loose threads. Exactly the durability I'd expect from a good climbing pant. This is in addition to the normal travel, motorbiking, hiking, dragging backpacks around, and more.
The stitching seems very solid. After 3+ months of cross country trips, riding, workouts, several international flights, trekking, running and yoga, no stitches have popped.
---
TRAVEL READINESS & PACKABILITY
Thanks to the Brise's stylish cut, technical features, and grime resistance, you can get away with these as your only pair of pants for travel – with the addition of a pair of travel-ready shorts or two.
These pants pack down unnoticeably small compared to Jean's and Chinos and are much lighter at only 12.8 ounces, making the best use of space in your carryon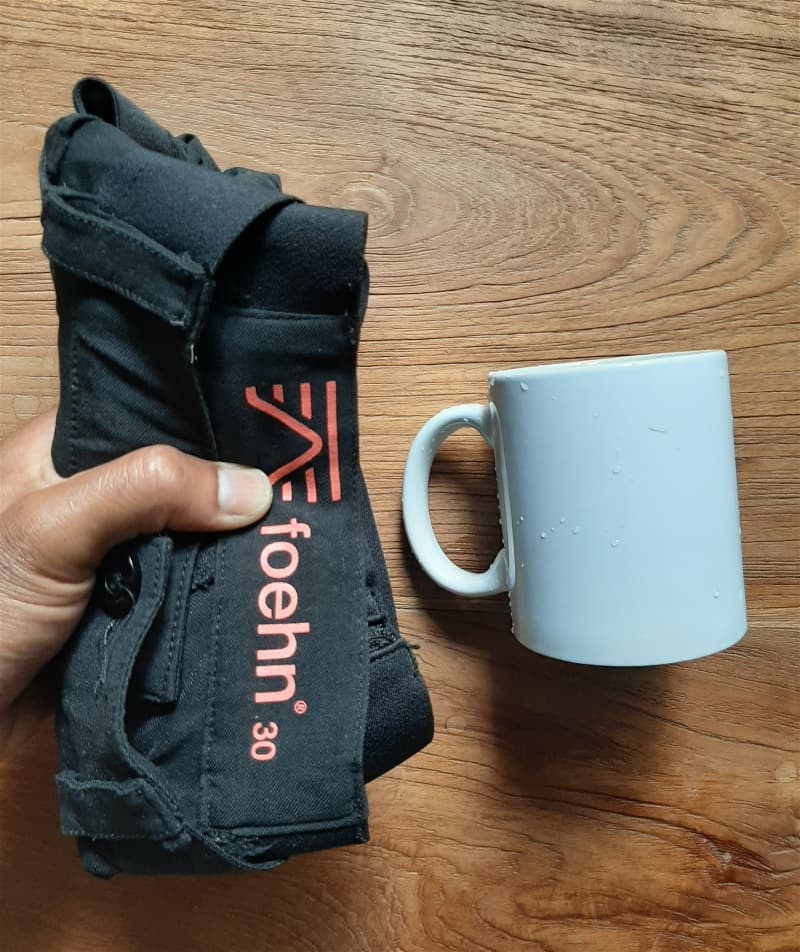 The DWR coating resists dirt and liquids well letting you go longer between washes. I've spilled at least 3 full cups of coffee on these pants and all 3 beaded right off, with no need to wash. When I did finally drop a powdered donut on the pants, a damp handkerchief quickly wiped of all of the evidence allowing me to extend the time between washes during one of my trips.
When a wash is finally necessary, the quick-drying fabric lets you quickly and easily wash your pants in a dry bag and hang them up with the faith that they'll be dry the next morning.
---
TECHNICAL TRAITS
DWR coating sheds water, other liquids, and grime
Nylon/spandex fabric is moisture-wicking, quick-drying, and durable
---
VALUE
At $130 dollars, these pants cost the same price as an average pair of technical pants and twice as much as a good pair of jeans. At that price, I think these pants are a good value.
Considering these pants combine the best of a technical hiking pant and a pair of your casual Jean's, they do the job of two pairs of pants, lightening your bag and being easier on your budget. As long as you don't need a pair of pants that you'll be wearing loafers or a sport jacket with, the Foehn Brise pants are a good value.

BRISE PANTS
PROS | CONS
---
PROS
Lightweight
Breathable
Quick-drying
Plenty of stretch to offer great freedom of movement
Belt loops make the pants more adventure-ready
Stylish in a sporty way
---
CONS
No drawstring – as the drawstring is replaced by belt loops
The pants tend to stretch and sag slightly after a few days of wear if too much is in the pockets – as stretchy material loosens a bit. Note that they tighten up with a quick wash.
---
No Drawstring
Though the belt loops are functional, especially when rock climbing and strapping on weight, if I'm moving a lot – hiking, doing yoga, or climbing, I'd rather not wear something as thick and restrictive as a belt. Instead, I would prefer a drawstring to hold my pants up.
Waistband loses stretch after a few days (but shrinks up with a quick wash)
With wear, the nylon and spandex understandably loses elasticity. This is fine normally, but with the weight of a cell phone, keys, Hope's, and dreams in your pocket, the pants tend to sag slightly. So, after a few days of wear without washing you either have to wear a belt or keep your pockets empty.

QUICK VERDICT ON THE FOEHN BRISE PANTS
The Foehn Brise pant is a solid pIece of adventure ready clothing. Comfortable, trek ready, and packed full of the performance and features that could make it your only pair of pants for travel and adventures – however long or short they may be. Highly recommended.

FULL REVIEW OF THE FOEHN BRISE PANTS

MY EXPERIENCE WEARING THE FOEHN BRISE PANTS
The Brise Pants are hands down the best "hiking and travel" pants I've tested – which is slightly odd because they're not exactly meant for hiking or travel. Despite the original purpose of the Brise Pants (rock climbing) they've felt great and performed well through my entire time wearing them.
Here's a quick snapshot of the different situations I wore the Brise pants through to understand their strengths and weaknesses….
20+ Hours of Cross Country Driving: Georgia to Florida back to Florida back to Dallas
Long flights and international travel: 36+ Hours of walking through airports, sleeping on planes, and working out or doing yoga in lounge areas along the way
Running and Hiking: Long jogs in the autumn and impromptu trail hikes – these pants breathed well and stayed dry (despite sweating) without letting in breezy chills
Workouts: From hill sprints, to Crossfit Workouts, to yoga, to rucking, and powerlifting
Brazilian Jiu Jitsu: A few impromptu classes with the Brise pants under my gi proved how tough & durable these pants are while allowing very free movement via lots of stretch
Daily life: Coffee shops, nights out with friends and fam, walking the dog, etc., all handled in stride with plenty of compliments on the Brise Pants
---
After all of these natural "tests", here are my thoughts on the Foehn Brise Pants:
The most versatile travel pants I've ever seen – adventure and sporty to casual, the Brise pant does it all very well if you live an active lifestyle
Comfortable: Soft on the inside, tailored and contoured fit, feels good after days of straight wear (literally…I topped out at 3 days)
Durable and tough: Tons of stretch and freedom of movement (and clearly heavy stitching) combined with tough nylon (for abrasion) make these pants a long term option
Durable Water Repellant Finish: Sheds water and coffee and makes dust and dirty easy to wipe off (for those times when you can't wash)
Great for extended wear: Grime and funk resistance make it possible to wear these for a long time without a wash if need be.
Bottom line: The Foehn Brise pants could easily be your only pants for an entire year of travel
---
A FEW STORIES FROM MONTHS OF TRAVELING WITH THE BRISE PANTS
Though the Foehn Brise pants are designed and intended for rock climbing they have a lot more potential than that. My life still involves rock climbing from time to time – but the wandering takes me on many other adventures.
Driving cross country from Dallas, Texas to Atlanta, Georgia then down towards Miami I rocked the Brise pants the entire way over three separate legs of riding. Along the way, they felt comfortably snug yet comfortable like they weren't even there. More like pajamas than pants.
During a brief stop in Atlanta, my sister and I made our way into the hills on a long motorbike cruise to eventually hike in the mountains. At highway speeds on a Can-Am the pants felt good. I could have used a pair of long John's in the Atlanta fall but I was just comfortable enough not to care. On the hike, I sweat lightly but the pants wicked the moisture away from my skin and dried almost as quickly as I sweat.
To top it off my older sister decided she wanted to start doing BJJ when I showed up to visit…which means I started doing BJJ again…in the Foehn Brise Pants. Seriously. After a few sessions of hitting the mat and rolling around in the Brise Pants while my sister got to beat me up like we were 7 again, I had been contorted into countless shapes and tapped out several times. On the other hand, the Brise pants still hadn't hit their limits. The pants stretch made every move (and submission) possible, and afterward, they looked just fine…after a few minutes of letting the sweat dry. One more instance of the Brise pants overperforming.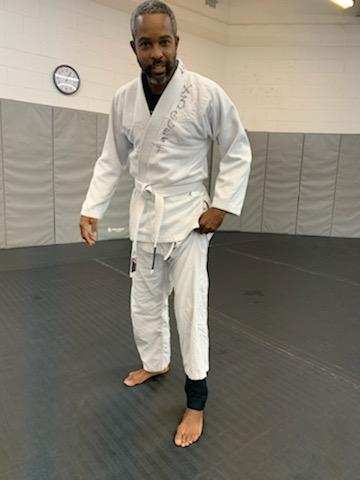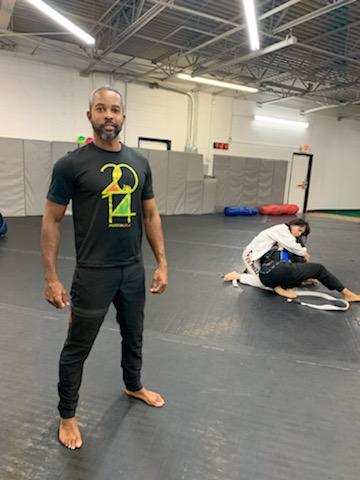 Fast forward a few weeks and the Brise was my go-to pair of pants for the 36 hours of travel from Dallas, to Chicago to Tokyo to Bali. In Chicago I just lounged and ate. On the plane I slept as comfortably as I could, stretching out on a spare row of 3 seats. Every couple of hours I was awake on the flight I made my way to the empty space near the bathrooms and did full-on sun salutation style stretching to avoid that dreaded stiffness in my upcoming surf sessions (back on Bali a few days later). The Brise pants rocked because I could get in a full-on the groin, hamstring, and glutes stretch with the pants I had on.
In the Tokyo airport on a layover, I knocked out a quick workout…wearing the Brise Pants – a burpee tabata and jumping rope. I figured I already smelled bad so what not get in 10 minutes of movement. Again, the Brise pants handled it well and looked like nothing happened afterwards. I can't totally vouch for how I smelled though
Finally back on Bali, my life returned to normal. Sunrise stretching sessions on the beach are my go to for starting the day, followed by the gym (gymnastics or Olympic lifts) and tons of burpees or kettlebell swings. Again, day after day the Brise pants took in stride. Still feeling good. Still looking clean (enough).
The final test of the Brise Pants- Bali rainy season.
Keep in mind – I haven't owned a rain jacket yet that can stand up to the rainy season in Bali. It's all about how comfortable the gear keeps you while wet.
In Bali once the rain hits, life comes to a halt. Delivery guys dont deliver. Moto taxis dont ride. No one goes out…except me. I'm that guy. I go out for a smoothie bowl. I go out to re-up on water. I go out to hit the gym. This is while riding on a scooter while the streets are flooded to your ankle in some places. Stupid? Yes it is. I know. But it's an excellent way to test the Brise Pants.
So how do they hold up?
In light rain, for the first 5 minutes the pants bead off water pretty well but bring on those heavy Balinese, SOUTHEAST asian rains and they get drenched within minutes. But that's ACTUALLY not all bad – because that's what nearly every pair of pants will do in this kind of rain – the difference comes in how they feel when wet.
When assessing travel pants for bad weather it's not necessary that they be waterproof. It's more important how they handle when wet.
Do they suck the heat from your body making you feel hypothermic? Do they sag and rub leaving you chafing? Some pants do – the Brise pants don't. The Brise pants simply get wet, warm up to your body temperature, and then feel like normal. If the weather is cooler, you might need a synthetic or wool pair of long johns but all in all they handle the wind and rain well.
From all of those experiences – driving cross country, hiking, riding, flying around the world, working out, and getting caught in the rain, the Foehn Brise have proven themselves as an excellent pair of travel friendly pants that are ready for adventure.

SPECS AND FEATURES OF THE FOEHN BRISE PANTS
Material: 96% nylon and 4%spandex blend cloth give durability and the stretch to move freely ensuring the pants last through plenty of friction without abrading
Pockets: Plenty of Pockets make the pants more convenient for travel
Design: A combo of casual pants features and athletic wear features make the Brise pants uniquely balanced for an active travel lifestyle

Zippered thigh pocket divided holds cell phone (and wallet in a separate compartment)

2 front Jean style pockets with a small watch pocket in right pocket and 2 back jean style pocket give a casual look

Zippered & expanding ankle cuff make for a tailored lower and active leg fit

The elastic waistband keeps the pants up through active movement, without the need of a belt (as long as your pockets are empty

Zippered ankle cuff for a trim fit but comfort when you need it

Gusseted crotch and contoured knees allow the pants to sit well without restricting movement through rock climbing, intense yoga moves, and any other movement heavy activity
---
PRICE, WEIGHT, CONSTRUCTION, MATERIALS, ETC.
Weight: .8 lbs / .35kg
Material: 96% nylon (for durability) 4% spandex (for stretch and freedom of movement)
Tech properties: sweat-wicking, quick-drying, water repellant coating
Pockets: 1 zippered thigh pocket (divided for cell phone and wallet), 2 Jean style front pocket, 2 open back pockets
Other notes: YKK zippers, elastic reinforced waistband, zippered & elastic reinforced ankle cuffs, zippered fly + button fly, functional belt

WHAT ARE OTHERS SAYING ABOUT THE FOEHN BRISE PANTS
"the best casual/technical pants I've ever owned. They are comfortable, stretchy, fit well, and look good"
"love the cut and style. Honestly, you can wear them out on the town or climbing and they look great"
"stand up well to abrasion"

FOEHN BRISE PANT ALTERNATIVES AND COMPARISON
---
Western Rise Evolution Pants
An amazingly looking jean that is technical without looking the part, and extremely travel ready
The Western Rise Evolution Pants are just as great as the Foehn Brise pants but in their own way…and they live up to their name well.
The Evolution Pants have a cut and pockets like Jean's, but are made of an amazing fabric – ample stretch, breathable, quick drying, water and grime resistant. These pants look like city wear but would work as a hiking pant as well. I've traveled for months in these pants and gone weeks without washes.
But compared to the Evolution pants, the Foehn Brise pants are more adventure ready. More stretch, a softer feel on the skin, and a slimmer more athletic contoured for movement make the Foehn Brise more suited to adventurous travel.
If you want a pair of pants that look great in the city (even to work) and can be worn for weeks on end, the Western Rise Evolution Pants might be what you need.
If you plan to travel a little harder, trekking, climbing, wandering, and more, the Foehn Brise is better for you.
If you're looking for two pants that will complete the pants portion of your travel wardrobe…get both.
Click here to discover more about the Western Rise Evolution Pants
---
Stretchy and comfortable with a jean design and more polished style
Just as good looking as the Western Rise Evolution Pants, but with a lot more stretch – the Outlier Slim Dungarees are an extremely techy pair of jeans with just as much stretch as the Foehn Brise pants.
Though the Slim Dungarees feel great, dry quickly, and look good enough to wear with a sports coat, they're on the delicate side and tend to snag when brushed against trees and rough rocks.
Though I love these SLIM Dungarees in daily life and through urban travel, is the adventures involve getting outside or adventurous, I recommend the Foehn Brise Pants for your travels instead.
Click here to read more about the Outlier Slim Dungarees
---
Foehn Nelson Pants
Tougher than the Foehn Brise Pants with the same stretch, function, and travel readiness
The same outdoor, rock climbing, and travel ready function made tougher with Cordura nylon and cotton. Though the sweat wicking and drying properties aren't the same, if you're not getting wet and need something tougher, this may be it.
Click here to discover more about the Foehn Nelson Pants

Recommended Accessories

VERDICT ON THE FOEHN BRISE PANTS REVIEW FOR TRAVELERS
An excellent pair of pants that are functional, durable and ready for adventure. These could easily be your only pants for a trip around the world as long as you're fine being more sporty than posh.
Highly recommended.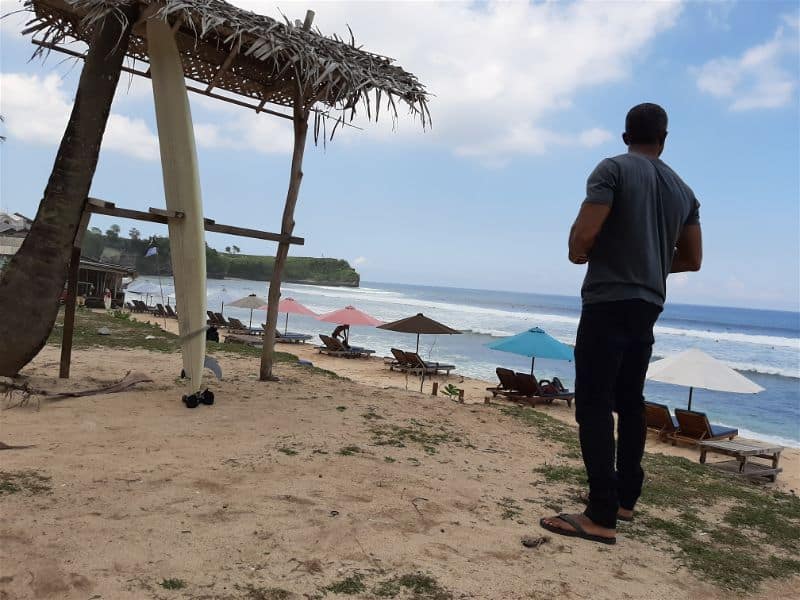 Click here to checkout colors, prices, and availability at Foehn

OTHER GREAT CONTENT