The idea of moving to Bali can feel like both a dream, living a carefree life in a sunny paradise, and a daunting impossibility, navigating the hurdles of moving from the US or Europe to the Island of the Gods. From arranging the right visa that allows you come and go as you please, to finding an affordable villa in one of the best locations in Bali, to planning your budget for the rising cost of living, the number of things to juggle before settling into your dream life can feel intimidating. But rest assured, with the right preparation and plan, your move to Bali can be as fun and exciting an adventure as the rest of your future life on Bali will be.
In my previous article, a quick guide to moving to Bali, I shared the essentials you need to know before planning your move to Bali, and how to move to Bali 6 simple steps – a quick, 15 minute read.
In this complete guide, I will share everything you need to know about life in Bali, Indonesia, from living here happily (between world travels) for the last 4 years.
Read on to discover everything you need to know for a pain free move to Bali, Indonesia.

Contents of the Complete Guide to Moving to Bali
Moving to Bali: The Complete Guide
Essential Preparations Before Moving to Bali
Good info from our "Quick Guide to Moving to Bali"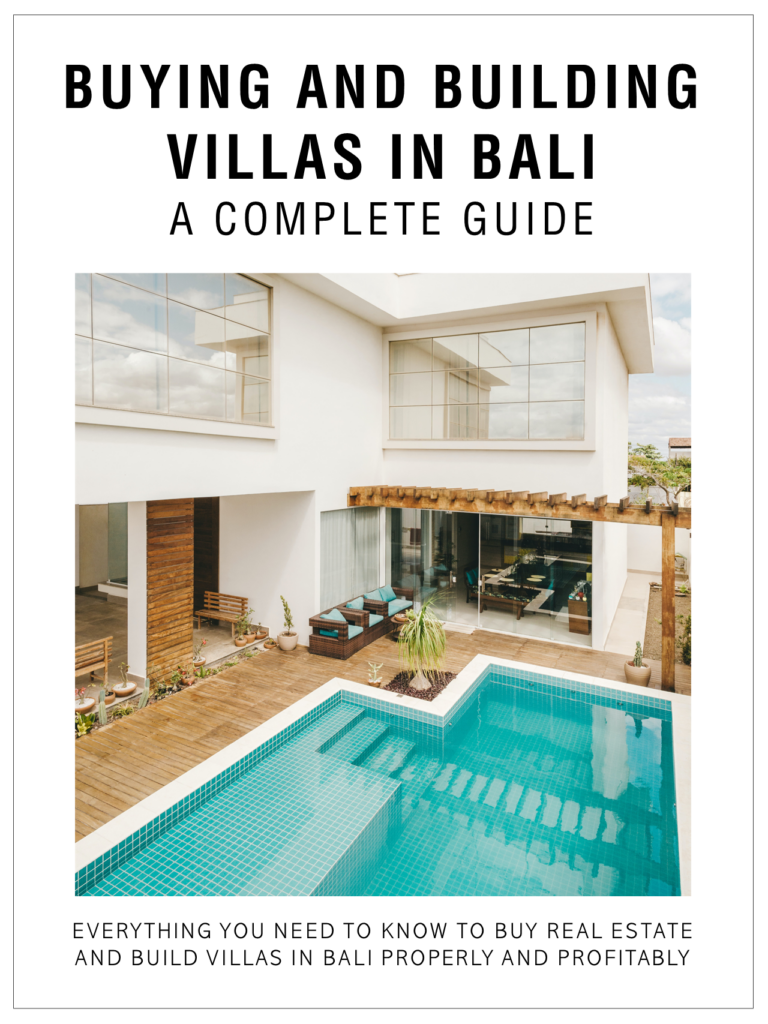 Quick Background about my 3 years on Bali: A pandemic immigrant and long staying nomad
Prior to the world stopping Pandemic of 2020 to 2022 (which in hindsight feels like a twisted version of Thanos' "Snap") I was still "A Brother Abroad" and heavily into year 3 and country 50 of traveling the world. Understandably though, 3 years of constant adventure travel and scouring the world to find the best locations for digital nomads, remote workers, and expats can get tiresome – and I was in dire need of a long break (3 months) and some relaxing adventures (surfing and freediving).
On the tip from a fellow nomad, I visited the "little bohemian, eclectic surf village of Canggu," and fell in love. The combination of remote worker friendly cafes, a surfable beach a walk up the road, countless chic yet cheap eateries, and (most importantly) a versatile sampling of travelers, nomads, and expats from around the world made Canggu a perfectly comfortable place to relax, work away my mornings, surf away my afternoons, and socialize away my nights with likeminded tropical nomads.
As I settled in to Canggu and Bali in general I moved around, soaking up the white sands beaches and surf scene around Uluwatu and Balangan, relaxing in tiny cabins the highland jungles of Kintamani and Batur, and diving around the beauty of Amed and Gili T a short boat ride away.
Bali was quite literally a traveling adventurers paradise with everything you could want to live a comfy life, the creature comforts you need to stay productive. But all things must come to an end, and the travel writer in me needed to get back on the road, to Argentina, to start new writing and get back to my "travel roots." Or so I thought…
As I flew back from Malaysia in January 2020, on a surf trip to Cherating that was supposed to be my last visa run before flying to South America, the border from Malaysia, Singapore, and many other places in the world slammed shut in the face of COVID-19. During the 3 weeks of my trip, the world went from "mostly open for travel" to "quarantined."
As I landed in Bali I received an email from my travel insurance, Safetywing travel insurance customer service, stating that the last flights out of Bali would be at the end of the week and would be paid for back to California due "political evacuation" reasons, however, I had the option to simply stay on Bali.
If I decided to stay in Bali I would be stuck for an indefinite period of time, unsure of what would happen next and how Bali, and Indonesia, would endure this unprecedented global crisis.
Have a flight paid back to the "safety" of the US.
…or…
Stay in paradise and see how the Island of the Gods would handle the unknown.
I'm no idiot…most of the time, and I'd rather risk the end of the world in a happy place than an average life in the rat race, so I stayed on Bali and made it home.
From that moment in February 2020 to now, I've accepted and navigate the ups and downs of Bali – visas, medical care, motorbike licenses, work restrictions, starting an Indonesian company, learning the language, having "creature comforts" shipped in from the US, and more. I doubled down and bought a piece of land in my favorite surf village and took on the grey hair inducing challenge of building a house on Bali.
By twist of fate and stubbornness, fueled by my desire to only live in the best locations for the rest of my life, Bali has become home. I'm still a travel writer and wander 6 months out of the year, but the other 6 I simply base in Bali, in a nice little surf shack with a large garden.
Though Bali is changing (as all "Bali Bules" have been saying for decades) it is a wonderful place, which can be a rejuvenating and fulfilling paradise, if you set yourself up right.
So, let's get you set up.
In this next section, a monster of a guide for moving to Bali, I'll share everything I've learned (or wish I'd learned before) living on Bali, and making it home, over the last 2 years.
Whether you plan to live on Bali for 6 months, spend a portion of your year here each year, or retire on Bali indefinitely, the guide to follow will share everything else you need.
How to Live in Bali Permanently: The important things to think about…
When thinking about living on Bali for longer than 6 months per year, there are a few buckets of concerns you want to consider to ensure 1) you are up for the task and 2) you think about the major requirements that are likely to cause you the most headaches if forgotten
Visa: Which visa length is right for your planned length of stay
Finances: Ensure you have enough savings for your stay or location independent income as well as the proper tools (Revolut, Wise, Debit Cards, Credit Cards) to access money and pay on Bali
Location: The lifestyle, amenities, and cost of living in different locations in Bali vary wildly so pick accordingly
Accommodation: You'll need to decide whether you prefer a specific location to explore, a luxurious villa, or (if you can afford it) both, then plan your property hunt and payment – as this is the most stressful part of most new expats' Bali adjustment
Transportation: Renting a motorbike monthly to drive, or ordering mototaxi's via rideshare (GOJEK) are the most common ways of getting around, so prepare for both – and realize what you're getting into
Life in General: Bali life is beautiful, slow, chaotic, and different. There is a charm to it that can alternate between rejuvenating and tiring, but realizing that and going with the flow can make all of the difference in how pleasant your Bali experience is.
Taxes: If you stay in Indonesia for more than 180 days in a year, you likely need to file taxes, and definitely if you get a KITAS, but you may not actually be able to file. Indonesia taxes global income, so this detail is an important point to consider before permanently settling down on Bali instead of another nomad/expat have
Cost of Living On Bali
Once upon a time, Bali was a budget destination where you could arrive near penniless and survive on $800 USD per month – but not anymore, at least not everywhere in Bali. The average cost of living for your stay in Bali will likely range from $1700 on the cheap side, to $3000+ per month for a moderate lifestyle in one of the more expensive areas (Canggu, Seminyak, and Uluwatu). However, if you live in the outskirts and less touristy places (Amed, Lovina, Kediri, etc.) you could survive on $1000 to $1200 per month.
As a general rule, the moment a destination starts making headlines in the New York Times and dominates your Instagram feed, it is no longer a hidden gem or "budget destination," and the same applies for Bali.
When I settled into Bali at the end of 2019, I rented a very nice 3 bedroom house for $445 per month, paid about $200 per month for food (mostly delivery), rented a motorbike for $40 per month, $20 for a gym, and had few expenses outside of that. I lived about 10 to 15 minutes ride from Uluwatu's cliffs and rarely spent more than $900 a month on everything.
Now, that same house is $1000 per month (and looks like it hasn't been maintained), motorbike rental is $100 to $150 per month, food prices have jumped to about $500 per month, and the gyms I like are $200 to $3000 per month. Granted this, ~$2000, is still cheap for a great life, it should show you that prices in Bali will likely be more than what you've read in blogs and Instagram posts over the last two years, but, if you choose the right location (just outside of the popular spots), don't have school aged children that you'll have to pay tuition for, and go easy on the booze, you can live a solid life for an affordable cost in Bali.
Most people's budgets will vary wildly depending on individual preferences and purchases, so let's review average costs for individual items on Bali that you are likely to buy on a daily and monthly basis…
Bali Cost of Living (itemized and total)
(The following list is given in "IDR" (Indonesian Rupiah) and USD assuming a conversion rate of 15,000 (15k) IDR = $1 USD, as the exchange rate has hovered just above or below this mark for years
Note: Every purchase out in Bali will have an additional 10% tax and 10% service added for meals/drinks.
Food
Breakfast meal at a nice café: 75k – 150k ($5 to $10)
Cappuccino/Americano: 40k/25k ($2.70/$1.70)
Smoothie: 85k ($5.70)
Smoothie bowl: 90k ($6)
Lunch at a nice cafe: 90k – 175k ($6 = $11.70)
Lunch at a local restaurant (warung) – 40k ($2.70)
Dinner at an average restaurant: 100k to 250k ($6.70 to ~$17)
Dinner at a local restaurant (warung): 40k ($2.70)
Alcohol
Cocktail at a bar: 100k – 150k ($6.70 – $10)
Import beer/good beer at a bar: 60k – 100k ($4 – $6.70)
Local beer at a bar: 60k ($4)
Local beer at a grocery store/market: 30k ($2)
Import beer at a grocery store (Heineken, Carlsberg): 45k ($3)
Essentials
SIM Card with 10 GB data for 30 days: 100k ($6.70)
1 month of home internet (Indihome 50mbps): 355k per month ($23.70)
Budget Accommodation monthly (1 Bedroom): 10 million IDR per month ($670 per month)
Two bedroom house, western standard: 20 million to 50 million IDR per month (~$1,350 to ~$3,350)
Motorbike rental monthly: 600k to 3mil per month ($40 to ~$200 per month)
Coworking Space: 2.7 mil to 4.5 mil per month ($180 to $300 per month)
Gyms

Local Gym: 300k ($20 per month)
Fully Equipped/Luxury/Specialty Gym with recovery: 2.5 mil to 4.5 mil per month (~$170 tp $300)

Education (for families)

The Green School: $3,000 per month
International School/Montessori School: $500 to $1,000 per month
Travel
Flights to nearby countries (Round Trip):

Bali to Malaysia: 2 mil to 4.5 mil (~$135 to $300)
Bali to Thailand: 2.5 to 4.5 mil (~$170 to $300)
Bali to the Philippines: 2 mil to 3 mil ($135 to $200)
Bali to Japan: 3.8 mil (~$250)

Boats to nearby islands (Gili T, Nusa Penida, Lombok, Sumbawa): $15 to $20 (best booked via 12Go.Asia)
Visas
Visa on Arrival – Tourist Visa (60 Days) | 30 Day e-VOA + 30 Day Extension: 800k initial + 800k for 30 day extension
Social Visa / Digital Nomad Visa (e-Visa B211) (6 months): 9.4 mil to 10.4 mil total (4 mil to 5 mil ($270 USD to $340 USD) for initial visa + 2 x extensions of 2.7 mil for 60 days each)
1 Year Multiple Entry Business Visa (12 months) (e-visa D212): 5.5mil ($370)
Investor KITAS (1 year): 10 mil ($670)
Investor KITAS (2 years): 15 mil ($1,000)
Housing Costs Throughout Bali
Due to a recent influx of tourists, remote workers, domestic travel, and domestic real estate investors in Bali, housing has become the most expensive expense for most people moving to Bali, and the most difficult loose end to tie down. If you realize now that your cost of living can be drastically improved, and quality of life improved, by adjusting which area you aim to live in, your move to Bali will go much more smoothly.
For now, we'll review average prices for a house or villa throughout the areas of Bali. Later, we'll review the "need to know" info for the areas of Bali you should consider
The following price ranges by area of Bali are for a private 1 bedroom in a guesthouse to 3+ bedroom western standard home with kitchen (in IDR and USD).
Canggu: 15 mil to 60+ mil per month ($2000 to $4000 per month) for an average 1 to 2 bedroom (currently the most expensive area in Bali)
Pererenan: 10 mil to 40+ mil per month (~$670 to ~$2,700 per month)
Babakan, Munggu, Seseh: 7 mil to 25+ mil per month (~$470 to ~$1700 per month) (cheapest "popular" areas near Canggu)
Kedungu: 10 mil to 40 mil per month (~$670 to ~$2,700 per month)
Kerobokan: 5 mil to 30 mil per month (~$340 to $2,000 per month)
Seminyak: 10 mil to 40+ mil per month (~$670 to ~$2,700 per month)
Nusa Dua: 4 mil to 35 mil per month (~$270 to ~$2,400 per month) (cheap hidden gem, most popular with expats and retirees)
Sanur: 4 mil to 25 mil per month (~$270 to ~$1,700 per month) (cheap hidden gem, most popular with expats and retirees)
Uluwatu / Bingin / Balangan (Bukit in general): 7 mil to 35+ mil per month (~$470 to ~$2,400)
Ungusan / Jimbaran: 3 mil to 20 mil per month ($200 to $1350 per month) (cheap accommodation, mostly local population)
Ubud: 5 mil to 35 mil per month (~$350 to ~$2,400)
Amed: (scarce but very cheap)
Lovina and Singaraja: 2.5 mil to 15 mil per month (~$170 to $1,000 per month) (hidden gem with plenty of options, extremely cheap, and in a "still local" part of Bali
Note: these price ranges were taken by contacting owners and agents of available rentals via Facebook. The lower price is the cost of a one bedroom guest house, and the higher range is the average cost of a 3 bedroom, western standard villa.
A Note on wildly variant prices…
It may seem like these price ranges, listed above, vary wildly because, they do. Throughout every single neighborhood or city in Bali, there are a wide range of accommodation types – cheap wooden bungalows, one room guesthouses or "Kosts", and "local houses" built slightly smaller and cheaper, sitting right next to standard western style houses and luxury villas. Ultimately, this means you can find (nearly) any type of accommodation on any part of the island, but, in some places (like Canggu) the accommodation will be priced double to triple what it is and other places, and the representation of accommodation types will skew towards "Instagrammable" villas targeting vacationers (and vacationer budgets), rented mostly via AirBnB.
Take note of the locations that have a lower price at the cheaper part of the range, as these areas will have more cheaper accommodation, and the cost of living in the immediate area will be lower too.
Best Places to Live on Bali, based on your ideal lifestyle
Part of the beauty of "the New Bali" is its eclectic nature – a mix of nationalities, religions, and cultures across socio-economic classes and income levels, extremely widely varied interests. As a result, instead of Bali coalescing into a homogenized representation of the world, the island has settled (for now) into a patchwork of neighborhoods, cities, and villages with distinctive vibes and strengths, making it easier to pick your new home.
The major 'hoods that most expats start with are these 10, and with good reason…
Canggu Overview
Canggu is arguably the "it" spot in Bali for the moment. Just before the pandemic, in 2019, Canggu had just progressed beyond "surf village" into a digital nomad hub filled with cafes, fusion eateries, and swanky gyms. During the pandemic, most foreigners left on Bali flocked to Canggu, increasing its popularity and notoriety.
Today, Canggu, spanning from Batu Bolong Beach to Berawa Beach, is still cool, but very pricey and very crowded relative not only to Bali, but most other places in the world. A decent 1 bedroom apartment will cost between $1000 and $2000, and driving across Canggu, and a few miles ride across Canggu at rush hour can easily take 30 minutes by motorbike in bumper to bumper traffic.
But, Canggu is still flocked to for many reasons. Luxury gyms with ice bath and sauna recovery centers abound. Equally lux coworking spaces dot the neighborhood. And, though the upscale fusion food (looking at you Billy Ho) can be pricey by Bali standards its still cheap by US and European prices.
The Bottom Line on Canggu: If you're staying in Bali long term and don't like traffic or have a limited budget, visit but don't stay in Canggu
Uluwatu Overview
Uluwatu is the surf mecca on Bali and arguably has the most beautiful and pristine beaches – clear and turquoise water and white sands built onto a peninsula that 20 years ago was barren, but now caters to nomads, surfers, and chic expats. With the same vibe, cafes, and eateries as Canggu's best days, but without the traffic, Uluwatu and the surrounding area are the gem in Bali at the moment.
Where: though Uluwatu is the hotspot, Bingin, Balangan, Ungusan, and around Nyang Nyang beach deliver the same pros and cons of Uluwatu but varying from rustic (cheap) to lux (pricey cliffside villas).
The Bottom Line on Uluwatu: All the cool of Bali's digital nomad vibes and surf scene, without the traffic and overdevelopment Canggu is suffering from
Ubud Overview
For anyone that is "spiritual," part of the conscious community, yogis, vegan, or vegetarian, the foreigner community that has developed in the jungle mountain city of Ubud will deliver satisfaction like few other places in the world. The vibe of Ubud (and former expat "Ubudian" population) was rumored to have driven Tulum's rise to popularity during pandemic, and deliveries much of the same against a jungle backdrop.
For families, the famed Green School, a more laid back and peaceful way of life, and a wide array of potential larger homes (3 bedrooms+) at reasonable prices make this an excellent place to consider a family move.
The Bottom Line: Vegetarians, yogis, spiritual types, and families may find all they need in Ubud.
Pererrenan + (Cemagi, Seseh, Babakan, Munggu) Overview
As Canggu rose to fame globally, so did the prices and level of disappointment. For the Canggu nomads that felt too disappointed to stay in Canggu but too attached to Bali to leave, the cluster of cities to Canggu's north and west became the next new nomad home, with a vibe hovering between backpacker tourist and digital nomad.
The ocean side city of Pererenan is the most notable, packed with literally hundreds of cafes and restaurants mostly in walking distance, and still maintaining a little of Bali's rustic charm – just shy of overdevelopment. This area makes the perfect place to live, work, and socialize, while living in the cheaper nearby cities.
Munggu, Babakan, Sesseh, and beyond lie just close enough to Pererenan to make daily life there (with gyms, coworking spaces, and events) doable, but just far enough to make housing cheaper and living a little quieter than both the hustle and bustle of Canggu and Pererenan.
The Bottom Line: Nomads passing through that got excited about Canggu, work and live in Pererenan, but sleep in one of the nearby villages for the perfect balance.
Seminyak Overview
Seminyak has long been the (semi) upscale tourist trap in Bali. The only thing that has changed is it is relegated to the 50 and older crowd as well as families. Though you could live here and find everything you'd need to survive, I would personally grow tired of the traffic, constantly packed and rotating tourists, and getting pitched by vendors on my walk to morning coffee.
The Bottom Line on Seminyak: If you are older than 50, Seminyak is the perfect place to visit to test Bali, but choose Nusa Dua or Sanur over Seminyak long term.
Nusa Dua or Sanur Overview
Nusa Dua and Sanur, sitting on Bali's east coast just between Denpasar (the airport) and Uluwatu (the Bukit) is an overlooked, very well developed, and hidden gem. For the average nomad or single traveler, neither of these destinations make the itinerary because, quite frankly, they're for old people in most people's minds because the areas have a huge expat community of retirement age. But old people like pretty good stuff for daily life – which makes this worth considering.
Well planned housing developments and the best roads with sidewalks, along with the best hospital in Bali (Sanglah Medical) countless good western restaurants, plenty of cafes, and great internet along with the lowest cost of living among the "popular expat spots" (Canggu, Uluwatu, Ubud, and Seminyak) actually make both of these options worth considering.
The major downside of Nusa and Sanur – no partying. Bars won't be open as late, the club scene of Petinget and Seminyak doesn't exist down there, and Tinder will likely push you to go back to Canggu. But if you're older, go to sleep early, in a couple, or have a family that makes evenings solely for sleeping, you may be impressed with the quality of life and cost of living in Nusa Dua and Sanur.
The Bottom Line on Nusa Dua and Sanur: Great for retirees, non-partiers, and families
Kedungu Overview
As the nomad and tourist hoard appetite consumes new locations, adventurous Bali Bules have adventured even further northwest, and the last stop (for now) on the path is…Kedungu.
Kedungu is another gem that is currently in the process of development, tucked next to a HUGE swath of land occupied by resorts in progress – most notably Desa Potato Head, Ciputra, and the Ritz Carlton.
Be warned though, that because this place is new on the radar (thanks to some traitorous influencers) housing is scarce…so I recommend not even looking here.
Full disclosure: I feel guilty even sharing word of Kedungu, but, I'm so dedicated to good writing that I will share it…but that's all I'm saying.
Amed Overview
The semi-remote beachside city of Amed sits on the calm waters of north Bali, just a peaceful 3 hour car ride from Bali's Denpasar airport. Amed is very popular with the SCUBA diving, free diving, and yoga crowd, and its charm lies in its pros and its cons. This peaceful city is so far beyond Seminyak it has (until now) been out of the reaches of overdevelopment. As such, here, you will have closer to a "true Bali" experience in the regency of Karangasem.
Though Amed doesn't have the tens or hundreds of coffee shops and restaurants that the other options have, it delivers in spades in beautiful views, peace, thin crowds, and little traffic.
There aren't any mega-sized grocery stores in Amed and you'll have to plan accordingly. Additionally, the "parties" (at one of two bars in Amed) rarely go on past midnight and usually only on one or two nights per week.
If you could appreciate a slightly more isolated experience on Bali, I highly recommend spending some time in Amed.
Though this might sound a little too rustic, I still recommend considering. When I finally finished my house with a garden in front of a ricefield my life switched from Canggu pace, to going to two weeks with only garden views, chatting with locals, and a weekly grocery store run – and I couldn't be happier. If I was coming from the US for a one month vacation, I would absolutely consider staying in Amed for the peace and rejuvenation.
Additionally, Amed (and nearby Singaraja and Lovina) will be the cheapest developed cities in Bali to live in at the moment.
The Bottom Line on Amed: If you could use some peace and quiet in slightly rustic Bali, consider Amed
Lovina and Singaraja
Still on Bali's north coast but just to the west lie a couple other hidden gems of Lovina and Singaraja. Lovina is a well developed tourist town that primarily caters to local tourists (and Chinese tourists coming to see dolphins), but not the mainstream foreigner crowd, and Singaraja is the capital of Buleleng, Bali's northwest regency.
The beauty of both of these options offer the experience of authentic Bali in a developed city on the oceanfront at ridiculously cheap (local price) cost.
The Bottom Line on Lovina and Singaraja: If you want cheap and away from the western tourists, but still developed, consider Lovina and Singaraja.
Tabanan Overview
Tabanan is the wild card and will require a lot more research on your part – because Tabanan isn't a city, it is a very large regency.
However, during my Bali real estate research many of the "up and coming cities" in Bali that I found (including Kedungu) were in Tabanan. Additionally, Tabanan has landscapes ranging beautiful beaches and mountains, to UNESCO world heritage ricefields. Wander long enough and you'll find breweries, wineries, whisky distilleries, coffee and cocoa plantations, and more. Finally, Tabanan (specifically Tabanan city) is one of the most comfortably developed areas I've seen in Bali, with great roads, shopping and amenities, and more.
The Bottom Line on Tabanan: The next "it" places – the next Canggu, Ubud, and luxury developments – will be happening in Tabanan, so add this area to your search.

Accommodation: How to find a villa for your stay in Bali
Now that you have an idea where you want to stay in Bali, what is the best way to find a place to live?
Tips for booking short stays (less than a month) in Bali
For short stays (of less than a month), when you're testing life on Bali and locations, booking via Booking.com and Agoda is your best option. Both platforms tend to have most properties in Bali available and at reasonable prices. Just try to book a minimum of 2 weeks out as good, centrally located properties tend to book out completely in advance in Bali.
Additionally, identifying properties and contacting them directly via Instagram (the social media platform most commonly used by accommodation providers in Bali) is a common way to get last minute bookings and avoid booking fees.
I and many other travelers tend to avoid AirBnB on Bali as their prices tend to be 25% to 50% higher than on Booking.com or Agoda, for no clear reas
Booking long term accommodation in Bali for 1 month or longer
Because foreigners can't legally own homes on Bali, long term home rental from 1 month to 25 years (or longer) is common. For long term leases, such as a few years or longer, be sure to read this article about long term leasing a home in Bali to understand proper precautions and nuanced details.
For long term rentals, from 1 month to a few years, your best approaches for finding a house for rent are
Facebook Marketplace
Facebook Marketplace is the first place many Bali homeowners advertise their home for rent – but there is a catch. The home is likely put on the Facebook marketplace by an agent who plans to take a HEFTY cut. Don't let this deter you, simply push hard for a good price. If all else fails, find the location of the house, and go visit and speak directly with the owner to cut out the nonsense.
Facebook Groups for Rentals by Neighbourhood
Every area of Bali with an expat community – Canggu, Uluwatu, Ubud – has a primary "community" Facebook page and group. Each of these respective communities also has group where owners can post properties for rent. Join these groups and keep an eye out. You're just as likely to a house here than on the marketplace.
Rumah123.com and OLX.co.id
When you've grown tired of the price gouging and catty nature of Facebook for house shopping, visit these two marketplaces that have a more civil approach to advertising rentals.
Because these marketplaces have homes that are either advertised by owner or by a single agent, prices to be cheaper (which means more reasonable and realistic).
Process of renting a house for a year in Bali
In some ways, Bali is the wild west and unreliable – and the rental market is one of those ways. Because of this, whether you rent monthly or yearly, you will be required to pay the entire amount of rent (1 month, 3 months, 6 months, or a year) in advance, so be prepared to hand over a large hunk of cash.
Upon rental, you will pay a deposit (something between 20% and 50% a months rent) and will receive a signed copy of your least with a "materai stamp" making it official and legal permissible in court.
Renting Monthly vs. Renting Yearly
Though renting monthly means you don't have to hand over such a large amount of cash at once, renting yearly locks your price in for the year, which is more valuable than it seems. Despite the smiling nature of the Balinese, they will not hesitate to charge you 50% more if the opportunity presents itself. In my most recent apartment before moving into my house now, the rent started at $500 per month. Within 6 months, the rent was $1200 per month and increasing monthly with the options of pay or move out.
If you plan to be on Bali for a year and have found the city you like, do make the jump and rent a home for 6 months to a year, just to lock in your costs.
Additionally, don't renovate or make permanent upgrades to the home with the expectation that the owner's kindness will keep the price down. If you make improvements that increase the value of the property, rest assured the rental price will go up the following year if you haven't made a clear, enforceable agreement.

Transportation & Getting around Bali: Motorbikes and GOJEK rideshares
Due to Bali's "less than perfect" road system and the high number of people on the road, getting around by car even short distances can take hours – but – the tiny 125cc motorbikes you see on Bali zipping through traffic make the perfect option for getting around in these congested areas. Though you will start with the fun of "GoJek" rideshare mototaxis, you will likely end up renting and owning your own bike
**Image of a motorbike**
GOJEK
For your initial time on Bali, while you're getting settled in, I recommend the rideshare (and more) app GOJEK. GOJEK offers cheap cars and mototaxis for rideshare on demand, as well as plenty of other services.
I always use GOCAR (the car rideshare option within GOJEK) for trips to and from the airport, and GOJEK will be the easiest, cheapest, and simplest option for getting around Bali until you arrange a motorbike rental.
Also, for long rides – think Uluwatu to Canggu – booking a GOCAR within the GOJEK app will be your cheapest and easiest option, relative to arranging a private driver.
Renting a motorbike
The motorbikes that daily life runs on in Bali are easily rented at most roadside rental stalls (you'll see them everywhere) and delivery services can even be found on Facebook marketplace that can deliver to your hotel. Keep in mind that the kiosks closer to the center of popular areas (such as Berawa, Canggu and Batu Bolong, Canggu) as well as delivery options will be slightly more expensive, but still cheap.
Honda Vario (125cc and 150cc) and Honda Scoopy (125cc) motorbikes tend to cost between 600k (~$40$) and 2.5mil (~$170) per month and Yamaha N-Max's (155cc) tend to be 1.5 mil to 3 mil per month depending on how new the bikes are, what area you are renting from, and whether you are renting daily, weekly, or monthly
For those that prefer real motorbikes (not scooters) Malamadre rents those sexy bigger bikes in café race styles as well as Leo Customs for varying prices.
Learning to Ride a Motorbike
Though Bali is an easy going place, don't take the experience of riding a motorbike on lightly if you've never ridden a motorbike before. Tourists crash and are badly injured in Bali very often with at least a few dying every month.
Take the risk off by either taking Motorcycle Safety Riding classes in your home country before coming, or, hire a competent local motorbike guru for a package of 5 to 10 motorbike riding lessons. Several of my friends have used and recommend Canggu Scooter Lessons. You can contact them on Whatsapp at +62 878-6046-4541
Important Notes: Get your International Driving Permit before coming, always wear a helmet, and don't drink and drive
To stay safe and legal riding a motorbike in Bali, do these three things
Get your international driving permit before coming, and your Indonesian Drivers License (SIM C) here
Always wear a helmet – for your own safety, and to avoid voiding your travel insurance or health insurance coverage
Don't drink alcohol and ride – for your own safety, and to avoid voiding your travel insurance
The international driving permit is the document you need to be allowed to drive a motorbike or car legally in Bali. If you are caught (by police) driving without it, plan on paying a ~$25 fine minimum. Keep in mind that you can only get this in your home country, so plan to get it before departure. As well, the permit is only good for 6 months. So, at some point, you will likely need an Indonesian Driver's License – Also known as a "SIM-C." When the time comes, refer to this article on How to Get a Driver's License in Indonesia.
Always wear a helmet when riding. Driving in Indonesia is dangerous and I guarantee you will fall, or crash, or get hit by another bike at some point. If you are wearing a helmet, you'll likely come away with some scrapes, bruises, and a good story. If you don't wear a helmet, you are likely to end up as one of the handful of foreigners that dies on a motorbike each month. Additionally, if you are injured while riding a motorbike and not wearing a helmet, your travel insurance will not cover the cost of your injuries.
Don't drink alcohol and ride. Driving a motorbike through the chaos of Indonesian traffic is risky enough as is. Its even riskier when you're not able to react – so – don't make things anymore dangerous. If you're drinking, just walk or get a GOJEK. Additionally, if you are injured while riding a motorbike and intoxicated, your travel insurance will not cover the cost of your injuries.
Moving things around: Use GOBOX or GOCAR + moving men via the GOJEK app
When the time comes to move your belongings after a few months in Bali, chances are those things will not fit comfortably on that tiny motorbike you rented. For these moving events, I highly recommend using "GOBOX."
GOBOX is an option within the GOJEK app that allows you to rent trucks of various sizes for a house move, a furniture move, or even to cover large shopping trips. The price for the vehicle rental with driver has always been between 100k (~$7) and 200k (~$14), and renting an additional mover for an extra set of hands is only 50k (~$3.50)

Connectivity: SIM Cards and Smart Phones
.
Staying connected is not only essential as a remote worker or expat with connections back home, but for Whatsapp messaging (the default communication means on Bali), GOJEK, and local banking apps for mobile payment and bank transfers.
The best mobile phone data options
Local SIM (Telkomsel, XL, or IM3)
Airalo: e-Sim – great for local data while allowing you to use your home SIM**
Local SIMs can be purchased at roadside kiosks easily (with your passport) and cheaply (SIM + 10GB data for 30 days). After you've your data, you can easily add credit/data to your SIM using the respective provider's mobile app (Telkomsel, XL, or IM3) or via the GOJEK app..
For those staying for a brief time or too lazy (it's ok) to stop off an get a physical SIM card, e-SIMs via Airalo are fantastic, as you can download the Airalo app and setup the e-SIM within 10 minutes. This way you'll have cheap data immediately upon arrival in Bali, so you'll be able to GOJEK to your new home from the airport.
For US travelers, I highly recommend signing up for and activating a Google Fi SIM. Google Fi's unlimited international text and talk costs $20, allowing you to receive bank verification and account verification texts while abroad, as well as calls to your number. Google Fi's tiered charge of $10 per GB (up to a maximum of $65) makes it an easy option to maintain connectivity when you first land in Bali, or any other country
Click here to learn more about Google Fi
Connectivity: Internet quality and access
For those remote workers and digital nomads that require a strong internet connection, don't sweat! You will be able to find one on Bali – though it may take setting it up for yourself at home.
Generally, cafes in Bali tend to have poor quality, slow internet, either due to an insufficient package, or too many people on the router – so, plan on getting a local SIM card with plenty of data to hotspot yourself.
On the other hand, coworking spaces in Bali tend to have blazing fast internet, sufficient for doing anything you need.
At home, internet can be fast, you just need to ensure the landlord opts for a fast package, or upgrades to a more reliable internet service. As a rule, at home in Bali you either want Indihome (which I have with a fiber optic connection or Biznet (which I haven't had but many people I know speak highly of). From here, simply opt for the package that is as fast as you need.
Currently, I pay 355k per month (~$24) for 50mps internet
Once you have your internet connected, via Indihome or Biznet, you can either pay monthly in the app or via the GOJEK app.
Don't forget the VPN
FYI porn, gambling, and illegal download are illegal in Indonesia, so many of the related sites are blacklisted, along with sites such as Wikipedia and Reddit.
On an unrelated topic, VPN's, are handy little tools which 1) encrypt your internet browsing data and 2) allow you browse the internet via secure servers in a different country, masking your location. Bottom line – you should have a VPN to ensure your internet browsing (especially online banking transactions) is secure and to keep your internet browsing as "uninhibited" as possible.

Healthcare and Medical on Bali: Keep travelers' insurance for the first year, and plan for Malaysia and Thailand for medical care
Bali is perhaps one of the worst countries I have ever visited from a health and medical standpoint. A combination of tropical island health issues (dengue, rabies, sketchy food handling) and a medical system and medical infrastructure that's some of the worst in the region means you should absolutely maintain Travel Insurance or Nomad Insurance
Worst case scenario, you will want to be prepared for a medical emergency (whether illness or accident) that requires medical evacuation to a country with a proven, reliable healthcare system (Thailand, Singapore, Malaysia, or Europe). In my years on Bali, I've experienced a handful of stories from a freediver blacking out during a dive, going into a coma, and dying in a hospital in Bali due to low quality care, to an acquaintance experiencing a brain aneurism (brain bleed) after a motorbike accident and being discharge from the hospital after his credit card was maxed out and never heard from again.
Having travel insurance or medical insurance with emergency medical evacuation coverage is the key, and the one thing you want to maintain on Bali.
Additionally, this coverage will cover your normal bumps and bruises, given you're wearing a helmet and protective gear, and not intoxicated.
For the first year abroad, I highly recommend Safetywing travel insurance.
Bali's best hospitals are Siloam Hospital (Denpasar) and Sanglah General Hospital (Denpasar)
Both the Siloam Hospital and Sanglah General Hospital have ICU's and emergency care, so keep these hospitals handy in your memory for the off case that you need western standard medical care.
For most bumps, scrapes, bruises, and infections, private clinics and pharmacies abound throughout the island allowing for a quick, easy, and cheap drop ins.
For long term medical care, consider Malaysia or Thailand
Though it is possible to get basic care in Bali, if you are planning to live on Bali for years, you will need routine medical care – and for this I recommend planning to conduct most of your medical procedures (in depth check ups, labs, surgeries) in either Malaysia or Thailand.
I suggest Malaysia and Thailand for three reasons:
The quality of medical care in both Thailand and Malaysia is world, with internationally trained and experienced doctors that speak English, and for a shockingly affordable price
All of the wealthier Balinese and Indonesians I know go to Kuala Lumpur, Malaysia for their medical issues, due to the higher quality of care
Due to work restrictions and travel difficulties, you will not find any western doctors in Bali, and very few western trained, due to laws that only Indonesian doctors may practice medicine in Bali. Indonesia restricts visiting professors and doesn't allow foreign medical professionals to practice, limiting knowledge exchange – which is the exact opposite of the Malaysian and Thai approaches for the same cost. Unfortunately in Indonesia, the result is a less "globally exposed" pool of doctors and healthcare workers.
Women be warned – medical treatment in Bali will feel slightly archaic (as reported to me by female travelers) so considering going to Kuala Lumpur or Thailand for "female specific" medical procedures
This is second hand information – but – many women have reported very bad experiences in Bali having "women's medical issues" diagnosed and treated in an exact, respectful manner. Most commonly when are repeatedly asked "where is there husband", and diagnoses generally default to "you're likely pregnant", etc. Also, patient confidentiality and "beside manner" is far different than the western standard. Though you will find what you need in an emergency, it may be well worth finding a trusted gynecologist in KL.
Medical in Bali: Bali International Hospital is coming in 2024, but the best options will still be in Thailand and Malaysia
Fortunately for long stayers on Bali, the Indonesia government is intent on making Bali a destination for medical tourism and a place where low cost, high quality medical care is possible. The first, and most significant, step for this will Bali International Hospital, due to open in Sanur in late 2024.
Source: https://thebalisun.com/balis-incredible-new-tourist-hospital-will-open-in-early-2024/

Bali Essential 1: GOJEK App for rideshare, food delivery, and bill paying
You've read it many times in this article, but the mega-app GOJEK is an essential download for your time in Bali. As soon as you download the app, setup your account, get verified in the app (by sending a picture of your passport), and use your Wise account to add cash to your GOJEK account.
From here you'll be able to order motorbikes, taxis, and food delivery from most restaurants in Bali, as well as pay your electric bill, mobile phone bill (Telkomsel), internet bill (Indihome) and pay for Tokopedia orders.
Which leads us to the next essential in Bali
Bali Essential 2: Tokopedia
You can't bring everything from home. At the same time, it's the nature of shopping in Bali that whatever you need, the store you're at likely doesn't have it. But Tokopedia has everything.
Tokopedia is Indonesia's mega e-commerce site, akin to Amazon, and will allow you to order to your doorstep, most anything, and cheaply. And you can pay via GOJEK.
Tokopedia.com
What to bring with you to Bali
Some items on Bali are either unavailable in decent quality, or too pricey due to customs, so do yourself a favor and bring them with you.
A new laptop (to get you through the first year)
A new smart phone (to get you through) that's waterproof
A GOOD rain jacket
All of your tech (Firestick, hard drive, etc.)
Medications with the original prescription
International Driving Permit

Other Good Information Resources

Safety and Health
It's a common concern to question how safe a new potential home may be. Rest assured that Bali is just as safer or safer than most locations in the US or Europe. Excluding the possibility of a minor traffic accident, Bali is a safe place.
Violent crime is rare in Bali
Petty theft is rare but does occur in extremely busy areas, later at night. If you use common sense (secure your belongings) it won't be a problem
Health
Do not drink the tap water. For home, use refillable 5 gallon water bottles of "Aqua" water or "Balian" water.
Mosquitoes are an issue and dengue is a risk. Be proactive with either 1) mosquito repellant (available at most mini marts), 2) HIIT plugin mosquito repellant emitters, or 3) long shirt and pants
Rabies was an issue in the past, so consider getting a rabies vaccination prior to arrival, and beware of bites from stray pups.

Moving to Bali: Preparation for your Bali Move
Banking and Money Access: Setup Wise and Revolut for free, and bring 2 credit cards and 2 debit cards
Access to cash can make or break your trip to Bali. Despite your best efforts, accidents can happen, whether forgetting a card at an ATM, or having a card skimmed. Additionally, Indonesia's banking system is notoriously tricky, making it smart to have a good financial setup.
I highly recommend preparing the following financial products before arriving:
Revolut account with 2 debit cards (free)**
2 x Debit Cards (I recommend the Schwab checking account) (free): ATMs are the best way to access cash, and a better option than money changers
2 x Credit Cards (I recommend the Chase Sapphire credit card and one no fees card)
Google Fi or an alternative SIM card from your own country that allows free international texts for bank, Paypal, and AirBnB verifications
For more info, read this article on the Essential Financial Tools for Nomads, Expats, and Travelers.

The Bali Visa: Which one is right for you
When it comes to moving to Bali, visa issues are likely the single most confusing headache, with frequently changing visa regulations, so many different options compare to other countries, and the near requirement for having an agent.
In any case, I highly recommend having your visa sorted before arrival, and that the visa you pick for your first trip be different from the visa you choose when you decide to stay on Bali permanently.
To be clear, there is no "Bali visa." The visa you will get is an "Indonesian visa" that allows free stay and travel throughout Bali and the other 18,000+ islands in Indonesia.
Why is it important to pick the right Bali visa for your stay?
The visa you pick determines 1) how long you can stay on Bali 2) what activities you are legally allowed to do (working, performing, journalism, volunteering, etc.) and 3) how easily you can leave and come back on the same visa, without going through the visa application and payment process
Which Bali visa is the right visa for your move?
For your first trip to Bali, opt a "Visa on Arrival" (VOA) for 60 days or a 6 month Social Visa (single entry)
Before you fully commit to Bali for a year or more, test Bali to see if living on the island lives up to the hype for you. For this period, 60 days to 6 months will be a perfect dose of tropical life to see if it's for you or not. These two visas – the 60 day Visa on arrival and the 6 month social visa offer that amount of time. Both visas are easy to process and (relatively) cheap compare to other options, but both are only single entry, so valid until you leave.
As you decide to stay in Bali longer, consider upgrading to a 1 year multiple entry business visa (with no tax reporting requirements) or a 2 year Investor KITAS residency permit (which requires filing taxes every year).
After you've had a trial run and know you plan to stay on Bali for years or more, the two best visa options are the 1 year multiple entry visa, which allows you to stay for 90 days per stay, visa run, and return, or the 2 year investor KITAS, which allows you to come and go from Bali as you please, just like a Bali resident.
The major difference between these two options is the 1 year business visa still requires visa runs, so calculate that cost and convenience (or inconvenience). I actually used this visa for my first 2 years on Bali and used the visa runs as a chance to explore Malaysia, Philippines, Sri Lanka, Thailand, Vietnam, and more via cheap fights (~$100) on my visa runs.
The second MAJOR difference (beyond the hassle of getting a KITAS) is a KITAS automatically comes with the responsibility to file taxes in Indonesia every year, and Indonesia taxes global income. The 1 year business visa does not automatically come with that requirement.
(Click here to jump down to the list of visa options, details, and recommendations)
How to get a visa before you arrive to Bali?
I'll review the process and requirements for attaining each visa below but, basically, only the "Visa on Arrival" (VOA) or its cousin, the e-VOA can be attained on arrival.
For all other visa (6 month social visa, 1 year business visa, 2 year investor visa, 6 month performer's visa) you will need to apply for the visa while outside of Indonesia and you will need to use an agent. I universally only recommend 2 visa agencies as I have used both tens of times, and trust their work.
The Only Visa Agencies I Recommend
MPG Consulting: Contact via Whatsapp at (+62811387262) or visit Ibu Ayu's site at https://www.mpgbali.com/ for a full list of visas available right now. For KITAS, immigration issues, business visas, and social visas, I recommend Ibu Ayu and her team above all others on Bali.
Bali Business Consulting: Contact via Whatsapp at (+62 819-1640-6464) or visit their site at https://balibusinessconsulting.com/ for pricing, updated visa lists, and details
What are Bali Visa runs, and where should you go?
Once you've reached the end of your stay on a visa in Bali, you will need to leave for a short period, process a new visa, and return – however – you don't necessarily need to go home. "Visa runs" are simply a short trip with a cheap flight to a nearby country, to allow you to apply for a new visa or reset the clock on your last trip for your existing visa (for the 1 year business visa).
The best countries to go on visa runs from Indonesia, due to cheap flights as well as the great experience are Malaysia, the Philippines, Thailand, and Vietnam.
Additionally, a visa run allows you to buy things that aren't available in Bali with good enough quality or a good enough price.
Malaysia: Kuala Lumpur is the easiest and best location for a simple visa run. Cheap high rise "serviced apartments," countless shopping malls, and reliable electronics sales make this a go to
Thailand: Chiang Mai and Bangkok are both great for stocking up and recharging, and equally good for high quality medical check ups and dental
Vietnam: Hanoi, Hoi An, Da Nang, and Saigon are all cheap flights away, a wonderful change of pace, and remarkably cheaper to stay in than Bali. If you're having trouble focusing on work in Bali, a week long visa run in Vietnam may help your productivity
The Philippines: The islands of the Philippines is purely for vacation experience and one I highly recommend. A pure water world with pristine ocean water and beaches and no trash. You'll appreciate that last part after your first rainy season in Bali.
Overview of the Bali Visa Options:
Recommended visas for initial stays and short stays on Bali
60 Day Visa (30 Day Visa on Arrival + 30 day extension)
6 month "Social Visa"
1 year multiple entry "Business Visa" (requires leaving every 90 days)
60 Day Visa (30 Day Visa on Arrival + 30 day extension)
The Bali Visa on Arrival and e-Visa on Arrival allow a 30 day initial stay with the option to visit the immigration office to extend your stay for an additional 30 days, for a total of 60 days.
Official information for the Indonesian e-VOA can be found at https://www.imigrasi.go.id/en/e-voa/ and you can apply for and pay for the e-VOA at the official Indonesian Immigration site at https://molina.imigrasi.go.id/ for up to 5 people.
The e-VOA costs 500,000 IDR (~$20 USD)
For those that enter Indonesia with an e-VOA, you can extend for the following 30 days by logging into http://molina.imigrasi.go.id/ and clicking the "extend" button and following the procedures that follow and processing payment. The current fee for an e-VOA extension is 800,000 IDR (~$54 USD).
You can learn more about extending your e-VOA at the official Indonesian Immigration site here.
For those that receive a normal VOA on arrival at the airport, you will need to visit the immigration office to extend your visa for a fee of 800,000 IDR (~$54 USD)
6 month "Social Visa" (Single Entry) (B211, e-B211)
For those that wish to stay in Bali for a up to 6 months but have no plans of leaving Bali before the end of their visa, the B211 visa is perfect for you.
The 6 month B211 visa, commonly called the "Social Visa," "Single Entry Business Visa," "e-B211" and the "Bali digital nomad visa" in recent press releases is a general visa that allows you to stay in Bali for an initial period of 60 days and extendable every 60 days up to a total of 6 months. While on this visa you can work remotely, as long as your customers and company aren't based in Indonesia, but you technically can't volunteer or perform.
You can process this visa for yourself online, however, I recommend using a reliable visa agent to speed up and simplify the process.
You can find official information on the 6 month Social visa at the official Indonesian Immigration website here: https://www.imigrasi.go.id/en/visa-kunjungan-satu-kali-perjalanan-b211a/
Additionally, you can contact a reliable visa agency (MPG) here: Whatsapp at (+62811387262) or visit Ibu Ayu's site at https://www.mpgbali.com/
Processed through a visa agency the initial visa cost is 4,000,000 for the initial 60 days, and 2,600,000 for each additional 60 day extension. The total price of the 6 month e-B211 is 9,200,000 (~$615 USD)
D212 1 year multiple entry "Business Visa" (requires leaving every 60 days)
For those that don't mind leaving Bali every 60 days, I highly recommend the D212 multiple entry 1 year business visa – as this is what I had for my first couple years in Bali, and I appreciated the convenient opportunity to come and go and explore Southeast Asia.
This visa allows you a full year to enter Bali an unlimited number of times, as long as you leave at maximum every 60 days.
Processed through a visa agent, the cost of a D212 1 year multiple entry business visa is 5,500,000 IDR (~$365)
Visit the official Indonesian Immigration site to learn more about the D212 visa here
Recommended visas and Resident Permits for longer stays and permanent stays on Bali
2 Year "Investor KITAS" (permanent residency permit)
5 Year "Second Home Visa"
5 Year KITAP (permanent residency permit)
As you decide to stay on Bali for a year or more, with more emphasis on staying in Bali for 6 to 9 months, and less desire to renew visas and take on visa runs, you will want to consider the opportunity (and hassle) of temporary or permanent residence permits – respectively name KITAS or KITAPs.
2 Year "Investor KITAS" (permanent residency permit)
The 2 year "investor KITAS" is the most coveted and popular "visa" among long stayers on Bali. The KITAS allows the holder to stay as long as they wish within the 2 year period of validity and to come as go as they please.
Additionally, the KITAS can allow the holder to perform "director activities" in the Foreign Owned Indonesian company they have invested in and thus enables their KITAS.
However, this golden ticket comes with a price. KITAS holders must hold at least 10% of shares in an Indonesian company (PT PMA) and opening a PMA requires a 10 Billion IDR capital investment. Though this portion of the requirements is a bit confusing, I won't venture to explain them better here. Instead I'll point you to the expert that helped me understand my situation better and what is best for me.
If you are interested in investing in an Indonesian company and legally attaining a KITAS, contact Ibu Ayu at MPG Consulting.
MPG Consulting: Contact via Whatsapp at (+62811387262) or visit Ibu Ayu's site at https://www.mpgbali.com/
5 Year "Second Home Visa"
The "Second Home Visa" replaced the former "retirement visa" last year and, quite frankly, has shifted to targeting long stayers for "investment in Indonesia" in exchange for a 5 year or 10 year permanent resident permit.
To qualify for an Indonesian Second Home Visa, applications must meet 1 of 2 criteria:
Place 2,000,000,000 in an Indonesian Bank Account ($133,000 USD) and be able to show proof of that balance to immigration at any time
OR
Purchase a home that qualifies as a "luxury home" in Indonesia with a minimum value of 5,000,000,000 ($335,000 USD) under "Hak Pakai" and show proof of title ownership. Leasehold rental/ownership of a property does not qualify
The price of the 5 year "Second Home ITAS" processed via a Visa agent is 45,000,000 IDR ($3,000 USD)
Learn more information at these official sources:
Official Indonesian Immigration Website: imigrasi.go.id/en/visa-rumah-kedua/
Other visas to know about
Entertainer visa (KITAS) allows work (valid for 6 months)
The "Entertainer KITAS" is the only visa that permits working, performances, running workshops, DJ'ing, doing standup comedy, or anything like that legally (and without the risk of deportation). But be warned, this visa isn't cheap.
This visa must be processed through a visa agent, and pricing for the 6 month Entertainment Visa is as follows:
Offshore Entertainment KITAS (Badung, Denpasar Area) 12,000,000 IDR + Visa fee 150 USD
Offshore Entertainment KITAS (all Indonesia) 17,000,000 IDR + Visa fee 150 USD
Government TAX 600 USD for 6 months
What you can't do on a normal Indonesian visa while in Indonesia
Be warned (again) that without the right visa in Indonesia and respective work permit, you can't do any of the following activities. If you are caught by immigration, the consequences will be thousands of dollars in fines, deportation and blacklisting, or both.
Work for customers or companies based in Indonesia
Volunteer
Perform (even for free)

Taxes in Indonesia: If you stay in Indonesia more than 180 days in a year, you are technically required to file taxes
If you stay in Indonesia for more than 180 days in a year, the Indonesian government considers you a tax resident, and you technically must file. Be aware that Indonesia taxes on global income, not just your income earned in Indonesia. However, there are two "catches."
Taxes paid in your home country may reduce your tax liability in Indonesia
Most countries have a tax treaty with Indonesia stating that taxes paid to your home country reduce your tax liability in Indonesia. To see if this is the case, first, research tax treaties between your home country and Indonesia and, second, hire a good tax consult for your annual personal income tax filing in Indonesia.
References
You can only file if you have an Indonesian national tax ID number, and you can only get this with a KITAS or KITAP…meaning many people who stay in Bali longer than 180 days can't file…so…
The catch and loophole: You can only file taxes in Indonesia if you have an NPWP (national tax identification number) and you can only receive an NPWP if you have a KITAS or KITAP (not if you have a VOA, social visa (6 months), or multiple entry business visa).
The beauty of what it means: SO…even if you have been in Indonesia for more than 180 days in a year, you can't file taxes if you are on a visa on arrival, a social visa, or a multiple entry business visa.
So, before applying for that KITAS or KITAP talk to a competent tax professional to see if a KITAS (and the tax liability) are worth the hassle for you.
The key takeaway from this is that I am absolutely not a tax person, but I recommend talking to a competent Indonesian tax professional to understand your situation.
As always with all things legal, tax, and business related – I recommend Mike at SAS, as he and his team (Yoga and Dini) were the first professionals in Bali that made this upsetting nonsense actually make sense. You can contact him via Whatsapp at +6287840258332

The Prospect of "owning" a home in Bali
At some point, if you do decide to make Bali a long term home, "buying" a house in Bali (or more accurately "leasing long term") is smart, as it locks in your cost of living for years and reduces lots of uncertainty. Talk to anyone who has been in Bali more than a few years and they will complain that 1) the cost of housing has gone up exponentially and 2) they wished they'd bought something years ago.
Though *foreigners cannot own land or houses* in Bali we can lease land and houses long term, for up to 75 years on a single property. Though the idea of spending hundreds of thousands of dollars just to rent a place, and not actually own it, may seem off putting, the numbers actually do make sense. Primarily because, during that 25 years of ownership you do not have to pay property taxes as a "renter" and secondly, few other places in the world can you live in a villa less than a kilometer from the beach for a few hundred dollars.
Take this to mean, if you plan to live on Bali long term, "buying" a piece of land and building your dream home is 100% worth it – but – building something high quality in the messy chaos of Bali can be a stressful experience. Additionally, in a land where by nature no one follows the rules (and foreigners are the only ones punished for it) you should have a thorough understand of the Bali land purchase process, Bali construction permitting and planning process, and the process of building on Bali before committing hundreds of thousands of dollars.
These articles cited below will guide you through this entire process and are the culmination of a 3 year project of searching for land on Bali, researching the real estate and construction market, and finally building my dream home – an oversized concrete surf shack called Balifornia.
Tips for buying and building in the Bali property market
Don't "over speculate" with a plan for only if prices go up and trends continue. Buy for intrinsic value and value to you above all else.
Stay mentally grounded in reality in your search for land and construction service providers. The real estate market in Bali has been bonkers lately as have the prices, so don't fall prey to unreasonable pricing.
DO compare prices to what you would pay back home to avoid major losses. For example, building costs are a fraction of what they are back home, land costs are high, but rental and sales prices are astronomical. Being aware of these differences (and where agents and snake oil salesmen are aiming to take advantage of uninformed potential buyers) will save you from a major mistake.
Do your research on the options and the proper approach to the process of land legal due diligence, construction permitting, construction planning, and the construction process.
Don't rush. In the land where no one rushes for anything, if anyone is rushing you to pay, sign or commit, be skeptical as the pressure likely isn't for your benefit.
Don't give in to "FOMO" (the "Fear of Missing Out"). I promise, there is a lot happening in the Bali real estate market that you want to miss out on.
Talk to friends who have bought, built, and renovated in Bali. Listen to how great the process was. Then get them drunk and listen to how much of a nightmare it was. If after that you still want to build or renovate a build in Bali, you've passed the test.

Understanding Bali
Weather: 2 seasons – Rainy season from October to March and Dry, Cool season from April to September
Bali has two seasons
The rainy season: From roughly October to March the island is warm, drenched in rains, many things shut down, and many streets flood
The dry season: From roughl April to September, the island is cool(er), the winds kick up, rainy days are few and light, and the surfing (in the Bukit and in west Bali) is at its best
Note that the rainy season months that everyone quotes aren't exact and tend to bleed either way by up to a couple months, with only the middle months of each season absolutely rainy or absolutely dry. With that, I recommend not planning to live long term in Bali until you've experienced a rainy season.
During rainy season, trash washes into the ocean (off of Bali and from Java to the north), surfing is at its worst (filthy water with mega onshore winds), streets flood, GOJEK deliveries stop for rain, and the internet goes out once to a couple times a week (no idea why).
For this reason, pack a really good rain jacket, or just be ready to buy one in Bali. Don't be scared to take it slow on your motorbike during the rain, or avoid it all together until you're comfortable.
Don't plan to live in Bali long term (year-round) until you've stayed through a rainy season.
Dry season on the other hand is the dreamy experience that everyone expects from Bali. Weather is much cooler (warranting a nice sweater at night), rains are few, surfing is at its peak with bigger waves and crisp offshore winds, and trash in the ocean is far reduced to nearly non-existent.
If you only plan to live in Bali part time, do it firmly during the dry season, and you'll nothing but love Bali.
Pets and Animals: You can't bring them, and you can't take them. You can contribute to "community care" for stray animals, but be responsible about adopting.
Due to Bali's recent history of rabies outbreaks, it is very difficult to bring pets to Bali (legally) and if you do it will be nearly impossible to take them with you from the island. Though there are "ways" to make both things happen, I recommend against it.
Luckily, Bali has a MASSIVE population of stray dogs and cats that are ridiculously friendly and love "public lovin'". Individual expats (like myself) as well as non-profits (like Bawa and Villa Kitty) take on the task of spading/neutering stray dogs and cats, as well as providing rabies shots routinely. Additionally, puppy lovers tend to leave out food and water for strays. You will also notice that the lovable stray pups tend to stay to the same area – making it easy to repeatedly take care of the same pup without fully adopting. I have a few beach pups I love that I routinely bring leftover food and parasite medication. Considering they have already been fixed, it makes for a great situation for me, the pups, and community. The Balinese are very accepting of stray animals and generally allow them to live out their lives unbothered (unlike the dog catcher ways we have in the US) so feel free to make friends with the pups and cats and permit them the same.
However, if you do get sucked into fully adopting an animal, only do so if you know you'll be able to do so for the life of the pet. Many of the stray dogs you see (especially the friendly ones) were likely pets that were adopted by foreigners and then dumped on the street when they had to leave. I promise, the dog will live a better life on the street and cared for than caged in your house for 6 months and then dumped on the street to reacclimate.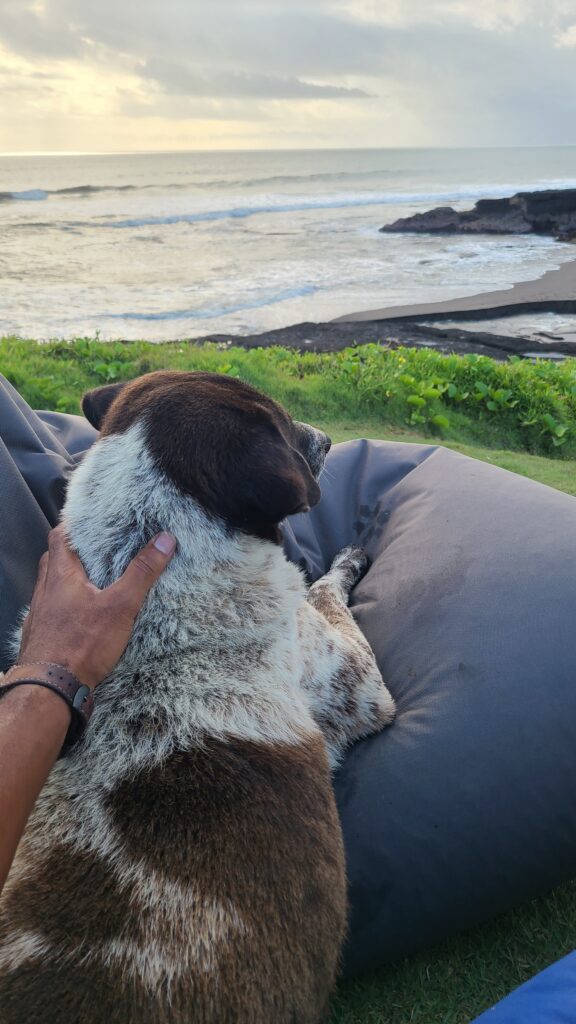 Grumpy, the pup pictured above and the village mayor, was the lovable pet of a surfer that had to leave Bali 4 years ago and dumped him on the beach. Since then, Grumpy has made himself a home on the beach and tons of friends. Surfers bring him (and the other pups) food and medication, and he routinely bothers me for pets and treats before my surf session too. Keep this pleasant situation in mind whenever you decide to temporarily adopt a dog on Bali.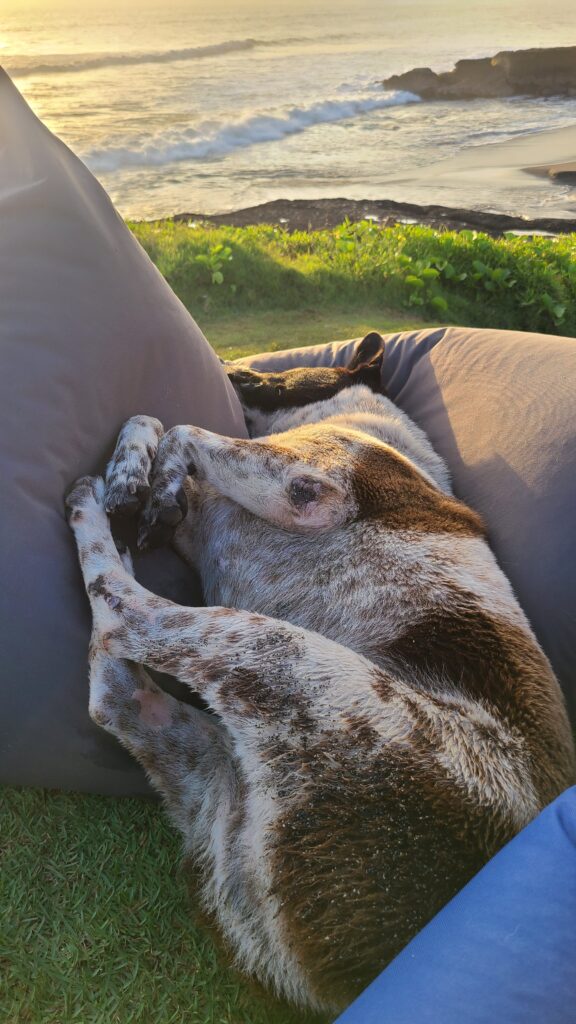 Laws to know in Bali
Driving in Bali requires wearing a helmet and carrying either an International Driving Permit or an Indonesian Driver's License (SIM-C)
No climbing mountains as climbing in mountains in Bali was banned in 2023
Absolutely no drugs – if you need the weed, go to Thailand. Don't bring it to Bali. Possession or use gets a minimum of 10 years in prison, and "dealing" gets the death penalty, whether local or foreigner
A law passed in December 2022 contains vague language that potentially criminalizes LGBT sexual activities if reported through appropriate channels. I recommend LGBT travelers read the article cited below from the Human Rights Watch and this article from the New York Times to understand the legal situation in Indonesia as it pertains to them

Moving to Bali FAQ
Why is Bali so cheap?
Bali's low cost of living is due to a very cheap labor force in combination with a generally low cost of living across Southeast Asia.
How to move to Bali in 6 steps
1. Figure out your financial situation for the move.
2. Decide which "Bali lifestyle" you want to start planning your budget, accommodation, and visa.
3. Decide where in Bali you want to live for your first year on Bali
3a. Consider a short test to visit Bali, between 2 and 6 months.
4. Start looking for a house to lease in Bali long term, for 1 year ideally.
5. Arrange your visa in advance based on your planned length of stay and plan visa runs accordingly.
6. Get your International Driving Permit in your home country to drive legally in Bali.
7. Set up your banking and personal finance situation for easy use in Bali: Wise, Revolut, Debit Cards, Credit Cards
7a. If you are from the US, sign up for Google Fi and activate your Google Fi SIM while in the US.
8. Get a local SIM card to have a permanent local number and consistent connectivity
9. Setup the Gojek rideshare app and get verified for an easy/cheap rideshare app, easy way to order food delivery, and easy way to pay bills on Bali
10. Rent a motorbike monthly for transportation (or purchase second hand)
11. Learn the Indonesian language to make daily life easier and lower your cost of living.
Is it safe to live in Bail?
Bali is very safe. Violent crime and petty theft are lower than in both the US and Europe. The biggest risks to tourists and foreigners comes from insane traffic, so drive safely and wear a helmet and you'll be fine.
Is it worth it to move to Bali?
Given the sunshine, great weather, and slower pace of life, combined with a lower cost of living and eclectic and multinational population, it is absolutely worth spending an extended period of time on Bali
Can I move to Bali permanently?
Yes, with the right visa situation and a location independent source of income, it is absolutely possible to live on Bali long term.
Is it realistic to move to Bali?
Yes, it is realistic to move to Bali. The only difference between living in Bali and your home country is attaining a visa (permission to live in Indonesia for a specific period) and ensuring that you have a source of income (or savings) from outside of Indonesia that will continue while you live there.
How much money would you need to move to Bali?
Plan on saving $2,000 to $3,000 for every month you plan to live on Bali, plus flights and visas
Can you live on $1000 a month on Bali?
Yes, you can live in Bali for $1000 per month, but you will need to mainly eat local food at local restaurants, guest houses, and aim to stay at a guesthouse in a neighborhood outside of the popular, touristy centers
What are the best places to live in Bali?
The best places in Bali for expats to live are:
Canggu
Pererenan (and around)
Uluwatu (and the Bukit)
Ubud
Sanur and Nusa Dua
Amed
Lovina
Can I move to Bali with no job?
Though you could technically move to Bali with no job, you would need to have the savings to pay for your entire trip. Foreigners are not allowed to work in Bali without an Indonesian company employing them and without proper permits, with the exception of remote work for companies and clients not located on Bali.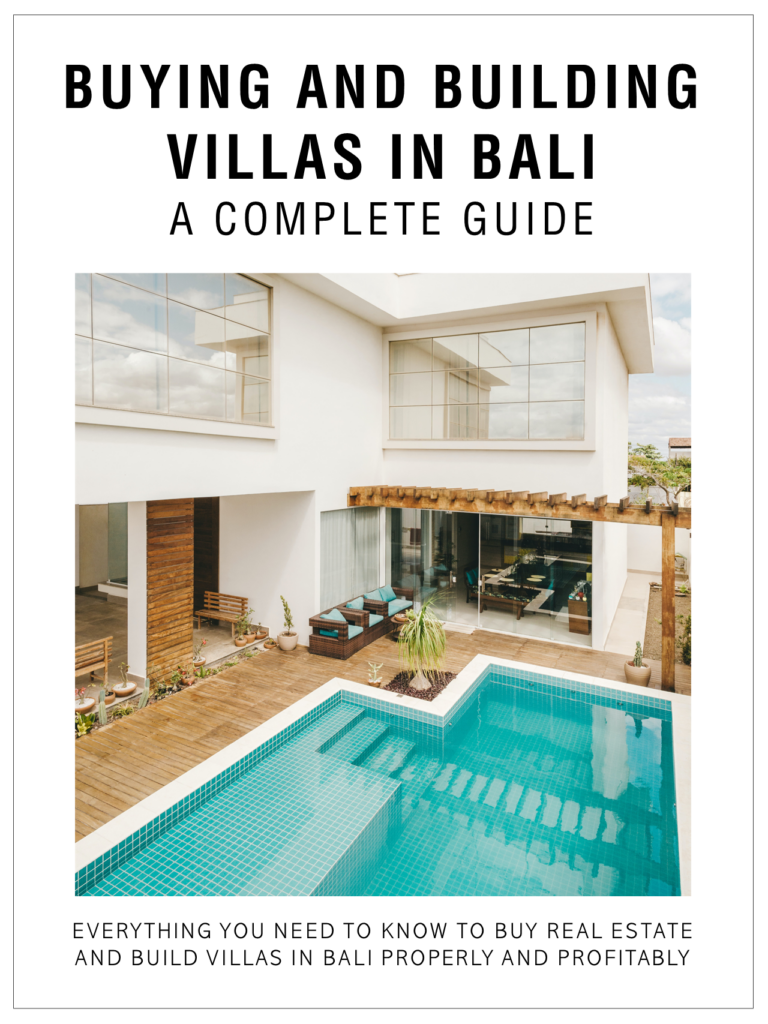 Other Great Articles in the Moving to Bali Series
Other Great Nomad, Travel, and Expat Lifestyle Articles