The Good Mornings exercise is one of the best exercises to test and promote lower back health, lower back strength, and posterior chain mobility – all essential elements of a healthy, functional body. By doing sandbag Good Mornings we give ourselves the option to do these great exercises for longevity and back health anywhere – at home, in the park, or on a beach.
If you're looking for a way to build the lower back strength, mobility, and health that leads to an injury resistant back, look no further.
Because of the uniquely high leverage the muscles (lower back, glutes, and hamstrings) must overcome in this hip hinge exercise, combined with a much longer range of motion than most back exercise movements, while also employing all of the muscles on our backside, from the calves up to middle back, the sandbag good morning exercise is unmatched for training mobility (flexibility and range of motion) and strength simultaneously in a part of the body that is injury prone for most people due to a lack of strength and mobility. Especially if you're limited with the amount of weight available, this exercise makes it easy to get in the movement and resistance training that many people neglect in daily life.
In this article we'll review proper technique for performing this great, functional exercise, the benefits of the movement, and how to incorporate sandbag Good Mornings into a healthy training plan for a more capable, injury resistant body
WHAT IS THE SANDBAG GOOD MORNING EXERCISE?
Good Mornings are a simple exercise in which we stand supporting a weight, usually a barbell or dumbbell supported in the **back racked** position, and bend at the waist to the end of our range of motion for bending at the waist.
Through the good morning exercise, we maintain proper body position and technique while maintaining proper, neutral spinal position and an engaged core, and straight legs throughout the entire movement.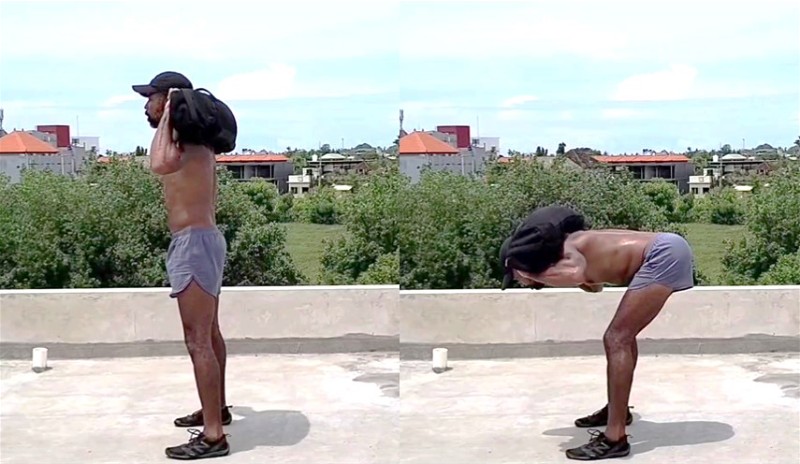 Sandbag good mornings are performed with the same movement and technique as normal good mornings, bending at the waist to the end of our range of motion while maintaining an engaged core, proper spinal alignment, and straight legs, except sandbag good mornings are performed with a sandbag in the back racked position as resistance for the movement, instead of barbells, dumbbells, or resistance bands
EXERCISE STEPS: HOW TO DO GOOD MORNINGS WITH A SANDBAG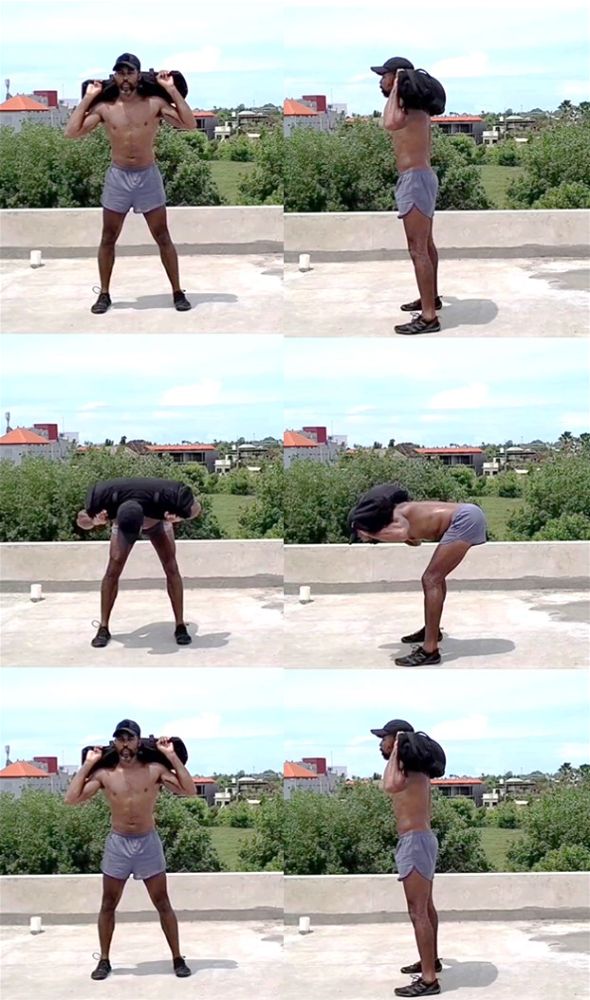 1. From a standing position with the sandbag held in the **back racked** position, feet shoulder with apart, an engaged core with a neutral spine, and straight legs
2. Slowly bend at the waist, lowering the sandbag weight racked on your upper body maintaining straight back and knees straight, moving at a slow controlled pace, keeping weight on the heels
3. Stop once your torso is parallel to the ground
4. Reverse the movement, contracting your glutes, lower back, and hamstrings equally, while maintaining straight legs and straight lower back, and you are fully standing
5. End with full extension of the hips, contracting the glutes6. Repeat
BENEFITS OF DOING SANDBAG GOOD MORNINGS: LOWER BACK HEALTH AND DURABILITY VIA HIP HINGE EXERCISE
The sandbag good morning and good mornings in general, are valuable exercises for lower back health and durability and general functional strength. Good mornings train strength in the lower back and posterior chain (glutes, hamstrings), train pelvic mobility (range of motion), and train posterior chain mobility (range of motion and strength through range) which add up to great spinal and hip health as well as lower back health and resistance to injury
The benefits of training the good mornings movement include the following:

Lower back strength
Posterior chain + hip mobility + lower back mobility
Trains and encourages property spinal positioning (engaged core, neutral spine)
Keeps us aware of our lower back health and the flexibility of the muscles that cause the most lower back problems
SANDBAG GOOD MORNINGS VS. BARBELL GOOD MORNINGS VS. BANDED GOOD MORNINGS
Sandbag good mornings offer the same strength and mobility benefits as barbell good mornings, except the portability of sandbags allows you to do good mornings anywhere, and as far away from the gym as you want.
Banded good mornings, however, allow for the same movement training but deliver lower resistance at the bottom of the movement, where we will naturally be the weakest, and higher resistance at the top of the movement, where we will be the strongest. Additionally, banded good mornings require you hold the bands in a front racked position, thus working the arms and shoulders throughout the movement.
Ultimately, all three options, sandbag good mornings, barbell good mornings, and banded good mornings, work our target body parts – lower back, glutes, and hamstrings – and goals – strength and flexibility – in a sufficient way, so, do whichever exercise variation is convenient for you. All three variations will deliver sufficient benefit.
A Great Alternative: Resistance Deadlifts
If carrying around a sandbag sounds too cumbersome, then consider doing resistance band deadlifts. With a pair of tough, flat resistance bands, like the Rogue Monster Bands, you'll be able to get in a hip thing style exercise, with resistance, anywhere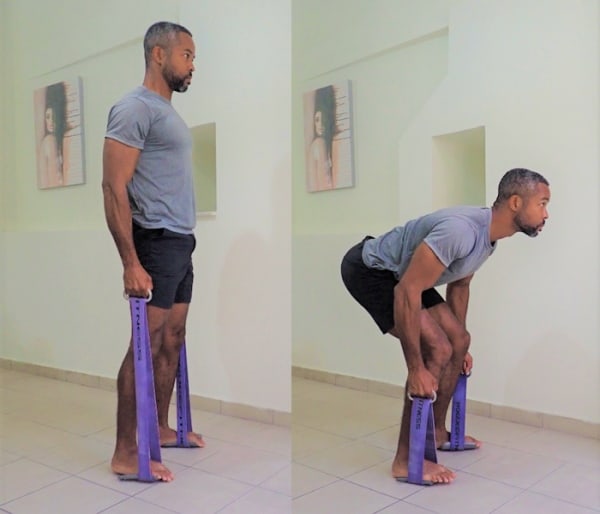 GOOD MORNING VARIATIONS
Try these alternatives to strengthen your lower back, glutes and hamstrings
Seated Good Mornings
Seated good mornings are a good mornings variation that are executed seated with the legs fully extended. Seated good mornings both require and develop more flexibility than normal good mornings. Seated good mornings also train more strength at the end range of the hip extensor (glutes, hamstrings), beyond the 90 degree torso to legs plane that normal sandbag good mornings are limited to **
Resistance Band Good Mornings / Banded Good Mornings

Banded good mornings are performed using resistance bands to provide the resistance for the movement. Banded good mornings have the primary difference of delivering more resistance at the bottom of the movement (bent over) than at the top (standing straight with hips extended). Banded deadlifts be performed by anchoring the bands under the feet and holding the bands in front with arms fully extended in front of the torso, which adds an element of shoulder work, or in the front Racked position.
Barbell Good Mornings
Barbell Good Mornings are performed in the same manner as sandbag Good Mornings and deliver the same benefit.-
Dumbbell Good Mornings
Dumbbell good mornings are performed with the dumbbells extended in front of the body (more difficult) or in the front Racked position (easier).-
Banded Good Mornings with a PVC Pipe
Banded good mornings with a pvc pipe are performed with a pvc pipe in the back Racked position with a resistance Band anchored under the feet and around the pvc pipe to deliver resistance.

MUSCLES WORKED IN THE SANDBAG GOOD MORNING
Lower back muscles
Spinal Erectors
Hip Extensors (Hamstrings, Glutes)
OTHER AREAS TRAINED

SANDBAG GOOD MORNING WORKOUT
Sandbag good mornings are more appropriate as accessory work, done in addition to any normal lower body or full body workout, and performed with lighter weight and for higher reps.
A Quick Sandbag Good Mornings Workout

3 to 5 sets of 10 to 15 good mornings, added at the end of a lower body of full body workout is the optimal approach.

Beginners, or those recently returning to training should target 3 sets of 12 to 15 repetitions at a very light weight, concentrating on maintaining lower back position and core engagement, maintaining straight legs, and developing range of motion. Don't go to end range in your first few sets, however, do not move up in weight until you can go to end range safely, with proper technique.
Good mornings are not an exercise you should attempt to go as heavy as possible or "PR" on. Good mornings are an exercise you should train at low weight, with slow controlled movement, and concentrating on good technique and time under tension.
ANOTHER GREAT SANDBAG WORKOUT FOR LOWER BODY
PART 1: PERFORM 3 ROUNDS OF THE FOLLOWING:

– 10 Sandbag Overhead Squats
– 10 Sandbag Front Squats
– 10 Sandbag Back Squats
Rest 90 seconds and Repeat
PART 2: PERFORM 3 ROUNDS OF THE FOLLOWING

– 15 Good Mornings
– 15 Single Leg Calf Raises
Rest 30 seconds and repeat
PART 3: STRETCH AND MOBILITY

– 1 Minute Couch Stretch** (each side)
– 1 Minute Loaded Posterior Chain Stretch** (each side)
– 1 Minute Calf Stretch** (each side)
POINTS TO KEEP IN MIND WHILE YOU SANDBAG GOOD MORNINGS: MOVE SLOWLY AND MAINTAIN GOOD UPPER BODY POSITION
Start the movement with no weight, and progress pound by pound
Slowly bend at the waist, maintaining the proper spinal position throughout
In the back racked position pull the shoulder blades together and down to support a well positioned, naturally arched, and protected back
Start the movement with an engaged core and neutral spine
Throughout the movement, maintain an engaged core and neutral spine – if you feel your lower back change position, you've gone too low for your flexibility – ditch the weight
Throughout the movement, keep your head up, chest up, and avoid any change of position in your lower back
Get a good sandbag with handles in the right places

5 GOOD MORNING EXERCISE ALTERNATIVES
SANDBAG GOOD MORNINGS FAQ
How heavy should Good Mornings be?
When initially training good mornings, start with no weight, and training form and body position only, with 3 sets of 15 repetitions focused on time under tension and slow, controlled repetitions. When the movement feels easy throughout, increase your weight in increments of 2 to 5lbs. The movement should be taxing in a stamina way, not a "weight overload" way.
To maintain minimal risk, train good mornings with light weight and high reps, with time under tension being the most difficult and challenging element of the exercise
Are seated good mornings good?
Yes, when executed with good form and technique, with a tightly held back arch and only going to the end of the range of motion in which the proper back position can be held, seated good mornings can be good. Seated good mornings require, and thus develop, more flexibility in the hip extensor muscles (glutes, hamstrings) as well as developing strength at the end ranges of motion than regular good mornings.
What muscles are used in Good Mornings?
Hip Extensors (Glutes, Hamstrings), lower back, and spinal erectors

YOU KNOW HOW TO SANDBAG GOOD MORNING…WHAT NEXT?
Learn the Sandbag Clean, the sandbag deadlift, and the sandbag squat to add more exercises to your sandbag training arsenal
Consider checking out the GORUCK Sandbag, my favorite sandbag for training in the coming year to properly equip your home gym.
Next, check out these 31 sandbag workouts.