High-intensity interval training workouts, such as Crossfit, can be difficult to do at home, without a pricey gym, or in a much more enjoyable place like the beach or a park. However, with a good sandbag and knowledge of proper technique, we can get in a good, stamina, power, and muscle building workout with sandbag Burpees.
In this article we'll review how to do sandbag Burpees effectively and safely, and the variations that will max out how much you get from your workouts.
We'll close out this article with some other essential sandbag work, sandbag exercises and great sandbag wods to get you started.

WHAT IS THE SANDBAG BURPEE EXERCISE?

Sandbag burpees are a simple exercise in which we combine the burpee – an exercise that starts with a pushup, then jumping the feet forward, then raising the torso to the bottom of the squat position, then standing – and the sandbag clean and press – an exercise in which we take the sandbag off the ground, starting in the bottom position of the sandbag deadlift and powerfully extending the hips, pulling the sandbag up, and catching the sandbag in the front racked position. We complete the sandbag burpee by pressing the sandbag overhead.
The full sandbag burpee, also known as a sandbag manmaker, begins with a pushup, jumping the feet forward to the bottom of a sandbag deadlift, performing a sandbag clean, and ending with a sandbag overhead press.
HOW TO DO THE SANDBAG BURPEE EXERCISE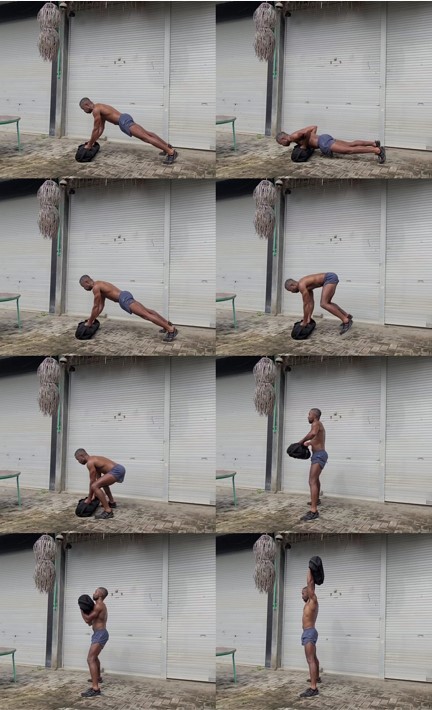 Start standing with the sandbag in front of your feet
Squat down and place your hands on the sandbag.
Jump your feet back, to the top of the pushup position
Perform one pushup
Jump the feet forward, grab the sandbag handles, drop your hips, and raise your chest to get into the bottom of a sandbag deadlift.
Perform a sandbag clean, either a power clean or a squat clean, extending the hips and legs while pulling with the arms, ending with a dip and catching the sandbag in the front racked position.
Full extend your hips, squeeze your glutes and stand tall to achieve a standing position with the sandbag held in the front Racked position.
Press the sandbag overhead
Reverse the movement, lowering to the front racked position, and setting the weight on the floor
Repeat and move on to the next rep
BENEFITS OF DOING SANDBAG BURPEES: FULL BODY EXERCISE THAT BURNS MUSCLE AND BUILDS FULL BODY STRENGTH

The sandbag Burpee is an excellent full body exercise that trains power (strength and speed) and intensity, making the exercise perfect for high intensity interval training (HIIT) and making sandbag Crossfit wods possible while training the legs, core, and shoulders.
Benefits of doing Burpees:
Trains strength through the entire leg (front and back)
Trains the hip extensors and posterior chain
Trains the upper back and shoulders
Trainsa stable, strong core
Trains cardiovascular endurance, work capacity, and stamina
Tests and encourages mobility in the hips, ankles, and shoulders
SANDBAG BURPEES VS. BRUTE FORCE BURPEES
Sandbag burpees, aka sandbag manmakers, are superior to brute force burpees because sandbag burpees incorporate a more refined set of movements, based on burpees and powerlifting, that preserves healthy body mechanics and shoulder movements. Though both movements incolde moving the bag from the ground to moving the bag overhead, the sandbag burpee breaks up the movement into distinct moves to encourage proper movement and muscular development.

SANDBAG BURPEES USING A POWER CLEAN VS. SANDBAG BURPEES USING A SQUAT CLEAN
Within the sandbag burpee movement, specifically during the clean portion of the movement, you have a choice between performing a squat clean or a power clean.
The power clean variation involves pulling the sandbag as high as possible at catching the sandbag in a nearly standing position.
The squat clean variation involves catching the sandbag in a low squat.
Either variation works, however, if you want to train hip mobility and flexibility, do the squat clean variation.

BURPEE VARIATIONS AND RELATED EXERCISES

Barbell Burpee Variation
Sandbag Overhead Squat
Walking Lunges Overhead Lunges
Walking lunges + Overhead Press
Barbell Burpee Variation: Burpees performed with barbells naturally allow a higher max weight do to the non-shifting aspect of the weights. The movement of burpee + barbell clean + overhead press is the same.
Sandbag Overhead Squat: The sandbag overhead squat works similar positions with the exception of working the shoulders in an isometric hold (holding the weight overhead) instead of extension (performing an overhead press). The overhead squat requires much more shoulder mobility and core strength than Burpees. However, the overhead squat misses the hip flexion training of the burpee as well as the horizontal pushing resistance of the push-up
Walking Lunges Overhead Lunges: Walking lunges performed with a weight held overhead
Walking lunges + Overhead Press: Walking Lunges performed with a sandbag held in the front rack position and performing once overhead press between each lunge, either at the bottom position of the lunge or the top position

MUSCLES WORKED IN THE SANDBAG BURPEE

Hip Extensors (glutes, hamstrings) and legs (quadriceps, calves)
Core (abdominals and lower back)
Shoulders and upper back
Triceps
OTHER AREAS TRAINED

Stamina and cardiovascular capacity / work capacity

SANDBAG WORKOUTS

SANDBAG BURPEE WORKOUT (AKA SANDBAG FRAN)
The best workout to do with burpees is a Crossfit staple workout known as "Burpee Fran," which we modify by simply doing Burpees with a sandbag instead of a barbell.
Perform 3 Rounds of alternating sandbag Burpees and pullups with a descending number of reps per set with 21 then 15, then 9 reps, done as fast as possible with as little rest as possible.
The Sandbag Burpee Fran workout will look as follows:
Start
21 Pullups
21 Sandbag Burpees
15 Pullups
15 Sandbag Burpees
9 Pullups
9 Sandbag Burpees
Completion
Click here to 31 more intense, Crossfit style sandbag wods.
ANOTHER GREAT FULL BODY SANDBAG WORKOUT

PART 1: PERFORM 5 ROUNDS OF THE FOLLOWING
10 Burpees
10 Pull Ups
10 Dips
Rest 90 seconds and Repeat
PART 2: PERFORM 3 ROUNDS OF THE FOLLOWING
15 Good Mornings
15 Single Leg Calf Raises
Rest 30 seconds and repeat
TIPS AND POINTS TO KEEP IN MIND WHILE YOU SANDBAG BURPEES:
Only increase weight when you can perform clean, quality reps for a full set while maintaining proper form
Stretch both the hip extensors (glutes, hamstrings) and hip flexors (groin) during warmup for maximum effectiveness and minimal risk during the movement
Warmup the shoulders in the internal rotation and external rotation movements as well as stretching the lats for the best/healthiest overhead press possible
Throughout the movement, maintain an engaged core and neutral spine – if you feel your lower back change position, you've gone too low for your flexibility – ditch the weight
Throughout the movement, keep your head up, chest up, and avoiding any change of position in your lower back
ALTERNATIVE SANDBAG EXERCISES
Sandbag Step-Ups
Sandbag Thrusters
Sandbag Lunges
Sandbag Walking Lunges
Sandbag Glute Bridge
Sandbag Squats: Back Squats, Front Squats, Split Squats, and Single Leg Squats performed with a sandbag

RECOMMENDED SANDBAGS
Ensure to grab a durable sandbag with handles that includes a filler bag. I highly recommend these sandbags.
Other Recommended Workout Equipment for No Gym Fitness
SANDBAG FAQ
Is sandbag training effective?
Sandbag training is absolutely effective at building power, strength and muscle as well as burning fat compare to traditional weights. Sandbags deliver the same level of resistance with the added difficult and benefit of a shifting weight. Whether you gain muscle, burn fat, or build stamina depends on your specific workout, however, sandbags are just as effective as any other type of weight.
Are sandbag squats effective?
Sandbag squats are effective at training the hip extensors, legs, and core for power, speed, and stamina. Be sure to train all variations of the sandbag squat for maximum benefit, to include the front squat, back squat, split squat, overhead squat, and more.
Learn more about the sandbag squat variations here.
Can you run with a sandbag?
Yes, you can run with a sandbag by either tossing the sandbag over your shoulder or getting a good, sturdy backpack for rucking and running such as the 9 backpacks for weighted exercise.
How heavy should a sandbag workout be?
A sandbag workout should start at 10lbs to 20lbs and be progressed as your body, both muscles and joints, progress and improve.

YOU KNOW HOW TO SANDBAG GOOD MORNING…WHAT NEXT?

Learn the Sandbag Clean, the sandbag deadlift, and the sandbag squat to add more exercises to your sandbag training arsenal
Consider checking out the GORUCK Sandbag, my favorite sandbag for training in the coming year to properly equip your home gym.
Grab resistance bands and try the resistance band deadlift and resistance band squats, to get in a great lower body resistance workout, anywhere.
Next, check out these 31 sandbag workouts.
RETURN THE SANDBAG TRAINING BLOG