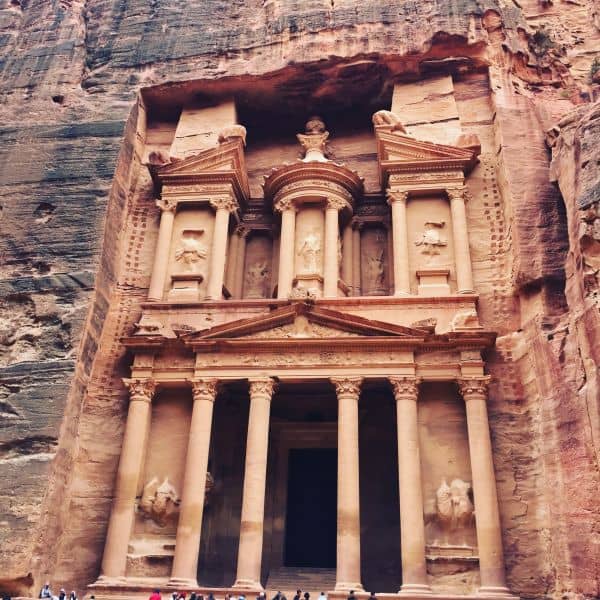 Few places will leave all travelers in awe delivering that perfect balance of exotic culture, robust history, complex current events, and a delightfuly mellow experience the way the Hashimite Kingdom of Jordan will – and it's possible to experience all of Jordan in 4 days. From Petra by day and night to dining with the Bedouins of Wadi Rum, this Jordan itinerary will walk you through the entire experience and how to make it happen, cheaply, easily, and comfortably. Welcome to Jordan
Contents
---

4 Days in Jordan (Itinerary)

Why Jordan the Perfect Middle East Destination?
Jordan delivers a purely Arabian experience that is safe for westerners without being watered down.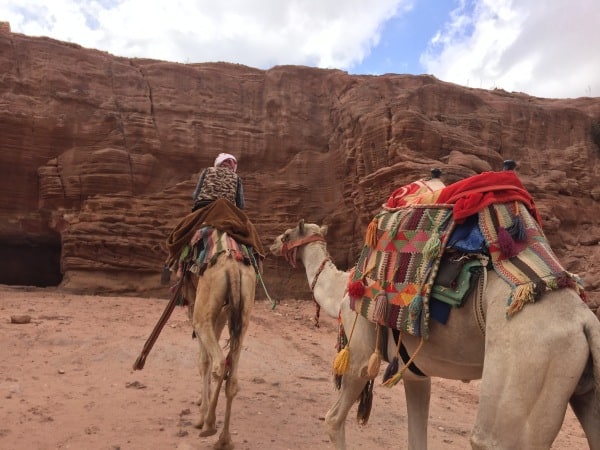 The Hashimite kingdom is a perfect complement to Lebanon, Egypt, Israel, and Turkey for experiencing the contrast between the "different Middle Eastern Cultures".
---
Overview of Jordan
The Middle East: A haven of history and intersection of ancient and exotic cultures and each Middle Eastern country has its own brand of exotic. Jordan is no different, with sights, sounds, and tastes that will dazzle.
Cultures have collided to create a country peppered with astounding archeological sites, from the Bedouin Nebataens carving cliffsides with the help of the Greeks, to Roman temples, and elaborate mosques of the present.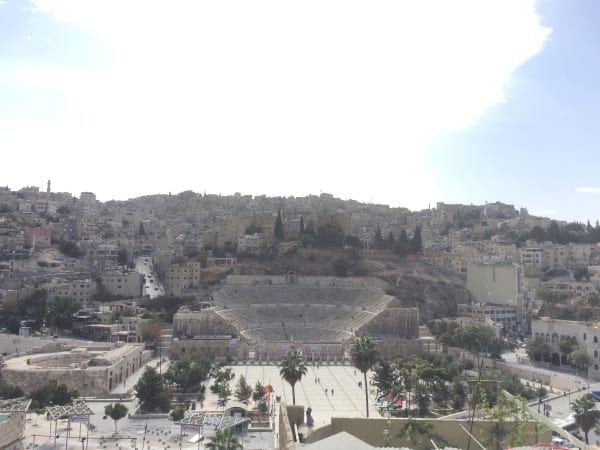 Jordan provides a unique experience in Islamic, Arab, and Middle Eastern culture that is difficult to create in the world we live in today. Though "Sham" and "Khaliji" Arab states provide cultures with a very similar feel, Jordan makes the experience extremely accessible, convenient, and safe for westerners without watering it down a drop. Do you want to experience Arabia? Then go to Jordan
---
How to do the Hashimite Kingdom: A 4 Day Jordan Itinerary
When putting together your Jordan itinerary for 4 days and planning your travel, be sure to focus on the highlights. One could spend years in Jordan learning Arabic and what Islamic culture truly is, but with only 4 days focus on the epic, rich, and irreplaceable experiences…which are conveniently listed for you below.
---
Fly into Amman, experiencing the city briefly by visiting a Jordanian "Suq" (market), the Roman ruins, and try some delicious, traditional Jordanian food and sweets before departing south the next day. (Learn more in "24 Hours in Amman: A Guide to Experiencing Jordan's Capital")
Click to view the available tours of Amman
---
Take a morning best to the city of Petra arriving just before noon to hike through Wadi Musa and the "Lost City of Petra" including the legendary "Treasury", which debuted in the Indiana Jones movie "the Last Crusade", among several other impressive archeological sites. (Learn more in "Inside Petra: How to Travel to Petra Independently")
Pressed for time? Consider taking the Petra day tour from Amman. Click here to see pictures of Petra and check availability of the tours.
---
In the morning (~6:30 AM) depart for the Mars-like deserts of Wadi Rum. Take a 4×4 tour in tiny pickup trucks Mad Max style, scrambling through the desert sands between immense and unique rock formations. Stay the night in a Bedouin camp to sleep under the stars as a desert nomad (Learn More in "How to Tour Wadi Rum and the Bedouin Camps of Jordan in 24 Hours")
If making your way from Amman to Petra and then to Wadi Rum seems daunting, checkout the Petra & Wadi Rum tours from Amman to make life easier. Click here to see pictures of the sites and check tour availability.
---
Wake to the red rocks of the Wadi Rum desert set afire by the morning sunrise. Take a taxi to Aqaba to take the 11 AM JETT bus back to Amman. Fly to your next country (in the Middle East) to keep your 10 days to live going….. (Learn more about getting from Wadi Rum to Amman in "How to Tour Wadi Rum")

Jordan Itinerary | 5 days
If you have one additional day in the Middle East to spare, make your Jordan itinerary 5 days long (and a little more perfect) by adding in a visit to the Dead Sea or adding an extra day in Aqaba for diving and snorkeling in the Red Sea
Visiting the Dead Sea | Jordan Side
Though you could visit the Dead Sea from Israel, visiting in Jordan will be a much cheaper and simpler option. The 45 minute ride will cost 25-30 JD by taxi or Uber and 7 JD via JETT bus from the main JETT bus station
If you want a quick and convenient option, consider booking a day trip to the Dead Sea from Amman (click here to check out details of the half day Dead Sea experience)
Experiencing the Red Sea
If you prefer a water experience with a little more life (literally), consider spending the extra day in Aqaba snorkeling, freediving, or SCUBA diving. The Red Sea is one of the top dive sites in the world and most of the underwater attractions are within snorkeling and freediving depth making it a rich aquatic experience for anyone. For this option, just show up and drop into a dive shop to see what tours are available (for the best optons and prices)
If you can't decide which to do, check out this option for squeezing both the Dead Sea and the Red Sea into a single day, that 5th day on your itinerary.
---
Other Great Tours

A little motivation to travel Jordan…
DEPARTURES|SEASON ONE | Ep. 2
JORDAN

Where should you travel after Jordan?
To fully "taste" the Middle East and its varied cultures, I believe a traveler should experience Lebanon, Israel, Egypt, and Turkey in addition to a Jordan itinerary of the country's highlights.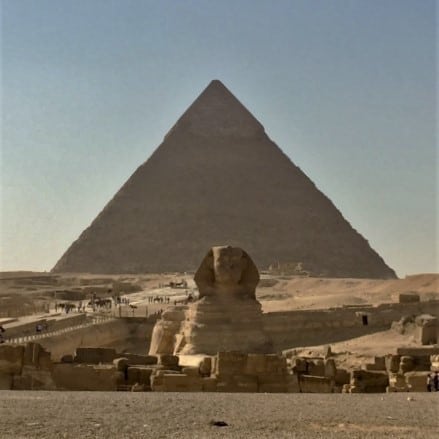 Turkey is absolutely its own 10 day adventure, but Lebanon, Israel, and Egypt should absolutely be in the same trip as Jordan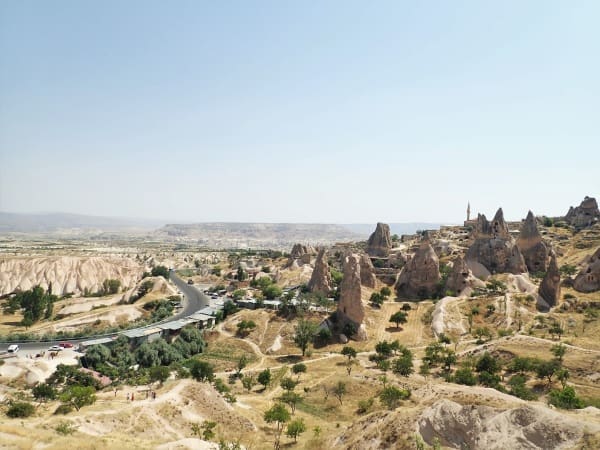 For more info, see 10 Days to Live In the Middle East: Jordan, Lebanon, Israel, and Egypt
And absolutely put Turkey on your list for another adventure

Other Sights to Visit in Jordan
Via Aqaba, after visiting Wadi Rum, consider the option of staying and experiencing the warm waters of the Red Sea for much cheaper than the price of Eilat in Israel. Cheap, world-class SCUBA diving abounds in Aqaba with coral reefs and colorful fish. If you dive, consider staying longer in Aqaba
---
The lowest point on earth filled with a sea so salty that you just can't sink. Though the Dead Sea is accessible via a day trip, the public beaches are less than great. If the Dead Sea is on your bucketlist, consider staying in a resort on the Jordanian Dead Sea shore to get access to better beaches and facilities or see the sea from the Israeli side on a day trip, which has mch better public beaches.
---
Jerash
A city north of Amman and known for Greco-Roman ruins

What to See (Prioritized…Just in case you're running short on time)
Amman (briefly)
Optional: Red Sea
Optional: Dead Sea

What to Eat in Amman, Jordan
Your Jordan itinerary is set, but what should you eat? That is the important question.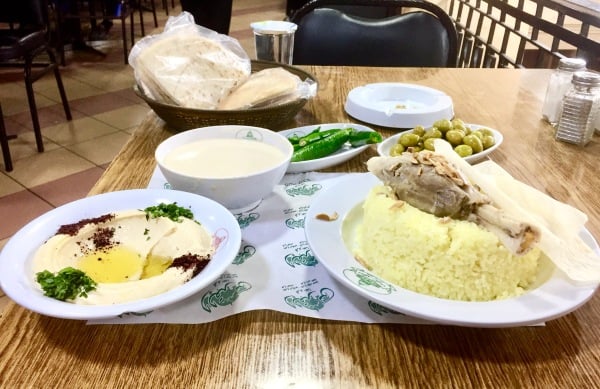 In all of the Middle Eastern countries I've been in (Jordan, Lebanon, Kuwait, Iraq…) the food experiences have been some of the most enjoyable and memorable. To round out your visit to Jordan, be sure to taste all of these dishes and sweets before leaving. Some (like Mansaf) are unique to Jordan while others (like Knafeh) are simply done with a flair, style, or presentation that other countries don't do. In any case, they're all tasty, so enjoy.

Jordanian Dishes
Mansaf ( The National Dish of Jordan): A uniquely Jordanian dish of lamb cooked in and served with a yogurt sauce and on a bed of rice or Bulgar. Al-Quds restaurant (Jeursalem restaurant in English) in Amman is the best and most convenient place to try this dish.
Kufta (Kabobs): Minced lamb, beef, or a combination with quintessentially Arab seasoning, wrapped around a steel rod and grilled over an open, wood fired flame. If you're any kind of carnivore, you'll love this dish. Served with fresh bread ("Khubiz" in Arabic) and veggies. Cheap yet tasty…and addictive.
Hummus and Pita: Ubiquitous throughout the Middle East but still tasty in its homeland. Each country and region does hummus with their own touch (e.g., more garlic, smoother, heavier on the olive oil) and varies their bread a bit, so this is worth trying wherever you go. If you have a sensitive stomach, stay away from meat in Jordan and make Hummus and Pita bread your default. Best tried at Hashem Restaurant. The restaurant is well priced, and is literally good enough for royalty (as the royal family has eaten there).
Kibbeh: A dish made of crushed bulgur, minced onions, and finely ground meat (lamb, beef, goat, or camel), shaped into footballs (American style) and fried. Delicious and filling
Tabouleh: "Middle Eastern salad". A mixed of finely sliced vegetables, eaten by the spoonful or as lettuce wraps.
Falafel (Chick Pea or Fava Beans): Mashed and fried balls or patties of chickpeas, fava beans, or a combination of the two with some amazing spices. Eaten solo or on a pita. If you have a sensitive stomach and are avoiding meat, this is an excellent option.
Babaghanoush: Roasted eggplant which is then blended into a smooth, delicious treat. Eaten solo or with pita. Even if you've tried this at home, be sure to try it in Amman. The art of roasting the eggplant so that the skin smokes the inner contents is something that eludes most non-Middle Eastern chefs, and makes a difference. Experience the real deal here.
---
Jordanian Desserts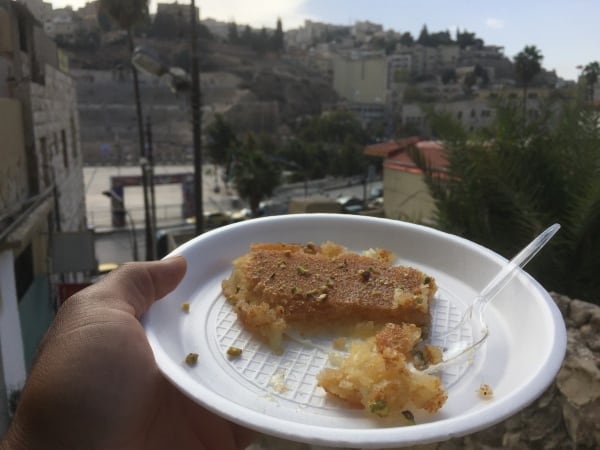 Knafeh: A delicious "cheese pie" dessert. Normally I'm good with the foodie stuff, but all I can say is that this stuff is addictive and difficult to describe. Two layers of fine dough with a layer of cheese in between, incorporating pistachios, rose water, almonds, and other tasties along the way. Try it early in your trip so you can enjoy the addiction throughout your trip.
Baklava: A notorious desert from the Middle East of layers of fine pastry dough drenched in a sugary syrup. You've likely had good, authentic baklava at home. The difference between Baklava at home and in Jordan is that it is everywhere in Jordan and relatively cheap, thus tempting you at every city block.
---
Local Drinks
Turkish coffee: Available for less than $1 USD every 10 feet. If you haven't tried it, try it at least once.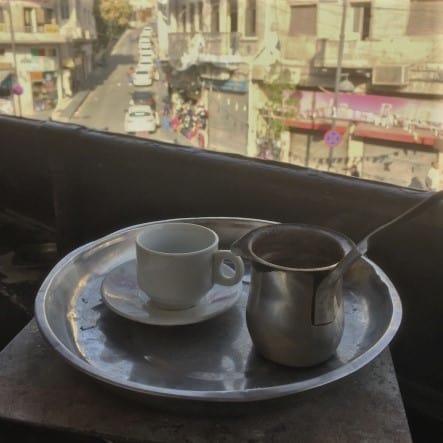 Turkish tea (with Mint): Delicious and likely served after every meal. Turkish tea, like the coffee, is concentrated tea drenched in sugar and served with a sprig of mint – and is oddly delicious. Give in to the diabetes risk and try it at least once.

Jordan Tours
With Petra, Wadi Rum, the Dead Sea, and the Red Sea being the main sights to see in Israel, tour providers serve all destinations, independently or on multi-day tours visiting them all. As always, I advise to be a little adventurous and explore each place independently, embracing the adventure of travel – but anyway that gets you to these sights is the perfect option.

Jordan Tours from Israel
For travelers on the Israeli side of the border and interested in exploring Petra, or Wadi Rum from Tel Aviv or from Jerusalem, there are several great Jordan tours available to book in advance.
For backpackers and hostelers, Abraham's Hostels in Tel Aviv and Abraham's Hostels-Jerusalem offer great accommodation in conjunction with some great Jordan tours as well as tours to the West Bank, the Dead Sea (Israeli side), and the Red Sea (via Eilat).
If you want to quickly and easily see the best of Jordan from Israel, Abrahams Hostels offer a Tel Aviv to Petra tour, Jerusalem to Petra tour and mult-day tours from Tel Aviv including Wadi Rum and Petra.
As I've said before, I prefer not to do tours because the independent travel experience is more fulfilling , but all of the travelers I spoke with that went on the tours enjoyed them very much. And any way that gets you traveling is a good way to travel.

Getting around Jordan
---
Traveling Between Cities in Jordan
The JETT Bus will be your primary, cheapest, and most comfortable transportation option for getting around Jordan, with service between Amman, Petra, and Aqaba.
Shared taxis and shuttles are an additional, more costly option and will be the cheapest yet most comfortable mode of transportation into Wadi Rum from Amman and Petra.
Local buses will be the cheapest option for everything from getting to the airport, to Aqaba, to the "hitchhiking point" on the way to Wadi
Check our guides for Amman, Petra, and Wadi Rum for information on traveling between cities.
---
Getting around in Amman
Uberis your cheapest and most reliable option for getting around Amman, so have the app loaded on your phone. When ordering rides, do the drivers a favor and select to pay with cash as money is generally tight for most Uber drivers in Amman.

Accommodation in Jordan
Jordan doesn't have a very developed hostel scene, so though hostels are present plan on them being more comparable to shared budget hotels. Costs throughout Jordan will be rather high, on par with expenses in Europe. Check the guides for Amman, Petra, and Wadi Rum for accommodation recommendations in each destination.
---
Weather in Jordan
Generally, the summer months of June to September in Amman, Jordan are quite hot (~87° – 90°), and in the rest of the country temperatures tend to be more extreme. Outside of those months the weather fluctuates between pleasant and cool. If you plan to be in Amman anytime from November to April, pack to stay warm as the deserts can get cool at night.
Curious what the weather in Amman is like right now? Ask Google what is this week's weather in Amman, Jordan?
| | | | |
| --- | --- | --- | --- |
| | Amman | Petra | Wadi Rum |
| Month | High / Low(°F) | | |
| January | 55° / 39° | 59° / 37° | 58° / 37° |
| February | 57° / 40° | 62° / 40° | 62° / 40° |
| March | 64° / 44° | 69° / 45° | 68° / 45° |
| April | 73° / 51° | 79° / 52° | 77° / 52° |
| May | 82° / 58° | 87° / 59° | 85° / 59° |
| June | 87° / 64° | 93° / 63° | 90° / 64° |
| July | 90° / 68° | 96° / 67° | 93° / 68° |
| August | 90° / 67° | 96° / 67° | 92° / 68° |
| September | 87° / 64° | 92° / 63° | 87° / 64° |
| October | 80° / 58° | 83° / 57° | 79° / 58° |
| November | 68° / 49° | 71° / 47° | 69° / 48° |
| December | 58° / 42° | 62° / 40° | 60° / 40° |
| Source: NOAA | | | |
---
Is Jordan Expensive?
Many travelers ask, "Is Jordan expensive?" The answer: Absolutely. Jordan's prices for basic services are comparable to or higher than those you'll see in western Europe despite the fact that Jordan's tourism scene isn't nearly as developed or "comfy", especially for backpackers.
Keep in mind that the majority of your expenses traveling and exploring will be for fees, for visas (see below), or entrance to sites. For traveling Petra alone, the cost of entry is 50JD ($71 USD) for a single day entry (See more info on "How to Travel to Petra Independently").
In the deserts of Wadi Rum, accommodation can be fairly cheap (10 JOD / $15 USD) but meals will run 10 JOD ($15 USD) per meal, in addition to tours. Being in the desert, there aren't any budget alternatives for the experience. (See more info on "How to Wadi Rum and the Bedouin Camps of Jordan")
So, is Jordan expensive? If you see the major sights, such as Petra and Wadi Rum, the experience will absolutely be expensive…and you shouldn't leave without seeing those two sights, so plan on paying. Plan on a budget between $75 and $100 per day at least to be on the safe side. If you are running on a tight budget be sure to calculate your expenses in advance, including accommodation, food, transportation, entrance fees, visa, and incidentals as your budget will disappear very quickly.
---
Jordan Visa Info
Single Entry visas to Jordan are available on arrival and valid for one month for 40 JOD (approximately $56 USD)
"The Jordanian Government has waived visa fees for all non-restricted nationalities coming through Jordanian tour operators whether travelling individually or in groups. The visa fee is waived on the condition that the traveler/travelers spend a minimum of two consecutive nights in Jordan." (From the Jordanian Tourism Board)
Source: Jordanian Tourism Board
For more information, visit the Jordanian Visa Information Page of the Jordanian Tourism Board

Tips for Visiting Amman, Jordan
Getting the Jordan Pass was a mistake I made, missing out on quite a bit of savings.
What is the Jordan Pass?
The Jordan Pass is a 70JD pass that must be purchased at least 4 days before traveling and waives the 40JD Jordanian visa fee, allows free entrance to Petra (50JD), free entrance to Wadi Rum (5JD), and several other museums and archeological sites.
---
Staying Safe in Jordan
Petty crime and nonviolent crime are nearly unheard of in Amman and the larger cities of Jordan as the police force is quite vigilant but women should take care traveling through the city alone during the darker hours and onto side roads.
I advise female travelers to have a polite, candid discussion with their hotel and hostel staff in Amman(ensuring the staff member is an Amman local) to get the most up to date and information about traveling through Amman as a female. Female staff at the better hostels (such as Nomad's Hotel and Hostel, which I recommend) will be young, speak very good English, and be familiar with western culture enough to have a straightforward useful conversation about solo female travel in the city. Specifically ask about recommendations for how to proceed (as a female traveler) going to the overnight Bedouin Camps in Wadi Rum, and try to pair up with another female traveler for the experience, if possible.
All US travelers should register with the US State Department's STEP Program before traveling. Being registered in this system, with your itinerary and contact information, will allow them to notify you in case of an emergency.
Additionally, check the US State Department's Jordan Travel website for safety and security recommendations, paying attention to travel advisories for Jordan, and any regions to avoid.
---
Below the Surface: Things to Note in Jordan – An average Jordanian's thoughts on Syrian Refugees
On the 45 minute Uber right from the airport into Amman, I had a great conversation with my driver. From the situation of Islam in the region, to the economy in Jordan and the security situation, we chatted about everything. The most interesting thing to come up though, was the war in Syria, the situation with the refugees, and the average Jordanian's stance on the issue. The conversation had me thinking about how we, in the West, react to our neighbors, what we believe our responsibilities are, and the timelines we think of in terms of foreign policy. Regardless of your political beliefs, these are interesting points to consider not only when asking, "what is right" but also in asking, "how do we design the society we want the next generation to live in?" The goal of this site isn't to argue political beliefs. One of the many goals of this site is to get you thinking about new perspectives on age old situations. As best as I can remember it, here's the paraphrasing from my driver.
"Yes, you'll see a lot of Syrians here. We see it as our responsibility to take care of them and look after them. After all, they're our brothers and sisters. If you look far enough back, then at some point our tribes connect, making them family…and it wouldn't be right to turn our backs on family. Before there were borders here, we likely shared the land too, which is another reason that we should help them. We all have food to eat, which means its only right to share food. We have the same goals in life, to live peacefully, so allowing them to live peacefully with us and keep them safe until they can return home."
At this point, I asked whether there is a plan to grant citizenship, passports, or rights to stay to the refugees from war-torn countries.
"No, they have their homes. If we give them rights to Jordan [via Passports, citizenship] then bythat logic they won't have rights to their homeland, in Syria. We would be doing them and ourselves a disservice. Our responsibility is onlyto keep them safe and share our food until they can return home. At that point, it is their responsibility to rebuild their homeland. We will look after them as family, but this is not their home."
Granted, this is the perspective of a single Jordanian…but it was an interesting one. I encourage you to seek out your own perspectives…and share them with me when you do.

Jordan Travel FAQ
Is Jordan safe
Is Jordan expensive
What should you wear in Jordan
What should women wear in Jordan
How much does travel in Jordan Cost
Can you visit Jordan from Israel?
Do US Citizens need a visa for Jordan
Is the Jordan Visa on Arrival available?
How much does a Jordan visa on arrival cost?
The Jordan visa on arrival at the Amman, Jordan airport will cost 40JD, but the visa fee will be waived for travelers that have purchased the Jordan Pass (70JD) at least 4 days prior to arrival.
Note that Visa fees are waived for all travelers coming through a Jordanian tour operator. If you are attending Jordan with a tour, inquire with your tour operator in advance.

More Great Middle East Travel Resouruces