Traveling throughout Thailand from the northern tip to the southern Thailand is an amazingly beautiful experience every traveler should have. From the beautiful high­­ highlands and traditional culture of Chiang Mai, to the epic chaos of Bangkok, to the towering limestone spires and white sand beaches of Krabi, Thailand has so much to offer. Unfortunately, finding your way through Thailand, from Bangkok to Krabi by train or bus, and figuring out how to connect these pieces can be challenging.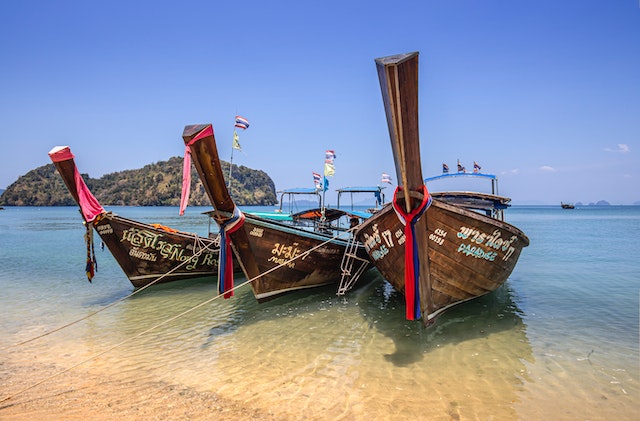 If you are in the position of planning your trip – by train, plane, or bus – from Bangkok to Krabi right now, or deciding between them, I know how you feel.
(This article contains affiliate links)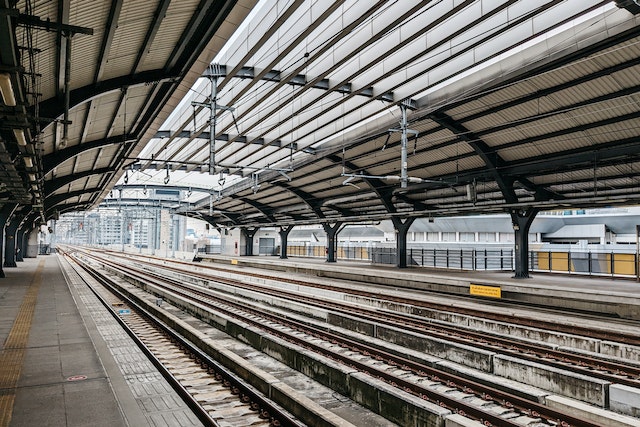 CONTENTS OF THIS GUIDE TO GETTING FROM BANGKOK TO KRABI BY TRAIN, BUS, AND FLIGHT

QUICK OVERVIEW OF GETTING FROM BANGKOK TO KRABI BY TRAIN, BUS, AND PLANE
Traveling from Bangkok to Krabi by train overnight is admittedly a fun experience – but the train's closest stop is in Surat Thani (not Krabi) nearly three hours away! (Click here to jump to the Bangkok to Krabi by train info)
Traveling from Bangkok to Krabi by bus is actually cheap and easy…but the ride is 14 hours, so how do you find a good VIP train that will make the journey an enjoyable adventure vice a scarring memory? (Click here to jump to the Bangkok to Krabi by bus info)
Lastly, traveling from Bangkok to Krabi by plane is the fastest option and only 100 Baht more expensive…if you pick the right airline, don't count checked bag fees, don't count the price of a taxi, and choose the right Bangkok airport (BKK or DMK) to fly out of. (Click here to jump to the Bangkok to Krabi by air info)
Don't sweat! I've traveled the trail from Bangkok to Krabi a handful of times and this article I'll give you all of the information you need to choose the right mode of transport to Krabi for you and make the journey smoother than you thought possible.

Your Options: Train, Bus, and Plane
Your best options for traveling Bangkok to Krabi are:
Bus: The cheapest way and with the fewest transfers, but the 14-hour bus ride can be uncomfortable
Plane: Convenient and quick, but can cost an extra 700+ Baht if you're checking bags
Bottom Line Up Front: Train for backpackers, plane for short vacationers
If you have plenty of time and are backpacking through Thailand, opt for the comfort and adventure of the sleeper train from Bangkok to Krabi
If you're in Thailand on a short trip and don't need to check bags, consider the plane from Bangkok's DMK airport

TIPS AND THINGS TO KNOW UP FRONT
General Tips
Know your full itinerary and how it connects from your departure point to arrival point. When most tourists say "Krabi" they mean the beautiful coastal town of Ao Nang, Railay, or Krabi Town. When travel agencies say "Krabi" they mean the province of Krabi, which is large, or Krabi bus station, which is 20 minutes away from most people's final destination. Ensure your trip planned ends at your hotel.
Surathani Train Station Tips
The train to "Sura Thani" does not go to the city of Surathani, it stops at the Sura Thani Railway Station, a 20 minute car ride outside of Surathani town and Surathani bus terminal. You will need a transfer into Surathani town, either a taxi, a bus, or a shuttle
At Surathani Train Station: Avoid the fast talking bus sales agents from Phantip at the exit from the train station. Phantip travel agency is who you'll be pointed to, but I recommend walking past them, getting a taxi to Surathani station, and arranging a bus to Krabi + shared taxi from there. Their price will be 350 Baht from Surathani Train Station to Krabi Bus Terminal, and 550 Baht per person from Surathani train station to Ao Nang beach, Krabi Town, and anywhere surrounding. These prices are overpriced by roughly double. Additionally, it will take roughly 8 hours to arrive in Ao Nang, if you go
Krabi Bus Terminal Tips
The Krabi bus station is not in or close to Krabi town, Railay, and Ao Nang. You will need to take an 11 mile, 30 minute long taxi, shuttle (200 Baht if overpriced), or shared taxi (60 Baht) to Ao Nang Beach or Krabi town

BANGKOK TO KRABI BY TRAIN
(Total) Price: 1045 Baht, to 1200 Baht ($31 to $37)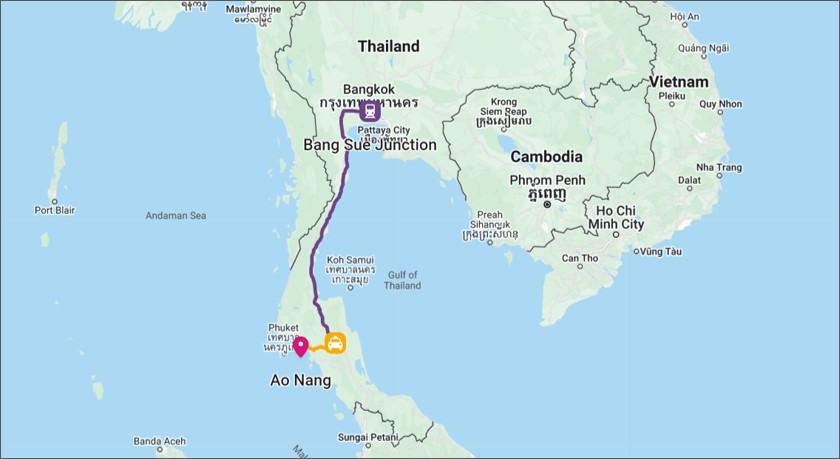 Bangkok to Krabi by Train Route Overview:
(Bangkok) Bang Sue Railway Station 🡪 (Surat Thani) 🡪 Surat Thani Railway Station 🡪 Surat Thani Bus Terminal 🡪 (Krabi) Krabi Bus Terminal 🡪 Ao Nang
Overview of the actual costs of taking the train:
2nd Class Sleeper Train from Bangkok to Surat Thani train station: 715Baht to 805 Baht (lower vs. upper seat)
Grab rideshare from Taxi from Surat Thani Train Station to Surat Thani bus station: 100 to 125 Baht
Bus from Surat Thani Bus terminal to Krabi Bus Terminal: 180 Baht
Shared taxi (Song Taew) from Krabi Bus Terminal to Ao Nang or Krabi Town: 50 to 60 Baht
Ride time:
How to travel from Bangkok to Krabi by train: Step by Step
Leave by train from Bangkok's long distance train terminal (Bang Sue Railway Station) for a ~13 hour train ride to Surathani Train Station (9 to 13 hours, 650 kilometers) (Click here to book overnight train tickets)
Take a transfer (taxi, shared taxi, or shuttle) from Surathani train station to Surathani Bus Terminal (20 minutes, 6.8 miles) (Click here to find Google Maps directions here)
Take a bus from Surathani bus terminal to Krabi bus terminal (2.5 to 3 hours, ~150 to 175km driving distance, price = 180 baht booked at terminal) (Click here to find Google Maps directions here)

Or – book a private transfer from Surathani town to Krabi Bus terminal via 12Go.Asia (~$9 / 300 Baht booked online)

From Krabi Bus Terminal – Take a Songthaew (Thai shared taxi) to your destination in Ao Nang, Ao Nang beach (25 mins, 18km), or Krabi Town (15 mins, 7km) for 50 Baht to 60 Baht. You can book this easily on arrival at the bus terminal, and won't have to wait long
Booking the train: Book your train from Bangkok's Bang Sue station to Surat Thani train station either at Bang Sue train station or any other train station in Thailand (they use the same booking system), or (I highly recommend) book via 12Go.Asia if you are outside of Bangkok and planning ahead.

Though booking online via 12Go.Asia is about 25% more expensive than booking at the bus terminal (815 Baht booked at the train station vs. 1013 Baht online), it's worth the peace of mind to have your train ride secured early. Overnight trains get booked out fairly quickly, so waiting to late to book could mean having to wait the next day for another train. Additionally, some trains are super nice (way nicer than flying) while others aren't and arrive at ~230am. So, if you can't get to the train station a few days in advance, just book online. Its worth it
FYI, Krung Thep Aphiwat Central Terminal Station (what is commonly printed on train tickets) is the same as the new Bang Sue Train station (the name of the station in Google Maps) in Bangkok
Buying tickets for the bus from Surat Thani bus Terminal to Krabi Bus Terminal:
To buy tickets for the bus between Surat Thani and Krabi bus terminals, I suggest just going to the terminal and booking there. Just go to the ticket sales and information desk, check the times, pay, book, and ride. Though 12Go.Asia is great, it doesn't have all of the bus departure times. By booking at the bus terminal, you'll avoid sitting around for hours waiting for the one bus listed online that you booked
Getting the shared taxi from Krabi Bus station to Krabi Town/Ao Nang:
Shared taxis, referred to as "Song Taew" in Thailand, are covered pickup trucks that take multiple passengers (think 3 to 8) to different destinations for a super cheap price (30 to 60 Baht). You'll get there later, but you'll save cash.
To book the shared taxi, just walk up to a Song Taew, show the driver the Google Maps location of your destination or route, and ask "50 Baht?" to confirm the price. That's it. Be sure to confirm the price before hopping in the back, and suggest the price first (40 Baht is local level cheap, 60 Baht is what they'll suggest, and 100 Baht is what a tourism agent would tell that is trying to cheat you)

BANGKOK TO KRABI BY BUS
Price: 770 Baht | Visit 12Go for bus tickets | +60 baht for shared taxi to final destination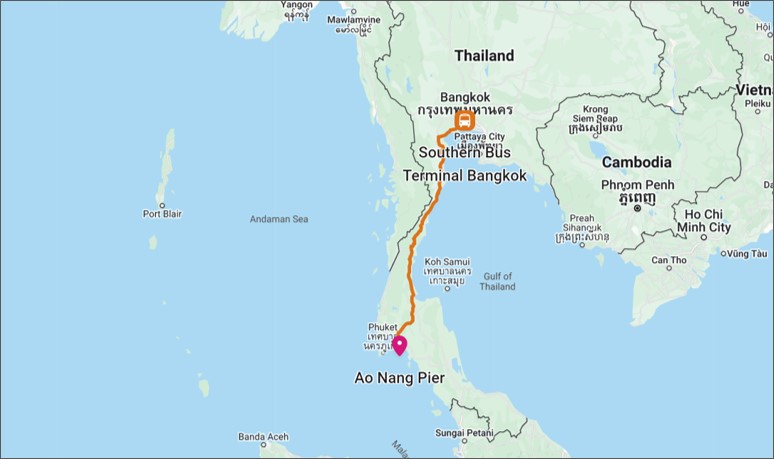 Ride Time: 14 Hours
Though traveling from Bangkok to Krabi by bus seems tempting, because it is the cheapest option and without transfers, I recommend against it as it is a long bus ride if you luck out with a not so comfy seat for the 14 hour ride. However, I have done it a couple of times, and if I was on a tight budget I would happily do it again to get back to Koh Tao and Railay. So, if taking the bus is better for your budget situation, book it! Let's walk through everything you need to know…
How it Works: Book your bus from Bangkok to Krabi online or at the Southern Bangkok bus terminal, arrive at Krabi Bus Terminal 14 hours later, and get a Song Taew (shared taxi) to your final destination.
How to Book a Bus from Bangkok to Krabi: The best option is to visit the Bangkok South Bus Terminal and book directly, so you can clarify if you are getting a simple (uncomfortable) bus, or a "VIP" bus with seats that make the ride much more enjoyable. There are so many bus companies operating with comfortable buses that you should rely less on booking a specific company, and more on asking the details (i.e., seat types and luxuries) of the specific bus and bus class you're booking.

The easiest option for booking a bus online is via 12Go.Asia. Though 12Go.Asia is 10% to 25% more expensive, you can book well in advance, you don't need to go anywhere to book, and you can see pictures of the bus you're booking. Unless I'm already at a bus terminal, I book my buses in Asia via 12Go.
Don't be overly tempted by the cheapest bus tickets, as you'll end up in a minimalist bus with seats that don't recline as your bed for the night. I did this accidentally once and highly advise against it
Pros of taking the bus from Bangkok to Krabi:
Cheaper (~200 Baht cheaper over a full trip)
No need to worry about transfers and transferring between stations
Can arrange hotel pickup and dropoff through a travel agent (for additional fee)
Cons
Not nearly as comfortable as sleeper train for overnight and long rides
Best deal needs to be booked at the bus station, or haggled at a kiosk
Can't get up and walk around
Getting to the Southern Bus Terminal isn't as easy as the train – 30 minute walk from the nearest railway stop, so you'll have to pay for a grab or taxi (+ ~150 Baht minimum)
Essential Locations:

FLIGHTS TO KRABI FROM BANGKOK
Direct flights from both airports in Bangkok to Krabi International Airport are available to Krabi airport for, at the cheapest, $58 (~2000 Baht), and there are generally plenty of last minute deals, but I recommend booking minimum a few days in advance to avoid surprises.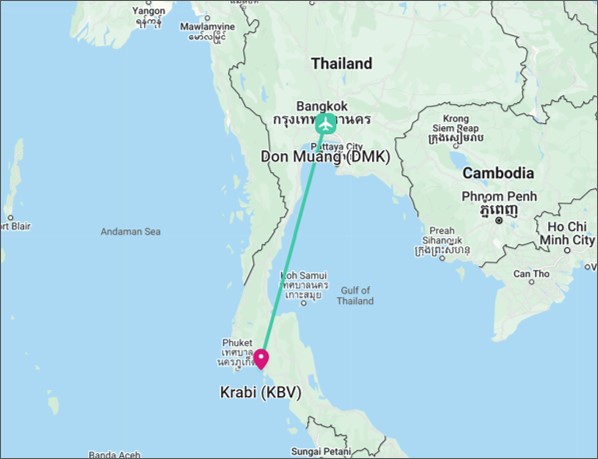 Most flights are available via Thai Air Asia and depart from Don Mueang International airport (DMK) with a few (2 to 3 daily) from Thai Lion Air and Vietjet out of Bangkok's "BKK airport" on the other side of Bangkok (Suvarnabhumi International Airport).
However, don't forget to account for Air Asia's $18 checked bag fee if your luggage is over 7kg. So, the minimum price for a flight from Bangkok to Krabi for most travelers will be ~$75 before getting taxis and transfers.
You best option for booking flights to Krabi from Bangkok is directly via the Air Asia site or app. You'll find the cheapest, agent fee free deals here and avoid the hassles that come with third party booking.

However, if you need more options or prefer to depart out of BKK (Suvarnabhumi Airport), use Momondo.com to check Vietjet, Lion Air, and alternative airline options.
Pros of Flying from Bangkok to Krabi:
Straight forward
No sleeping in travel beds
Cons of Flying from Bangkok to Krabi:
Price: Slightly more expensive (1200 Baht without bag fees)
Airport check-in, security check, waiting, and checked bags or ditching liquids

The Bottom Line for Traveling from Bangkok to Krabi: Flying is best, train is most comfy, and bus is cheapest
If you have an extra 100 Baht to spare (plus an additional 600 Baht for bag fees if you're checking bags) consider flying to Krabi to save travel time and energy.
However, if you're taking it slow, opting for the train will be a fun, comfy adventure – just ensure you have all of the bits of your itinerary figured out – end to end – before you depart.
Lastly, I highly recommend against the bus for most people, unless you're certain (from experience) that you can sleep sitting nearly upright and enjoy it. For everyone else on a budget, hit the train.

ONWARD TRAVEL AND WHERE TO NEXT
After you've experienced the beauty of Krabi, where to go next depends on where your end destination is.
If you will fly out of Bangkok soon and need to make your way north, I highly recommend passing through Koh Tao and Koh Phangan, as these are two of the most epic islands in Thailand and the quintessential "traveler islands."
If you are open to heading south, I highly recommend continuing on to the hidden gym of Malaysia, specifically starting by taking the train to Penang, and discovering a place that has gone under the travel radar for far too long.
Then, continue on to Canggu and the rest of Bali, Indonesia, arguably the hottest destination of the moment in Southeast Asia which may feel overrated, unless you know where to go. I do…and I'm happy to share…**


Other Great Nomad, Travel, and Expat Lifestyle Articles