For slow travelers and nomads looking for an affordable country Southeast with beautiful beaches and nature, great food, and a convenient and cheap visa for long stays, Malaysia may be the digital nomad-friendly destination you've been searching for. With its new digital nomad visa Malaysia aims to not only attract digital nomads with a 12-month long stay and relatively cheap visa fee of 1000 Malaysian Ringgit (~$218) but also jumpstart the country's digital economy.
Ask any digital nomad and they'll assure you that traveling the world at will is an amazing lifestyle and a dream to live, but even wander lusters need to relax somewhere that feels like home for an extended period once in while, connect with others like themselves, and experiencing the recharge that comes from simply being in a comfortable place to focus on work between longer adventures.
Better yet, in our digital nomad study successful nomads that had been on the road for 2+ years expressed a clear preference for setting up a "travel base" in a comfy low-cost country, and dividing their year into periods of focused work, then treating themselves to pure travel and exploration, and returning to their "nomad base" to work, recharge, and connect with other nomads.
However, to live out the dream of the digital nomad lifestyle in a sustainable way, you need four things:
A visa that allows a 6 to 12-month stay minimum, has a low-cost visa fee and is easy to get
A country with not only a low cost of living but also a high quality of life and the essentials digital nomads need
Permission to work remotely in the country, ideally with no tax liabilities
A community of other foreign digital nomads to socialize and connect with
Read on to discover why Malaysia's digital nomad visa is likely the best digital nomad visa option in Asia, and why Malaysia consistently ranks as a top country for ex-pats and nomads.

Table of Contents of the Digital Nomad Visa Malaysia Guide

The new De Rantau Digital Nomad Pass, which is effectively a 12-month digital nomad visa for Malaysia accomplishes exactly that. Managed by the Malaysian government agency MDEC, the Malaysian government has created a cohesive program beyond the visa to attract digital nomads to this underappreciated paradise to build digital nomad communities across Malaysia including foreign digital nomads, local digital nomads, and the local Malaysian tech and startup sectors.
The Malaysian Government Agency "Malaysia Digital Economic Corporation (MDEC) which has been tasked with the Malaysian government's vision is to make Malaysia the preferred location for digital businesses and digital professionals and increase digital innovation and growth of Malaysia's digital economy. (Source: https://mdec.my/about-mdec)
As such, The De Rantau Malaysia Digital Nomad Visa serves as a Special Residence Permit sponsored by MDEC and also includes the De Rantau pass, which grants free access to coworking facilities and services specifically offered by the Malaysian government for digital nomads, aiming to connect foreign digital nomads into interconnected "DN communities" across Malaysia, as well as connecting them with local digital nomads and plugging them into the Malaysian tech industry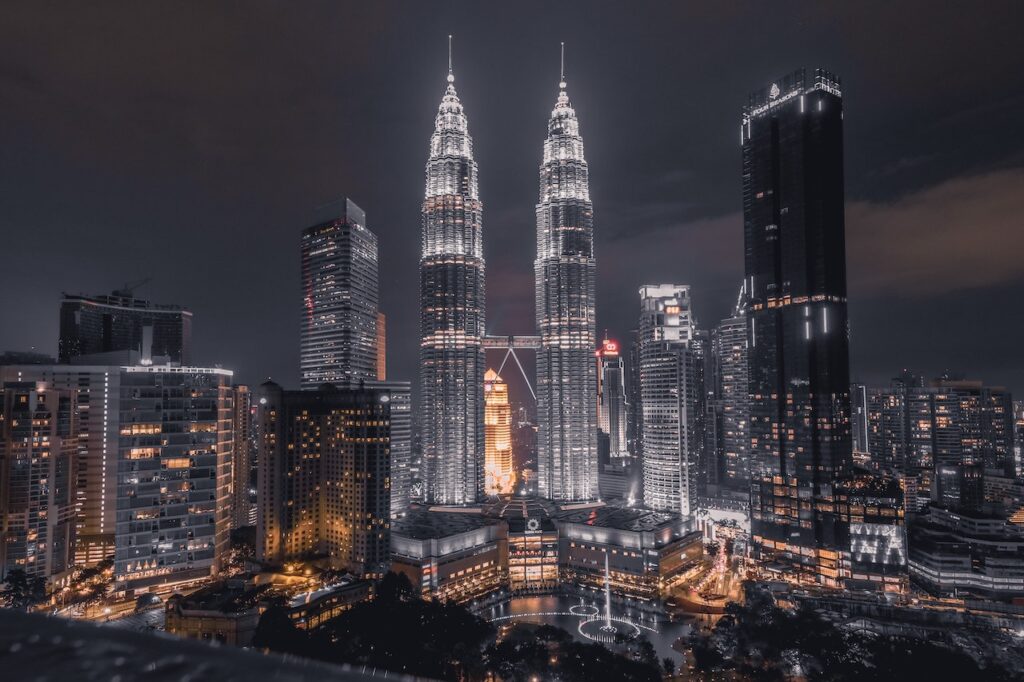 Whereas most countries are simply aiming to attract digital nomads for the 35 million strong digital nomad community's $787 Billion USD economic value, Malaysia is aiming to build multiple digital nomad communities across the country to transform Malaysia by boosting digital adoption within all parts of the economy, and building international ties in the digital space – via the nomads that will soon call Malaysia home.
The Malaysian government has fully approved Malaysia's digital nomad visa, which upon application approval is initially valid for 12 months renewable for up to 24 months total, with an annual fee of 1000 MYR. The visa application is open to all nationalities and anyone who works online for companies or clients outside of Malaysia. The entire application process can be completed online and approval generally takes four weeks
From the first round of applicant approvals, though the De Rantau Nomad Pass program is still in its infancy, several nomads with approved visas have reported great support, responsiveness, and general help from MDEC staff – which implies a lot of potential for the nomad experience in Malaysia.
Goal of MDEC with the Malyasia digital nomad visa program:
To build stronger relationships, stronger assets, and a stronger community among Malaysian digital entrepreneurs
Establish Malaysia as the premier DN hub in SE Asia
Spurn growth in Malaysia's digital innovation, digital industries, and digital economy
How MDEC aims to accomplish this
Establishing an easy-to-access, cheap, long-stay visa for digital nomads – up to 2 years, with minimal tax issues – known as the De Rantau Nomad Pass
Create a FREE network of coworking spaces, in addition to nomad hubs and digital innovation centers
Deliver a network of support services to help digital nomads live in Malaysia, work, connect, and increase productivity

Discounts
Networking events
Free access to coworking centers

Who can apply for the Malaysian Digital Nomad Visa: All nationalities and anyone with a clean record and $24K yearly income
The De Rantau Nomad Pass is open to all nationalities that meet the application requirements
Application Requirements for the Malaysia Digital Nomad Visa
$24,000 minimum annual income
Qualified digital nomads will work in a digital field as a digital freelancer, independent contractor, or remote workers, with employers/ clients outside of Malaysia. Work in the digital field in targeted professions including (but aren't limited to):

IT ( UX, UI, cloud, cybersecurity, blockchain, AI, machine learning, data-related, etc.)
Digital marketers
Digital content creators
Digital content development (All digital domain-related work)
Cyber security
Digital currencies support
Software development
However, though the program targets these professions, eligibility isn't limited to these, and the visa is available to anyone who works remotely, only, for a client or employer outside of Malaysia
Required Documentation in the Visa Application Process
Proof of income via income statements or pay slips for the preceding 3 months and 1 annual income statement for your bank account
Employment contract that has been in place for at least 3 months ( for remote workers )
Contracts as proof of existing relationship with a long-term client ( only for freelancers )
Health insurance certificate or proof of travel insurance with medical coverage
Proof of Health insurance or travel insurance with health coverage, that will be valid for the duration of your stay
Certified proof of a clean Criminal Background Check
Malaysia Digital Nomad Visa Application Process: A Completely Online Application Process
Step 1 Visit the official application site at the Malaysia digital nomad visa application home page to learn everything else you need to know (and save this site)
Step 2: Gather scanned copies of original versions of the necessary documents for the application
Required Documents:
Scanned Passport Copy (all pages)
The passport should have a minimum of six empty pages
Passport must be valid for 14 months at the time of application
Passport photo with light blue background sized 35mm x 50mm
Employment contract or proof of long-term clients (ideally via contract)
Proof of income via pay slips or bank statements
3 most recent monthly bank statements
Yearly income statement for personal income
Updated resume or CV
Criminal Background check
Personal Bond for Canadians and US citizens will be 2,000MYR, while UK and European citizens will require personal bonds of 1,500 MYR
Proof of health insurance, or travel insurance with health coverage (I highly recommend either World Nomads, Safety Wing, or Remote Health for this requirement)
Proof of relationship for spouse or dependents that will receive a visa based on your visa – marriage certificates, birth certificate, proof of adoption, etc. all scans of the original certificates
Step 3: Start the online application process by visiting the MDEC De Rantau Malaysia Digital Nomad Visa application portal at https://malaysiadigital.mdec.my/?_ts=1667562916811
Create an account with your email address, and confirm the email to set up your account
This portal is only open to 10 countries** and the remainder of the countries will need to set up a meeting at their consulate instead (listed here https://www.kln.gov.my/web/guest/malaysian-mission)
The online portal for other visas is available here: https://malaysiavisa.imi.gov.my/evisa/evisa.jsp
Once the account is created, sign in, choose your profession, choose the De Rantau Nomad Pass application form, and upload the required documents.
Before submission, you will be required to make a payment of 1000MYR for the main applicant and 500MYR for each dependent
If your visa is denied, you can be refunded up to 75% of the application fee
Step 4: Wait for approval: Processing may take up to 4 weeks and the response will come via email
The email will have the documented proof you will need to travel into the country, and your visa will be presented to you upon arrival
Step 5: Travel to Malaysia to pick up your visa on arrival: The email will have the documented proof you will need to travel into the country, and your visa will be presented to you upon arrival. Your travel dates will be specified in your application, so, you will be able to travel to Malaysia on the stated/approved dates on your application.
About the De Rantau Nomad Pass (Malaysia Digital Nomad Visa): 12 months, renewable for an additional 12 months
Valid for up to 12 months, and can be extended for an additional 12 months
Multiple entry visa, so the nomad may stay in Malaysia or leave and re-enter freely during the visa period
Spouses and dependents under 18 years old may accompany the digital nomad visa holder (for an additional fee)
Visa processing fee of 1000 MYR ($235 USD) for the applicant and 500 MYR ($118) for spouse and dependents
Why Would You Choose the Malaysian Digital Nomad Visa over other countries' visas: It's easy, cheap, and exactly what digital nomads have asked for
Under the radar, many digital nomads have been calling Malaysia a second home and base between travels for quite some time now. Malaysia's strategic location, between all of the Asia travel hotspots, affordable cost of living while maintaining a quality of life comparable to western countries has made it a "high value per dollar" destination for nomads to stop, work in, and enjoy for years.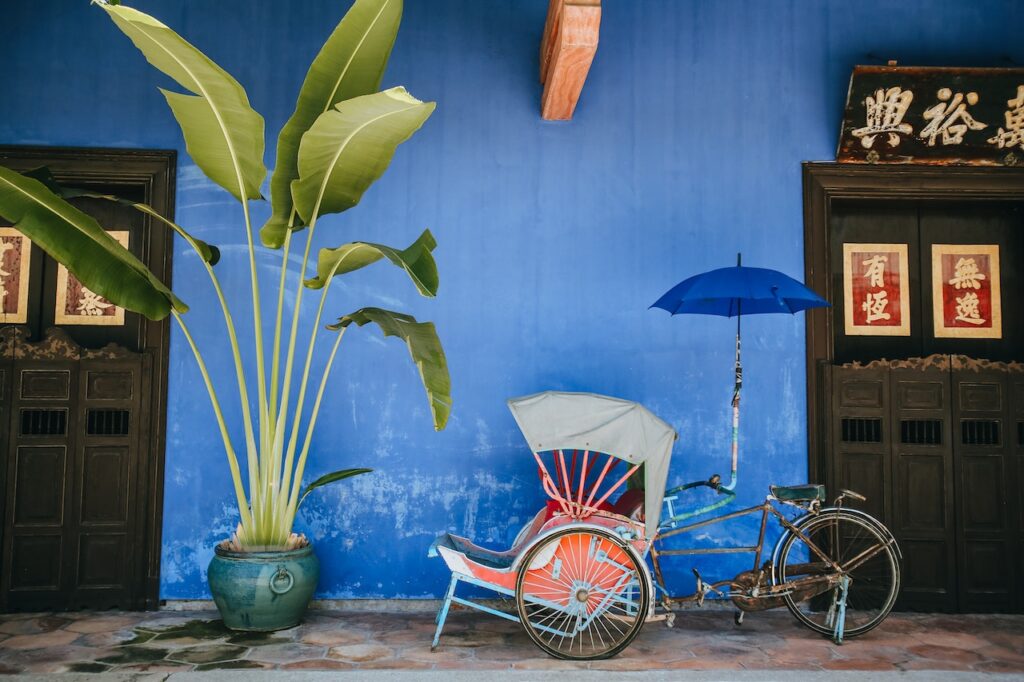 Economic and Political Stability
Consistent track record with ex-pats and foreigners
Cafes and chic restaurants are everywhere, and cheap
Fast internet – 100mbps is not uncommon
Tropical climate year-round, with solid 85 to 95-degree weather, and a single rainy/monsoon season (November to March) affecting peninsular Malaysia
Low cost of living, with $1,700 per month and $1,100 per month being adequate "nomad budgets" in Kuala Lumpur and Penang respectively – the two best hotspots for digital nomads and ex-pats
English is widely spoken and the kind, polite, and gentle locals are generally happy to speak with you
A mildly conservative culture that is still considerate and tolerant of the many other religions and cultures – Christian, Buddhist, and Hindu among them with the official, and predominate, religion being Muslim
The varied ethnic makeup of Malaysia – "Bumi" Malays, Chinese, Indian, and even Middle Eastern – creates a cultural melting pot expressed positively through foods, holidays, festivals, and daily life
High quality of life and great infrastructure – clean, well maintained, and cheap public transport (metro, rail, and bus), fast internet, high-quality housing
Street food culture and delicious cheap eating options allow you to taste authentic cuisine representing everywhere in Asia while staying well within an eating budget in the west
Cheap flights to virtually every country in Asia as Kuala Lumpur is a major airport for all of Southeast Asia, with AirAsia offering – making weekend exploration of other countries cheap and easy
For more information, check out our Guide to Moving to Malaysia
Other "Pros" of living in Malaysia as a digital nomad
Plenty of varied, beautiful, and adventurous nature – white sands beaches, jungle, mountains, highlands
The easy application process, possible while remote
Comparatively cheap visa fees
Makes person to remote work clear
Cheaper cost of living than European digital nomad visas, with equal quality of life in Kuala Lumpur and Penang. On average the cost of living is 50% to 75% of the cost of living in comparable US cities
As cheap as Bali and Thailand, but with a structured support network for DNs in DN hubs
Solid SEA regional airport hub in KL and overland access to Thailand and Indochina make this a great jumpoff point for SE Asia regional travel
Digital Nomad Community
Cultural Mix = Amazing food, tolerance, and a wide international experience in a small space
Large ex-pat community, especially in Penang
Cheap housing, that is luxurious for the price
Weather is warm year-round, with only the monsoon season of November to March delivering showers and the remaining 80 to 95 F year-round
The Potential Cons of Being a Digital Nomad in Malaysia
The country's official religion is Islam and Malaysia is, by nature, culture, and religion, and more conservative country than its neighbors, though it is a tolerant and accepting country allowing freedom of religion to match the makeup of such a multicultural country.
Though Malaysia is probably one of the perfect countries for slow travelers and focused nomads, there are two points you should be aware of.
However
Nightlife is generally more subdued than in tourist-centric parts of Thailand and Bali due to the high cost of alcohol and generally more conservative locals due to adherence to the official religion of Islam.
LGBT community members may have a little more difficulty dating and interacting in public. At current, sodomy and homosexuality are still considered crimes in Malaysia. LGBT travelers should do their research before fully committing to Malaysia as a home
Illicit drug use is banned, and drug trafficking, or carrying a moderate amount of drugs, is punished by the death penalty. This approach is contrary to the recent legalization of marijuana in Thailand, so, recreational drug users should weigh this fact before committing to Malaysia as home.

How the digital nomad visa stacks up against the other Malaysian visa options
Citizens from most countries – including the United States, European Union, the United Kingdom, Canada, Australia, and New Zealand – can enter Malaysia for up to 90 days on arrival for free. However, the 12-month Malaysia digital nomad visa offers the security of knowing you'll have a minimum 12-month stay, allowing you to take steps to lower your cost of living (such as signing a longer lease on an apartment), and will plug you into the digital nomad community and support within Malaysia – ex-pats, nomads, and locals
If you don't need to stay more than 90 days in Malaysia or plan to leave the country and explore once every few months, skip the hassle and fee of the 12-month digital nomad visa and stick with the free 90-day visa on arrival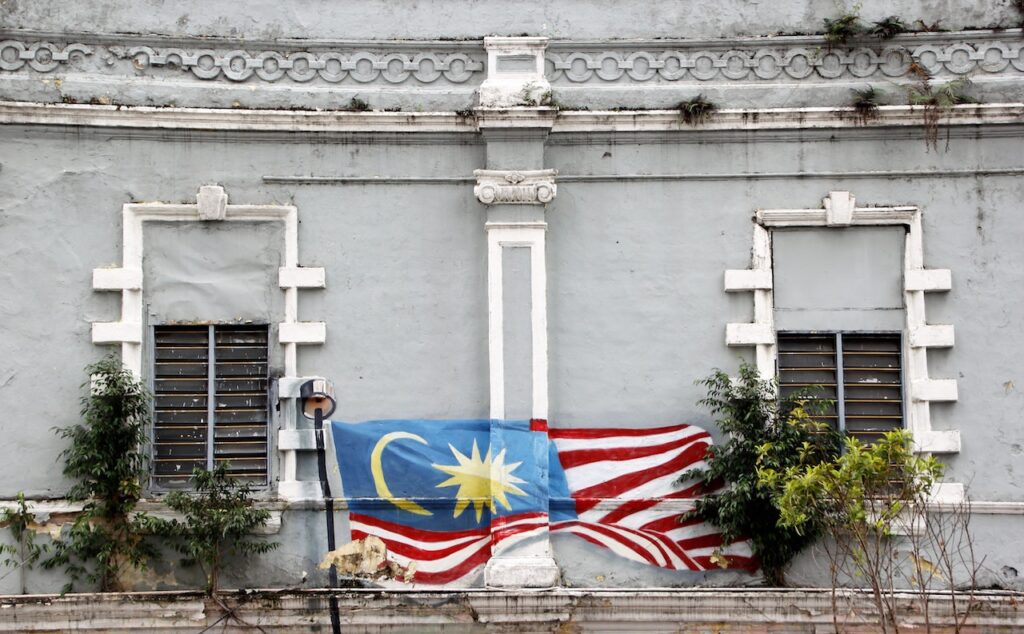 Americans and citizens of most other countries entering Malaysia do not need a visa for stays of 90 days or less, and can simply arrive, get the stamp, and enjoy their visit. Also, because there is no limit to the number of entries per year, the simplest way to "live" in Malaysia is to stay for up to 90 days, then use the opportunity to travel to and enjoy a nearby destination resetting your 90 days, and returning to Malaysia.
As of January 26, 2023, holders of passports from the following countries are allowed a free visa on arrival of 90 days
European Union All EU citizens
Albania
Algeria
Argentina
Australia
Bahrain
Bosnia and Herzegovina
Brazil
Canada
Cuba
Egypt
Iceland
Japan
Jordan
Kuwait
Kyrgyzstan
Lebanon
Liechtenstein
Maldives
Morocco
New Zealand
Norway
Oman
Peru
Qatar
San Marino
Saudi Arabia
South Africa
South Korea
Sudan
Syria
Switzerland
Tunisia
Turkey
Turkmenistan
United Arab Emirates
United Kingdom
United States
Uruguay
As of January 26, 2023, holders of the following passports are allowed visa-free entry, on arrival, for up to 30 days
ASEAN nationals (except Myanmar)
Andorra
Antigua and Barbuda
Armenia
Azerbaijan
Bahamas
Barbados
Belarus
Belize
Benin
Bolivia
Botswana
Cambodia
Cape Verde
Chad
Chile
Comoros
Costa Rica
Dominica
Dominican Republic
Ecuador
El Salvador
Eswatini
Fiji
Gabon
Gambia
Georgia
Grenada
Guatemala
Guinea
Guyana
Haiti
Honduras
Hong Kong
Iraq
Jamaica
Kazakhstan
Kenya
Kiribati
Lesotho
Macau
Madagascar
Malawi
Marshall Islands
Mauritania
Mauritius
Mexico
Moldova
Monaco
Mongolia
Namibia
Nauru
Nicaragua
North Macedonia
Palau
Palestine
Panama
Papua New Guinea
Paraguay
Russia
Saint Kitts and Nevis
Saint Lucia
Saint Vincent and the Grenadines
Samoa
São Tomé and Príncipe
Senegal
Seychelles
Sierra Leone
Solomon Islands
Somalia
South Sudan
Suriname
Taiwan
Tajikistan
Tanzania
Timor-Leste
Togo
Tonga
Trinidad and Tobago
Tuvalu
Uganda
Ukraine
Uzbekistan
Vanuatu
Vatican City
Venezuela
Zambia
Zimbabwe
How does the Malaysian digital nomad visa stack up against other countries' digital nomad visas?
The Malaysian digital nomad visa is hands down the cheapest, easiest, and most worthwhile digital nomad visa Southeast Asia.
While Indonesia and Bali digital nomad visa does exist, the visa only allows for 6 months on a single entry visa, and costs $645! Additionally, recently, Bali has soured as a digital nomad destination as costs skyrocket to some of the highest in Asia.
Alternatively, Thailand has released the Long Term Resident Work from Thailand** visa, however, the restrictions are stringent, requiring a minimum salary of $80,000 USD over each of the last 2 years, and an active employment contract with a publicly traded company.
Alternatively, the Philippines**, Cambodia**, Laos**, Japan**, and other countries in Asia have yet to release digital nomad visas.
So, as far as digital nomad visas in Southeast Asia go, the Malaysian Digital Nomad Visa is the cheapest, easiest to get approved for, and offers the best living situation (affordability and quality of life).
However…a visa does not need to be branded a "digital nomad visa" to be a great visa for digital nomads.
Thailand's new approval of the 30-day visa on arrival, and the change to allow unlimited entries by air per year would make a great visa for nomads that don't mind flying to explore Laos, Cambodia, Myanmar, Sri Lanka, or Malaysia during their stay.
Alternatively, if you are considering outside of Asia, the 1-year Georgia digital nomad visa (free), the 1-year Albanian visa (free), and the 2-year Argentine Rentista visa (perfect for digital nomads) are all great options.
Tax Requirements for the Digital Nomad Visa Malaysia
Citizens of and residents of Malaysia are required to pay taxes on any income derived from within Malaysia – it is still being decided whether digital nomads will not fall into this category.
As of February 2023, MDEC has shared these infographics to shine light on the Malaysia Digital Nomad tax situation: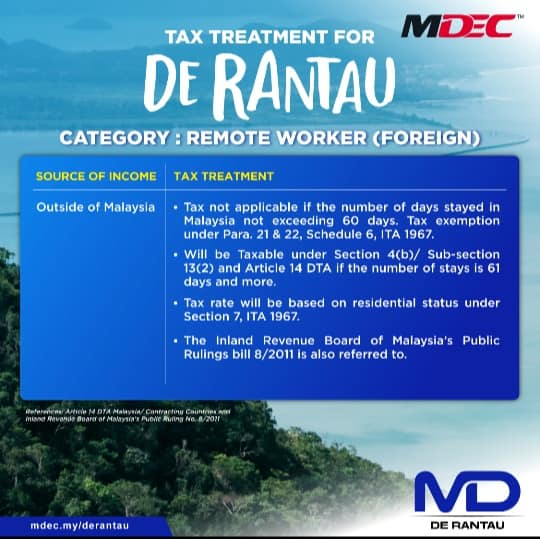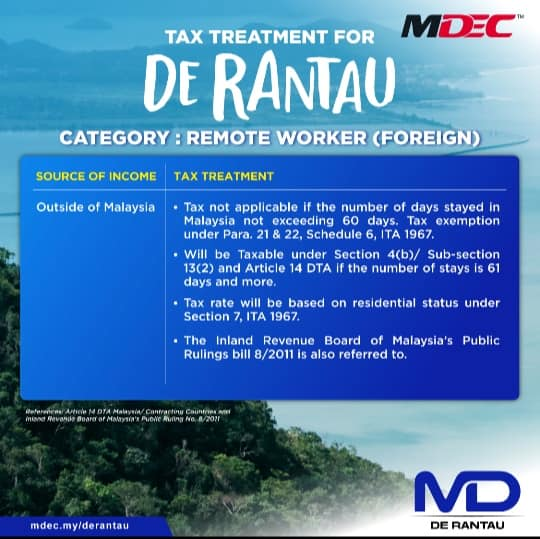 Income tax brackets for personal income earned in Malaysia
For income earned from a source in Malaysia, the following tax rates apply to the annual income:
0 to 5,000 (MYR)| 0 to 1,166 (USD) | 0%
5,001 to 20,000 (MYR) | 1,167 to 4,666 (USD) | 1%
20,001 to 35,000 (MYR) | 4,667 to 8,167 (USD) | 3%
35,001 to 50,000 (MYR) | 8,168 to 11,667 (USD) | 8%
50,001 to 70,000 (MYR) | 11,668 to 16,334 (USD) | 14%
70,001 to 100,000 (MYR) | 16,335 to 23,335 (USD) | 21%
100,001 to 250,000 (MYR) | 23,336 to 58,336 (USD) | 24%
250,001 to 400,000 (MYR) | 58,337 to 93,338 (USD) | 24.50%
400,001 to 600,000 (MYR) | 93,339 to 140,007 (USD) | 25%
600,001 to 1,000.000 (MYR) | 140,008 to 233,345 (USD) | 26%
1,000,001 to 2,000,000 (MYR) | 233,346 to 466,690 (USD) | 28%
2,000,001+ (MYR) | 466,690+ (USD) | 30%
Latest updates and recent experiences with the Malaysian Digital Nomad Visa and De Rantau Nomad Pass
Jan 7, 2023
The first approvals for the De Rantau Nomad Pass have been emailed to applicants!
Jan 23, 2023
Some applicants are receiving a "KIV" status in their application process. If you receive this code, it means there is incomplete information or errors on the form that prevent its completion, and you need to review and update your application. If you can't find the error or missing information, contact the MDEC team as they have been very responsive
Some applicants have left the area of the application for "sponsor" blank, leaving the form incomplete and unable to finish processing. However, according to MDEC, MDEC can act as your sponsor for the duration of your visa. In such a case the personal security bond will be paid to MDEC to complete the process. If you are in this situation, contact MDEC for support during the application process to arrange for MDEC to be your visa sponsor. Additionally, there will be a box to check during the application process to select MDEC as your sponsor – select this and follow up with MDEC.
Best Spots for Digital Nomads to consider
A snapshot of the cost of living in Malaysia for single nomads
Accommodation
Rent in the City Center of KL: MYR1,000–MYR1,500 (USD230–USD345)
Renting a luxury condo in Kuala Lumpur or Penang: $900 per month
Food
Eating out consistently: 1,800 Ringgit a month ($433 USD)
Note: This includes eating at higher-end food stalls, shopping mall food courts, etc. around Kuala Lumpur
Common Expenses
Average one-bedroom apartment (studio) costs in KL: 1,200 Ringgit ($285 USD) monthly
Average cost of a coffee: 6 – 12 Ringgit ($1.40 – $2.80)
Breakfast: 10 – 20 Ringgit ($2.35 – $4.70)
Dinner: 15 – 30 Ringgit ($3.50 – $7.00)
Metro ride: 2 – 4 Ringgit ($.50 – $1)
Monthly Transport Pass in KL: $25
Sim card and unlimited internet: 35 Ringgit per month ($8.22)

Malaysia Digital Nomad Visa FAQs
Can you apply for a Malaysia digital nomad visa while abroad?

Yes, you can apply for the Malaysia Digital Nomad visa while abroad using the online application system here at the official MDEC site

Does Malaysia have a digital nomad visa?

As of October 22, 2022, had a digital nomad visa program in place, with the first batch of digital nomads approved for their visa on January 7, 2023. The visa is valid for up to 12 months with a potential 12-month extension and costs 1000 MYR ($USD)

Do digital nomads pay tax in Malaysia?

Digital nomads that are in Malaysia and deriving their income from a source (company, customer, or client) do not have to pay taxes to the Malaysian government. Learn more *here*

Who qualifies for a digital nomad visa?

Digital nomads of all nationalities that can prove a minimum $24,000 per year income over the last year and can provide a clean background check qualify for the Malaysia Digital Nomad Visa

What is the difference between the Malaysia digital nomad visa and the Malaysia tourist visa?

The free Malaysian tourist visa is a visa on arrival and single entry visa that allows stays up to 90 days, while the Malaysian digital nomad visa allows a stay of up to 12 months with multiple entries in the same period, and costs 1000 MYR (~$230 USD).

Do I need a Malaysia digital nomad visa?

If you wish to stay in Malaysia longer than 90 days, the Malaysian digital nomad visa offering a 12-month stay may be good for you. However, travelers and nomads working remotely for foreign companies, clients, and customers can work online while in Malaysia with no worries about the 90-day tourist visa or the Malaysian digital nomad visa

What is the length of stay for the Malaysia digital nomad visa?

The Malaysian Digital Nomad Visa offers an initial stay of 12 months which is extendable for an additional 12 months.

Is it possible to extend the Malaysia Digital Nomad Visa?

Yes, the Malaysia Digital Nomad Visa is extendable for an additional 12 months.

How long does the Malaysia Digital Nomad Visa application process take?

The application process and approval for the Malaysia digital nomad visa takes approximately four weeks from submission to receiving the final decision via email

Is it safe in Malaysia

Malaysia is absolutely a safe place to work and live, frequently ranking higher than the US and UK on safety indexes, and is generally a safe place for nomads and solo female travelers. However, in the past decade, members of the LGBT community have experienced hate crimes so LGBT travelers should research recent events and political climates before committing to living in Malaysia.

Is it expensive to live and work in Malaysia

Living and working in Malaysia is a very affordable country relative to the quality of life offered. The cost of living is roughly $1,750 per month in Kuala Lumpur and roughly $1,100 to $1,200 per month in other hotspots such as Penang for single nomads.

How much money do you need to make per month to qualify for the Malaysia Digital Nomad Visa?

To qualify for the Malaysia Digital Nomad Visa you need to be able to prove an annual income of $24,000 per month.

Is there a digital nomad community in Malaysia?

There is a burgeoning digital nomad community in Malaysia that is most concentrated in Kuala Lumpur, closely followed by Penang. However, part of the De Rantau Nomad Pass program goals being executed by the Malaysian agency MDEC is to attract foreign nomads, connect them with local digital sector professionals and local digital nomads, and build more clusters of digital nomads throughout Malaysia

What nationalities can get the De Rantau Malaysian Digital Nomad Visa?

All nationalities are welcome to apply for the De Rantau Malaysian Digital Nomad Visa.

Sources:

(Click here to return to the Table of Contents)

More Great Articles to Help You Get Abroad: