The Gili islands are a dream destination, with white sand beaches and emerald waters nestled in the Indian ocean. Though Gili Trawangan and the other two Gili islands, Gili Meno, and Gili Air, are almost equal in beauty, Gili Trawangan delivers some of the most amazing sunsets you'll ever witness. But in order to make the most of your time on the island, you need to know the best sunset point Gili Trawangan has to offer.
In this complete guide, I'll share the most beautiful sunset point on Gili Trawangan – with pure vibes and volcano views – the best sunset point for adventurers – a short hike to the highest point on the island – the best sunset swing, and the best place to "just chill" (hammock style) for sunset.
Read on to learn everything you need to know for the perfect Gili sunset experience, and where to go after to make the most of your time on Gili T.
Upfront
The 2 best sunset spots are Pink Coco (facing mount agung on Bali) and the highest point on Gili T
The best Gili T Sunset Swing is at Ombak Sunset hotel, sitting in the ocean facing directly into the sunset
Go minimum 30 minutes to an hour early to your sunset point, to enjoy it fully
Rent a bike for the 25-45 minute ride, and don't forget a headlamp for the ride back in the dark

Contents of this Complete Guide to Sunset Point Options on Gili Trawangan
The Best Sunset Points on Gili Trawangan

Why put the effort into going to a good sunset spot
The sunset is best experienced on the western side or the southwest side of the island, letting you watch the sun set into the Indian ocean, or behind a volcano
The best spots have a clear view to Bali and the Mount Agung volcano for sunset
The perfect place for you will also have the perfect vibes – chill vibes, music, beer, shade while you wait
Also, the best spots have seats, shade, and snacks to enjoy while you wait for the sun to retreat
Tips up front for having the best Gili T sunset experience possible
Use Google Maps to get around the island, and download a map of Gili T for offline use
Bring a headlamp to walk or ride back to the main side of Gili as night falls – better than a flashlight for riding
Rent a bike for the experience. If you go to the best spots, on the western side of the island, the walk back will be 45 minutes
Go an hour before sunset time, to full relax and enjoy
Though sunset on Gili T generally happens between 6:00PM and 6:45PM, you can Check Google to see what time sunset will happen on Gili, to time it right
Also consider – a late snorkel session on the west coast and chill your way into an impromptu sunset cruise with a private boat ride home (to the east side of Gili) after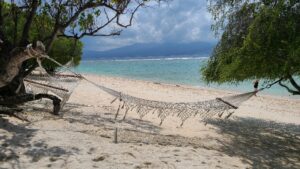 **I
Booking accommodation for the best sunset and experience
If you want a party filled Gili experience get a hotel on the east side of the island, and bike to the west for sunsets – rent in front of the port where most shops are to make returning your bike easier
If you want an overall chill experience in Gili, book a place on the west, and just trek to the east to eat. This way, every evening will end with a priceless

The Best Sunset Point On Gili Trawangan, And 5 Other Great Options
If you have multiple nights on Gili Trawangan you should do yourself a favor and plan a new spot for each sunset. Though it is hard to wrong with a sunset, you'll make better memories picking something either fits your vibe – like a desolate white sand beach on the island's empty west side – a picturesque swing, a hilltop with a picturesque via of the ocean, the other two islands, and Lombok, or just a great bean bag with tunes in the back.
Best Beach Bar Sunset Point Gili Trawangan: Pink Coco And Sunset Kiss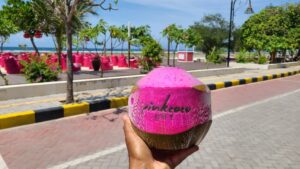 **I
Pink Coco Gili T and Sunset Kiss Beach Club Beachside Bar
Hitting the points of stylish, fun, and chill, without losing that soul and vibe that people come to Gili for – not too resorty, not too dive bar-ish.
If you only spend one night on Gili T, spend your sunset here. Pink Coco popped up during the pandemic next to the original "Sunset Point Gili Trawangan" that was actually just an empty beach. It was fantastic when it was just a beach, and the experience is even better now.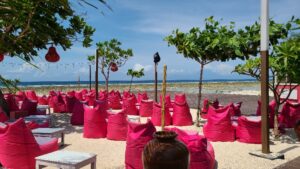 Pink Coco is the perfect sunset spot because it not only faces the sun as it sets into the Java sea, but also has a via straight to Bali, with a view of the sacred Bali volcano Mount Agung as the start of the view.
Outside of the top notch view, this low key beach bar has a uniquely pink with a setup with bean bags and loungers so everyone gets a beautiful view of Bali's sacred mount Agung volcano with a backdrop of the perfect sunset. Tropical vibes music in the background and a DJ managing the ambiance 5pm to 9pm nightly make this arguably the best sunset spot in Gili.
Collocated with Kiss Beach Club, and the Pink Coco Resort, this beach bar has a full service bar, pastries and snacks
To get to Pink Coco simply walk south from the Gili Trawangan Port (~25 minute walk), although I recommend renting a bike for the trip.
Location Info:
Sunset kiss Beach club
(0370) 6197436
PinkCoco Gili Trawangan
0813-3727-4594

Close Runner Up Sunset Beach Bar: THE ORIGINAL SUNSET POINT GILI TRAWANGAN
(The Original) Sunset Point Gili Trawangan
Before Gili T became super cool like it is today, most of the island was undeveloped, without beach bars and resorts, having more of a lovable deserted island and pirate life vibe than posh vacation spot, and back then the spot of choice was the original "Gili Trawangan Sunset Point." This empty beach with a couple of benches gives the same view of Bali and Mount Agung without the beach club and the potentially pricey drinks.
To get to the original Gili Trawangan sunset point, walk (~23 minutes) or ride south from the Gili T port and main area, arrive, and pick your spot.
Logistics: Bring a sarong or beach blanket to enjoy a spot in the sand, and consider stopping by one of the mini marts along the way to pickup a few beers and snacks. Pack a blue tooth speaker and a fully charged phone for a full vibe.

Highest Sunset View (Perfect For Hikers): Gili Trawangan Hilltop And Hiking Viewpoint
For the outdoorsy types that like a little nature, adventure, and would love a private sunset in return, consider hiking to the highest point on Gili Trawangan for sunset.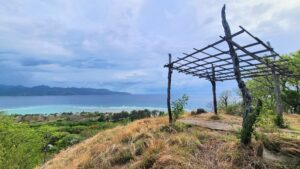 **I
Labeled on Google Maps as the Hilltop Hiking View Point, the hike is only ~25 minutes from the busy main street of Gili, but feels completely empty. I was lucky enough to glimpse a herd of 20 wild deer on my hike.
Click here for directions in Google Maps
Additionally, consider going to point nearby labeled "Plix Sunset Viewpoint" in Google maps (click here for directions in Google Maps).
Last, checkout the deserted restaurant, just steps away along the path, with a fantastic view of Gili Trawangan, Gili Meno, Gili Air, and Lombok from above.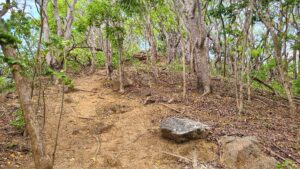 Logistics: Wear sturdier shoes for the hike as some points can be a little slippery and steep, but adventurous types in flip flops should be fine. Definitely pack a bottle of water, and also consider the standard sarong (to sit on), snacks, and beer
Hilltop Hiking View Point

Quietest Sunset View: Gili Trawangan Sunset Beach, next to Sunset Bar
A short walk past Pink Coco and the "original" sunset point is a quieter option – Gili Trawangan Sunset beach. This beach has a just as amazing view, with no development, hence the "quietest sunset view."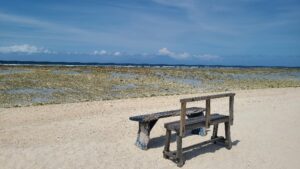 **I
A simple beachfront spot that will make a great memory, but don't forget to BYOB, sarong, and tunes
Location info:
Gili Trawangan Sunset Beach
If you do forget the goods, just look out of the corner of your eye and you'll see the island bar-esque sunset bar. However, fair warning, it has only been open half the times I've gone there
If you're on a budget or craving sunset, come here for calm and quiet.

Most Convenient Sunset View: Santi Beach Club at Pondok Santi Resort
Pondok Santi and Pondok Santi Beach Club (Google Maps Location)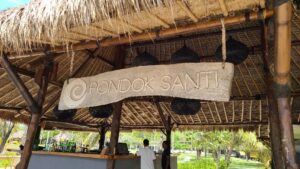 **I
Just a 15 minute walk from "downtown Gili T" and the closest lux sunset viewpoint
If you're aiming to stay closer to the main street of Gili T but still catch a good sunset and enjoy beach life, I recommend Santi Beach club, on the shore in front of luxury, Indonesia-chic resort Pondok Santi.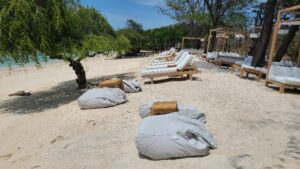 Though this spot doesn't completely have a view of sunset, because it sits more on the southern tip than the west, the view is still amazing.
During November, December, and January Santi Beach catches the sunset. The rest of the year, Lombok and Rinjani tower in view across the water, and the white sandy beach feels lux and lovely. Additionally, the full service bar and waiter (that is across the street) serves you in beach beds or the beach cabana.
You just need to purchase a drink and you can enjoy a beach bed and cabana from here.
Additionally – if you are looking for a good place to stay that feels off the beaten path but is actually convenient, I recommend the resort. I stayed for a week, spending mornings alone on the beach drinking coffee, afternoons in the hammocks that dot the property, and many evenings on the beach
Best if you want to balance chill with everything else
Location Info:
Santi Beach Club
0853-3828-7650
Pondok Santi Estate Luxury Beachside Accommodation
0819-0705-7504

Most Social View Point: Mad monkey hostel
Oddly, one of the most social viewpoints is one of the most remote, and is actually pretty awesome, especially for solo travelers and backpackers. Mad Monkey Hostel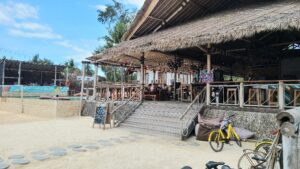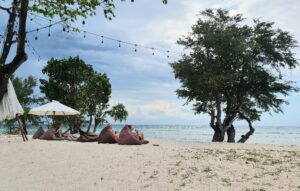 **I
Mad Monkey hostel, which already has a reputation for being the party hostel chain in Southeast Asia, grabbed a large swath of beachfront on the northwest coast of Gili T, partially facing Bali, and partially looking out into the beautiful empty of the Java Sea where the sun sets.
On the beach, you'll have a fantastic sunset.
Behind you, a fully booked hostel and cool bar and restaurant setup serve drinks and social vibes to return to and make friends as night falls.
Mad Monkey Gili Trawangan
0819-1794-3495

Most Instagrammable Sunset View: Hotel Ombak and the Gili T Swing
If a swing and Instagram worthy pics are what you're after, Hotel Ombak Sunset is clearly where you need to go – as stated in the name.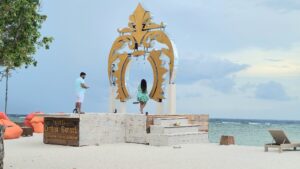 **I
At Hotel Ombak's beachfront, you'll be able to walk on the beach and wait your turn to snap a picture on the swing or many other Instagram worthy props that the hotel has built on the beach, and enjoy a drink at the Ombak Sunset Bar after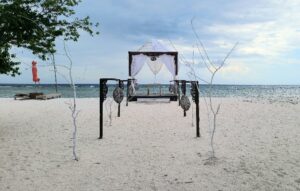 Hotel Ombak Sunset (Google Maps Location Here)
(0370) 644333
Runner Up for Most Instagrammable Sunset Point: Villa Gili Bali Beach
If the line at Ombak Hotel is too long, continue on to Villa Gili Bali Beach. This new, luxe, and visually stunning villa styled hotel has a great beach to enjoy sunset from, and an equally great hotel to snap pictures in on the quieter, chiller side of Gili.
Villa Gili Bali Beach (Google Maps Location Here)
0877-6238-0805

Most Chill Sunset Points on Gili Trawangan: Exile Bar and Window Bar
If you want to do what Gili T is best for and just chill in peace, from the afternoon until the sun goes down, and just happen to enjoy a great view of the sunset along the way The Exile bar and Window Bar are where you want to go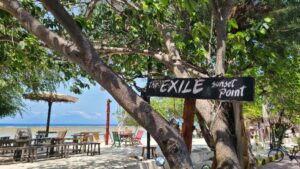 **I
The Exile (Bar)
The exile is a beachfront bar on the quiet side of Gili, with Rasta and island style with mellow vibes and plenty of seating
The Exile Gili Trawangan
0819-0722-9053
**I
Window Bar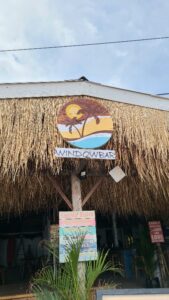 This spot on the quiet side of Gili has a cool setup with very much a chic island look and, with lighting and comfy seating, is somewhere you could stay well after dark.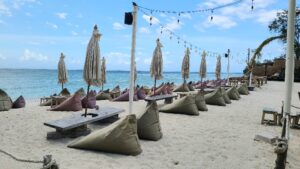 Window Bar | Sunset Bar & Cocktails

Other Sunset Spots Mentioned as Sunset Spots
Hotel Lumi Gili Trawangan: A cool "lumbung" (traditional Indonesian cabin) style resort on Gili's west coast, with a clean powdery sand beach and a clear view of the sun setting in to the Java sea. If you want Gili Air/Meno vibes and perfect sunset, consider staying here.
Villa Almarik: Though this resort and spa is next to the best place to snorkel with turtles, its facing away from the sunset year round. Save this spot for a spa treatment or daytime snorkeling
Malibu Beach: Once upon a time, a fun beach club on the west coast with a great sunset view, now permanently closed

More Instagrammable Experiences: The Gili T Sunset Swings
With all of the swings littering Gili T, you'll find plenty great sunset swings as long as you stay to the west side of the island.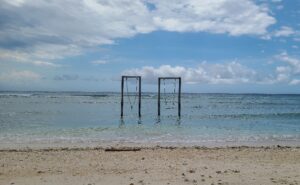 **I
If you are looking for the perfect sunset swing for your Instagram pics, these are the contenders.

What Time Is Sunset On Gili Trawangan? Check Google To Find Out
Though year round, sunset in Gili Trawangan is sometime between 6:00PM and 6:45PM Keep in mind that sunset on Gili Trawangan changes daily, as does the direction that the sun sets (so check in the morning to plan your day. The best way to check is Google "sunset Gili Trawangan time" or just click here.
Average Sunset Time in Gili Trawangan by Month
January – 6:41PM
February – 6:40PM
March – 6:29PM
April – 6:13PM
May – 6:04PM
June – 6:05PM
July – 6:12PM
August – 6:15PM
September – 6:12PM
October – 6:10Pm
November – 6:15PM
December – 6:28PM
(Sunset times listed are for the 15th day of each month)
What Time Should You Go To Your Sunset Spot On Gili Trawangan: At Least 30 Minutes To An Hour Early
Also keep in mind that the time Google says sunset will be is when it will be completely dark. The sunset experience, seeing the water touch the ocean and drop below slowly, is about a 30 minute experience. Additionally, you probably want to settle into a bean bag, order a drink, and relax into the vibe to make the most of it – which will likely take another 30 minutes considering the island life pace.
To make the most of your time, and get a good seat for the sunset on busy Gili, arrive 1 hour before sunset for the best experience.

What To Do After Sunset: Gili Trawangan Nightlife
Every night of the week, Gili Trawangan, the reputed "party island" of the Gilis, delivers a different bit of entertainment.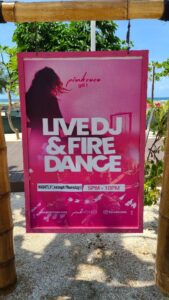 **I
If you are looking for a party after sunset each day of the week, head to these beach bars respectively
Monday: Blue Marlin
Tuesday: "Latin Loco Fest" at Lava bar or Trawangan Cabins
Wednesday: Tir Na Nog ("The Irish")
Thursday: Ombak bar for earlier parties or quiz night at Trawangan dive, and Sama Sama (usually live Reggae)or the ool party at Gili Hostel as a follow up
Friday: Lava bar for Binggo and Jungle Bar after party or Surf Bar and Rudy's as other options
Saturday: Tequila Sunrise for earlier in the night, and Sama Sama bar as things get late
Sunday: Evolution + Ladies' night in the Irish
Alternatively for partying and night life options, places like Mad Monkey Gili Trawangan offer a self-contained experience that stays lively 24 hours a day, balancing the peaceful vibes and picturesque view of the west side of the island that the hostel sits on. The crew of backpackers that haunt this place in cycles still venture to the bars of the east side as well, so if you're a solo traveler you'll have a built in friends group here.

More Things to Do on Gili T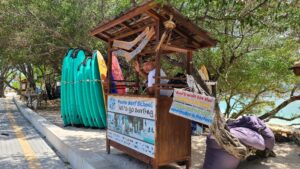 **I
Snorkeling With Turtles: Head to the northeast side of Gili (here) and rent a snorkel and mask on the beach
Surfing: Tiny waves kick up at mid tide near Ponte Bar (located here) at the southwest end of the island with easy board rentals and lessons
Basic Scuba Diving or Advanced Certification: I highly recommend Trawangan Dive, where I did my advanced SCUBA course
Rent a Bike and Cruise around The Island…Or Walk: You can see the loop here
Enjoy a beach night out and pub crawl with new (impromptu) friends
Take a picture at the famous Gili swings dotting the walk around the island
Visit the Sea Turtle Sanctuary and learn about the Gili Trust's sea turtle rehabilitation efforts
Nothing…you are on vacation after all right? What's wrong with just relaxing?

Essential Tips for Your Gili Trip
How to Find Your Way to Your Sunset Spot: Google Maps, and Directions on Foot
The best way to get from where you are to your sunset point is to use Google maps (to estimate how long you'll be walking) and simply stay to the paved path that runs around the island. I'd recommend avoiding walking through the island as the view is less picturesque and its easier to get lost – especially at night.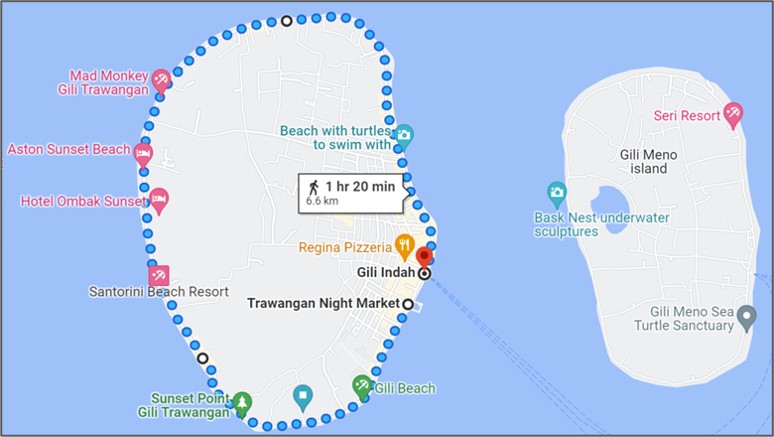 **I
By contrast, the paved road that now runs all of the way around Gili T in a 6.6 kilometer loop is a beautiful and enjoyable path to walk or bike, and has ocean views the entire way dotted by partial tree tunnels.

Getting to Gili Trawangan
To get from Bali to Gili Trawangan, you'll need to leave from either Padang Bai port, Amed port, or Sanur Harbor by fast boat.
If you are leaving from Canggu, Seminyak, or Ubud to Gili Trawangan leave from Padanga Bai port. (Click here to learn more and find where to book)
If you are leaving from Uluwatu Sanur, or the peninsula of Bali to Gili Trawangan leave from Sanur harbor. (Click here to learn more and find where to book)
If you are leaving from Lovina, Amed, or the north of Bali to Gili Trawangan leave by fast boat from Amed. (Click here to learn more and find where to book)

Good Info: Rent A Bike. There Are No Motorbikes, and it's a long (but enjoyable) walk
Rent a bike next to the port on arrival to bike the island at will and walk for a more enjoyable, slower pace
The beauty and curse of Gili is that there are no gas powered motorized vehicles on the island – only bicycles, horse drawn carriages, and small electric scooters that top out at 25 kilometers per hour – and feet.
This is beautiful because you'll enjoy quiet, peaceful feels of yesteryear and just the crisp cool air rolling off the ocean. This can also be a curse because the 6.6km loop around the island takes about 1.5 hours to walk (I know, I've walked it many times…and loved it actually).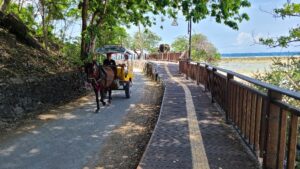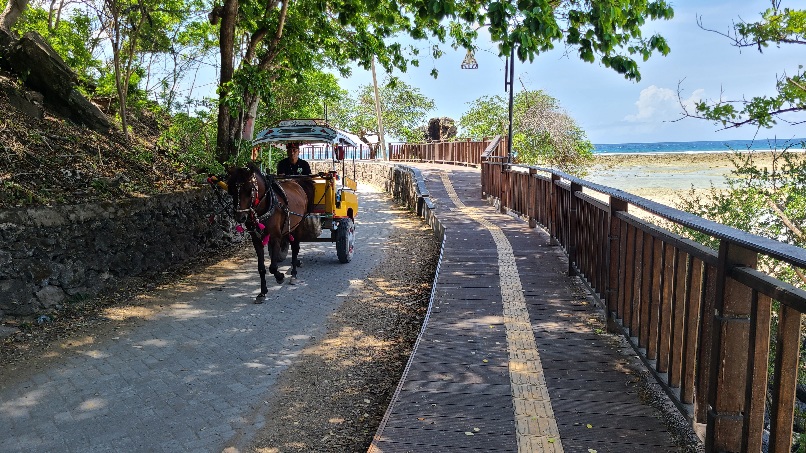 **I
Luckily, the road going around the entire island is paved, making a walk or ride very enjoyable.
Renting a bike for your entire trip on Gili is a good bet. So you can bike quickly to destinations you need to get to fast – like getting food, or meeting friends at a certain time – and then walk and mozy for the rest of the time.
I recommend renting next to the port so you can bike with your backpack to your hotel (instead of carrying your luggage). Also, picking up a bike at the port makes returning seamless as you will depart from the same port and can dropoff just before you leave.
There is an option to ride the horse drawn carts – however, the horses and donkeys pulling the carts rarely look happy or healthy, so I'll leave that info and option for you.

Other Tips for Your Gili T Sunset Adventure
Bring a flashlight for your way back, so you can enjoy the full sunset and twilight
Don't forget the bug spray as mosquitos become more vicious around sunset
Bring "refreshments, snacks, and a music box if you won't be at a beach bar"
If drinking – stick to beer, as the hard liquor has been reported to have methanol (by trusted friends) as a good rule for your entire time on Gili

FAQs about the best Sunset Point Gili Trawangan
Where can I watch the sunset in Gili Trawangan?
Any beach on the southwest and west sides of Gili Trawangan will deliver an amazing sunset view, but the Pink Coco and the Gili Trawangan Sunset beach are the best viewpoints for sunset on Gili T.
Where is the sunset in Gili T?
On Gili T, the sun will set to the west and southwest, with the best viewpoints being in the west and southwest of the island
Which side of Gili Trawangan is best?
The west, northwest, and southwest sides of Gili Trawangan are best for sunset depending on if you want a view of Bali and the volcano mount agung, a view of Lombok and Mount Rinjani, or simply a view of the sun setting into the Java Sea
Where can I watch the sunrise Gili T?
Pink Coco or the Gili Trawangan Sunset Beach are the two best places to watch the sunset on Gili T
How many days should you spend on Gili T?
3 days minimum with a week being just enough.


Other Great Articles in the Moving to Bali Series
Other Great Nomad, Travel, and Expat Lifestyle Articles