Finding the perfect clothing for travel, daily wear, and outdoor adventures can be tough. However, finally getting that perfect minimalist wardrobe – the pants, shorts, shirts, and warm gear that are stylish enough for the office and nightlife, functional enough to avoid odor after weeks of wear, dry quickly after getting caught in the rain, and tough enough to last years – is a satisfying experience.
That type of wear, style, and minimalism is exactly what Western Rise apparel is all about.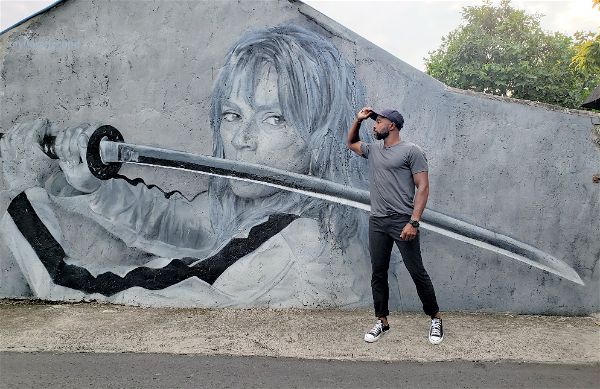 As a long term traveler that aims to keep only one carry on sized backpack, but still look good and be ready for any adventure, from urban, to oceans, to mountains, I have been testing and hunting for years for that perfect minimalist travel wardrobe. Thanks to Western Rise, I've finally found it.
In this article, I'll share my recipe for a "one bag" travel wardrobe that will keep you comfy, ready, and stylish for a year+ of travel and virtually any adventure.
Read on for a full Western Rise review, and a quick recipe for the perfect travel wardrobe.
Note: This article contains affiliate links
The bottom line up front…
The 5 Essential Western Rise Pieces I Recommend for a Complete Travel Wardrobe in One Bag
If you were to purchase only 5 pieces for a complete wardrobe, to wear indefinitely in daily life, adventure, and travel, these are the 5 Western Rise pieces I would highly recommend: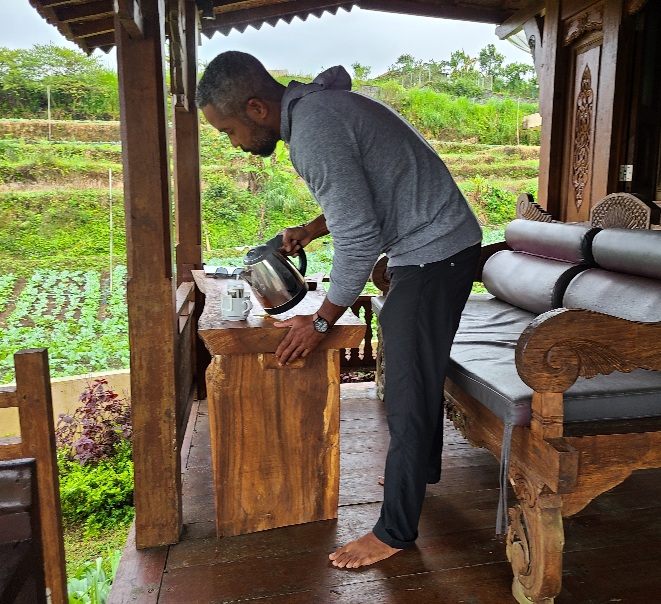 Bonus: Add a pair of travel friendly shoes and a versatile rain jacket for a complete travel wardrobe
Add a pair of versatile, comfy, and stylish travel friendly shoes (like the Glyphs shoes) and a waterproof rain jacket with sufficient style (like the Bluffworks Field jacket) and you have an essential wardrobe that will last you years of travel – trust me, I know!
Keep reading to learn why Western Rise is such an epic apparel brand for minimalist travel
or
Click here to jump to a review of my favorite recommended Western Rise pieces for a minimalist travel wardrobe

Contents of this Western Rise Review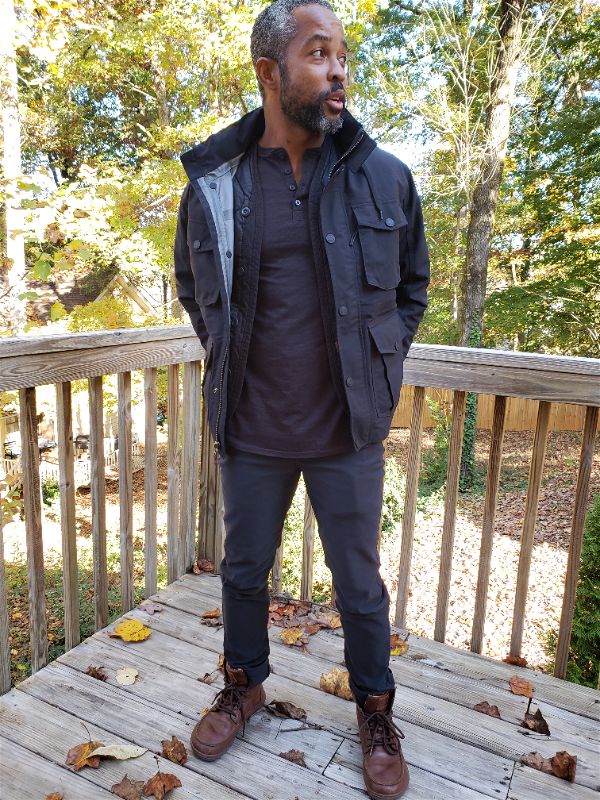 7 Reasons to Get Your Next Travel Clothes from Western Rise
After a couple years of wearing several pieces of Western Rise gear, I'm a true fan, because each and every item has performed well, for minimalist yet adventurous travel and wear in daily life, without fail.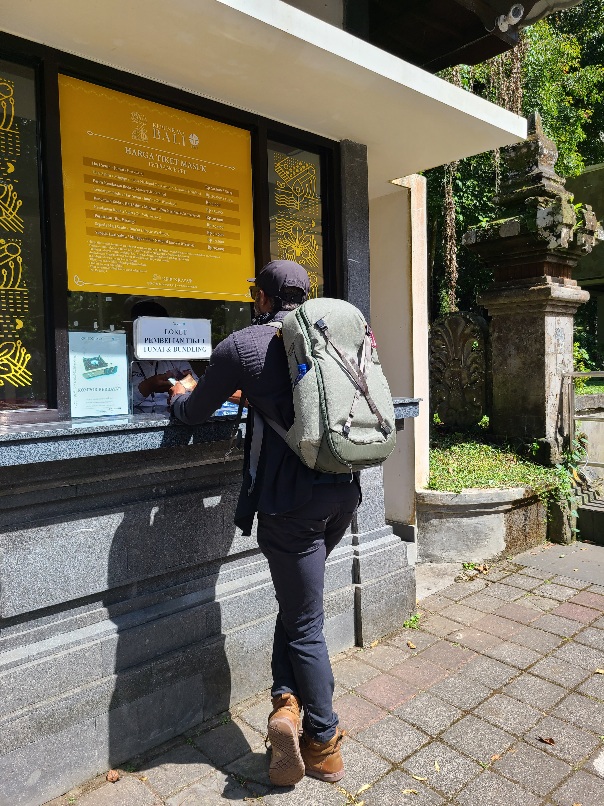 Specifically, here are the 7 reasons I recommend Western Rise apparel so highly:
To look good: Every piece of clothing I've tested from Western Rise has a classic, timeless design paired with a slim, fitted, or active cut that makes the gear (and you) look very stylish, at work, at the bar, and on the trail
To avoid odor, stains, and grim even with weeks of extended wear: All of the Western Rise gear I've tested and recommend uses proven materials (Merino wool, air texturized nylon, etc.) that fight odor and resist stains and liquid better than your cotton t-shirts and jeans
To travel lighter: Not only do these clothes weigh less, such as the Evolution Pant compared to cotton jeans, but they allow you to take fewer clothes because you can wear longer between washes.
To stay ready for anything: The stretchiness and fit of each of the pieces I recommend means you can move from chill to active and adventurous, without changing clothes
To stay comfy: Despite the durability and great performance, all of Western Rise's gear feels really comfortable. My girlfriend has stolen 2 of my Western Rise pieces of gear (Strongcore hoodie and a tee) because they're that comfortable, and I regularly sleep in the Strongcore hoodie shirtless because it feels so good.
To buy it for life (and get amazing value): Tough (yet comfortable) materials and great craftsmanship add up to great quality clothing, and I haven't even had a stitch come loose in 2 years.
To stay warm, dry and comfy on your adventures: Inevitably, if you adventure enough, you will get caught in the rain. After about 5 minutes, these clothes won't keep you dry, but they will dry quickly getting you back to "comfortable" as soon as possible.

Who is Western Rise and Why You Need to Know About Their Performance Apparel
In short, Western Rise makes stylish, functional, and high-performance everyday wear clothing for travelers, adventurers, and minimalists.
Stealing a few lines from the Western Rise team's own words (Kelly and Will Waters)…
Western Rise's gear is so epic for travel because the company's intentions (and the founders' original goals) were rooted in "ultimate simplicity," and creating gear that allows you to carry less and travel lighter without losing functionality, performance, and comfort.
The founders, Kelly and Will, lived their lives as outdoor and rafting guides in Colorado, traveling and on the move in every sense of the word. Unfortunately, all of the clothing they found for their trips was too sporty to be versatile, needed to be washed too often, just wasn't comfortable to where indefinitely, was overly branded, or suffered from a combination of these imperfections.
This agitation drove them to create the ultimate minimalist apparel brand for travel and outdoors adventures, Western Rise, embodying a few principles:
Timeless style: Ditching fads and trends and instead re-designing staple, classic pieces (t-shirts, jeans, hoodies) that have been around for more than a century and updating them with new, higher-tech textiles
Versatile performance: Making clothing that was durable, tough, and forgiving (stretchy, comfortable) enough to wear during virtually any activity, comfortably
All around appropriate: One outfit should not only perform in any possible activity but also look good enough for any occasion
The pair used their textiles background, knowledge of what a travel-filled and adventurous lifestyle needs from clothes, and firm desire for what clothes could be to create Western Rise. The result is the kind of clothing that allows you to look better and do more with a smaller wardrobe.
Every piece of clothing the Western Rise team makes combines techy materials, high quality craftsmanship and timeless styling into staple wardrobe pieces (t-shirts, button downs, jeans, chinos, hoodies, and more) to create the most versatile clothing on the market.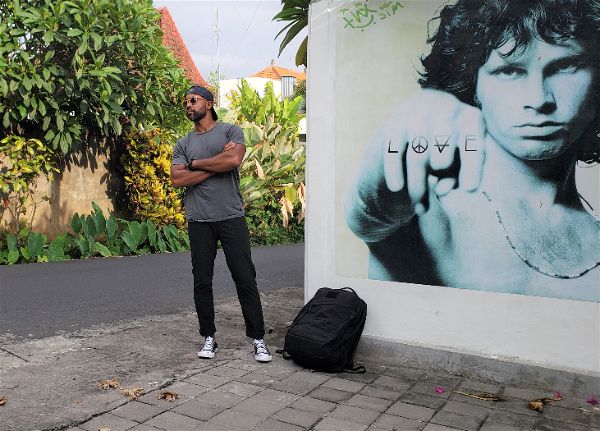 Thanks to the classic styling, you'll be able to wear any of their pieces – like the slim fit AT Pants or the techy designer jean styled Evolution pants – to work or happy hour and turn heads in a positive way. Beyond daily life and urban adventures, the odor resistance, stain and liquid resistance, quick dry nature, wrinkle resistance, and active fit (stretchiness and streamlined design) you'll be able to wear any piece of their clothing during outdoor adventures and days or weeks on end without a wash
For Travelers this adds up to clothing that does more, allowing you to pack fewer items without sacrificing any comfort or function. Traveling with all of your belongings that fit in a single bag, including a handful of clothes that stay fresh longer while maintaining a stylish, sleek look, is very much possible with Western Rise's versatile options.
For outdoorsy types that adventure far beyond the city, the same stylish clothes you wear to work and play on a daily basis, slim pants and t-shirts, are durable and functional enough for an impromptu hike, or a weekend camping trip.
For minimalists aiming for a "capsule wardrobe," a single pair of Western Rise's pants, whether the AT Slim Pant or the Evolution Pants, are enough for an entire week of wear. Selectively paired with 2 to 3 Merino blend shirts and a solid pair of versatile shoes, you have an entire wardrobe for a week in pieces so numbering so few you can count them on one hand

What makes good, versatile clothing for everyday wear, as a traveler and minimalist?
After 5 years of traveling, backpacking, and nomading around the world adventurously – with a deal breaker that travel friendly clothing should still look good – I've learned that the perfect travel shirts, pants, and sweatshirts have the following traits:
Water repellant and quick drying because inevitably, you will get caught in the rain at some point
Stain resistant, so you can still wear them for days after spilling a little coffee
Odor resistant, because the longer you can go between washes with a shirt or pants, the less you have to carry
Breathable, allowing sweat vapor to pass through the clothing quickly and comfortably without feeling wet
Tough and durable material and construction, because good clothing isn't cheap, so it should definitely last
Lightweight and packable material, because every piece of clothing you bring takes up valuable space in your bag and (potentially) weighs you down. Lighter, packable clothing allows you to travel "carry on only"
For the Pants:
A security pocket, large enough to fit a wallet or a passport, and ideally zippered for safety
A cell phone pocket, to keep that precious device safe and avoid scratching it with your keys
2 Way Stretch or 4 Way Stretch fabric: Because stretchy pants and shirts are more comfortable, versatile, and suited to an active and adventurous lifestyle because they don't inhibit movement, ultimately making daily wear pants and jeans perfect for hiking as well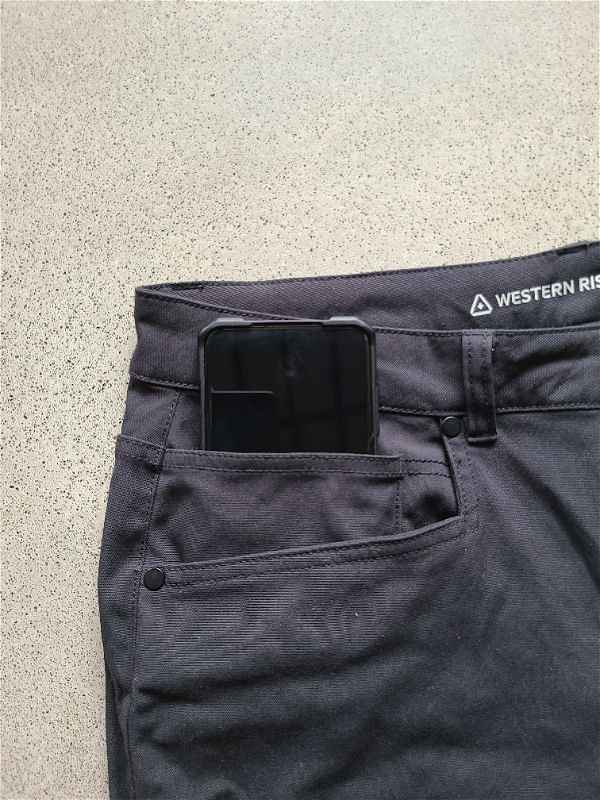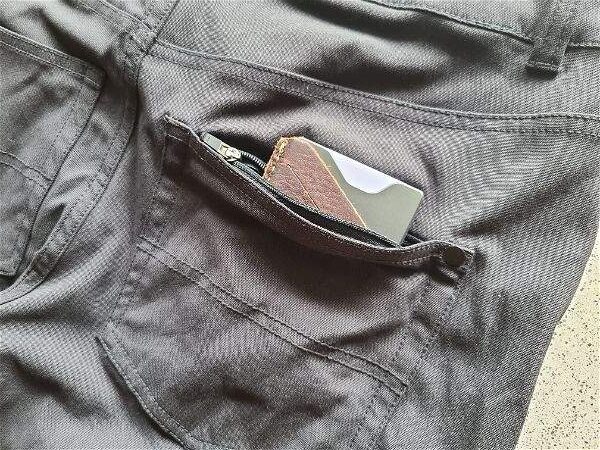 Now that you know what I've learned from years of traveling about what makes the best travel clothing, let's talk about exactly why Western Rise is what's in my bag right now…

Why I recommend Western Rise (from my experience): Functional Fashion that is perfect for travel, but better for everyday wear in daily life.
So, why Western Rise? Because whether I've been basing out of Lisbon, Buenos Aires, or Bangkok for months, enjoying city life day to day, dodging rainstorms on motorbike in Vietname, or sneaking in hikes in the volcano highlands of Bali, all of Western Rise's gear has proven durable, comfortable, and functional, exceeding my expectations at every turn.
It's a deal breaker that all of my clothes
Be stylish
Be functional enough to survive adventures (hiking, motorbiking in the rain, etc.) while staying comfortable
Be functional enough to take a single pair of clothes and wear for a week, without slowing me down, being uncomfortable, or stinking.
The Western Rise line has met all of those criteria.
My Experience Traveling with Western Rise Clothing
As I write this: One week+ exploring the rainy highlands, volcanoes, mountains, and lakes in Bali, with 2 Strongcore shirts, 1 pair of Evolution pants, 1 Strongcore hoodie, and a pair of shorts…
As I write this, I sit in the Evolution Pants, Strongcore tee, and Strongcore hoodie in the cool mountain highlands of Bali (next to the volcanoes), where I'll be for exactly a week. These pants are the only pants I brought, and the hoodie is my main warm layer. Last night temperatures got down to about 60 degrees and the hoodie (and undies) is literally all I slept in and I was as comfy as could be. Everything for this trip – laptop, toiletries, and clothes – all fit in my single GORUCK GR2 backpack.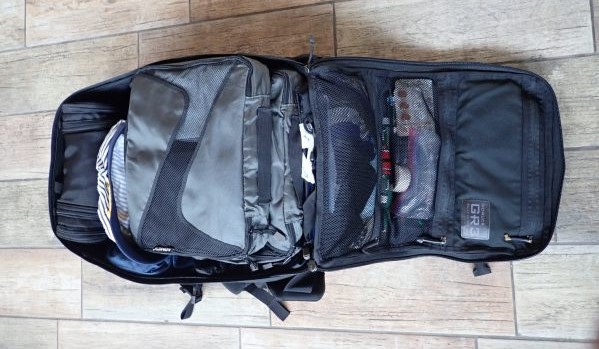 Additionally, on the way up here I was caught in a slightly frustrating storm in Bali's cool season. Though I was only in the rain – in my rain jacket and Evolution pants – for 20 minutes riding a motorbike, I was completely soaked. On arrival, I stripped down to my undies and popped on the Strongcore hoodie (a Merino wool and polyamide blend) and was back to warm and happy in minutes.
Though I lazily threw my Evolution pants on the floor in a wet pile with my other gear yesterday, laying them over the balcony in the Indonesian sun this morning dried them in about 20 minutes. That reliably quick drying nature and comfy nature is exactly why I trusted bringing only one pair of pants for a week of wear when the forecast clearly pointed out a week of rain.
Now, what if I stay longer than a week and have only one pair of pants and a couple of the Merino shirts? Life still stays simple.
Western Rise's pants, both the Evolution pant and AT Slim pant, are both odor and stain resistant enough that I've worn them literally for weeks without wash, with no stains or funk as proof. Beyond those few weeks I've simply washed the pants with my couple of Strongcore Merino blend shirts in a dry bag, which is essentially throwing the clothes in a dry bag with detergent (bought a local convenience store) and water, shaking a bit and letting the goods soak for a while (~30 minutes), rinsing quickly, and allowing them to dry for 2 hours in the sunlight.
(**)
With this wash in a dry bag method, I've lasted for weeks comfortably with the Evolution pant or AT Slim pant, and a couple of t-shirts, with either the Strongcore Hoodie or the Limitless Merino Button Down as a comfy, warmth layer if I'm caught in an overly airconditioned coffee shop, or chilly rainstorm in the volcano highlands of Bali.
Sidenote: I do have the versatile and still stylish Boundless Short which is perfect for wearing around my cabin, and town, if I'm running late and my pants aren't dry.
The true beauty is this packing recipe for a week is actually enough for weeks and months, allowing you to simply wash once a week for fresh clothes (the odor resistance of wool and Western Rise's other fabrics is serious) indefinitely. This possibility for indefinite travel with such a lean packing list, in a way that isn't possible with other brands, is why I highly recommend Western Rise's gear so much.
Few other brands can match the travel-friendly function that Western Rise delivers.

Western Rise Apparel Brand Rating
Style and Design: 5/5
I've worn my Western Rise pants on stage (doing standup comedy), to happy hours, and to Michellin star level restaurants, and looked great because of the pants
Function (Odor resistance, quick drying, stain resistance): 5/5
I've successfully worn the pants for weeks and the shirts for days without any sign of needing to wash (yes, I did shower myself though), and sink washes were followed by quick dry times.
Materials and Craftsmanship: 5/5
Over a year of regular and very frequent wear and my pants look like new, but with a little added softness. 6+ months of wear on shirts and not even a stitch has come loose.
Value for money: Getting a single pair of clothes that do more and last longer 4.5/5
Though the starving backpacker in me wishes the clothes were cheaper, buying one pair of these pants or one of these shirts is equal to 3 to 5 pants or shirts from other brands, in terms of how long to wear between washes and how versatile wear can be. This makes Western Rise's gear an excellent value, even with the seemingly steep pricetag
Now that you know what makes the brand awesome, let's review the best Western Rise pieces I recommend for a great minimalist travel or capsule wardrobe.

My Favorite Pieces from Western Rise Clothing
The Western Rise Essentials I recommend for a Year-Round, Travel Friendly, Minimalist Wardrobe
Western Rise Diversion Pants: A slimmer, stretchier pant
X Cotton Tee: A softer, more traditional tee
Limitless Merino Polo Shirt: A more "casual dress-up" alternative
Comfort Bonus: Joggers

Piece by Piece Review of Favorite Western Rise Gear
My Western Rise pants and shirts have become staple gear in my wardrobe, and I've built a perfect minimalist travel wardrobe with these as my staples. However, with all of the awesome options you may have trouble choosing which pants, shirts, and "comfy pieces" are right for you. In this section, I'll go through the pieces I recommend and info to decide whether or not they're suited for your perfect travel wardrobe.
Western Rise Pants
Western Rise Evolution Pant
Classic jeans reimagined in a breathable, lightweight, and quick drying yet tough texturized nylon.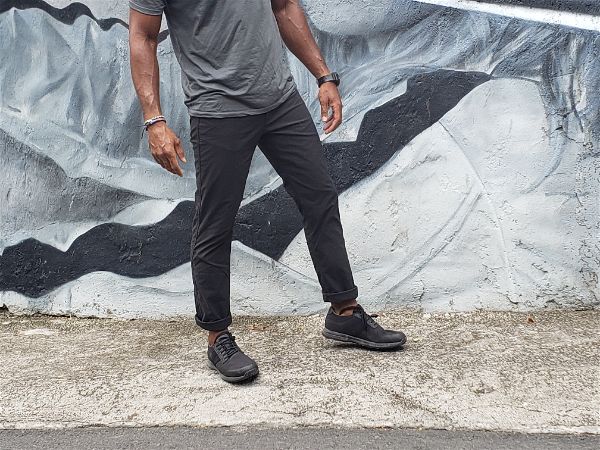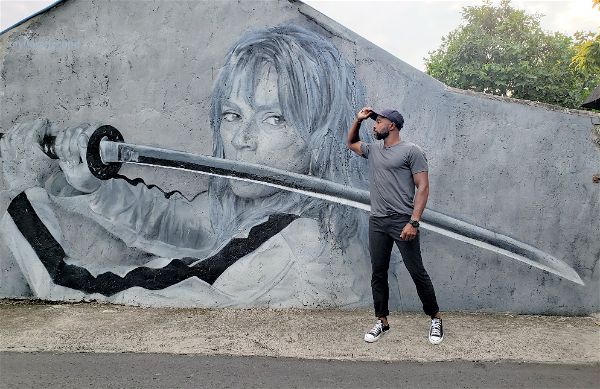 For those that love a classic jean fit, not too slim, not too baggy, you can't go wrong with the Evolution pants.
A plethora of pockets, from internal cell phone pockets, to a secret zippered wallet pocket, make these pants just as functional for travel (and keeping your valuables secure) as they are stylish. Four way stretch gives enough freedom to do yoga…or hike. Lastly, the water repellent, and funk resistant nature make them easy to wear for weeks without washing or noticing a need to.
Whenever I'm traveling, these are easily the first pants I reach for.
Click here to see available colors for the Evolution Pants
…or…
Click here to read our full Western Rise Evolution Pants review
A slimmer, sturdier reimagination of the Evolution Pants, the AT Slims are made of a tougher fabric, slightly thicker, slighter stiffer, and slightly more durable, with a cut more akin to classic Chinos and fitted khakis.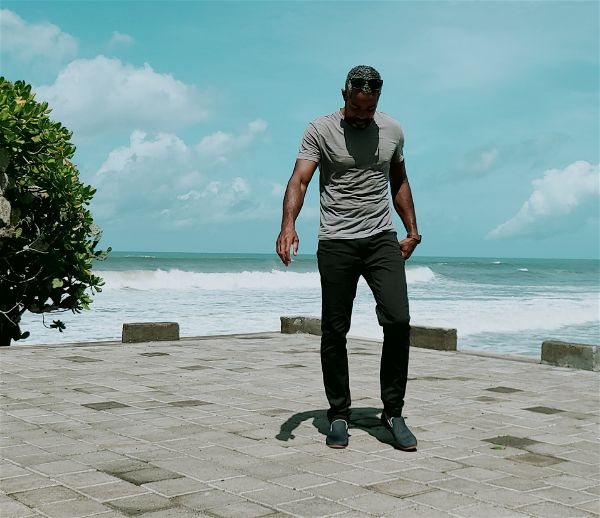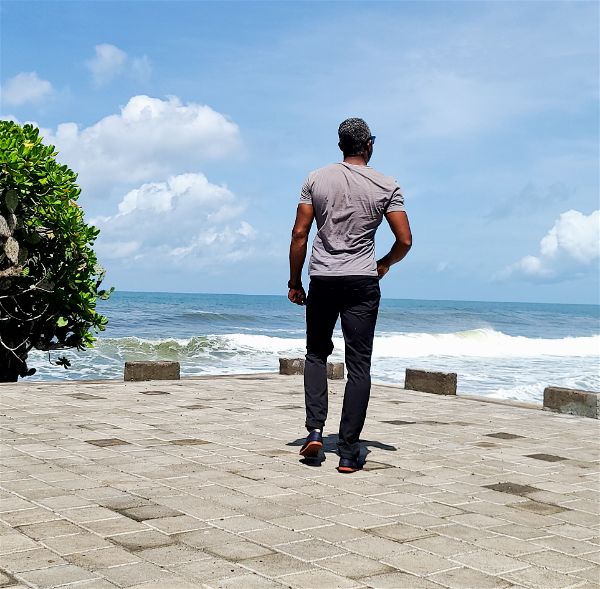 Honestly, I have a hard time picking a favorite between these two pants as the AT Pants are just as travel friendly and just as stylish in their own right – so I own both.
If you like a slimmer fitting pant, with slight stretch, then you'll love the Western Rise AT pants.
Click here to see available colors for the AT Slim Pant
…or…
Read our full Western Rise AT Slim Pants Review

Western Rise Shirts
When it comes to classic shirts, nothing beats a t-shirt. When it comes to t-shirts, almost nothing beats the breathability, odor resistant, thermoregulation, and quick-dry nature of Merino wool…almost nothing. But Merino Wool blended with nylon beats solo Merino hands down.
Merino is a near perfect material, supersoft and forgiving of wear without washing, but it is much more delicate than synthetics and requires more delicate washing and handling. Even with delicate care you can expect a lifespan of a couple years from normal Merino worn during the rigors of travel.
Nylon on the other hand is tough, originally used during World War II for parachutes, ropes, and even bullet proof vests.
Combining the perfect performance of wool with techy nature of nylon delivers the best of both worlds – a shirt that is comfy, soft to the skin, sweat wicking, quick drying, odor resistant, and tough enough to survive life in the outdoors much longer than your average Merino tee.
If you plan to travel long term, I recommend ditching the cotton in favor of Merino shirts, or at least complementing the cotton with Merino t-shirts. On more than one occasion I've worn a single Merino shirt for a week straight – that's how awesome a material Merino is, and why you need it.
Click here to see available sizes and colors of the Strongcore Tee
If you plan to drop into a Michelin star restaurant, attend a business meeting, or go on a date wherein you plan to impress, you can't live life in t-shirts alone. For these reasons, its great to have one of the timeless style staples in upgraded techy fabrics – the button down Oxford.
Western Rise's Limitless Merino Button Down is an ultra soft, thermoregulating blend of high quality Australian Merino Wool and polyester, making it lightweight, packable, and comfy to wear.
Personally, I love this shirt as it feels more like a soft, comfy flannel, perfect for fall days and cooler nights, with a slim fit that adds warmth and style.
Click here to see available sizes and colors of the Limitless Merino Button Down Shirt
Essential Comfort and Versatility Pieces
Just like surviving tastefully and stylishly in only t-shirts is next to impossible (but still possible), a minimalist travel wardrobe absolutely needs a solid pair of versatile shorts that look good, could be used for swimming, and have enough stretch to be workout or activewear.
The Boundless Shorts are stylish chinos shorts made with water repellent and quick drying polyester to be the kind of short you could wear everyday on adventures through Southeast Asia, from canyoning, to beaches, to making new friends on an impromptu pub crawl. Pair with some classic kicks (travel loafers, Chuck Taylors, or boat shoes) and you'll be ready for almost anything
Click here to see available colors of the Boundless Short at Western Rise

An unexpected favorite from my Western Rise wardrobe, even in summer, is the Strongcore hoodie. Perfect for travel, this lightweight Merino Wool – polyamide blend packs down unnoticeably small but is super warm, perfect for a chilly Starbucks or over airconditioned airplane, or an unexpected night in the mountains or cool highlands.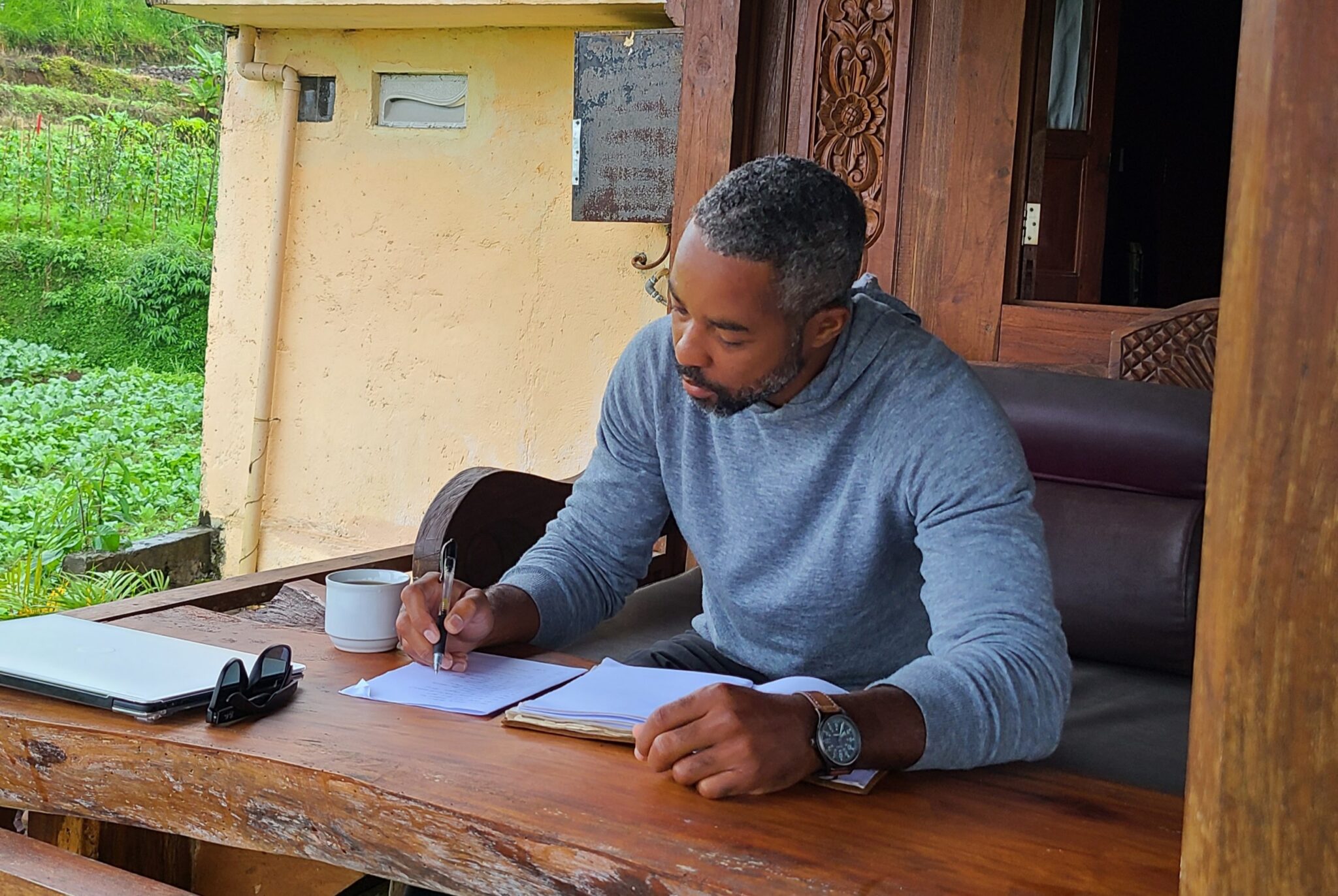 No matter where you travel to and in what season, plan for nights to get cool, and plan to have a stylish yet comfy layer handy to keep warm (or be a gentleman and lend to your lady). Lately I've been rocking this hoodie a lot, even in the Bali summer – and even as I write this on a cool night next to the highland lakes in Bali I sit toastie and warm with the hood wrapped over my ears as I type. This is another unexpectedly awesome piece that I can't recommend enough.
Pair this with a waterproof, windproof jacket and a wool t shirt and you'll be ready when temperatures drop.
Click here to see available colors of the Strongcore Hoodie at Western Rise
Sunburn sucks. We can all agree on that. The best way to prevent sunburn, and just generally stay comfortably cool, is to get a hat. But not just any hat, a travel friendly hat.
The Versa hat is a soft, structure less hat that breathes well and collapses down into your pocket.
However, the best unexpected benefit I've found with the Versa hat, is it fits perfectly under a helmet. If you're in Southeast Asia, you will be biking, you will be taking moto-taxis, and you should be wearing a helmet – likely the same helmet hundreds of other grubby travelers have worn before you. Do yourself a favor and grab a helmet friendly hat like this to save yourself a little trouble and stay sanitary.
Between those moto rides, you'll have a handy hat for exploring in the heat of the day or laying on the beach, and that collapses neatly into your pocket when its not needed
Click here to see available colors of the Versa Hat at Western Rise

Other Pieces to Consider

Western Rise Apparel FAQ
Do Western Rise pants shrink?
No, Western Rise Pants do not shrink. All of Western Rise's pants are made of performance, synthetic materials, such as air texturized nylon, and consequently do not shrink. However, the stretchy nature of some of the materials may result in a very slightly looser fit as they are worn, and drying after wash may return them to their original fit.
Ultimately, though I do notice the change in fit as the pants are worn, the change is not enough to affect the style, look, and feel.
How do you wash Western Rise pants?
Wash with mild detergent and like colors and tumble dry on low if desired. Do not use fabric softener, as it will damage the water repellent nature of the pants. Alternatively, if you are traveling and need a way to wash by hand, I highly recommend this dry bag washing approach, to wash your pants easily and quickly anywhere
Do Western Rise Pants fit true to size?
Yes, in my experience, Western Rise pants due fit true to the size of the waist. However, not that the AT Slim Pant and Diversion pant tend to have a slimmer fit in the legs than most pants, relative to waist size.
What is Western Rise's Shipping Policy
Western Rise offser free shipping within the US for orders over $150 + free returns
How do I Contact Western Rise?
Visit Western Rise's contact page, here, to email the Western Rise team.

Ongoing Promos and Discounts at Western Rise
Western Rise Summer Sale will be 25% off sitewide from May 20-May 31. Simply click here to visit Western Rise with code SUMMER.
Additionally, visit sitewide for free shipping to anywhere in the US on orders of $150 or more, with free returns.