The trail from Kathmandu to Everest Base Camp is an indescribably beautiful path, but it is also a path paved with risks and dangers. From flying into the "Most Dangerous Airport in the World" (Lukla Airport), to altitude sickness, to stomach bugs and infections, the trek is littered with just as many opportunities for calamity as it is opportunities for beautiful pictures.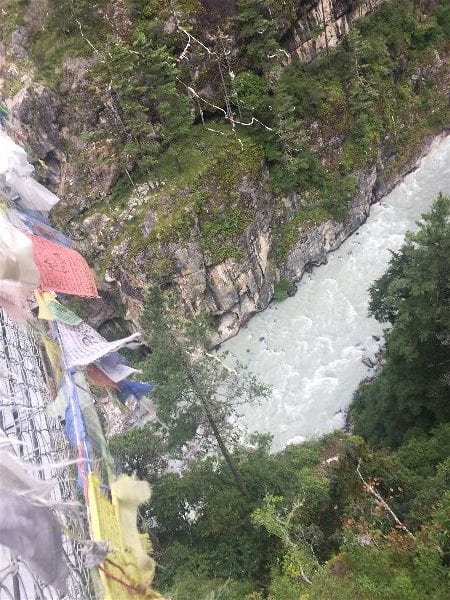 Lucky for us, the path has been walked plenty of times with plenty of notes on the knowledge we need to make the trek safely and comfortably. In this article, you will find the best tips for doing the Everest Base Camp trek safely and comfortably.
For the savvy hiker, with a little research and awareness, you can make this extraordinary journey independently and safely. In this article, we review the major risks to beware of on the Everest Base Camp trek, a few entertaining anecdotes, and the knowledge & resources you need to ensure you're not "that guy" (or "that girl").

The Risks and Dangers of the EBC
Tips for the EBC Trek

The Dangers of the Everest Base Camp Trek
---
Flying into Lukla Airport
Lukla Airport, formally known as Tenzing Hilary Airport, is frequently referred to as "The Most Dangerous Airport in the World" due to the riskiness of take offs and landings. The airport is extremely short (527 meters long) and carved into a mountainside making one end of the runway a cliff and the other end of the runway wall.
To make matters worse, the runway is flanked by buildings and large rocks. This setup makes anything short of a perfect take-off or landing potentially deadly (read more about "Why Lukla Airport is the Most Dangerous Airport in the World").
---
The reality of Lukla Airport: Though the design and terrain make air operations in Lukla very precarious, the pilots are extremely well qualified and the aircraft are uniquely suited for Short Take Off and Landing airports (STOLports). All pilots have flown at least 100 missions on similar airports and 10 successful missions at Lukla before flying as commercial pilots with passengers at Lukla.
The aircraft are similar to bush planes and designed to perform best on such tiny runways. So, despite the dangerous reputation of the airport, you're absolutely in good hands with these pilots.
---
The best advice for Lukla Airport: Sit back and enjoy the ride. If you're very weary of the potential dangers of landing at the Lukla airport, consider skipping the flight into Lukla by hiking into the Everest Base Camp Trek, by taking the "Jiri route", and simply flying out. Of the 10 accidents at Lukla airport on record since 1974, only 3 have occurred on take-off and none of these landing accidents resulted in fatalities. So, by simply flying out, you mitigate much of your risk.
---
The bottom line on flying into Lukla Airport: flying into Lukla airport you are in excellent, well qualified hands, but if the flight is discouraging you from doing the trek then hike in from Jiri and fly out from Lukla and you'll be just fine.

Altitude Sickness on the EBC Trek
Despite Lukla being tagged with the "most dangerous" moniker, altitude sickness is likely the most prominent risk and also the issue that affects the most trekkers. Stories abound of the low oxygen of high altitude wreaking havoc on trekkers' adventures. Our friends over at Stingy Nomads had quite an experience with altitude sickness during the Everest Base Camp trek. In their words…
"We did Everest Base Camp trek a couple of years ago; it was our first high altitude hike. As budget travelers we always try to do everything on our own without a company or guide involved. The hike didn't look too difficult and we're both quite fit so we started from Lukla and walked quite fast the entire time. On the second day we reached Namche Bazaar, 3400 meters above sea level. It's recommended to stay here, in Namche, for two nights for better acclimatization before going higher, but we felt good and next morning decided to keep walking all the way to Tengboche at 3900 meters.
"On the last leg up Alya, my wife, started having heavy headaches and was very tired but we still made it to the village of Tengboche quite easily. During the day everything was fine but that night she started feeling sick and having terrible headaches. She couldn't sleep at all that night but by the morning the headaches were gone. So, we decided to stay one more night and try to acclimatize better but it didn't help. The next night it was even worse. On the third day we went down 600 meters and luckily it wasn't far. We stayed there one night. The next morning, Alya was fine again and we went back to Tengboche and continued walking. After that neither of us had any altitude problems but we learned a great lesson: it doesn't matter how strong and fit you are, don't play with altitude and follow the recommendations otherwise you risk getting yourself into big trouble. Since then we've done many high-altitude hikes and some climbs, but we've never made those same mistakes again."

What is altitude sickness?
Altitude Sickness, or "Acute Mountain Sickness", is a negative health effect that occurs from exposure to an environment with lower oxygen content in the air than the trekker's body is accustomed to. Though breathlessness can begin to occur at around 1,500 meters (5,000 ft), altitude sickness becomes a significant risk at 2,400 meters (8,000 feet). The major risks with altitude sickness are two potentially deadly conditions as side effects: the lungs filling with fluid and the brain swelling with fluid, also known respectively as High Altitude Pulmonary Edema (HAPE) and High Altitude Cerebral Edema (HACE)1.
The Reality of Altitude Sickness: Altitude sickness is arguably the most common and most serious issue that befalls trekkers on their way to Everest Base Camp. There is no way to determine who will be most susceptible to altitude sickness, but the preventative measures and treatment remain the same. In practice, the fittest individuals are at the highest risk for altitude sickness, due to their behavior.
While most trekkers of average fitness take it slow due to fear and anxiety, fit and athletic individuals often overestimate their ability to perform at high altitude. This leads directly to over exertion and altitude sickness. Luckily, the occurrence and general risks of altitude sickness can be easily prevented and mitigated by taking the trek slowly to allow time for natural acclimatization, by understanding the symptoms of altitude sickness and the actions which should be taken immediately after onset of altitude sickness symptoms, and by purchasing travel insurance to create additional emergency options in case symptoms progress too rapidly.

How to prevent altitude sickness:
Ascend slowly, avoid over exertion, and allow time for acclimatization. Aim to ascend no more than 305 meters per day and schedule a rest day after ascending 3,000 feet / 915 meters
Follow a commonly accepted itinerary such as the one listed in this Overview of the Everest Base Camp Trek
"Climb high, sleep low". Climbing higher in a day than the elevation you will sleep at pushes your body and then allows time to rebuild (similar to most workouts), but also staves off the increased risk of altitude sickness that comes at night
Drink plenty of water (minimum 3 litres per day). Dehydration increases the risk of altitude sickness and to compound the risk, altitude medication, high altitude conditions, and the acclimatization process all cause more frequent urination than at sea level. To counter these effects, replenish your body with fluids, intentionally and more frequently
Walk slowly to avoid over exertion. Over exertion increases the risk of altitude sickness
Avoid consuming alcohol as alcohol increases the risk of altitude sickness and the symptoms of intoxication mirror the symptoms of altitude sickness, potentially masking important symptoms and placing the drinker at risk of the altitude sickness symptoms going unnoticed
Bring altitude sickness medication such as acetazolamide (brand named Diamox) in case of emergency. Ask your doctor about taking the medication before and during the trek as a pre-emptive measure. Some of the recommended dosages are 125mg to 250mg per day

How to prepare for the possibility of altitude sickness
Purchase travel insurance beforehand that covers trekking to high altitude. In the worst-case scenario where a victim of altitude sickness may need to be air lifted to lower altitude, the flight can cost $2,000-$5,000! It is much better to pay the $100-$250 for the benefit and coverage of travel insurance. I, and my other traveller friends, had amazing experiences using World Nomads and highly recommend them
Pickup a SIM Card and a voice/data plan if trekking independently to stay in touch with your insurance provider and emergency services. Nepal telecom and NCell provide data service up to Tengboche and support text and voice service up to Gorak Shep.
Know the symptoms of altitude sickness and how to respond

Symptoms of Altitude Sickness
Though it is common to have slight headaches and the feeling that breathing and walking are much more difficult than at sea level, keep an eye on the following symptoms and especially monitor how these symptoms progress
Loss of appetite
Nausea
Vomiting
Fatigue or weakness
Headache
Dizziness
Light-headedness
Swelling of hands, feet, and face
Nose bleeds
Shortness of breath
Persistent rapid pulse (even at rest)

How to respond to altitude sickness symptoms
If you or anyone experience altitude sickness symptoms,
Stop, rest, and take altitude sickness medication acetazolamide (brand named Diamox). Wait for symptoms to subside and monitor breathing and heart rate
If altitude sickness symptoms persist or worsen, get to a lower altitude as soon as possible. Consider contacting emergency services or contacts provided by your travel insurance company

Infections
Hot showers are hard to come by, and when they are available they're expensive. The result: you likely won't be showering for the duration of the trek, aside from the wet wipes you'll (hopefully) be bringing. This, combined with the generally less than sanitary conditions will put you at risk for a variety of infections. Two of my friends picked up a staph infection during the trek. How can you avoid this happening to you? Come prepared to fight the infection if it happens and be equipped to (easily).
Bring your own run of a broad-spectrum antibiotic, such as Amoxicillin or whatever your doctor recommends. Though there are hospitals along the way during the trek, during high tourist season these hospitals may not be as well stocked as you would expect, so they may be out of antibiotics. Having your own meds means (if the doctor approves) you can start them earlier. Ensure to bring enough for the entire period your doctor recommends (generally 6-8 days)
Get travel insurance before the trek, to cover any medical visits you may need, but still bring your own run of antibiotics so that (if your medical provider recommends it) you can start the antibiotic treatment ASAP instead of waiting until some become available.

Stomach Bugs
For westerners, traveling anywhere in Asia carries the risk of stomach issues. Nepal, and the Everest Base Camp Trek are no different. In Kathmandu and along the trek, food handling and refrigeration of meat is rarely up to the standard of your average western restaurant. Given the scarcity and cost of electricity, most of the meat along the trek is not refrigerated properly. Additionally, all equipment and food are either carried in by porter or yak, so for the duration of the trip any meat will be unrefrigerated. So how can you avoid food related stomach issues?
Stick to a vegetarian diet and avoid all meat. The go to meal during the trek is "dal baht" which is a soup made from rice and lentils. Though you may grow tired of this dish, it is your safest bet for the trek. It is high in carbohydrates, which helps with acclimatization, has the balanced protein you need, and is soup which also encourages hydration, and is both plant based and served hot which minimizes food poisoning risks.
I abided by the "vegetarian only" rule for the entire trek (7 days for me) until the last night in Namche Bazaar when I decided to celebrate with a bowl of yak chili. It sounded tempting enough and the "Anthony Bourdain wannabe" part of me felt obligated, so I went all in on that yak-tastic chili for dinner. Fast forward 4 hours and I was curled around a toilet leaking from both ends while I just tried not to die. Actually, dying would have been more satisfying. I spent the entire night, 11pm to 5am, throwing up and…well… "throwing down." The next morning, I skipped breakfast and walked the 18 kilometres from Namche Bazaar to Lukla Airport on only a bottle of Coca-Cola because I wanted to keep my stomach empty to avoid yakking up the yak from the night before. The moral of the story: follow the rule I abandoned and stay vegetarian on the trek.
As a precaution, bring Imodium or another anti-diarrheal medication and bismuth to deal with potential diarrhoea, nausea and lightly upset stomach as your stomach adjusts to the new food, especially if are flying directly to Nepal from the west.

Our Tips for the Everest Base Camp Trek
---
Book your flight online
Booking your flight online is intended more to guarantee convenience and good times during your trek than to prevent any danger. If your flight out of Kathmandu makes it out on time and into Lukla with no problems or delays, you are more likely to start the trek with the kind of optimism that helps you handle any issue that arises in stride while keeping the adventure enjoyable.
Tips for the flight to Lukla
Book flights to Lukla online through your preferred airline's site or a reliable third-party site. Visit the "Flights to Lukla" section of our Overview of the Everest Base Camp trek for a full list of airlines that fly to Lukla and their booking websites
Book the earliest flight to Lukla of the day, this way, if there are any delays then you won't get bumped to the next day. After a certain time of day, planes do not fly to Lukla and the planned flights are delayed until the following day
Book your flight to Lukla at least one week in advance for the cheapest prices, seat availability, and flight availability
---
Bring medications
Medication can be purchased quickly and cheaply at pharmacies in Kathmandu. Though there are hospitals and medical services along the way during the trek, I prefer to have everything I could possibly need to handle my own situations. Given the risk of altitude sickness, infections, and stomach bugs, I recommend discussing the following list of meds with your doctor to see if these medications would be right for you to take on the trek.
Altitude sickness medication such as acetazolamide (Diamox): I recommend bringing enough to take the dosage recommended by your medical provider for the duration of the trek
Broad-spectrum antibiotics such as Amoxicillin: I recommend bringing enough for one "run" as recommended by your doctor, which is generally enough for 6-8 days depending on your medical history
Anti-diarrheal medication such as Imodium
Anti-inflammatory "cocktail" such as an ibuprofen acetaminophen blend
Electrolyte packets to keep you hydrated while you increase your fluid intake
For a full list of recommended medications and equipment, check out the Everest Base Camp Packing List that got me successfully (and comfortably) through my independent trek to Everest base Camp
---
Buy Travel insurance
No matter how much we plan and attempt to mitigate risk, accidents will happen on any worthwhile adventure. This is when travel insurance comes in as the silver bullet. For somewhere between $100 and $300 (I paid less than $300 for 6 months of travel) travel insurance covers you for accidents, medical issues, catastrophes, and so much more. I saw people get airlifted off of the EBC trek due to altitude sickness and a couple of friends required several doctor visits during and after the Everest Base Camp Trek for staph infections that occurred during the trek…and the expenses for all of these mishaps were covered in full by their travel insurance coverage.
Some of our other friends at A Social Nomad shared their story about the chaos that happens on adventures such as these and easily justifies travel insurance:
"We trekked to Everest Base Camp in 2015, attempting to take the longer Cho La Pass Route via the glorious Gokyo Lakes. Alas, it was not meant to be. Heavy snow blocked the pass and so we had two hard days of walking back down the valley, to go back up again.
"My tip, and the lesson that came from this experience, is to make sure that you have good insurance. One of the guys on our trek, the fittest in the group, (he'd actually been invited to CLIMB Everest some years back) ended up in an oxygen tent and then on a helicopter out of Macchermo back to Kathmandu. He spent several days in the hospital with Acute Mountain Sickness. They couldn't even call the helicopter until he handed his credit card over for the $5,000 USD bill. (he got this back from his insurance company). As if that wasn't enough of a warning. We'd left Kathmandu, but one of our group was still there when the big earthquake hit. She slept in a car park for two days while her insurance company figured out how to get her home. Again, her insurance paid up. And me? I had two days in the hospital and intravenous antibiotics as a result of a resistant tummy bug I picked up because I wasn't careful enough with the water I drank!
"All of that said, I'd go back in a heartbeat. Nepal and this area is glorious. The hiking is marvellous and there's an amazing view around every corner that is all the better because you hiked to it yourself!"
So, what's the bottom line? Risk is there, accidents will happen, but don't skip the adventure (it's too valuable) just prep as much as you can, learn as much as you can, and get insurance to cover the rest, then…just enjoy the ride.
Good luck on the trail! And we hope to see your pictures from the EBC trek!!
Have any questions or comments about the content or advice? Or advice from your own experience?
Drop it in the comments or feel free to email "this guy" at [email protected]

For more stories of the calamity of the EBC trek, check out our 7 part series "Experiencing the Everest Base Camp Trek" where I share the story of traveling from Dallas to Everest Base Camp with a bit of grit, a backpack, and a lot of questionable decisions
If you are looking for more advice on doing the Everest Base Camp Trek Independently, check out these resources:
---
Props to our trekker compadres!
Thanks to our friends at a Stingy Nomad and of ASocialNomad for sharing their stories of the Everest Base Camp adventure. There are many different types of travelers and many different types of travel styles. Where I push adventure to the limits to see what I and the world around me are made of, these travelers experience the world in their unique ways and with their own unique goals. I recommend checking out their sites and reading their stories for inspiration too.
Sarah (our writer for the "chaos of EBC" story) is one half of ASocialNomad, where she and her husband Nigel write about Gen X Travel with a Y attitude.

Other great content to help you complete the Everest Base Camp Trek