The hike to Everest Base Camp is a very achievable and very worthwhile experience. As long as you take it slow and steady, you'll make it to the top, and packing the appropriate clothing, gear, medications, and other essentials will ensure you are comfortable and safe for the duration of the Trek. Our Everest Base Camp Packing List will ensure you have the equipment portion covered
Below you'll find the gear list laid out completely as a checklist for packing. Continue scrolling and you'll find the same gear list with explanations (including notes on what is essential and what isn't), where to find it (if its better to buy in Kathmandu or bring from home), and why it's on our Everest Base Camp Packing List. (Jump to the detailed gear list)
All of the items in our Everest Base Camp Packing List are reviewed with why you should bring each item, linked to examples that I either used personally and swear by or have been recommended by trekkers I trust to help new trekkers understand what gear they're looking for
If you have any thoughts or suggestions, reply in the comments. We would love to hear from you! And if you have an questions or comments about our gear suggestions (we love our gear!) ask away in the comments.

Everest Base Camp Trek Packing List: Gear Categories
As you systematically think through your packing list, the following categories cover most of your gear. Click each link to jump to that section of our quick list
The following quick lists on the clothes, gear, medications, and essentials recommended based on my trip to Everest Base Camp. For a more detailed explanation on what to take (and how), scroll down to the detailed lists at the bottom of the page

Everest Base Camp Gear: Clothing
Clothes for hiking
Clothes for Insulation & Staying Dry
1 Heavyweight down or synthetic coat (I recommend the Eddie Bauer Downlight Stormdown Hooded Coat)
1 midweight fleece or similar top for insulation
1 pair of long underwear or leggings, synthetic or wool (I recommend Smartwool's long underwear)
Gloves (insulating or windproof)
1 Beanie (for warmth)
1 Rain Jacket or Poncho
Windproof Gloves and insulating liners
(Optional) 1 pair of waterproof pants
(Optional) 1 pair heavyweight wool socks
---
Clothes For relaxing at night
---
General Hiking Gear
Hiking pack (25-45 liters are perfect) (I recommend either the REI Trail 40 for its light weight or GORUCK GR2 for durability) – checkout the REI Trail 40 Review for more info
Compressible Day pack (I recommend the REI Flash 22 or the REI Flash 18)
Quick Drying Camp towel
Sleeping Bag (rented in Kathmandu)
Trekking Poles
2-3 one-liter water bottles
Headlamp (with fresh batteries, extra batteries and red lens)
Recharging block (or two, depending on how many electronics you intend to bring)
(Optional) Down shoes/Booties
(Optional) Gaiters
(Optional) map of Everest Base Camp Trek
---
Medications and first aid items to take to Everest Base Camp
Altitude Sickness Medication (e.g., Diamox)
Anti-inflammatories: Ibuprofen acetaminophen combo or paracetamol
Anti-diarrheal medication: Imodium
Anti-nausea medication: Pink Bismuth tablets or similar
Blister kit
(Optional) Medical tape/Athletic tape
---
Other Trekking Essentials
Travel Insurance
Sunblock (SPF 50+)
Lip Balm with SPF
Toilet Paper roll
Hand sanitizer
Wet Wipes
Baby powder/foot powder
Water purification tablets
OR
Water filtration system such as Lifestraw to pair with water purification tablets or other purification system (I recommend the Lifestraw Go) but there are several better water purification options
2-3 Large trash compactor or heavy-duty trash bags
(For women) Feminine care products
---
Worthwhile Additions
Book or e-reader (optional…if you enjoy your sanity)
Candy and Goodies to share and make friends with porters (Snickers are always good)
2-3 large ziploc bags
A journal
Electrolyte packets
Gaiters

Where is the best place to buy equipment for the Everest Base Camp Trek?
The Thamel, Kathmandu clothing district is the best location to purchase all of the gear not brought from home. But, as accessible as trekking equipment is in Kathmandu, you will be more comfortable bring some specific items from home. Jump to the detailed gear list below for advice on what equipment to purchase in the Thamel Kathmandu Clothing district and what equipment to purchase and bring from home.
Thamel is a long street and the surrounding neighborhood in downtown Kathmandu where trekkers can purchase or rent virtually any piece of gear, book any trek, find other essentials necessary for the trek, and find café's and restaurants with reliably clean food and drink comparable to North American and European cafes and restaurants.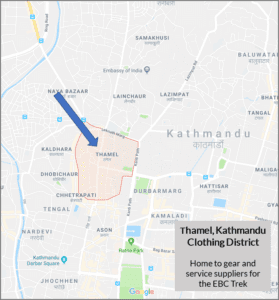 DETAILED EVEREST BASE CAMP PACKING LIST
(With Explanations)
If you're not an experienced trekker and don't know anyone who has done the hike to Everest Base Camp, planning, picking the right gear, and being confident that you have the essentials to stay comfortable can be daunting. Below is our quick Everest Base Camp Packing list with a little detail, to guide you through picking the right gear for you. This list of gear served me well at every point during my trek to Everest Base Camp. The equipment on this list came from of the recommendations and lessons from several other travelers and is the most reliable Everest Base Camp Trek packing list I've come across
---
Everest Base Camp Trek Clothing List
Clothes for hiking the EBC Trek
1 Pair of Hiking Pants:
Resist the urge to take more than one pair. These should be quick drying, medium weight, wind resistant (or windproof) and allow enough room to comfortable wear long underwear underneath when its cold. Being waterproof or water resistance is a great plus.
Can be purchased in Thamel, the Kathmandu clothing district but if you have your own, bring them.
1 Long sleeve, moisture wicking shirt or mid-layer (half zips are best)
The long sleeve shirt for hiking is great for layering to keep warm and will also protect your skin from the brutal sun burns that set in quickly in the Himalayas, as sun block doesn't last very long
2-3 Short sleeve, moisture wicking shirts or mid-layer
Having a moisture wicking t-shirt underneath your warming layers will help keep you dry instead of collecting sweat and will allow you to quickly strip off the warmer, top layers of clothing as you warm up on your hike. Consider only purchasing t-shirts made of Merino wool or synthetic materials. Merino wool will wick sweat away from the skin, still keep you warm when wet, and will stink less. Synthetic shirts will wick moisture and insulate when wet but will stink much sooner. Avoid cotton at all costs!
Bring Merino wool t-shirts from home. Some hikers believe Smartwool's wool t-shirts are the best wool gear, but I'm partial to Woolly Clothing – Woolly makes a very reliable and cheap lightweight Merino wool t-shirt for ~$35-$50, and an equally reliable and cheap Heavyweight Merino Wool T-shirt (~$50). Moisture wicking t-shirts can be cheaply purchased in the Thamel Clothing District of Kathmandu
1 pair of broken in hiking boots
BRING YOUR OWN BOOTS!! Do not hike in brand new boots! If you have the choice of wearing less technical shoes that have been reliably broken in or wearing new boots, go with the older shoes. A 76-mile hike isn't the time to try new shoes and will definitely result in blisters and bad days
Bring boots. Do not purchase in Kathmandu. If purchasing in Kathmandu, buy from a reputable dealer (Northface, Columbia, etc.) whose store presence can be verified online through the corporate website
My experience: The Lowa Mens Renegade GTX (Gore-Tex) hiking boots were the best boots I have ever hiked in. I did several 10+ mile hikes throughout Asia, got them completely wet, and never had a blister, hotspot, or any pain. Also, the shoes look more like trainers so I could wear them in the city without odd looks. I highly recommend testing these boots.
1 Hat
The sun in the Himalayas is unpredictably brutal, despite how cold the air feels. Absolutely bring a hat
Hats can easily can be purchased cheaply anywhere in the Thamel gear district in Kathmandu
Sunglasses (UV protectant)
The sun in the Himalayas is fierce like Sasha. Do your eyes a favor and bring sunglasses
If you have UV protectant sunglasses at home, bring them. Alternatively, sunglasses can be purchased cheaply in Thamel though their UV protection abilities are questionable.
My experience: I am an avid fan of AO Eyewear's Original Pilot Sunglasses (~$55) or the General Sunglasses (~$95) which resemble Ray-Bans a bit more…but they are WAY more durable and rugged. These are the same sunglasses that the first astronauts landing on the moon wore while they walked on the moon. They're the original "aviator sunglasses" and inspired Ray-Bans, but they're much cheaper and durable. These are the sunglasses I wore through Asia (until I lost them!). They're scratch resistant, very strong (I road my motor scooter over them in the case with minimal issues), and UV protectant, which is a must have in the Himalayas.
BUT!! You will be fine with the cheaper sunglasses purchased in Kathmandu, I just love AO Eyewear enough to recommend them
2-3 pairs of medium to heavyweight trekking socks, synthetic or wool
Having at least one pair of dry socks on hands at all times will be a relief to your feet and a great way to prevent blisters. Synthetic and wool socks efficiently wick sweat and moisture away from your feet, preventing blisters and hot spots while keeping you comfy. Aim for mid-weight trekking socks as they are cushioned enough to maintain comfort on long walks but not too thick as to overheat your feet and cause extra sweating
From my many (thousands) of miles experience trekking, opt for wool. They are warmer, breathe better, last longer, and feel more comfortable as they maintain their softness better on long hikes while fighting odor. If you have the option go wool, or get at least one pair
Bring trekking socks with you as wool socks will not be available (or will be overpriced in Kathmandu). When it comes to footwear, don't risk settling for inferior quality
My Experience: I used People Socks medium weight wool hiking socks, and they worked perfectly. They're 71% merino wool and the rest is synthetic. They were just soft enough, not too warm, and 2 pairs lasted me 8 days of trekking. For the price (roughly 4 pairs for $30) these socks can't be beat. I recommend highly recommend them
1 Scarf, balaclava, or neck gaiter
A good scarf, balaclava, or neck gaiter does the double duty of keeping your neck warm on cool mornings and protecting it from the inevitable sunburn in the afternoon.
Scarves, balaclava's, and neck gaiters can be cheaply purchased in Kathmandu
(For women) leggings for hiking (optional):
Many women preferred hiking in leggings/yoga pants when it was warm and sunny, but still bring quick drying and wind resistant hiking pants
Just as with hiking pants, I suggested women bring their favorite leggings as the ones available in Kathmandu won't be as great as what you're used to back home…or they will cost a fortune
---
Clothes for Insulation & Staying Dry
1 Heavyweight down or synthetic coat
This "puffy" will keep you warm when you first get moving during the freezing mornings and at night, if your sleeping bag isn't warm enough for you. I recommend going for a down coat (goose-down) as these will be warmer, but be careful not to get it wet. Goose down looses its ability to insulate when wet. If you think you may get wet while wearing this, opt for a synthetic fill coat, which may not be as warm but still insulates (much better than regular down) when wet.
"Puffies" or heavyweight coats can be rented cheaply in Thamel. I brought my own as my Eddie Bauer First Ascent Downlight Hooded Coat has been the love of my gear for a couple years, and is part of the Everest line so I wanted to test it on its namesake. It performed amaaaaazingly and I highly recommend it. Eddie Bauer's lifetime guarantee is too sick to pass up so I recommend checking this out.
**Warning** in my years of trekking, rock climbing, and doing stupid stuff, a handful of Eddie Bauer's gear has become my favorite as it performs well, is durable as hell, looks good, and is backed by an amazing warranty that I've used many times. I recommend checking out their gear for your trip
1 midweight fleece, insulated vest or similar top for insulation
This midweight fleece will be the layer you wear in the mornings while its still cool and you're hiking at a decent clip and at night when you're cooling down from the hike but not cool enough for your puffy yet. Another great option trekkers swear by is a fleece vest, thin down insulated vest such as Eddie Bauer's MicroTherm StormDown Insulated Vest, or a thermo-regulating light down jacket such as the Eddie Bauer Microtherm StormDown. Once again, if you wonder why I love Eddie Bauer's gear so much, check out their Eddie Bauer's lifetime guarantee
Fleeces and vests can be easily purchased (or rented) in Thamel, but I recommend bringing your own as this is an essential piece of traveler gear in general and the quality you'll find in Thamel will either be inferior or overpriced compared to your gear at home.
1 pair of long underwear or leggings, synthetic or merino wool (for warmth)
This long underwear will serve the best purpose of keeping your warm at night and on potentially wet days. On wet days wear these underwear wind resistant pants and the wool/synthetic fabric will keep you much warmer than if you were wearing nothing or cotton underneath. If you aim for wool long underwear, shoot for merino wool – regular wool will leave you itchy, annoyed, and questioning if its worth being warm
Synthetic long underwear can be purchased in Thamel, but don't aim too cheap because you'll get what you pay for on this one. For wool long underwear, purchase at home. Merino wool will either not be available in Kathmandu or will be overpriced
My experience: I picked up a pair of off brand, synthetic long underwear in Argentine Patagonia back in 2010. I've been using them ever since and they haven't failed me once. Go slim and pay a little extra for the ones that feel good. It will pay off. I recommend consider Smartwool's Midweight 100% Merino wool long underwear (~$90) or, if you prefer cheaper and equally good, Meriwool's 100% Merino Wool long underwear (midweight) (~$50)
Windproof Gloves and insulating liners
In the chilly mornings, when the trek is starting but your blood isn't flowing and your body isn't warmed up yet, your hands WILL be freezing. To stay happy and comfy you will need windproof gloves with an insulating liner or lining, and many gloves are windproof and insulated. Having gloves that are waterproof is an added bonus you should aim for if you can afford it.
Purchase or rent these in the Thamel Kathmandu Clothing District as their gloves (despite being knockoffs of major brands) perform well but be sure to confirm (and test if necessary) that the gloves are indeed waterproof.
My experience: I purchased a pair of "Northface Windstopper" gloves from a shop keeper while buying trekking poles. He upsold me on the gloves for $10 – I wasn't planning on bringing them as I've hiked in the cold gloveless before. The owner, a former guide, insisted he was doing me a favor and said that if I didn't use them I could bring them back to the shop for a refund after the trek. What happened? I used them, and I also regretted not buying the insulating glove liners he tried to sell me. I still have the gloves to this day and they've survived many adventures since EBC.
1 Beanie (for warmth)
Your head, and especially your ears are going to get cold. Get a good functional beanie
Beanies can be purchased all over Kathmandu but if you have a favorite one from home, just bring it. Even if it does make you look like an Alcatraz escapee.
1 Rain Jacket or Poncho
The weather on the Everest Base Camp hike can change in a hearbeat, and its better to have a rain jacket and not need it than need it and not have it. If you're short on cash, ponchos are available, but waterproof rain jackets can be purchased cheaply in Kathmandu
My experience: I use a Patagonia Gore-Tex jacket that I purchased a while back and love it. I am a huge fan of Patagonia's gear and Patagonia's brand (dirtbag heritage, high quality gear). Several of my friends rave about the Patagonia Torrentshell, it is fully waterproof, packs away tightly, and has very intuitive design. Additionally, it is much cheaper and durable than my Gore-tex version.
Rain jacket vs. Poncho: Though ponchos are cheaper than rain jackets, rain jackets can be layered over insulating layers (such as mid-layer insulation or a "puffy") to increase warmth. Ponchos can't be used for extra insulation, just rain protection and they're vulnerable from underneath if winds kick up. My vote, based on my experience? Bring the rain jacket.
(Optional) water proof pants
Waterproof, breathable hiking pants can be purchased in Kathmandu, but if you're bringing your own hiking pants that aren't waterproof or even water resistant, getting waterproof overpants, that slip right over your pants, is an excellent option. If it rains while you don't have waterproof pants and the guy walking past you does, you will be jealous. I know from experience
Waterproof pants or rain suits can be purchased cheaply in Thamel, the Kathmandu clothing district
---
Clothes For relaxing at night
1 pair flip flops or sandals
Sandals serve two purposes on the hike: foremost wearing sandals instead of your boots gives your feet and boots time to rest, breathe, and dry before the heat gets turned off and you tuck them away in your sleeping bag for the night, and second, your sandals will be needed for the eventual shower that happens in Namche Bazaar
I prefer trekking sandals, as they were more suitable for walking around the rocky, uneven ground in the villages that dot the way up to Everest
My favorite sandals to date are the Xero Trail minimalist trekking sandals. They roll up small enough to fit in my pocket, strap on so securely that I can routinely run in them, and they allow me to wear socks by the fire at night. An extra plus for the trek is that they're tiny and weigh nearly nothing, so I save space for extra Snickers bars. (Read the Xero Z-Trail Minimalist Sandal Review to see why these are my favorite travel sandals)
Additional note on sandals: Sandals are great for relaxing at night because you will need to allow your boots and feet time to rest. It is essential that, for at least a while, your feet are exposed to the air to dry fully. This will help avoid the hot spots and blisters that come from having overly moist skin for extended periods which eventually becomes soft and paves the way for blisters. Additionally, allowing your feet to breathe each night avoids developing any foot funguses which are very common when feet stay moist and result in an uncomfortably itchy or burning feeling on your feet and between your toes. As for your boots, giving them time to dry in the warm room with you before lights out avoids the same issues and allows the soles to decompress from the days pounding.
Bring these with you. Flip flops may do the job, but light flip flops will break while walking around camp. I recommend lightweight trekking sandals, and had an amazing experience with the Xero Trails. Checkout the Xero story if you're interested
Digital Watch
Some days you will need to be up very early to make the most of the day, such as the 4:00AM hike to Kala Patthar for the best view of Everest. Other times, you will need to pace yourself or make a judgment call as to whether you can make it to the next camp before dark. This is wear your handy dandy digital watch (with alarm) comes in. Having a watch also helps you avoid wasting your cell phone battery by checking the time.
My experience: I live by my Casio G-shock Mudman. I've had it for years, have dived with it, climbed with it, and been on 4 continents of adventures with it, but I would have loved to have a Casio G-Shock with barometer (to predict the weather) and an altimeter (to track the risks I was taking). Any watch with an alarm will do, but I love my Casio G-Shock!
3-5 pairs travel underwear
Depending on the planned length of your trek, you may need more. 1 pair per 2-4 days, depending on your personal "grunge factor"…and the tolerance level of your travel buddies should be enough. I used the Ex-Officio Boxers with great success…minimal funk and no chaffing. Any merino wool underwear or travel underwear should suffice.
Bring the travel underwear with you. I don't remember seeing any travel underwear in Kathmandu
My experience: 3 pairs of Ex-officio Give and Go Boxer Brief travel underwear worked perfectly for the 8 days of my trek, and I was able to easily wash them in my room sink upon return when my laundry wasn't done
(Optional) 1 pair heavyweight wool socks
For those that get cold easily at night, this extra pair of wool socks, as thick you can possibly find, are just for that…making sure you sleep comfortably instead of shivering in misery at night

General Hiking Gear
Hiking pack (25-45 liters are perfect)
You should plan to carry no more than 10kg/22lbs, including the weight of the bag, as this is the max you can take on flights to Lukla without extra charges, the maximum tour guides will carry before charging you extra, and the maximum that you should carry if carrying your own gear. A 40 liter bag's size (commonly advertised as a "day bag" or "3 day bag") is perfect for limiting the amount of gear to10kg/22lbs
Purchase your backpack at home and bring it with you, do not plan to purchase in Kathmandu. A hiking backpack should be well fitting and decent quality, just like footwear. Don't risk ruining your trek by buying a cheap backpack that is not suitable for your body.
My experience: I used a 40 liter backpack, the REI Trail 40, which I fell in love with and would highly recommend to anyone. The price, function, and reliability are amazing. Since the trek, I've nearly destroyed it and have replaced it with the GORUCK GR2, an equally well performing backpack for those who can handle the extra pound or 2 of weight. I absolutely prefer the GORUCK GR2 over the REI Trail 40
Checkout the REI Trail 40 Review to find out why I loved that pack so much for the EBC Trek
Compressible Day pack
If you are planning to hire a porter to carry your bags, this bag will hold the essentials you will need for the day's hike, such as water, snacks, extra socks, etc.
If you are carrying your own gear, this bag will serve you well on the hike to kala Patthar and Gorak Shep, during which you will leave your larger hiking pack back at camp
Compressible daypacks are readily and cheaply available in the Thamel Kathmandu Clothing District.
My experience: I have used the same REI Flash 22 compressible daypack for years of traveling and highly recommend it. It takes up virtually no space or weight and performs just as well as a normal daypack when used
Quick Drying Camp towel
Things that get wet on the EBC trek take forever to dry because of how cold things are, but you are still going to want to brush your teeth, wash your face and hands, etc. The quick drying towel is great because it allows you to wash up but will still dry during the hour that you sit in the heated common area
Purchase your quick drying camp towel at home and bring it. Options are available in Kathmandu, but the softer, plusher but still very packable towels, aren't available in Kathmandu. Also, the ones for sale in Kathmandu do not perform as well.
Sleeping Bag (rented in Kathmandu)
DO NOT SKIMP ON THE SLEEPING BAG!! Especially if you get cold easily. Some teahouses offer wool blankets, but when visitor traffic gets high (during trekking season) you may not get as many blankets as you want or need. Be safe and rent a down sleeping bag in the Thamel district of Kathmandu
Rent a down sleeping bag in Kathmandu as they are reliable and cheap to rent.
Trekking Poles
Trekking poles make a remarkable difference trekking, especially when you are at the disadvantage of not being able to breathe as well as normal. Even if you are an experienced trekker, bring trekking poles
Purchase trekking poles in Kathmandu, unless you have a pair from home you love and are only traveling to Kathmandu. The trekking poles sold in Thamel for ~$10 will suffice for one round trip. Renting trekking poles is not an option at most vendors
2-3 one-liter water bottles
Any water bottles, even the common Dasani water bottles will suffice for the trek as they are lighter than Nalgene or Klean Kanteen type water bottles.
My experience: I preferred using the Lifestraw Go Water Filter water bottle combo, which served perfectly for the entire trek with no issues. It also has a charcoal filter on top of the Lifestraw setup which makes the water taste even better than normal filtration systems. I used it in Kathmandu, on the Everest Base Camp Trek, and throughout Asia. I saved a ton on bottled water, never got sick, and saved a lot of trash in the process. All around awesome
I highly recommend purchasing the Lifestraw Go Water Filter bottle and then picking up two one-liter bottles of water to store extra water in while walking. If you don't have the extra cash to spend on the Camelback Lifestraw, no sweat! Just pickup normal water bottles in Thamel (or any convenience store in Kathmandu) and keep the bottles for the entire trek, using plenty of water purification tablets.
Headlamp (with fresh batteries, extra batteries and red lens)
You will absolutely need a light on the early morning hike from Gorak Shep to Kala Patthar. Additionally, headlamps are EXTREMELY convenient when you're trying to unzip things to take a wee in a place where there are no lights, or attempting to read a book in a dark room. The red lens will let you read your book, or find your doo-hicky buried in your bag, in a room full of sleeping people without waking them up. I recommend a style similar to this headlamp
Purchase a reliable headlamp at home and bringing as electronics purchased in Kathmandu can be questionably reliable
1-2 Recharging stations/Power banks (depending on how many electronics you intend to bring)
Charging cell phones and digital cameras on the Everest Trek comes at a hefty premium and is a slow process. If your electronics die mid-hike, you'll wait until the next village to recharge and miss all of the photo opportunities in between.
I recommend bringing a large portable charger, like this Portable Charger by Anker. If you plan on using a smart phone and a Go Pro and intend on taking a lot of footage, bring two. Recharging can run $3-$7 per hour, depending on the altitude
Purchase a reliable power bank at home as electronics purchase in Kathmandu can be unreliable
(Optional) Down shoes/Booties
If you are prone to getting cold, down booties will save the day while sitting in the common areas and sleeping at night
Rent down booties from vendors in the Thamel district
(Optional) Gaiters
Gaiters are useful coverings that overlap the bottom of a hikers' pants and the opening/tops of their shoes. If you will be hiking during rainier seasons, consider bringing gaiters.
Rent or buy gaiters cheaply in the Thamel Clothing District in Kathmandu
(Optional) map of Everest Base Camp Trek
I highly recommend bringing a map, but if you don't know how to read a topographical map, its worthless. The trail is heavily trodden and clearly marked so a map of the Everest Base Camp trek is optional, not essential
Purchase a map at a bookshop in Thamel District

Medications and first aid to take to Everest Base Camp
For all medications, visit your medical provider or a pharmacy in Kathmandu for further advice. I recommending presenting this list and considering their recommendations.
Altitude Sickness Medication (e.g., Diamox)
Anti-inflammatories: Ibuprofen acetaminophen combo or paracetamol
Anti-diarrheal medication: Imodium
Anti-nausea medication: Pink Bismuth tablets or similar
Blister kit
(Optional) Medical tape/Athletic tape
Any of the medications above can easily be purchased at any pharmacy in Kathmandu without a prescription. A supply of the above medications sufficient for a 12 day trek will cost less than $30 USD and is excellent "insurance" against the worst
Travelers Insurance
Travelers' insurance is a must have on the Everest Base Camp trek. The primary risk is altitude sickness for which the only solution could be getting to a lower altitude quickly via helicopter, and these helicopter flights could cost between $1500 and $5000. Other stories I have personally heard are broken or sprained limbs from falls requiring evacuation and serious infections on the trek requiring potentially costly medical treatment. Luckily, in all of the instances I've heard of, the traveler's had travelers insurance which covered all of the expenses. On my hike to Everest Base Camp, I made sure to have good, reliable traveler's insurance.
Ensure that whichever insurance you get covers trekking (and potential helicopter evacuation) at the altitudes you will be hiking at on the way to Everest
My experience: I purchased World Nomad's insurance, the "Explorer" version which covers riskier activities, for a three-month trip through Southeast Asia and ended at Everest Base Camp. Luckily, I never had any major issues but the World Nomad's team was responsive in my prep for EBC, providing me contact information and confirming that I was covered for helicopter flights out from anywhere along the route. I specifically purchased World Nomad's coverage at the recommendations of 3 other travelers that had recently completed the EBC trek
One of the travelers suffered altitude sickness and had to take an emergency helicopter flight to lower elevation. Another traveler suffered a staph infection during the trek and was dealing with it on the trek as well as two weeks afterward. In both cases, World Nomads fulfilled their promise and took great care of both travelers, so I was sold. I highly recommend World Nomads as I had a great experience with them and it was recommended by travelers I trust
Bottom line: Do not hike to Everest Base Camp without traveler's insurance. Find coverage that suits you and your budget and that you feel comfortable with before taking that flight to Lukla.

Other Trekking Essentials
Sunblock
The atmosphere is much thinner along the Everest Base Camp Trek than at sea level and as such you WILL burn much more quickly than at sea level…even if you're brown like me. Pack sun block accordingly
Bring the good stuff from home, but if you forget it be sure to pick some up in Kathmandu
Lip Balm with SPF
See the note on sunblock. Be sure to get lip balm with SPF, not just the "pretty, smell good" stuff
Bring the good stuff from home, but if you forget it be sure to pick some up in Kathmandu
Toilet Paper roll
Some of the restrooms along the trek will have TP…some won't. Do you really want to risk it?
If I told you to bring a roll of Charmin from home…would you actually bring it?
Hand sanitizer
Consider hand sanitizer insurance against getting sick 36 miles away from civilization
Hand sanitizer can be purchased in kathmandu
Wet Wipes
Wet wipes will serve as your makeshift shower during the trek when then funk becomes too strong. These can be purchased in Kathmandu
Baby powder/foot powder
Baby powder is great for sprinkling on your feet and nether-regions to keep them dry, funk free, and from chaffing. Use liberally.
Baby powder can be bought in convenience stores in Kathmandu
Water purification tablets
Water purification tablets are a great way to drink clean water while not creating the waste of drinking bottled water on the trek. Ensure to read the directions – purifying the water takes at least 15 minutes (usually 30) and has a few extra steps to ensure the bottle isn't contaminated. Also, err on the side of using too many tablets instead of too few
Purchase plenty more water purification tabs than necessary at pharmacies in Kathmandu. Water purification tablets sell for 10x the Kathmandu price on the trek and bottled water costs between $3-$5 a bottle depending on the elevation. You will need 3-4 liters of water per day minimum
Water filtration system such as Lifestraw Go Water Filter Bottle (or other purification system)
I highly recommend using a compact water filtration system instead of or in addition to water purification tablets. Water purification tablets do have an odd flavor and user error can result in water that isn't sufficiently purified. I used the Lifestraw Go Water Filter Bottle (~$35), which is a water bottle and filter that you just pour water into and sip out. No other steps necessary! The charcoal filter made the water taste much better than the water purification tablets I tried and the cleanliness of the water was very reliable. I used the filtration device in rural Vietnam, rural Laos, Thailand, and throughout Nepal, never once getting sick. I highly recommend the Lifestraw Go Water Filter Bottle
Another great option that has been recommended by other trekkers is a UV light purifier, such as the Steripen (~$87). I saw a few trekkers with this, Steripen and they all loved it.
In all cases, I recommend keeping water purification tablets as a backup, which can be purchased at any Kathmandu pharmacy
Purchase your choice of water filtration device at home and bring it with you. I recommend buying the Camelback Lifestraw water bottle from Amazon, as it served me (and is still serving me) very well
2-3 Large trash compactor or heavy-duty trash bags
Line your backpack with these bags and stuff everything inside to waterproof your gear, cheaply. The result is tougher and more reliable than the rain covers you see, and won't fly away when the wind kicks up
(For women) Feminine care products
Sooo….I'm not a women…and I don't know much about these things…but I didn't see any readily available on the trek or in Kathmandu
Bring any "lady products" from the US, to be on the safe side
Worthwhile Additions
Book or e-reader (optional…if you enjoy your sanity)
Playing cards or UNO!!!!
Candy and Goodies to share and make friends with porters (Snickers are always good)
A journal
You will have lots of solitude, lots of time to think, lots of downtime and quiet time, and lots of realizations on this trek. Writing them down will be an enjoyable experience and a great memento


Other great content to help you complete the Everest Base Camp Trek