The Everest Base Camp Trek cost will vary by trekker, depending on how luxuriously you do they hike and how independently you do the hike. The major factors affecting price are use of porters and guides, how much you eat and how "local" you eat, and whether you join a package tour trek to Everest Base Camp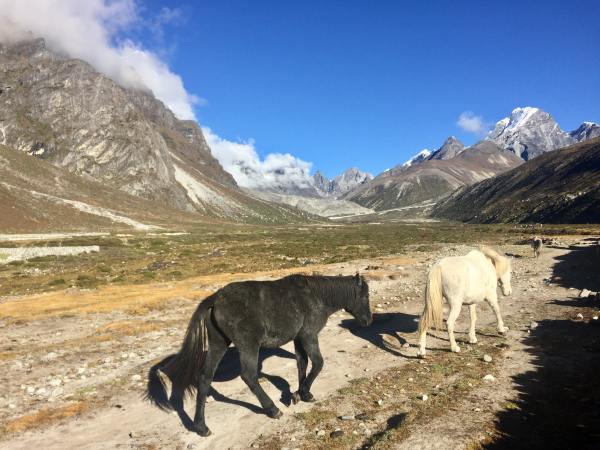 Estimated Everest Base Camp Trek cost for a 12-day, self guided trek: $971 – $1187**
Estimated cost for a 12-day trek with hired porter: $1158 – $1587**
Estimated cost for a 12 day trek with hired Guide-Porter: $1471 -$1987**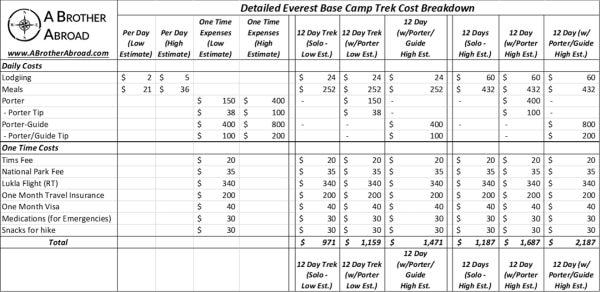 Visit our Everest Base Camp Tips section for itineraries, gear lists, advice, and more

How can you save money on the Everest Base Camp Trek?
Carry your own gear and be your own guide
Bring water purification tablets or a water filtration system instead of buying bottled water
Eat dal baht (a rice, lentil soup) instead of fancier meals
Bring a portable recharging block to avoid paying to recharge electronics
Bring your own treats and desserts (such as chocolate) to avoid paying high prices on the trek
Bring your own medications and essentials to avoid paying 3x Kathmandu price on the trek
Checkout our Everest Base Camp Trek Packing List to plan ahead and cut down on your Everest Base Camp Trek cost
Everest Base Camp Trek Cost Breakdown
The Everest Base Camp cost for independent trekkers (trekkers not in a guided tour) is broken up into three expenses
Major daily costs (lodging, food, incidentals, etc.)
One time costs (flights, permits, porter/guide fees)
Preparation costs (snacks, gear purchased solely for the trek, etc.)
Major Daily Everest Base Camp Trek Costs:
Teahouse Lodging: $2-$5 per night
One meal: $7- $12 (Meal, hot beverage, and dessert)
One Recharge: $3 – $7 per full recharge (depending on the elevation, higher locations are more expensive to recharge
Every tea house has an unspoken (and sometimes spoken) agreement that each guest receives a hefty discount on their night's stay, under the condition that the guest eats at least two of their meals in the tea house. As the cost of meals are fairly reasonable to the average westerner, this ends up being a convenience and a great way to keep the overall Everest Base Camp Trek cost down. This also allows the budget conscious trekker to still keep their pack light and avoid altitude sickness.
A Snapshot of Prices on a Menu in an Average EBC Trek Tea House
One-time fees on the Everest Base Camp Trek
Trekker Information Management System (TIMS) Registration Fee: $20 for individuals, $10 for members of a group
Sagarmartha National Park Fee: $35
Cost of flight from Kathmandu to Lukla: $340 round Trip ($170 one way)
Travel Insurance: ~$130 -$200 for one month of travel covering trekking above
Visa: $40 for one-month visa
Optional Everest Base Camp Trek Costs
Porter: $150-$400 for entire trek
Private Porter-Guide: $400-$800 for entire trek
Potential flight cost for guide or porter from Kathmandu: $50
Porter/Guide Tip: 25%
Emergency Meds purchased in advance from Kathmandu pharmacy: $30
"Heated Shower" (Bucket of hot water): $3-$5
Bottled Water: $3-$5 per liter (depending on elevation)
Snacks: $30
Common Rental Gear Costs in Thamel, Kathmandu Clothing District
Down Sleeping Bag – ~$3/day
Down Insulating Jacket – ~$3/day
Common Purchases in Thamel, Kathmandu Clothing District
Hiking Pants: $15-$45
Rain Jacket: $15-$45
Down or synthetic insulating jacket: $25-$75
Boots: (Just bring them, or count on getting blisters or paying US prices)
Detailed Everest Base Camp Cost Breakdown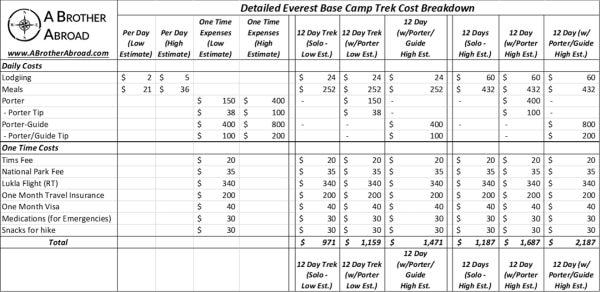 **Estimates do not include equipment for trek and flights to Kathmandu
**Estimates assume trekkers purify their own water or filters own water instead of drinking bottled water
**Estimates assume trekkers bring their own power station to recharge

---
Other great content to help you complete the Everest Base Camp Trek