Tenzing-Hilary Airport, commonly referred to as Lukla Airport, is considered one of the most dangerous airports in the world for two primary reasons:
The overall design of the Lukla Airport runway including surrounding terrain features limits emergency options for pilots
The history of accidents at Lukla Airport and surrounding publicity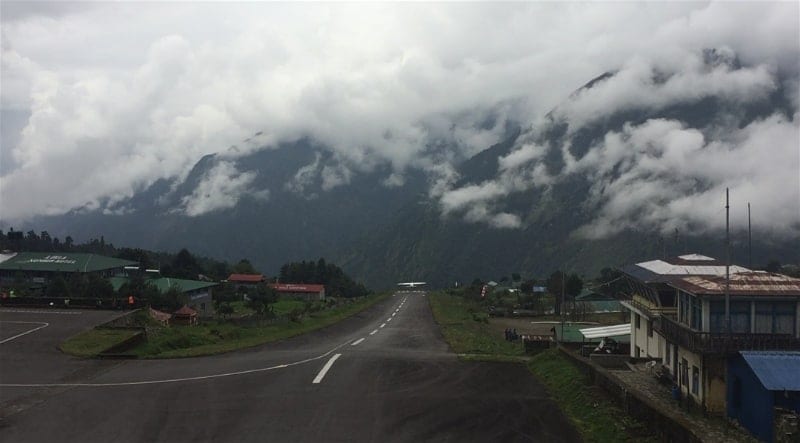 Lukla Airport's runway design and terrain limit emergency actions
The elevation, slope, and length of the runway in addition to the steep and confining nature of the terrain surrounding Lukla Airport make takeoff and landing more difficult and risky than at many other airports. The Lukla Airport landing strip is a mere 527 meters long and built into a steep hillside with the developed runway sitting at an 11.7% upslope, which further complicates landings.
In the direction of takeoff, the terrain drops off steeply at the end of the runway. Takeoffs are less treacherous, as indicated by Lukla Airport accident and survival records, but the short runway ends in an immediate drop off the hill on which the airstrip is built thus decreasing the margin for error in comparison to other non-STOLport airports
In the direction of landing, the short runway ends abruptly at a brick wall carved into and backed by a steep mountainside. Because of these condition's, the pilots' opportunities for aborting during landing or taking alternative actions after touching down are severely limited.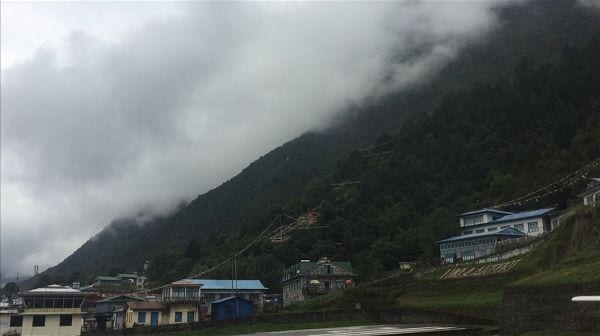 Quick Stats on the Lukla Airport Runway
Tenzing-Hilary Airport, also known as the Lukla Airport, lies at 9,383 feet above sea level and is the 36th highest airport in the world
The Tenzing-Hilary Airport is classified as a "Short Takeoff and Landing Airport" (STOLport) thus requiring more specialized aircraft and more uniquely experienced pilots than typical airstrip operations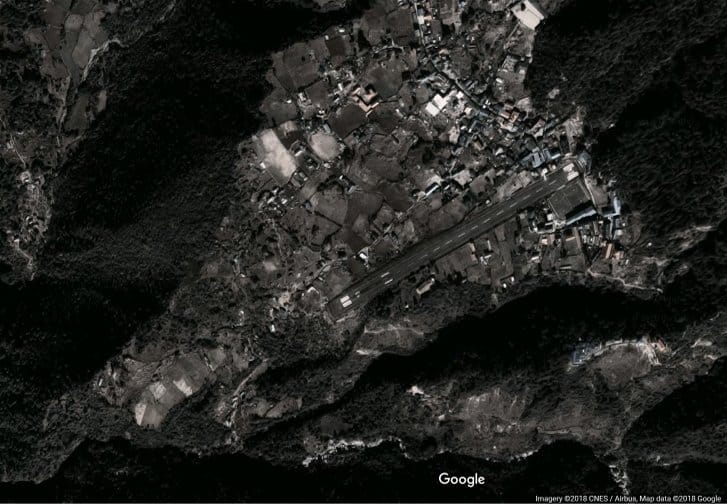 Lukla Airport's history of accidents
As of March 2018, Tenzing-Hillary airport has experienced 10 accidents since 1974. Three of those crashes resulted in the 24 total deaths that have occurred due to flight operations at Lukla Airport. All three accidents resulting in fatalities occurred on approach/landing and only two accidents reported since 1974 occurred during takeoff.
Why you shouldn't worry about flying into and out of Lukla Airport
Pilots flying into Lukla are certified to the high standard required for "STOLports" by the Civil Aviation Authority of Nepal. Pilots are required to have extensive experience in short takeoff and landing scenarios in the number of STOL landings completed (100 missions minimum) and years of experience (1 year minimum) routinely completing STOL landings and additionally must perform 10 complete missions into and out of Tenzing-Norgay airport before being authorized to pilot commercial flights into the Tenzing- Hilary Airport.
Additionally, the aircraft selected to fly into and out of Tenzing-Hillary Airport are specifically designed for short takeoff and landing scenarios reducing risk in Lukla air operations.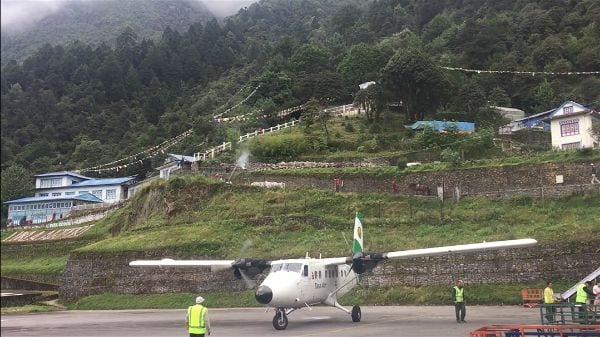 Options for those concerned with the safety record and flying into Lukla
All three flight accidents on record bearing fatalities occurred on approach, not on departure. For those attempting the Everest Base Camp trek but concerned about safety of a flight into Lukla Airport, traveling by road and hiking into Phakding and then commencing the normal EBC hike and flying out of Lukla to Kathmandu upon return from EBC may be a much more acceptable option.
Two primary alternatives to flying into Lukla are hiking either the route from Jiri or the route from Salleri on to Phakding and commencing the traditional Everest Base Camp Trek from Phakding forward.
The "Jiri Route" to Everest Base Camp forgoes flying into Lukla from Kathmandu in favor of taking a bus from Kathmandu to Jiri (~11 hours) and hiking roughly 6 days to Phakding to resume the commonly taken Everest Base Camp Trek from Phakding onward.
The path from Salleri involves taking a bus from Kathmandu to Salleri, instead of a flight into Lukla, and hiking ~3 days to Phakding where trekkers then resume the common EBC trek route.
In both situations, the trekker will need to take a flight from Lukla back to Kathmandu, but flight statistics on departures from Tenzing-Hillary airport show this as a much safer option with no fatalities on record for departure flights and far fewer accidents in general.
…now that you're well-acquainted with Lukla Aiport, let's go to Everest!

Other great content to help you complete the Everest Base Camp Trek

MORE GREAT TRAVEL INSPIRATION