Here you will find an Everest Base Camp trek itinerary with all of the information which, lucky for us, a handful of intrepid travelers learned the hard way, leaving us a plan to safely enjoy our adventure through the Himalayas…to the tallest mountain on earth. Mount Everest.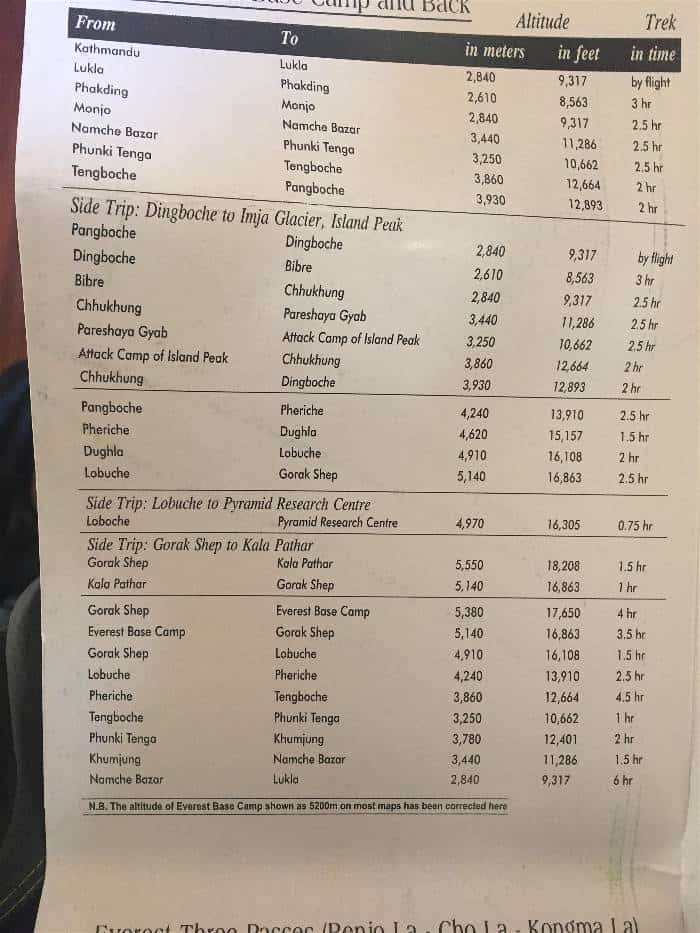 This overview will take you through arriving in Kathmandu, packing, and prep, booking the flight from Kathmandu to Lukla airport, and review an itinerary with distances, hiking times, and elevations for the Everest Base Camp Trek. We've also included tips for you to stay healthy and happy along the way.
Over 8 days, a fellow trekker and I hiked the 72 miles round trip with no porters or guides and carrying all of our own gear. We booked our own accommodation at teahouses along the way, arranged our own meals on the trek, and carried all of the medication and first aid essentials we needed to comfortably and safely get to Everest Base Camp and back to Kathmandu, enjoying ever moment along the way bringing my Everest Base Camp Trek Cost to less than ~$1000.
This guide summarizes the trip, all of the tips we've learned from guides, porters, and other trekkers along the way and will (hopefully) inspire you to make your own, independent trek to Everest Base Camp. Whether you go alone or with a tour, this Everest Base Camp Trek itinerary and over guide will help you enjoy every moment. Feel free to email me at [email protected] if you have any questions. Good luck!
A Quick Overview of the Everest Base Camp Trek
The Hike to Everest Base Camp: An achievable and worthwhile adventure
Mount Everest is the tallest peak on the planet and on many bucket lists as a must see before kicking said bucket. From my experience completing the hike to Everest Base Camp, it is a very worthwhile goal. The roughly 72 mile roundtrip through the Himalayas is challenging but rewards trekkers with amazing views and an indescribable sense of accomplishment.
Best of all, despite the challenging nature of the Everest Base Camp trek it is a very achievable goal. Towards the end of the EBC trek I sat atop Kala Patthar, the peak that provides the best view of Everest anywhere, and shared the moment with elderly trekkers, overweight trekkers, and completely novice trekkers. With desire, preparation, and persistence, any trekker can share the same beautiful views and sense of accomplishment we enjoyed. This overview will quickly share my experience making the Everest Base Camp Trek happen without guides or porters and will prepare you to make the hike to Everest Base Camp happen for you too.
For an entertaining and detailed account of the journey, checkout out my series "The Everest Base Camp Trek Experience" or start with "Part 0: Why would anyone go to Everest Base Camp?"
Or head to Trip Advisor's Everest Base Camp Page for more perspectives
Arriving in Kathmandu and Prep
Your To Do list:
Go to Thamel to purchase any necessary gear
Look for pharamcies (with green or red cross) to purchase medications
Confirm packing list
Acclimatize
I flew into Kathmandu Airport, as most arriving trekkers do. Upon arrival at the airport I purchased a local SIM card and data that would provide data service in Kathmandu and on the EBC Trek from Lukla town up to Pheriche. Hailing a taxi was easy at the airport, as was communicating in the airport and Kathmandu – the town sees so many westerners and English speakers that getting around is a breeze. The taxi ride to my hostel in Thamel took 45 minutes with heavy traffic,but provided an interesting tour of the city.
a week prior, from Kathmandu to Lukla and I only had 24 hours to buy and rent all of my gear and prepare for the trek so Thamel made it very convenient to acquire everything for the trek. It is possible to buy or rent virtually any necessary gear in Thamel. Vendors rent gear of sufficient quality for the trek or sell knockoff gear of major brands, such as Northface and Columbia, that will suffice for one EBC trek and costs about a third of the name brand retail prices. Visit at least 3 vendors to inspect gear before purchasing or renting anything.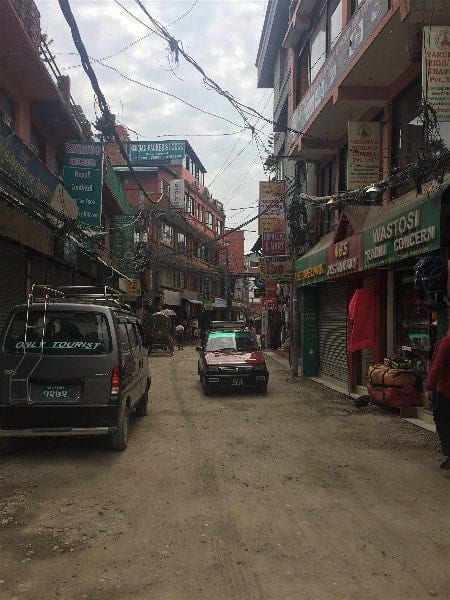 Thamel, the outdoor tourism and gear vending district that caters to tourists and trekkers in Kathmandu, was where I spent most of my preparation time. I had booked a flight on Yeti airlines,
Several pharmacies and a large grocery store (Shoprite) sell the remainder of essentials needed for the trek.
** (See a full recommended Everest Base Camp Gear Packing List here) **
[wd_hustle id="base-embed" type="embedded"]
Note: For hiking, rely on time and elevation change estimations instead of distance as distance estimation can be deceptive in terrain such as the Himalayas and the Khumbu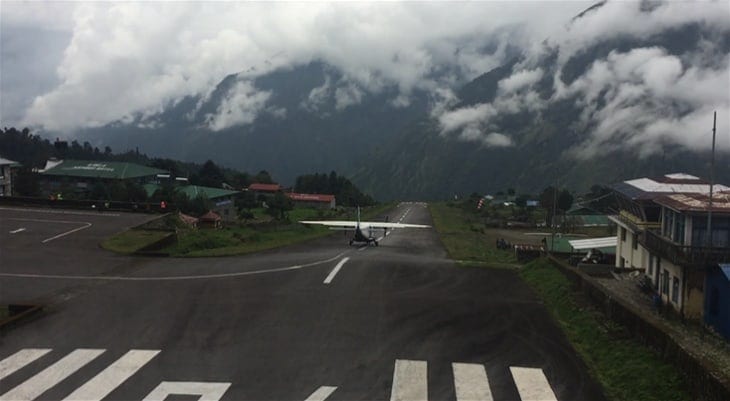 Flying from Kathmandu to Lukla Airport
Lukla: Elevation: 9,317ft /2,840m, Kilometer 0
0 hours hike
Flying from Kathmandu to Lukla Airport and Lukla town, the common start of the EBC trek, is relatively easy. For the cheapest flights and most options, flights should be booked online through directly through the servicing airlines' websites one week in advance. The airlines currently servicing the Kathmandu to Lukla route are Yeti Airlines, Tara Airlines, Simrik Airlines, and Goma Airlines. Several flights leave each morning between 6:00AM and 10:00AM, but weather delays which create visibility issues are common and tend to resulted in cancellation of later flights. To avoid being bumped, aim for the earliest flight of the day possible.
Note: on return flights, airlines will gladly change you to an earlier flight coming from Lukla Airport to Kathmandu Airport for free as long as space is available, just speak with the airline staff in tiny Lukla Airport, but they will likely charge a change fee to move to a later return flight. Jump to Flight Information for more information on booking flights to Lukla online
Lukla to Phakding
Phakding: Elevation: 8,563ft/2,610m, Kilometer 8
~3 hours hiking, 8km
Upon arrival at the airport you will grab your bags and proceed through Lukla town to Phakding, your first scheduled stop on the Hike to Everest Base Camp. Lukla town will be a tiny, quaint town with a single, cobblestone main street, a trekker registration point, and a green arch welcoming you to start the trek. Along the way to Phakding you will pass several tiny hamlets with small bed and breakfasts tempting you to stop early, or at least sit at a table with a shaded umbrella for a coffee or cold coke.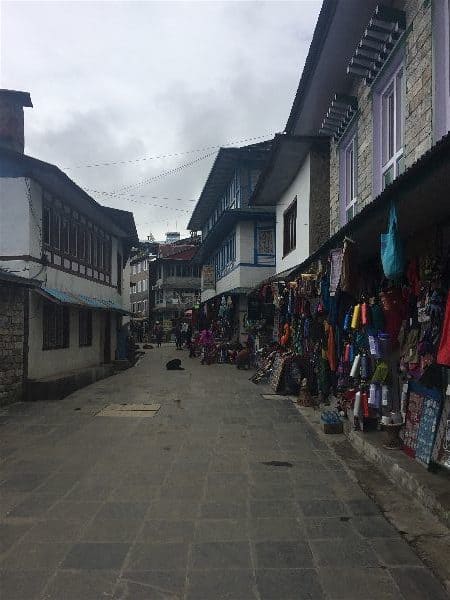 After 8 kilometers and 3 hours of walking you will arrive in Phakding. Phakding is an excellent stop for the first day as the distance walked and elevation of the town aid in acclimatization while you sleep. Enjoy a meal of dahl bhat, a Nepali rice and lentil stew, in place of any meat dishes to avoid food poisoning that commonly happen with poorly handled meat along the trekking route.
Phakding to Namche Bazaar:
The Adventure (and incline) begin
Namche: Elevation: 11,860ft/3,440m, kilometer 18.5
~5 hours hiking, 10.5km
Start early the following day to enjoy the beautiful views and photo opportunities that early daylight provide, and to ensure all of the good teahouses in Namche Bazaar aren't taken when you arrive. The road to Namche crawls up and down a steep hillside along a rushing river hundreds of feet below, and along a lush green forest above. Just prior to entering officially entering Sagarmatha National Park, the park containing Mount Everest and several other renowned peaks, you will have to pay a ($35) fee and register, then continue past beautiful prayer wheels into the national park to really begin your EBC Trek.
A chaotic and traffic jammed steel cable foot crossing to the mountain on the otherside of the valley midway through the day's walk will be an adventure as herds of yaks, porters carrying 80lb+ bags, and streams of trekkers take turns crossing a steel cable bridge suspended high above a rushing river. As you cross, the finally zigzagging ascent to Namche Bazaar begins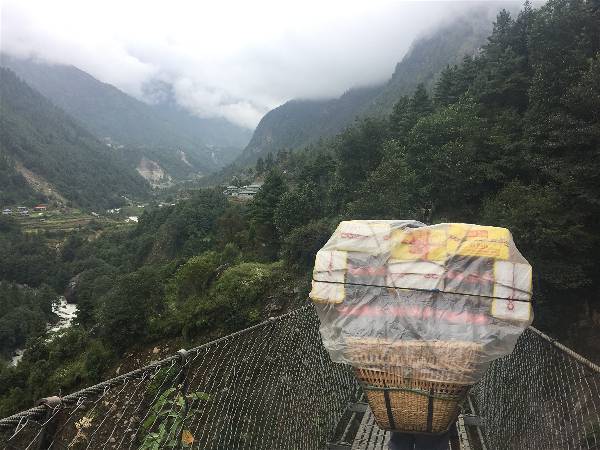 The trail will zigzag up the mountain and highlight exactly how far from acclimatized you may be, but don't worry, just walk slowly, and breathe naturally avoiding exertion. At the top of the switchbacks, to the right, a public restroom and water station sit for a perfectly timed break. Even better, to the left of the bathrooms and just past the water station, it is possible to glimpse the tip of Everest through the trees if weather permits. After the break, continue on the trail stopping briefly at a ranger station to record your information, and check your Trekker Information Management System (TIMS) card before continue on another 30 minutes into the impressive mountainside Sherpa village of Namche Bazaar to rest for the night and spend a rest day acclimatizing.
Namche Bazar
Namche: Elevation: 11,860ft/3,440m, Kilometer 18.5
Rest Day Hike: 2 hours, 3km round trip
Namche Bazaar is a U shaped village that cascades down a lushly green yet steep mountain, and has been a trading hub for native Sherpa villages for ages. As of recent, the town is a common stop for Everest Treks as the distance hiked to the city and the city's elevation make it the perfect place to take a rest day and acclimatize 3,324 feet above Phakding in elevation and the previous day's 10.5 kilometer, the 5 hour hike can be taxing, so a day for the body to catchup is needed. The tourist industry in Namche has realized this and thus Namche Bazaar is the most developed city along the Everest Base Camp Trek providing easily accessible hot showers, wifi, coffee shops, bakeries, and even the self proclaimed "highest Irish pub in the world" to keep trekkers occupied.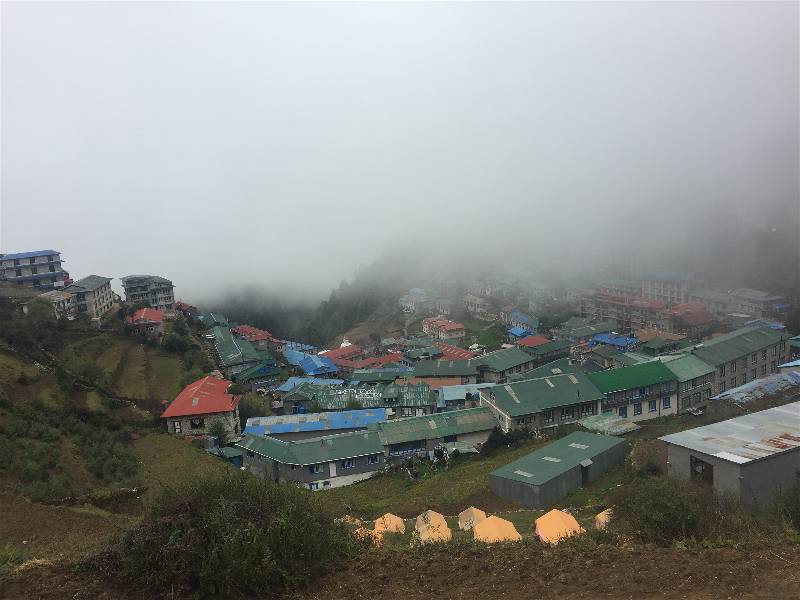 Given the On the rest day, a trek to the Everest view hotel for lunch or tea and, weather permitting, a glimpse of Everest from the back patio are common rest day activities. The hike is a ~1 hour, 1.5 kilometer walk with 1,200 feet of elevation gain to see the hotel that touts itself as "one of the highest hotels in the world" and the only one with a view of the highest peak in the world, Everest. Other great views and activities include the Namche Stupa, the Sherpa Culture Museum, and the Sagarmatha National Museum.
Namche Bazaar's many vendors will sell any gear that you may have forgotten to pickup in Kathmandu, but chocolate, water purification tablets, and other "essentials" may cost 10x what they do at 6,693 feet below in Kathmandu.
Tengboche
(Tengboche Elevation: 12,664ft/3,860m, Kilometer 27)
4.5 hours hiking, 8.5km
The walk from Namche Bazaar to Dingboche is most distinguished from the rest of the trek by the gradual disappearance of the forest and trees along the route. The route once again tests trekkers adjusting lungs as the trail drops to the valley floor and climbs to 12,664 feet, Tengboche's altitude. Leave Namche and arrive early as teahouses and lodging are limited in Tengboche. If you do arrive too late to secure a room, hike an extra 15 minutes to Deboche for a room.
In Tengboche, be sure to visit the monastery for a self guided tour, as the monastery welcomes visitors, and be sure to sit for a session of the monk's chanting which takes place once in the early morning ~6:30AM and once in the early afternoon (~5:30AM)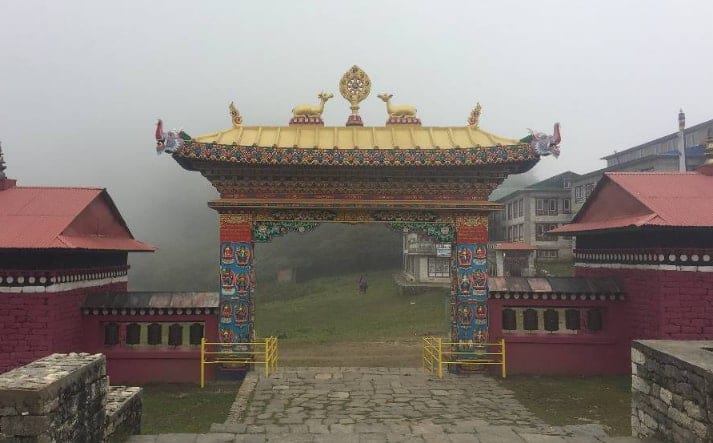 Pheriche
(Elevation: 13,910ft/4,240m, Kilometer 37.5)
~4.5 hours hiking, 10.5km
Leaving Tingboche, you will have to decide if your trail to Everest will pass through Pheriche or Dingboche. As Dingboche is more developed and has more amenities it may be more suitable for the rest day that many trekkers commonly take according to the recommended acclimatization schedules.
Though noticeably smaller than Dingboche, Pheriche offers a quieter atmosphere with newer lodging and teahouses and extraordinary views, as the town sits in the middle of a rocky, ascending valley. Be sure to wake up with the morning light to see the sun rising over the impressive mountain Nagkartshang, to the east. Wifi is accessible in Pheriche (as teahouse managers to purchase data cards) as are text message and voice calls, but cell data may not be available.
Pheriche is home to the Himalayan Rescue Association Hospital that is operational during trekking and summitting season. The hospital is commonly operated by a mix of western and local personnel. Consider donating your unused medications on your return trip.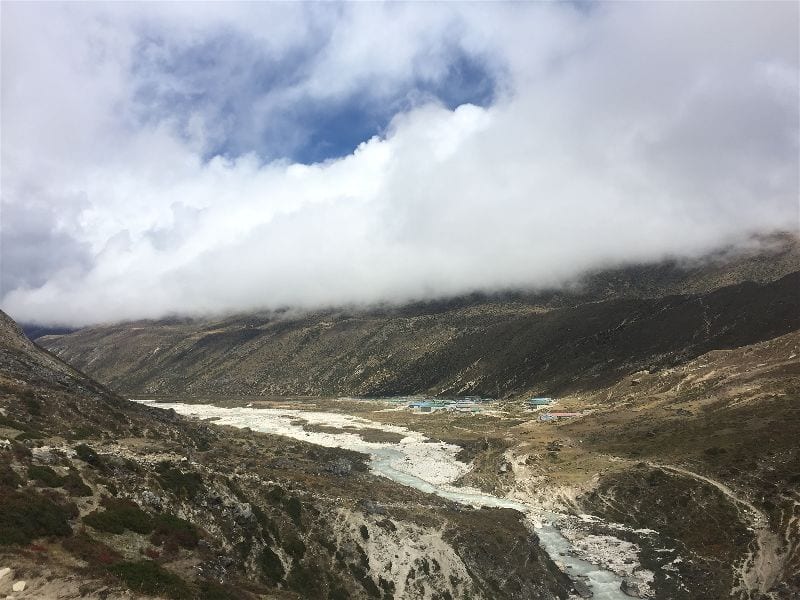 Duglah
(Elevation: 15,157ft/4,620m, kilometer 43)
~1.5 hours hiking, 5.5km
The hike from Pheriche to Duglah is a barren, rocky moonscape that is still beautiful as it provides clear views of the surrounding Himalayn mountains. The town of Duglah is most suitable as a stop for water, to purchase a hot meal or tea, and to rest and converse with other travelers, but little lodging is available and Lobuche is much more suitable for most schedules.
Lobuche
Elevation: 16,863ft/4,910m, kilometer 50
~2 hours hiking, 7km
Lobuche, 7 kilometers and 2 hours from Duglah (and 13 kilometers, ~3.5 hours from Pheriche) is the next stop for most trekkers. The village of Lobuche resembles more of a gypsy camp as shanty style teahouses and tents (for porters) dot the camp. The teahouses will be much less insulated and the night's much colder at this elevation so pack (and dress accordingly). Pay more attention to staying hydrated and observing for altitude sickness symptoms from this point on in the trek.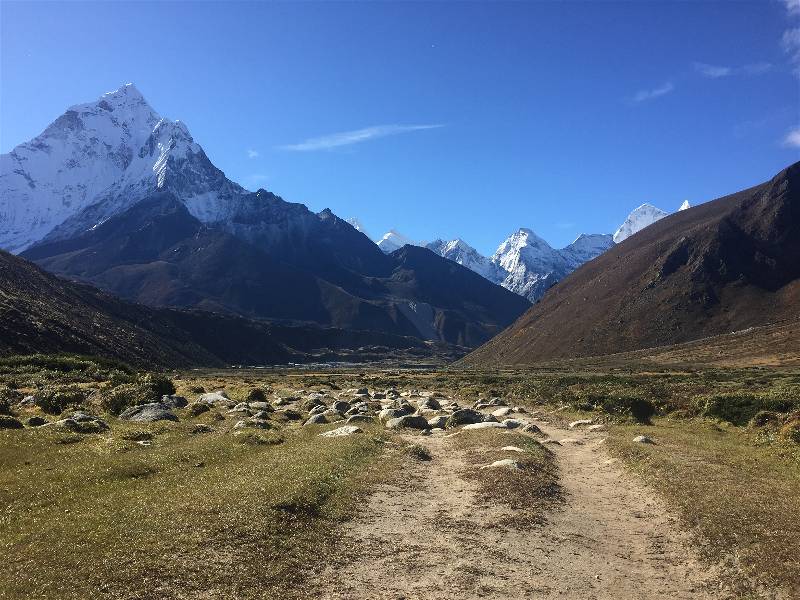 Gorak Shep
Gorak Shep Elevation: 17,650ft/5,140m, Kilometer 58
~2.5 hours hiking, (Duglah to Gorak Shep: 8km)
The trek from Lobuche to Gorak Shep continues the barren, moonscape views until reaching the small camp (Gorak Shep) that puts you in walking distance of Everest Base Camp and a much more satisfying view of Everest from Kala Patthar.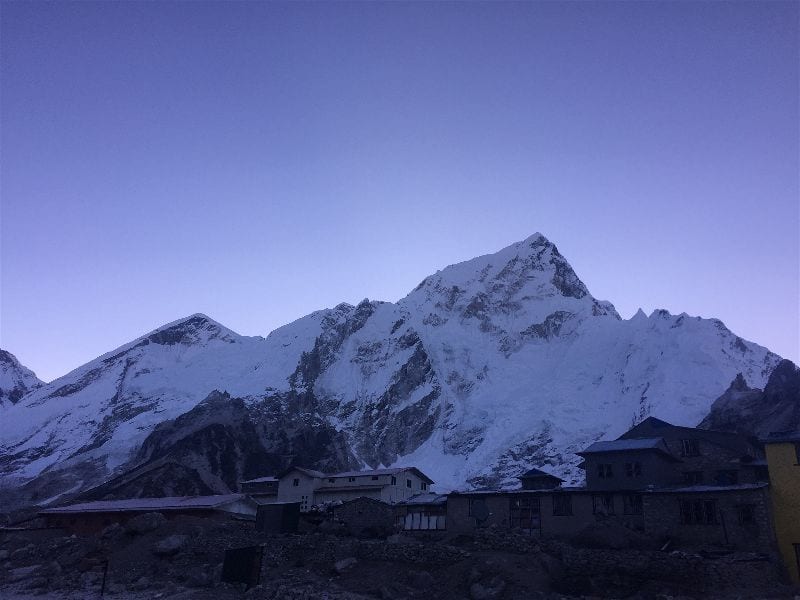 Kala Patthar
Elevation: 16,863ft/5,140m
~2.5 hours hiking, round trip
Kala Patthar is the peak next to the village of Gorak Shep and, from its peak, provides the best view of Mount Everest accessible by trekkers. Wake early (~4:00AM) to make the 2.5 hour, 2 kilometer round trip hike up the peak in order to see Mount Everest as the sunrises. Be sure to come early as the best views, and opportunities for photos, happen before the sun comes over the horizon, rising directly behind Mount Everest to the east. Additionally, the heat from the rising sun on the snow capped mountains generally creates a cloud of mist that obscures Mount Everest, and Ama Dablam to the right, within an hour of sunrise, so, arrive early, ideally before sunrise.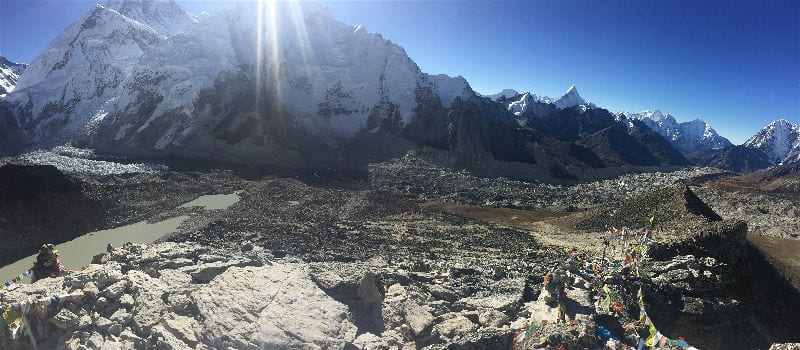 Everest Base Camp
Elevation: 17,650ft/5,380m Kilometer 62
~7.5 Hours Hiking, 12km round trip
After descending from Kala Patthar (and the view of Everest), stop off by Gorak Shep to get water and food before making the 12 kilometer and ~7.5 hour round trip trek to Everest Base Camp. The road to base camp is even more barren with small loose rocks and sand continuously on the path, winding up and down hills until finally arriving at the glacier that Everest base Camp sits on.
At Base Camp, trekkers mill about taking pictures with large boulder's with "Everest Base Camp" written in heavy black marker, accented with prayer flags in the foreground and background. Enjoy the view!
From here, the Everest Base Camp trek of 62 kilometers and 38.58 miles is complete and the return will be much easier as you feel superhuman on the way down, your acclimatization stacking with the increased concentration of oxygen in the air as you descend.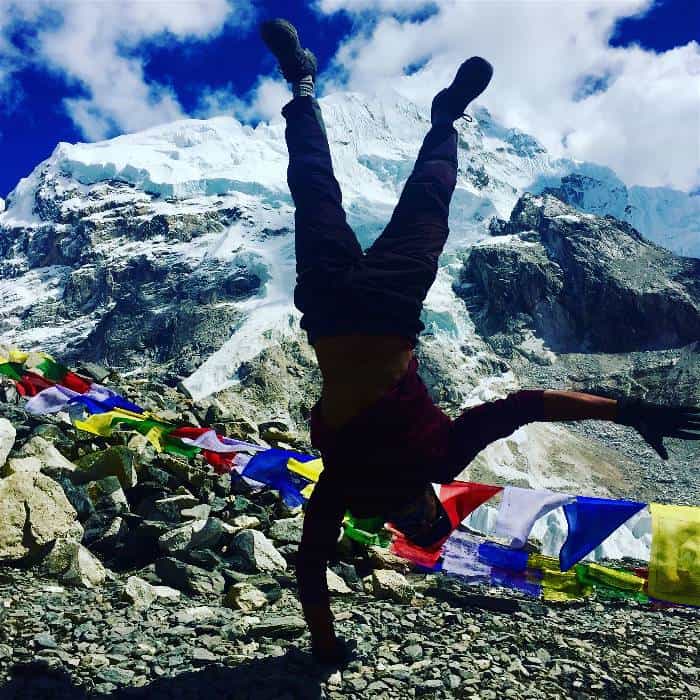 Now that you understand the experience of the EBC Trek…
Logistics for Planning Your Everest Base Camp Trek
Warnings
Avoid eating any meat during the trek: Any meat eaten is carried (unrefrigerated) from Lukla, and many teahouses don't have the extra and consistent electricity to power a refrigerator. Avoid food poisoning by staying vegetarian for the duration of the trek
Acclimatize appropriately: Avoid exceeding an ascent of more than 300-400 meters per day and schedule a rest & acclimatization day after 1,000 meters. If your breathing is getting heavy, slow down.
Take it slow: If you are sweating from exertion or breathing extremely heavily, you're working too hard. Extreme exertion puts you at higher risk for altitude sickness. When in doubt, slow down
Stick to reliably purified or filtered water: This generally means water that you have purified yourself with water purification tabs, a filtration device (like a Lifestraw) or a purifier (like a SteriPen) Avoid drinking any water that has not been sanitized
Don't plan on drinking bottled water: Bottled water along the trek is extremely costly ($3-$5 per bottle) as you need 3-5 liters daily. Additionally, empty water bottles create waste that the teahouses don't have the means to properly dispose of, given how many trekkers routinely do the Everest Base Camp trek. Save money and environmental damage with a portable water filter, a portable water purifier, or water purification tablets that can be purchased in Kathmandu
Annual Number of Trekkers attempting the Everest Base Camp Hike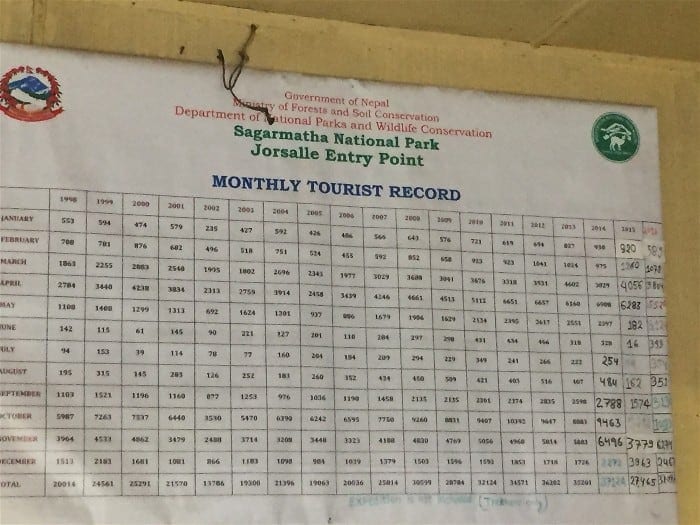 Flights from Kathmandu to Lukla
Tara Air, Yeti Airlines, Goma Airlines, and Simrik Airlines are the primary airlines that fly from Kathmandu to Lukla. Yeti airlines is the only airline searchable via major western third-party search engines (e.g., Google Flights, Booking, Kayak, etc.). Go directly to the websites of the other airlines or search Google for the individual airlines to find Nepal based online third party Bookers or the airlines' respective sites.
Flights cost $165 and $180, one way, when booked at least one week in advance
Flight schedule: Flight from Lukla to Kathmandu fly daily every half hour between 6:00AM and 10:30AM on various airlines
Aim to fly on the first flight of the day to avoid being bumped due to weather
For return flights from Lukla to Kathamandu, airlines will generally allow passengers to change return flights (to Kathmandu) to an earlier date than scheduled for free if space is available, but will charge passengers to move a return flight to a later date
Websites for Airlines flying from Kathmandu to Lukla
Teahouses on the Everest Trek: What are they and how do they work?
"Teahouse" is the common name for most lodging provided to trekkers along the Everest Base Camp Trek. Despite the interesting name, most teahouses are operated more similarly to western style "bed & breakfasts"
Teahouses welcome guests for a small fee under the condition that the guest purchases their meals from the teahouse. If, instead, you eat food that you've brought, or from elsewhere, there will be an additional charge usually equal to the cost of forgone meals
Average costs for teahouse lodging are 200-500 Nepali Rupees (~$2-$5)
The average cost of a meal in a teahouse is $7 – $10, depending on your choice of food and drink but meals will be more expensive at higher quality teahouses

Hot Drink: ~$1.50 (150 Nepali Rupees)
Cereal or Breakfast: ~$3.50 – $4 (350-400 Nepali Rupees)
Lunch Dish: $4 – $5 (400-500 Nepali Rupees)
Dal Bat: $5 – $6 (500-600 Nepali Rupees)
Large Dinner Item: $7 – $9 (700-900 Rupees)

Reservations usually aren't required (or possible) as most teahouses don't maintain an internet presence BUT the best teahouses tend to be booked quickly by the guides of large groups, either on arrival or in advance
For solo/unguided trekkers, the best option is to arrive as early as possible to take your pick of the teahouse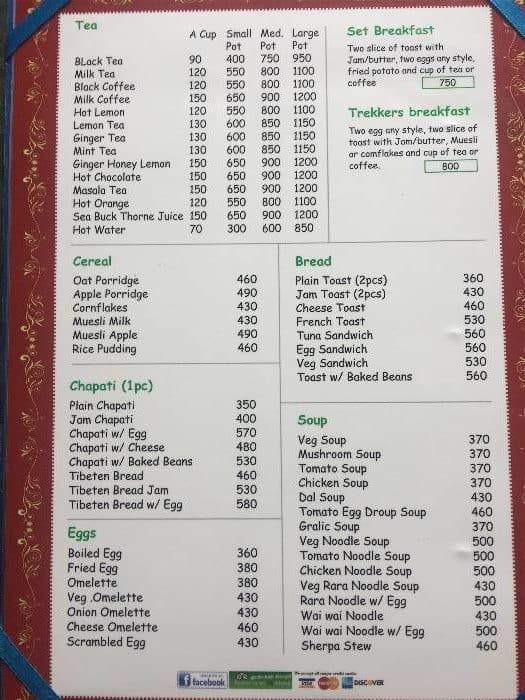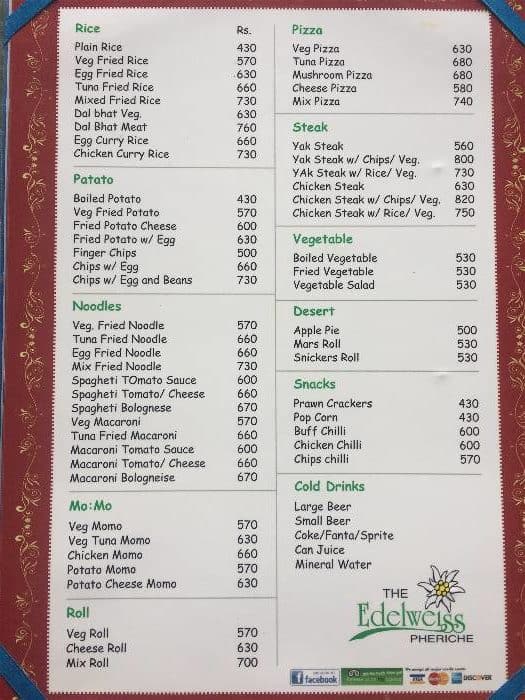 ---
Everest Base Camp Trek Itinerary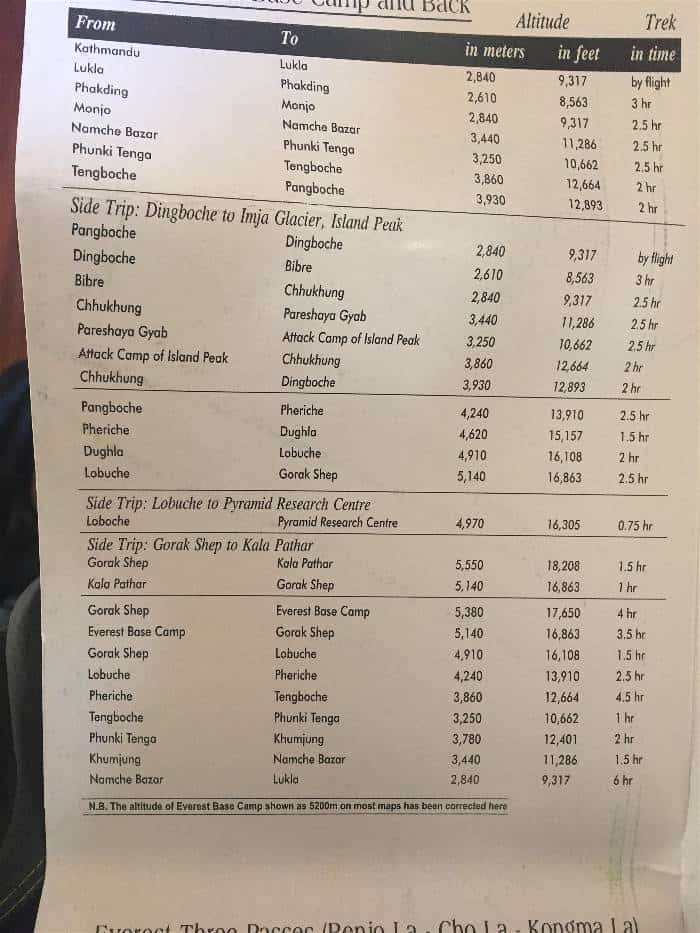 The following is a commonly followed Everest Base Camp Trek itinerary that is suitable for most trekkers:
Day 1: Fly from Kathmandu to Lukla Airport. Hike from Lukla Town to Phakding,
3.5 hrs , -146m/-486ft elevation change
Day 2: Phakding to Namche Bazaar
5.5 hrs, +784meters/+2,583feet elevation gain
Day 3: Acclimatization day in Namche Bazaar (hike to Everest View Hotel)
Day 4: Namche Bazaar to Tengboche
4.5 hrs, +427meters/+1,401feet elevation gain
Day 5: Tengboche to Pheriche
4.5 hrs, +510meters/+1,676 feet elevation gain
Day 6: Acclimatization day in Pheriche
Day 7: Pheriche to Lobuche (4,928m/16164 ft),
3.5 hrs, +570meters/+1,867 ft
Day 8: Lobuche to Gorakshep (5,160m/16,929ft)
2.5 hrs, +491meters/+1,286feet elevation gain
Day 9: Gorak Shep to Kala Patthar to Gorak Shep to Everest Base Camp (YAY!!) and descent to Pheriche
Kala Patthar, 2.5 hrs hike (round trip), +390meters/+1,311feet elevation gain
Everest Base Camp, 7.5hrs hike (round trip), +160meters/+521feet elevation gain
Gorak Shep to Pheriche, 4 hrs
Pheriche to Namche Bazaar, 9hrs
Note: The above notes are from an "official" trekking guide provided by Nepal, but my trekker partner and I made the entire trek in a single day. Plan according to your own trekking ability
Day 10: Descend from Pheriche to Tengboche,
4.5 hrs
Day 11: Descend from Tengboche to Namche Bazaar
4.5 hrs
Day 12: Descend from Namche Bazaar to Lukla
4.5 hrs
Internet Connectivity on the Everest Base Camp Trek
Cell phone data service (3G) is supported to Tengboche,
Above Tingboche only text and voice (2G) coverage is supported
Sim cards and data can be purchased at a kiosk in the Kathamandu airport just near the arrivals exit, or at vendors in Thamel district of Kathmandu
Cell Service Providers on the Everest Base Camp Trek are NCell and Nepal Telecom, 3g to Tengboche and voice/text above Tengboche
Internet and Wifi is provided along the entire Everest Base Camp Trek route for a fee. Pay per use wi-fi provided above Tingboche fills in the gap of cellular data service. Ask Teahouse owners to purchase access cards.
Medications to consider taking on the Everest Base Camp Trek
Consult your doctor or an authorized medical provider prior to using any medications but it is worthwhile to have these medications in your Everest Base Camp Trek kit for emergencies as they may not be readily available (or affordable) along the trek.
Diamox (for altitude sickness)
Anti-inflammatories for headaches, and general aches (acetaminophen/ibuprofen blend or paracetamol)
Electrolytes to add to drinking water
Water purification tablets
Antibiotics: amoxicillin is commonly sold at pharamacies in Thamel and throughout Kathmandu. Consider purchasing a supply for at least 8 days but contact your medical provider for the recommended run
Imodium or similar anti-diarrheal
Bismuth tablets or similar for nausea and upset stomach
Purchase medications for the Everest Base Camp trek at any Kathmandu pharmacy as these medications are (relatively) cheap and excellent "insurance". Any unused medications can be donated to hospitals and clinics along the route for use in emergencies or to provide lower cost care for locals.
Food and Drink along the Everest Trek
Rely on dahl baht, a lentil and rice soup, as your primary fuel for the trek. For a standard price, the dish is delivered as all you can eat (pretty sweet, eh?) and provides all of the proteins and carbs you need. Additionally, its cheap and your best bet for avoiding food poisoning.
Water: Consume 3 liters per day minimum, optimally 4 or 5 while consuming electrolytes. The thin air and the activity increase risk of dehydration and onset of altitude sickness
Bring plenty of water purification tablets (can be purchased at pharmacies in Kathmandu) or a water filtration device. I used the LifeStraw with great results and no issues. Water purification tablets can go for 10x the Kathmandu price when sold by vendors on the trek
When to Trek to Everest Base Camp
The best time to trek to Everest Base Camp is either early May or early October, depending on your preferences
May: To see the teams summitting Mount Everest.

Downside: The skies are less clear due to dust lingering in the air and obscuring views of Everest
Downside: Heavier traffic, more crowded trails, and more crowded teahouses

October: The skies are clear and the weather is perfect with smaller crowds

Downside: Unable to see teams attempting Everest summit \
Rules of Thumb for a good Everest Base Camp Trekking Experience
Walk slowly. Avoiding heavy exertion helps you avoid altitude sickness. If you're heaving too heavily to breathe, you're walking too fast.
Ascend no more than 300-400 meters per day and if you do then schedule a rest day, or, adhere to our base itinerary (see below)
Drink a minimum of 3 liters of water per day. Your body will require more water than normally in the conditions on the trek and staying hydrated helps prevent altitude sickness
Avoid eating meat on the trek. Most meat is walked in from Lukla, and the higher you go, the more time it has spent outside of a refrigerator. Additionally, most teahouses don't have the extra electricity to use on a refrigerator so mishandling of meat is common. Stay with the dahl bhat or vegetarian at least for the duration of the trek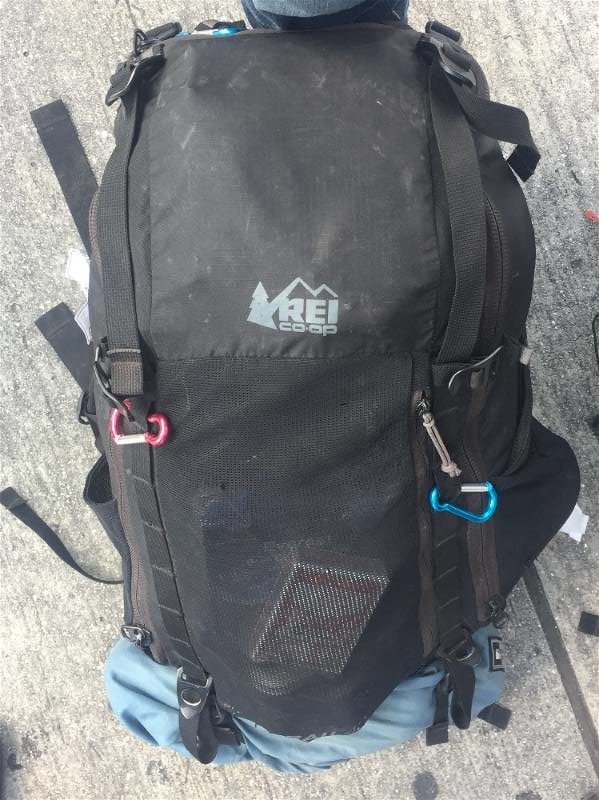 Gear I ABSOLUTELY recommend bringing from home for the Everest Base Camp Trek
Checkout my full gear list with gear recommended by other trekkers and the gear I brought and trust
Reliable water filtration device: Bottled water on the trek can be the costliest expense (at ~$3 per liter) and the most damaging to the environment, and plastic bottles accumulate on the trek route and in towns. I used (and loved) the Lifestraw Go, as it is a reliable water filter combined with a water bottle, but the normal Lifestraw is a great option that other trekkers recommended as well, as long as you have a wide mouth bottle to pair it with.
Portable recharge: Electricity and charging are provided on the EBC trek, but at a hefty price so bring your own. These are accessible in Asia but in my experience, electronics purchased in Europe and North America cost the same price and are much more reliable. On my Motorcycle Adventure through Laos and Vietnam, many of my electronics purchased in Thailand and Asia died from moisture and being bumped. My electronics purchased in Europe and North America all survived. I used an Anker portable recharger, but any will do as long as the power capacity is large enough.
Durable/waterproof smart phone case: This allows you to use your phone in "less than optimal" weather conditions, keep taking pictures, and keep taking pics and video. The best camera is the one that you have with you, right? I used the Lifeproof Nuud with great results. It even survived snorkeling in Thailand and being dropped at 50 miles per hour in Vietnam
A local SIM Card: Absolutely worth the $5-$20. You will have cell data service from Kathmandu to Dingboche/Pheriche so having a SIM helps you upload those insta-enviable pics quickly or call out in an emergency.
Reliable Travel Insurance: A helicopter flight out due to altitude sickness can cost $2000-$5000, but you can save on this risk with $100-$200 travel insurance. Friends have experienced infections and sprained/broken limbs which can rack up the medical expenses quickly too, so don't risk it. Luckily, they all came prepped with travel insurance.
Other Essentials to bring on the Everest Base Camp Trek
Chocolate: Chocolate is a convenient snack and cheers anyone up, but the chocolate available along the trek is usually old, stale, and 3x the normal price of sale in Kathmandu
Sanitation wipes: Warm showers above Namche Bazaar are either difficult, extremely costly, or non-existent. Additionally, anything wet dries extremely slowly (if ever) in weather conditions common on the trek. Remedy your disco worthy body funk by bringing (and using) wet wipes in place of a shower.
Sunblock: The thinner atmosphere increases the risk of sunburn so much that even dark-skinned trekkers (like myself) will burn without sunblock. Skip the blisters and bring the block
Lip Balm with SPF: Your lips are special. See the note above (for sunblock)

How to quickly and easily get in shape for the Everest Base Camp Trek: Rucking
If you're looking for ways to get in shape for the Everest Base Camp Trek, I highly recommend considering "rucking," which is the simple act of walking briskly with a weighted backpack. Click here to learn more about rucking, the benefits of rucking, and how to get started. All you need is a good, durable backpack, which can actually double as your pack for the Everest Base Camp Trek, a good rucking weight for your pack, and a good pair of boots for rucking, and you're ready to get in shape for the EBC trek.
For more on the Everest Base Camp Trek, checkout our Everest Base Camp Trek Page for more EBC Trek resources and our story series Experience of Trekking to Everest Base Camp, an incredible seven part series on my journey from Kathmandu to Everest Base Camp.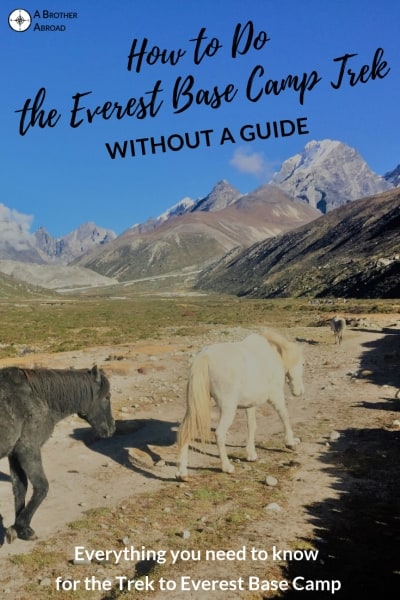 MORE GREAT TRAVEL INSPIRATION