Traveling the world continuously creates some interesting dilemmas – one of which is how to stay fit on the road, without a gym. Thanks to Monkii fitness' newest portable suspension trainer the Pocket Monkii – a suspension trainer that packs down extremely small and sets up quickly indoors or outdoors – staying fit for adventure without a gym is easier than ever for me.
This article may contain affiliate links
In this Pocket Monkii Review I'll share my experience with the Pocket Monkii Bars during 3000 miles of traveling between a few states (and countries), my favorite Monkii workout, a comparison of the Pocket Monkii vs. the Monkii Bars 2, and a few reasons why I know this gear is the best ultra- portable suspension trainer for travelers, adventurers, and "gyms on the road"
---
I enjoy traveling adventurously – whether that means going to off the beaten track places where people don't normally tread, like Laos and rural Sri Lanka, or making an adventure sport the theme of my travel, like surfing, trekking, or motorbiking. Being in great shape and top health by maintaining my strength, stamina, and speed, allows me to adventure harder safely and keeps my immune system in peak condition. Having the strength and endurance to get myself out of situations that most might not be able to is the kind of fitness that makes these adventures possible safely.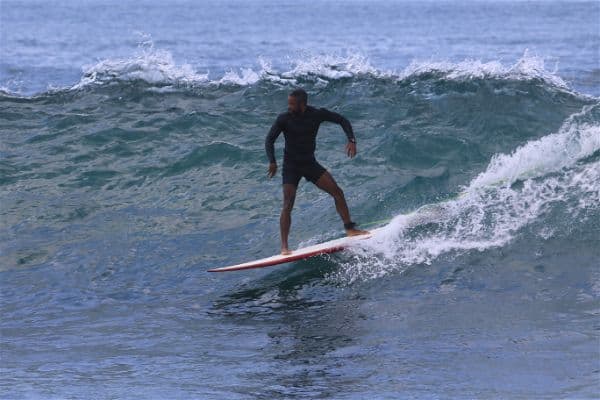 Whereas rucking, backpack workouts**, and lunges** make it easy to maintain lower body strength and endurance, it's normally difficult to build that same strength and stamina combo in the upper body without weights, or at least a pullup and dip bar on the road. Suspension trainers like the TRX make a slew of upper body exercises possible with enough resistance to build muscle but are almost too heavy and bulky to travel with and can be difficult to anchor outdoors – until now.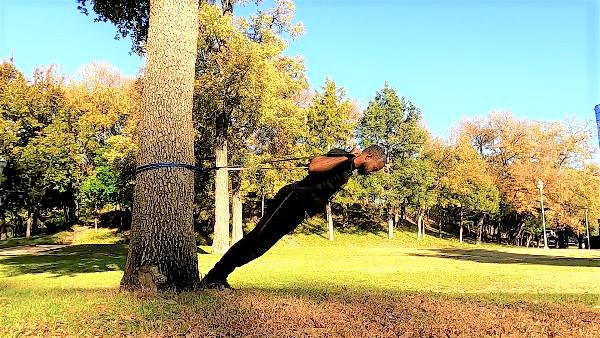 The Pocket Monkii is a bite-sized suspension trainer, perfectly balancing tiny size with quick setup and allows me to do pull-ups, dips, overhead presses, and every other exercise necessary for a rock hard, ready for anything body.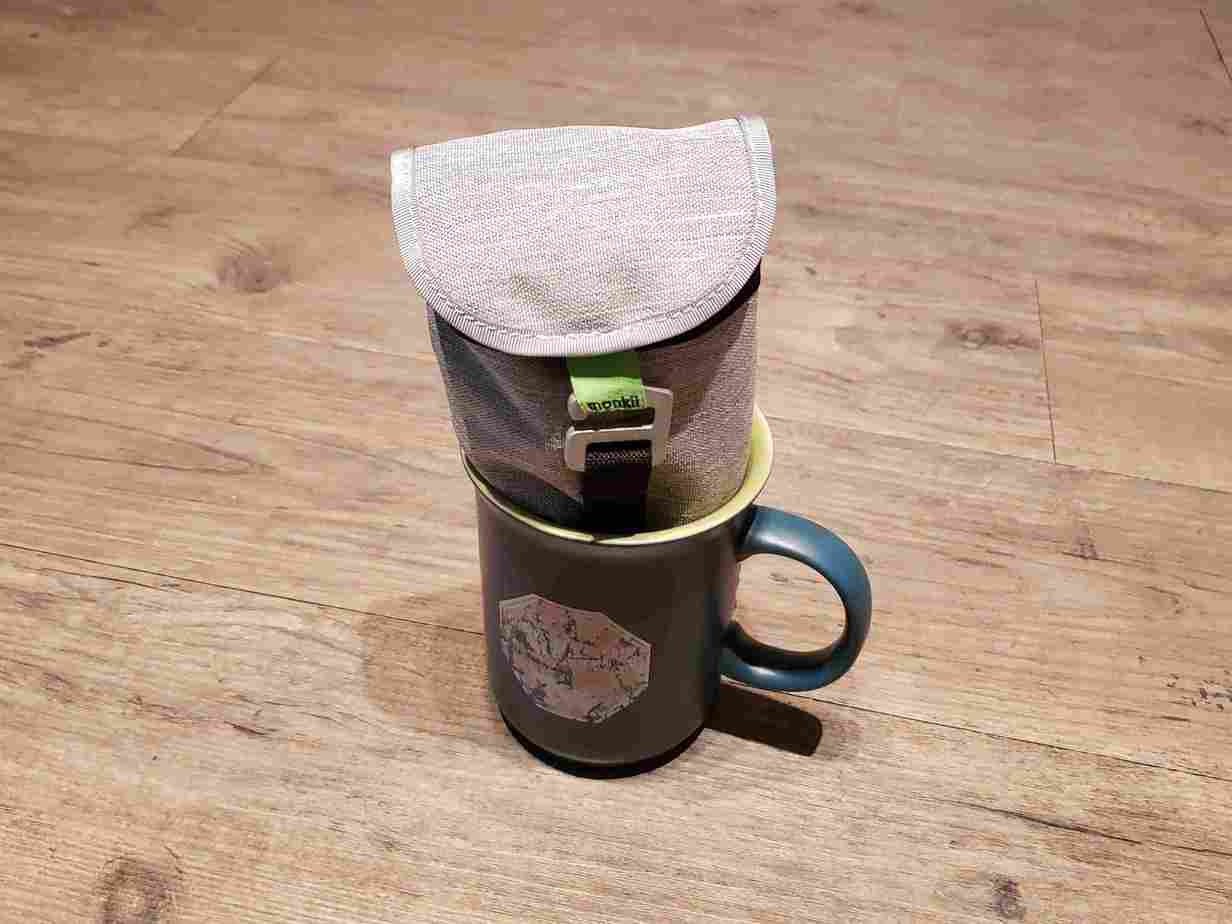 If you're already comparing the Pocket Monkii vs. the Monkii Bars 2 (the predecessor to the Pocket Monkii) know that these are both great products for anyone who wants a workout anywhere accomplished via suspension trainer.
---
Pocket Monkii vs. Monkii Bars 2
The Pocket Monkii has the advantage over the Monkii Bars 2 of being extremely tiny, about half the size of the Monkii Bars 2, and setting up in less than 30 seconds (literally) in a doorway or room.
The Monkii Bars 2 has the advantage over the Pocket Monkii of being a little beefier with much longer, individual straps for each handle that allow the Monkii Bars 2 to be used as gymnastics rings and in more situations. For more info on the Monkii Bars 2, to accurately compare to the Pocket Monkii, read our full Monkii Bars 2 review, or read on for a full comparison
---
Read on to discover my experience with the Pocket Monkii, why I highly recommend it for travel, how I get the most of the Pocket Monkii, and discover my "surfers workout" – a perfect workout for an awesome upper body that keeps me in shape when I'm away from the waves.
---
HIGHLIGHTS OF THE POCKET MONKII SUSPENSION TRAINER
Compact enough for carry on travel with weight restrictions
Tiny size: 7" x 3"
Lightweight: 10 oz.
Sets up in less than a minute indoors with the best, most minimalist suspension trainer door anchoring system I've seen
Sets up in less than a minute outdoors with the help of a runner, or sewn loop of webbing
Makes the essential upper strength exercises possible: Pull Ups, Dips, Overhead presses, High Pulls/Vertical Rows, Horizontal Rows, One Armed Push Ups
Creates enough resistance (simulated weight-lifting) to build muscle and strength
Great Value: Cost is about the same as a one month membership
Pocket Monkii Review
Function

Travel Readiness

Workout Versatility

Value
Pocket Monkii Review
The Pocket Bars (Review): Hands down, the best suspension trainer for travelers, minimalists, and outdoor fitness enthusiasts. Compact, quick to setup, and easy to use making a muscle strength building workout possible anywhere. Smaller and lighter than the TRX, more versatile than gymnastic rings, and better than any knockoff available. For the traveler that needs to stay fit, I highly recommend the Pocket Monkii Bars.
---
---
BOTTOM LINE UP FRONT FOR THIS POCKET MONKII SUSPENSION TRAINER REVIEW
Whether you're a continuous traveler that wants to stay fit, a minimalist, setting up a home gym, or just like to workout outside in the park or in nature as you feel, I highly recommend the Pocket Monkii.
A combo of compact size, small enough for a bookbag or carry on bag, quick setup, and versatility of upper body resistance exercises make this a clutch piece of gear for staying fit on the road or anywhere.
Pair this with flat resistance bands to add lower body movements, such as resistance band squats and deadlifts, and you have a full kit.
---
Check prices for the Pocket Monkii at Monkii.com

CONTENTS OF THIS POCKET MONKII REVIEW
---
QUICK POCKET MONKII BARS REVIEW
---

QUICK REVIEW OF THE POCKET MONKII
---
WHAT ARE THE POCKET MONKII BARS + WHY ARE THEY PERFECT FOR WORKOUTS + TRAVEL?
The "Pocket Monkii" is a compact suspension trainer created by the Monkii team, designed to help you get a great workout in anywhere – your garage, a hotel room, in a park, or in the great outdoors. No weights, pull up bar, or anything else necessary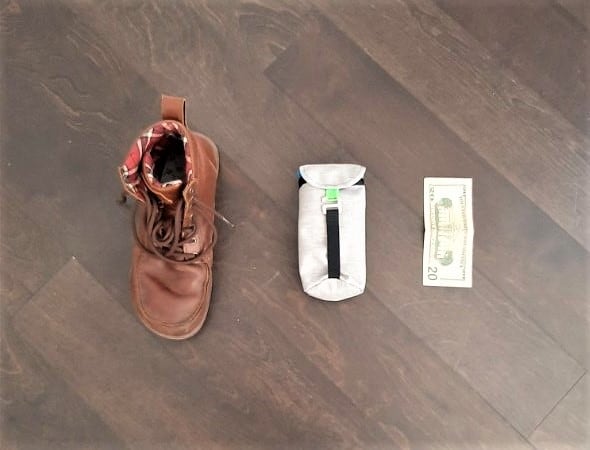 WHY I LOVE THE POCKET MONKII BARS FOR MY TRAVEL WORKOUTS
As an adventurous traveler, staying fit – staying strong, staying fast, and keeping my stamina up – is imperative to my adventures of surfing, trekking, and motorbiking into God knows where. Unfortunately, the path to such magnificent adventures is rarely paved with gyms ready for Crossfit Workouts, but I still have to maintain that adventure ready body. On the same note, I travel the world with a small, carryon sized backpack and that's it, so I can't spare much space for workout gear.
In steps the Pocket Monkii to save the day.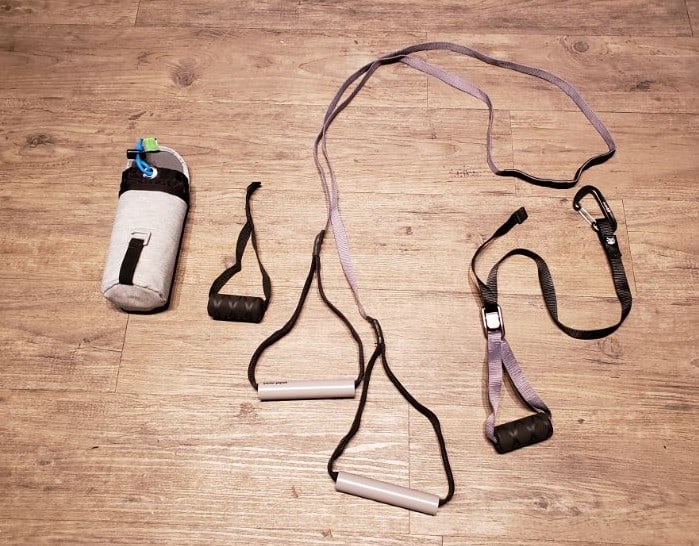 The Pocket Monkii is arguably the perfect way for light travelers to get in a workout. The Pocket Monkii is compact, about the size of a soda can, and allows me to all of the major upper body movements – pull ups, dips, overhead presses, high pulls/vertical rows, horizontal rows, and presses/assisted one armed pushups, bicep curls, and triceps extensions with resistance at least equal to my bodyweight.
The Pocket Monkii is pretty much the baby Yoda of fitness equipment. Tiny, capable of more than you think, full of surprises, and oddly fun to have around
The result – I can maintain the strength upper body and core strength needed to surf, trek, and adventure knowing I'm the most capable person for getting myself out of troubles that I tend to get myself into.
In short, I love the Pocket Monkii because it is a full upper body gym that fits in your pocket.
Pair this nifty contraption with rucking, lunges**, pistols**, or heavy duty resistance bands with handles for leg strength and you have a compact, full body strength workout option for anywhere. That's why the Pocket Monkii is awesome.

WHO IS THE POCKET MONKII FOR (BESIDES ME)?
TRAVELERS, MINIMALISTS, HOME GYM-ERS AND OUTDOOR/ADVENTURE ENTHUSIASTS
The Pocket Monkii is designed for anyone who wants to stay fit with minimal equipment. Whether you are a traveler, workout in your garage, or just want a workout outdoors – anywhere you can find a tree or pole to anchor to – the Pocket Monkii is for you.
Though there is a slight learning curve in learning how to use the Pocket Monkii, once you learn how to create those movements from your gym with these versatile little straps, there is nearly no upper body movement you can't recreate with the Pocket Monkii suspension trainer.
More specifically, the Pocket Monkii is great for
Bodyweight Fitness Enthusiasts: Allows pull up and dip bar exercises…without the bar
Travelers aiming to stay fit on the road: Allows for a great upper body workout in your room or in a park
Anyone who prefers to workout outside, at parks, and in greenspaces: Anywhere you find a tree, you can get in a workout
Functional Fitness Athletes / Crossfitters without gyms paired with resistance bands with handles, portable sandbells, and the GORUCK Rucker**, you can recreate components lifts and full muscle ups, clean and press movements, and rowing movements – all possible with the Pocket Monkii
Rock Climbers and other adventure sport athletes: Recreate high intensity bodyweight movements with high resistance, such as in rock climbing and other adventure sports. Also, use the Pocket Monkii to perform "muscle balancing movements, like high pulls and overhead presses for muscular balance to balance muscular development from the repetitive movements of your rock climbing or other sport.
Also, read the full Monkii Bars 2 review to check out another great, ultra-portable fitness option

…or read on for the full review

FULL REVIEW OF THE POCKET MONKII
SO…WHAT'S IN A POCKET MONKII?
With the Pocket Monkii being such a small package, what's included that makes it so great?
Carrying Case: To Keep everything organized
Indoor anchor: For Slinging on doorways
Carabiner: For clipping your straps into your anchor
Handle and Straps: The core of your Pocket Monkii
As short as this list is, and the overall package is, this is kit is still functional enough to do everything any other good suspension trainer can, like the TRX or my DIY gymnastics rings. The only difference is the Pocket Monkii is in a much smaller, travel and adventure friendly package.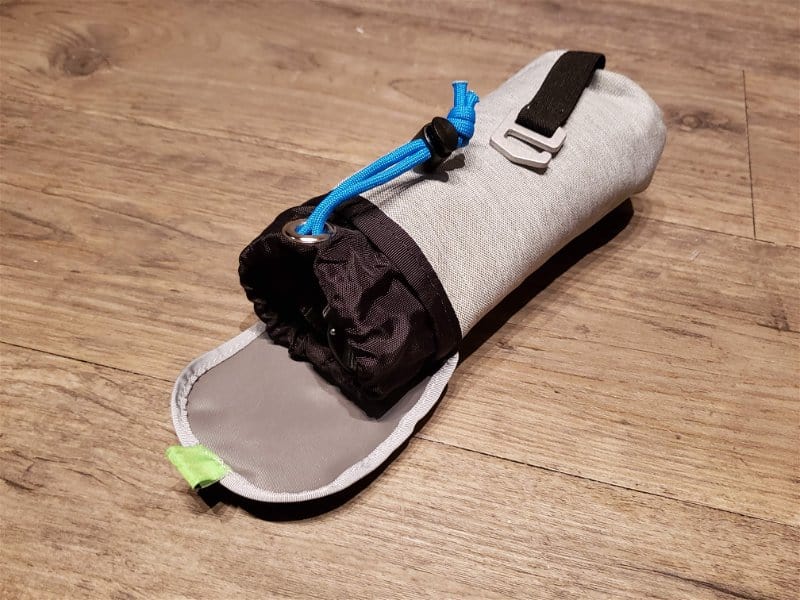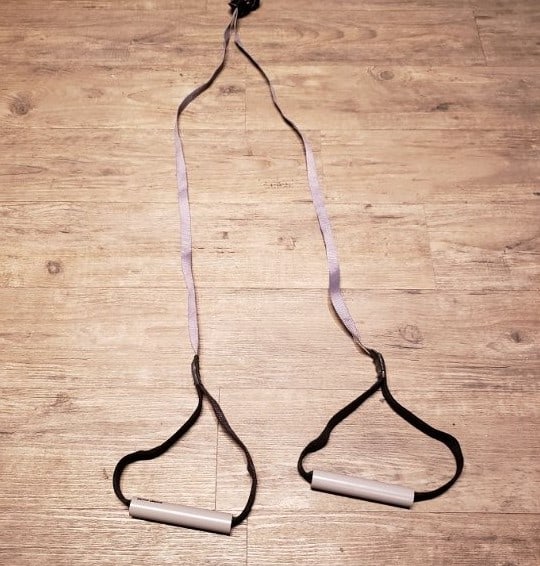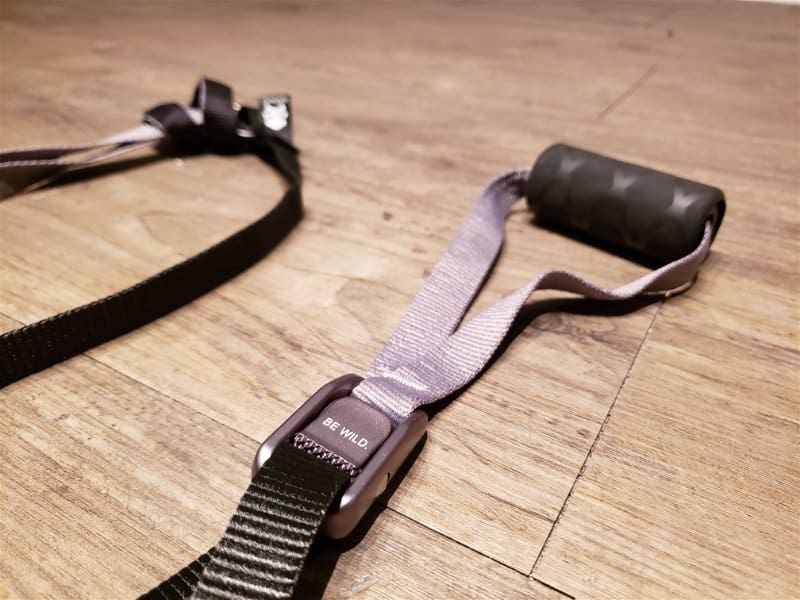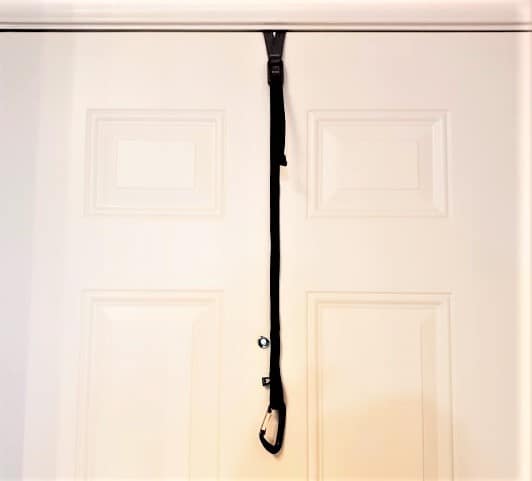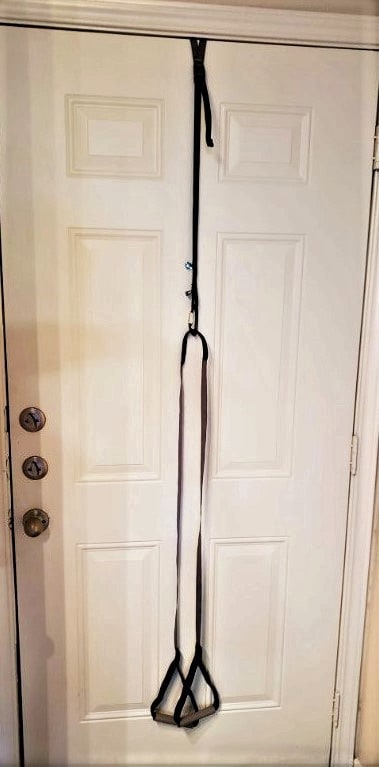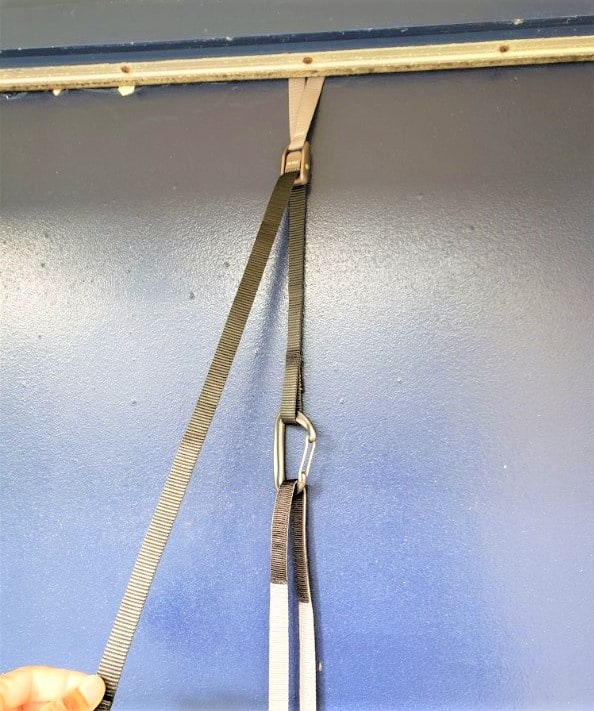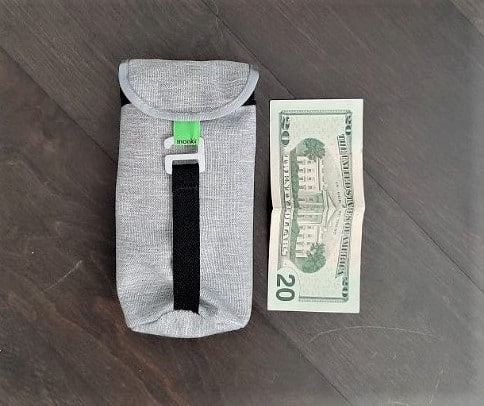 Optional Items to Purchase

MY EXPERIENCE TRAVELING WITH THE POCKET MONKII's PREDECESSORS: THE TRX, AND THE MONKII BARS 2
The previous version of the Pocket Monkii, the Monkii Bars 2, was a much needed redevelopment of the "suspension trainer" idea, generally made popular via the TRX and its team. Unfortunately until the Monkii Bars, most suspension trainers were too bulky to justify traveling with them, nearly matching the size of a volleyball when packaged up.
Ok, that's a slight exaggeration, but most suspension trainers are just too big to travel. I previously purchased a TRX for nearly $200 and took it with me backpacking Southeast Asia. It was a great rig, but much too big for the minimal space I had in my relatively tiny carry on backpack.
Before the arrival of the Pocket Monkii, the Monkii Bars 2 saved the day by providing a durable, compact suspension trainer and workout option. The versatile setup, including a built in door anchor, allowed me to setup anywhere, from random parks, to hotel rooms, to beaches in Greece. I was allowed to get a solid, heavy duty calisthenics workout on anywhere.
As great as the Monkii Bars 2 is (I do recommend it as a travel fitness tool), there were 2 problems – it too a while to setup, especially in doorways, and it could be smaller. The long lengths of strap took a while to roll-up and have to be put perfectly into their holsters, or the package ends up a bit larger than it originally was.
Now, with the Pocket Monkii, the Monkii team has created a nearly perfect fitness product that is smaller, easier to setup and pack away, and works well anywhere
STAYING FIT ON THE ROAD
STAYING SURF READY FAR FROM THE OCEAN
ADDING A RUNNER TO MAKE THE POCKET MONKII EASY TO SETUP ANYWHERE
---
MY EXPERIENCE WITH THE POCKET MONKII
TRAVEL, SURF READINESS, AND PARK WORKOUTS
I've owned and tested the Pocket Monkii for a bit now, and I'm stating from experience that it rocks.
The compact size (about the size of a soda can) improves on what made many suspension trainers unsuitable for travel.
The quick setup (less than a minute) means that with only 10 or 20 minutes to spare, you can actually get a workout done in your hotel room, with time to setup and tear down too – I recommend doing a couple Tabata Workouts** if you're in this predicament.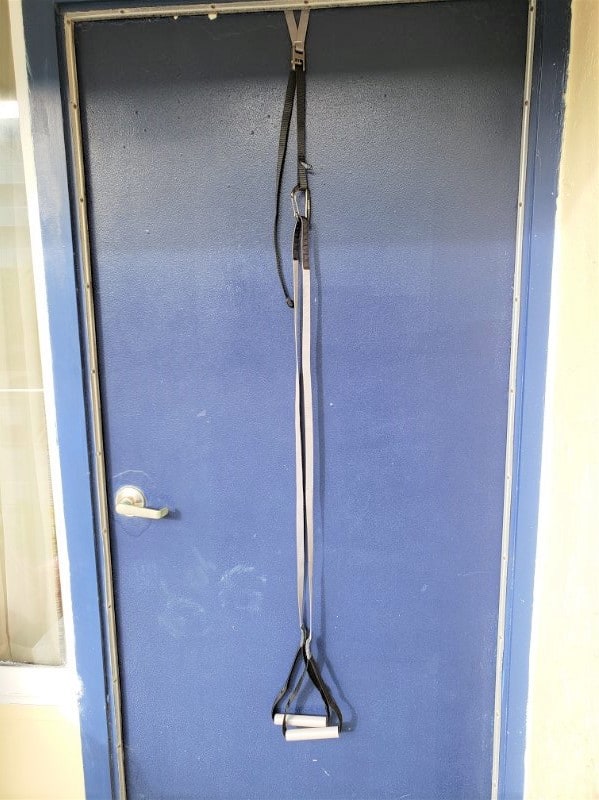 ---
How I've Used the Pocket Monkii: Strength Centric, Upper Body Workouts
I travel constantly – literally. I've been traveling the world since 2017 and all my travel revolves around one of my 8 adventure sports for travel – surfing, freediving, trekking, motorbiking, and more. Unfortunately I can't always find a gym everywhere I go – in places like Laos** or rural Nepal, but I still constantly need to be ready for that next wave, that next mountain, or that next dive.
During the trial period – a couple months traveling back home to the US, bouncing through 5 cities in a month, and driving over 3,000 miles – I've used the Pocket Monkii to keep my upper body in top shape, and ready for anything while I travel. Strength has been my focus, followed by stamina, in order to stay in surf shape while I'm far from the waves.
Surfing has been my new "healthy addiction", and (ask any newbie surfer), the upper body strength to paddle hard for a long time – performing the same upper body movements as a muscle up or pullup/transition/dip combination exercise – can either make your surf session easy and amazing, or completely miserable while you miss waves or get hit by them trying to catch your breath.
---
Why I used the Pocket Monkii for Upper Body Strength Workouts
With surfing my passion of the moment from the Adventure 8, my favorite workout to do with the Pocket Monkii was specifically my workout I do for surfing that builds the strength, speed, and stamina I need to paddle out, catch waves, and stay safe (by knowing I can handle myself and my surfboard) when the waves get big.
This single workout recreates muscle ups and the "clean and press" movement ultimately building strong pecs, lats, biceps, triceps, shoulders, and core – all with this tiny suspension trainer. I achieved this by trying to use the Pocket Monkii to do Pull Ups, Dips, High Pulls/Vertical Rows, Overhead Presses, Horizontal Rows, and "Assisted" One Armed Push ups as the primary back, chest, and shoulder exercises and a couple variations of biceps curls and triceps extensions to build and maintain stronger arms.
The Pocket Monkii, like any good suspension trainer, allowed me do all of these exercises easily, and adjusting height & length to transition quickly and easily between exercises.
---
A Couple of Tips for Using the Pocket Monkii: Tie a Figure 8 Knot + Use a Climbing Runner as an Anchor Outdoors
The only notable warnings from my experience are 1) learn how to tie a "figure 8" knot to stabilize the Pocket Monkii as a suspension trainer – and allow for singlehanded movements and 2) carry a rock climbing runner, available cheaply at REI for less than $10
Note that these aren't huge negatives against the Pocket Monkii, just tips for
---
How and Why I Used a Figure 8 Knot to Stabilize the Pocket Monkii During Single Handed Movements for Double the Resistance
The Pocket Monkii comes with an awesome Metolius carabiner as an anchor that's actually strong enough to hold a truck and that I actually recommend using in my own DIY gymnastics rings styled suspension trainer. The problem with the Pocket Monkii's anchor is because the straps slide freely through the anchoring carabiner, you won't be able to do one armed exercise with the Pocket Monkii, unless you make a small, easy modification – tying a figure 8 knot into the Pocket Monkii.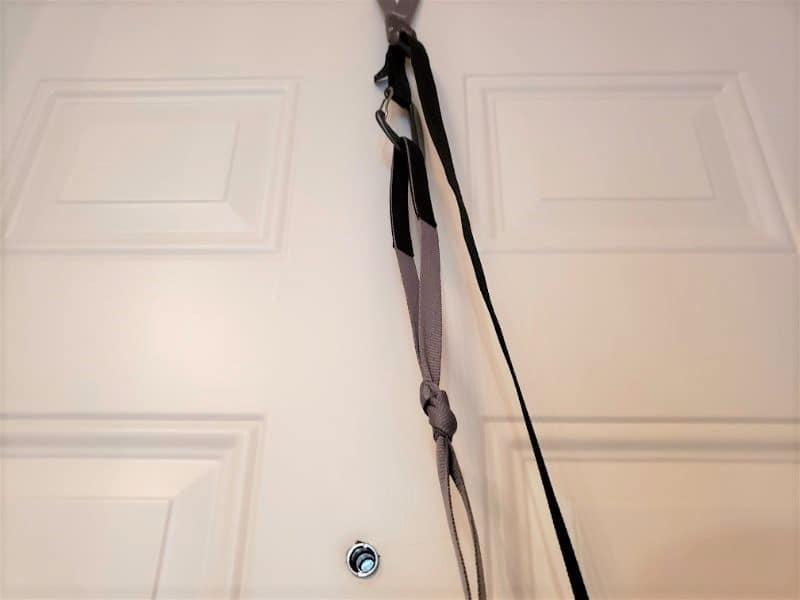 By tying a not in the Pocket Monkii, the straps stay anchored at a single length, allowing you to do all of the movements I normally do – pullups, dips, overhead presses, etc. – singlehanded. Singlehanded movements performed with a suspension trainer create more than double the resistance against the targeted muscle group, compared to double handed movements.
Ultimately, doing singlehanded movements adds up to being able to do movements with enough resistance to overload the muscle group, build strength, and build muscle…all without a gym.
So, not only does the Pocket Monkii keep me adventure ready, it keeps me toned and helps maintain muscle in all of those areas that most guys hit the gym so hard for.
---
How I Used a Rock Climbing Runner to Quickly Setup and Adjust the Pocket Monkii Outdoors
This ability to actually build strength and maintain muscle becomes even better when you can do it nearly anywhere.
The standard door mount included in the Pocket Monkii is actually pretty awesome. Its compact, does little damage to the door, and sets up extremely quickly – like 30 seconds.
Outdoors though, I find another option to be perfect – using a climbing runner.
Climbing runners are essentially loops of strap sewn up to be super strong. Rock climbers keep them outside because of how handy they are for building anchors literally everywhere.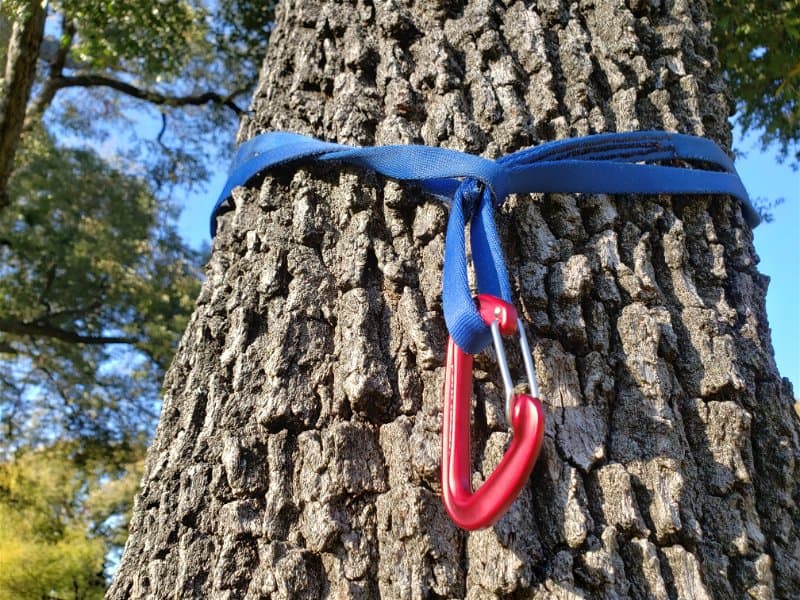 For us, climbing runners give another option for setting up an easily adjustable anchor on any tree or pole quickly.
Luckily, the Monkii team caught on to this cool little trick and sells the Monkii Bars Outdoor Anchor specifically made for the outdoors. If you don't have any climbing runners lying around or aren't handy with sewing, I highly recommend picking up the Monkii Bars Outdoor Anchor.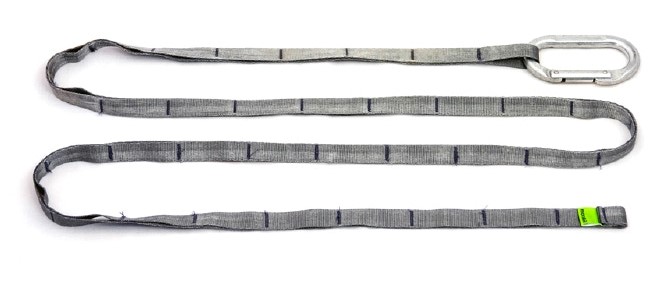 To setup, simply wrap the Monkii Outdoor Anchor, runner or "sewn loop" around a pole or tree a few times, run the end of the loop through itself, clip the Pocket Monkii's carabiner in the end, and you have a trusty anchor. To adjust the height the anchor, just loosen the wraps and slide the anchor up or down
Note that Monkii does offer an outdoor anchor attachment that performs the exact same function very well – I just have tons of extra climbing gear, so I use accordingly
---
Resistance: Nearly Double "Bodyweight Resistance" With Singlehanded Movements Allowed Me To Build Strength and Maintain Muscle on the Road
The beauty of the Pocket Monkii, or any suspension trainer, is how useful it becomes once you get beyond the learning curve of understanding the angles and how to adjust for difficulty.
By moving your feet further away from the anchor, exercise become easier. By moving your feet closer to the anchor, exercises become harder.
Once you've become to strong for difficulty that way, simple switch to doing exercises singlehanded at max resistance. When you hit the point where you can do any suspension trainer exercise singlehandedly on max resistance, let me know and I'll explain what's next.
Bottom Line on Resistance: Once you learn the angles of where to position your angles and feet in order to increase/decrease difficulty and resistance, and understand how to do movements with the Pocket Monkii singlehandedly, you can create enough resistance to challenge nearly anyone's strength and encourage muscle growth.
---
How Easy Was Setup of the Pocket Monkii and Tear Down?
Thanks to Monkii's new, compact door anchor, setting up the Pocket Monkii in doors was quick and brainlessly easy. Simply toss the anchor over a door, close the door, clip in, and you're ready to rock. Make sure that you're setting up the anchor so that it is pulling the door closed, not open, in order to save your door hinges.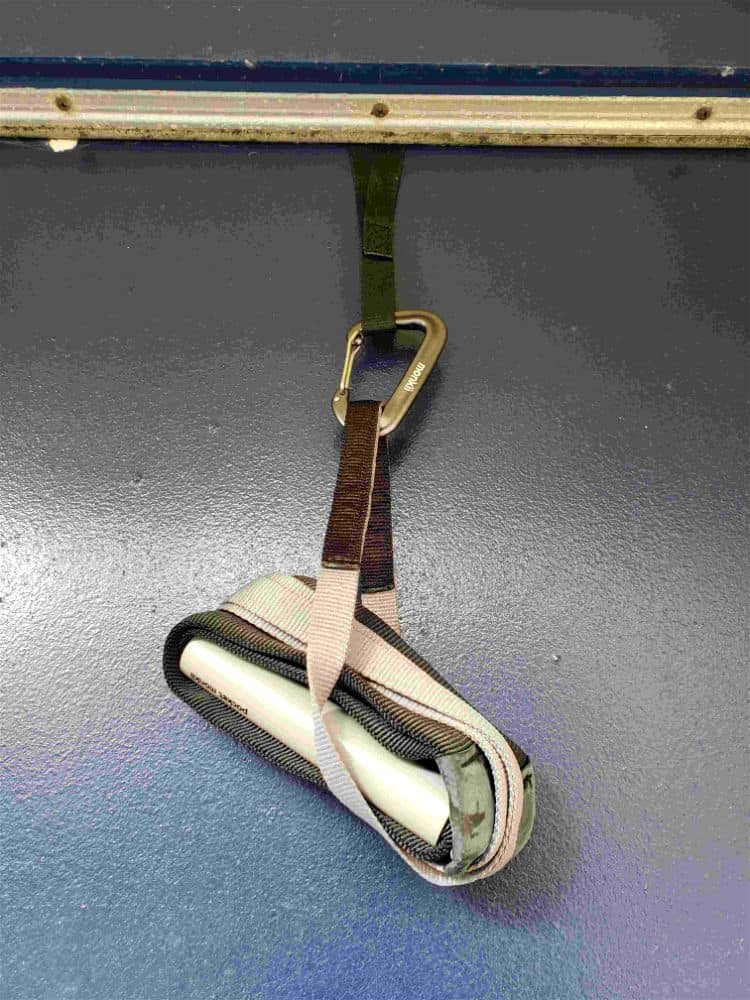 Thanks to my recommendation of using a looped runner as an anchor outdoors, setup and tear down is quick and easy (less than one minute). Additionally, adjusting the height of the anchor, to switch between exercises and difficulty levels, is just as easy.
Between these two options, the included door anchor and the improvised outdoor anchor (climbing runner) setup of the Pocket Monkii (and tear down) was so quick and easy that I would knock out half of my strength workout in two quick ten minute workouts in morning and evening, in about 22 minutes total.
---
Is the Pocket Monkii Actually Good for Workouts Anywhere?
Thanks to easy setup and tear down anywhere, I was able to get my workouts in everywhere, from hotel rooms in Cocoa Beach, Florida, between oak tress in a Dallas, Texas park, and in the living room of my apartment in Bali.
Keep in mind, during this period, I literally traveled around the world, drove thousands of miles, hit multiple cities, and worked out everywhere from AirBnB's, to parks, to rest stops.
On a long drive between Dallas and Atlanta, I even pulled my 4runner over midday at a rest stop, pulled the Pocket Monkii out of my daypack, and anchored the Pocket Monkii to the rack on my 4Runner, and knocked out a quick half of my surf workout.
Thanks to the compact size, I was able to do my surf workout literally anywhere I wanted.
---
The Results of Using the Pocket Monkii for a Month…
After an entire month without surfing, I charged a random Florida swell that came into the Gulf of Mexico delivering some nice, chest high waves…all mine if I had the upper body strength to catch 'em. With the Pocket Monkii as my only workout gear, how'd I fair out?
…amazingly. I felt like I'd been hitting the gym (a Crossfit gym back in Bali) like normal, felt strong on the waves, and definitely feel like the Pocket Monkii is a clutch travel fitness tool.

PROS & CONS OF THE POCKET MONKII
PROS
Lightweight and compact size
Quick, Easy Setup
Quick, Easy Teardown
Makes virtually any upper body movement possible
Eliminates
---
CONS
I recommend an additional tool (cheap climbing runner) for setup outside
Need to tie a "figure 8 knot" in the Pocket Monkii straps to do single handed exercises (for more resistance)

POCKET MONKII SETUP REVIEW: QUICK AND EASY, INDOORS OR OUTDOORS
In my experience, the Pocket Monkii was always quick and easy to setup indoors, much more than the Monkii Bars 2 and the TRX, encouraging me to get in a quick workout if I only had a 15 minute break.
Setting Up the Pocket Monkii Indoors: Quick and Easy
To setup the Pocket Monkii indoors, simply toss the anchor over the doorway, close the door, clip in the carabiner, and get started. Simple as that.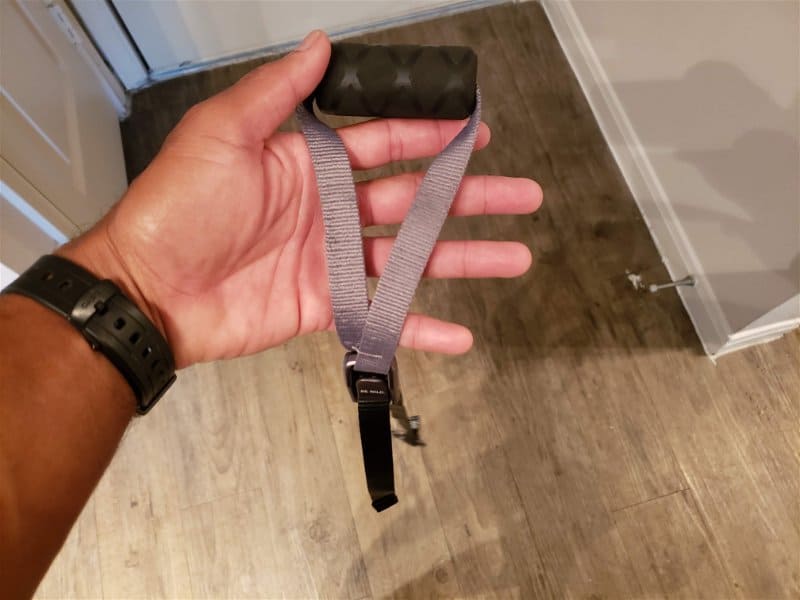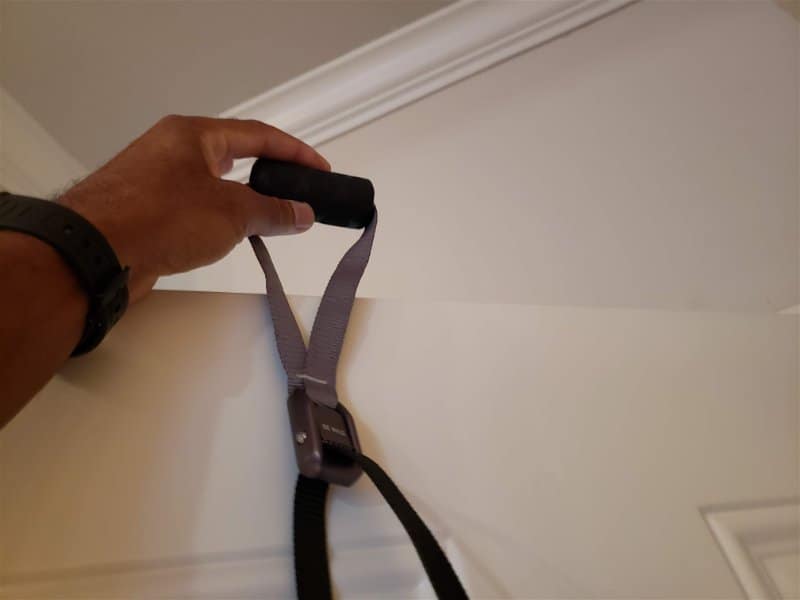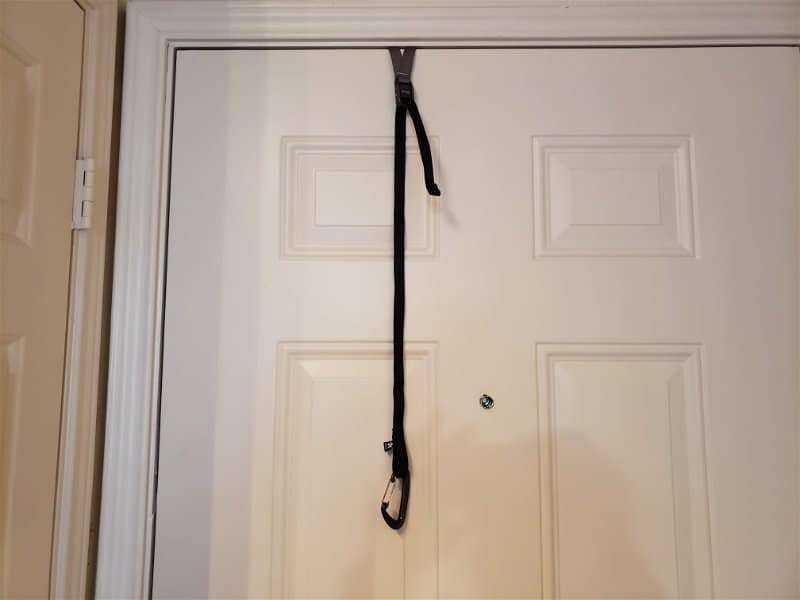 Note: Ensure the Pocket Monkii anchor is pulling the door closed not open, in order to save the door hinges.
---
MY TRICK FOR SETTING UP THE POCKET MONKII ANYWHERE OUTDOORS WITH A SIMPLE & CHEAP PIECE OF ROCK CLIMBING GEAR…
Though you could get by without it, I recommend picking up a climbing runner from REI. The piece of kit is simply a sewn loop of strap that can be wrapped around trees and poles to create and anchor.
To setup your runner as an anchor, simply wrap the runner around a poll or tree a few times, drop one end through the other, clip the Pocket Monkii's anchoring carabiner through the loose end, then pull tight and you're anchored.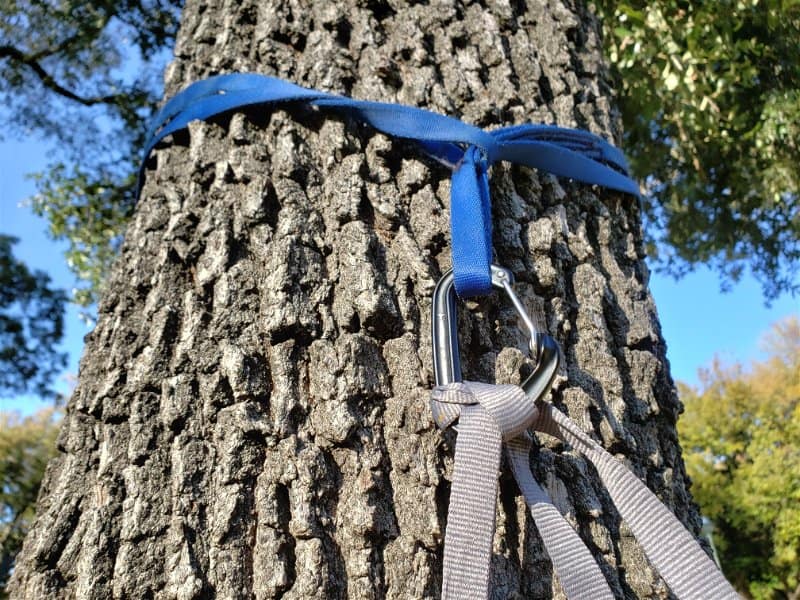 This outdoor anchor option using a climbing runner sets up in less than 1 minute, stays very secure (I use this anchor method when rock climbing), and can be easily loosened to adjust the height of the anchor – for switching exercises and adjusting difficulty.
Bottom line on setting up the Pocket Monkii: Possibly the easiest suspension trainer out there to set up.

FULL DISCLOSURE: WHAT COULD BE BETTER ON THE POCKET MONKII…
The sliding strap makes one-armed movements difficult without grabbing both handles or tying a knot. A sewn loop that could be used to stabilize the straps on the carabiner, or go without, would rock
Purchase Monkii's Outdoor Anchor or a Rock Climbing Runner so you can use the Pocket Monkii at home, in your hotel, or anywhere outside

POCKET MONKII ALTERNATIVES
The Pocket Monkii absolutely wasn't the first suspension trainer created, and its not perfect either. This means that there may be a better suspension trainer for your needs – especially if you don't travel, and don't need to packup your suspension trainer frequently.
The following are the 4 best portable suspension trainer options and best Pocket Monkii alternatives…
---
POCKET MONKII VS. THE MONKII BARS 2
Whereas the Monkii Bars was the originator of "travel ready suspension trainers", the Monkii Bars 2 was a great upgrade for Monkii. A more intuitive and easy to use design in the Monkii Bars 2, a case that doubled as a door anchor, and the use of nylon webbing (instead of paracord) were a few upgrades from the original – but how does the Monkii Bars 2 compare to the Pocket Monkii?
The main differences: the Pocket Monkii is 40% lighter than the Monkii Bars 2, and the Pocket Monkii takes less than 30 seconds to setup and take down, while the Monkii Bars 2 takes 5 to 10 minutes.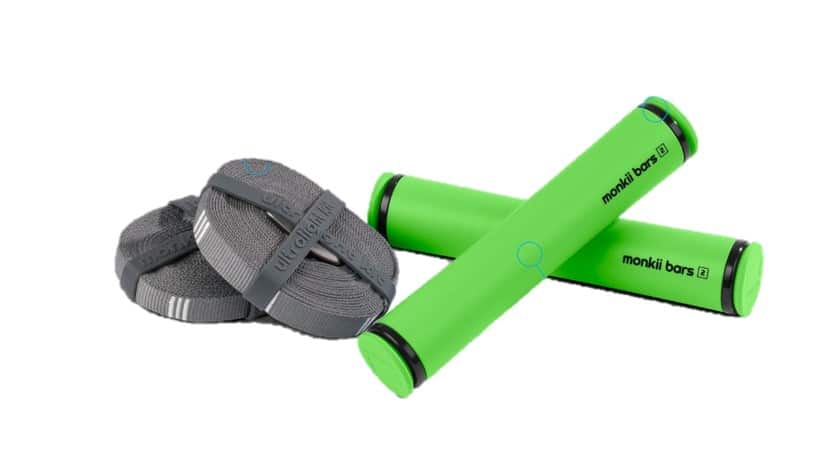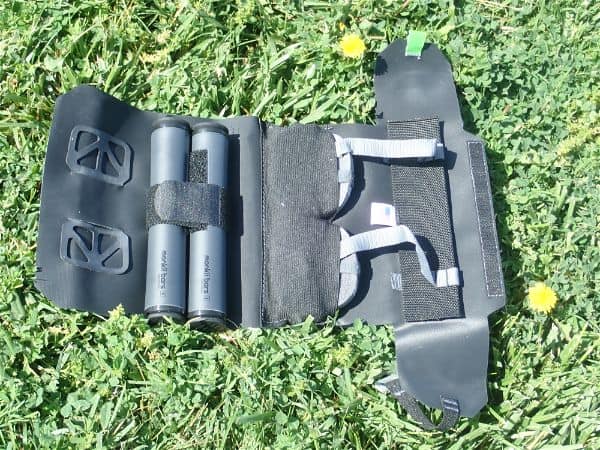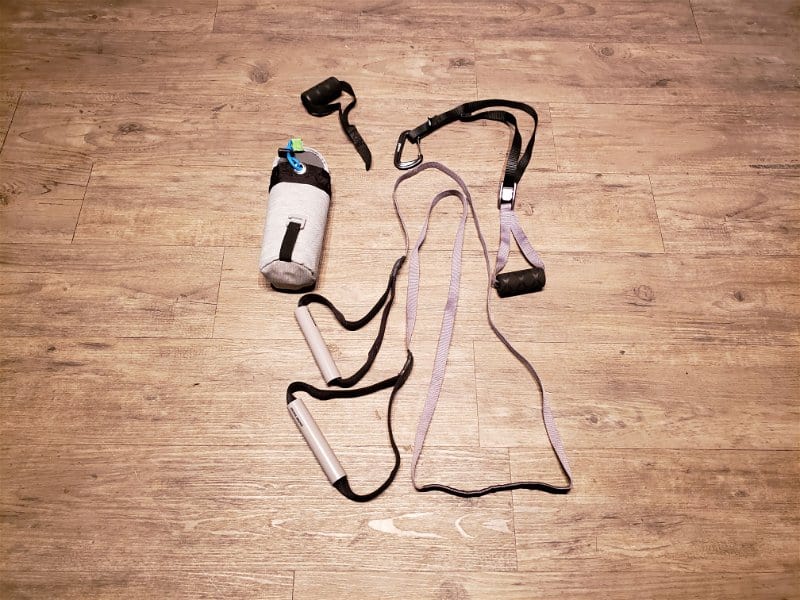 Let's look at the differences of the Pocket Monkii vs. the Monkii Bars 2 to figure this out…
---
ANCHORS ON THE POCKET MONKII AND MONKII BARS 2
The Pocket Monkii includes a perfectly minimalist door anchor that is simply tossed over the door, and a carabiner is hooked through the hanging loop.
The Monkii Bar 2's anchor is cool, but a bit cumbersome and takes a few minutes to setup, hooking the straps and hooks through the Monkii Bar 2's case that doubles as an anchor.
As innovatively designed as the Monkii Bar 2 was, I like the simplicity and ease of the Pocket Monkii's Anchor more.
---
Setup and Tear Down of the Pocket Monkii vs. the Monkii Bars 2
Not only does the Monkii Bar 2's anchor take more time to setup, but the suspension trainer itself takes more time to set up. In my experience, the Pocket Monkii takes less than 30 seconds to setup, indoors or outdoors. The Monkii Bars 2 takes about 5 minutes (on the quick side) to 10 or 12 minutes on average (if you're feeling sluggish)
As for packing up, the Pocket Monkii is quick to pack up – definitely less than one minute.
The Monkii Bars 2 on the other hand takes 10 to 15 minutes to pack correctly. Of course, you could throw into your bag as a matted mess, but it'll take up more space. To pack the Monkii Bars 2 down to its original size you have to meticulously roll the straps so they'll fit in their original package – which can be a workout on its own and is what takes the most time.
In terms of setup, the Pocket Monkii is much easier. Pair it with the cheap & easy climbing runner strap mentioned above and it will setup easily indoors or outdoors.
——————————
SIZE AND WEIGHT OF THE MONKII BARS 2 AND POCKET MONKII WEIGHT
The Pocket Monkii is called the Pocket Monkii for good reason. Though the Monkii Bars 2 setup was remarkably small compared to the TRX, the Pocket Monkii is truly minimalist. In terms of size, it actually does fit into your Pocket. The Minimalist design of the Pocket Monkii eliminates the excess straps and cuts a lot of weight.
Though the Monkii Bars 2 was compact "for a suspension trainer", it could get difficult justifying it for travel if you didn't work out about twice per week, and if you traveled with only a carry on.
At 40% smaller than the Monkii Bars 2, you won't even notice the Pocket Monkii is in your bag, regardless how small your bag is.
Monkii Bars 2 Size and Weight: 1 lb 9 oz.
Pocket Monkii Weight and Size: 10 oz., 7"x3"x2.5"
---
FUNCTION & PERFORMANCE OF THE POCKET MONKII VS. THE MONKII BARS 2:
In function, both the Pocket Monkii and the Monkii Bars 2 perform well as suspension trainers. The Pocket Monkii's single adjustable clasp built into the anchor makes adjusting strap lengths a bit simpler, but the Monkii Bar 2's longer straps give a few more options. Ultimately though, I'd still choose the Pocket Monkii for its simplicity over the extra function of the Monkii Bars 2.
Just don't forget that handy climbing runner, for additional anchoring options and to extend the length of the straps, for more exercise options.
WHICH DO I RECOMMEND…THE POCKET MONKII OR THE MONKII BARS 2?
Ultimately, between the Pocket Monkii and the Monkii Bars 2, I recommend the Pocket Monkii for travelers. The Pocket Monkii is simpler and smaller, delivering just as much function as the Monkii Bars 2. Just don't forget to buy a climbing runner.
---
POCKET MONKII VS. THE TRX
The Pocket Monkii is a great little suspension trainer, but the TRX is the original suspension trainer, used widely by gyms and military personnel, and actually created by a Navy Seal. As such, considering the Pocket Monkii vs. the TRX is reasonable. Both the TRX and the Pocket Monkii are great, but each is suited to different needs and different people
Why Get the TRX over the Pocket Monkii?
The TRX is a beefy, heavy duty suspension trainer – and that is the main reason to get it. Gyms with a lot of traffic, and military personnel exercising in combat zones often opt for the TRX. With military grade webbing and heavy duty buckles, it'll stand up to abuse and time.
The problem with the TRX is size and weight. If you're pressed for space (like when traveling with only a carry on) or weight (like flying on budget airlines) the TRX will eat into that precious baggage space. I few years ago, before the Monkii team went mainstream, I took TRX with me to Thailand, for workout out on the beach between coconuts. I ended up giving it away at an airport, because it put my bag over Air Asia's weight and size limit.
On the other hand, the TRX is perfect for garage gyms in which you plan to set it up and forget it.
---
Why Get the Pocket Monkii Instead of the TRX
On the other end of the spectrum, the Pocket Monkii is light and easy where the TRX tips the scales and consumes weight.
With the Pocket Monkii, you still get the same suspension trainer function, just in a lighter package small enough to fit if your backpack – and that's including the door anchor. Add a climbing runner and you can wrap an improvised anchor around a pole.
Whereas the TRX is built military tough, the Pocket Monkii is built "climbing tough". The materials are a bit lighter, but they're still solid enough to handle throwing bodyweight around on it. So, though the TRX may be a bit tougher, there's no reason to discount the Pocket Monkii
---
The final word on the Pocket Monkii vs. TRX:
If you're a traveler and plan to use the suspension trainer on the road, or want a portable suspension trainer to be used in daily life – get the Pocket Monkii, not the TRX
If you want a suspension trainer to setup in your garage gym and forget for eternity, opt for the TRX over the Pocket Monkii
Click here to check out the best TRX for Travel
Or
Click here to see prices for the Pocket Monkii

THE MONKII ISO-CORE
The Monkii Iso-Core is a sleeper alternative to the Pocket Monkii…because it isn't a suspension trainer.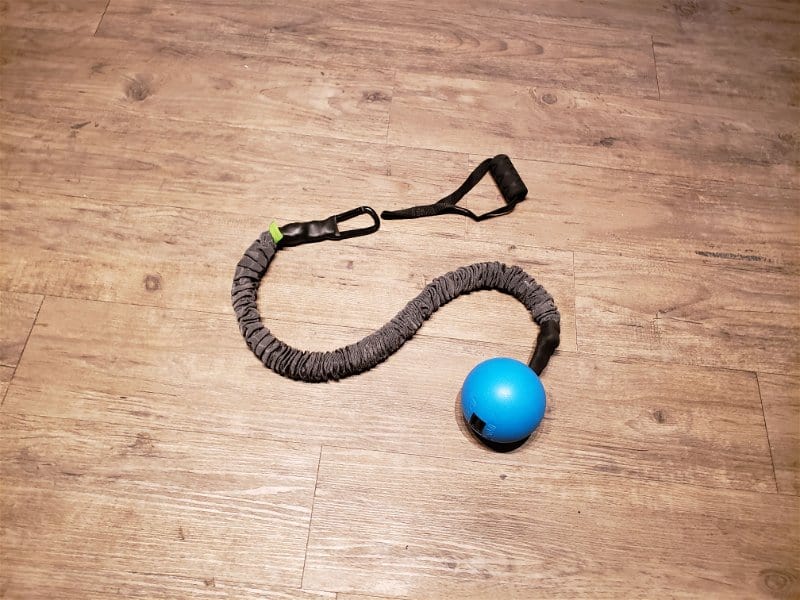 Pocket Monkii Review (43)
The Monkii Iso-Core is actually a rubber banded training system, made of a ball and rubber band that anchors to a single point and is pulled. As simple as this sounds, the options are limitless for upper body workouts.
With the Monkey Iso-Core, you can not only create killer core workouts, but can also mimic all of the movements possible with a suspension trainer. Though that ball at the end weighs a bit more than the Pocket Monkii the insanely quick setup and break down using the same door anchor as the Pocket Monkii or the (or a climbing runner when outdoors) makes this a pretty awesome piece of kit.
I recommend checking out the Iso-Core as a simple alternative to the Pocket Monkii that's quicker to setup, adjust, takedown, and use. Getting both is a great option for mixing up your travel workouts and simplifying core blasting workouts too.
Click here to learn more about the Monkii Iso-Core**

DIY POCKET MONKII BARS
For those on a budget, the Pocket Monkii might not be a fit right now. I still highly recommend getting your hands on a suspension trainer, even if you have to make one. A DIY Pocket Monkii is an excellent option.
Monkii believes the same thing. Click here to see Monkii's ideas for how to make a DIY Pocket Monkii or ultra-portable suspension trainer.
However, after years of stitching my own gear, my favorite DIY suspension trainer is my packable gymnastics rings.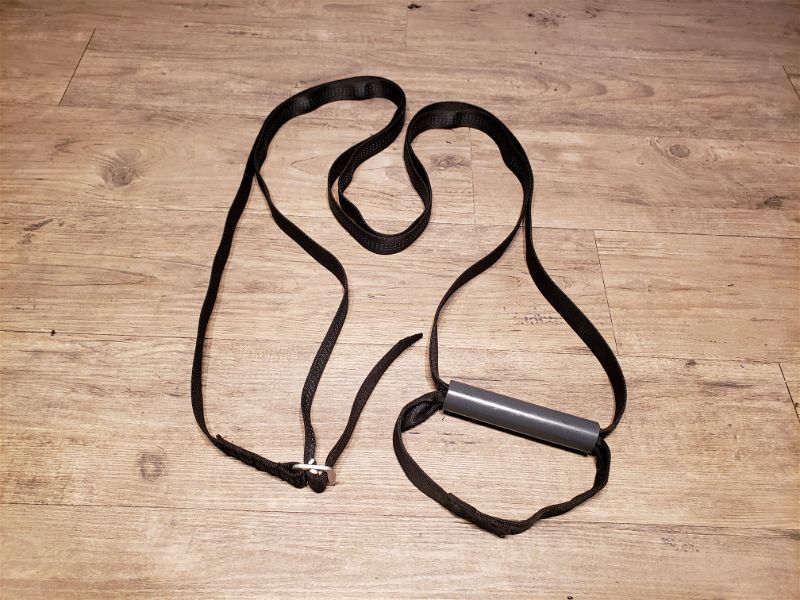 Built like gymnastics rings, this homemade suspension trainer wraps up to about the size of the Monkii Bars 2, and can setup anywhere indoors or outdoors thanks to the handy climbing runner that you can buy cheaply or make (like I do).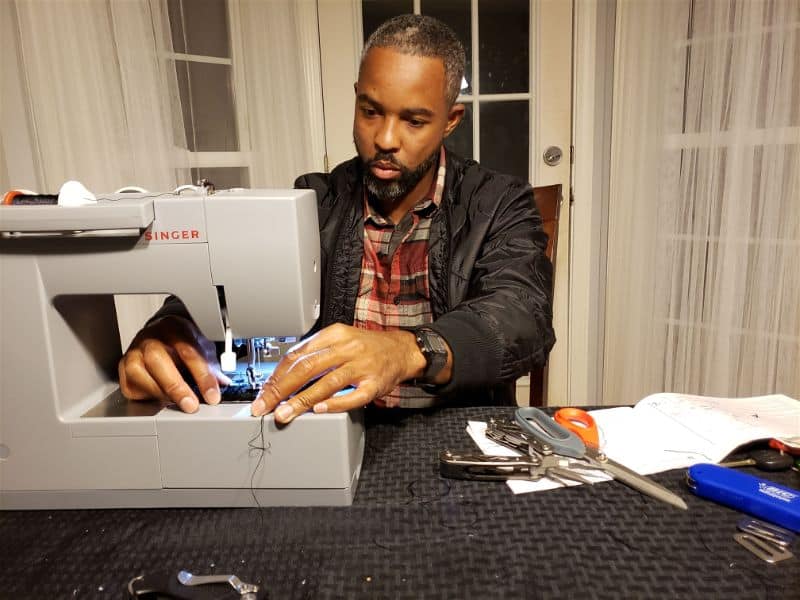 Click here to see full instructions on how I make my own gymnastics rings for travel

ESSENTIAL POCKET MONKII EXERCISES
WHAT THEY ARE + HOW TO DO THEM
I rave about minimalist suspension trainers like the Pocket Monkii, because once you understand how to do the basic Pocket Monkii exercises and general upper body movements with a suspension trainer, and adjust the difficulty, you'll never need a gym again. Plus, you'll have the option of lifelong fitness no matter where you're at.
The following are the 8 upper body movements that are essential to a balanced fitness routine. Put some time into understanding how to perform these movements with a suspension trainer and you'll take your own fitness to the next level
Essential Suspension Training Exercises
Pull Ups
Dips
Single Arm Push Up
Row
Overhead Press
High Pull
Tricep Extensions: Overhead and Downward
Bicep Curls: Horizontal and Overhead
Or check out this video for a quick tutorial of the movements I recommend (and my own, favorite suspension training workout)
For more details on to perform these movements on a suspension trainer, checkout The 8 Essential Suspension Trainer Exercises for Upper Body**

HOW TO BUILD THE ULTIMATE TRAVEL WORKOUT KIT
AN UPPER BODY + LOWER BODY GYM COMPACT ENOUGH FOR TRAVEL
---
To get the most out of your Pocket Monkii, and the best workouts possible while traveling, I recommend adding a tool for lower body strength, and a couple tools for setting up the Pocket Monkii anywhere – on a tree, on a pole or elsewh
RECOMMENDED GEAR FOR THE ULTIMATE PORTABLE GYM KIT
ALSO CONSIDER
The Pocket Monkii Iso-Core: A compact & portable alternative to the Pocket Monkii for upper body resistance exercises
Portable Sandbells: These "portable kettlebells" double as waterproof bags and can be filled with sand to create 20lb "sandbells", perfect for kettlebell workouts**

VERDICT FROM THIS POCKET MONKII REVIEW
The Pocket Monkii is a great piece of workout gear if you have a little imagination. If you're a traveler, someone adventures outdoors and stays on the road, or you just don't like to work out in the same place all the time, the Pocket Monkii is likely for you.
If a good upper body strength or toning workout in a hotel room, park, or anywhere else is what you're ultimately after, in a package small enough to fit in your backpack, the Pocket Monkii is where its at. I highly recommend it.
Click here to see the latest deals for the Pocket Monkii

WHAT ARE OTHERS SAYING ABOUT THE POCKET MONKII
Lots of praise…
"Possibly the best piece of portable fitness equipment ever made"
"…basically a TRX you can set up in 5 seconds"
"…instant hotel gym that doesn't suck…"
"A total body workout wherever you are"
"…a brilliantly designed mobile workout device that fits in the palm of your hand.."
"World's most portable fitness device
---
…and a few complaints…
"250lb limit is a downside for the heavy crowd"

POCKET MONKII FAQs
---
What about lower body strength? How do I recreate deadlifts and squats when traveling?
The Pocket Monkii is amazing, but you won't be able to recreate high resistance for lower body movements, the way you will for upper body. I still recommend getting the Pocket Monkii, I just recommend getting a few extra tools (or incorporating a few extra techniques) to build lower body strength
Lower Body Strength Exercises Without Equipment:
Single legged squats (pistols)
Lunges
Lower Body Strength Tools for Travelers
Lower Body Strength Exercise to Do Without Equipment
Single legged squats (pistols)
Lunges
Recommended Exercises Equipment for Lower Body Fitness while Traveling
Resistance Bands with Handles
Sandbells
The GORUCK Rucker – Backpack for improvised Weighted Workouts
---
A simple pair of high resistance bands with a makeshift handle made of a carabiner are the best option for lower body strength workouts while traveling. With these you can recreate the deadlift and squat movement with resistance comparable to 270lbs.
I recommend reading this tutorial for making resistance bands with handles to discover how I made the pair I've used for deadlifts while traveling for over 2 years now.
I recommend Rogue Fitness Shorty Monster Bands and these carabiners** available at REI.
---
Sand bells are functionally the same as kettlebells except they are durable bags (similar to dry bags) which you carry empty and fill with sand when you're ready for a workout.
These sandbells open up the possibility of kettlebells swings (for glutes and legs), Turkish get-ups, and weighted single leg squats to easily recreate the equivalent of a 210lb squat (depending on your bodyweight).
I carry two of these sand bells when I travel. Each carries ~20lbs of sand, so filling both gives me either 20lbs kettlebells or I can thrown them in my GORUCK Rucker, put the backpack on my back, and do single legged squats with higher
---
GORUCK Rucker backpack for weight workouts
The GORUCK Rucker is a tough as nails backpack designed for holding heavy weight (400lbs+) for rucking or weighted workouts. As it is fitted with heavy duty handles on all sides, this bag can be used to hold a couple portable sand bells (see above) filled with sand and then used for kettlebell exercises, swings, presses, front squats, single legged squats, and the list goes on
Bottom Line: Pick any of the above options (or all) paired with the Pocket Monkii for the perfect travel workout system, no gym necessary.

FULL POCKET MONKII SPECS & FEATURES
Size: 7″x 3″x2.5″
Weight: 10oz
Max Weight: 250lbs
Features:

Monkii App Included: Provides plenty of custom workouts, 300+ exercises and 21 day program

Bonus: My Favorite Monkii Workout
The Only Monkii Bars Workout You'll Ever Need
---
OPTION 1: LOW INTENSITY
Start at 3 sets of 10-25 movements of each exercise. For strength and muscle, do 10-12 repetitions in each . For endurance and toning, do 15-25 in each set
Pull Up
Pull Up to Dip Transition
Dip
High Pull
Tricep Extensions
Overhead Bicep Curls
V-Up hold for 3 minutes OR Plank for 3 minutes
---
OPTION 2: HIGH INTENSITY
Start at 3 sets of 6-12 repetitions. Once you can achieve 12 repetitions in every set, add a set
Muscle Up (Adapted to suspension trainer)
High Pull and Press (Adapted for Suspension Trainer)
Single Arm Row
One Arm Push Up
Tricep Extensions
Overhead Bicep Curls
V-Up hold for 3 minutes OR Plank for 3 minutes