If you're on the hunt for a durable stuff sack to use for expandable (and collapsible) external storage, look no further than the 18 liter GORUCK Compression Tough Bag. This Cordura stuff sack has been strapped to the bottom of my backpack for the last 6 months of travel holding everything from dirty shoes to kitchen utensils and groceries, and it's still like new and doing its job. (This is a GORUCK Compression Tough Bag Review for travelers and trekkers.)
GORUCK Compression Tough Bag Review: A stuff sack and compression bag that will last a lifetime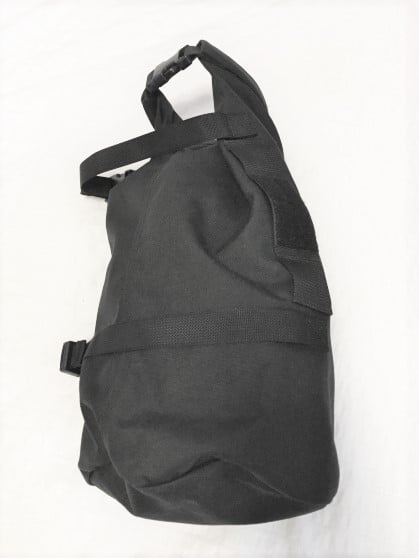 CLICK HERE TO VISIT GORUCK ONLINE AND SEE MORE ON THE TOUGH BAG
---
Though the bag is named a "compression" tough bag, the design (horizontal compression straps) is geared more toward strapping to a bottom of a backpack than compressing what's inside the sac. Nevertheless, if you're looking for a durable stuff sack to stash gear, sleeping bags, shoes, and dirty clothes and strap to the bottom of your backpack you'll be hard pressed to find a tougher or better option than GORUCK's "Compression" Tough Bag.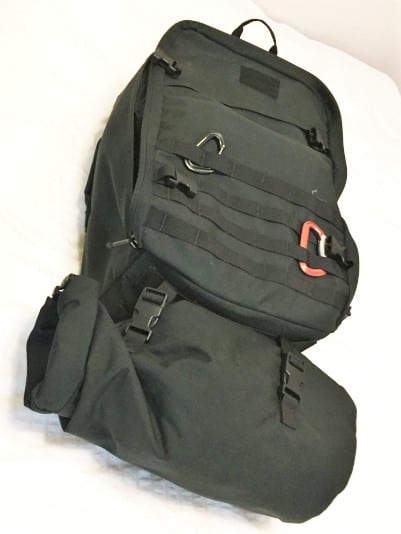 Where most stuff sacks and compression bags for travel last a few months before picking up holes and popped threads, the GORUCK tough bag is a "tactical tote" is built of 1000 denier Cordura nylon to withstand lots of abrasion and weight. This means the GORUCK Tough Bag be very much at home strapped to the bottom of your bag with no issues. I've gone through plenty of outdoor bags, stuff sacks, and compression bags (at least 10), and the lifespan is usually 3-4 months of heavy use.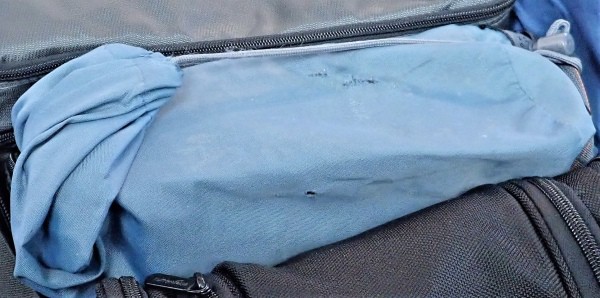 With the Tough Compression Bag, I'm in month 6 of travel with it and it's still going strong with no end in sight. In the next version of their tough bag, I hope GORUCK includes vertical compression straps to make it a true tough "compression" bag. Until then, I still recommend the tough compression bag for use as a stuff sack, for stowing sleeping bags and additional gear, as it is definitely the most durable stuff sack on the market.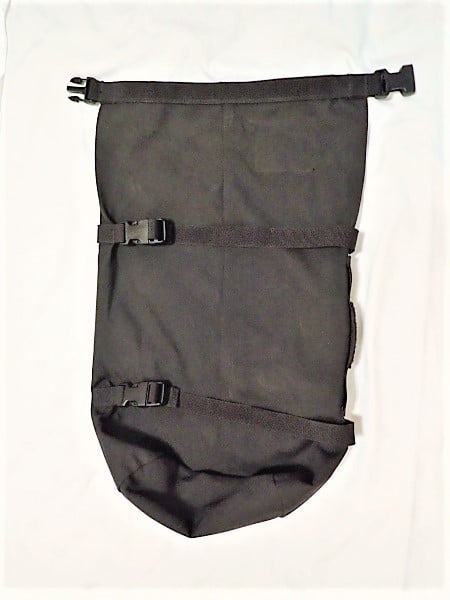 Best Uses of the GORUCK Tough Compression Bag
Expandable storage between flights for one-bag travelers and carryon only travelers
Separate storage for carrying dirty shoes, clothes and gear picked up along the travels
Sleeping bag compression stuff sack that straps to the bottom of a backpack on long treks
Detachable tote for "off days"
What the GORUCK Compression Tough Sack is best for: additional storage between flights
One-bag and carryon only travelers on longer trips will find the Tough Bag useful for extra, expandable storage between plane flights
Travelers, crossing between urban and outdoors, will also also find the Tough Bag useful for extra storage for food, sleeping bags, and gear while trekking and collapsing the bag after returning to the cities.
Pros of the GORUCK Compression Tough Sack
Tough as hell. Seriously: 1000D Cordura Nylon and mil-spec buckles and webbing making this bag nearly bullet proof. This is the major selling point of the GORUCK tough bag as this is the only 1000D Cordura stuff sack I've found on the market…making it clearly tougher than any of the other compression bag available
Compression straps attach the GORUCK tough bag easily to the bottom of a backpack that has MOLLE webbing, serving the dual purpose of compression contents and strapping the bag to a backpack as expandable storage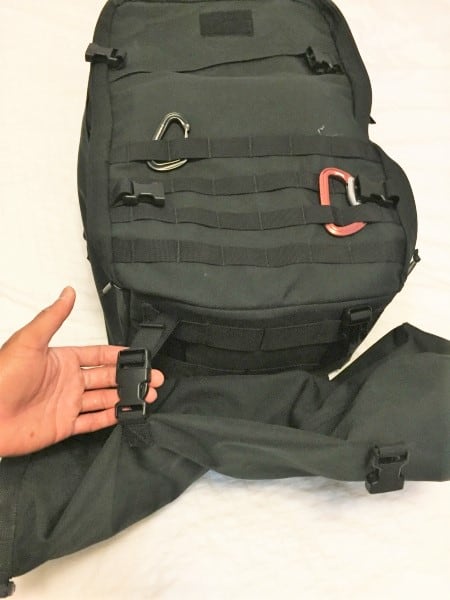 Cons of the GORUCK Compression Tough Sack
Price: At $90 this is a shocker to some, but it is absolutely worth the price. You get much more than you pay for in this case
Vertical compression straps would be great to create a true compression bag. The current version's horizontal compression straps make sense for compressing a load strapped to the bottom of a pack but when the GORUCK tough bag is used alone, vertical compression straps would be great for saving additional space and packing the sack internally
Verdict on this GORUCK Compression Tough Bag Review
The GORUCK Compression Tough Bag is best stuff sack I've found, as the durability is unmatched. The horizontal compression straps improve functionality, making the bag easily attachable to other bags, but vertical compression would add good functionality. The idea of 18L of additional storage with the option to collapse it and meet carryon limits has absolutely been useful in my 6 months of use and would be useful for many travelers. If you're one of those travelers whose storage needs fluctuate throughout their adventure (like mine) take a look at the GORUCK Tough Compression Bag.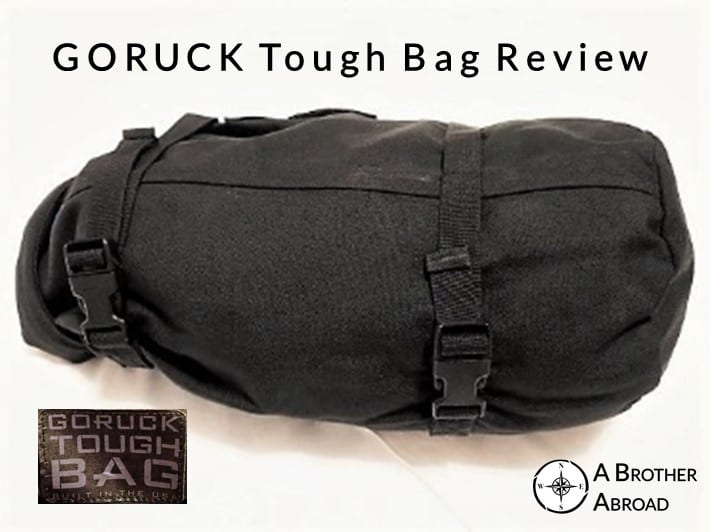 OR

6 Months of Traveling with the GORUCK Compression Tough Sack
I picked up the GORUCK Compression Tough bag just before my current backpacking trip (6 months and counting, currently in Alabania). In the past, I've always had a stuff sack or compression bag to store hiking boots, dirty clothes, and anything else by strapping the filled stuff sack to the bottom of my backpack. The major problem with most stuff sacks and compression bags is most options aren't durable enough to handle being strapped to the bottom of a backpack for long travels.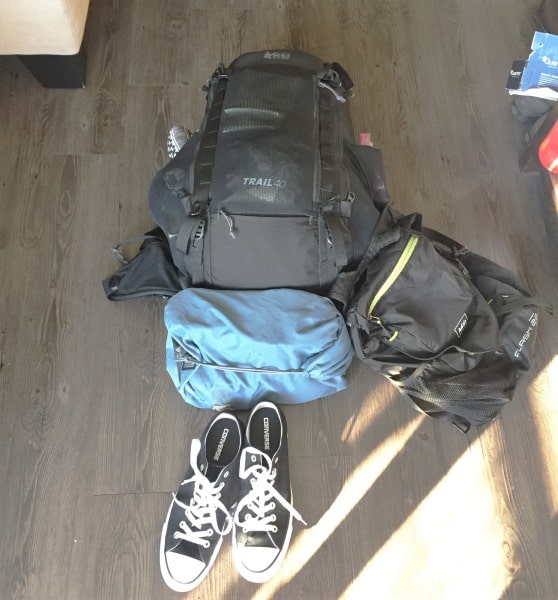 Just from normal airline travel and setting my backpack (with stuff sack on bottom) on dirt and concrete, I've abraded holes into and had to throwaway several normal stuff sacks and outdoor bags. Additionally, tying drawstring stuff sack bags to the bottom of a backpack and then checking is risky. If a knot comes untied while the airline is tossing my bag around, I'll likely lose my boots or whatever else is stored below.
Given my ongoing gear abuse dilemma, a durably constructed 1000D Cordura stuff sack designed to clip to the bottom of my backpack is just what this brother (would have) ordered.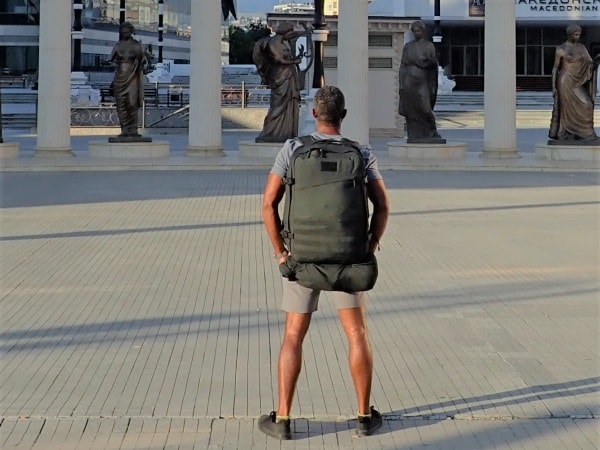 I picked up the GORUCK Compression Tough Bag just before this trip and for the last 6 months I have been using it like I normally use a regular nylon stuff sack, to store shoes, dirty clothes, and odd gear strapped to the bottom of my bag between flights. Since then, the stuff sack has performed very well and looks great despite the bumping, scraping, and dragging that any bag experiences during travel.
The stuff sack easily clips on and off my GORUCK GR3 backpack between uses. During airline travel, I empty the GORUCK tough bag (repacking everything back into my main backpack) to meet carryon restrictions, but leave it strapped to my bag and I have not had any issues yet. Nothing has loosened up or unclipped in 6 months of travel.
The GORUCK Tough Compression Bag is a versatile storage option that let's you meet airline carryon restrictions when not in use
My current bag, the 45L GORUCK GR3 is more than enough to store all of my main travel gear, so the Tough Compression bag comes in handiest between flights. In the times between flights, if I'm moving slower or taking a rest from fast paced travel, I'll pick up temporary gear – maybe reef shoes and googles, a bottle of great local homemade Rakija/Grappa or wine to share at the next location, or fresh food and veggies from a pop up farmers market I'll find on my travels. Having that extra expandable storage gives me an easy way to store my new goods while traveling between cities. Once it's time to fly again, I give away the gear and food I'm not keeping, collapse the tough bag, and go back to meeting airline carryon restrictions. Simple as that.
And if necessary, I can use the bag as a tote or improvised ice cooler, putting in beach and pouring ice on top for a day at the beach. At the end of the day it rinses out and dries out easily.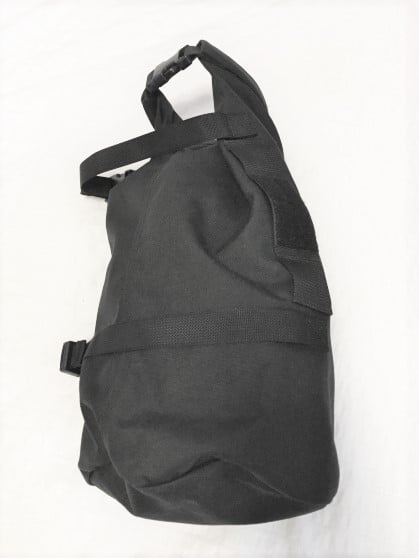 Functionality and Design Review of the GORUCK Compression Tough Sack
1000D Cordura Nylon material is the primary cloth in this polyurethane coated Cordura stuff bag making the sack abrasion and water resistant. After 6 months strapped to the bottom of my bag still shows very very little wear.
Mil-spec buckles stay secure and have never once have come unsnapped, so no worries about losing the Tough Sack if I check baggage.
Heavy duty nylon stitching with high tensile strength thread is standard high quality GORUCK construction and convince me this bag will outlast any other stuff sacks out there
Using the GORUCK Compression Bags for Travel
GORUCK's compression bag is the perfect option for travelers moving with only a carry on to add temporary additional space to their backpack while still making carry on restrictions when its time to fly. The major feature that suits the GORUCK compression bags for travel is the horizontal compression straps that clip, allowing you to easily clip the stuff sack onto the outside of your current backpack, making your extra gear easier to carry than hauling a day pack or compressible duffle (filled with your temporary gear) in addition to your main backpack.
The durable materials and construction make this Cordura stuff sack much more suited to such use than any of REI's nylon stuff sacks or the Sea to Summit stuff sacks I've tried in the past.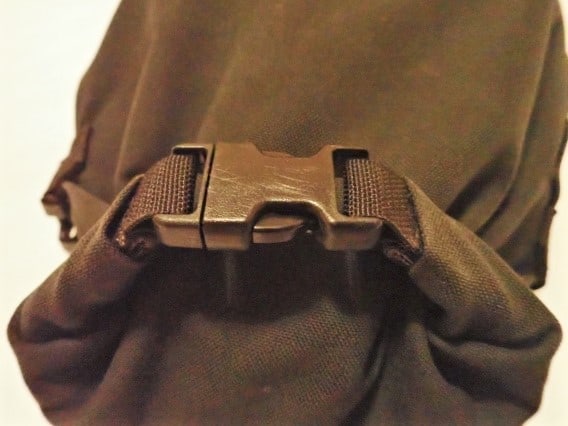 Durability of the GORUCK Compression Tough Bag
After 6 months strapped to the bottom of my GORUCK GR3 Travel Ruck, the Tough Bag shows little sign of wear. Additionally, the GORUCK Compression Tough Bag is backed by the GORUCK SCARS Guarantee meaning they'll fix or replace it for life…but for most users, I doubt that will be necessary.
How to Use the Compression Tough Bag
For GORUCK GR3 users: attaches to the MOLLE webbing on the bottom of the pack GORUCK GR3
For travelers, backpackers, and hikers: Easily strap the compression bag into the sleeping mat/tent straps on the bottom of the backpack you already own
Ideas for the Next Version of the GORUCK Compression Tough bag
On the off chance that the GORUCK team catches this review, if you could squeeze in the following upgrades to the next version of the GORUCK Compression Tough Bag, that'd be greeeeeeeeat… (do yourself a favor and think of the movie Office Space when you read that last part).
Vertical compression straps to make this bag a true compression bag
Mounts or clips to attach a shoulder strap, giving the user the option of using the Compression Tough Bag as a tote style daypack, similar to the 5L to 20L drybags that can double as shoulder bags on adventures

Specs of the GORUCK Compression Tough bag
What is the GORUCK Tough Compression Bag? The most durable stuff sack I've ever seen, big enough to hold a sleeping bag or dirty gear, and designed to strap to the bottom of your bag. Expandable storage that disappears when you need to meet carryon restrictions.
Price: $90 on GORUCK.com
Value Assessment: Given the durability and the lifetime warranty, I find this bag to be an excellent value. The pack costs 6x as much as REIs stuff sacks, but has lasted unscathed twice the lifetime of other stuff sacks. $90 does seem steep, but if you travel like I do (functionality), then the functionality is ABSOLUTELY worth the price. If it lasts 18 months, this piece of gear will have paid for itself. I'll update in 12 months.
Warranty: Lifetime warranty through GORUCK – "GORUCK SCARS Lifetime Guarantee"
Size: 19.5″L x 13″W x 13″H inches / 49.5cm x 33cm x 33cm
Capacity: 18L / 1,098 Cubic Inches
Weight: .75 lbs / .35kg
Design: Roll top and clip opening design stays more secure over drawstring stuff sacks
Materials: 1000D Cordura Nylon (abrasion resistant and water resistant), Mil-spec straps and buckles
Verdict on the GORUCK Tough Compression Bag Review:
A stuff sack and compression sack with unmatched durability that is great expandable/external storage space with any backpack. Highly recommended for long term travelers staying under carryon limits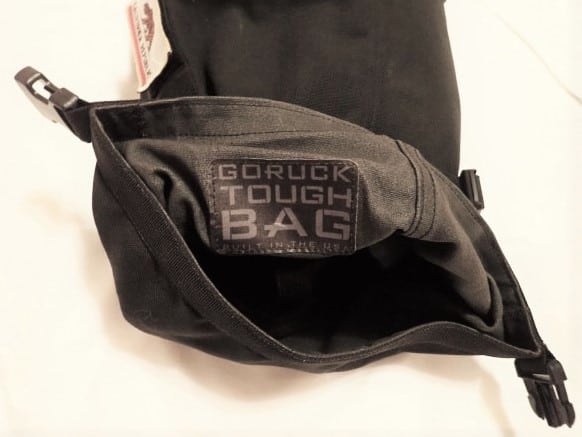 Checkout the GORUCK Tough Compression Bag on GORUCK.com

Great Related Content
---
Disclaimer: I earn some spare change from some of the links in this post, which goes to fund more "research" (aka travel)For some of the backpack links (not all) I do receive a small bit of compensation. Profits go towards continuing to build this site and financing the stories and "research" that make it up the content. If you find this useful and want to show some love, buy through a link here, leave some comment love, or share with someone that may find it useful. My goal isn't getting rich, it's sharing the knowledge I wish I had earlier. Every product recommended here I would absolutely purchase with my own money or have purchased in the past. If you have any questions, feel free to email me at [email protected]
---
Disclaimer: I earn some spare change from some of the links in this post, which goes to fund more "research" (aka travel)
For some of the backpack links (not all) I do receive a small bit of compensation. Profits go towards continuing to build this site and financing the stories and "research" that make it up the content. If you find this useful and want to show some love, buy through a link here, leave some comment love, or share with someone that may find it useful. My goal isn't getting rich, it's sharing the knowledge I wish I had earlier. Every product recommended here I would absolutely purchase with my own money or have purchased in the past. If you have any questions, feel free to email me at [email protected]