Rucking is one of the simplest, most effective options for fitness building strength and cardio ability at the same time. All you need is the right backpack and the right rucking weights.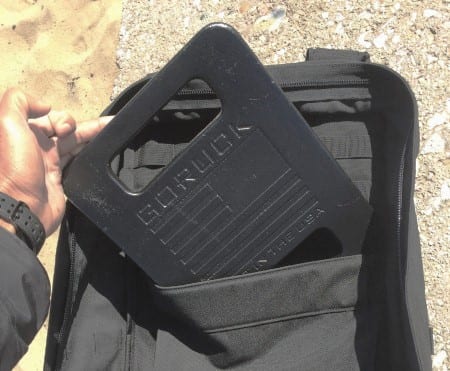 With all of the options – ruck plates, sandbags, and plenty of cheap DIY options – when starting out rucking, it can be a little confusing figuring out which weights are best to the throw in your pack to get started.
To get you started off on the right foot, I've put together this list of 9 options for rucking weights, to buy, to make, or to just improvise with. I guarantee one of these options will be perfect for getting you on your way to your rucking goals.

---
CONTENT OF THIS GUIDE TO RUCK WEIGHT OPTIONS

The 9 Best Rucking Weights Options
---
Ruck plates, square, metal weight plates, are the easiest and best solution for rucking. Designed to fit well into special weight pockets on backpacks such as the GORUCK GR1 and GR2, ruck plates make loading, unloading, and securing your weight a cinch.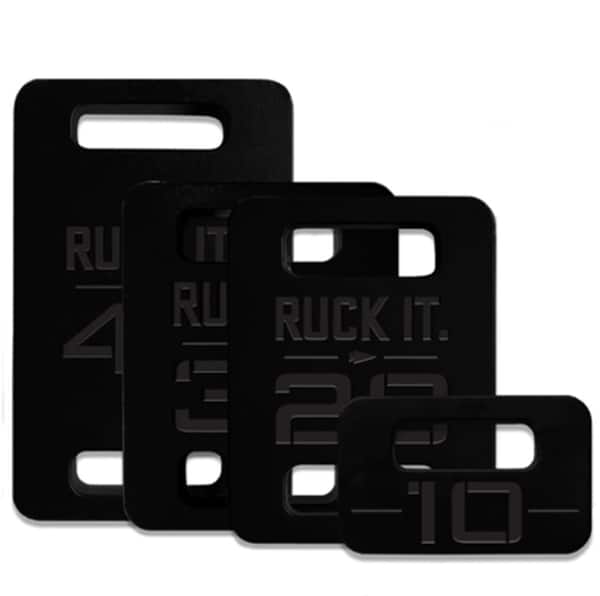 ---
The turnoff for some may be price, running at about 1.5 to 2x the price of normal weight plates, but if you ruck and do weighted workouts enough you'll get more than your money's worth of value in return.
I picked up a few of GORUCK's ruck plates not only for rucking but weighted backpack workouts with the GR3 rucksack. I actually spent more at Venice's new muscle beach doing weighted calisthenics (pull ups, dips, rows and inverted rows). The money I saved in gym fees for one month paid for the plates and then some. If rucking and weighted exercises will completely replace your gym, I highly recommend investing in ruck plates.
Another great option are the Titan Ruck Plates on Amazon that provide all of the function but with a much lower price tag and free Amazon Prime shipping.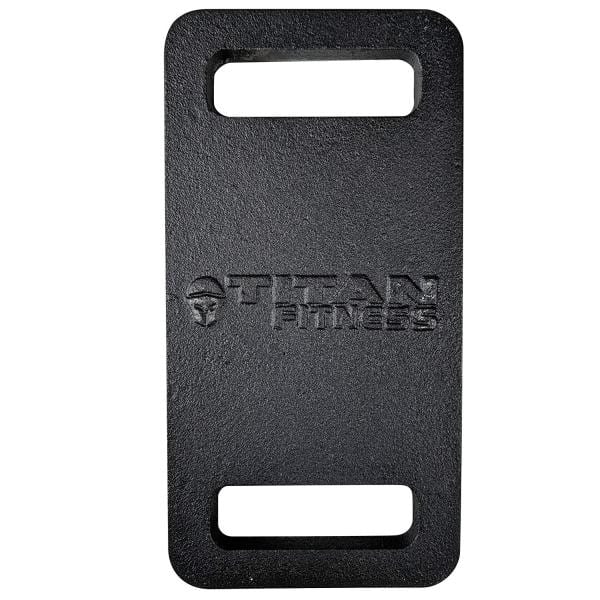 Where to get ruck plates:
---
2. Ruck Pill / Taped Sandag
The most cost efficient option, which works amazingly well, is to take a sandbag (or any bag), fill it with sand, and duct tape it…over, and over, and over. The result is a secure yet not completely hard weight that works perfectly.
The beauty of the "ruck pill" is its cost efficiency, allowing you to make multiple for less than $5.
Back in the Marines, we made these for weight to use during "sandbag physical training", which was essentially running, calisthenics, and other exercises with an improvised medicine ball – the ruck pill.
How to make a ruck pill:
Simply get a bag, fill the bag with sand to your desired weight, and begin taping with a roll of duct tape. Except the first wraps to be fairly loose, but guide the shape of the sandbag as you add more wraps.
Be sure to wrap several layers of tape around the bag, so that it will survive the impacts of tosses and drops, if you decide to step up your ruck with some "sandbag training"
For the weight of your ruck pill, I recommend making several different pills of varying weights – 2x20lbs, 1x10lbs, and 1x5lbs, so you can adjust the weight of your ruck for your rucking distance/goal just like you adjust weights for your workout in the gym.
For the duct tape, I recommend using Gorilla Tape – this brand of duct tape is unbelievably tough and strong. Where cheaper duct tapes tear or bust, this stuff doesn't even flinch. I actually carry a small roll of this everywhere I go around the world and have helped people repair shoes, backpacks, pipes, and everything else. Grab a roll. Use it to tape your sandbag.
Be sure to label the bags with their weight, or color code them (with colored duct tape) for easy identification later.
---
The sandbell is a versatile piece of kit, perfect for travelers that need to get in a kettlebell or resistance workout on the road. This sandbell is essentially an uber-tough dry bag with a roll-top closure and a soft handle cover that velcro's over the top of the bag.
Because this sand bell is essentially a dry bag, this "portable kettlebell" doubles for keeping your valuables and electronics dry in wet circumstances, and you can even use it for doing laundry on the road if there's no washer around.
The bag comes in 3 sizes which, if filled with sand, load up to 10lbs, 15lbs, and 20lbs. Enough for a hard workout like a Tabata or Kettlehell (a dastardly kettlbell workout), but I recommend getting two bags if you plan to use them as ruck weights.
---
Another great "sandbag kettlebell" option is the Alpha Strong sandbell. This collapsible sandbell loads up to 30lbs worth of sand and makes a soft weight, perfect for rucking, and even better for mid ruck kettlebell workouts.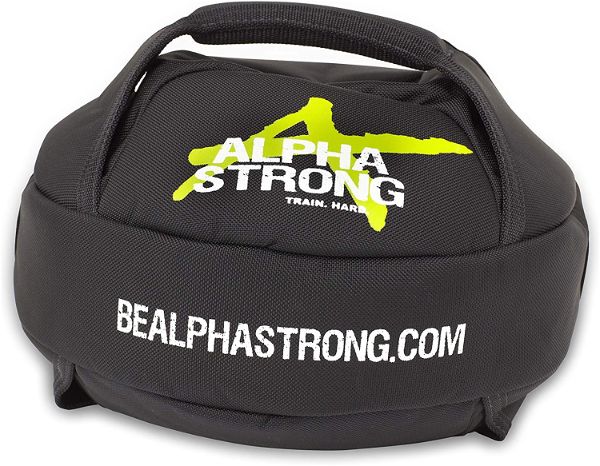 ---
If you're traveling a need a temporary weight, filling the GORUCK Tough Bag with sand when you need a weight, and emptying it to take home when finished is a perfect approach.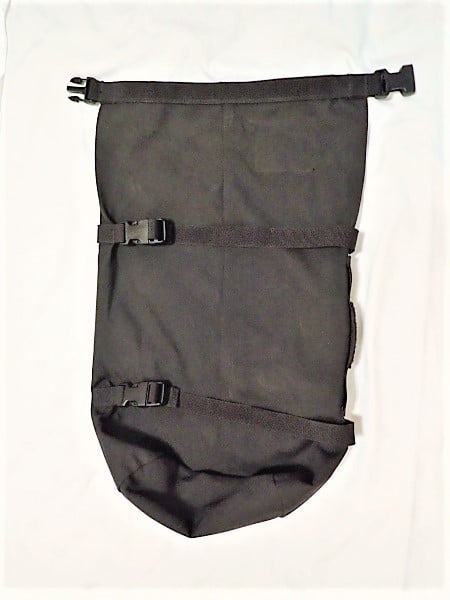 The GORUCK Tough Bag is a roll-top stuff sack made completely of 1000D Cordura nylon, stitched with heavy-duty nylon stitching, and backed by GORUCK's lifetime warranty.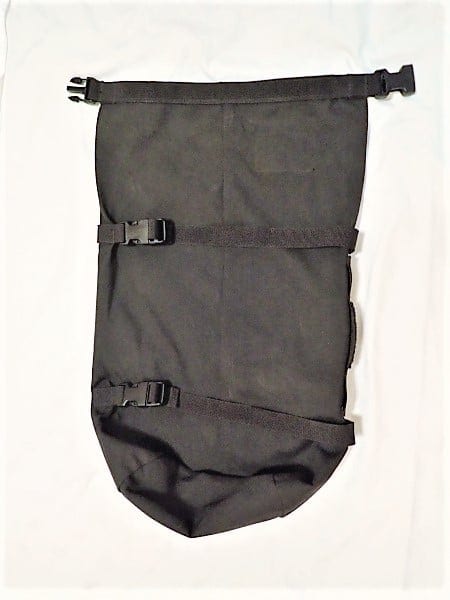 The roll top design allows you to roll down far enough to keep the sand from shifting. The tear and abrasion resistant Cordura nylon will stand up well to being used for abusive workouts outside of the rucksack
Even if you're not rucking, a tough bag filled with sand is an excellent option for a beach workout.
Purchase the GORUCK Tough Bag at GORUCK.com
---
A cheaper alternative to the GORUCK Tough Bag is a generic, roll top dry bag purchased on Amazon.com and filled with sand.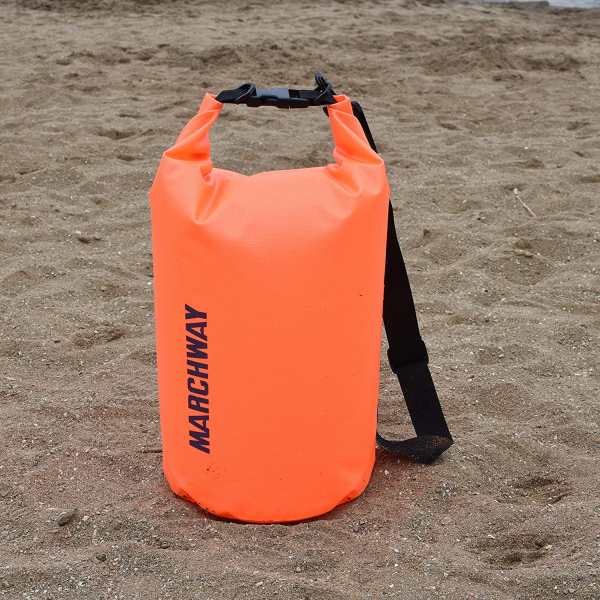 This option is best used in the ruck, as a rucking weight, and less as a sandbag to be abused. The waterproof material the bag is constructed from has little abrasion resistance meaning it will only take a few workouts to abrade holes in the bag.
Be sure to pick up a slightly larger bag, to accommodate more sand on heavy days and rolled down to a smaller volume on light days. I recommend a minimum 15L bag, and a 25L bag at most.
Purchase any well reviewed (4.5+ stars) dry bag on Amazon (like this one) and you'll get something sufficient and cheap. Don't worry about buying name brand as most of these bags perform to the same level for what you'll need.
---
5. Normal gym weight plates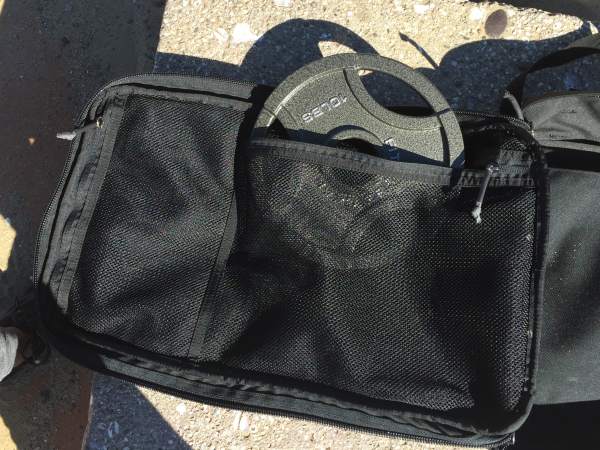 Normal gym weights are cheaper than special GORUCK ruck plates or Titan ruck plates and work just fine. If you're like this guy was as a young Marine, you can even "borrow the weights for an extended period" from a gym.
The only disadvantage of normal, round gym weights compared to ruck plates is the shape – the round shape means these plates may roll in the bag if not secure correctly, so be sure to pack them well.
For purchasing gym weights, your best option is to go into your local sporting goods store. Ordering from Amazon is an option, but the shipping fees kill this as a cost effective option.
Buying used is the best and cheapest way to get weights, so check Craiglist, Offerup, and any other bargain hunter options you're aware of.
---
6. Gallon water jugs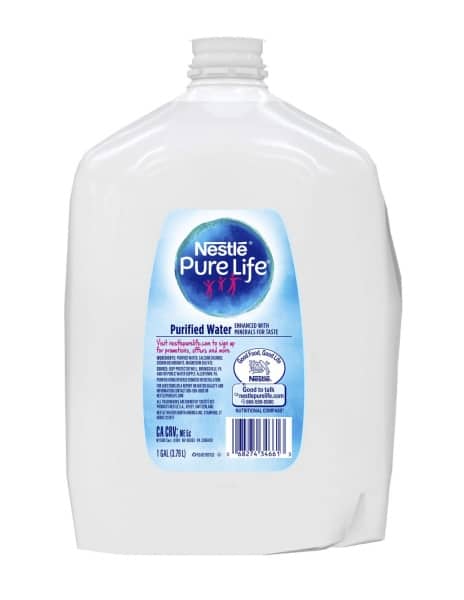 Gallon water jugs are possible the simplest and easiest option. At 8lbs per gallon, simply buy the number of jugs you need for your target weight and load them.
Be sure not to open the water jugs. In my experience, the seals are strong enough to stay in place throughout the ruck, but once opened the seals aren't nearly as strong.
---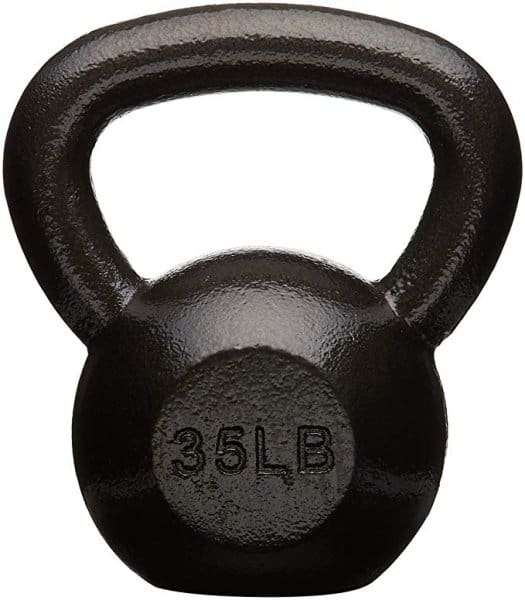 Kettlebells are an awesome option because they easily lend themselves to other, full body workouts, and they're cheaper than a one month gym membership. Just think – ruck out a mile, unload and do a "Kettlehell" workout, ruck a mile back. That's the way to a bulletproof body.
The downside of kettlebells are the odd shape. If your bag doesn't have ample padding or a frame sheet, then the round shape is going to dig into your back.
To solve this, pad strategically – use blankets packed firmly into the bag position and stabilize the kettlebell.
Ensure that you have a pack that is up to the job, with ample, firm padding and a frame sheet. Any of these backpacks for rucking are up for the job.
If your pack doesn't have a frame sheet but does have a potential compartment (like a laptop storage compartment), look into buying a relatively cheap (~$25) Kydex sheet on Amazon, and cut it to fit. These sheets are much stronger than plastic and will keep pressure on your back even despite odd load shapes.
To buy the Kettlebell go with Amazon. Amazon has several cheap options for kettlebells, and there is no reason to go name brand. Outside of Amazon, I prefer the Rogue Fitness kettlebells. Well priced, solid build, and good service.
Additionally, check Rogue Fitness for specials on Kettlebells combined with other travel ready fitness gear, like Resistance Bands with handles for doing deadlifts on the road.
---
Like kettlebells, medicine balls are another great, versatile option allowing you to weight your ruck and then get in a functional, full body workout along the way.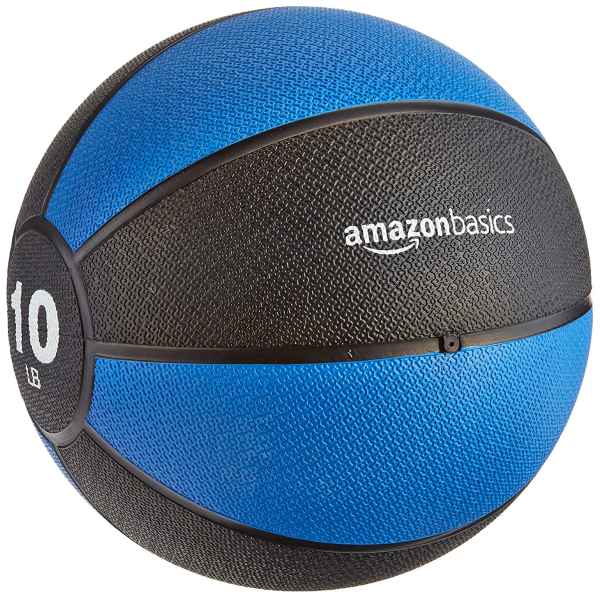 Medicine balls have the added benefit of being softer and molding more to your back.
Where to purchase medicine balls
Amazon is the best place to purchase cheap medicine balls of a good enough quality, such as the Amazon Basics Medicine Ball
You have the right rucking weight picked out…but now what?
---
Tips for packing and loading your weight
1. High and Close to the Spine
When you pack a backpack for rucking, hiking, or anything else, always pack so that the weight (or heaviest items) are high and as close as possible to your spine.
Packing the weight close to your spine allows you to stand up straight and maintain healthy, neutral posture. If you were to pack the weight away from your body, you would have to lean forward to compensate, which is bad for your posture and back health in the long term.
Packing the weight high makes moving easier and improves agility. If you have the weight near shoulder level (instead of at hip level) leaning for or to the side slightly gets the weight on your back moving easily in the direction you want to go – meaning less effort to get moving or stop.
Use light objects, like blankets, foam yoga blocks, or padding, to raise the weight higher in your bag. Ensure your backpack for rucking has compression straps, to cinch your weight and padding in place and avoid shifting.
One step further is to get a good backpack that has a special compartment perfect for weights, like the GORUCK GR2. – Checkout our list of 9 great backpacks for rucking for ideas of a good pack based on durability, comfort, and features.
2. Pick weight that doesn't shift
When rucking, if you're going one direction and your weight suddenly decides to go another way, its going to be a long, torturous walk. Avoid this by getting solid weights, such as metal, or sand. Water weights will still work, just ensure the container is full to avoid sloshing.
3. Tighten your weights and load down to avoid extra movement
After packing your backpack perfectly, youu want things to stay in place. For this reason, ensure you have a way to tighten things in place. Getting a backpack with compression straps solves this problem easily.
4. Ensure there is ample padding and a frame sheet to avoid the weight putting pressure on a point of your back or shoulders
Ample padding in the area of the pack in contact with shoulders, upper back, and lower back, made with durable foam is essential for staying comfortable after miles of walking. Without this kind of padding, you'll feel hard weights, like rocks and kettlebells, digging into your back uncomfortably…especially after miles of walking. If the pack you're using lacks padding, like the ALICE pack, compensate by using blankets or foam grid squares (the kind used in gyms) for cheap, extra padding.
Under-padded shoulder straps will have the same effect, putting too much pressure on a single point of your shoulder. There's no shortcut for getting around this one – just be sure to get a backpack with well padded shoulder straps.
5. Pick the right backpack for the job
In the end, a good backpack designed with the comfort and durability required of a rucking backpack can compensate for imperfect packing and weights. Checkout these backpacks for rucking for an idea of what to look for and a few great options.
Ensure you're ruck ready with the right backpack, the knowledge of how to load your ruck and ruck properly, and a few ways to structure your rucking workout.

Related Content: