After two months of use I believe the GORUCK GR3 is the most durable world travel backpack and carryon backpack that money can buy while still being ready for any adventure you throw at it. Built to stand over 400lb loads and extreme abuse while capable of easily expanding from 45 liters to 63 liters, this is the perfect backpack for minimalists, adventurers, and world travelers with the durability to make it anywhere and back without question.
The GORUCK GR3's special operations DNA means that it's just as great for hiking and off road adventures as it is for carryon travel. To top it off, GORUCK's Scars lifetime guarantee and GORUCK's willingness to ship international makes this the best travel backpack on the market and my bag of choice for traveling abroad.
(Jump to a review of my experiences abusing this bag)
Major Selling points of the GORUCK GR3
An extremely durable travel backpack: Tested to 450lb loads, abrasion and water resistant
Minimalist yet flexible: A full sized 45 liter carry on backpack that can expand to 63 liters, quickly and easily
Practical front-loading design with wrap around zipper makes accessing anything in the bag quick and easy
Heavily padded shoulder straps and back panel make the GR3 comfortable on long hikes with heavy weight, perfect for impromptu adventures
"Bombproof" Laptop compartment protects your laptops and makes security checks a breeze
Top notch "Scars lifetime guarantee" means it will be the last (and best) travel backpack you own
Who do I recommend the GORUCK GR3 for?
Minimalist travelers (aiming to travel with only a carryon)
Adventure travelers (likely to hike, ride, and engage in hard use between time in the cities)
World travelers (living out of a backpack for extended periods and needing a durable/reliable, functional backpack to keep life organized, with options for expanding space)
"Hard use travelers" requiring durability without sacrificing comfort or function
---
Contents of this GORUCK GR3 Review
---
Overview of my experience with the GORUCK GR3
Pros
Extremely rugged and well built: Tough, military grade polyurethane coated 1000D Cordura Nylon cloth, Y2k zippers, and stitching with high tensile strength thread mean this backpack can carry more than most people are able. Both the cloth tear strength and the bag's stress points are tested to over 400lb loads
Designed for hiking with heavy weights in extreme conditions making this bag an extremely durable and reliable hiking and travel backpack suited for virtually any adventure
Full sized carry on (takes up every square inch allowable) status makes the GORUCK GR3 the perfect world travel backpack for those traveling abroad with a single carryon backpack
Simple, front loading design and wrap around zipper make it incredibly easy to access anything in the bag without turning your room into a gypsy camp
Cons
Weight: The heavy-duty construction makes the GORUCK GR3 1lb-2lbs heavier than other 45-liter bags
Break-in Period: The heavy-duty Nylon cloth and shoulder straps may take a couple of weeks of heavy use to break in, but the sturdiness of the materials used is worth the break-in time, in my opinion
Neutral
Complete the perfect travel setup by adding extra, collapsible storage: I recommend To complete setup the 45L bag for world travel I recommend additionally purchasing the GORUCK 18L Tough Compression sack, which straps to the bottom of the GORUCK GR3 (expanding storage to 63L) and packs away when not in use, and the 32L GORUCK Kit Bag which folds up into the GR3 (as a "leave behind bag" on adventures)
Reinforce the laptop compartment: The "bombproof laptop compartment" can flex, so consider using either a clipboard or Kydex frame sheet as additional laptop protection
Pack a lightweight, compressible daypack that can collapse into the GORUCK GR3, such as the REI Flash 22 and be used for daily use when not traveling
My Experiences using the GORUCK GR3
I've spent a lot of time with this backpack, traveling, hiking, and working out. Here, you can read my thoughts and assessments of what this bag is made of based on my experiences with it
Traveling with the GORUCK GR3
I've been traveling all over Texas and California for a couple months by car and plane using this as my primary bag with the GORUCK tough bag and GORUCK kit bag added for extra storage and some packing cubes for organization. I love the GORUCK GR3 as a travel backpack and wish I had it for my recent trip to Asia. The bag provides just enough capacity (without the compression sack and kit bag), let's me quickly access anything in the bag in airports without messing up my packing, carries very easily, and gets by as a carryon. It has been a breeze going through airport security, especially with the easily accessible laptop compartment, and fits neatly overhead in the planes.
The inner pockets are minimalist and well thought out and were the perfect place to hide my passport, documents, valuables, and "quick access" items. Paired with packing cubes, the GR3 Compressible Tough Bag which attaches to the bottom of the GORUCK GR3, and an easily storable GORUCK 32L kit bag, I have the perfect travel setup and all of the space I need for anything that comes up during my travels in a functional design that travels (and hikes) easily. If I need to use the GR3 for a hike, I simply remove my packing cubes and load them in the kit bag to leave behind. If I'm bring a sleeping bag, I can attach the tough bag to the bottom for an extra 18liters
My laptop stowed easily into the back but is still easily accessible for x-ray machine time. I placed my Microsoft Surface Pro (the best travel "laptop" ever!) against a clipboard I keep to protect my Surface from too much pressure. The inner portion of the front flap has a document pocket, that I use to securely stow all of my documents but quickly access them when the agent at the airline counter asks for some random document that I packed away. And at the gate, I can easily dig to the bottom of my bag and pull out the Reese's peanut butter cups I stuffed away without unpacking everything from my bag…or takeout my compressible daypack (the REI Flash 22 daypack I mentioned) to store my tablet, puffy jacket, and water to get me through the plane ride. And the backpack still fits perfectly in the plane's overhead compartment. Ballin'!
Packing
My Experience: Hiking Test – 3 hikes of 5+ miles through the hills of Santa Monica
My Results: Performed amazingly. I've hiked several times in the Santa Monica hills with the GORUCK GR3 and 20lb weight plates zipped into laptop compartment. Once again, I loved this backpack. The hikes were 5+ miles and after break-in the shoulder straps stayed comfortable for the length of the hike and the padded & reinforced backplate kept the backpack positioned well throughout each of the hikes. Additionally, the cinching portion of the straps performed well and stayed in place so well that it felt like the weight was glued to my back, which is great when walking on shifty and unstable terrain.
While I usually just think of the GR3 as a durable "travel backpack" I absolutely recommend this bag if you need a backpack to do double duty between traveling well and hiking/adventure.
My Experience: Working out – weighted calisthenics at Muscle Beach with the GORUCK GR3
I took the GORUCK GR3 to the new muscle beach in Santa Monica, which is filled with pull up bars and gymnastics rings and tested the backpack on the monkey bar like equipment and test it with weights (the 20lb GORUCK plates) zipped into the laptop compartment. My go to workouts are outdoors and either weighted calisthenics or gymnastics movements and the GORUCK GR3 made doing these weighted calisthenics workouts simple, easy, and comfortable.
Whether I was right-side up, upside down, or swinging from the monkey bar like fitness equipment, the GR3 held its own. If you're a fan of rucking or weighted workouts and normally use a vest, the GR3 makes it easy to get weighted workouts in using this bag instead. This is a great option when travel and a gym isn't immediately available. Just empty the bag, throw some one-gallon water jugs in, and hunt for a place to do pull ups, dips, and pistols (one legged squats).
GORUCK GR3 Durability, Bag Materials and Bag Construction
I've broken at least 3 backpacking backpacks (that I can remember). Everything from breaking the shoulder straps due to too much weight, to abrading huge holes in the sides from getting dragged upstairs, and breaking the seams from packing them so tight and strapping them down. Unfortunately, two of these gear failures occurred when I wasn't near civilization, so I had to stitch each of the bags back together to make it home (seams ripping and busted shoulder straps). I've also taken countless backpacks on military combat deployments and beaten them to shreds. From these experiences I've learned very well how to ID packs that might survive and vulnerabilities on the packs that won't survive.
Bottom line? I don't see any vulnerabilities (seams, stitching, materials, etc.) with the GORUCK GR3 which is why I'm so damn excited about using this as my go to world travel backpack. All stitch points are heavily redundant and stitched into fortified points on the fabric. The thread itself is higher tensile strength than normally used. The webbing is dense nylon and military grade. No expense has been spared in these materials or putting them together.
GORUCK's clear attention to detail, the visible quality of this bag, and my experience with the bag so far, from first look, to all of my time on the monkey bars in Venice Beach, to the hikes so far, make this a bag I trust not to fail.
The GORUCK GR3 as a "daily carry" (not recommended)
My Results: This bag is a bit large for a daily carry, but in a pinch, it will absolutely work. The black is fairly subdued making the military style MOLLE straps not very noticeable. Additionally, these Cordura Nylon styled military bags are so common on the street that, aside from the GORUCK GR3's size, it looks fairly normal. For daily carry, I would consider the GORUCK GR2 32Liter or a smaller GORUCK pack better options that maintain the high-quality design, build, and durability. Gotta be honest…this thing is so huge, I didn't bother walking around town with it. I stuck to my daypack
Assessment of the GR3 based on my past travels
If I hiked to Everest Base Camp again, would I take the GORUCK GR3?
Yes, because for my kind of travel, I generally need a backpack that performs well on the trail and traveling, so I'm willing to take on a little extra weight for that. As the GORUCK is only 2.5 lbs more than my 40 liter REI Trail 40 but carries weight extremely well I would have absolutely taken this pack on my Everest Base Camp Trek. If you're a trekker that worries heavily about weight, this might not have been the best option for you. If you're fairly fit and hike or workout regularly this would be a solid option, especially if you are on a longer travel adventure (like backpacking through Asia) and need a travel bag that can pull double duty as an adaptable travel bag and a well performing hiking, trekking, and adventure bag.
Would I have taken this bag on my motorcycle tour through Vietnam and Laos?
Absolutely. I abraded a few holes in my REI Trail 40 from the daily use in a way that (from experience) I know 1000 denier Cordura nylon would resist. Additionally, accessing gear inside my REI pack while on the road was difficult without removing everything from my pack. This meant when we got unexpected rain on the road, if I forgot to put my raincoat on top of everything inside my bag, everything was getting wet while I dug for my rain jacket. With the GR3, I can quickly open the bag and access anything without removing much.
Would the GORUCK GR3 be suitable for backpacking Southeast Asia and South America?
Absolutely. I would recommend this pack for any Southeast Asia or South America trip. Personally, I will be taking it to Africa. The pack is minimalist, durable, and makes everything in it easily accessible which is perfect for a backpacking adventure. It is ready for any adventure, whether a hike or bus ride or a plane.
The GORUCK GR3's dimensions, 22"x14"x9", fit the maximum carry on size of Air Asia and the other budget airlines in southeast Asia as well as the airlines in South America. But, in South America, most adventurous travelers will be traveling by bus, so it's more important to have a durable bag that you can pack heavily without worrying about breaking the seams.
---
Functional and Specifications Review of the GORUCK GR3
Here I'll give you the rundown of the techs and specs of the GORUCK GR3. Everything you'll read on the GORUCK website, and then some…
Packing
The single, 9" deep main compartment maximizes use of space and is part of what makes the GR3the perfect durable, world travel backpack, allowing you to pack everything you need in a carry-on sized bag that is still adventure ready.
The Large wrap around zipper and clamshell design makes it easy to expose everything in your bag while still keeping it organized, allowing you to partially unzip and easily grab anything, anywhere in the bag, and increases packing options compared to top loading bags
Note: The clamshell design is inspired by military medic bags which need to perform effectively on hikes and in the field, while everything in the pack stays organized yet quickly and easily accessible in emergencies
Adaptability
The simplicity of the GORUCK GR3 and the options available for increasing size make it adaptable for any length of travel or type of adventure, so it performs well as a carryon backpack and a world travel backpack equally well
To maximize options, the GORUCK GR3 is best accompanied by packing cubes, the GORUCK 32L Kit Bag, and the attachable 18L Tough Compression Sack
Easy Extra Capacity for the GR3: The Attachable 18L Tough Compression Sack
The attachable GR3 Compression Tough Bag is an easy way to increase the GoRUCK's capacity by 18L (from 45L to 63L) while still being able to collapse enough to fit as an acceptably sized carryon.
The potential extra space matches the capacity of most backcountry bags, making the GORUCK GR3 suitable for hiking, camping or just making extra space for souvenirs you pick up on the road but may ditch before your next flight
Easy "leave behind" bag: 32L Aviator Kit Bag, folds up into the GORUCK GR3
This kit bag is a 32L bombproof handbag made with the same durability as the GORUCK GR3 and has the advantage of collapsing flat for packing away into the GR3 (or into the collapsed tough bag) when not in use.
On the Everest Base Camp Trek, I only took the essentials and left about half of my gear in a trash bag at my hostel, so having the GORUCK kit bag would have been handy. On my way to Europe for my upcoming trip, I'll use the GORUCK Aviator Kit bag as a haul bag to bring consumables that are either difficult or expensive to come by in Europe: Extra protein, gifts and toys for the Syrian refugee kids I'll be volunteering with, and any gifts I bring to give out along the way. On the way back, I'll pack the souvenirs with plenty of family gifts for the holidays, or just stow it in my GR3
Add packing cubes
As great as this bag is, it is a black hole and can become as disorganized as a gypsy camp if you don't watch it. Adding packing cubes helps keep your goods organized when the bag isn't full enough to keep things in place. (I'm currently using these packing cubes, durable and cheap)
Without a doubt, the GORUCK GR3 plus a packing cubes is the perfect travel setup. You can take enough gear to supply a small army and keep it organized. In the picture above I've packed a rain jacket, down insulation layer, trekking sandals, swim trunks, hiking shorts, sweat pants, jeans, 6 t-shirts, 4 long sleeves, 10 pairs of underwear, 5 pairs of socks, a full hygiene kit (not travel sized), a laptop, a random bag of stuff I didn't feel like sorting, a travel gym, hat, beanie, and a handful of other things…and notice I still haven't used the pockets inside the front panel? This bag is amazing.
In this picture, I've stacked two packing cubes, but given the Y2K zippers' strength and the compressible nature of the clothes you can actually stack the cubes three high, saving a lot of space. If you have any doubts, post a nice sarcastic comment and I'll post a video just to prove it. I love challenges!
Durability: You will be hard pressed to find a more durable travel backpack than the GORUCK GR3
Extremely durable polyurethane coated 1000 denier Cordura Nylon materials and American construction make it highly tear, water, and abrasion resistant. The Cordura Nylon is so tough it's the primary tough fabric used in heavy duty military gear and tear tested to over 400lbs tear strength
This bag is backed by a pretty sick Lifetime Guarantee which means at any time if this bag breaks down on you GORUCK will replace or repair your GR3 for free. I vote for repair, I like having trustworthy but worn in gear that still has luck and magic from my past adventures lingering on it. GORUCK also ships internationally, which means you're still supported while on the road. – The lifetime guarantee alone makes this bag worth buying.
What does all of this mean? You could carry two of your friends in your pack and it could take it in stride. And if this bag does break while you're overseas adventuring, GORUCK has your back. Just send the bag to them and they'll take care of the rest.
Comfort
Thick, padded shoulder straps stay comfortable regardless of how much weight you carry. The durable construction of the shoulder straps (e.g., strong stitching, high quality materials) means they'll stay comfortable through the life of the product. The shoulder straps require a little breaking in (took me two weeks of weighted workouts) but are some of the most comfortable I've seen on a pack
Heavily padded back panel and hiking focused design making walking with weight on your back comfortable and natural without restricting movement
The GORUCK GR3's suitability as a world travel backpack: Well Suited, absolutely recommended
The GR3 starts as a full-sized carryon bag designed in a way that makes maximum use of ever inch and makes accessing anything in the bag easy at any time with the wrap around zipper and clamshell design
Optional attachments and accessories (such as the 18L Tough Compression sack and the 32L Aviator Kit Bag) make quickly increasing (or decreasing) the capacity of this travel ruckpack 63L super easy without compromising its carryon status when the sack and compression sack are stowed in the bag
The GR3 Tough Compression sack quickly attaches to the bottom and adds 18 liters of capacity, increasing overall capacity from 45 liters to 63 liters, on range with larger backcountry bags
The 37-liter GORUCK Kit Bag collapses perfectly into the GORUCK G3 and makes the perfect bag to leave things in storage during adventures or bring home souvenirs
The extremely tough materials and high-quality construction make the GORUCK GR3 a durable travel backpack and suitable for longer trips to remote locations, where adventure travelers can't tolerate gear failures.
In long term travel, especially adventurous travel, durability is a major concern for me. My bags will be stepped on, dragged by airline employees, overloaded and over weighted as I move from place to place, and likely fall off of vans going 50 MPH (yes, it has happened). I want a bag that I won't have to replace while I'm in the middle of a place where the travel gear sold will be subpar, headache ridden, or overpriced. The GORUCK GR3 is one of the most durable world travel backpacks, which puts my mind at ease and can stand up to this kind of abuse. If it does fail, the lifetime warranty and GORUCK's international shipping have you covered.
Paired with packing cubes, the GR3 Compressible Tough Bag which attaches to the bottom of the GORUCK GR3, and an easily storable GORUCK 32L kit bag, the GORUCK GR3 setup is the perfect adaptable setup for anything that comes up during world travels. If you need to use the GR3 for a hike, simply remove the packing cubes and load them in the kit bag to leave behind. If you're bringing a sleeping bag for a multi-day trek, attach the tough bag to the bottom for an additional 18L.
The inner pockets on the GR3 are minimalist and well designed. The inner document pocket is a perfect, secure place to keep credit cards and passports safe. The two mesh pockets are a great place to store quick access essentials like a compact first aid kit, flash light, or an easily accessible pair of socks and undies. The outer pocket is just as easily accessible and convenient.
My Note: I'm looking forward to using it on my 6 month tour through Europe, the Middle East, and Africa this summer. I'll follow up after the summer with news on the pack's performance in the bush
The GORUCK GR3's suitability for hiking and adventuring: highly recommended
Though the GORUCK GR3 is a great world travel backpack, this durable backpack was designed for hiking in the military with heavy weights, aka "Rucking". It has been tested at many of GORUCK's military style endurance challenges, which include hours of lugging heavy weights, and retains that DNA. So, if you plan to get off the beaten path and adventure, whether by foot, motorcycle, or donkey, rest assured that special operations soldiers have already tested this bag for your breed of adventure and conditions, and they've overwhelmingly approved.
The GORUCK GR3's suitability for workouts and fitness: highly recommended
The zippered and padded "bombproof laptop compartment" makes the perfect place to securely stow weight plates allowing for weighted pushups, pull ups, dips, rows, and variations of calisthenics and gymnastics movements to completely replicate any exercise that can be done in a normal gym. The backpack stays snug against the back and the straps stay tight without showing any signs that the bag is at risk of ripping, stretching, or tearing.
The GORUCK GR3's suitability for ultralight backpacking and travel (not well suited, not recommended)
GORUCK made the GR3 of insanely durable materials which means the pack is naturally heavier than most ultralight backpacks, which are generally made of lighter nylon cloths. The average ultralight 45-liter backpack weighs in between 2lbs and 3lbs. The average 45-liter backcountry backpack weighs in at about 4lbs. The GORUCK GR3 weighs in at 5.15lbs, when the removable waist belt is attached, so there is a 1lb to 2lb weight difference, depending on your pack preference
Personally, I don't mind trading in a pound or two for the assurance that this bag will never fail me. On my kind of adventures, that extra weight is an excellent insurance payment. But, be sure to pick your backpack based on your capabilities and adventures
Construction and Durability of the GORUCK GR3
American made: with top quality materials. Tested to over 400lbs capacity.
Europeans make very pretty, efficient things. Generally tiny, but still awesome. I love Europeans. Americans make tough, oversized things. Things that will survive the apocalypse, zombies, and Skynet. The GORUCK GR3 is VERY American
Tough Stitching
The stitching uses a high tensile strength thread with expert detail and redundant stitch patterns to ensure stress points (e.g., handles, shoulder straps, seams, etc.) can support at least 450lbs
Tough fabrics
The 1000 denier Cordura Nylon, which is polyurethane coated to increase abrasion resistance and water resistance, is rated to a tearing strength of over 400lbs…and this fabric is the weakest point of the bag. That's impressive.
The stitching and materials combine to create a bag with a minimum strength of 400lbs+ at any point…which means it can carry more than you can, so you're likely to break before it does. I love that.
"Scars" Lifetime Warranty
GORUCK stands by their gear and has an intense lifetime warranty (Check it out here) and they'll cover damn near anything within reason. The deal? You pay to ship the bag to GORUCK, GORUCK pays to fix it, and GORUCK pays to ship it back to you. And GORUCK ships internationally, so you're covered wherever you go
I don't know about you, but to me that sounds a lot better than replacing my bag (or stitching it up while stranded in the backcountry) every 2 years. I'm a proponent of buying gear from companies that back their gear up with a lifetime warranty.
Warranty support and returns
I haven't had any issues or damage to my pack but as a test I emailed customer service stating that I was working out with weights and a seam as well as a shoulder strap started to come unstitched. I wanted to see how they would handle the complaint, and they handled it VERY well. They confirmed that GORUCK would repair the pack at their expense and send it back to me, all I had to do was ship it to them. TOO AWESOME!
For more info and stories of GORUCK replacing gear, checkout this video of their team (LINK) assembling the packs and talking about the stories of replacing the gear of other GORUCK'ers
Technical Specifications of the GORUCK GR3
45L
22x14x9
Weight: 5.15lbs, 4.79lbs without hip belt
Visual walk through
Opens flat for easy access and packing (also zips around fullyBombproof laptop compartment
Padded and backed by a rigid plastic frame sheet
Measures 20"x13"
Padded Top and side carrying handles
Tested to 450lb haul strength
Fabric
1000 denier, polyurethane coated Cordura Nylon, water resistant, abrasion resistant
400lbs+ tear strength
Compression straps
Military grade straps, buckles, and clips
Well-padded shoulder straps
Extra padded to support heavy loads
Feel completely awesome while hiking or working out
Removable waist belt
Storable under elastic bands at base of interior pocket
Front and bottom MOLLE webbing
Front webbing allows for attachments and carabiners
Bottom MOLLE webbing allows for attaching additional storage, such as the GR3 Tough Compression Bag
Easy access front panel pocket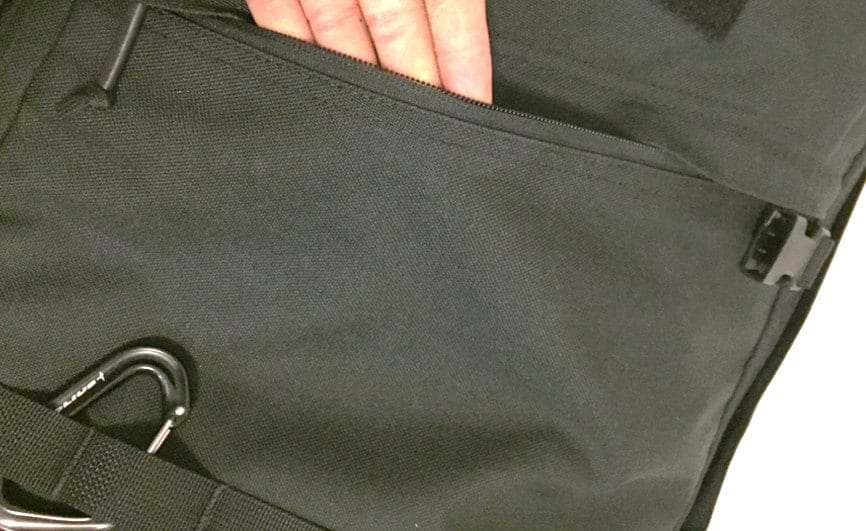 Inner panel pockets for organization
Zippered mesh pockets
Zippered document pocket
More Great Reads…
If you're still looking for the perfect, tough backpack for travel and adventure, and the GR3 is slightly to big, read our list of the 9 Best Backpacks for Rucking.
FAQ and Good Info on the GORUCK GR3
Would this bag be better for minimalists or long-term travelers?
This bag would absolutely be great for minimalists and long-term travelers. For minimalists, the bag maximizes carry on space and pushes simplicity but functionality. For travelers, the bag is durable and suitable for varied use (routine travel, hiking) with the durability to last for years with no issues.
I would not advise getting this pack for ultralight backpackers or backpackers heavily concerned with weight
Is the bag worth the weight difference?
Yes, if you value durability. The bag is maximum 2lbs more than the average 40L-45L bag and provides unmatched durability, reliability, and function in return. The extra ~2lbs is worth knowing this bag won't break on you halfway through an adventure.
How does GORUCK's guarantee work?
Pay to send GORUCK your bag and they'll pay to fix it and pay to send it back to you. That's it.
How does the GR3 compare to the GR2?
GR3 has extra 1.5" in width
GR3 has Full 9" of depth
GR2 is more suitable for shorter trips (1 week to 1 month) in a single region and season but the bag has so many pockets that packing cubes are more optional than necessary.
GR3 is suitable for longer trips and allows packing for multiple regions and seasons with the same hiking performance as the GR2 but the GR3's single main compartment means that packing cubes are more necessary. The GR3's MOLLE on the bottom also mean being able to expand the GR3 from 45L to 63L easily.
Think you're ready to pick up the GORUCK GR3?
Great Related Content