When wandering, nomading, and traveling around the world, picking the right luggage can be tough. Backpacks are a comfortable and convenient choice world travel and adventures, perfect when you're moving frequently and need luggage that is convenient to carry.
But for trips wherein you're moving less, need more space, and need a more convenient packing approach – whether that is a week vacation at a single spot in Paris, or nomads on the road for months or years based in a single location for weeks at a time. The Peak Design Travel Duffel is that more convenient approach to packing for travel.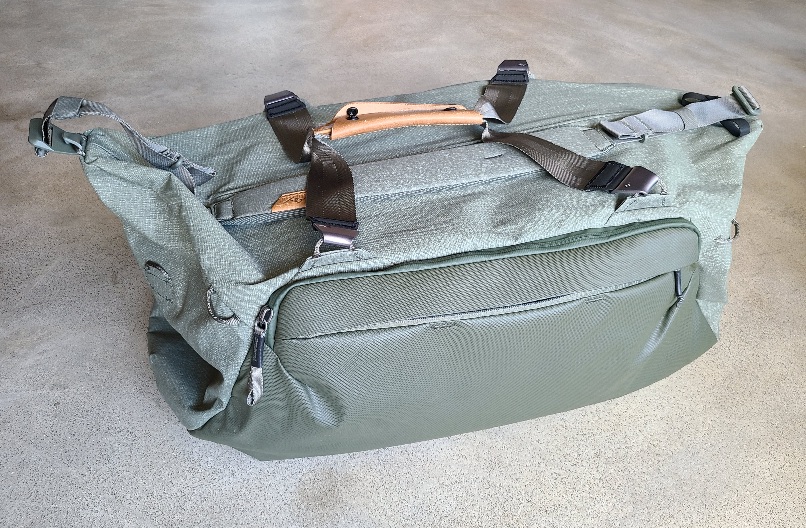 Though I loved traveling around the world with only a carry on backpack, I've discovered that using a big duffel bag for nomading, and carrying a daypack that doubles as a weekend travel bag is a perfect approach for travelers that have more gear than can fit in a 45 liter backpack, aren't moving much, and want a more convenient packing option than travel backpacks.
The Peak Design Travel Duffel has proven to be an extremely well designed and well constructed travel duffel, available in the convenient sizes of 35L and 65L, making it a carry option I highly recommend as "expansion storage" (the 35L) or a great main bag for nomads, large enough to comfortably fit their mobile lives (65L) all in an easy enough to carry package.
Read on to discover why the Peak Design Travel Duffel is a perfect setup for vacations and nomads traveling with their lives in a bag.
This article contains affiliate links

Contents of this Peak Design Duffel Review
Quick Peak Design Travel Duffel Review
Full Peak Design Travel Duffel Review (65L and 35L)

My Experience Traveling with the Peak Design Travel Duffel: Perfect for Digital Nomads and Long Term travelers, with lots of gear and time in one place
I've spent the last 5 years exploring the world in some state of travel – whether in a state of full travel backpacking hitting a country a week with only a carry on backpack, or as a nomad basing in a single city to work (and enjoy) and enjoy for periods while taking short adventures (and a smaller bag) on shorter trips.
For most backpackers, I highly recommend "one bagging" for world travel, carrying a single travel backpack of 45 liters or less that can fit on a plane, to avoid baggage fees, avoid having your checked bags lost in transit (it has happened to me), and discover how much more enjoyable life can be with less. Even if long term travelers aiming to bounce around the world and stack up countries don't travel with a carry on, a travel backpack is more convenient to carry, for moving quickly, comfortably, and easily through airports, transiting frequently with your luggage, and being ready for the occasionally hiking and trekking adventure.
Why a Duffel Bag is a great option for travel for slow travelers, nomads, and anyone not moving weekly
Not everyone has the flexibility to travel so lightly that all of their belongings fit into a carry on backpack. Additionally, if you don't need the convenience of how a comfortable backpack carry, then there are massive benefits to choosing a more open, yet weel designed, style of luggage.
In reality, if you are not traveling quickly, and moving accommodation more than once per week or two, and are unlikely to take all of your luggage on a trekking trip, then a good duffel bag, with the addition of a good daypack sized travel pack (like the Peak Design everyday carry sized travel backpack) is likely a far better travel setup than a backpack.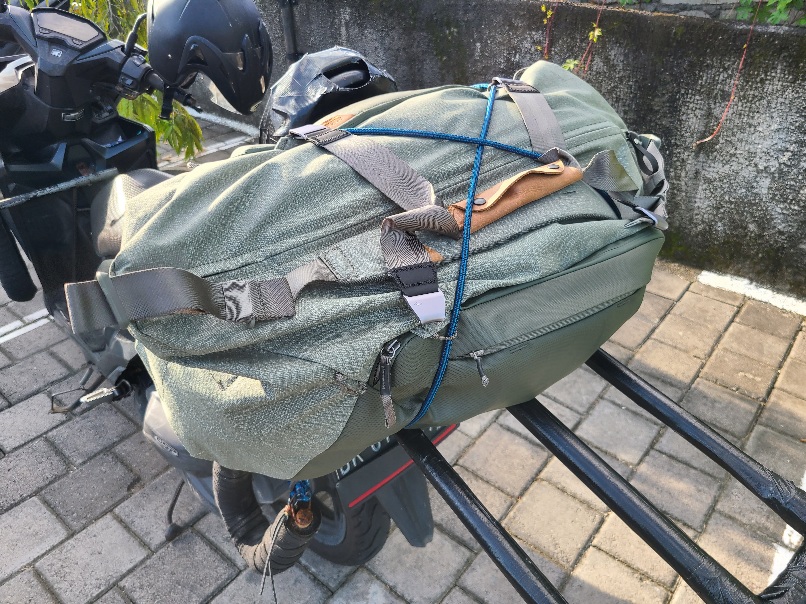 Adding packing cubes to a duffel bag takes a huge, convenient space, that is easier to access than top loading backpacks, and functionally feels much like a dresser with drawers that you can carry over your shoulder, or backpack style for short periods.
For digital Nomads, a good duffel bag offers much more space, perfectly appropriate for the additional tech that digital nomads and remote workers carry. Personally, when I am in "digital nomad mode," the laptop, extra chargers, hard drives, microphones, headphones, and small odds and ends contribute so much to my work that I can't leave them, but nearly take up a backpack all their own – meaning more space is essential to stay productive and travel comfortably as a nomad. Because, when in my "work phases" I move less often, the benefits of extra space (in a duffel bag) outweigh the benefits of how a backpack is carried.
For long term travelers and Round the World Travelers, choosing a travel friendly duffel allows room for the extra clothes clothing for all climates and occasions (think Bali summers, Patagonian winters, and European fall) and equipment for all adventures (think about your favorite puffy jacket, a very useful sleeping bag, or your favorite retro 35mm camera) that make round the world travel slightly more comfortable and efficient.
To be honest, yes, you could "rent" a sleeping bag in Patagonia, or skip the 35mm camera, but in my experience traveling adventurously – think Laos, Sri Lanka, and Bolivia – the more adventurously you travel, the harder those high quality, niche items will be to find when you're on the road. After 5 years on the road, I've decided it's much better to take everything you'll need to be self-reliant on the adventure than arrive and struggle to find that one thing you need.
The moral: You can take something with you and ditch it later, but you can't find that something if its nowhere around. Going the duffel bag route gives the flexibility to make that choice.
Plus, you can always leave the duffel bag behind on your adventures.
The best adventures when traveling happen on "loops." Think, traveling the coffee circuit in Colombia, hiking Torres del Paine National Park in Patagonia, or trekking to Everest Base Camp and Back. This means that you can always leave the larger bag and take a backpack traveling light for your adventures.
This is exactly what I did when I hiked to Everest Base Camp on my own, through Patagonia, and during my first trip in Bali. The first hostels I stayed at were welcoming and happily held my larger bags for me, for a few weeks until I returned.
So, you know that a good duffel bag is actually a great option for travel if you need to carry a little extra gear and won't be moving as often, but what should you look for in a duffel bag?
More on My experience with the Peak Design Travel Duffel
I've taken the duffel on a handful of week long trips with my girlfriend wherein we've actually split the bag, using packing cubes, allowing us to travel with a single bag – and it has been great.
Our most recent trip to the cool highlands of Bali to a cabin workcation surrounded by volcanoes was the most trying trip and convinced me this is a great bag.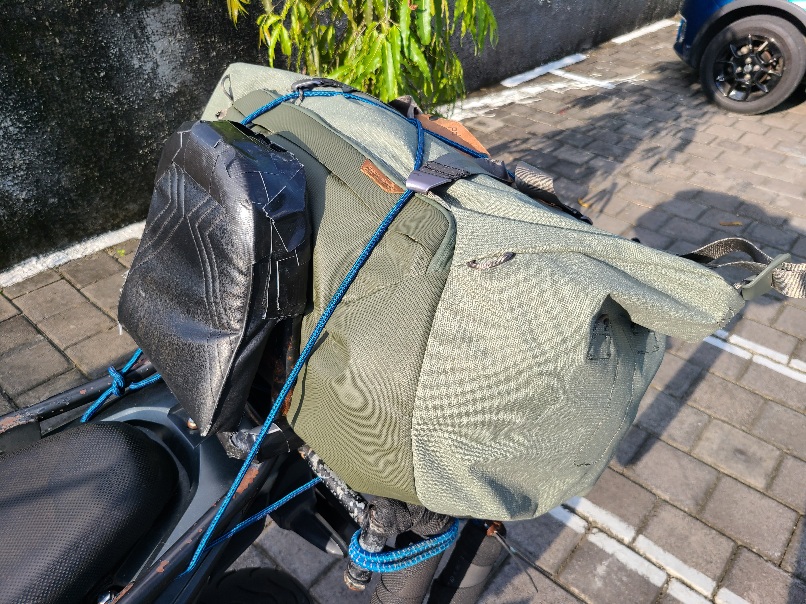 The trip happened all via motorbike, and the size of this bag, plus haul points and durability made it easy to strap to my motorbike, carrying all of the gear we both needed.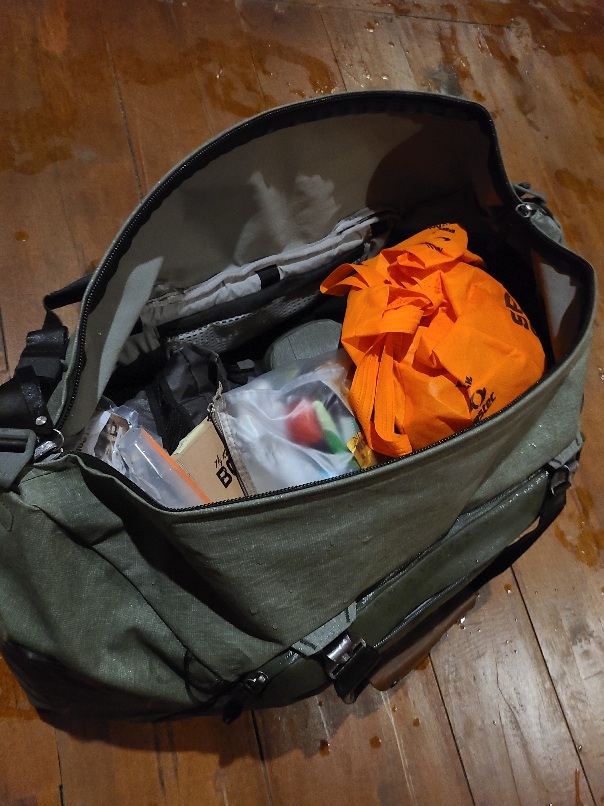 Not only did the bag handle all of the gear for two people for a week in the cold, but we traveled with the bag strapped to the back of a scooter and had the rain pour on us for an hour of the adventure. Now, sad to say, after an entire hour riding in the rain with the bag completely exposed, a few drops got in and got a couple pair of socks wet. However, I am still very impressed.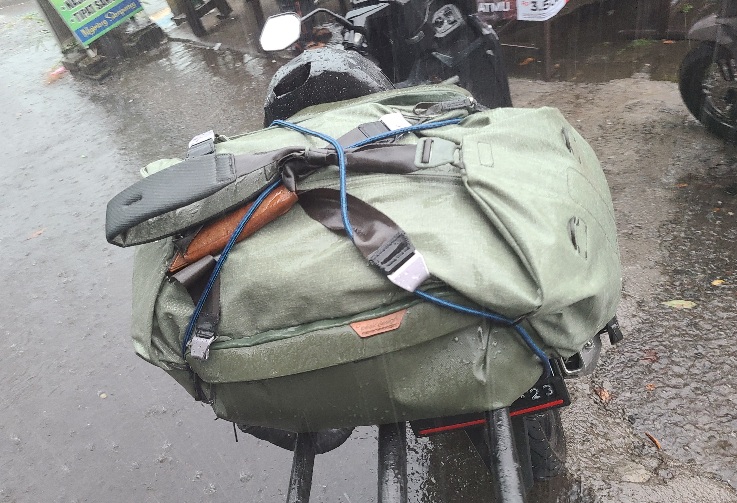 The outer cloth absorbed absolutely no water and the water that did get in made it through a zipper corner. I tested the bag later and covering the top zipper with a trash bag would have kept everything dry.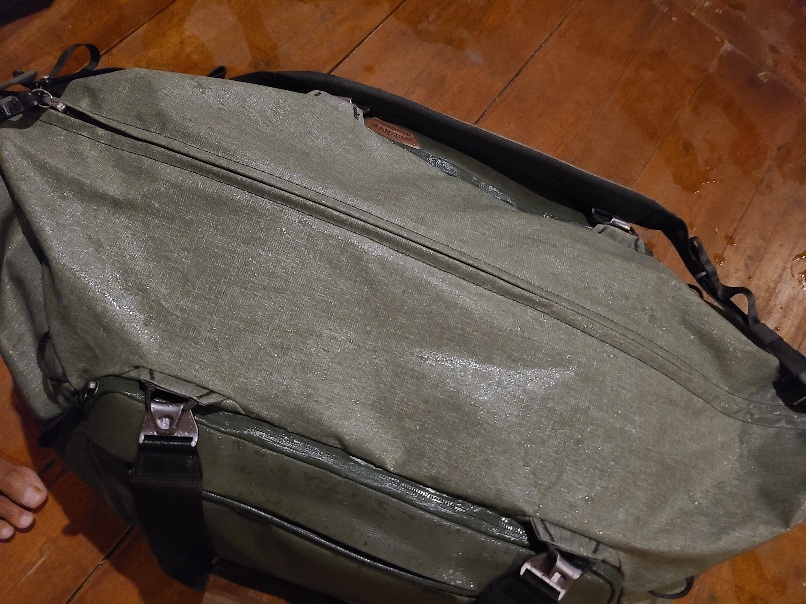 The functional design (haul points for strapping things down) made it easy to load. Quickly removable handles made carrying the backpack easy for the short periods – to the cabin here, and from ferries to our hotel through the islands.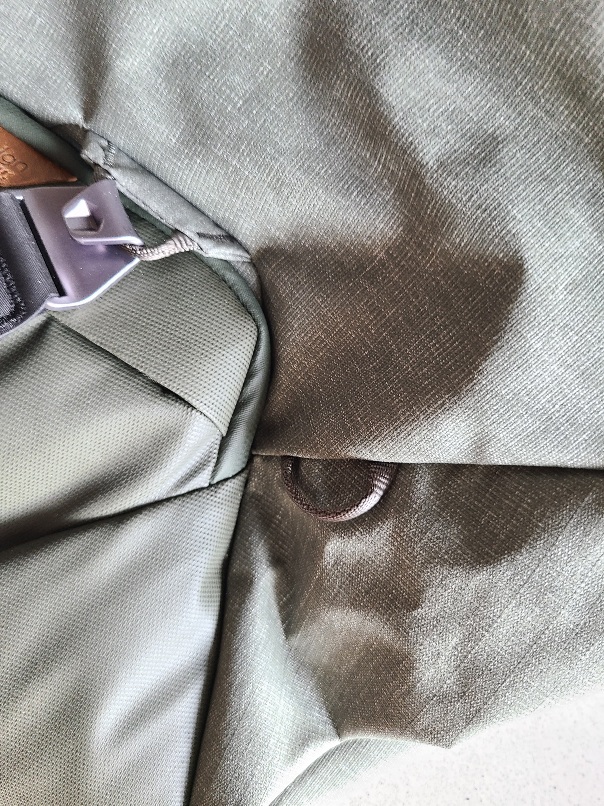 The simple organization and pockets made quick access items accessible inside and out.
This bag is well constructed and built for life. I have overstuffed it, dropped it, and strapped it down abusively and it is showing no signs of wear.
What makes the Peak Design Duffel Bags great travel duffel options
Backpack Mode Carry: A double shoulder carry option makes quick transport – through airports, briefly through streets, and on trains – simple and easy via removable padded top handles that double as backpack straps (for full backpack straps, consider the Peak Design Duffle Pack)
Comfortable shoulder strap for easy cross-body carry and shoulder carry: Having a removable padded shoulder strap is essential, because you should be able to carry the pack hands free, easily, whenever necessary
Removable top hand straps straps allow convenient hand carry for easy carry while wearing a backpack
Just big enough for your needs, but not too big: Peak Designs 35L and 65L variants are two great options that will suit the "larger luggage" and "smaller luggage" needs.
Water Resistant outer material throughout, with weatherproof 600D nylon canvas shell upper and completely waterproof 900D nylon bottom
Tough materials throughout
Sturdy yet lightly padded handles with woven nylon straps capable of handling heavier loads
Internal pockets for organization and quick access without packing cubes
External pockets for quick access to frequently used items
Now a duffel bag can be a great option for most travelers, however, it depends on the bag's size and how you use it. Luckily, this duffel from Peak Design comes in two perfect sizes 35L and 65L which are respectively great for using as expandable luggage and a weekender bag (for faster paced travelers) or as primary luggage with a backpack on the side.
Let's dissect the two options.
Peak Design Travel Duffel 35L Variant: Perfect for daily use, weekend trips, and to pair with a travel backpack
The Peak Design Travel Duffel 35l variant is the smaller option that is the perfect addition to a good travel backpack, such as the Peak Design travel backpack, or one of my other favorite carry on travel backpacks. Before I discovered the Peak Design's smaller duffel bag I traveled with the 32L GORUCK Kit Bag quite the same way as expandable luggage I'd use with my GORUCK GR3 and leave behind on treks and shorter adventures.
The 35L is solid as "expandable luggage" that can be taken on as a carry on for your personal item (or "laptop bag") in addition to a carry on backpack if you plan the sizes correctly.
Also, when not traveling around the world, this bag's size, carry, and just the right amount of pockets for storing everyday use items in an organized way make it a great gym bag and perfect for weekend trips when paired with a functional daypack.
If you're a digital nomad wandering and still want the function of a good travel backpack for long term travel and the extra storage for all of your comforts, air this 35L duffel with a good long term travel friendly backpack.
Peak Design Travel Duffel 65L Variant: A great primary bag to leave at your base for slower, travelers and nomads
If you plan to stay in one place for weeks at a time and occasionally take shorter trips out and then back to your base, the 65 liter Peak Design Duffel will be much better for you.
This bag packs the same durable build, water resistance, organization, and function of the smaller version, but in a package large enough to fit your entire nomadic life.
On my most recent trips, my girlfriend and I actually shared this bag. We simply carried our own laptops in separate daypacks, and both packed enough gear for a whole week in this bag, in an organized way using awesome Peak Design Packing Cubes. This trip was also into cold highlands of Bali, in an area called Bedugul surrounded by volcanoes, and where the weather got down to 60 to 65 degrees (~16 to 19 celsius) in a nearly off grid cabin – so we had to pack warm clothes, portable chargers, books, snacks, and nearly the kitchen sink. It all fit easily in an organized way.
The result was insanely convenient. I've decided that for nomading, I will definitely take the Peak Design 65L duffel as my "big bag" and bring a smaller bag for side adventures
Pros of the Peak Design Duffel vs. Other Bags
Intuitive design, with pockets, haul points, and handles in all of the right places
High quality and durable materials
Stylish accents
Perfect size for the intended use – not too big, not too small
Buy it for life build
Cons of the Peak Design Duffel vs. Other Bags
Leather-wrapped webbing handles, which can be used for backpack carry, would become uncomfortable on a long walk (consider the Peak Design Duffle Pack, with full backpack straps and padded hip belt)
I wish the bag had two padded shoulder straps for backpack carry
You will need to cover the top zipper if leaving the bag in the rain, as the bag's design does route rainwater to the zipper's corners
Quick Rating of the Peak Design Travel Duffel
Function: 5/5 – Small details and great design make this a very useful and useable bag
Travel Readiness: 5/5 – For long term travelers with lots of gear, the organization, size, carry options, and durability make this a great hauler for slower, longer travel
Durability and Quality: 5/5 – With excellent materials and construction throughout, the bag feels solid and like it will last a lifetime
Price and Value: 4/5 – Not cheap, but worth every penny, this bag is an investment and good value
Overall Rating: 4.75/5
Quick Verdict
For travelers that carry a little extra on their travels, whether nomads carrying lots of tech, or multi-climate adventurers with lots of gear, the Peak Design Travel Duffel is an excellent option for making your travels better and more convenient. Quality, intuitive design and function, and performance make this a bag worth its price tag and that will enhance how comfortably you travel.

Where to Buy
Pickup the 35L Peak Design Travel Duffel at REI for easy shipping, returns, and warranty

Extended Peak Design Travel Duffel Review (65L and 35L)
Highlight Features
Weather resistant build with 600 denier woven nylon water resistant frabric upper, 900 denier nylon waterproof fabric bottom, and water resistant zipper
Detachable straps (hand carry, cross body carry, and improvised shoulder straps) throughout make for versatile carry (hand luggage, cross-body carry, backpack carry)
Strap attachment point double as secure haul points for strapping the bag down
Highly quality materials (fabric, zippers, leather) and construction (stitching) throughout make this a "buy it for life" purchase
The bag's design, tones, and leather accents add up to a very stylish look
External Features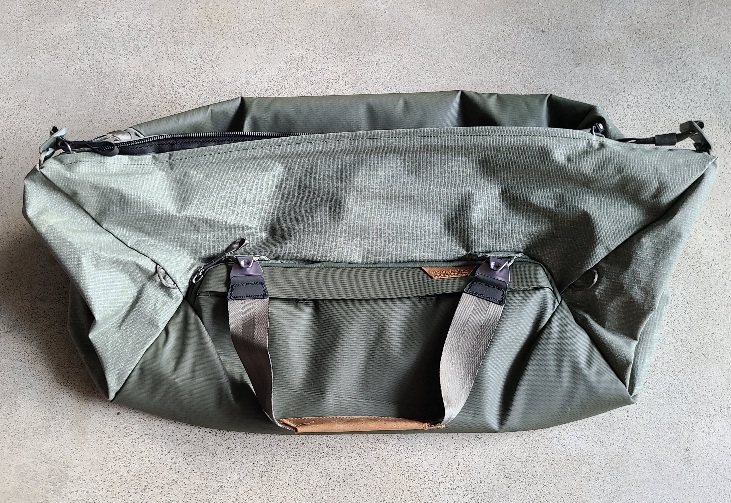 Handles

Single, cross body shoulder strap – padded with quick attachment hook
Hand carry handles made of nylon webbing with leather accents, double as backpack carry handles

"Haul point" loops at all corners of the bag to hook handles in any configuration, or to strap the bag down (to a rack or luggage carrier)
Drag handles permanently sewn to bottom of bag, made of heavy duty tubular nylon webbing
Long top zipper opens the bag wide for very easy access to everything – top opens to a full square, similar to a box, instead of just a slit opening hiding the corners (like most bags)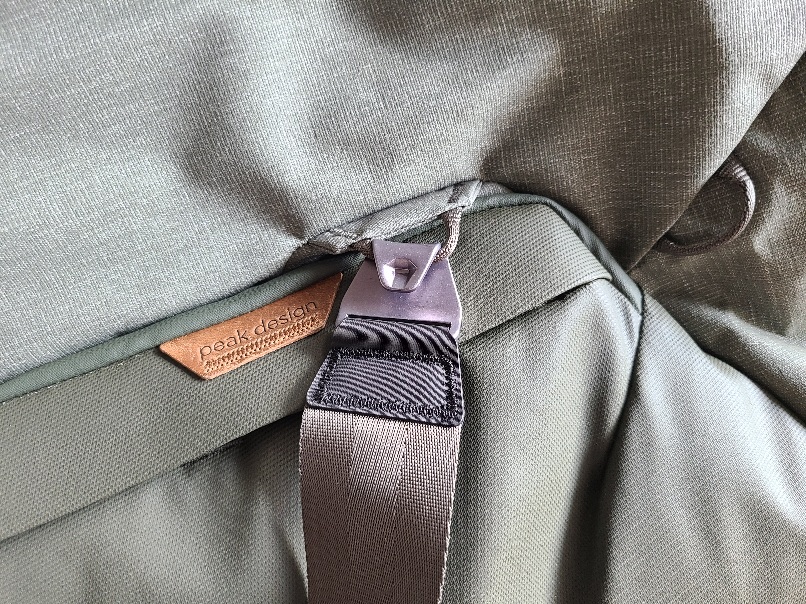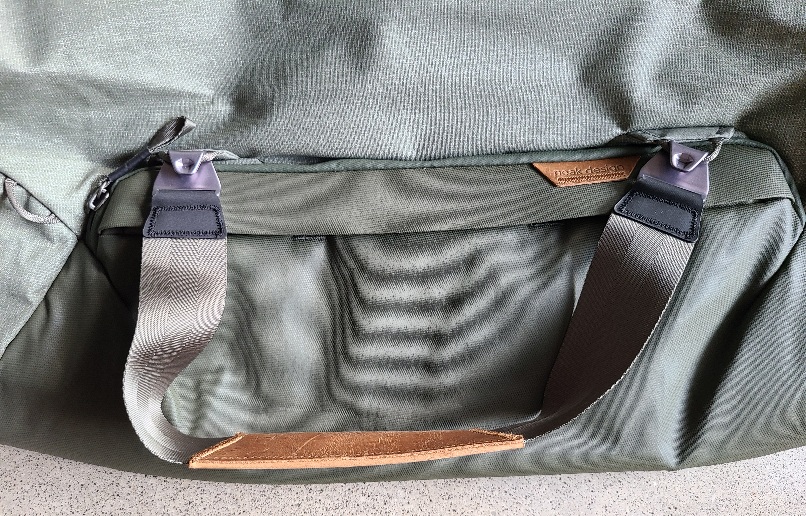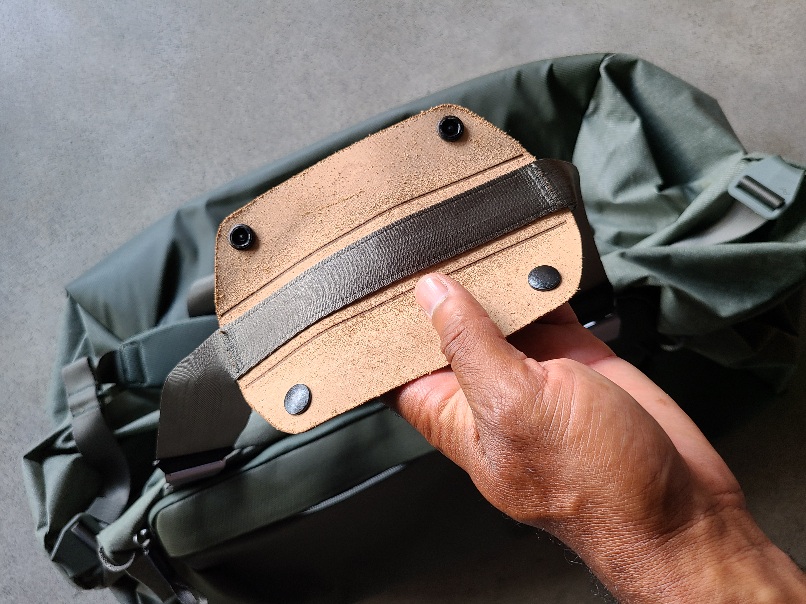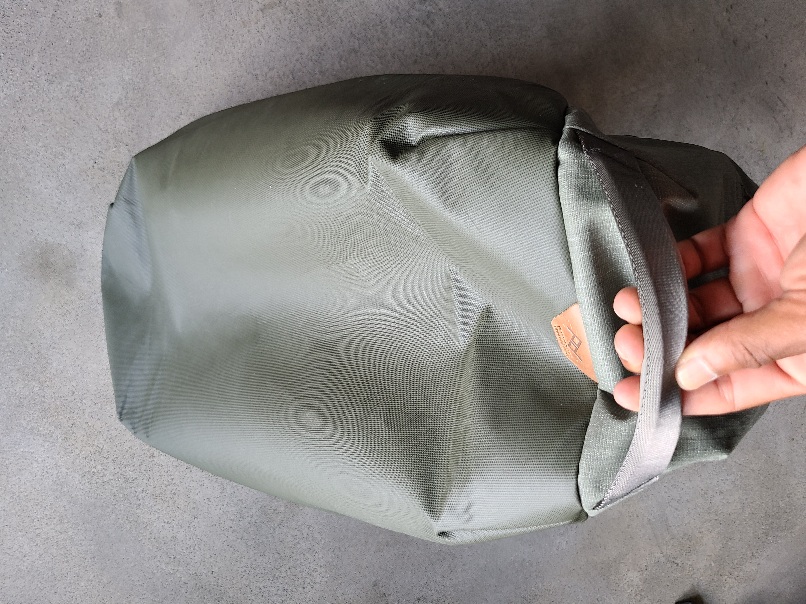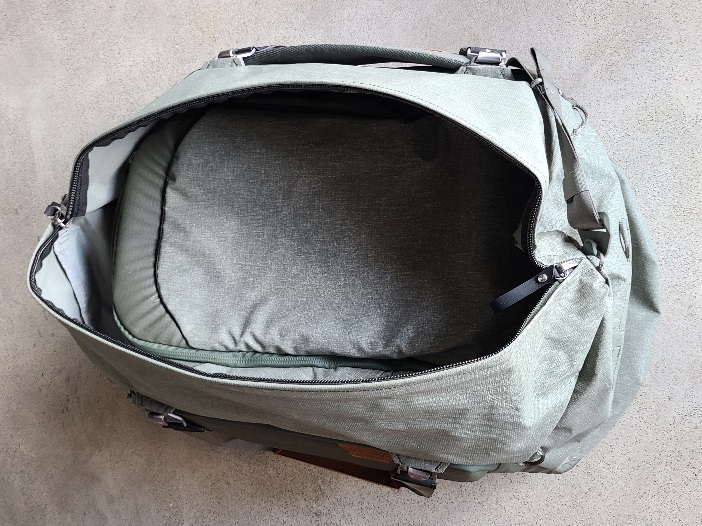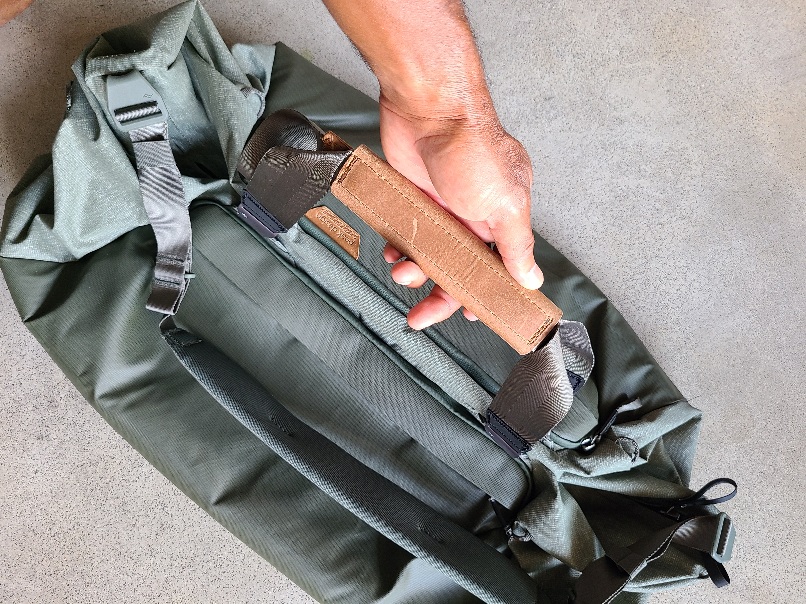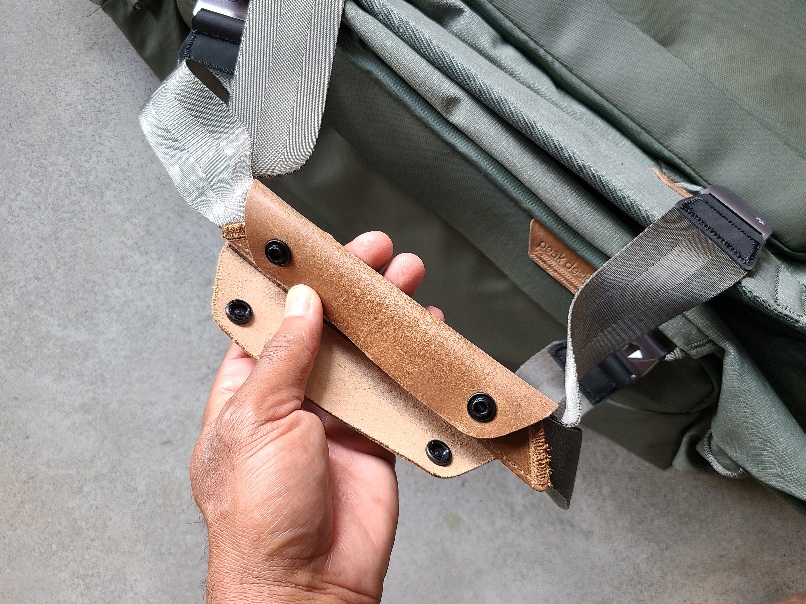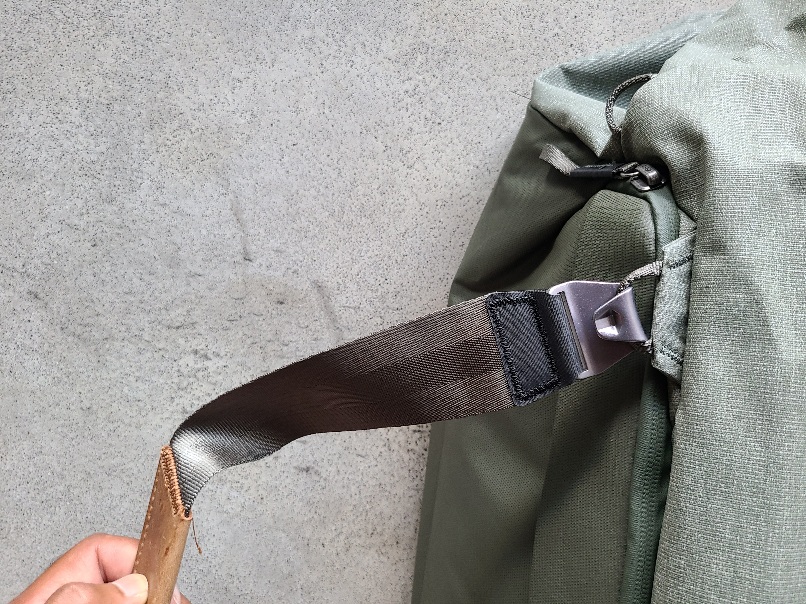 Internal Features, Storage, and Capacity
35L or 65L main compartment
65L main compartment fits several packing cubes
Pockets
4 outer, side pockets – Waterproof fabric covered with weather shielded zippers protected from the rain + mesh separate internal organization
2 zipper mesh panel pockets – For quick access storage, easy to access when bag is full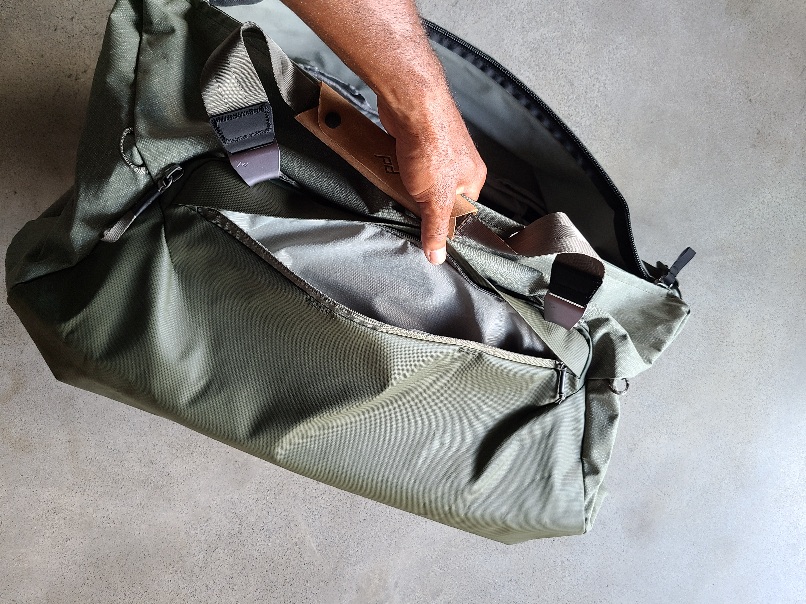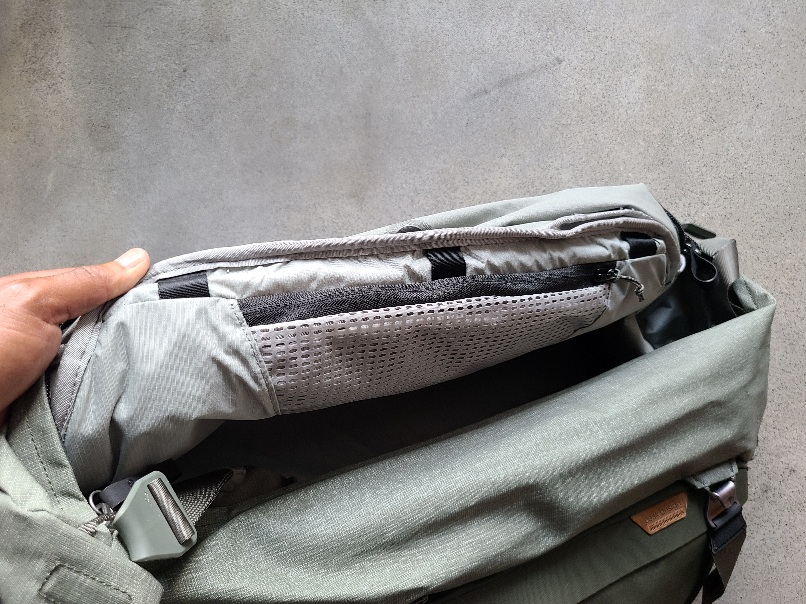 Travel Friendliness + Comfort and Carry
Carry-on Compliance: Both the 35L and 65L duffels can be carry ons, if underpacked enough
With the standard carryon limit for most airlines being 22″ x 14″ x 9″, the 35L Peak Design Travel Duffel dimensions 22″ x 14″ x 10" make it a feasible option as a carryon when full packed, but you may need to under pack lightly to get that extra inch.
However, with dimensions of 30″ x 13.4″ x 12.6″, the 65L travel duffel will need to be very underpacked to function as a carry on.
However, both duffles are soft-sided and do not have any rigged frame, thus, could be used as carry on bags for any airline if under packed enough
Aesthetic
The aesthetic on this duffle are simultaneously minimalist and timeless. Due to the leather and metal accents, subtle earth tones, and timeless, wear resistant materials (webbing, heathered patterned woven nylon), this bag is quite muted and stylish in an understated sense.
Due to its all around minimalist design, the aesthetic is almost timeless, and could very easily pass for a bag from 40 years ago or (possibly) 40 years from now, looking good in any time.
Thanks to that minimalist, function focused design and intentionally using high quality materials, Peak Design created a great looking bag that will still be regarded as a good looking bag a long time down the road.
Materials, Craftsmanship, and Durability
Everything on this bag, from the webbing in the straps, to the metal zipper pulls, to the thick fabric and hooks, feels very sturdy to the touch – in general quality and how its all stitched together. Additionally, using the bag under heavy weight, there is zero give in the stitching.
The materials and the craftsmanship level applied in assembling the bag add up to what I feel is heavy durability and a lifetime of potential use with minimal issues.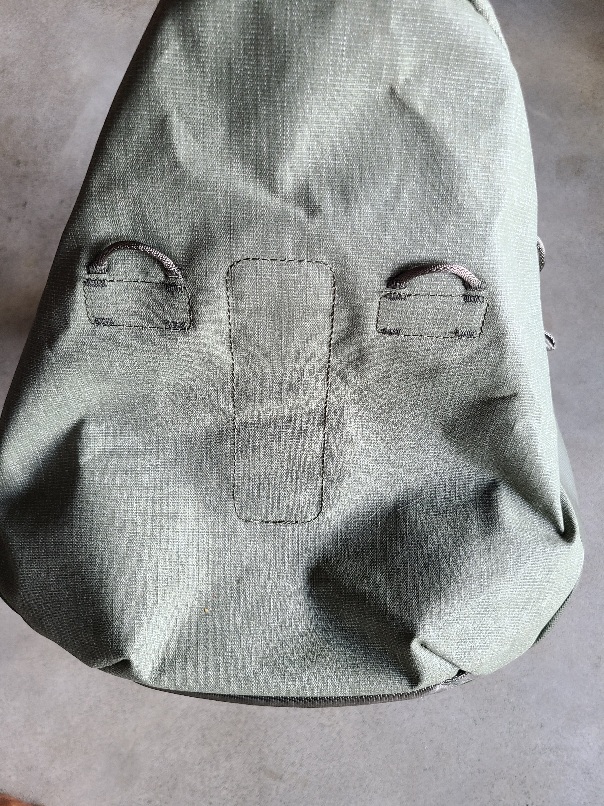 Specifications (Capacity, Dimensions, Technical Materials)
Dimensions (65L): 29.9″ x 13.4″ x 12.6″ (34cm x 76cm x 32cm)
Weight (65L): 1.3kg (2.9lb)
Dimensions (35L): 22″ x 14″ x 10" (56cm x 34.5 cm x 26cm)
Weight (65L): 0.9kg (2lb)
Materials
Top Outer Fabric: Weather resistant 600 denier nylon canvas
Bottom Outer Fabric: 900 denier waterproof liner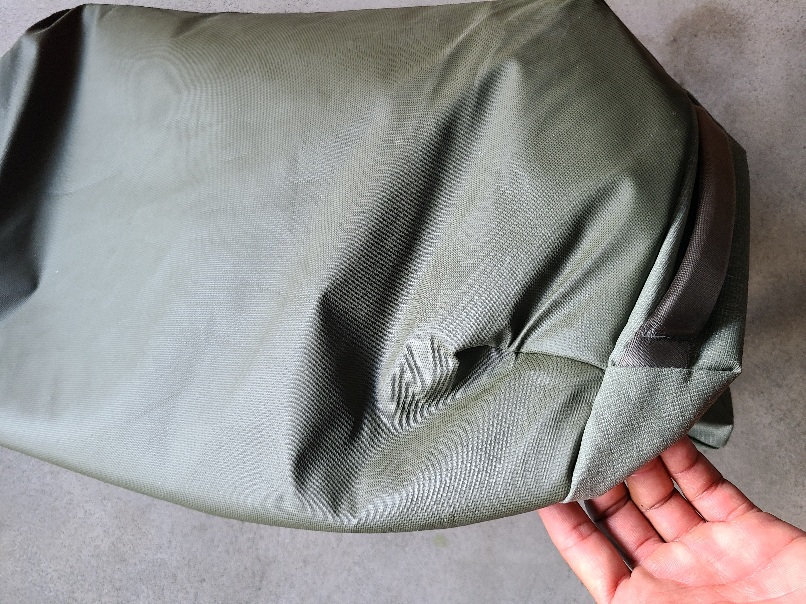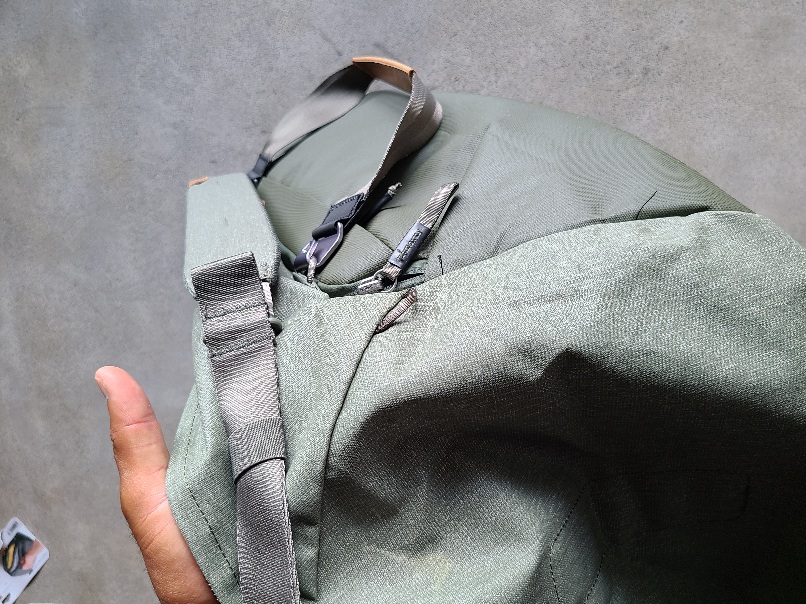 Value for Money
Though at $170, this bag isn't cheap, and you'll find plenty of cheaper options, I still believe it is a good worthwhile value.
The materials, construction, and overall quality make it a "buy it for life" purchase that you won't have to replace anytime in the near future, and that will be a single purchase that fills plenty of needs.
For nomads and long term travelers, this bag will serve you extensively, and you're better off knowing it won't fall apart mid journey. Buy cheap…buy twice.
At $170, with the quality and function you get, this bag is still a good value
Final Verdict
If you are a nomad carrying more than would fit in a normal travel backpack and need something bigger, convenient, and still more functional than roller luggage for adventure, I highly recommend the 65L Peak Design travel Duffel.
If you are a dedicated backpacker but need a small duffel for overflow storage, I highly recommend picking up the 35L peak Design Travel Duffel.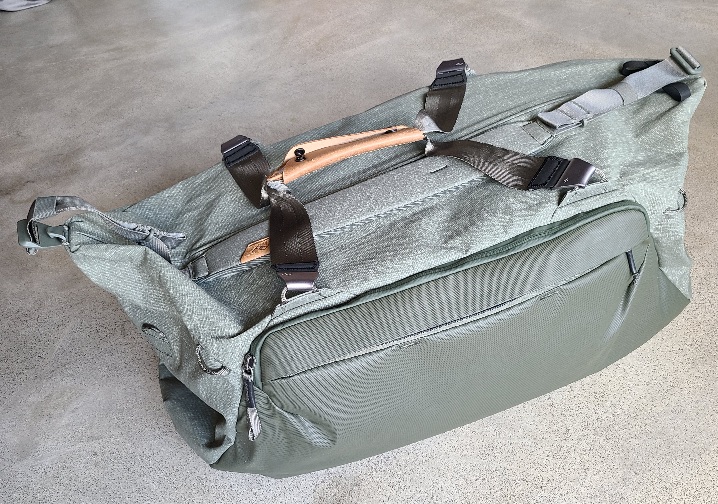 Where to Buy
Pickup the 35L Peak Design Travel Duffel at REI for easy shipping, returns, and warranty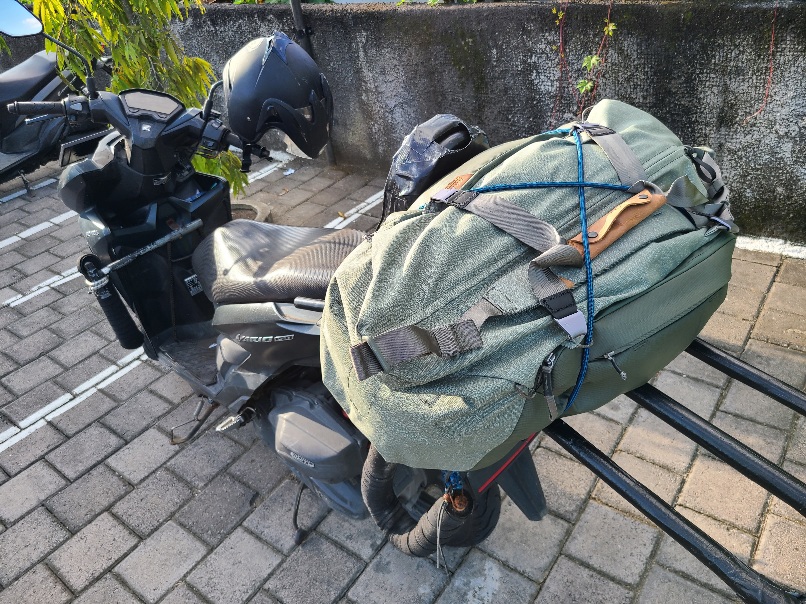 Best Alternatives to the Peak Design Duffel (65L)
Peak Design Duffelpack: A dufflebag designed to wear like a backpack, with padded shoulder straps and hip belt
Best Alternatives to the Peak Design Duffel (35L)