Finding a single backpack perfect for "one bag" travel but still solidly suited to be an everyday bag is a tough task. Few travel bags have the storage space, organization, zippered pockets, comfy yet stowable harness system, and other perks that make a good travel bag – while still being small and manageable enough to use as an everyday backpack. The 30L Peak Design Travel Backpack is the exception to the rule – a great bag equally suited to travel as it is to everyday carry.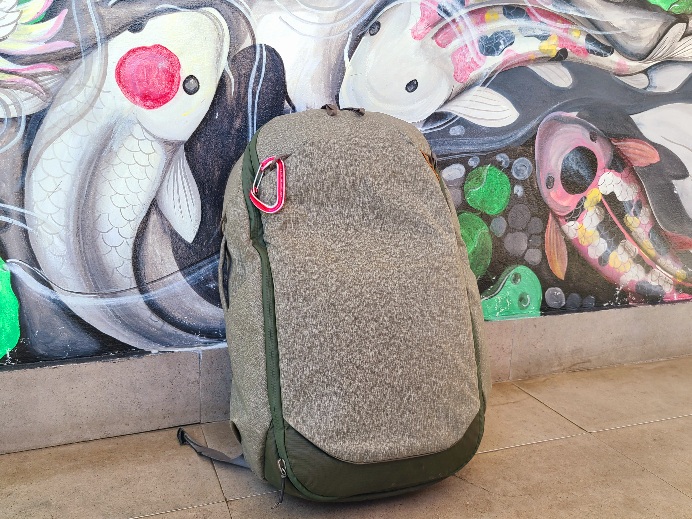 In my experience I've discovered that Peak Design's everyday carry travel bag is meticulously designed to be your single travel backpack for adventurous wandering, yet suited to be the bag you take out every day, wandering cities, bouncing between coffee shops and coworking spaces, and taking full advantage of the opportunity to travel and wander. On those weekend jumps between cities this backpack is an easy carry on travel backpack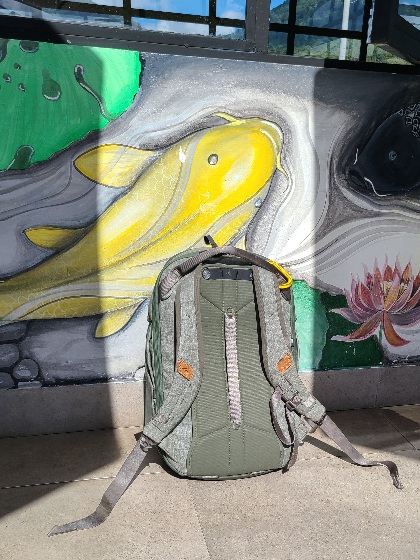 Peak Designs smaller more manageable travel pack expands to 30L to fit enough for weeks of travel, and contracts back to 27L to be used as a perfectly daily carry backpack with enough room to store everything you need for the day.
Over the past few months, I've toted this obsessively designed 30L travel bag on week long adventures exploring the best that Indonesia has to offer, by motorbike, with everything I need tucked in this bag and strapped to my bike.
In between, I've used the pack for long days of working at coworking spaces, exploring hill country by motorbike, squeezing in a workout, and ending with a sunset dip in the ocean, carrying everything I need for the day of work and impromptu adventure.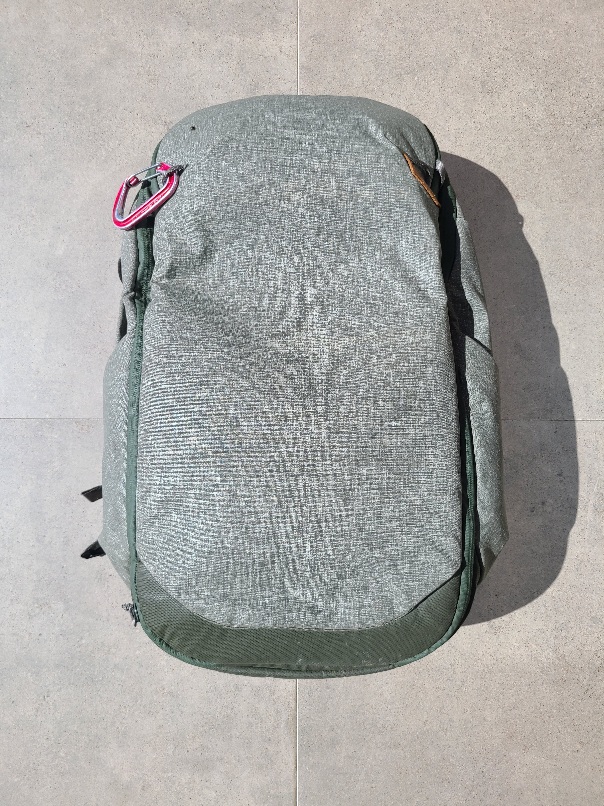 The verdict: for minimalist travelers, especially those with tech they need to protect (laptop, tablet, smartphone, etc.) from rain and the elements, Peak Design 30L Travel Backpack is a great, comfortable, wandering friendly everyday pack…and it just might be the bag for you.
Read on to discover what makes this pack such an awesome travel bag option in this obsessive Peak Design Everyday Backpack review.
This article contains affiliate links

Contents of this Peak Design Travel Backpack Review
Quick Review
Full Review of the Peak Design Travel Backpack

Pros of the Peak Design 45L Travel Backpack
Comfy shoulder straps, with solid webbing wrapped in cushion, quickly and conveniently stowable
Sturdy build – great stitching, solid shoulder straps, heavy duty premium weatherproof exterior zippers
Great, durable, weather-resistant materials
Grab handles in very convenient places
Tons of zippered mesh pockets inside make keeping organized easy, whether for long term travel or everyday use
Lashing loops and strap points at all corners of the bag make it strap extras to the outside of the bag (rain jackets, camera tripods) via "access axial strap attachments" or strap the bag to a bicycle or motorbike.
Looks great
Clearly meticulously designed with amazingly stylish accents, and tough features (rivets, reinforcements, and heavy duty steel/webbing in the right places)
Clean, efficient design makes for minimal dangling straps
Dedicated laptop compartment easily accessed via back panel
Cons of the Peak Design Travel Backpack
Rear opening back panel design makes packing for day use and accessing items difficult, compared to how items are normally packed in a backpack and takes some getting used to (Click here to read more)
I wish there was a better divider between the laptop and packed goods (for protection) (Click here to read more)
Neutral points to know about the (30L) Peak Design Travel Backpack
This travel backpack seems like an expensive backpack, however, when you account for the high quality materials, great design and craftsmanship, and versatile use, this is a "buy it for life" purchase that delivers function and value commensurate with its pricetag
Best Use of the Peak Design Everyday Backpack: Perfect for Long Term Nomadic Travel (as a weekend bag and daily carry), Paired with The Peak Design Duffel
The Everyday Backpack, the smaller sibling to the 45L Peak Design Travel bag, is packed with all the features you need fro "quick travels" and fits a perfect middle ground that makes it perfect for travel and trips that you pack lightly for – such as weekend trips, or climates where you can pack light – and used as an everyday carry backpack, for work, wandering, and adventure.
This middle ground pack is perfect for the needs of digital nomads that often base in a single big city for months on end, such as Tulum, Chiang Mai, or Lisbon, and take smaller trips for a weekend or a week to nearby locales to make the most of their location independence.
The Peak Design Everyday Backpack is just as perfect for daily use, as a nomad working in co-working spaces and coffee shops, as those leisurely trips out of town.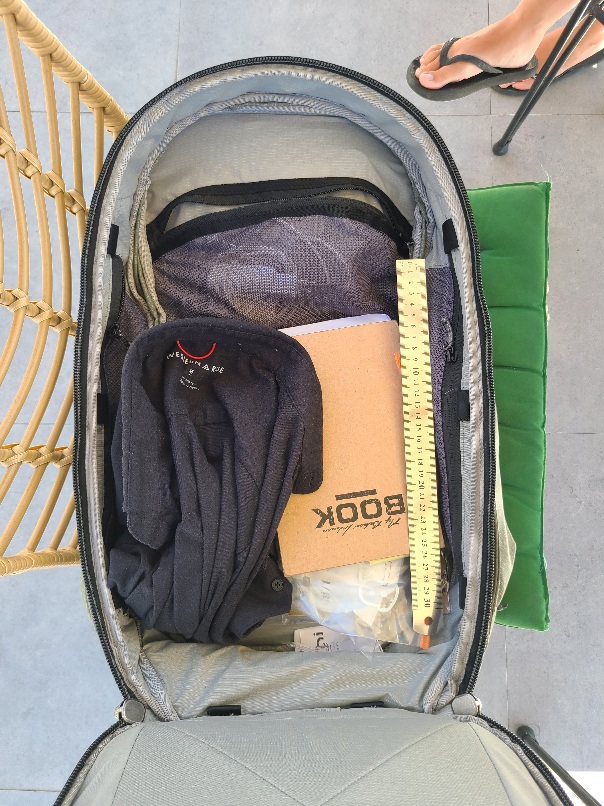 However, for long term travelers, especially those carrying laptops, tech, and the clothes to thrive in any city or climate, a single everyday backpack 30L big won't be sufficient for carrying the gear necessary for months, or years of comfortable travel. So, for long term, nomadic travelers, basing in a single city with adventurous trips on the side, I recommend pairing the Peak Design Travel Duffel* with the Peak Design Everyday Backpack for a perfect travel setup.
In reality, most nomadic travelers tote a lot of gear (understandably) that they only move every few weeks or months, making a duffle bag a great option for the other bag to bring for carrying most gear for those bigger moves as checked luggage, to a new base. In between those big moves, for shorter travel and daily life, a solid, versatile bag for daily carry and weekend travel bag is more essential than you think.
So, Consider grabbing the Peak Design Everyday Backpack 30L size and the Peak Design Travel Duffel (65L size) for a perfect long term travel setup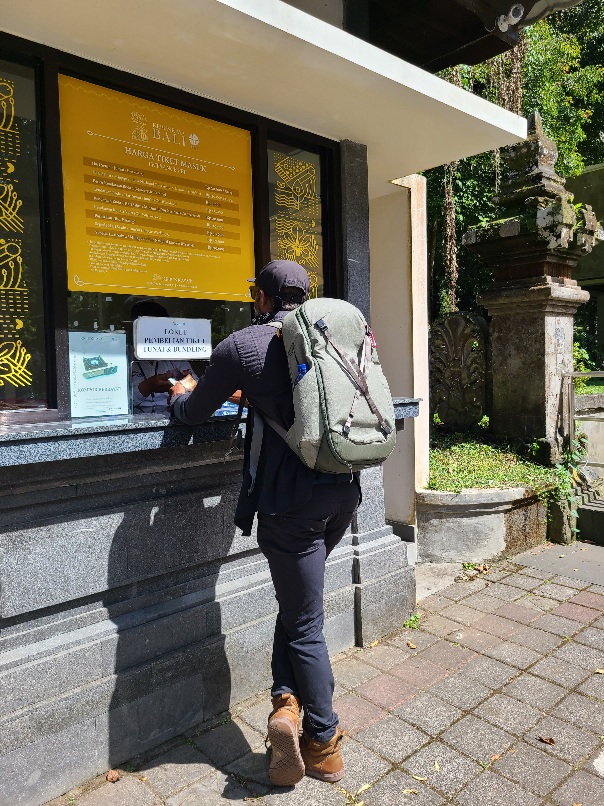 Highlight Features of the Peak Design Travel Backpack
Premium materials throughout
Ultra clean aesthetics
400 denier Durable Water Resistant coating treated outer keep water out
Large, weather shielded zippers, keep water out
Stowaway Shoulder Straps
Quick access tech pouch (up top, in front)
Rear access design and wrap around zip back panel – great for security
HUGE main bag compartment lined with zippered mesh pockets to keep everyday gear organized
Dual expansion zips, add 10L of capacity expanding the bag from 35L to 45L
Tough, sturdy grab handles on top, bottom, sides, and back
Zippered internal pockets line the interior of the main compartment
Built with weather resistant, durable materials and solid quality construction
Secure zippers all around the backpack with weatherproof seams
Tons of zipper pockets to stay organized
Collapsible side pockets and water bottle sleeves accommodate a standard Kleen Kanteen or slim water bottle
Quick access top pocket, with tons of organization for pens, cards, cash, glasses, phones, etc.
Lots of hidden pockets for valuables (passport, credit, cards, lots of cash)
Stow away external straps that lash in an "X" pattern across the front of the bag, so you can carry more and lash more essentials (camera tripod, rain jacket) to the outside of your bag adds huge external carry capacity
Integrated luggage carry makes the everyday backpack suited to pair with roller carry on luggage, or a duffle bag*
Protected laptop pocket styled as a padded laptop sleeve
Materials and Craftsmanship Highlights
Weatherproof 400 denier nylon canvas outer made from recycled plastics – for water resistance, abrasion resistance, and durability, protecting your valuables from weather and making a bag that will last for years
Huge, tough zippers have weather covers, to protect your goods and your tech from rain and moisture
Fair trade certified
100% carbon neutral
Guaranteed for life by Peak Design
Who Is the Peak Design Everday Backpack For?
From my months of use, I can definitely say the Everyday Backpack is suited very well for a few types of users
Daily commuters and wanders with plenty of gear: Ample size, great organization, and comfortable wear making it great for carrying a day's worth of goods for work, gym, and leisure without returning home
Weekend travelers, or lightly packed week-long trips: The 30L is a perfect short travel bag or a week+ if packing for a single climat, and paired with packing cubes* can quickly be emptied to use as a daypack
Digital Nomads: A quickly accessible laptop compartment, durable yet comfy shoulder straps to handle the weight, and storage for all of the techy accessories make this a great everyday carry bag specifically for digital nomads
Photographers as a camera bag: The comfort, weatherproof design, and Peak Design's modular camera storage make the Everyday Backpack a solid camera bag for keeping photography gear safe and comfortably carried
Quick Rating of the Peak Design Travel Backpack
Overall Rating: 4.6/5
Design: 4.5/5 – The inconvenience of a rear opening pack for daily carry gives a slight "ding" to the score
Durability: 5/5 – Durable materials and high quality build throughout
Style: 5/5 – Clean, minimalist, and sleek design elements add up to a very stylish bag
Comfort: 4.5/5 – Though the Peak Design has a durable build, the tough straps may not have enough padding for some people
Value: 4.5/5 – The great function you get and the fact that it will last for years make this bag a great value – but the initial purchase may still sting a little…but it'll be worth it
Quick Verdict
Peak Design Everyday Backpack is an excellent, durable, and stylish expression of what it aims to be – a clean organized everyday pack that's got enough room and organization for travels for a weekend, or a week+ for minimalist packers. Though the pricetag is steep, the materials, craftsmanship, function, and expected durability make it a bag you will use, often, and for life, making it a great investment for travelers, commuters, and nomads.
Digital nomads, on the road for months or years, and basing out of a single location for months with short trips throughout, consider pairing this 30L travel backpack with the 65L Peak Design Travel Duffel for enough space to contain your entire life and still travel easily, and the functionality you need in a daily carry and weekender backpack

Full Review of the Peak Design Travel Backpack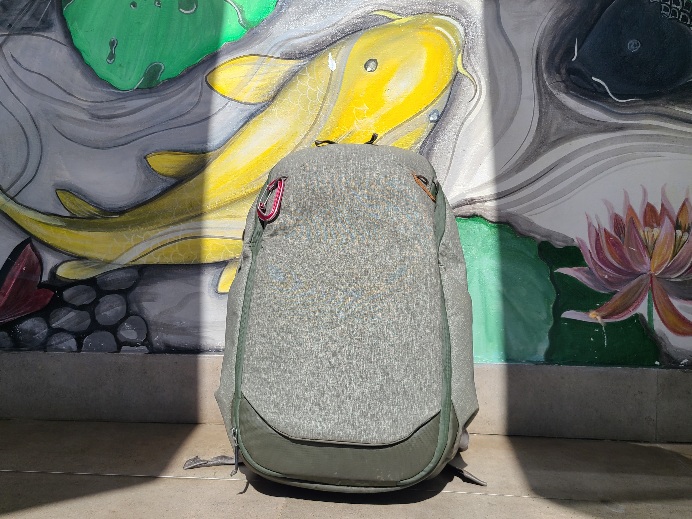 My Experience with the 30L Peak Design Travel Backpack
I'm lucky enough to live my life as a full time traveler and digital nomad based in Bali, Indonesia, and every aspect of my life – and making the most of it – involves being on the move and staying on the move. Whether I leave at sunrise and get back before midnight after dropping into cafes and working at coworking spaces, or simply exploring the mountains, hills, lakes and surf spots, having a versatile backpack to keep everything I need close is essential.
For the past few months I've also been lucky enough to test the 30L Peak Design Travel Backpack as a daily carry when wandering by motorbike, and a weekend adventure bag when exploring new places and islands by boat, plane, and any other way I can find.
Along the way, the Peak Design Travel Backpack has not only met my expectations for a good travel backpack, but exceeded them. Here's why…
This backpack is meticulously organized.
Every square inch of the inside of this pack is covered with well organized, zippered mesh pockets, and strap points for organization, allowing me to carry not just the "basics" of a laptop, cell phone, tablet, and extra clothes, but pens, paper, well hidden cash, sunglasses, surf trunks, and anything else I obssessivel carry – while keeping it all organized.
The materials and craftsmanship are awesome.
I am not only insanely hard on bags, dropping them from moving bikes, overstuffing them more than their stitching and zippers may like, and I've literally broken (the seams and straps) of several bags. At the same time, I'm cheap and a minimalist – once I buy something I don't like to buy that item again. "Buy it for life" is my policy.
After wearing this bag for hundreds of hours I can feel how every bit of fabric, all of the straps, all of the handles, all of the stress point stitches, and all of the rivets are sturdy, durable, top notch quality, and made to last a lifetime, as evidenced by Peak Design's Lifetime warranty.
The pack is comfortable enough for all day wear, yet sturdy in design and construction for years of use
Look closely at this backpack an you realize it was actually design with with a sturdy fabric skeleton, with storage attached (with aluminum rivets and heavy stitching) and coated with foam rubber for comfortable. The shoulder straps use the same nylon webbing common in seat belts that is commonly built to withstand 1000's of pounds of force. The aluminum rivets attaching the shoulder straps to the just as tough backpanel are even stronger.
And the fabric is tough and top notch too, with weatherproof 400 denier nylon all around and the bottom doubled up with 900 denier waterproof fabric.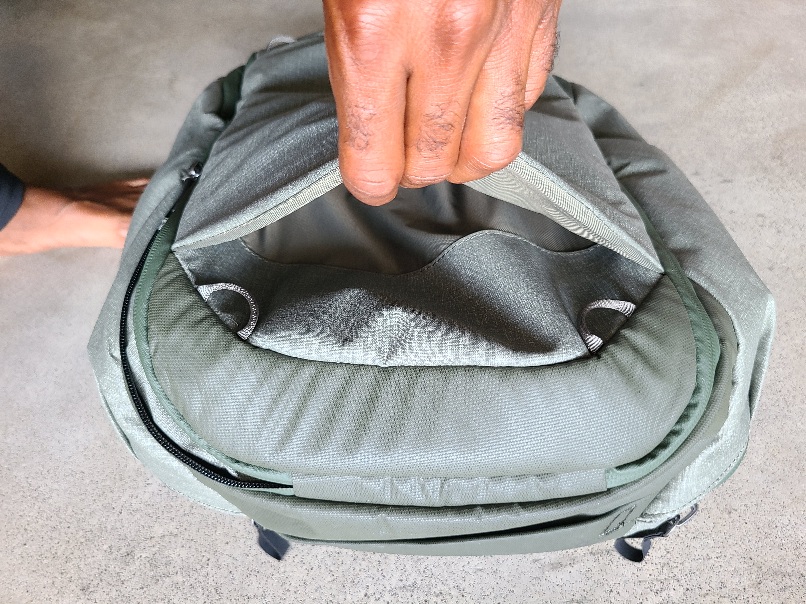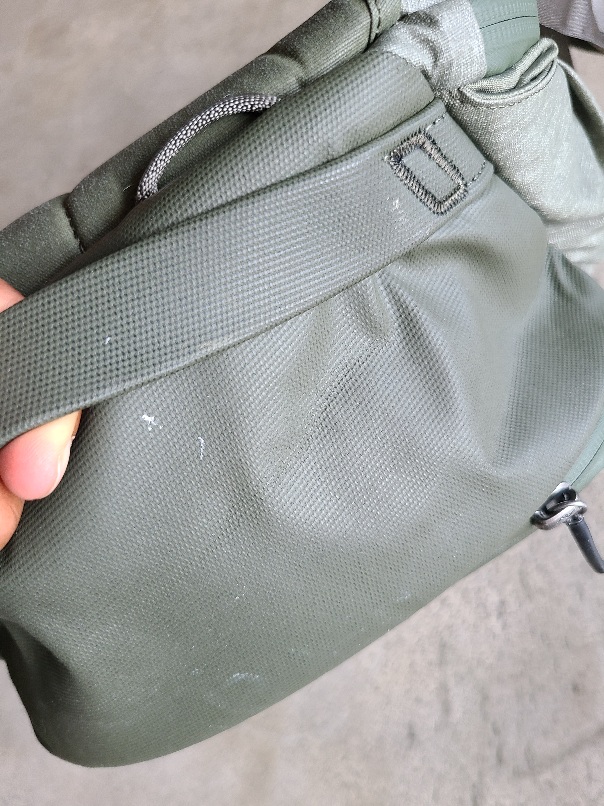 The foam rubber wrapping of the shoulder straps and backpanel isn't as soft and comfy as some backpacks, like the super padded shoulder straps on the Tortuga Outbreaker*, but are perfectly fine if you don't plan on trekking 10 miles with 65 pounds. More importantly to me, the straps can comfortably carry a bag full of weighty tech – laptop, smartphone, tablet, notebooks, etc.
Not only does the backpack feel good and look good, but its tough. Which leads to the next point, the look and design on this backpack is amazing.
Looks good due to great design
I've received more than a handful of complements on the look of this backpack, and trust me, that doesn't happen often. The clean lines, lack of dangling straps, earth toned fabric, and high quality accents (leather branding badges, stamped aluminum hardware) add up to a bag that delivers function with the sleek aesthetic of a speed boat or airplane.
Rear loading main compartment: The only downside for me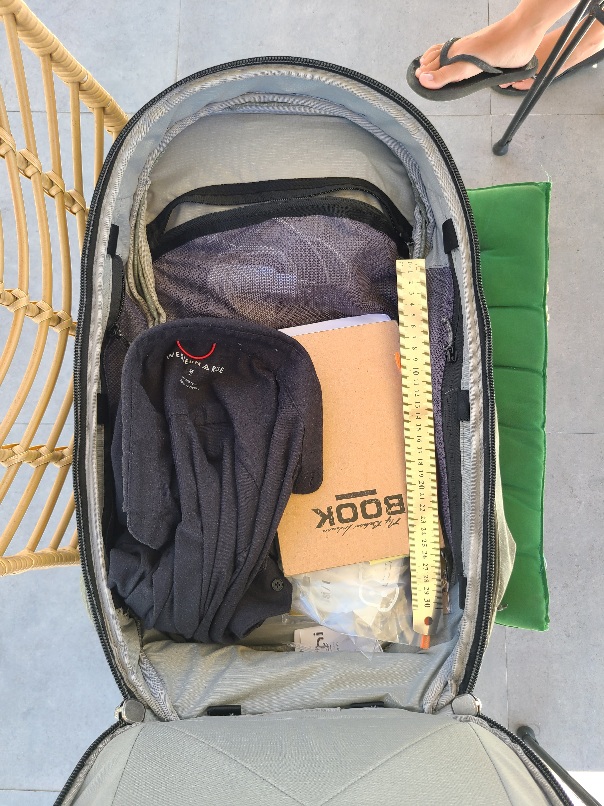 I've fallen in love with clamshell opening style backpacks, essentially bags that have wrap around zippers that allow the bag to open fully. The GORUCK GR3 and GR2 backpacks were my first backpacks with that feature, and now I insist on wrap around zippers and fold open design with even my daypacks. However, the Peak Design Travel backpack is the first daily carry backpack I've tried with a rear opening panel design.
A rear opening design isn't inherently bad for travel backpacks, but in a daily carry backpack, rear loading takes some getting used to – here's why…
In good packing, the flat items and heavy items should be closer to your back, allowing the load to sit close to your spine, and avoiding the risk of the heavy things (laptop) crushing the small things (cell phone) while you wear the backpack. This is why good laptop pockets are just behind the backpanel. However, with a rear opening backpack, wherein the back panel flips up, if you pack correctly then whenever you open the pack, you'll have to dig past the large items, like tablets and notebooks, to get to the smaller items buried underneath.
This is my one complaint about the bag – rear opening panel design just isn't the best for daily carry backpacks, and quickly accessing smaller items in the bag.
By contrast, whenever I open my GORUCK GR1, which has a front opening clamshell design, smaller items are naturally on top and larger items on bottom, making everything very accessible.
Thanks to the rest of the extremely positive points of the Peak Design Travel backpack – great materials, good craftsmanship, organized storage, great style – opening style mismatch for daily carry isn't a deal breaker, and I still happily use the backpack daily. I actually have it with me now as I sit at a coffee shop.
Overall for daily life, the 30L Travel Backpack is a win
Thanks to the comfort and organization, the backpack is not only great for travel, but daily life, as I've learned firsthand. The added bonus is that it transitions perfectly to being a weekend travel backpack.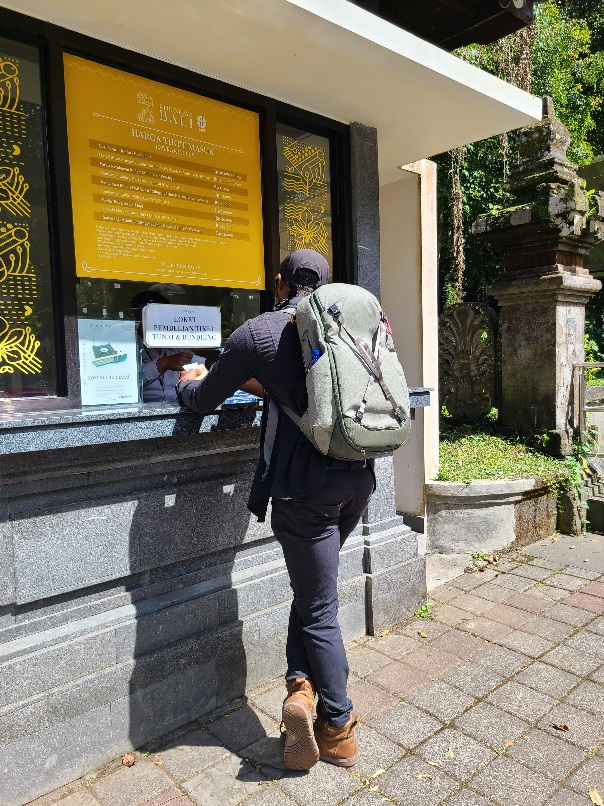 For Travel, the 30L Peak Design Travel Backpack holds its own for weekend adventures
On the many impromptu trips I've taken, whether I'm cruising on a motorbike, hopping a plane (and taking this carry on), or hopping a quick ferry to another island, this bag is still solid. With the help of a few packing cubes I can fit in everything I need for a trip and stay organized, with enough dedicated space and protection for my all essential laptop.
The Ultimate Nomad Travel Setup is the 65L Peak Design Duffel Bag, Paired with the 30L Travel Backpack
For the crazy people like me out there, that love to "nomad" from place to place for weeks or months and carry more luggage than a good carry on backpack* allows, a great option is admitting you have quite a bit of luggage and taking a duffel bag to transport your who life, and using the 30L travel backpack for those beautiful week long vacation trips away, exercising your location independence, and daily at your cafes and coworking spaces.
The Bottom Line on My Experience with the Peak Design 30L Travel Backpack: A solid, well designed bag, for daily life, weekend adventures, and nomading
Ultimately, I enjoyed using the Peak Design 30L travel backpack, I highly recommend it, and I'll continue to use it in the future.

Function By Function Review of the Peak Design 30L Travel Backpack

Appearance and Aesthetics: Clean design, modern, and sleek
Throughout this pack, Peak Design does achieve peak aesthetics resulting in backpack that looks as good as it performs.
The durable, weather and abrasion resistant fabric has a heathered look that combines a touch of classic styling with the modern look and design that makes up the rest of the bag.
All haul points (handles straps) use nylon webbing which gives toughness and durability but looks thinner and cleaner.
A lack of compression straps and daisy chain webbing, common in other bags, actually improves the look of this bag, making for a more sleek appearance and fewer loose bits to get snagged on random objects while commuting.
Ultimately the style and look of this bag is great – clean, minimalist, and understated in a stylish and great looking way.
The potential pitfalls: Rear opening design and I wish there was a more substantial laptop divider
Though I really love the comfort, storage space, design, and functional minimalism of the Peak Design Travel Backpack, nothing is perfect – and I have 2 points I would love to see improved in the bag.
Rear opening back panel design makes packing for day use and accessing items difficult, compared to how items are normally packed in a backpack
Clamshell opening backpacks, that fully open while lying flat are by far the best for travel, as they allow for quick and easy packing with packing cubes and easy access to everything in the bag while traveling.
All of my preferred daily carry bags (like the GORUCK GR1, the GORUCK GR2, and the REI Ruckpack 28) are clamshell style opening, however all of these open from the front. This allows you to stack the heavier, flatter, larger items close to your spine for the most stable packing and most comfortable wear.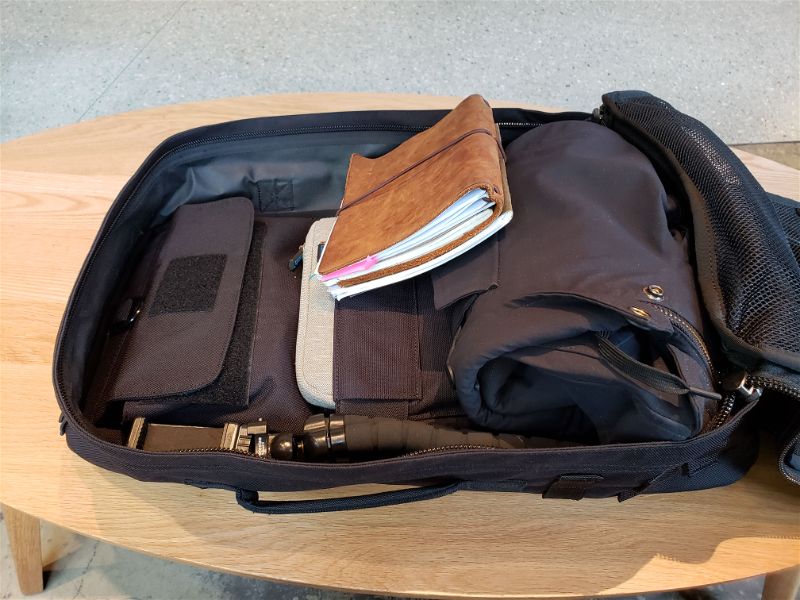 However the Peak Design Travel Bag is rea opening. This means that if you pack your backpack with the flatter, heavier items (laptop, notebooks, etc.) closer to your spine, when you open your bag the large items will be on top of your smaller items.
This is noticeably inconvenient during the first few uses, if you're obsessive about your backpacks like I am, as you will have to dig to get to your smaller items. Additionally, most of the great zippered mesh pockets inside the pack line the front panel, meaning you'll have to dig under everything to get to those pockets.
If you're obsessive about your packs (like I am) it will take a few uses to get used to. However, I still use the 30L travel backpack daily now and rarely notice this inconvenience anymore.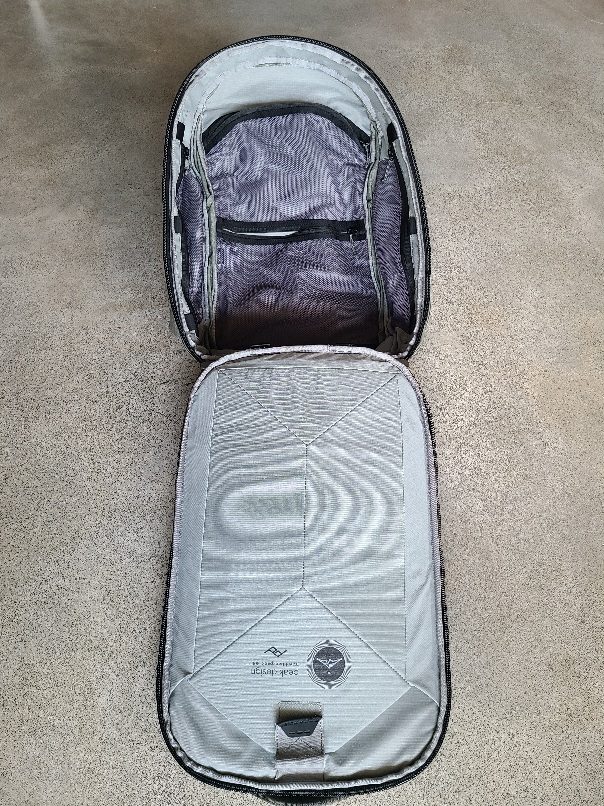 I wish there was a better divider between the laptop and packed goods (for protection)
Most backpacks with a dedicated laptop sleeve or laptop pocket store the laptop just behind the back panel – such as the GORUCK GR1's bombroof laptop pocket and the Tortuga Outbreaker's laptop and tablet pocket. However, both of those bags offer a more substantial bit of protection between your laptop and the goods in your bag.
In the 30L Peak Design Travel Backpack, the laptop sits in its own pocket, which is essentially a sleeve sewn into the main bag compartment. The sleeve does offer a bit of protection – a ~2mm sturdy foam rubber pad – but I would be weary of the protection if I had a hard, oddly shaped object in my main compartment poking the laptop. The laptop sleeve padding is fine for most uses, however, beware if packing oddly shaped, hard objects with corners.
Let me be clear, though I'm not a fan of these two features, they are absolutely not deal breakers and I still really like this bag for daily use and weekender travel
Comfort and Carry: Sturdy yet comfy shoulder straps, and sturdy handles on all sides
Tough, durable, and comfy shoulder straps attached to the bag with lightweight yet tough anodized aluminum make for a bag that can handle heavy loads, is comfortable to carry, and will last a long time.
Each shoulder strap is made from tough, tubular nylon webbing (the stuff used in rock climbing to hold 1000's of pounds) wrapped in soft, comfortable, and durable foam rubber for a sturdy yet comfortable carry
The shoulder harness system stows away quickly and smartly, rotating at the metal rivet to stash behind the back panel padding, to quickly allow for a suitcase style carry
Adjustable sternum strap, made of the same tough nylon webbing, has the tough and stylish anodized aluminum accents as well
Tough "Drag handles" cleanly line the top, bottom, sides, and back of the bag, allowing for a quick suitcase style carry when needed, and without getting in the way the rest of the time.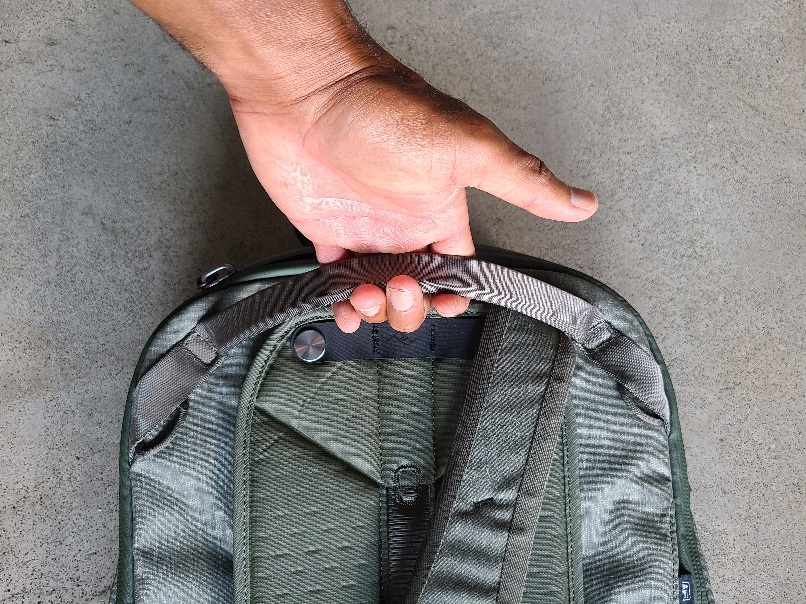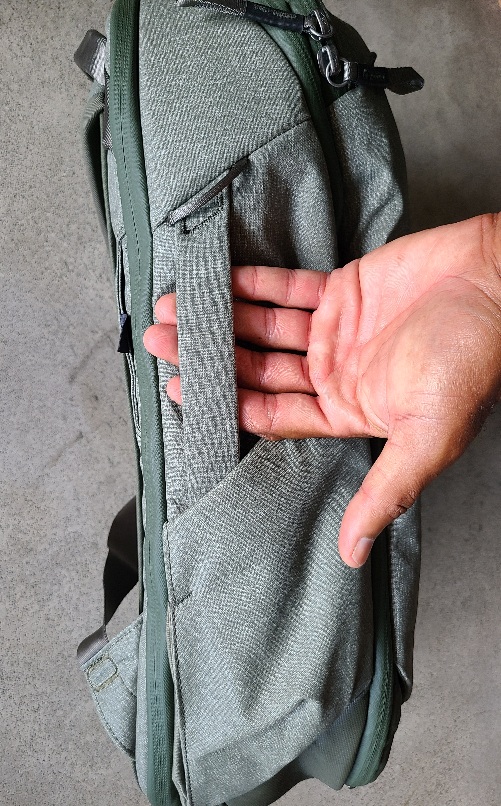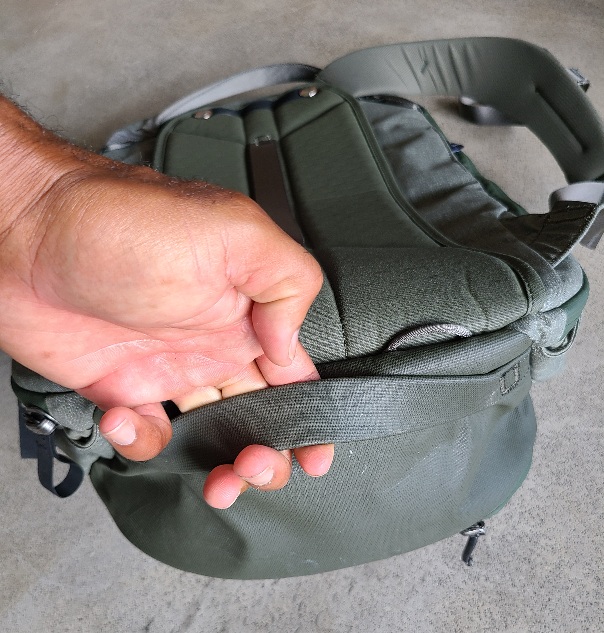 Thoughtful nylon "haul points" dot the corners of the exterior of the bag so you can either 1) strap large or quick access items to the outside of the bag, like a tripod or rain jacket or 2) strap the bag to something else, like a motorbike or the top of a duffelbag.
Removable and adjustable straps that easily hook onto and detach from the haul points make it possible to carry wet or extra gear outside of your bag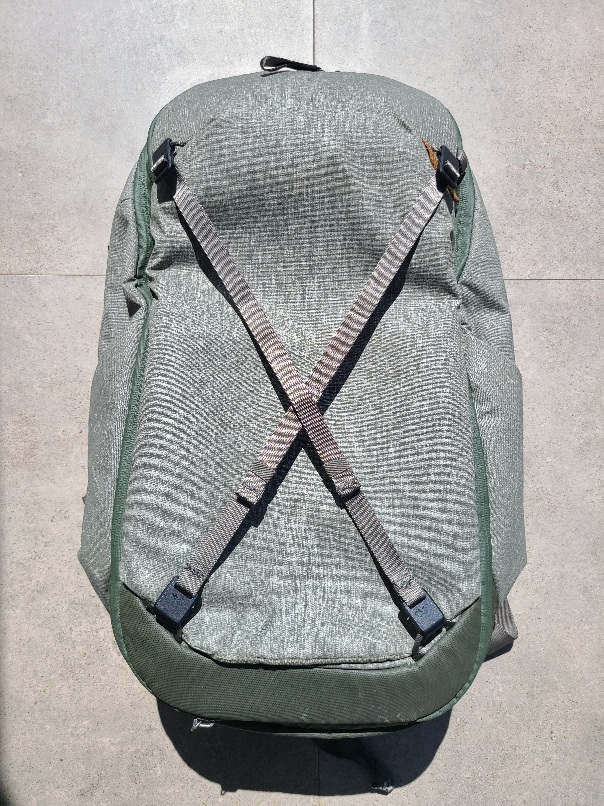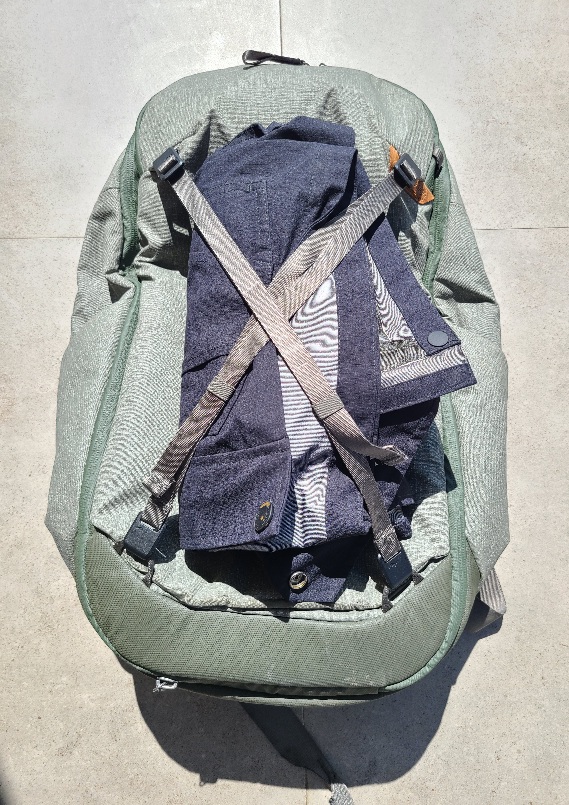 Materials and Build
Outer Cloth: Weatherproof 400 denier nylon canvas treated with two water repellant methods and made from recycled sources
Bottom Cloth: Waterproof 900 denier nylon along bottom of the pack
Straps: Tough nylon webbing
Rivets and hardware: Anodized aluminum rivets and hardware
Stamped anodized aluminum hardware as rivets at shoulder straps, clips on straps, adds style and lots of durability
Dimensions, Weight, & Specifications
Weight: 1.44kg (3.17lbs)
Dimensions – Standard: 53cm x 33cm x 18cm (20.9″ x 13″ x 7″)
Dimensions – Expanded: 53cm x 33cm x 20cm (20.9″ x 13″ x 7.9″)
Laptop Pocket: 40cm x 29.5cm x 4cm (15.75″ x 11.6″ x 1.6″) Fits Macbook Pro 16″
Tablert Pocket: 24cm x 19cm x 1.5cm (9.5″ x 7.5″ x 0.6″)
Carry-On Compliance: Fits most international airlines and budget airline carry on restrictions
At 53cm x 33cm x 20cm (20.9″ x 13″ x 7.9″), the Peak Design 30L Travel Backpack is small enough to fit as a carry on for most international airlines, as well as budget airlines like Air Asia (56cm x 36cm x 23cm) and Ryanair (22 in x 16 in x 8 in/55 cm x 40 cm x 20 cm)
Meticulous and Clean Storage and Organization: Large open main compartment, lots of internal zip pockets, top pocket, and water bottle side pockets
Large main compartment lined with zippered mesh internal pockets and a laptop sleeve
Internal zippered mesh side pockets
Internal zippered mesh pockets on back panel
Lightly Padded and protected laptop sleeve style laptop pocket
External water bottle side pockets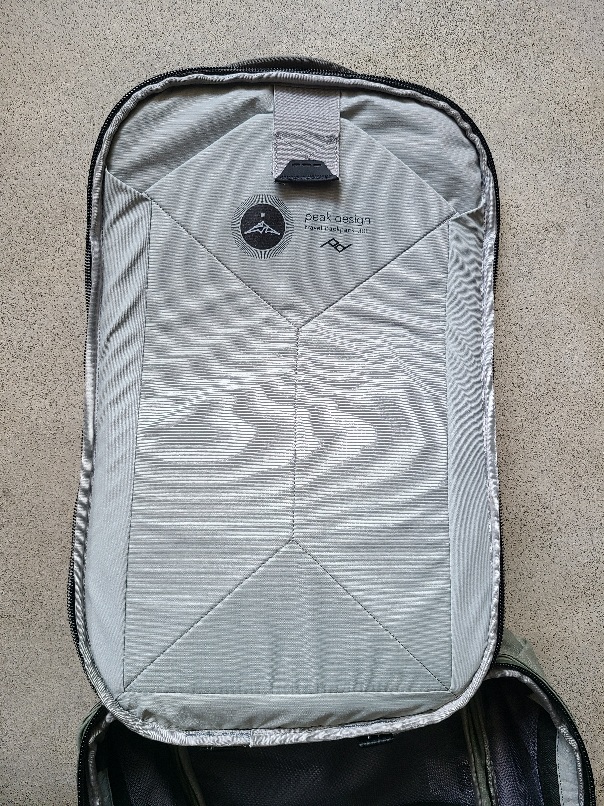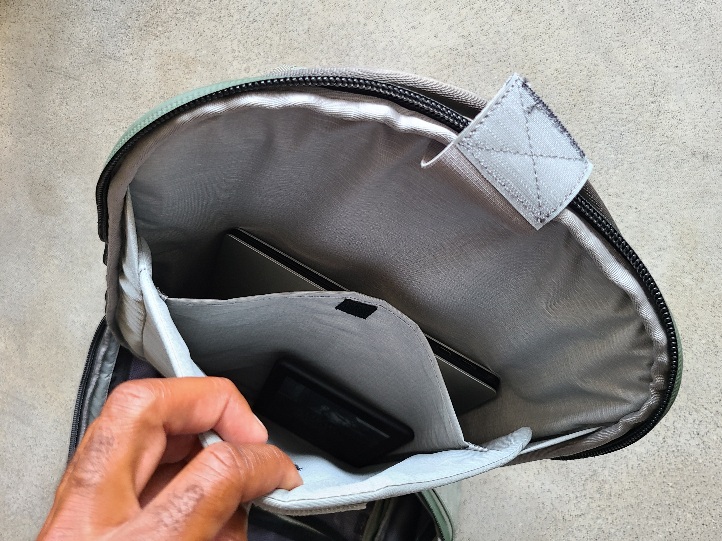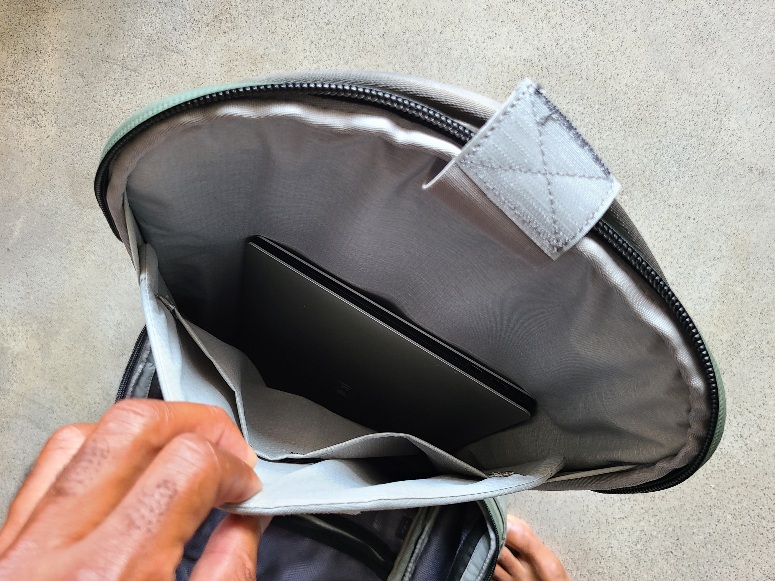 Top zippered compartment with organized storage for smaller items
Soft zippered stretch pocket – for sunglasses or the like – with MOLLE webbing storage
Soft, small pannel compartment storage to keep smaller items organized
Internal anchor points and included straps allow you to compress gear from inside the backpack to make sure everything stays in place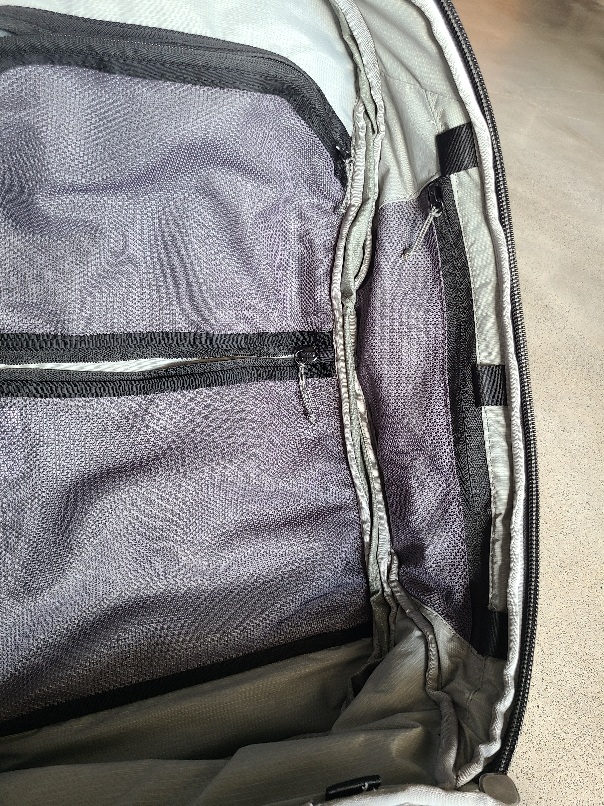 And a water bottle pocket that fits the slim Klean Kanteens or a smaller water bottle, but don't expect to fit your wide mouth Nalgene here.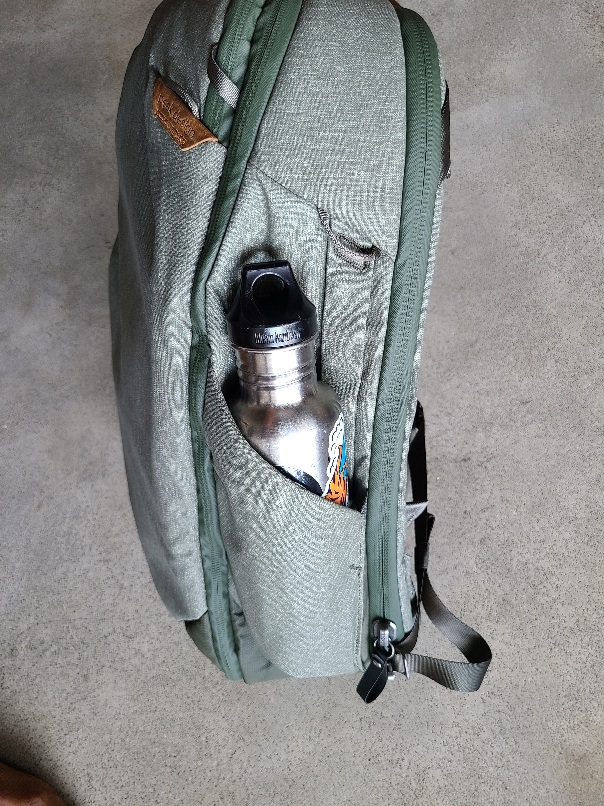 Packing and Accessibility
The full wrap around zip backpanel opens to reveal zippered mesh pockets on every square inch of the inside of this bag and the padded laptop and tablet sleeve.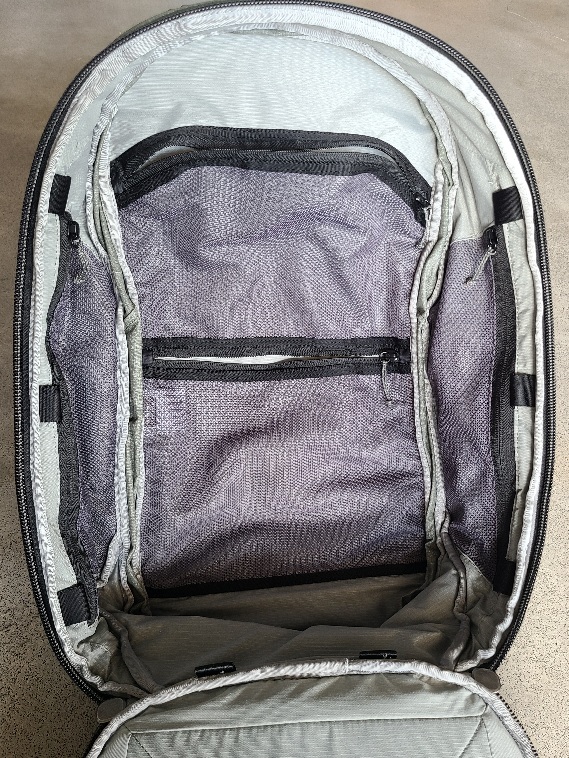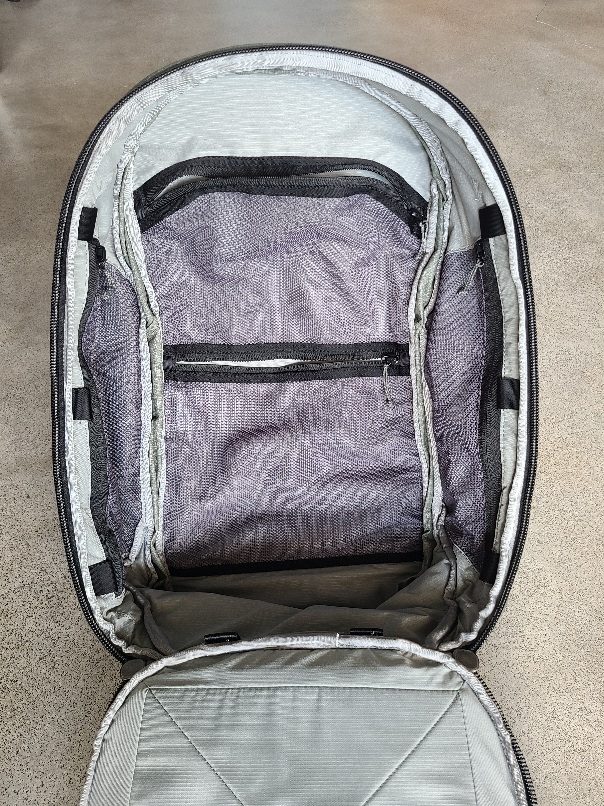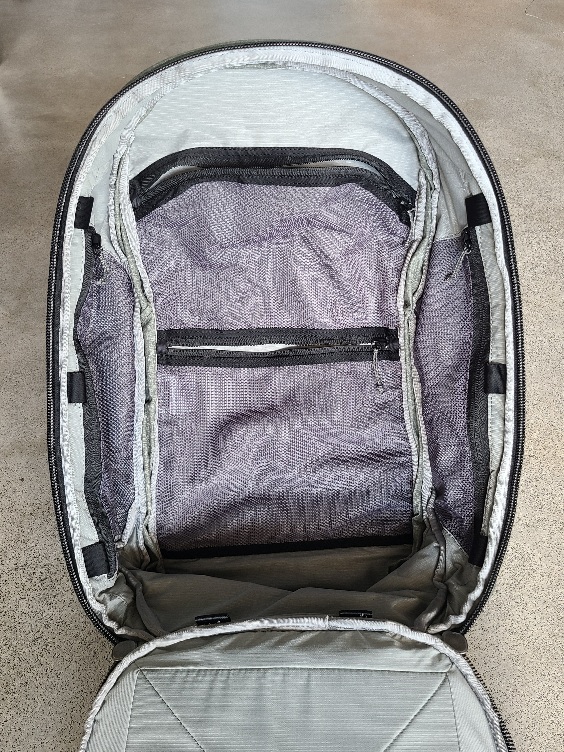 The wrap around compression zip easily unzips to increase storage by 3L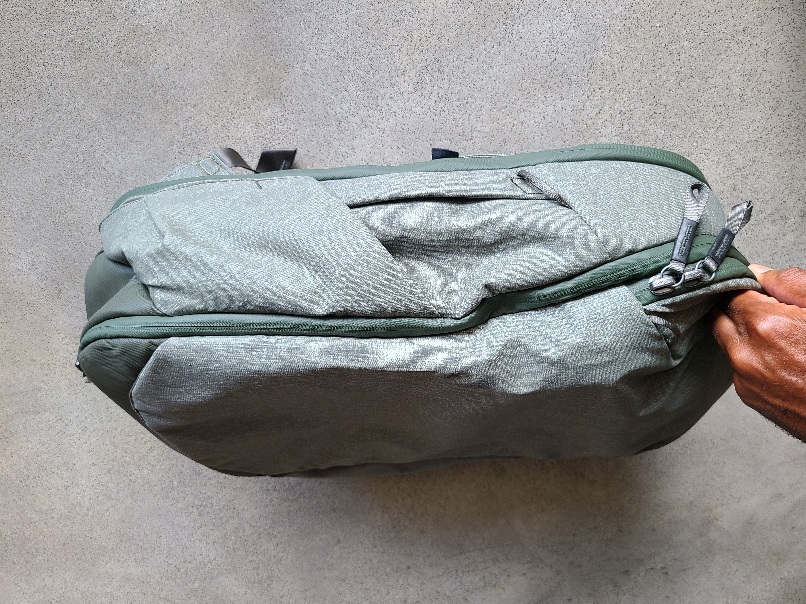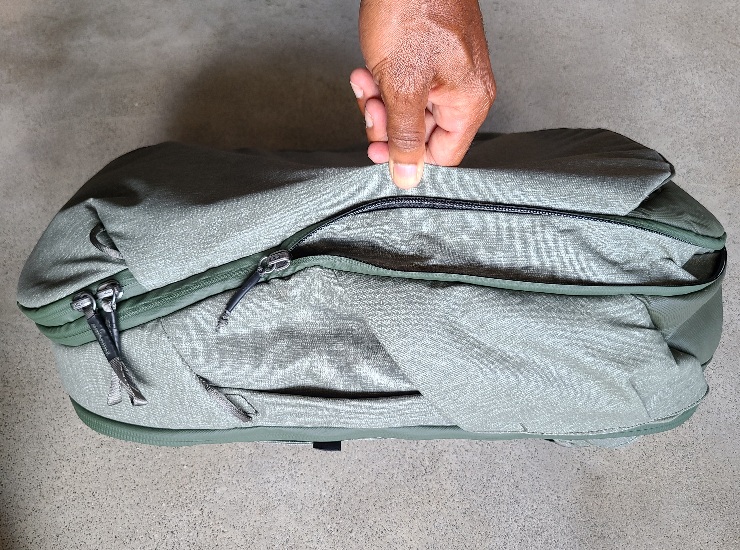 The front, zippered kangaroo pouch pocket has even more meticulous storage to keep small frequent use items accessible – like sunglasses, wallet keys, pens, cash, etc.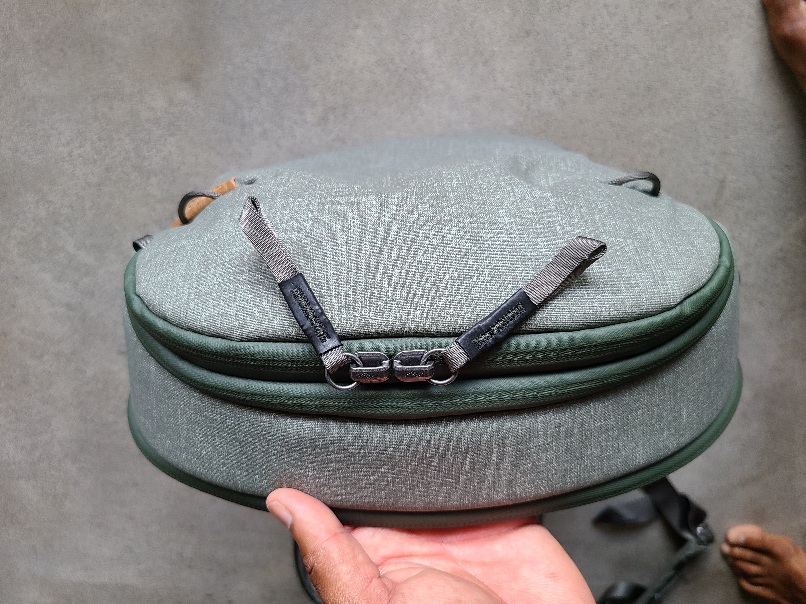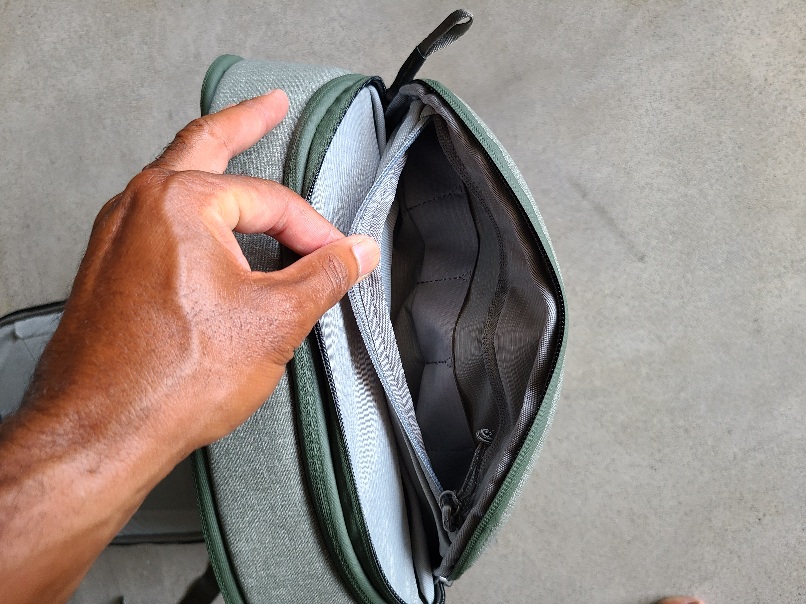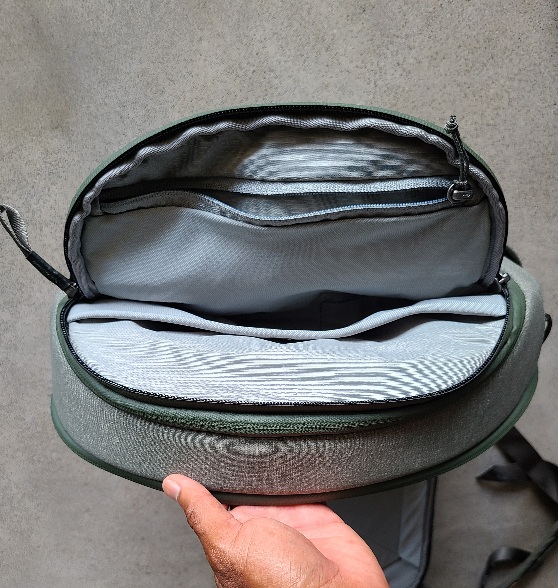 **Hidden within the front panel is a nifty storage spot for shoes or flip flops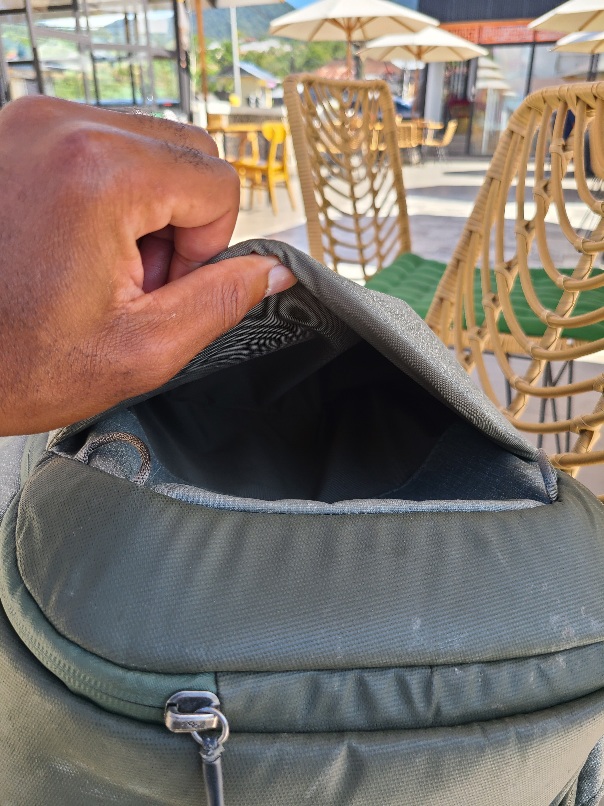 Any trip worth taking requires flip flops or solid travel ready sandals, and shoes, which means you'll need a space to carry the pair you're not wearing. This cool storage spot allows for that storage while maintaining the small overall footprint.
Durability & Testing
Its been a few months and the feel of this bag is super durable and rugged.
There hasn't been a single loose stitch or popped thread.
The straps and and shoulder harness show zero stretch, and the rivets that hold the shoulder straps to the main bag show zero weakness. Even under heavy daily loads (30lbs+).
The water resistant, weatherproof fabric and water protected zippers have performed well, protecting my laptop and documents in the surprise rainstorms that happen in Bali often while I'm exposed on my motorbike.
I've tested tens of bags and broken more than a handful, so I can tell a bag with a limited life very easily from a tough built, sturdy, buy it for life bag. From my experience, the Peak Design Travel Bag is a tough bag that, even with heavy, hard use will last a long time, longer than I expect from most backpacks.
Price, Value for Money, and Discounts: Not cheap, but a good value
At ~$230, the Peak Design Travel Backpack seems like its not cheap…but buy cheap, buy twice. If you look at this bag as a daily carry and travel bag (when paired with a good duffle for extra space*) that has a lifetime warranty and expected to last for life, you won't need another bag, making this bag worth the money.
This travel backpack isn't cheap, but it is a great value
Discounts
Peak Design offers discounts to military, first responders, hospital workers, and students, via its discounts page. Visit the Peak Design discount page to learn more
Peak Design Lifetime Guarantee: What Kind of Warranty Does Peak Design Offer?
Peak Design warranties all of its bags with a "no rhetoric, lifetime guarantee." Straight from Peak Design: "If any part of your Peak Design product* becomes non-functioning or defective, we will repair or replace it with a fully-functioning item in the same or better condition"
Click here to see full details of the Peak Design no hassle warranty
Shipping: Does Peak Design Ship their Bags Internationally?
Peak Design delivers globally for very cheap. Canada, Europe, Australia, Asia, and more.
Click here to learn more about the Peak Design shipping policy

FINAL VERDICT
After months of testing, hundreds of days of use, and hours upon hours of wear, I can confidently say the Peak Design Travel Backpack is a comfortable, tough, and functional daily use, commuter, and travel backpack that I highly recommend.
Travelers will not be disappointed.
Nomads, I highly recommend pairing the 30L or 45L Peak Design Travel Backpack with 65L Peak Design Travel duffle, for a versatile and near perfect travel and adventure friendly luggage system.

Compare Similar Products

Essential Peak Design Travel Accessories and Packing Tools to Consider
Sold separately but very worthwhile
Hygiene bag: To keep your toiletries organized and tidy, and protecting your gear from toothpaste explosions *
Tech Pouch: A toiletries bag style organizer, specifically designed to organize your cables and peripherals as a tech pouch
Peak Design Accessories for Photographers to Consider

More great articles on other travel backpacks to help you find the perfect bag and packing system

FAQ
Is peak design bag worth it?
Yes, the Peak Design Travel bag is worth it. Meticulous design, durable materials, and weatherproof build make this daily carry a solid travel bag that will last for years, making it well worth the price tag.
Is Peak Design a good brand?
Peak Design lives up to its name, leveraging extremely good backpack design to deliver function and durability.
Does peak design travel backpack fit under airplane seat?
The Peak Design 30L Travel backpack will fit under most airline seats, with dimensions of 18″x14″x8″, but the 20″ length of the Peak Design Travel backpack will stick out just a few inches.
What is the most comfortable travel backpack?
The Peak Design Travel Backpack is a contender for the most comfortable and durable travel backpack, but the Tortuga Outbreaker's cushy thick foam rubber shoulder straps beat out the Peak Design Travel backpack while slightly sacrificing shoulder strap durability compared to the Peak Design Travel Backpack.
Images