Welcome to A Brother Abroad's Guide to Coworking Spaces – Bali |With mountains and beaches, surfing and sun, adventures, yoga, and so much more at a very cheap cost of living, Bali, the "Island of the Gods" is a paradise. All of the creature comforts at a great price to make Bali a great stop for digital nomads or work travelers squeezing in a weekend trip on the Asia circuit.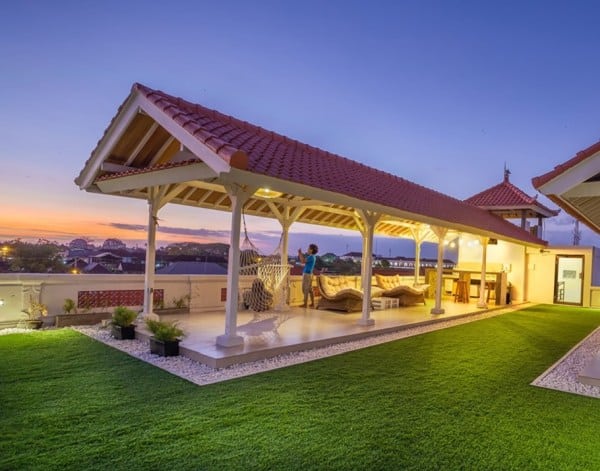 After all of the Bali fun, when it's time to get work done, coffee shops and restaurants as workspaces can get old quick. Not only is it easy to overstay a welcome, but its nice to have a dedicated workspace, solid internet, and peace & quiet. If these are of value to you, you'll find exactly what you're looking for in the local coworking spaces. Bali offers countless Coworking spaces across Canggu, Ubud, Kuta, Seminyak, and even further down the peninsula.
Whatever you're here on Bali for, there's a coworking space to get work done right next to your style of after hours fun.
Read on for The Comprehensive List of Coworking Spaces – Bali.

Contents of A Brother Abroad's Guide to Coworking Spaces – Bali
If you already know where you're headed in Bali and its Canggu or Ubud (both great digital nomad hubs) checkout our detailed articles on both spots
"The 7 Best Coworking Spaces Canggu Has to Offer"
"The 7 Best Ubud Coworking Space to Live, Work, and Give on Bali"

Google Map of the Bali Coworking Spaces

Canggu Coworking Spaces
The Canggu Coworking scene is live, rich, and very social with a surf town backdrop and a paradise feel. For more info on the Canggu Coworking scene and the Coworking space options, check out our article "The 7 Best Coworking Spaces Canggu Has to Offer" or click the links above to be taken to the specific workspaces.

Ubud Coworking Spaces
The Ubud Coworking scene is peaceful, robust, and insanely cheap. For a full list of the Ubud Coworking spaces and the Ubud Coworking scene, visit our article "The 7 Best Ubud Coworking Space to Live, Work, and Give on Bali" or click the links above to be taken to the specific workspaces.

Uluwatu Coworking Spaces
The Space Bali
Habitat Village Uluwatu
Nagara Coworking
Bukithub

Seminyak Coworking Spaces List
Connect @ Peppers
KEMBALI
Biliq
---
Connect @ Peppers
$92 USD/Mo. | 1.3M IDR per Month | www.PeppersSeminyak.com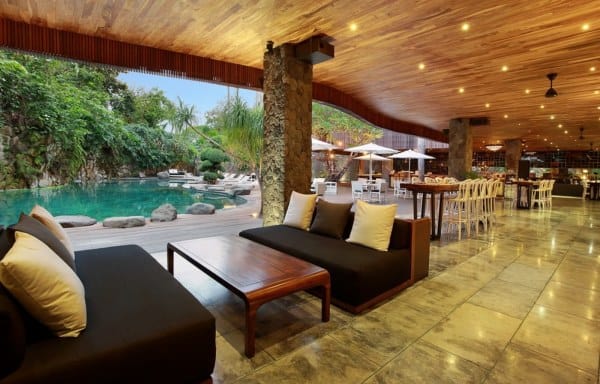 "Connect@Peppers" gives you access to the workspace and conference areas of a 5 star resort facility with full use of the amenities and discounts as well. The monthly price is also very reasonable compare to other coworking spaces nearby and the amenities you get. Just don't expect that hip, "digital nomad" feel you'll get deeper in Canggu.
Amenities:
Gym Access: 10AM to 4PM
Swimming Pool Access
Access to Board Meeting Room
15% Discount on Amenities
Note that the website doesn't display much info on Coworking. If you're interested, just go in and inqire at reception and they'll take care of you.

KEMBALI
150k IDR/$11 per Day | 2.3M IDR/$163 per Month | www.Kembali.id
A tech an entrepreneurship hub that hosts conferences but doubles as a coworking space.
Meeting rooms, programs for tech startups, community projects, and mentorship programs also all take place in this space.
Hours: 9AM to 6PM Weekdays, 9AM to 12PM Weekends
Amenities
High Speed Wifi
Meeting Rooms (for Additional Charge)
Outdoor Balcony Workspaces
Indoor Air-conditioned Workspaces
Lockers Available (Additional Charge)
Google Startup Accelerator Program
Mentoring Session from Google
Pricing
Monthly Unlimited: 2.3M IDR
Weekly: 1M IDR
Monthly – 40 Hours: 900k
Day Pass: 150K IDR

Biliq
30k IDR/$3 Hourly | 1.9M IDR/$135 Monthly | www.BiliqBali.com
A comfy Coworking space started by digital nomads that traveled to Bali and found inconsistency, poor wifi, and bad coffee too distracting from their work – so they design and build the "perfect coworking space". "Bali's Best Workspace" according to Google reviews.
Biliq has two locations:
Biliq Seminyak: "The Oasis"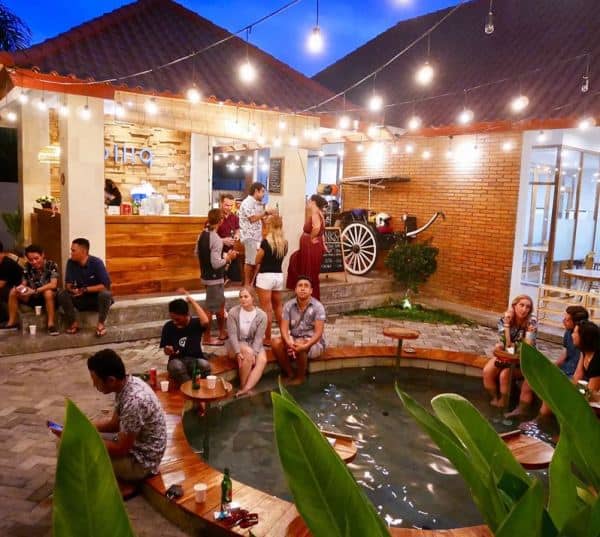 This has been called one of the most comfortable and peaceful coworking spaces in Bali with napping and Zen rooms and comfy workspaces in addition to meeting rooms, Skype rooms, and all of the other necessities.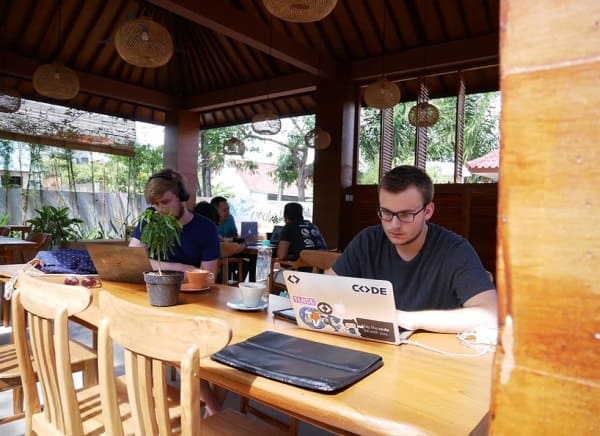 Biliq Sunset: "The Office Suite"
A bit more corporate and structured than "The Oasis", but equally easy to stay productive in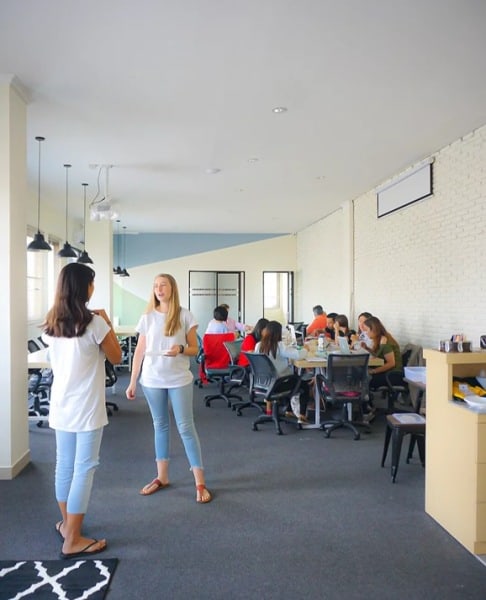 Pricing
Monthly Unlimited: 1.9M IDR
10 Days per Month: 1.2k IDR
5 Days per Month: 650k IDR
Hourly: 50k IDR
By the Minute: 500 IDR/ Minute

Legian Coworking Spaces
Bali Bustle
Hub Bali
Colony Creative Hub, Kitchen & Bar
---
Bali Bustle
150k IDR/$11 Daily | 2.2M IDR/$156 Monthly | www.BaliBustle.com
Coliving and Coworking in a "serviced apartment styled" community.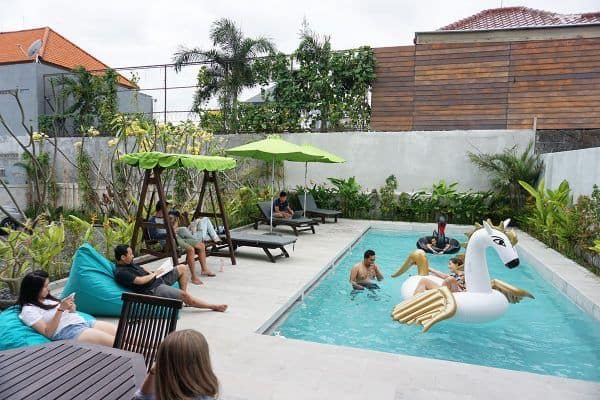 Coworking
Workspaces and private offices
Skype rooms
Free coffee and tea stations
Conference rooms
Lockers
Mailing address
Printing and scanning services
Amenities:
Gym
Pool
Weekly Cleaning
Rooftop Lounge
Events: Members lunches, Yoga, Networking Events
Pricing
Monthly: 2.2M IDR
Weekly: 850k IDR
Daily: 150k IDR

Hub Bali
1M IDR/$71 Monthly | www.HubBali.co | www.SaraResidence.com
A very well structured and "corporate" style coworking space provided by Sara residence and aimed at companies targeting flexible office space with Coworking and coliving options.
Hub Bali provides locations in Legian and Nusa Dua
Amenities
Skype Rooms
Meeting Rooms
Lockers
Pricing

Other Bali Coworking Spaces
Tempatika (Sanur)
Genius & Genius Café (Sanur)
Joshua District (
Livit
Lineup Hub
Kumpul

Livit
144k IDR/$11 Daily | 3.3M/$234 Monthly | www.Liv.it
A 4-story factory converted into a luxurious and welcoming coworking space with chairs, bean bags, and plenty of power outlets spread across open spaces and multi-purpose meeting and conference rooms.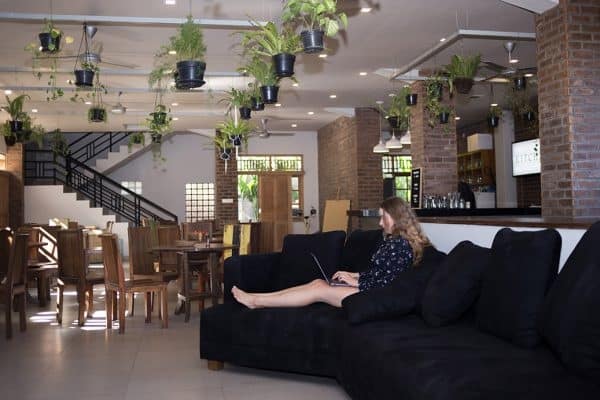 A great rooftop with 360 views of both mountains and beaches and restaurant that serves 3 gourmet meals daily provide refreshment and a recharge allowing patrons to fully use the 24/7 operational hours.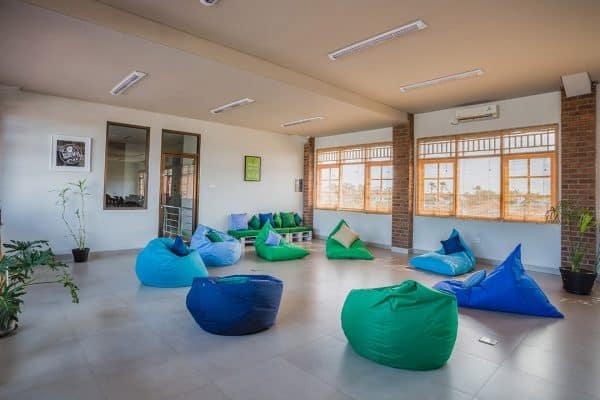 Pricing
Monthly: 3.3M IDR
Weekly: 720k IDR
Daily: 144k IDR
Learn more at www.liv.it/discover-our-hub-in-bali

Tempatika (Sanur)
1.75M IDR/$124 Monthly | www.TempatKita.org
Located near Sanur Beach, Tempatkita lets get work done while accessing a different, less touristy part of Bali.
Amenities:
Private offices and private meetings available to rent long term
Pricing
Monthly: 1.75M IDR
Monthly (Nights): 770k IDR – 6PM to 8AM
100 Hours Monthly: 1.26M IDR
50 Hours Monthly: 665k IDR
Weekly: 420k IDR

Joshua District
150k IDR/$11 Daily | 1.5M/$107 IDR Monthly | www.joshuadistrict.com/coworking/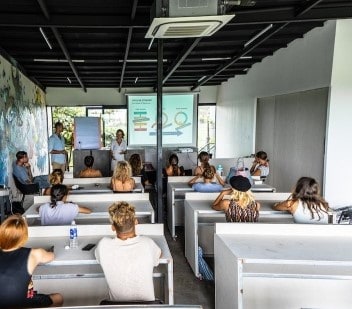 Set northwest of busy Canggu, Joshua District is a bit of quiet respite set in an open concept restaurant with rice field and ocean views at all angles. The Coworking fee counts as a credit towards food and drink and every table in the restaurant has outlets and rice field views.

Other Coworking Spaces on Bali
To be honest, in my research I was recommend many coworking spaces, and couldn't visit them all. The best ad easiest to access are listed above. Below, a few more options are listed that I wasn't able to check out but are still options if you're aiming to get off the beaten track.

Closed Coworking Spaces on Bali
The just like the scene of coworking spaces, Bali is growing and very dynamic. As such, Coworking spaces pop up and disappear frequently while Bali finds its place in the nomad kingdom.
Below you'll find a graveyard of the Coworking spaces on Bali that were once touted, but are now closed – to save you the time of hunting for a coworking space you were recommended long ago but no longer exists.
Third Space
Sanur Space
Office Club @ Raffs
Lineup Hub

Other Great Coworking Content
Other Great Bali Content