Bali is a paradise and a mecca for surfing. Whether you rip on the regular, or you're just aiming for your first surf lessons, Canggu is the perfect surf base. Regardless of your surf experience level, this hip little surf town is an awesome place to base your surf-cation, mixing board time with fun bars and nightlife and great restaurants.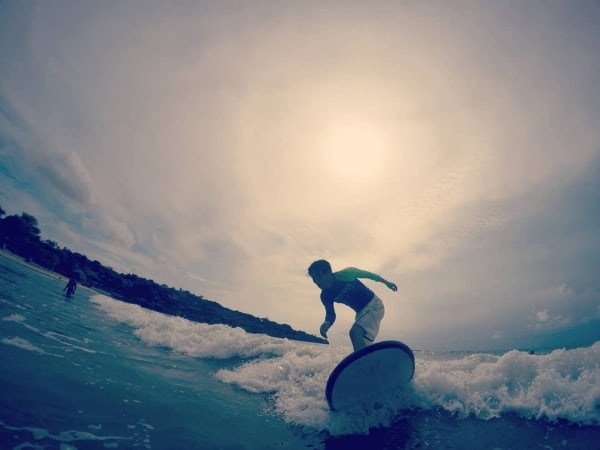 But with so many options, it's hard to figure out the best options for surf lessons Canggu has to offer. I was in the same spot when I dropped in half a year ago for my surf few sessions. Luckily, the surf terrain (and lessons) are easy to navigate with a few insider tips…that you'll find here.
There are three great options for surf lessons in Canggu: hiring surf lessons from locals on the beach, signing up for a full surf camp, or renting a board on the cheap a teaching yourself to surf (like I did). Each option is suited to a different type of (aspiring) surfer, with different budgets, numbers of days available on Bali, and willingness to "just figure it out" vs. requiring coaching.
Regardless of where you fall on the spectrum, Canggu has the perfect way for you to learn how to surf. Read on for our guide to choosing your surf lesson (Canggu, Bali).
Please note, this article may contain affiliate links at no cost to you

A Guide to Options for Surf Lessons, Canggu, Bali
Contents

Why Learn to Surf in Canggu? It's cheap, easy, comfortable, and fun
You've likely already heard of Indonesia and Bali as a surf vacation paradise. From Karamas to Uluwatu for advanced surfers, and Batu Bolong to Legian for news, there's a break for every surfer. When it comes to surf focused vacations in Bali and where to take surf lessons Canggu always comes up as an option. Why?
The breaks of Canggu are very beginner friendly
Boards are rented for cheap on nearly every surfable beach in Canggu (~$3.50 USD)
Lessons local surf instructors are cheap (~$23 USD) and available on the beach by the hour
After the surf sesh, Canggu is one of the most fun places to party or chill at on Bali
Canggu makes a great "gateway" to the rest of Bali – whether you're recovering from a layover or an Indonesian adventure, it's easy to squeeze surf lessons in Canggu into your trip
Here's a little more detail if you need more convincing…
Or Jump to the 3 options for surf lessons in Canggu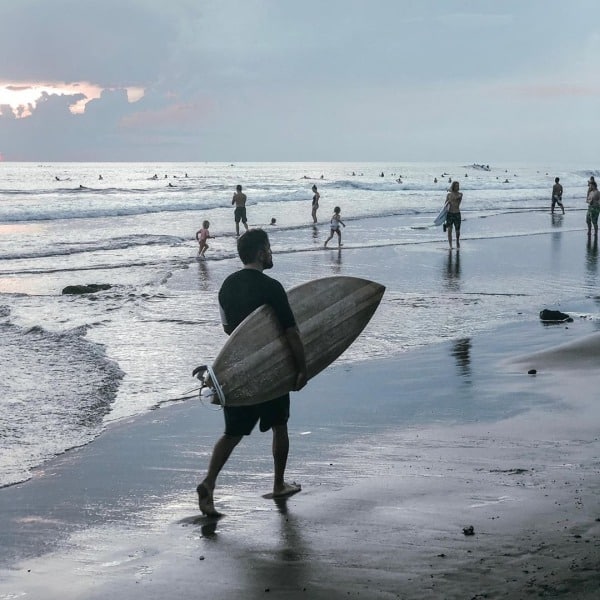 1. Plenty of beginner-friendly beaches and breaks, but still good for intermediate and advanced surfers
All along the west side of Bali, from Canggu down to Uluwatu, the coast is dotted with great breaks with waves breaking from waist to head high. The beach breaks and the flat volcanic reef breaks are very forgiving and a short paddle out. All of this adds up to countless beaches with surf that's safe enough for beginners and consistent enough to progress quickly.
On the other hand, if you're an intermediate surfer, the same beaches have great waves at head high plus at least once every few days making them a great place to have fun and progress.
For the advanced crowd, Canggu may keep you mildly entertained, but Uluwatu and Keramas' epic reef breaks will make better use of your time when they're full on. Lucky for you, they're about an hour from Canggu for you to easily mix things up.
2. Surfboards are easily and cheaply rented at any beach in Canggu
Every surfable beach will have countless board shacks, with Batu Bolong's surf shacks in front of Old Man's bar and restaurant having the cheapest and widest selection of surfboards. Whether you want a 9'6" longboard or a 5'6" shortboard, these shacks will have what you need, to rent by the hour for much cheaper than anywhere in the western hemisphere.
In Canggu proper, count on a 2-hour rental running 50k IDR (~$3.50) with the option to exchange boards
Further south on Berawa, the non-negotiated going rate is about 50k IDR (~$3.50) for 1 hour.
Even further south, in the built up and well-established area of Kuta, count on rentals costing 100k IDR (~$7) for a single hour, but that can easily be negotiated to Canggu prices if you convince the vendor you're not a normal tourist.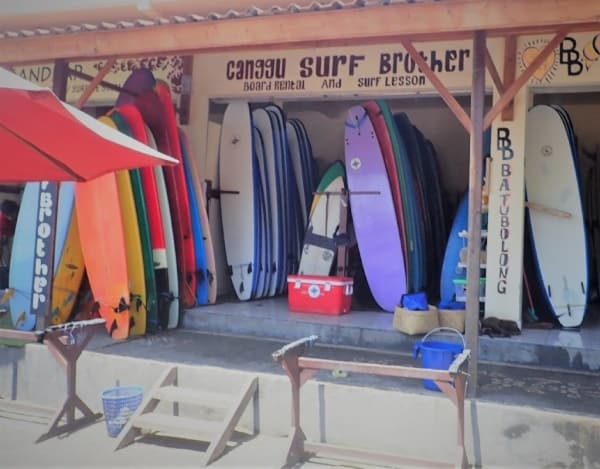 3. Lessons are accessible and opportunities for learning to surf are flexible
At these same surfboard shacks, you can easily arrange surf lessons with local guides by the 2-hour session for 300k IDR (~$23 USD) to 350k IDR (~$26 USD).
These lessons are perfect for anyone beginner to intermediate level. The guides can do everything from teaching you surfing from zero knowledge and helping you paddle out (for beginner surfers) to guiding you onto the larger waves, teaching you to read the waves, and coaching you on hitting the lefts and rights like a champ.
Grabbing a surf lesson with a local guide is also good because they'll make sure you're abiding by the local etiquette. They'll also get you into the lineup and on the waves with locals easier than you otherwise would on your own as just another foreigner.
4. Canggu is a fun area to party or chill with anything you could ask for
One of my favorite reasons to suggest surf lessons in Canggu is for what's available after the session. Canggu, one of the newest and coolest parts of Bali with the food and nightlife to live up to the new reputation.
The scene of Canggu bars, restaurants, cafes, yoga studios, and boutique shops gives the vibe of part surf village, part hipster island beach town, and completely enjoyable any hour of the day. Though Seminyak and Uluwatu have their draws, they can attract a more "standard" tourist crowd while Canggu tends to have more travelers, nomads, and surfers that heavily influence the vibe.
I have yet to meet anyone who has spent time in Canggu and didn't want to come back.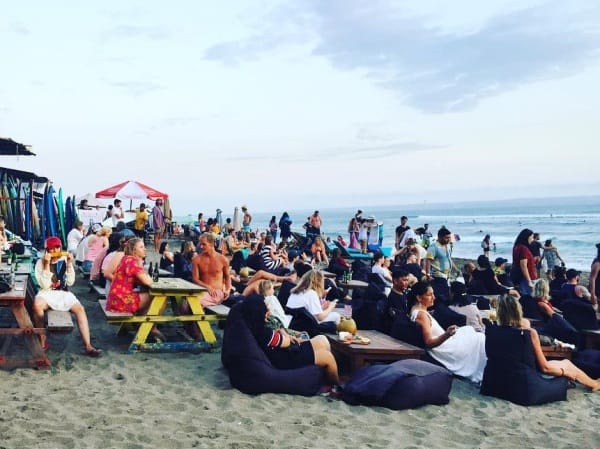 5. Canggu is a great "gateway" to the rest of Bali – as a jumpoff point or rest stop
Not only is Canggu cool, but its extremely convenient, making it a great place to start or end a Bali/Indonesia trip.
Scooters are easily rented to get around, but each smaller area of Canggu, like Berawa, Batu Bolong, and Pererenan, is very walkable.
Whether you're jetlagged from a transcontinental flight in or burned out from a whirlwind Indonesia trip, Canggu is a convenient place to settle in and get all of the comforts while you recover. On those mornings that you actually wake up with energy, head out for one of those surf lessons Canggu is famous for.

Surf Lesson Options
It's clear that Canggu is a great place to polish your surf skills, whether it's your first time with a board or you're aiming for a barrel. The surf lesson options for you in Canggu depend on your budget, how much time you have on the island, and how independent you are.
Your three options for surf lessons in Canggu are:
Hiring a local guide for 2-hour lessons, on the beach (including board) – 300k IDR ($23 USD) – 350k IDR ($26 USD)
Renting a board and teaching yourself how to surf with our free guide for learning to surf – $100 USD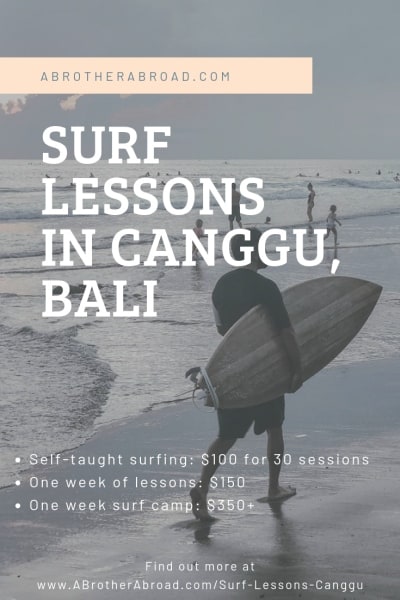 Option 1: Hiring lessons on the beach
How it Works: Hiring a local surf coach on the beach is a simple, flexible way to get started. No appointment or equipment necessary (just bring your shorts).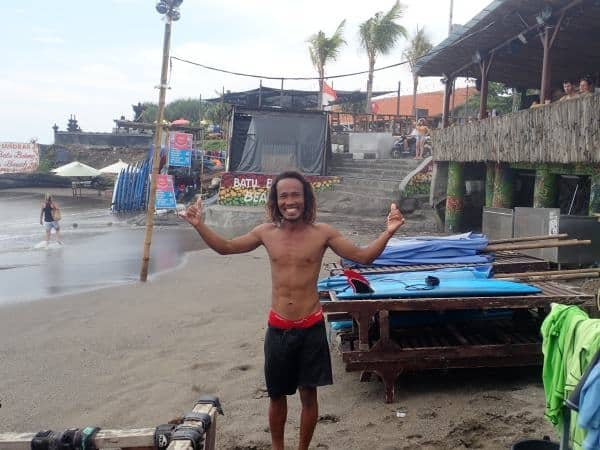 Just walk up to your beach of choice (see our recommended beaches below), look for the racks of surfboards, and start chatting to find a coach that fits your vibe.
Open with your experience level (number of days surfing and where, wave heights you're used to, and what you'd like to work on specifically), and ask how the session will go to decide accordingly. The surfboard will be included in the lesson and the lesson will go ~2 hours…if you can last that long
Price: 250k (~$18 USD) IDR to 350k IDR (~$25 USD) for a 2 hour long guided surf session
Tips:
Start in Kuta or Batu Bolong (see our recommended beaches below )
If you have a good session, stick with the same coach for the duration of your stay, to speed up your progression. The coaches are good about noticing small things over time, and communication will become easier with more exposure
Though I taught myself to surf at Batu Bolong, I repeatedly went to the same break and saw the same coaches teaching daily. I'd watch them during their coaching session (stealing tips on the sly) and surf with them in their off sessions, wherein they'd always share their insider knowledge. The local guys in Bali (who are from all over Indonesia) are rockstars, know how to surf, know their home breaks, and know how to coach very well. The ~$25 is a steal for what you get in return.
Also, if your coach does prove he's a rockstar, be sure to drop a nice tip (that the surf shack won't take a cut of).

Option 2: Rent a board and teach yourself
This was the approach I took to learn how to surf – showing up on Bali with 30 days, the knowledge that I could rent a board and a playlist of "how to surf" Youtube videos. In the end, it was a ton of fun, I fell in love with surfing, and I'd absolutely do it the same way again.
Not only did I learn to surf over a month for less than $100. I had an authentic experience squeezing into the lineup between locals (messing up quite frequently, but the Indonesians are forgiving…if you're not excessively a kook and show humility). I got into amazing shape. Plus, I learned a lot about myself along the way.
If you have the discipline and motivation to teach yourself something new, the time to work through your mistakes (ideally 7 days at least), and value unfiltered, genuine experiences, consider just rocking up, renting a board, and jumping in.
However, I do recommend reading my "how to teach yourself to surf" tutorial before hitting the water.
The guide is free and explains surf etiquette (essential for enjoying your time with other surfers and the locals), how to pick your board, how to paddle out, and how to progress through to the advanced beginner/intermediate level. I am by no means an expert, but the guide links out to the best videos and tutorials from pro surfers and great surf camp staff that are experts and explain the essential concepts very well.
How to teach yourself to surf in Canggu & around
Just show up to Old Man's (for Old Man's Break or Batu Bolong break) or any of the beaches in Kuta (Legian, Kuta, or Seminyak) and look for the surfboard kiosks, approach them, and rent by the hour.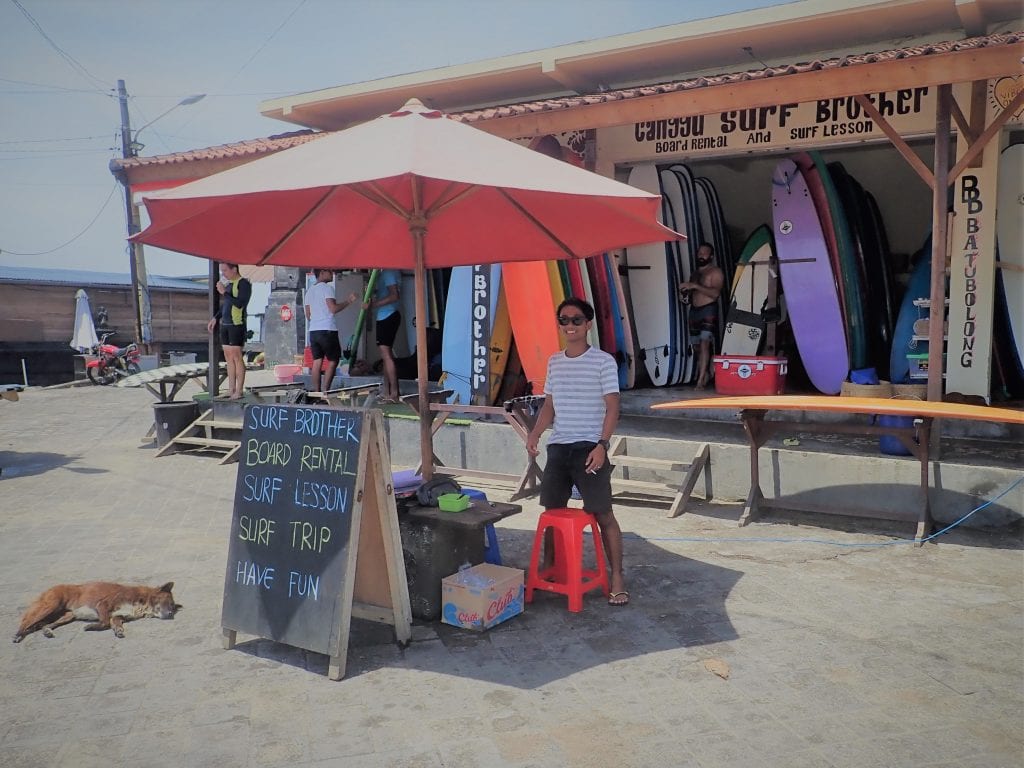 Note that the Kuta Beaches will have soft top foam boards as most of their options. In Batu Bolong, the surf shacks have a wider range of boards, from huge foam boards to fiberglass shortboards and everything in between.
Board rental in Batu Bolong will also be about half the price of Kuta
Berawa has boards for rent, but they're mostly on the shorter side (usually less than 7'), which is more suitable for the break, and the selection is smaller. Until you're an advanced beginner, I'd recommend avoiding Berawa beach.
Standard Board Rental Prices in Canggu and Kuta
Batu Bolong: 50k IDR (~$2.50 USD) for two hours
Berawa Beach: 60k IDR )~$3 USD) for one hour
Kuta Beaches: 100k IDR (~$7 USD) for one hour
If you plan to teach yourself to surf (like I did), read our articleHow to teach yourself to surf on Bali for $100with a full guide of techniques, progressions, and tutorials for going from now experience to owning the waves.

Option 3: Signing up with a surf camp + 5 Best Canggu Surf Schools
There are countless surf camps in Canggu and further south through Kuta for all skill levels. Whether you're in the backpacker crowd looking for a hostel that hosts surf sessions, to resorts that shuttle you around the island, there will be something for you. Lucky for you, we put together a full article on the most recommended Canggu surf schools.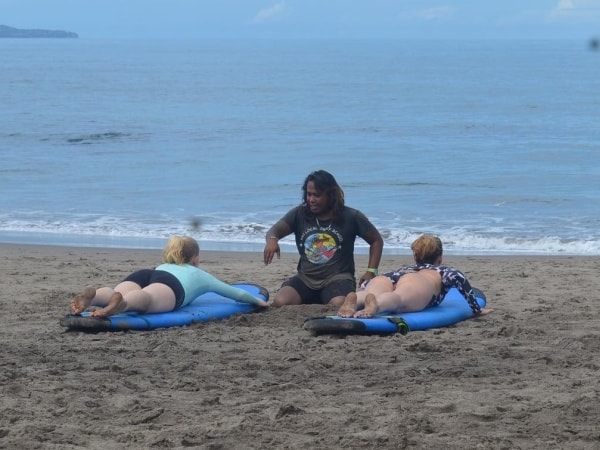 But, to get you started on your search, here are the 7 most recommended Canggu Surf Schools and nearby surf camps to include the prices, accommodation info, and teaching formats of the following recommended schools.
Baruna Surf Culture Camp
Solid Surf House
Chillhouse in Canngu
Mojosurf (Surf Hostel)
Surf Getaways (Female only surf camps)
Surfing Nomads (Co-working & Co-living surf camp)
Stormrider Camp
Great Surf Camps Around Canggu
Quiksilver Surf school
PadangPadang Bali surf camp
Rapture Surf Camp

Where to surf in Bali & Canggu as a beginner/intermediate surfer
In and around Canggu there are 5 main surf spots perfect for beginner/intermediate level surfers and different tastes, each with its unique reasons why.
The best Canggu beaches and surrounding beaches for beginner/intermediate surfers in recommended order are:
Kuta beach, consisting of Legian Beach, Kuta Beach, and Seminyak Beach
Batu Bolong / Old Man's
Berawa Beach (Advanced Beginner/Intermediate)
Other great options include Bingin, Serangan, Nusa Lembongan, but read on for why I recommend Kuta, Batu Bolong, and Berawa the most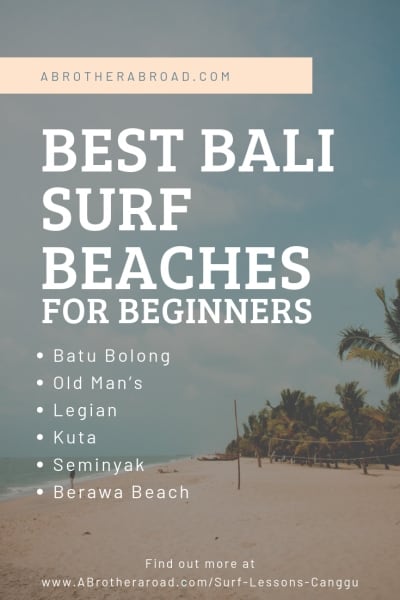 ---
Kuta beach: Legian, Kuta, Seminyak
The Kuta Beach stretch, including Legian Beach, Kuta Beach, and Seminyak Beach is nearly the perfect beach to learn to surf on. Uniform waves roll in predictably over a beach break that is a very short paddle from shore. Whitewater waves close to shore are ample with a decently long ride for the newbies, and better waves lie a short paddle out for the more advanced beginner crowd and up.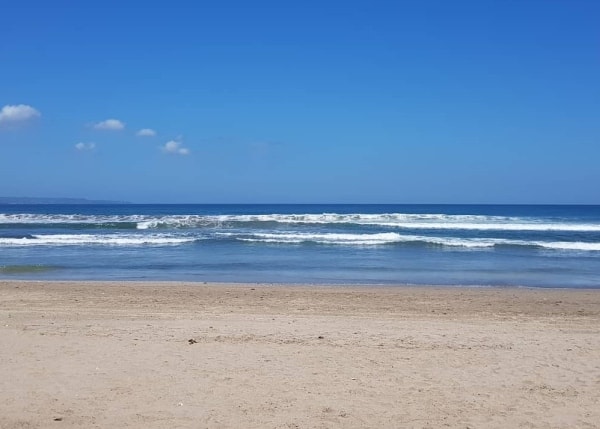 Rent your board at one of the seemingly thousands of board rental spots for ~100k IDR (~$7 USD for the hour), and surf lessons for 300k IDR (~$23 USD) – 350k IDR (~$26 USD). The selection will mostly be 8 foot+ foam boards but ask about fun boards, mini-mals, and shortboards if you want (they hide them in the shops across the street).
Kuta Beach Facts
Sandy beach break with consistent, predictable, waves just a short paddle out
Aim for high tide to avoid breaking boards (if you know you're going to eat it)
The perfect place to start surfing as a beginner
---
Batu Bolong / Old Man's
Aside from the crowds, that can get very dense by midday, the breaks here are great for levels from beginner all of the way to intermediate. Old Man's major benefit is tons of great boards with a selection including pretty much any size and style you can imagine, making it is easy to find a board for all conditions.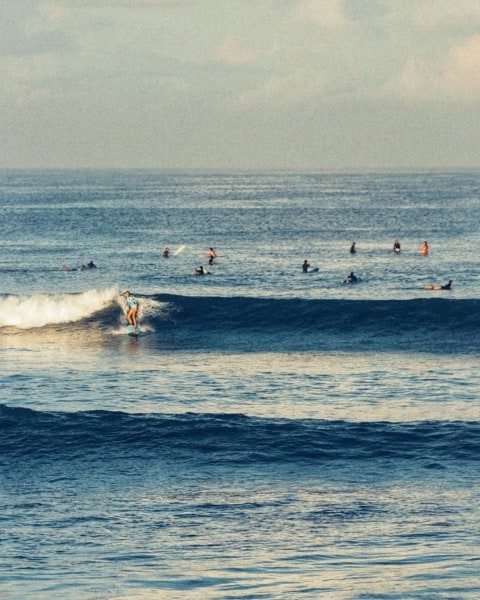 The break at Old Man's is a mix of sand and flat volcanic reef that's very beginner friendly, but stick to mid to high tide for the best conditions and to err on the side of caution.
The waves at Batu Bolong break and reform several times from the initial break making several zones for surfers. This is a double-edged sword as it creates more surfable areas, but creates a minefield of novice surfers to dodge at crowded times.
For the best surf conditions (in terms of crowds) show up first thing in the morning (sunrise to 8) or catch a sunset session (4:30 pm to sunset) as the winds tend to better and the crowds thinner at these times.
Batu Bolong/Old Man's Facts
The waves break and reform several times creating several "surfing zones" that can be shared
Tons of boards available to rent – if you're staying for longer than a couple of weeks, the board selection makes progressing and surfing in all conditions possible
Sand break and flat bottom volcanic reef
The pattern in which the waves break can be a bit more difficult to predict and read compared to Legian, Seminyak, and Kuta
Can get crowded sometimes and dodging a surfboard (or not surfing over someone) is the biggest risk
---
Berawa Beach
Less crowded with larger waves, but a more difficult paddle out due to closeout on most of the beach (plus be ready to roll or duck dive) make this a more advanced beginner to intermediate level scene, especially when it's full on. A smaller selection of boards is for rent that leans toward the short side (less than 6'8") and is much more suited to the waves here. When your skills improve and you're ready to get away from the crowds, drop south to Berawa.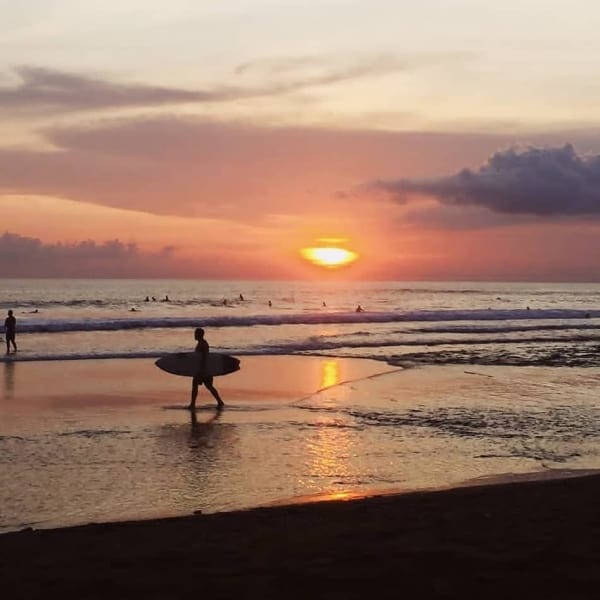 Berawa Beach Facts
Recommended for the intermediate crowd as the paddle out can be daunting if your turtle roll/duck dive isn't up to snuff
Fewer surfers than at Batu Bolong, making surfing here more of a pleasure. The more experienced crowd is a bit more organized
Waves here are generally bigger and a bit more aggressive than Batu Bolong, if that's what you're looking for

Surf Beach Warnings for Newer Surfers!!!
Though Canggu has some awesome beaches for surfing, there are a handful of beaches that aren't suitable for lessons. Canggu surf coaches and local surfers are the best resources to find out how suitable a break is for beginners and find out how gnarly/shallow the underwater conditions are at any given spot.
Echo Beach: A rocky reef break that you should definitely consult a local on before paddling out
Pererenan Beach: Several breaks with large submerged rocks in between and flanking the surfing zones. Solid riptides do make the paddle out easy.

Tips for Learning to Surf in Canggu
Avoid the reefs
Ask about entry and exit points
Shoot for high tide
Go with the longest board possible
Use MSW or Surfline
Aim for the dry season
Get a local guide your first time out
Read our "How to Surf" Guide for an overview of learning to surf

FAQ
When is the best time to surf in Canggu and Bali
On the west coast of Bali, the dry season (May to September) is best, when the waves are more consistent and the water is cleaner. During the rainy season (October to April) head to the east side of Bali. However, I came and learned how to surf during the rainy season and had a blast, so really, anytime is a good time to surf on Bali.
If you must come in the rainy season, just hit the east coast of Bali. Though the breaks are less beginner friendly, there's always an opportunity to go in at high tide and get a local guide. Beware that Sernagan Beach, once listed as one of the best beaches for beginners, is now closed. On the other hand, Nusa Lembongan is still a great place to go for a beginner friendly surf experience, but you'll definitely need a guide.
Where is the best place to surf on Bali
For beginners: Batu Bolong Beach, Legian Beach, Kuta Beach, and Seminyak beach
For the advanced crowd: Keramas and Uluwatu – beginners should still drop by and watch some great surfing
How much does it cost to surf on Bali
That depends on how you learn. Board rental can be between $3 USD and $7 USD an hour. Surf lessons can run ~$25 for a 2-hour session. A week-long, all-inclusive surf camp can run $300 to $4,000.
The price of surfing on Bali can be nearly whatever price you want, depending on how much time you have and how you want to learn, surf, and live on the island.

Other Great Info for your trip to Bali