When you think of destination surf camps, a handful of epic and beautiful spots come to mind: Costa Rica, Portugal, Nicaragua, Morocco, and (of course) Bali. Bali's year-round surf, great vibe, and indescribable beauty make it a top destination in general but the surf schools, specifically the Canggu Surf Schools make it a hard surf destination to top.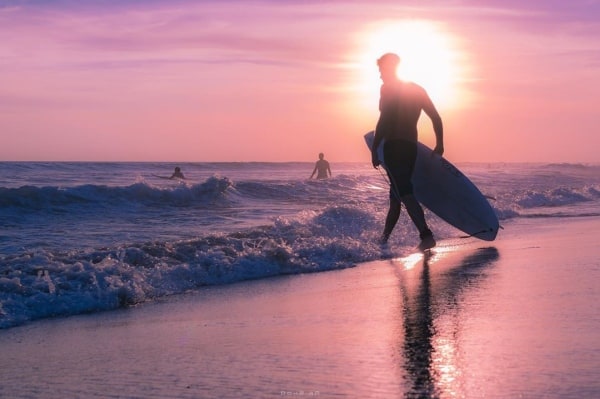 Canggu is one of the coolest new spots in Bali, and its surf camps are cheap, near great, beginner friendly beach breaks, and filled with knowledgeable locals as surf professionals. Ranging from $300 and up for a week of surf coaching and accommodation, that's hard to beat while still being walking distance to great restaurants, cafes, and nightlife.
Read on for the 7 best Canggu Surf Schools according to the Bali locals, transplants, and nomads that call Canggu home
Please note, this article may contain affiliate links at no cost to you

Contents of Our Canggu Surf Schools List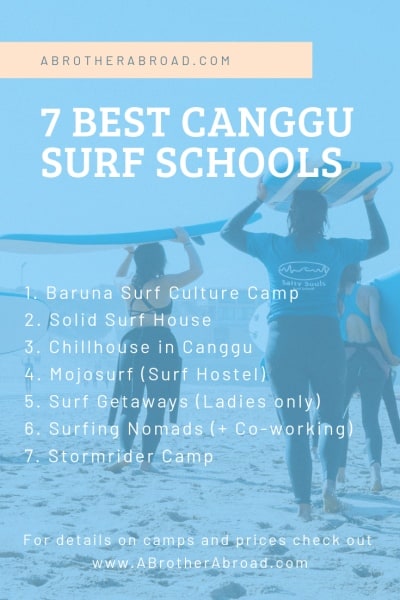 7 Best Canngu Surf Schools according to Bali nomads, transplants, and locals

A Canggu based, family-owned surf operation with a small town feel, Baruna Surf Culture Camp is a predominately lessons only (no accommodation) camp that has left tons of happy students. Thanks to professionalism, catered teaching, and ample knowledge of where to surf (for your level) without the crowds, students highly recommend and return to Baruna.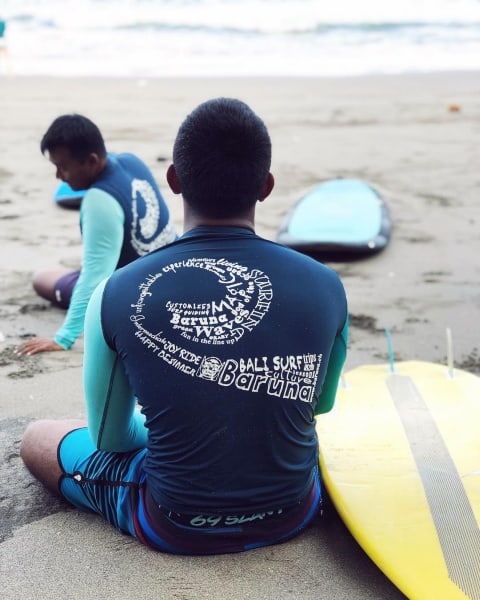 The Baruna team will pick you up wherever you're at in Canggu, leaving you the chance to stay in the perfect location at one of the great Canggu Hostels while getting in awesome surf sessions, then coming back to lounge in your style of comfort.
If you do wish to arrange accommodations through the Baruna team, their Quiet Leaves Surf Stay has three private bungalows that are ready to host. It is a bit far from Canggu (20 min. cruise through rice fields), so if you want to surf and then chill in peace, it may be a good option – but I recommend staying closer to the action in Canggu.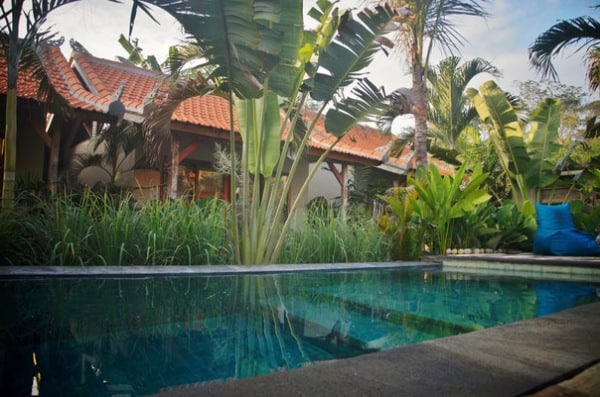 Trip Advisor Rating: 5/5 on 252 Reviews
What attendees are saying: Tons of great things – Instructors are professional, patient, and knowledgeable, supporting anywhere from beginner to intermediate with tailored teaching on technique and style while keeping students comfortable. Good instructor-student ratio, comfortably packing a lot of variety and teaching into a session and leaving students satisfied.
Accommodations: Not included, but pickup around Canggu is included so check out our best Canggu Hostels list to match awesome lessons with awesome accommodations
Packages and Prices:

Happy Beginner: $41 USD per day for 3-5 days

Joyride (Intermediate/Advanced): $41 USD per day for 3-5 days

Surf Trip: $45 USD per day – 2 hours surfing

What's Included:

Hotel pickup and dropoff daily

Experience Levels & Crowds: Beginner to advanced with 2 students per instructor maximum.
Beaches/breaks surfed: Canggu area breaks varying with the tide, weather, and crowds
General vibe of the school: Professional yet personal with well-catered instruction
Location: Canggu pickup at any hotel, optional Quiet Leaves Sur Stay is located ~20 minutes north in Tanah Lot.
Contact Info:

(Swanky boutique hotel with a surf focus)
The Chillhouse is a boutique hotel on the fancy side situated on the outer edge of "busy Canggu". Though the guesthouse technically isn't a surf camp, the team offers great accommodations and surf lessons on top of it – as well as yoga sessions. All surf lessons are done on the nearby beaches and in partnership with Bali Local Surf School in Canggu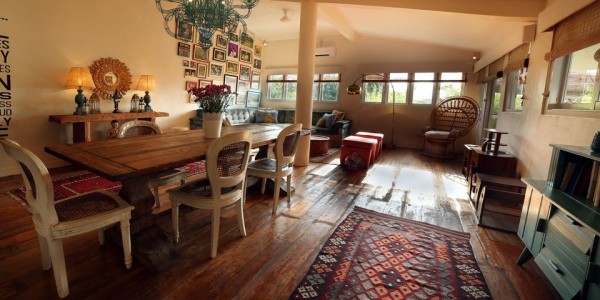 Come here if you want a retreat-style experience that has a good relationship with a local surf school to keep your Bali getaway balanced between relaxation, surf, and yoga, all with equal importance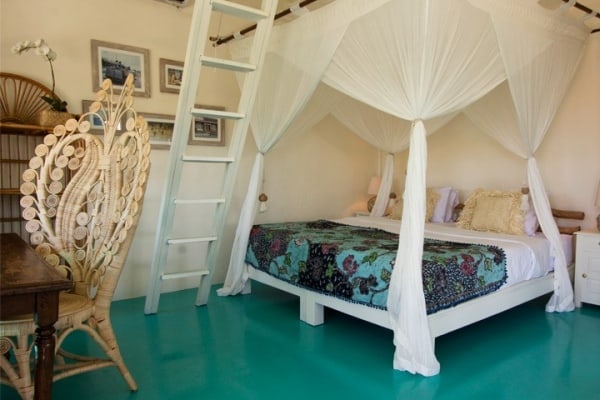 Trip Advisor Rating: 4.5/5 from 460 reviews
What attendees are saying: Extremely comfortable and luxurious accommodations but the surf lessons are more of a "side treat".
Accommodations: All private and ranging from a standard room to a luxurious 3 level loft and even a 5 bedroom house for retreat rental
Price: Rooms start at ~$78 per night up ~$167 for the 3 story loft. Surf sessions run ~$47 USD per session for anywhere from beginner to advanced in partnership Bali Local Surf School in Canggu
Notes on Instructors: Certified by the International Surf Association
Beaches/breaks surfed: Echo Beach, Brawa, Batu Bolong, Old Mens', and Pererenan
Location: Located a 5-10 minute ride from Batu Bolong beach and nightlife on the outer edge of "busy Canggu". Great location to get in the entertainment without the noise
Contact Info:

(A social hostel that runs surf camps and island hopping)
Originally based in Byron Bay, Australia, Mojosurf introduced the Mojosurf hostel and surf camp to Canggu in 2017. Mojosurf hostel in Canggu is Mojosurf school's gateway to both Canggu and the Bali surf scene and located 5 minutes from the beaches with great breaks from beginner to intermediate level. If Canggu isn't enough, you can use their team to transition to their Lombok site or island hop on a 27-day surf tour.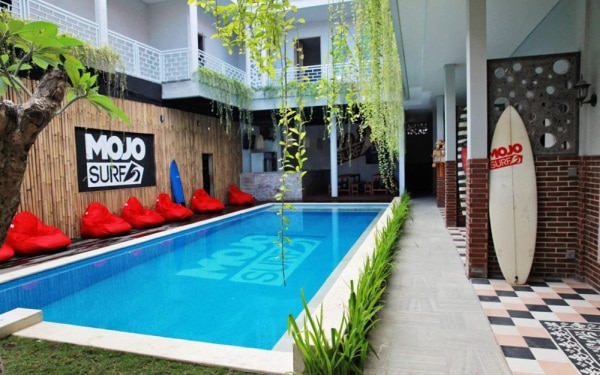 Think of this as a social hostel with a solid surf program for as long as you want your "camp" to last.
Trip Advisor Rating: 5/5 on 339 Reviews, 8.5/10 on Hostelworld
What attendees are saying: Great vibe in the hostel with a great location near the best of Canggu and surf coaching well suited to the beginner/ advanced beginner crowd
Accommodations options (for accommodation w/o lessons):

Private rooms ($30 USD/Night),

8 Bed Dorms ($10 USD/Night),

6 Bed Dorms ($13.50 USD/Night),

Surf Package Prices:

~$335 USD – 5 Night "Surf & Stay" in shared accommodation

~$123 USD – 2 Night "Surf & Stay" in shared accommodation

What's Included:

Equipment (Surfboard, rash guards)

Dinner and breakfast each day

Experience Levels & Crowds: Caters to beginners and intermediates
Beaches/breaks surfed: The local Canggu breaks (Old Man's/Batu Bolong, Barawa, and Echo beach), but if conditions are poor in Canggu, the school will transport you elsewhere for better waves.
General vibe of the school: A social hostel with events every night and a good vibe situated near all of the nightlife in Canggu (to give you a hint of what to expect)

Location: The hostel has a great location in Canggu, close to my favorite cafes and restaurants and Canggu nightlife staples like Pretty Poison, Old Man's and Deus Ex Machina's Temple of enthusiasm. Good breaks (Old Man's, Batu Bolong, Berawa Beach) are walking distance or a short scooter ride away

Contact Info:

(Female only, swanky, kind of awesome)
Surf Getaways doesn't only do surf camps on Bali, the team conducts camps in Australia, the Maldives, and Fiji as well, but it's still worth mentioning for one simple reason – it's all ladies, and empowering any group (ladies or otherwise) is awesome in my book. If you're a lady and had planned to check out one of the Canggu surf schools but could use the company of some other women, check out Surf Getaways.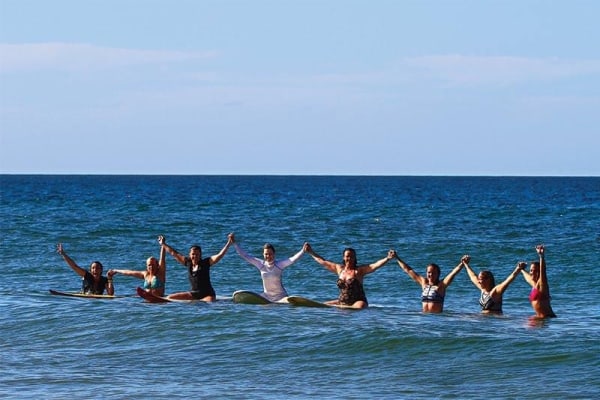 When I reached out to the crew of surfers in Canggu, more than a couple of women piped up about how their amazing experience and how the female only crew made for a great dynamic. On top of this, the trip advisor reviews are all 5 stars. Do your own research too, of course, but if you're a lady that surfs, Surf Getaways is def worth checking out.
Trip Advisor Rating: 5/5
What attendees are saying: The adventures and accommodations vary across trips but every attendee raves about the actual experience of surfing and the dynamic of surfing with supportive, like-minded women.
Accommodations: 7 nights in theRegali Luxury Villas in Canggu, with one, two, and three bedroom private villas
Price: ~$2,550 USD for a one week camp
What's Included:

3 Healthy Meals Daily aligned with your goals for the trip

Daily surfing and surf review

Beginner surfboards (intermediate/advanced should bring their own)

Experience Levels & Crowds: Beginner, intermediate, and advanced
General vibe of the school: Supportive, female-centric, and relaxed
Location: At Regali Villas, in one of my favorite areas in Canggu, tucked between rice fields and walking distance to some of the newest and best Canggu restaurants, nightlife, and cafes. Walking distance to Batu Bolong beach and Echo Beach and still in the heart of Canggu's happenings.
Contact Info:

(Co-working and Co-living space built around a surf camp concept)
A surf camp tailored to remote workers, freelancers, and digital nomads and anyone that loves co-working and co-living with private and shared accommodation options.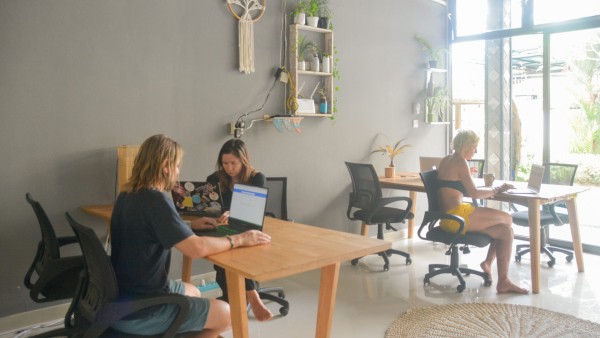 On-site yoga classes, co-working workspaces, shared family dinners, a puppy (for morale), and other perks make this a balanced place to set up shop and get work done while you're getting your hustle on and learning to surf on the side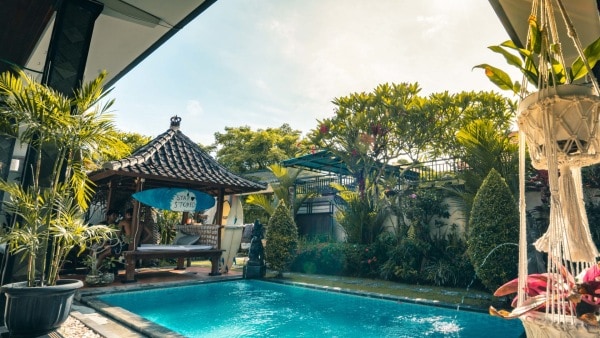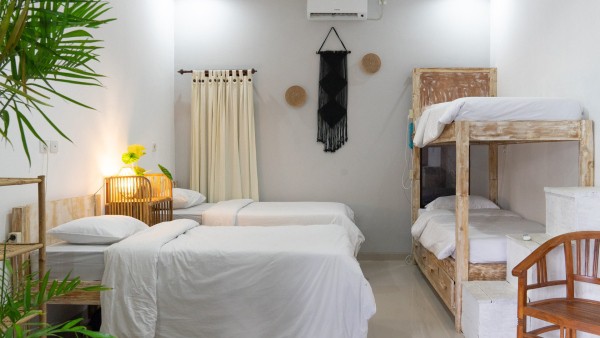 Trip Advisor Rating: Brand spanking new…but definitely a great concept for digital nomads
What attendees are saying: Great things – this pad is a perfect balance of co-working space and mellow hostel with a surf undertone. Though the online reviews are still coming in, the offline reviews I've heard are looking good.
Accommodations & Pricing:

4 Bed Dorms: $20/night, $16/night if you book 28 or more nights

Private Room: $42/night, $35/night if you book 28 or more nights

What's Included:

4 free surf lessons per one week booking, max 2 students per instructor

10 PM quiet time, unless EVERYONE in the villa agrees to party

Location: A great spot in Canggu strategically between Berawa beach and Batu Bolong beach, and walking distance to the best things to do in Canggu as well as the best Canggu bars, cafes, yoga studios, and restaurants.
Contact Info:

(Quieter location nestled between rice fields)
Located in Pererenan, Stormrider Surf Camp Bali will give you the waves and coaching you're looking for with the after session backdrop of Pererenan – the quieter corner of Canggu giving a more authentic and relaxed yet less touristy edge to your stay. The camp regards itself as a "luxury boutique hotel that caters to surfers" getting you to some of the best waves and conditions in the world (for your level) while relaxing in comfort before and after.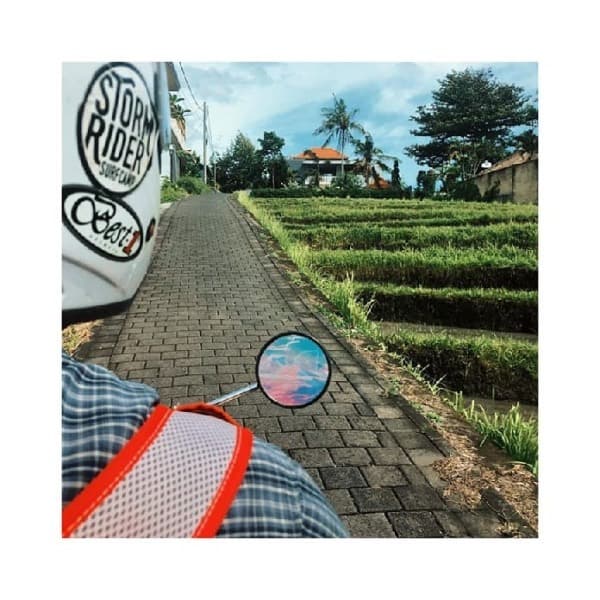 Straight from the Stormrider website:
"We've got 10 waves within 15 minutes, over 20 more accessible with the surf guiding van. Surf classes. Yoga & functional training for surf, skateboard mini ramp, healthy restaurant, pool, AC, wifi. Nearby dining and nightlife."
…that's a pretty good sell
Trip Advisor Rating: 4.5/5
What attendees are saying: More of a peaceful bed and breakfast with transport to the each and equipment provided. If you're looking forward to just relaxing then surfing and repeating Stormrider may be a fit for you
Accommodations: Dorms, double bed privates, and deluxe privates that bleed boutique luxury
Price:

~$305 USD for 7 Days (Dorm Room) in low season

~$383 USD for 7 Days (Double Bed Private Room) in low season

What's Included in the 7 Day Package:

12 guided surf sessions (twice a day trips)

Experience Levels & Crowds: Caters to beginners (and does very well with them). Intermediate and advanced surfers should email ahead to confirm you'll get the attention, coaching, and breaks to make your Bali tour worthwhile.
Beaches/breaks surfed: Spots near the resort (Batu Bolong, Berawa) are preferred but staff will take guests to Uluwatu, Dreamland, and Balangan if the conditions are right
General vibe of the school: Cozy and quiet in the camp and well organized on the water
Location: Perfectly situated in the quieter part of Canggu, but 5 minutes from bars, restaurants, and cafes and only 15 minutes to more chaotic Kuta and Seminyak
Contact Info:
Notes:

This camp is in a quiet, more rural area surrounded by rice fields, which is a nice contrast to crazy Kuta. Ensure that's what you want before coming and you'll have a great stay.

Conveniently located at a great spot in the middle of Canggu, Solid Surf House offers a bit of a "surf dorm", with equipment, comfy accommodation, a ride to the beach, and light coaching. If you're not a total beginner and just want to stay at a hostel that will help you spend some time on the waves with a side of yoga and a good chance to socialize Solid Surf House will be solid for you.

Trip Advisor Rating: 5/5
What attendees are saying: Great, social atmosphere, clean and comfortable accommodations
Accommodations: Dorms or privates with air conditioning are clean, included in the package and up to a comfy, luxurious standard.
Price:

$446 USD for 7 days (Shared Room w/ensuite bathroom)

$510 USD for 7 days (Private Room w/ensuite bathroom)

What's Included:

Transport, board, rash guard, and ~2-hour surf lesson

Twice daily yoga sessions

Airport pickup and dropoff

Theory sessions in the evening

Weekly surf video analysis

Experience Levels & Crowds: Surf coaches naturally cater to beginner crowds, so if you are intermediate or advanced, mention it in advance to confirm you get the right attention and coaches on hand or aim for a more intermediate/advanced focused surf school
Beaches/breaks surfed: Surf lessons take place in Kuta, Legian, Seminyak, and Uluwatu depending on the tide, with after lesson sessions happening at Berawa or Batu Bolong (on your own)
General vibe of the school: Friendly, low key, very "all-inclusive" with helpful staff
Location: In the heart of Canggu, conveniently situated between both sides (Berawa and Batu Bolong) making tons of great restaurants, cafes, and bars accessible on foot or by a quick 3-5 minute scooter ride
Contact Info:
Notes:

Different social events happen in the house each night

Great Surf Schools Beyond Canggu
Though Canggu has a ton to offer (hence why it's my favorite spot on Bali). Perhaps you want a quieter atmosphere. Perhaps sandier beach breaks, such as in Kuta. Perhaps you're advanced and want reef surfing and the potential barrels of Uluwatu.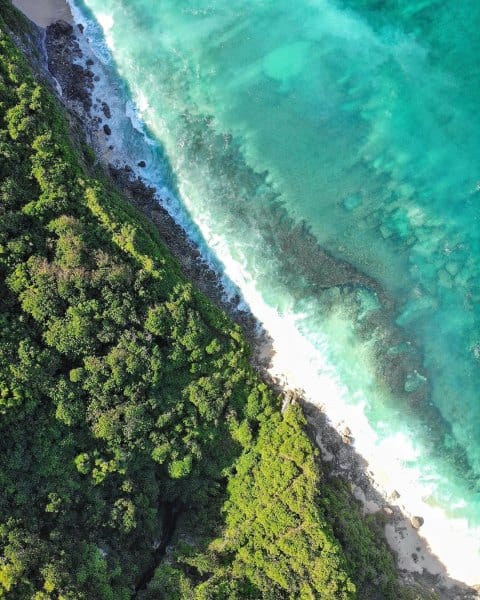 In any case, there are plenty of other amazing surf schools in Bali that you can hit just for lessons while spending your evenings in Canggu or stay for the duration of your surf camp.
These are the 3 surf camps that Canggu locals, transplants, and nomads recommend if you're going to head out of the area for your surf student session
(30 to 40 minutes from Canggu)

A surf school on the shores of Legian (20 minutes south of Canggu), brings years of surf experience from its Australian and Balinese owned surf crew. Quiksilver focuses on a la carte lessons and surfaris from its shop, just across from Double Six Beach in Legian – no lodging, so feel free to grab a Villa in Legian or a luxury hostel in Canggu to balance the vibes during your surfcation.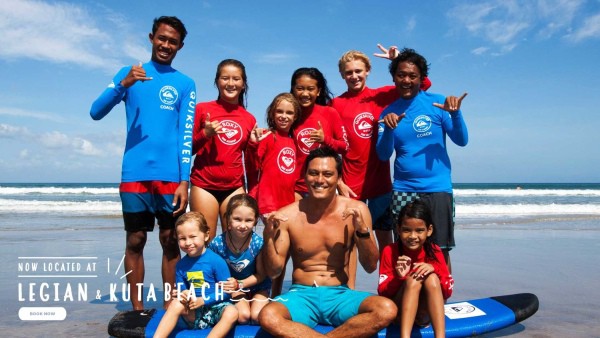 If you're bringing groms (aka kids), Quiksilver is a great option as their instructors additionally specialize in kid group lessons and kid private lessons.
Trip Advisor Rating: 5/5
What attendees are saying: Great with kids, pricey but worth the money, friendly knowledgeable staff are especially good at coaching beginners or those with only a few lessons
Price:

4 person Group Lesson (2 Hours): 550K IDR (~$40 USD)

Semi-Private Lesson (2 Hours): 800k IDR (~$55 USD)

Private Lesson (2 Hours): 950k IDR (~$65 USD)

Kids Group Lesson (2 Hours): 350k IDR (~$25 USD)

Kids Private Lesson (2 Hours): 500k IDR (~$35 USD)

Lodging Included: Nope. Just lessons
Experience Levels & Crowds: Kids, beginners, and intermediate surfers
Notes on Instructors: All instructors are International Surf Association Certified
General vibe of the school: Relaxed and friendly yet experienced, great with beginners and kids
Location: Quiksilver surf academy is located right across from Double Six Beach, a great spot in Legian with a reliable, sandy, beginner friendly beach break and adjacent to a handful of beaches just as good.
After the session, you'll be in close proximity to the tourist hub of main Kuta and the lighter, more enjoyable Legian, for food, drinks, and a night out if that's what you're after.
Contact Info:
Notes:

Lessons are run twice a day – once, in the morning and once in the evening with times adjusted for the tide, waves, and weather

Transportation to the school from Kuta, Seminyak, and around can be arranged for ~200k IDR

(1 hour 30 minutes from Canggu)
Padang Padang surf camp is located a bit outside of Canggu (1 hour and 30 minutes by car) and south of the chaos, but if your goal is surf and only surf, consider hopping a Go-Jek to Padang Padang for a week of surfing and then back to Canggu after. Sleep, eat, and surf all in the same place.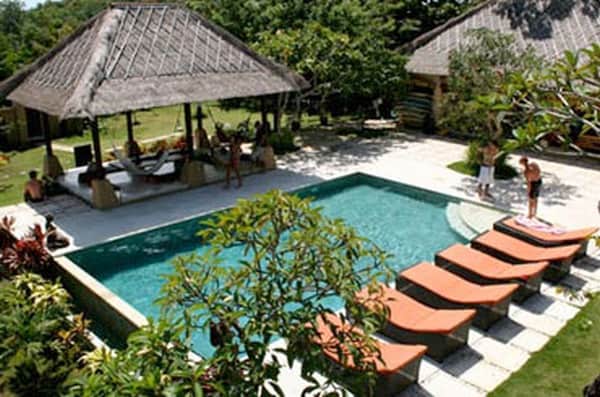 Attendees raved about the knowledgeability and professionalism of the surf instructors, all Balinese locals with ample knowledge about the local beaks, weather, tides, waves, and surf culture.
Accommodations are clean, private, and comfy making for a great night's sleep after a solid day of surf. The price, starting at ~$700 a week including lodging, transport, and guide (lessons and board extra) are much lower priced for great digs compared to other surf camps around the world.
All in all, if surf (not partying) is your focus and you want a relaxed, social environment, Padang Padang is an excellent bet.
PadangPadang Bali surf Camp Overview
Trip Advisor Rating: 4.5/5
What attendees are saying: Great surf guides, knowledgeable and professional instructors, quiet location, social crowd
Price

~$690 per week, including a standard fan room, 2 meals per day, surfboard, surf guide, and transport

Surf lessons (private or group) are extra

What's Included:
Lodging Included: Yes, varies with price and ranges from a standard room with fan (~$700 USD) to a superior room with AC (~$1200 USD), reviewed as being clean, secure, and comfy
Experience Levels & Crowds: Breaks surfed, guides and instructors cater to all levels, beginner to advanced
Notes on Instructors: The instructors, their experience, and their coaching are the highlight of this surf camp
Beaches/breaks surfed: Uluwatu (intermediate & advanced only), Dreamland, Bingin, Impossibles, and Padang Padang Beach – all in walking distance
General vibe of the school: Friendly and social with a heavy focus on surfing but in a supportive environment. Quiet time starts at 10 to catch the early surf
Location: Bukit Bali Peninsula – quiet location off the beaten path, but walking distance to restaurants
Contact
Notes on Padang Padang Bali Surf Camp
Beginner, Intermediate, and Advanced level groups
Surf camp also hosts yoga and excursions
Base rate includes accommodation and a ride to the beach. A group lesson (~$40) and private lessons (~$85) are extra. If not getting surf lessons, board rental is ~$12 USD.
Lessons can be purchased if not staying at Padang Pandang for group lessons (~$55) and private lessons (~$100) are extra
Surf camp BBQ most Fridays
Formal and informal group activities in the evening are common
Surf coaches and knowledgeability touted as a strong suit as they provide detail feedback on technique paddling out, catching, and riding waves for incremental improvement
Paid lessons are available even if you don't stay at the surf camp
Don't plan on partying, 10 PM is a quiet time to encourage everyone to hit the morning surf session
Western managed with professional Balinese surf coaches

Rapture Surfcamp ("Padang Camp" and "Cliff Camp")
(1 hour 30 minutes from Canggu)
Located in Padang near Uluwatu, Rapture surf camp is a luxury resort with a focus on surfing and a short ride to some of the most epic surf in Bali. The resort provides a robust experience with great accommodations, a wide array of surf spots for all levels (on the east and west side of the peninsula) surf boards of all sizes and shapes for rent, and much more. If you're serious about your surf trip and looking for a luxurious place to stay with guides to some fantastic breaks consider Rapture Surfcamp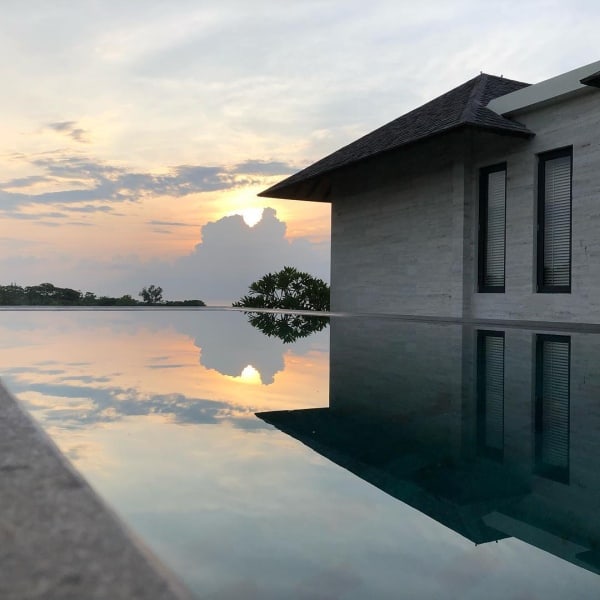 Trip Advisor Rating: 4.5/5 on 526 Reviews
What attendees are saying: Amazing facilities but the surf lessons and surf guiding can be hit or miss depending on your skill level and the instructor of the day. If you're looking for a great place to stay in a quieter area with a place to rent a board and a guide to get you to the waves, Rapture may be a good option for you on the Bukit Peninsula. If you're a newbie in need of lessons, aim for a school that caters to such
Accommodations: Shared rooms and private rooms to fit a variety of tastes.
Price:

Starting at ~$625 USD per night for a private bungalow

What's Included:

Surf guiding and transport twice daily

Weekly video analysis class

What's Not Included:

2 Beginner Surf lessons, 2 hours long each ($11.50 USD)

Experience Levels & Crowds: Offers services for all levels, but guiding and instructor services are better suited for surfers already catching green waves, based on reviews and attendee experiences
Beaches/breaks surfed: Uluwatu, Padang Padang, Impossibles, Bingin, Dreamland, and Balangan
Location: Rapture has two camps ("Padang" and "Cliff")On the west and south coasts of the Bukit Peninsula, an hour and a half ride from Canggu and a 10-minute ride from Uluwatu
Contact Info:
Notes:

Other Great Canggu and Surfing Content
If you're definitely going to Canggu, be sure to check these out…

A Few Tips: What to look for in a surf camp
Flying to Bali (or anywhere) for a surf camp is a big investment, and screening for the right camp for your preferences and comfort level can make or break the experience. To make sure you're choosing the right surf school, make sure to research these 6 criteria before booking a seat and grabbing that flight.
Location: Weather, water, waves, lifestyle
Lodging
Experience of surf coaches
Experience levels catered to
Where they teach
Price
---
Location: weather, water, waves, lifestyle/entertainment
The locale and everything that comes along with can make an immense difference in how much you enjoy your experience.
Portugal, raved for having some of the best waves in the world, has amazing food and culture with a European backdrop, but prep your wetsuit for that icy cold waters and don't dare come in winter.
Bali is a surfer's paradise (which is why I'm writing so many articles about it), but that round the world flight can come with a hefty price tag and slight jet lag.
Costa Rica hits that happy medium with great waves in warmer waters with a short hop from the US and year-round surf, but it'll be much costlier than anything in Southeast Asia.
Every surf locale has its pros and cons, but wherever you go, check the water temp, quality of the waves (during your travel dates) and weather (for your travel dates).
…but that's worldwide…
On Bali, the major destinations are Kuta and Canggu with trips for lessons to all of the major beginner/intermediate surf breaks – most of which are on the west coast.
In Kuta (Legian, Seminyak, and Kuta) expect a heavy tourist crowd when wandering outside of your accommodation
In Canggu, expect the feel of a surf village with posh cafes and restaurants that is growing extremely fast.
Lodging
For most Canggu Surf Schools, lodging will be included, so ask exactly what you're up for. Most schools in Canggu after hostel style accommodation, that varies from extreme budget to luxury. Other schools have resort level accommodation (which ends up being extra padding in the price).
A great option is to opt for the daily lessons from a surf school and then stay at one of the pretty amazing Canggu hostels to save cash but still stay in luxury.
Experience of surf coaches
Bali's crew of surf coaches are as varied as its crowd, ranging from ex-pro surfers to decades-long surf junkies, to surf coaches that picked up the sport 5 years ago but have surfed every day since. Many surf schools have a mix of experience levels on their staff, so ask who you're getting and the experience level to ensure you're getting your money's worth.
Experience levels catered to
Most Canggu surf schools offer ample programs for the beginner and intermediate crowd, dividing them appropriately to approach the appropriate breaks. If you're a more advanced intermediate surfer or generally advanced, contact the school prior to enrolling to ensure they have enough other surfers at your level, otherwise, you may be stuck on a break below your level with a crowd below your level.
Crowds catered to
This was news to me, but there a handful camps here on Bali that cater to specific crowds – all female, all groms (aka kids), etc.
Where they teach
Canggu, and Bali in general, is filled with tons of great beaches and breaks. Some are well known. Some are less known. Some are awesome breaks which can be at a beginner's level at one time of day and intermediate level at another time of day.
Where a surf school teaches and specifically the beaches they go to dictate how great the surfing will be as well as how crowded the water will be, so ask about the potential destinations ahead of time and hit Google, Reddit, Surfline, and Magic Seaweed to see if the breaks are worthwhile
Price
Remember, with any service you get what you pay for, and surf schools are no different. If you're on a budget and looking for a lower priced school, take note on what you're paying for and what you're not paying for that reduces the price. Going from a resort to a hostel for a discount makes sense. If a resort based surf school is cheap, dig into the reviews with a focus on the instructors, the boards & equipment, and the overall experience of participants.
If a school is cheap compared to surrounding schools (which could be a good thing) check the reviews.
Reviews
Plentiful, recent reviews on Trip Advisor or Google are what you want. Be sure to look for details on the following
instructors
beaches/breaks surfed
the quality of surfboards and equipment
whether a video is taken to review technique later
accommodation reviews
general vibe of the school
location: nightlife, eats, and entertainment
If nothing exists and you still think the school may be an option, hit the Facebook Group "Canggu Community" or the r/Surfing sub on Reddit and ask for some reviews. These groups will be happy to give the latest data.

Other Questions to Ask Potential Surf Schools
How are separate levels divided? Separate waves? Separate cars? Separate Beaches?
Share your experience (wave size, days surfing, breaks experience, board size/type) & ask where you fit and what's the plan?
What time do they head out for the beach daily?
How are separate levels divided? Separate waves? Separate cars? Separate Beaches?
Placing different surf levels (beginner, intermediate, advanced) in different vehicles means your group can move to level appropriate sites for afternoon sessions as the tide changes.
Share your experience (wave size, days surfing, breaks experience, board size/type) & ask where you fit and what's the plan for you.
A "one size fits all" plan isn't quite useless, but you're just as good heading to the beach and getting a surf lesson from a local. Ensure the school has the appropriate surfboards, surf break, and progression plan for your levels and goals for your experience.
What time do they head out for the beach daily? In Canggu in particular (Batu Bolong/Old Man's), noon can be mayhem, when the drunkard zombies come back to life for a surf sesh and fill the beach. Additionally, the winds are much friendlier in the early morn. To make the most of your time, aim for a school that gets to the beach around 7-9 for the morning session. If you do plan to party it up and prefer a noon session, check out our article on the Surf Lessons Canggu Edition to come up with a plan for staying in a hostel and jumping into ad-hoc surf lessons