Timeless style, tough yet comfortable construction, and resistance to liquids and dirt are the three essentials for great minimalist and travel clothing – and the Western Rise AT Slim Pants deliver in all three areas.
As a digital nomad, backpacker, or a minimalist commuter looking for comfortable, stylish pants that can be worn repeatedly between washes, worn for any occasion and still look good, and worn for years without fail, finding the perfect pair of pants can be tough. However, finding that perfect pair of travel pants that looks good is satisfying and worthwhile…and possible.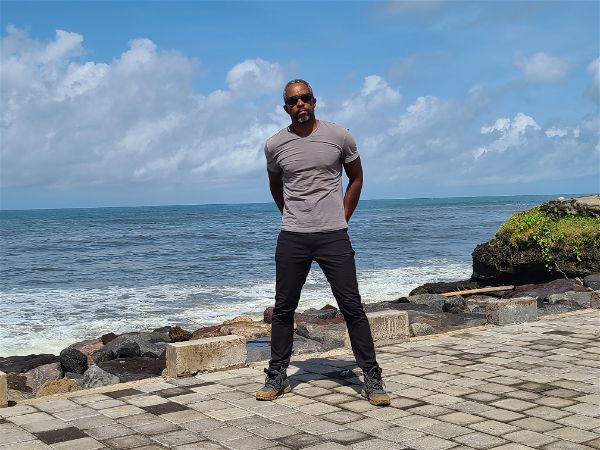 Over the last few months, I've been preparing this Western Rise AT Slim Pants review. These tough dungarees are inspired by the ruggedness, utility, and timelessly styled design of the original 1873 slim rivet pants – Levi's dungarees. I've worn this pair of techy, tough, and stretchy pants on hikes and motorbike rides, performing on stage, and out at night to see how they stacked up as a possible single pair of pants covering an entire wardrobe, and they performed very well.
Read on to discover how Western Rise combined timeless, minimalist, and techy to deliver a great-looking pair of jeans ready for the office or adventure.
This post contains affiliate links
THE BOTTOM LINE UPFRONT FOR THIS WESTERN RISE AT SLIM PANTS REVIEW
Western rise's reinvention of a timeless class – the 1873 slim rivet pant by Levi Strauss – reinvented with a 5x strong water resistant, air textured and stretchy Nylon/Spandex fabric, security and tech pockets, and grime resistance that makes these a contender for the only pants you'll need in the daily grind or travel adventures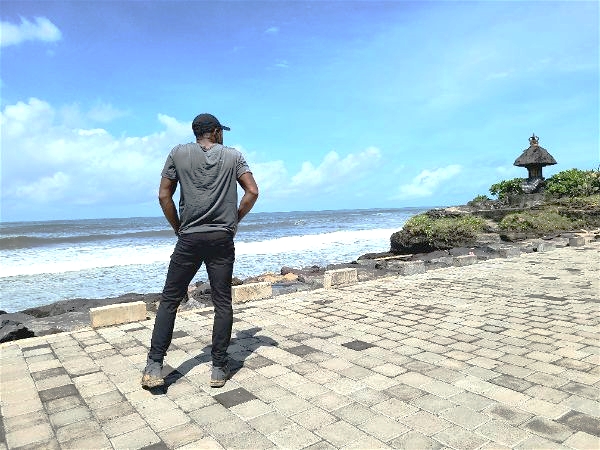 CONTENTS OF THIS WESTERN RISE PANTS REVIEW
Quick Review of the AT Slim Pants
Full Review of the AT Slim Pants
---
QUICK REVIEW OF THE WESTERN RISE AT SLIM PANTS
Timeless fit and style: form fitting and inspired by the original riveted jeans of 1873 that have withstood the test of time.
Very slim fit, bordering on skinny: a great pant for slim frames, thicker frames be weary as these pants may be a little "snug." However, keep in mind after washing and drying these pants will temporarily shrink and stretch back to comfortable wearing after wear.
Slight stretch: The 3% Spandex AT Cloth delivers slight 2 way stretch. Enough stretch to be comfortable in daily activities without feeling restricted, not as much as the 4-way stretch of the Western Rise Evolution pants.
Tough build and sturdy cloth, tough construction: The 97% nylon canvas is 5x as strong as cotton dungarees (for its weight), and is pieced together with solid rivets and stitching. Four months testing and zero signs of wear
Great single jean candidate: Easy to wear, versatile style, and resistance water and grime make these a possibility for a "single jean wardrobe." Pair with casual shorts (Outliers New Way Shorts) and Stylish Athletic Shorts (Myles Apparel) and you're travel ready.
Feel like a real pair of denim jeans: Though these are an extremely techy and tough pair of pants, they seriously like a pair of Levi's, in a comfortable, natural way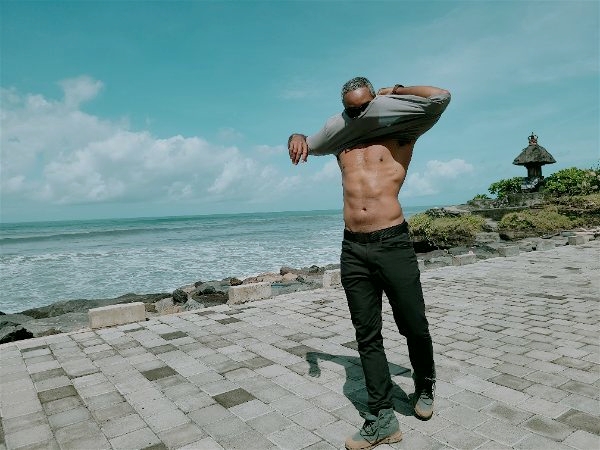 Western Rise's clear goal with the AT Slim Pants was clearly to take the original, Levi's riveted jeans of 1873, make the fabric tougher and more conducive to movement (with a little stretch and a reinforced/gusseted crotch), and make a pair of pants you can wear indefinitely, looking good every step of the way. Then, finalize the design with touches that make them better for travel and commuter wear (cell phone pocket, zippered security pocket)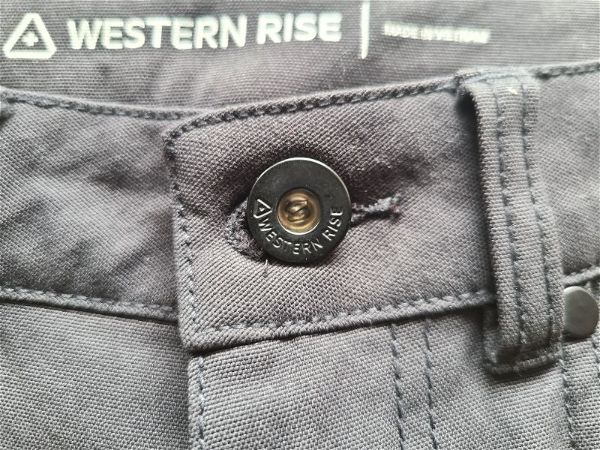 Click here to get the lowest price on the Western Rise AT Slim Pants at Western Rise's Website
WHY CHOOSE THE AT SLIM PANTS? WHO ARE THE AT SLIMS BEST FOR?
The AT Slim Pants would be great for anyone, but minimalists, light travelers, and active commuters (cycling, walking to work) will love the versatile function of these jeans.
For minimalist travelers, such as those traveling with a single carryon bag, every bit of space is precious and ideally a single pair of pants will be wearable for any occasion, and can go for weeks without washes. The tough fabric and C6 nano durable water repellent treatment helps these pants resist spills, stains, and dirt, allowing your to wear longer between washes.
I've worn these pants for a few weeks without washing easily, then washed in a dry bag easily, let them dry overnight, and worn them again fresh the next day
Additionally, the timeless cut – slim dungarees – is a style that stands between less stylish jeans and Chinos, with more versatility than both as it could work just as easily in the office as it could at a nice restaurant or night out.
For active commuters and those with an active lifestyle the super breathable of these jeans does great in the area of sweat management. Even wearing these jeans in the hot, rainy season of Bali, sweat rarely accumulates and dries within 10 minutes.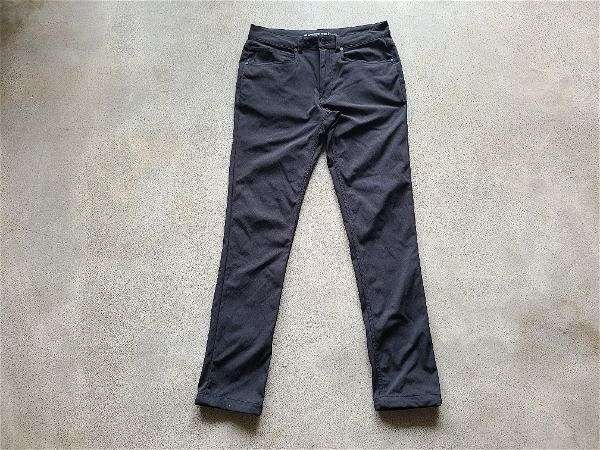 The pants offer just the right amount of stretch with 2-way stretch – just enough to make walking and moving comfortable in the jeans, whether motorbiking, trekking up the mountain, or taking a long walk through the city.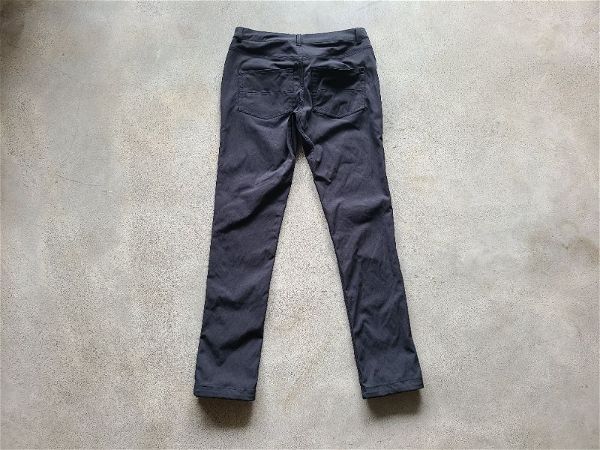 MY EXPERIENCE WITH THE AT SLIM PANTS…
For the last few months, in the hot heat and rainy season of Bali, the AT Slim Pants have been my trousers of choice to test them – but eventually enjoy them.
Living here as a stranded digital nomad waiting for borders open is probably one of the most pleasant "predicaments" one could have. On any day of the week, I'll hop on my motorbike and ride to a coworking space after a long morning walk on the beach, in the afternoons I'll ride an hour between rice fields to check on my villa construction, and on weekends my girlfriend and I adventure into the cold highlands, between volcanoes and into the crisp cool of high-altitude jungles.
When a taste for entertainment happens, nights at beach clubs, late night speakeasies, and performing standup comedy have all been on the agenda at some point – and the AT Slim Pant has thrived in every setting.
Though these pants handle the 90 degree heat well, without accumulating sweat, they still feel perfectly warm in the 50 and 60 degree nights of the cool highlands.
And even though the pants do get wet in Bali's surprise rainstorms, the pants usually dry while wearing within 20 to 30 minutes.
For nightlife, the sturdy canvas looking material and slim, modern cut make the AT Slims a pair of pants that look good anywhere and suitable for almost any occasion.
Last, despite being hot, sweaty, and funky 90% of the time, I've still managed to wear these pants for weeks between washes, and easily washing the pants in a dry bag or rinsing them out in the shower.
The bottom line: As an adventurous digital nomad, in daily life, nightlife, and on weekend explorations, I've really come to love these pants and would very much be comfortable making them my only pants for travels. For hot hot weather (like Dubai or Egypt), I would choose the lighter, stretchier, and more breathable Western Rise Evolution Pants as they breathe more and feel more freeing.
For North America, South America, Europe, the Balkans and Eastern Europe, and northern Asia, I would absolutely be comfortable taking the AT Slim Pants as my only pants for a year of travel. The durable and tough feeling fabric (like a dungaree should be) feels sturdy and looks chinos level stylish.
…click to read more about my experience below about testing and wearing the AT Slim Pants for travel, adventure, and life as a digital nomad…
PROS & CONS
| | |
| --- | --- |
| PROS | CONS |
| Tough Materials | Slimmer fit suits a certain crowd |
| Tough Build | Low rise cut can be restrictive, and needs a belt to stay in place if active |
| Great Style – stylish enough for daily wear and nights out | |
| Great pockets and features | |
| Don't look like "travel pants" | |
| | |
AT SLIM PANTS RATING: 4.8/5
| | |
| --- | --- |
| Style: 5/5 | The timeless cut, slim, 5 pocket dungaree style, and the sturdy matte look of the AT cloth make these a stylish pant that sits between jeans and chinos in terms of style, but will look great anywhere. |
| Fit: 4.5/5 | Slim, contoured, and fitted, these pants fit more like skinny pants than slim but remain comfortable thanks to the cloth's stretch and breathability. However these pants are clearly designed for thin to medium frames. Those with thicker legs should check out the slightly looser and much stretchier Evolution Pants instead |
| Travel Friendliness: 5/5 | Quick drying, moisture wicking, and dirt resisting, these pants are great for their ability to be worn for extended periods and washed easily. Perfect for onebaggers |
| Value: 4.5/5 | Though the price is steep, you're purchasing a pair of pants that do the job of several – saving you money and headache and making these pants a good value |
| Materials and Construction: 5/5 | Tough yet comfortable. From the air texturized nylon, to the tough rivets and stitching, these pants are high quality throughout |
QUICK VERDICT
Stylish, tough, and great for extended wear, the AT Slim Pants are perfect for minimalists, travelers, and nomads, and still a great addition to any wardrobe. As long as you appreciate timeless design and slim fit, its hard not to love these pants.

COMPARABLE PANTS TO CONSIDER
Western Rise Evolution Pants: Double the stretch, lighter and more breathable fabric, and a looser yet still stylish fit
Levi's 511: The originator (Levi's) adapting dungarees to a slim fitting bicycle commuter jean style and function (511)
Outlier Bomb Works** (formerly the Outlier Strong Dungarees)

FULL REVIEW OF THE WESTERN RISE AT SLIM PANTS
For the last 5 years, I've lived life as a minimalist and a nomad bouncing around the globe. One of the main things that makes this lifestyle comfortably possible is having the right gear – backpack, shoes, and cloths, especially jeans.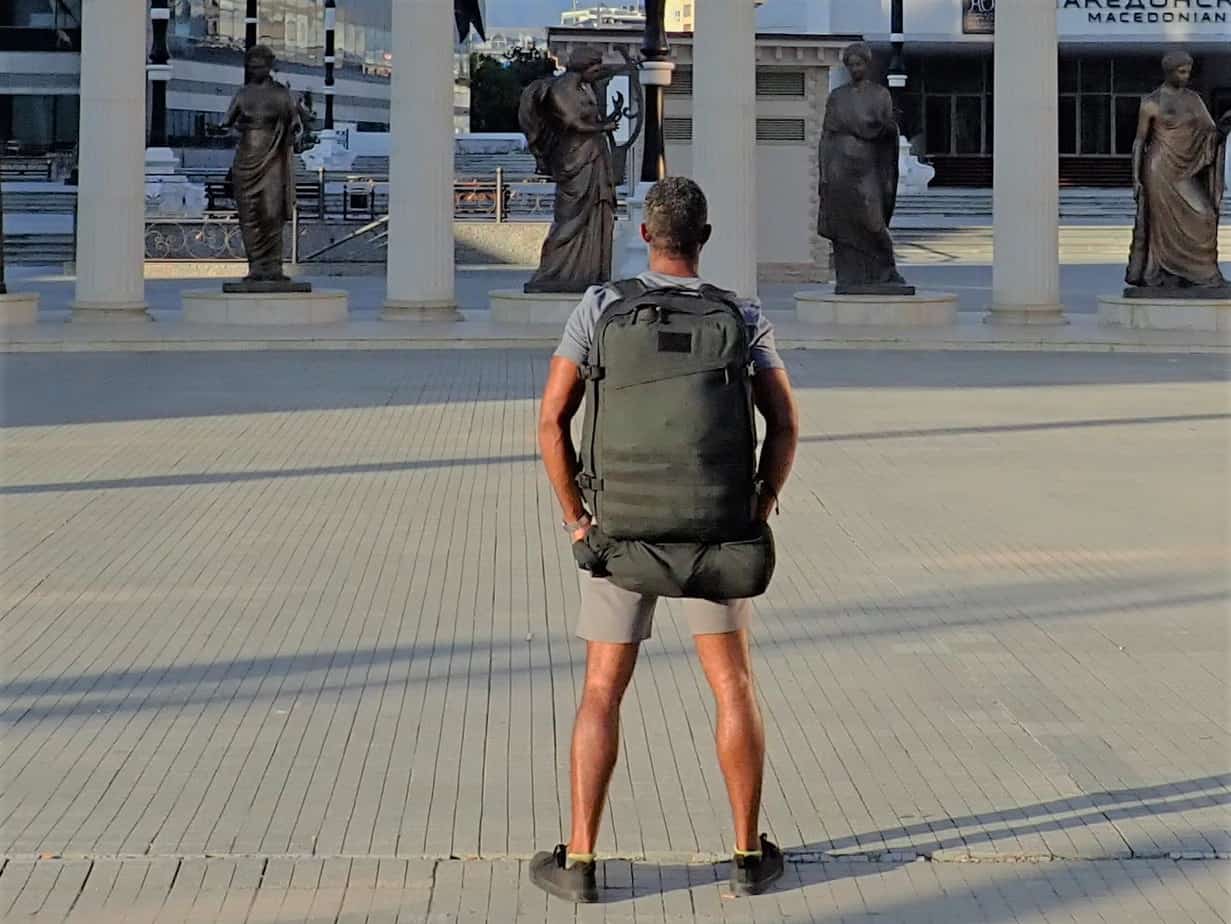 Having a techy pair of stylish pants that are comfortable, high performing (for hiking and exploration), and perfect for extended wear allows me travel light for months on end – with a pair of pants and a couple pair of shorts – out of a carry on sized bag. I save on baggage fees, I don't lose checked bags (like in Nepal that one time), and I'm comfy. – This standard of living and ambition is why I was attracted to the Western Rise AT Slim Pant.
As a "buy it for life" enthusiast I've realized the best gear that stands up to the test of time has timeless, classic styling, inspired by styles that have been around for centuries, and takes inspiration from gear that continually pops up over decades. These things include the M-65 Field jacket reborn as the Bluffworks field jacket, the baseball cap, the wool t-shirt, and of course jeans. Specifically riveted jeans first invented by Levis Strauss.
This is how Western Rise hit the jackpot, by taking the timeless 1873 riveted jean invented by Levis Strauss in terms of style and "toughness" aspirations, and updating with technical fabrics for stronger, quicker drying, water resistance fabrics that stretch and allow more movement.
The original dungarees were invented for outdoorsmen and goldminers, a tougher option to what existed, allowing them to do more.
The AT Slim pants achieves the same, for travelers, minimalists, and digital nomads, allowing us to do more in a single pair of pants, in hot or cold, and in wet or dry circumstances.
MY EXPERIENCE WEARING THE WESTERN RISE AT SLIM PANTS
Over the past few months, motorbiking daily, commuting, bouncing across Bali, jumping through rice fields, and living the life of a fidgety digital nomad, I've been able to experience the strengths, weaknesses, and all-around excellence of the Western Rise AT Pants.
Here is my use case by use case experience
OCCASIONS: DAILY WEAR, EXPLORING, AND NIGHTS OUT, THE AT SLIM PANTS DO IT ALL
Wearing the AT Slim Pants on a daily basis – often going to work at a coworking space or trouncing through rice fields to check on the construction of my house – has been comfy and unnoticed. Here on Bali, I live on motorbike and the heat is generally in the high 80's and 90's. Through that sun and heat, I definitely sweat but the breathable AT Cloth fabric manages the sweat well as my shirt gets soaked but the pants never feel wet.
OCCASIONS: ACTIVE LIFESTYLE: MOTORBIKING, LOTS OF WALKING, EXPLORING IN THE HEAT OF THE INDIANC OCEAN.
Here in Bali I live in a digital nomad hub called "Canggu" which could best be described as a once tiny surf village that got too wired up. However, on my side of "town" things are still incredibly walkable. I walk to the beach. I'll walk to get a coffee. I'll walk to dinner. I'm a bit of a maniac in that sometimes I'll do it at high noon.
Through this "beach life commuting" the pants performing well, and given their slim fit they don't chafe or feel too sweaty "down there" after miles of walking. The same applies for exploring trails in the highlands of the twin lakes and around Ubud. Accounting for the slim fit, these pants are still great for a walkable (or motorbiking) lifestyle.
PERFORMED WELL IN THE RAIN, AND DRIED QUICKLY AFTER
I've owned these pants for most of Bali's rainy season. In the occasional rain, which is actually daily here, light rain beads off the pants fairly unnoticed for the first 10 minutes but then tends to be absorbed by the pants. However, once I escape the rain the pants tend to dry while being worn after 15 to 30 minutes. So, not terribly water-resistant, but the quick-drying nature is great.
DEALS WELL WITH DUST, GRIME, AND STAIN RESISTANCE, REQUIRED MINIMAL WASHING
Through all of this exploration, motorbiking, and daily living, the DWR (durable water repellent) coating on these pants has made them such that I can wear them for weeks on end without washing, as spills rolls off, dirt and grime generally dust off or wipe off, and I've actually quickly rinsed them in the shower for a refresh.
For instance, today I wore these pants through the mud of a ricefield. My boots were so dirty I had to rinse them off with a water hose. Since I did get a little mud on my pants I assumed it was time for a wash or rinse at least – after I threw on my sandals to walk and get a smoothie. However, by the time I got back, the mud had dried and flaked off completely, making them look the same as they had before I went into the rice field.
At the moment, I've worn the pants for weeks a few times without washes, with so stain or smell problems.
If you're traveling for weeks on end and likely won't be able to wash, these pants are a great option as they won't need to be washed often and if you do wash them in the shower they'll likely be dry by morning.
SUGGESTION: PAIR THE PANTS WITH MERINO WOOL AND ACTIVE WEAR SHIRTS.
One caveat to the "I wore these pants for a few weeks" is that I was wearing Ibex merino underwear for most of those times – and Merino wool makes an amazing difference when it comes to funk management. However, I did wear "normal" synthetic travel undies which did get funky, and the pants stayed fairly fresh.
For the optimal minimalist travel wardrobe – versatile clothing with fewer washes – I would pair the AT Slim pant (or at least the Evolution Pants) with a few Merino wool t-shirts. That is actually exactly what I'll be packing this fall. Stacked with a pair of Glyphs packable travel loafers and GORUCK Jedburghs for adventuring, I'll have a one bag wardrobe ready for anything.
GREAT FOR ONE BAG TRAVEL – FOR MINIMALISTS TWO PAIRS WOULD GET YOU THROUGH LIFE
What if you're not as obsessively minimalist as me and you're not traveling? What if you're considering the AT Slim Pants for a daily wardrobe for the real world? Is it still a good idea?
Absolutely.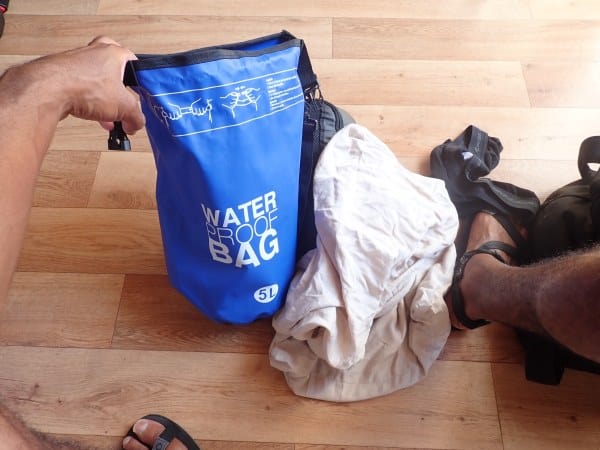 Given the funk resistance, utility, and versatility. If you had 2 pairs of AT Slim pants, one dark color like **deep indigo** or **flat black** and one light color like **sand** or **blue grey** (or 1 AT Slim and 1 pair of Evolution Pants) that would all you would need for the "trousers" portion of your wardrobe (maybe adding a pair of Chinos for more upscale occasions).
That minimalist combination (especially if one AT Slim + one Evolution Pant) would leave you ready for work, nights out, hikes, and maximal pairings with light and dark colored shirts, while still requiring minimal washes.
STYLE, FIT, AND FORM: CLASSIC DUNGAREES STYLING, FITTED, AND SUITED TO EVERY OCCASION
One of my favorite aspects of the AT Slim pant is the timeless style. I've already said that the pants were heavily inspired by the 1873 rivet pants. That's an excellent inspiration if we're aiming for timeless, because that style has been kicking hard for 150 years and hasn't shown any times of slowing.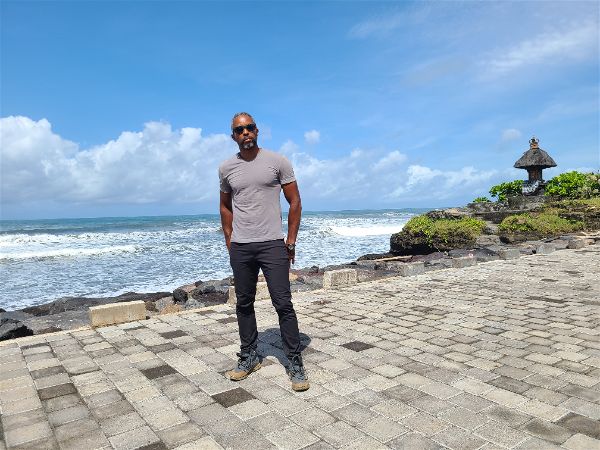 The slimmer fit is also a more timeless and tasteful look. Dig through pictures of the 1960's and 1970's and a slimmer, form-fitting jean and trouser in general pervades – and it still looks good now.
The slim cut, from top to bottom, pairs well with boots, loafers, flip flops, and whatever other kind of footwear you rock.
And that slim cut is also why these pants do double duty as "nicer" pants.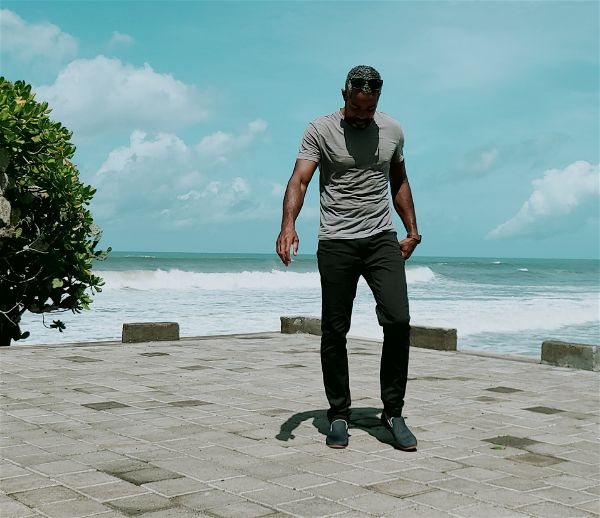 The AT Cloth, essentially nylon canvas, also carries a stylish, more classy look than your regular dungarees.
The matte look of the cloth in all colors resembles more the material of a chino pant, or a suit in darker colors, than a jean, thus finishing a more formal fit and feel – as long as you can't see the normal jean pockets in the back.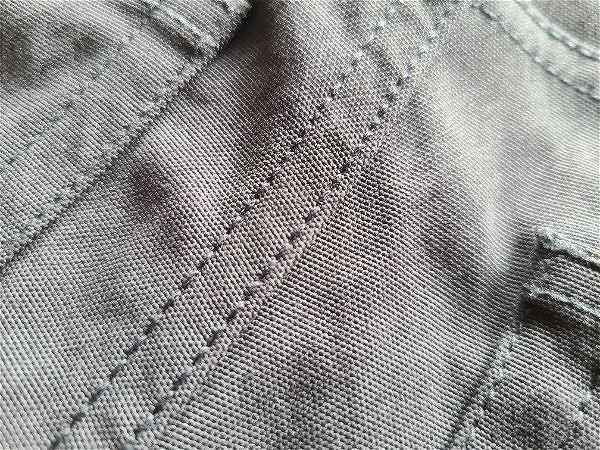 For those wearing the AT Slim Pants daily, especially if you move a lot, plan on wearing a belt to avoid showing off "plumber's crack," especially if you have a "hardy butt" for your waist size like I do. As I'm riding my motorbike a lot, I always wear a belt – the minimalist Grip6 belt has paired well, in a style and travel readiness sense.
Wearing a size 30 waist, and my height being 5'8", the length of these pants is perfect for wearing with boots, loafers, or flip flops (I normally need my pants tailored to fall at this point). However, for taller fellas, the extendable inseam can be lengthed up to 2 inches by your tailor.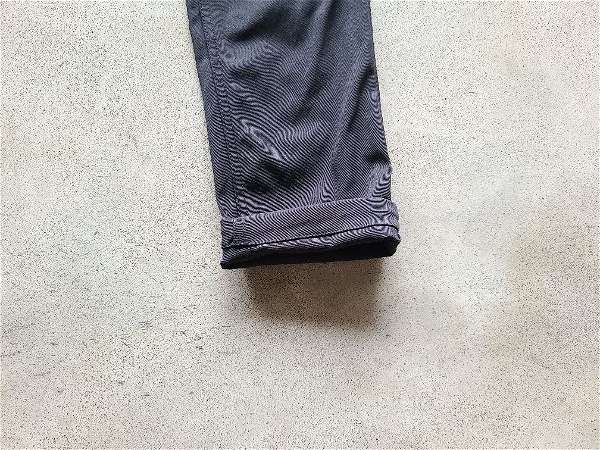 Highlight Style Cues of the AT Slim Pants
Slim and form fitting
Very low-rise waist (makes a belt necessary if your butt is on the "voluptuous" side)
Slimmer fit than the Evolution Pants
Less stretch than the Evolution Pants and not as breathable as the Evolution Pants in exchange for the rugged, canvas look and feel
Fabric feels and looks like a durable fabric, like hardy canvas
2 inch extendable seem – makes for a perfect pair of pants (achievable with $10 of tailoring)
DESIGN AND FEATURES
Well placed, very functional pockets
The AT Slim has the standard jean pockets, and conveniently hides two great small pockets in the right pockets of the pants
2 deep, front main pocket options, larger enough to hold daily needs
2 normal jean back pockets
Zippered phone pocket: 1 zippered security pocket, within the back right pocket
1 cell phone pocket within the right front pocket – fully fits a Samsung S20 plus while in a protective case
Gusseted Crotch strategically added to ensure you can full use the 4-way stretch in these jeans without worry of busting anything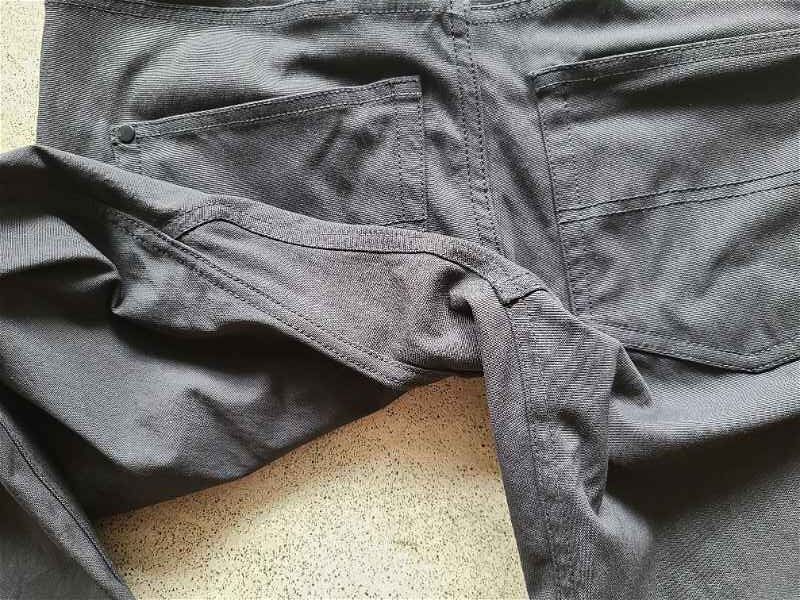 Riveted Stress Points
Flat black, solid rivets continue the original dungaree strength, with an added touch of style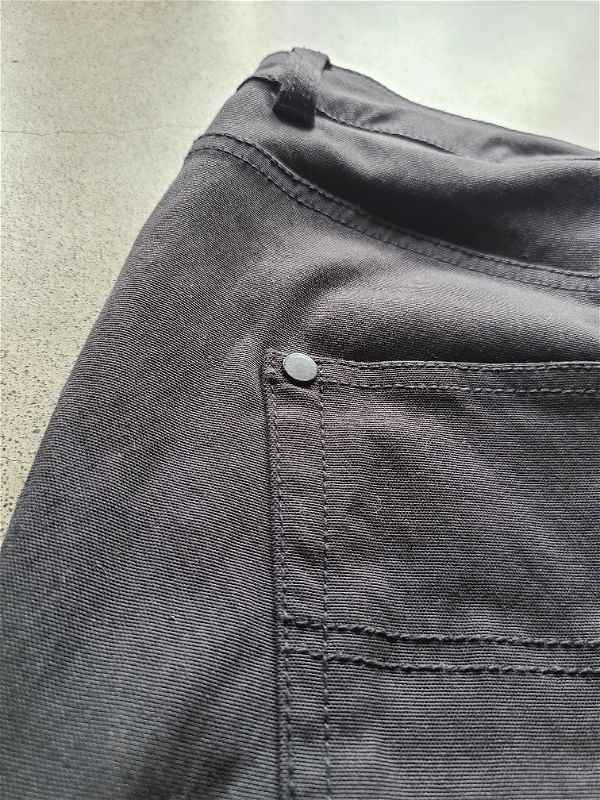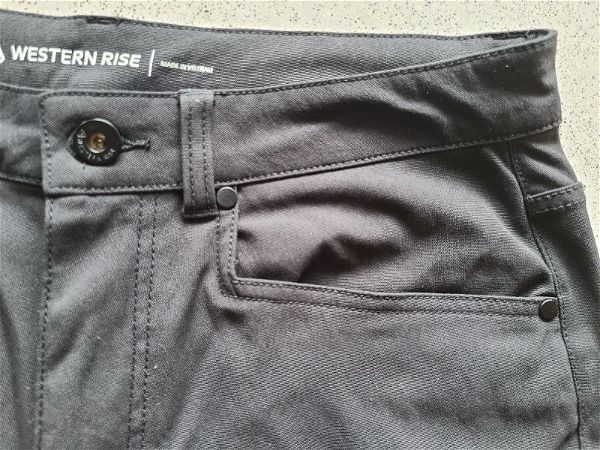 Zippered back security pocket:
Within the back right pocket is a zippered pocket, perfect for holding a wallet, passport, or wad of cash without worry of pickpocketing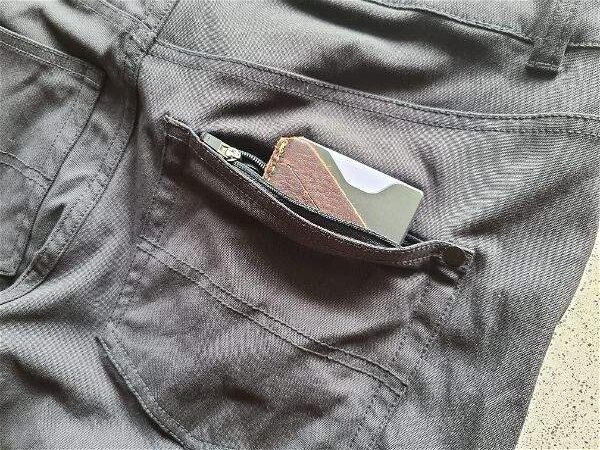 Phone pocket
Within the front right pocket is a surprisingly large and deep pocket designed to hold a cell phone. It accommodates a Samsung S20+ /Apple iPhone Plus very well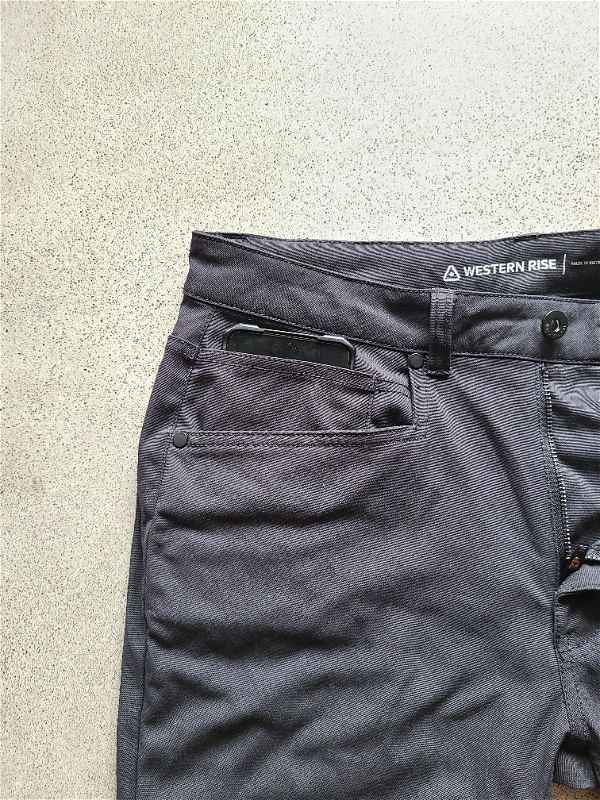 MATERIALS AND CONSTRUCTION: BUILT TOUGH AND STRUDY, LIKE WORK PANTS
Highlight: Tough yet naturally feeling AT Cloth, rivets, crotch gusset, and stitching
These pants are made of a tough and techy yet natural feeling fabric that is stitched so well I haven't even noticed a loose thread after months of wear. High quality materials and craftsmanship make up the foundation of these great pants.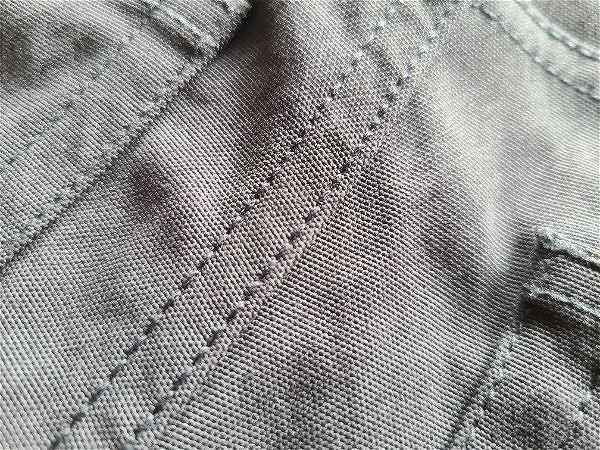 AT Cloth – A synthetic, air texturized woven nylon canvas cloth with a natural feel (like dungarees) and lots of toughness and performance: Air texturized nylon cloth takes the tough, abrasion resistance of nylon and softens it to feel lock cotton canvas with a slight amount of added spandex for stretch, without compromising durability. (97% nylon, 3% Spandex 280 gsm fabric weight cloth).

5x more durable than cotton denim by weight
Handles moisture (drying) much better than jeans and most other technical pants

Nano-scale C6 durable water repellent treatment adds water resistance, dirt resistance, and grime resistance
Wrinkle resistance – and if they are wrinkled then the wrinkles fall out quickly

Simply styled yet tough black rivets at all pocket corners
The cloth drapes and feels sturdy, like a good pair of jeans
Made from Taiwanese fabrics, assembled in Vietnam
PERFORMANCE
2-way stretch, thanks to 3% Spandex in the tough nylon cloth – not enough to place sports, but comfortable for a walking, commuting, and hiking lifestyle
Resists spills and grime very well. Coffee spills and water of a light rain storm roll off, and the pants resist dirt for days.
Light weight and pack small compared to cotton jeans, while being cleaner, tougher, and easier to wash
Feel relatively cool on hot days (85 degrees +) for such a durable fabric, and handles sweat and moisture much better than traditional jeans on hot days.
SPECS
Weight: .9lbs
Packing footprint: Packs down to ~9.5" x 4", half the size of a pair of jeans (picture)
Days of wear without washing: 3 weeks (not intentionally pushing the limit)
Sizing Chart: All pants have 32 inch inseam length extendable to 34 inches (See sizing chart for waist, leg, and inseam measurements)
Warranty information: Limited lifetime warranty on all of our products against defects in material or workmanship. For help, reach out to us at
, send along a few photos showing the issue, for repair or replacement. Learn more here
OPTIONS
Colors

Blue Grey
Flat Black
Deep Indigo
Sand
Steel

Sizes: Waist 28 to 40
WESTER RISE CUSTOMER SERVICE INFORMATION
Free shipping on orders over $150
Global shipping
Free returns
Lifetime guarantee

VERDICT ON THE WESTERN RISE AT SLIM PANTS
A tough, stylish, and highly technical update on a 150 year old classic. Western Rise's Riveted AT Slim Pants are an excellent investment for any nomad, lightweight traveler, or anyone aiming to get more out of their wardrobe. Water and grime resistance, tough build, and packing down small are the areas in which these pants overperform making them perfect to cold and medium temperature climates. As long as slim, fitted, and stylish is what you're looking for, you won't be disappointed by the AT Slim Pants.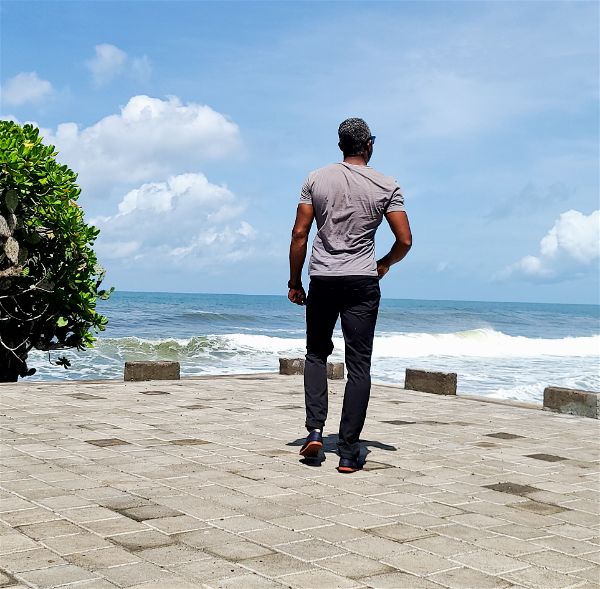 Click here to get the best price on the Western Rise AT Slim Pants
If you're traveling to hotter weather areas and want a warm weather friendly pant to accompany your shorts, also consider the Western Rise Evolution Pants

WESTERN RISE PANTS COMPARISON
Western Rise Evolution Pants: The Evolution Pants are made of a 4-way stretch fabric that is slightly lighter and more breathable and still fitting slim but slightly looser than the AT Slim. The Evolution Pants would be better for hotter climates, the AT Slim is great for cold
Levi's 511: A classic and similar in fit, these slim fit commuter jeans do a poor job of moisture management, drying quickly, and washing easily compared to the AT Slim Pants
Outlier Slim Dungarees: Another great, extremely techy option, these pants deliver a looser fit (almost baggy after multiple days of wear), and are more susceptible to snags.
Outlier Bombworks**: Another tough option from Outlier, equally techy with nuances that are all about preference
OTHER TECHY, MINIMALIST PANTS TO CONSIDER
Mission Workshops The Mission Jean*:
Western Rise vs. Lululemon**
Wester Rise Diversion Pants*
Olivers Passage Pants**
Outlier Futureworks*
Seagale Performance Chinos*
Bluffworks Chinos
OTHER RECOMMENDED PIECES TO CONSIDER
A perfect minimalist pair of pants only add up to a great wardrobe with the right accessories. I recommend considering the following pieces for your light traveling and **digital nomad packing list**.
Shorts and Shirts
Footwear
WESTERN RISE AT SLIM FAQ
Is Western Rise a Good Brand?
Western Rise clothing and brand are excellent options, delivering stylish, high quality, tough, and functional gear for minimalists, travelers, and commuters, based on my experience testing pants, flannels, and socks.
Every single piece of gear so far from Western Rise has been on par or better in terms of having good style, packability for carry on only travel, technical features like water and dirt resistance, and durability in terms of great quality materials, stitching, and general construction.
Do Western Rise pants shrink?
Because most Western Rise pants are synthetic, and a combination of nylon and spandex, they do not permanently shrink, like cotton jeans. However, after washing and hanging out to dry or machine drying, the material will "tighten up," but loosens within 30 minutes of wear, and fits naturally and comfortably again within a few hours. You can also stretch the pants back to normal size quickly, by hand.
Where are Western Rise pants made?
Western Rise pants are made of Taiwanese and assembled in Vietnam.