The GORUCK GR2: A durably built carryon sized backpack offers a great organization scheme and the perfect amount of storage for travels of one month or less through a single climate. For hard use travelers and "onebaggers" the GORUCK GR2 is one of the best travel backpacks available. (A GORUCK GR2 Review)
Note: This article may contain affiliate links

Contents of this GORUCK GR2 Review for Travel

Who is GORUCK? What is the GORUCK GR2 and what makes this bag so special?
GORUCK is a company started by a former Army Special Forces soldier with the intent of creating a backpack or "ruck" durable enough to handle the rigors and abuse of war while carrying enough gear for a small Army. Starting with the "GR1" backpack, the line grew from small daypacks to larger, travel focused backpacks with the same durability and capability. The GR2 is GORUCK's first travel focused rucksack, perfectly sized for a week long trip, and durable enough to last a lifetime.
The GORUCK GR2 is hands down one of the toughest, most durable travel backpacks available on the market. Well selected, durable materials, like 1000D Cordura and mil-spec plastic hardware, combined with GORUCK's US based, construction make this a pack that can hold upwards of 450lbs and a lifetime of abuse.
The GORUCK GR2's design combines minimalist simplicity, to avoid having extra things that can go wrong, with just enough internal storage, organization, and compartmentalization.
For adventurous travelers on trips of less than a month and in search of a travel pack that will last a lifetime, the GORUCK GR2 is hard to top.

What factors make the best travel backpack
When assessing backpacks for longer term travel, what should you look for?
Durability
Airline Carry On size
Good Internal Organization
Versatility of function, making it suitable for city and trail
Modular design, allowing storage expansion as needed
A Lifetime Warranty (that's actually honored)
Customer Support
Value (price compared to what you get)
---
The GORUCK GR2
Durability & Construction

Function

Comfort

Price & Value

Aesthetic
GORUCK GR2 Quick Review
A near bulletproof pack tested thoroughly in the GORUCK events and backed by a lifetime guarantee. Separate compartments, plenty of pockets, and open flat design make this bag perfect for travel – as long as you don't mind the pound or two of extra weight. The bag comes with a hefty price tag but you absolutely get what you pay for.

Overview of the GORUCK GR2
The GORUCK GR2 is a midsized ruck, perfect for travels of roughly a week to a month, as long as they take place in a single climate and season. In this case, your gear will easily fit in this pack's 40L of storage (for anything larger, consider the 45L, long term travel focused GORUCK GR3). Internal organization in the form of zippered mesh pockets and divider panel between the main compartment and front compartment make it easy to stay organized without additional packing cubes.
The GR2 is best suited for two crowds: hard users and "buy it for life" purchasers
The GR2 commands a high price but provides the material, construction, resulting durability, and lifetime warranty to warrant such a price. The fact that this bag is designed to withstand the worst of abuse make it specifically suited for those that are hard on gear (like me) or are willing to pay a premium for a pack they'll never have to replace.
…but…
This bulletproof build comes with a tradeoff in weight. At nearly 4lbs, this bag weighs in at 1-2lbs heavier than bags of a similar capacity making this bag clearly unsuitable for ultralight hikers or travelers attempting to stay under the dreaded 7kg limit of Asian budget airlines as this bag alone will take half of the baggage weight allowance.
I will note though that I've traveled with the GORUCK GR3 for 8 months and my backpack was overweight going into every flight but I was only forced to have it weighed once.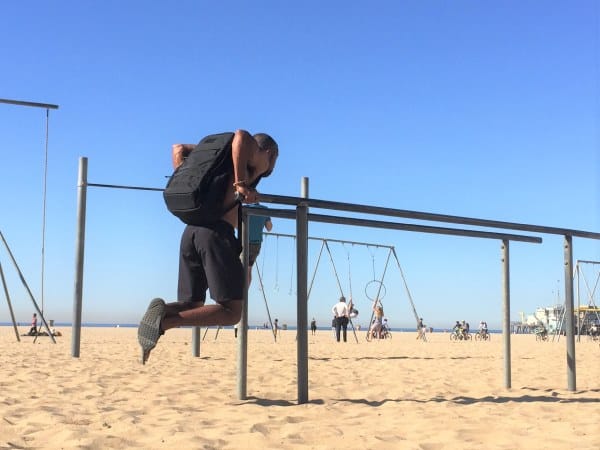 Additionally, because this backpack has an interesting "character" sacrificing elements of comfort, such as risers on the shoulder straps and the possibility of a vented back panel, I recommend against new travelers buying this backpack. Combined with the high pricetag, the GORUCK GR2 is a hefty investment and a traveler should understand what they want in a pack as well as what is available that they can do without, before purchasing this backpack.
If you're a new traveler and looking for a carry on sized travel backpack, check out these carry on backpack options.
If you're a new traveler and your heart is set on getting a tactical style backpack, checkout this list of the best tactical backpack options for travelers or the other handful of best rucksacks on the market.
---
Who I don't recommend the GORUCK GR2 for:
Ultralight hikers & travelers: as good as the bag is, the extra features won't warrant the weight for this crowd
First time travel backpack purchases: I recommend getting something cheaper first for one to learn what they need, and what they don't
Budget Shoppers: Considering this bag will outlast 2-3 other backpacks, if not last a lifetime, it is logically worth the price tag, but for shoppers with small budgets there other backpacks that provide better value.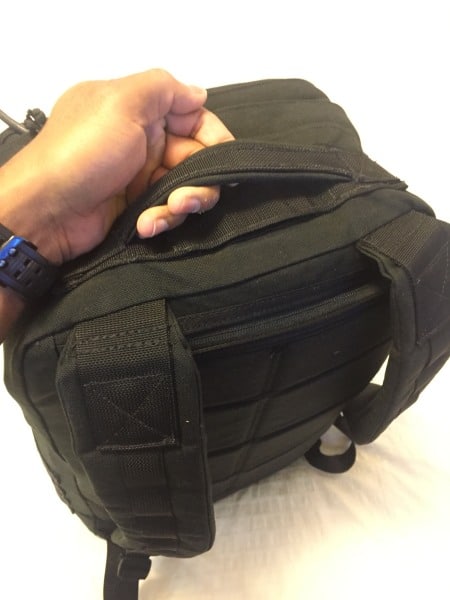 Save your money for your travels and check out these GORUCK Alternative Backpacks which provide the many of the same functions at half the price or skip the tactical backpack and checkout this list of the Best Carry on Backpack options for travelers of any style or budget.

Pros of the GR2
Damn near bulletproof, extremely durable build and components
Good organization scheme with zipper front panel pockets
Clamshell, full zip opening makes everything easily accessible
Lifetime warranty with SCARS Lifetime guarantee
Bombproof Laptop compartment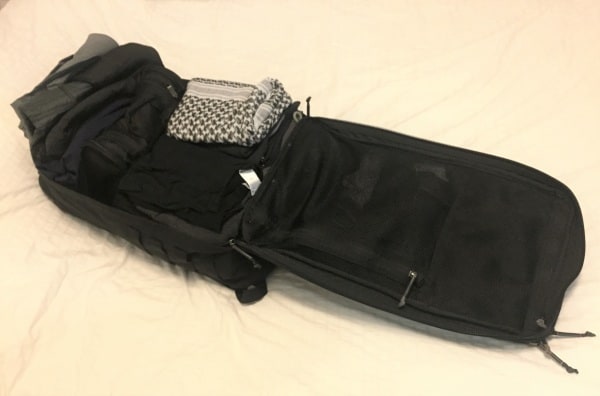 Cons of the GR2
Price – ~$495
Weight – 1-2lbs heavier than most non-travel backpacks
---
---
For those that the GORUCK GR2 isn't suited for, these alternatives may be better suited to your needs

Full GORUCK GR2 Review
My Experience with the GORUCK GR2
Over a test period that included travel, hiking, working out, and general abuse, I attempted to push the GR2 to its limits. Along the way, I found it to be an extremely durable backpack, with design and organization well suited travel, and additional perks that make it suitable for everything in between
---
Traveling with the GORUCK GR2
After cross country travel via air and plane during winter in the US, I found the GR2 to be great for travel, and the 40L size was just enough to get me through a few weeks of travel.
The zippered mesh pockets kept all of my goods organized, the "bombproof laptop compartment" protected my Microsoft Surface extremely well, the subdued look of the all black design with minimal MOLLE web kept the bag from looking too "tacticool".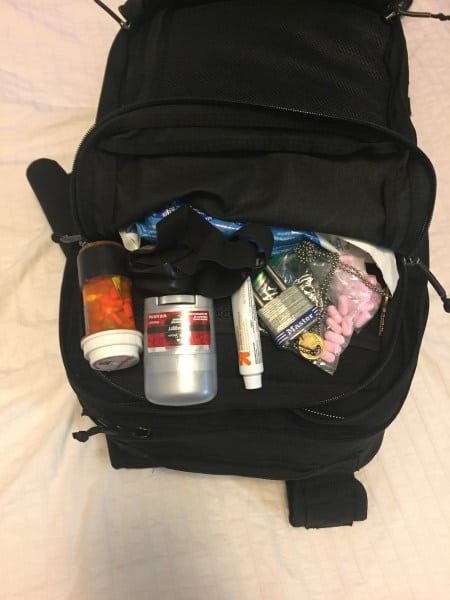 Unfortunately, the second panel within the GR2, which separates the main compartment from the front compartment , does eat into the 40L a bit which is noticeable when planning for long trips. After traveling with the GR2 for about a month, I understand why the GORUCK GR3 travel backpack is designed with a single main compartment – to maximize space. For travels of a few days to a few weeks, or for minimalist travelers, you won't even notice the difference and this pack is great for travel.
---
Highlights from traveling with the GORUCK GR2
Provided great organization for everything I needed without packing cubes
Two compartment organization (front and main) and zippered panel pockets made smaller pouches (hygiene bag, first aid kit, packing cubes) unnecessary
Minimalist design and low profile look are understated and travel well
Center panel eats slightly into packing space, but the compromise won't be noticeable for short trips. If you need more space, check out the 45 Liter GORUCK GR3
---
Hiking with the GORUCK GR2: The GR2 is a "Rucking" Beast
The GORUCK line of backpacks was literally bred and built for the purpose of hiking (hence the name go "ruck"), but a different breed of hiking. Whereas normal hikers and trekkers take it slow to enjoy the view, military "ruck marches" or "rucking" can be thought of as a military style of hiking in which you're carrying lots of weight (and aim to stay just comfortable enough to avoid inhibiting performance) and you need to get somewhere fast to do a job. This difference between "rucking" and hiking comes out in the GORUCK line and the GORUCK GR2.
The GORUCK GR2 holds heavy weight extremely well, making it perfect for hiking with heavier loads. The overly padded shoulder straps and padded back panel carry 45lbs weight plates more comfortably than any pack I've ever worn, without any fabric, stitching, or webbing stretching at all. If you are a hard user, abusive, and carry heavy weight, you need a pack with this kind of build. This quite possibly the most durable pack I've owned.

Downsides of the GORUCK GR2
Non-breathing back panel
Lack of a hip belt
Lack of compression straps
Non-breathing back panel
The GR2 has a very well padded back panel that allows carrying weight plates in a way summit and backpacking bags don't allow, and its accomplished via very firm, durable, and comfortable foam padding, but it doesn't breathe much. This means for the sweaty types, your back is going to sweat quite a bit when hiking with the GR2. When rucking (i.e., hiking hard and fast), everything is sweaty and a little trickle down your back is the least of your concerns. When hiking through peaceful, pleasant environments, that back panel that restricts airflow will be a bit more noticeable.
I hiked several times with the GR2 in California spring, on hikes ranging from a few miles to 12 and had no issues, but I don't sweat much. However, I do see this as potentially being an issue for some hikers.
My point: if you're a heavy sweater and plan to use the GR2 for hiking (not rucking) test it extensively before you decide to keep it
Lack of a hip belt
In military parlance, the GORUCK GR2 sizes, 26L, 34L, and 40L span between "daypacks" or "assault packs" and "3 Day Packs". In all three use cases loads are generally not too heavy and there is emphasis on moving fast and staying agile. Though hip belts make for more comfort, relieving weight off of the shoulders, they restrict movement and make the wearer less agile than they otherwise would be carrying the weight on their shoulders.
Do you remember I mentioned that a difference between hiking and rucking is there is usually a "job" to do at the end of the ruck march? Well that "job" requires speed and agility over comfort…in rucking.
Hikers however don't need speed or agility, they need comfort and to enjoy the view. As a hiker, note that a downside is the lack of a hip belt and that the weight will always be carried on your shoulders. I rarely use hip belts for hikes and shorter treks so this wasn't a problem for me but weigh it as a consideration if you plan to hike with the GR2.

Using the GORUCK GR2 for Weighted Calisthenics Workouts
One of the most overlooked benefits of the GORUCK GR2 is the ability to use it for weighted workouts. The bag is so sturdily built, designed to reliably hold loads that 450lbs at minimum, that it can be used as an impromptu weight vest – transforming normal calisthenics workouts into muscle building, strength honing, body sculpting sessions.
My workouts of choice these days are this bodyweight fitness workout and this gymnastics inspired workout. Normally the limitation is resistance – you can only achieve as much resistance as your body weighs.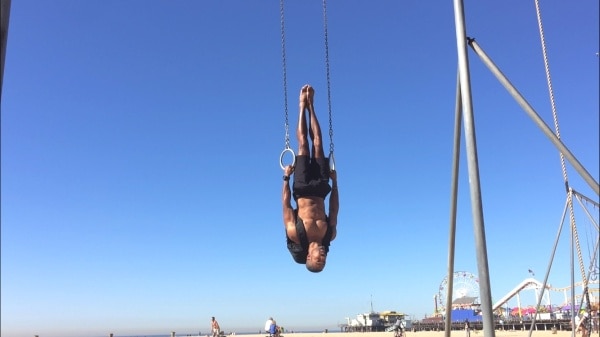 With the GORUCK GR2, I ordered two expert ruck plates, strapped on the bag to ruck from Santa Monica to Venice Beach's new muscle beach, and then proceeded to "get after it" with a calisthenics routine that rivals how most gym goers train with iron.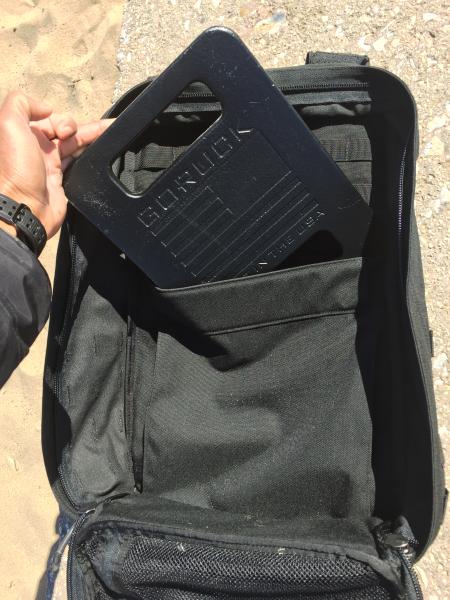 During the initial workouts, the bag stayed sturdy and stiff, due to the heavy duty materials, restricting my movement slightly. After a few weeks of use, the bag softened, the shoulder straps and back panel began adapting to my body, and the GR2 became perfect for my calisthenics workout of choice:weighted pull ups, dips, inverted rows, handstand push ups, push ups, rows, pistols, and lunges.
The Downside of Using the GR2 for Workouts…
The GR2 does lack compression straps, so if you intend to fill your GR2 with weight, place the weight in the "bombproof laptop compartment" to avoid having it slide around and injure you.

How the GR2 changes over time
On arrival, the GORUCK GR2 was stiff as hell, nearly feeling like nylon version of medieval chainmail. When I put the bag on my back without weight it initially sat high, the shoulder straps not completely touching my shoulders because they were so stiff that they stood on their own. Some might be discouraged, but I like tough gear that lasts longer than I do, so I took it as a good sign.
Three weeks later, after routine wear, weighted workouts, and a couple of hikes, the external cloth was still fairly stiff and quite new (broken in slightly), but the heavily padded shoulder straps had begun to mold to my body, as had the heavily padded back panel – much more than any I've felt any other pack has adapted to my body. Over time the GR2 became a tough nylon box that sat perfectly on my back and broke in the more I moved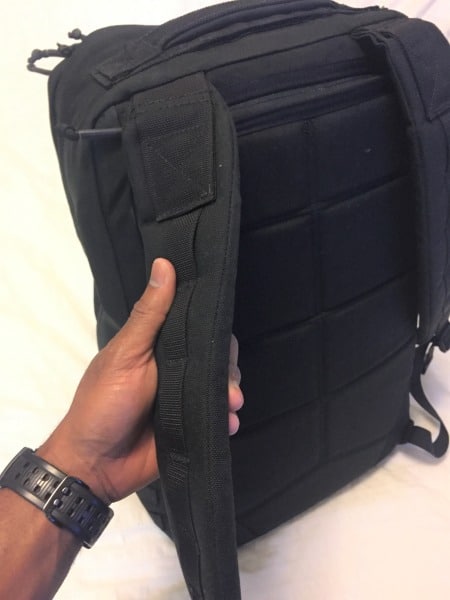 This means that you should expect a solid break in period (no less than three weeks) and expect the backpack to be hard and stiff at first – breaking in like a raw leather bag. If you're expecting something soft and comfy right out of the box, this isn't it. If you don't mind a break in period, are willing to trade that period for durability, and value gear that adapts to you, the GORUCK GR2 is a good option.
For a more in depth take on how GORUCK gear changes over time, read the review "The GORUCK GR3 after 6 months of travel"

GR2 Design & Feature Overview
Open flat design
Two compartment setup, both open flat, makes staying organized easier
Mesh zippered panel pockets and built in internal pockets provide great, non-intrusive organization
Easily accessible "bombproof laptop pocket" in zippered back panel
Bombproof laptop compartment with false bottom, provides easy access, great protection, and handles heavy weight plates well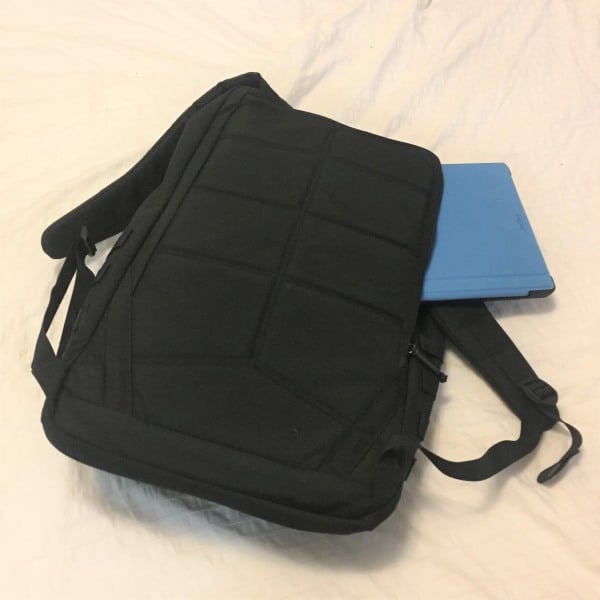 ---
GR2 Materials Overview
1000D Cordura all around – "rainproof" thanks to water resistance
Heavy duty, high tensile nylon thread stitching
Mil-spec plastic hardware
Heavily padded shoulder straps handle heavy loads
Fat YKK zippers that still function through sand and grime
---
Size & Weight for 26L, 34L, and 40L GR2
40L GR2: Good for Extended Travel
Weight: 4.75lbs
Size: 12.5″W x 22"H x 9"D (31.75cm x 56cm x 23cm)
Pocket Dimensions

Laptop Compartment: 12″W x 19.5″H

External Slant Pocket: 11″W x 11″H
34L GR2: Great Weekender Traveler
Weight: 4.75lbs (as listed on GORUCK site, likely slightly lighter)
Size: 12.5″W x 20″H x 9″D (31.75cm x 59cm x 23cm)
Pocket Dimensions

Laptop Compartment: 12″W x 18.5″H

External Slant Pocket: 11″W x 11″H
26L GR2: Daypack
Weight: 4.75lbs (as listed on GORUCK site, likely slightly lighter)
Size: 12.5″W x 18″H x 8″D (31.75cm x 46cm x 21cm)
Pocket Dimensions

Laptop Compartment: 11.5″W x 16.5″H

External Slant Pocket: 11″W x 9.5″H

The issues with the GORUCK GR2: Weight and Price
---
Downside #1 of the GORUCK GR2: Weight
Have a discussion about the GORUCK GR2 with travel "gearheads" and the likely first complaint you'll hear is about weight. Coming in at 4.75lbs, the GR2 is admittedly chunky and heavier than its larger 45L counterpart, the GR3.
This is an absolute tradeoff that, if durability is your primary concern, you will have to come to terms with. If your goal is staying ultralight for hiking or backpacking or just cutting weight for efficiency, recognize that this isn't the backpack for you and there are plenty of other carry on backpack options out there. For more ideas of great travel backpacks, check out our article "The Best Carryon Backpack Options for Each Type of Traveler" to find a pack better suited for you.
Additionally, if you plan to travel through Southeast Asia or Europe on budget airlines, recognize that the GR2's weight will eat into your "7kg/~15lb" weight allowance for carry on baggage. Though I'vetraveled with only a carry on sized backpack for more than 9 months and only had my bag weighed once, this may not be a risk (of paying extra fees) that you want to take
---
Downside #2: Justifying the price of the GORUCK GR2…is it possible?
With GORUCK's recent price hike from $395 to $495, it gets harder and harder to justify paying that kind of price for their gear. As a minimalist, I like to balance paying a premium for "buy it for life" gear with being reasonable with my purchases based on how I intend to use the item and whether there are reasonable alternatives.
In the well developed tactical backpack market, there are plenty of other options. Some of the best tactical backpacks options are priced at more than half the price of a GORUCK, are made in the US, and still offer a lifetime warranty. The Spec Ops "Tactical Hold Everything" pack is an excellent example.
I highly recommend not buying the GORUCK GR2 as your first travel pack. Try others first to determine whether the GR2 offers the features you need. Yes, the GR2 will last virtually forever…but if you have something forever that doesn't fit your needs…that's a bit of a waste isn't it? Try other carry on backpacks first. If you're in search of a ruck worthy backpack, checkout some GORUCK alternatives. If after a few months of wearing out your other pack you know a GORUCK is right for you, take out the mortgage and buy the pack.
I currently own, and highly recommend, the GR3, which is pricier and offers much of the same functionality with more size. Though I acquired it at a lower pricepoint than the current one, before the GORUCK price hike, I consider it an excellent investment. After 8 months of travel, its proving more useful as I go and I anticipate no reason to replace it – aside from testing other backpacks. — If you're in the same market, interested in buying a backpack as an investment that will last a lifetime and is backed by a robust warranty and customer service policy, then the GORUCK GR2 might be worth the price. But that depends on you.
If you are a casual user or have never broken a backpack due to overuse, the GR2 may be more backpack than you need at a price that's more than you should pay. If you go hard…considering this pack costs as much as 2-3 other backpacks, if you can use the GR2 so hard that 1-2 other $200 backpacks would break, then its worth the price tag. Simple as that.

The SCARS guarantee: to replace your bag no matter what, is reason #2 (behind construction, materials, and durability) for why the GORUCK line commands a premium. If you're on the fence about how reliable this warranty is, congratulations on being a good consumer – do your homework about experiences with the SCARS guarantee (which most give stellar reviews due to smooth, quick experiences). The GORUCK subreddit is a great place to start reading other user's SCARS replacement program experiences
Covered forever, regardless of who owns it
The SCARS guarantee follows the bag, not you, and requires no receipts or paperwork. This means, if you're sold on the idea of getting a GORUCK GR2 but not on the price tag, buy a used one online for cheap. Don't believe me? Checkout GORUCK's SCARS guarantee.
The only backpack I know of tested to 450lbs loads
This was what initially caught my attention with the GORUCK line The ability to carry 450lbs meant I could replace my gym with bodyweight workouts without sacrificing muscle or strength. In all of my backpack hunts and searches, GORUCK is the only one I've found that tests to this level. For me, the 9 months without a gym more than pays for the price of this backpack.

The GORUCK GR2 vs. GR3
The two simple differences between the GR2 and GR3: Space and organization
With the GR2, you get an airline carry on sized backpack that stays well organized without any additional equipment. The cons are that the separation panel, between the front compartment and the main compartment, uses up a bit of packing space. Additionally, the GR2's narrow design doesn't make full use of airline carry on restriction sizes, coming up ~5 liters shy of using all of the available carry on space.
If you plan to travel in a single climate for less than a month, then Get the GORUCK GR2.
With the GR3, you'll get 5 extra liters of space, and more useable space all around due to the single compartment design without the separation panel. In exchange, you'll have to pickup Packing Cubes to stay organized, which is a simple task and a $10 investment.
If you plan to travel for longer than a few weeks, get the GR3.

The Final Verdict on the GORUCK GR2
Though I am currently traveling with the GORUCK GR3, because I'm traveling indefinitely (much longer than one month), I love the design and setup of the GR2 much more. If the pricetag and weight are things you can move beyond, I absolutely recommend the GR2 as a travel bag that can withstand heavy abuse for trips of less than a month.
For longer than one month, check out pairing the GORUCK GR3 with packing cubes instead
For those that the GORUCK GR2 isn't suited for, these alternatives may be better suited to your needs
For other ideas of great tactical backpacks for travel, checkout our article "The Best Tactical Backpacks for Travelers": Durability, function, and performance that will last you a lifetime, at an amazing price)

GORUCK GR2 FAQ
Is the GORUCK GR2 worth it?
For anyone that travels adventurously or is searching for a "buy it for life" backpack that will last years of abuse, the GORUCK GR2 is worth the seemingly high price tag. High-quality materials (1000D Cordura Nylon, YKK zippers), high-quality construction, durable testing to 400lbs loads, and a lifetime SCARS guarantee make the GORUCK GR2 well worth the pricetag as it will serve you for years to come in ways normal travel backpacks simply can't. Click here to visit GORUCK and check the latest offers and availability for the GR2
Are GORUCK bags worth the money?
The entire line of GORUCK backpacks have higher pricetags than your average backpack of any size. However, in my experience, GORUCK backpacks are worth the money if you prioritize durability, simplicity, and function. High quality, durable materials and construction meet with a simple, functional design that offers protected space for laptops and amazing organization and function when combined with packing cubes.
What is the best travel backpack?
The best backpack for your travels depends heavily on your type of travel and tastes. If you are traveling adventurously and abusing gear, the GORUCK backpacks are likely the best travel backpack options for you. If your travel is primarily urban and you tend to carry lots of technology, the Tortuga Outbreaker is likely the best backpack for you. If you're more outdoorsy and tend to hit the trails, the REI Trail 40 is the best option. If your travels combine city and trail, the REI ruckpack 40 is your best option. If you're on a budget and travel lightly, mostly over weekends, the Standard Luggage carry on backpack is your best option.
How do you pack a GORUCK?
The best way to pack a GORUCK backpack is using packing cubes. Using packing cubes help keep you organized, conserves space in your backpack and helps you use it efficiently, and makes it easy to access items in your bag without creating a mess.
Does GORUCK ever have sales?
Yes, GORUCK routinely runs Veterans Day sales, Black Friday sales, Cyber Monday sales, and other less routine sales. Additionally, GORUCK also offers a 25% earned service discount. Visit our GORUCK discount page for full details on when sales happen, how to get the 25% earned service discount, and to save money on GORUCK gear.

Related Links