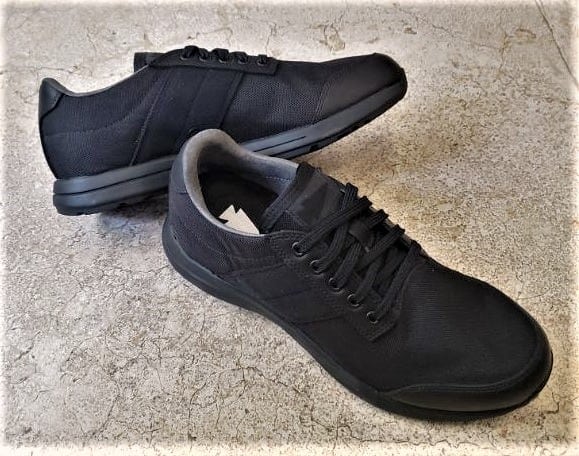 The GORUCK Cross Trainer shoe is one of the best all-around performing shoes I've tested, especially for adventurous travel and daily wear if you only want one pair of shoes.
The GORUCK IO Cross Trainer shoe's military combat boot DNA delivers durability and toughness, and GORUCK's performance focused upgrades finish the shoe with light weight and high performance in cross-training and hiking, and a neutral look for versatile wear.
These shoes do it all and more.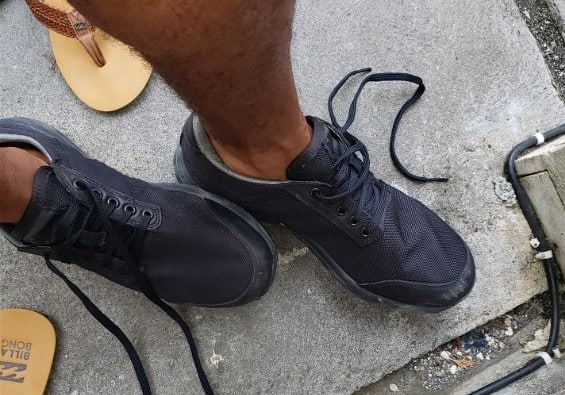 The "GORUCK IO Trainer" or "Inside Outside Trainer" is a shoe designed by a company that already makes extremely tough gear and wanted to keep progressing.
The result is this lightweight shoe tough enough for hard use and hiking with heavy weight, yet lightweight and versatile enough for Crossfit, and neutrally styled enough for daily wear. This second iteration of the GORUCK Cross Trainer hits that target dead on.
---
Over the last month, I've tested the newest GORUCK shoes as a candidate to be the single shoe I carry for my travels and adventures – day hikes, trekking, motorbiking, daily runs and workouts, and more.
In the end, I discovered this shoe isn't for everyone, but for the hard travelers, functional fitness enthusisasts, and outdorrsy types this shoe is designed for, the GORUCK trainer is an excellent single shoe for travel, daily wear, and workouts. Read on to discover why in this GORUCK Cross Trainer review.

HIGHLIGHTS OF THE GORUCK CROSS TRAINER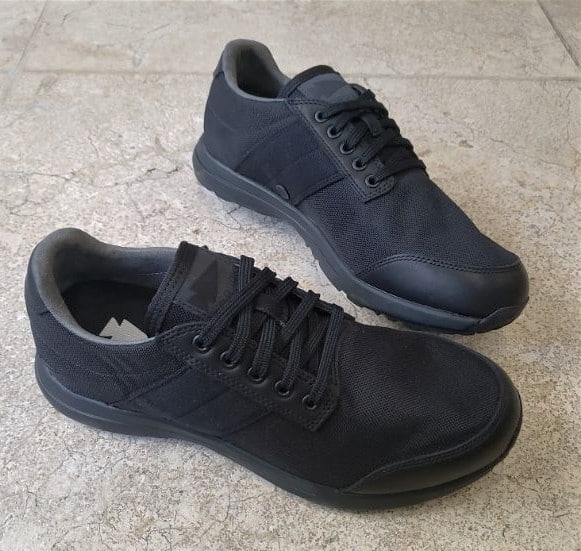 Highly breathable polyester uppers fabric is incredibly breathable and feels great even in the hot weather of Southeast Asia
Suede-covered heel cup hugs the heel, keeping the foot in place and preventing blisters during low-speed activities (rucking, hiking) or high-speed activities (running, Crossfit, powerlifting)
Performed impressively on a 5 mile run with no socks straight out of the box in 90-degree heat
Inspired by the function, and design of old school cross trainers, beefed up with added support for endurance training – a hardy insole, reinforced heel cup, materials engineered for breathability and moisture management
Neutral style and aesthetic akin to old school style trainers giving them a versatile look and make the shoe suitable daily wear and a great "single shoe" for minimalist travel – (kind of how old school black military-style boots can be pulled off with anything)

QUICK REVIEW OF THE GORUCK CROSS TRAINER
I've looked forward to testing the GORUCK Cross Trainers for a long time. The idea of a durable shoe with a neutral look that performs well on hikes, trekking, workouts, and adventures in various conditions is my idea of the perfect travel shoe. With the specs on the GORUCK Cross Trainers fitting the bill, I decided to do the only logical thing – attempt to break the shoes immediately and use them for everything possible to see where they failed.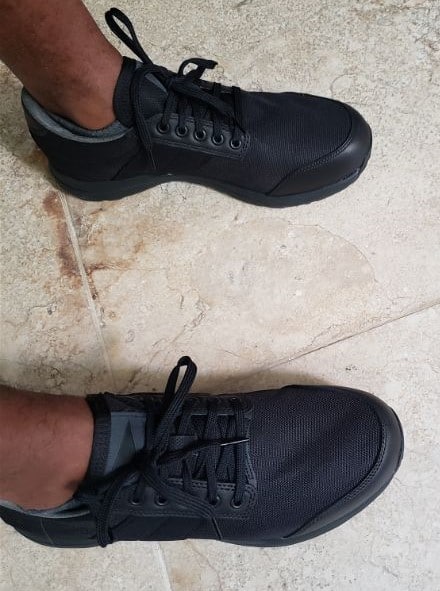 Let's see how they did…

PROS AND CONS OF THE GORUCK IO CROSS TRAINER SHOES
PROS
Suede wrapped heel cup locked my heel in place, securing the foot and preventing foot movement and blisters in any activity – running, hiking, training, etc.
Breathable, moisture venting 1000D Cordura polyester allow lots of airflow and kept my feet dry in the Southeast Asian heat
All black, low key, old school cross trainer look makes the style of these trainers neutral, versatile, and more suitable as a single shoe for your travels
Extremely lightweight keeps the shoes comfortable over extended wear
CONS
I prefer the more streamlined look of Chuck Taylors or the Altama OTB Maritime a bit more. Still, the GORUCK IO trainers perform better and are generally more comfortable, especially for rucking and running while only sacrificing slightly on the aesthetic
When worn without socks while running, the suede-wrapped heel cup can absorb sweat and cause a little friction/potential hotspot. (Simply wear socks, and you'll be fine).
---
NEUTRAL NOTES: ROOMY DESIGN AND NOT MINIMALIST
Wide toe box allows for foot spread but can be a turn off for very narrow feet
These are not minimalist shoes. The 10mm heel offset is designed for heel heavy activities (heel strike running, rucking, powerlifting), weighted dynamic activities (rucking, Crossfit), and endurance activities. Minimalist shoes will tire out the lower foot can lead to injury in endurance situations. The intentional "non-minimalist" approach of the GORUCK trainers targets a certain crowd. Though I normally wear minimalist shoes (Xero Trails, New Balance Minimus), I still liked the performance and feel of the GORUCK Cross Trainers enough to make the compromise. However, barefoot vs. minimalist vs. beefy heel is a personal preference and choice you'll have to make for yourself. Despite my normally minimalist preferences, I still loved the performance of the IO trainers even with the non-minimalist shoe design.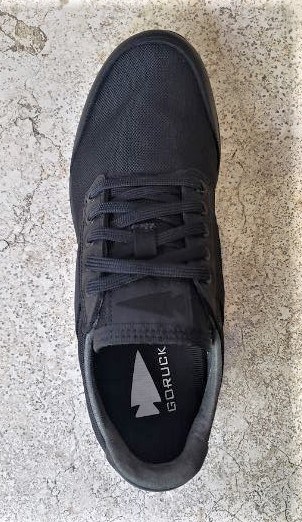 GORUCK Cross Trainer Shoe Review
Style

Performance

Value

Quality and Durability

Travel Readiness
The GORUCK Cross Trainer: An Old School Trainer with New School Performance and Toughness
A tough shoe styled liked an old school trainer in all black and updated with new school tough materials and construction and new school performance for rucking, running, training, and daily wear for miles.


FULL REVIEW OF THE GORUCK IO CROSS TRAINER
I travel the world year round in search of experiences and adventures and do my best to stay fit along the way. At the same time, I aim to take only a single backpack with everything I need with me as I bounce around the globe. This means that every piece of gear in my packing list needs to do many things and them all.
Because of this, I'm always searching for the perfect travel shoe that is perfect for daily wear, is good enough for trekking and adventuring comfortably, and triples up as a running and workout shoe – all while still looking good enough to wear with cocktails.
I noticed the GORUCK IO Trainer's first iteration and it immediately caught my eye as a perfect shoe for travel and adventure.
Over the last month I've run, hiked, motorbiked, and worked out in the hills and island's of Southeast Asia's heat to test whether the GORUCK Cross Trainer shoes could stand up to the abuse and perform while staying comfy along the way.
Spoiler alert: This shoe is awesome for the right crowd. It will definitely be my adventure shoe of choice for 2021. Read on to discover why and whether this shoe is perfect for you too.

THE COMPANY BEHIND THE SHOE: GORUCK – MAKER OF (NEARLY) BULLETPROOF GEAR
GORUCK is a company that focuses on two things – building durable gear that can survive any test and then testing that gear to prove it. GORUCK is most notoriously known for its near bulletproof backpacks with lifetime warranties. This is exactly why the GORUCK GR3 has been my travel pack of choice for over two years of continuous travel.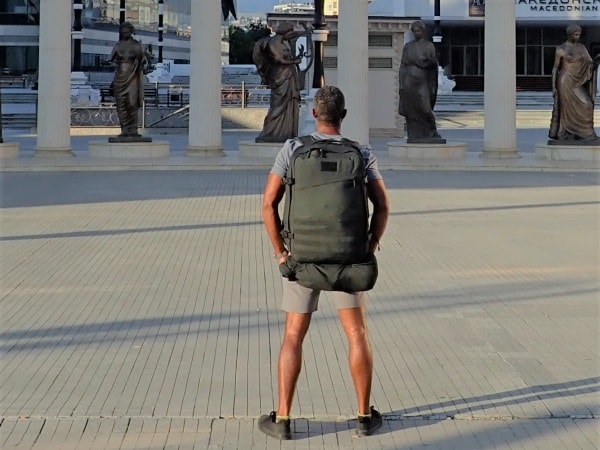 GORUCK took the next step in building adventure worthy gear by designing and building footwear that aims to be minimalist, lightweight, durable, and high performing in rucking, hiking, and cross-training.

AND WHAT IS THE GORUCK IO TRAINER SHOE? A TOUGH SHOE DESIGNED TO DO IT ALL
The GORUCK "Indoor / Outdoor" Cross Trainer, or simply stated the "IO Trainer," is the next evolution in GORUCK's military-grade, durable footwear.
The GORUCK Cross Trainer follows the GORUCK MACV-1 boot, an updated version of the Vietnam era jungle boot. This update was designed to be lightweight, durables, and comfortable over miles of walking and under plenty of pounds.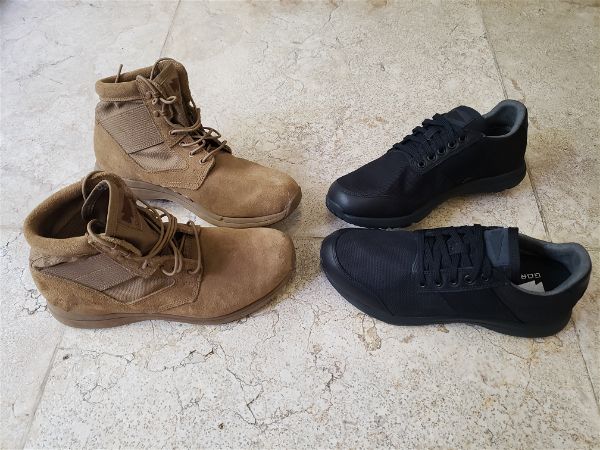 The new GORUCK Cross Trainer aimed to take versatility and performance even further by taking the MACV-1 platform and converting the comfortable, durable sole with an old school cross trainer's DNA and style.
The result is an ultra-light cross-training shoe that is durable as hell, comfortable in nearly any activity (fast or slow), and looks so understated it can fit anywhere.
If you're looking for a "sneaker" that looks good enough for normal wear, performs on nearly any adventure, doubles as a workout shoe, and is built to last, I highly recommend the GORUCK Cross Trainer shoe based on my own experience with it.

THE GORUCK CROSS TRAINER IN PICTURES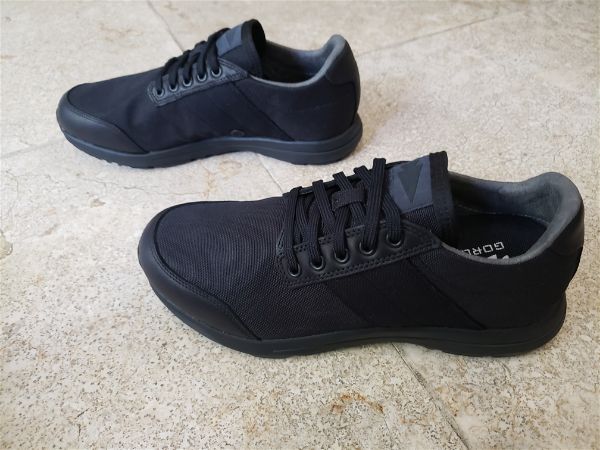 WHY THE GORUCK IO TRAINER IS A GREAT FOR DAILY TRAVEL, WORKOUTS, AND RUCKING?
NEUTRAL LOOK AND GREAT PERFORMANCE RUNNING, HIKING, AND ADVENTURING MAKE THE GORUCK CROSS TRAINER A SOLID TRAVEL SHOE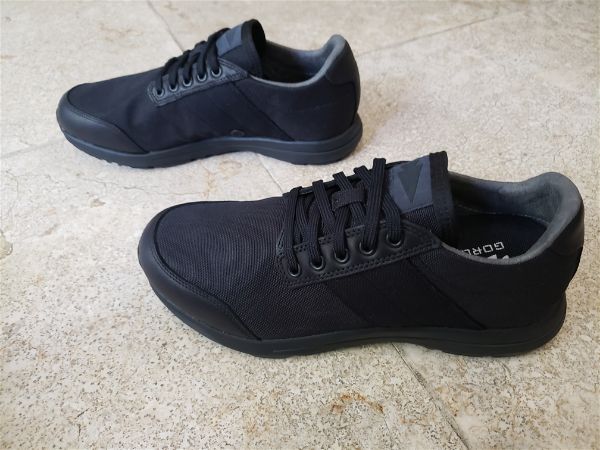 Muted, neutral style and all black look make for versatile wear at night and after the adventures
Lightweight and durable yet comfortable footbed make the miles of walking, hiking, and travel comfortable for your feet, allowing you to walk/train/adventure longer
Simple cleaning consists of handwashing insoles in the sink and rinsing funk out of shoes for easily sprucing up your kicks on the road
Great performance in hiking, running, cross-training, trekking, and more via good sole traction, fit, and breathability
Minimalist and strategic design packs down small compared to other hiking shoes

INITIAL IMPRESSIONS OF THE GORUCK CROSS TRAINER SHOES
COMFORTABLE AND ADVENTURE READY RIGHT OUT OF THE BOX
THE STARTER: A 5 MILE RUN
Right out of the box, the first thing I did with the GORUCK IO Cross Trainers was a 5 mile run with no socks in 90 degrees weather on the hot asphalt streets and dirt roads of Bali. I simply laced up and alternated between and normal jog and sprinting between cars and through dirt lots to see how the shoes performed.
Here are my initial takeaways that have all held true since that initial test.
The GORUCK Cross Trainers are very comfortable out of the box. The 1000D Cordura polyester uppers breathed very well (managing moisture and sweat), keeping my feet comfortable and moved with my feet on the fly with no break-in period
The suede-wrapped heel cup locked my heel in very well as if it was glued to the shoe, preventing any movement between my midfoot/heel and the shoe that could have caused blisters.
The toe box is very roomy and allows plenty of foot spread/splay without much extra movement in the forefoot (between the foto and insole).
These shoes are as light as they come and feel like air on your feet.
The soles are "sturdy," meaning they have enough cushion to keep running on the concrete comfortable, but you don't get the cushy softness of your average trainers (which is better, I think).
Right out of the box, these shoes performed very well. Though I would recommend against running in them sockless for more than a few miles, these shoes could handle daily wear and hiking sockless.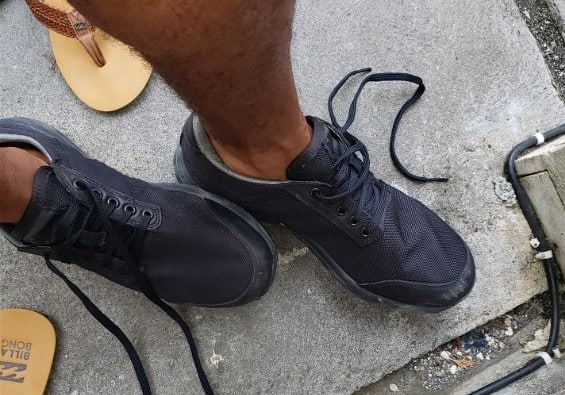 ---
The single "bad" event in the initial 5-mile run was a slight hotspot that started to form on my heel around mile 4.5. Because I was going sockless in 90-degree heat and running, the suede heel cup couldn't dry the sweat from my feet quickly enough. As a result, the sweat build-up caused some friction and a slight hotspot on my heel because I went sockless – however – I don't fault the GORUCK trainers for this at all. It is worth keeping the suede-lined heel cup and maintaining that secure fit in all other conditions (with socks, shorter runs without socks, on an average hike).
Also, note that since then, I've still hiked or worn the GORUCK trainers daily without socks and had no issues with daily travel, day hikes, and Crossfit workouts…just remember mile 4.5 on a hot day with no socks is a bad idea.
---
OUT OF THE BOX: STYLE AND AESTHETICS
NEUTRAL AND OLD SCHOOL TRAINER INSPIRED
When it comes to daily wear shoes and travel shoes, I prefer a neutral, versatile look over loud style. The GORUCK Cross Trainers bring an old school style trainer and keep it simple with all black and minimal excess design.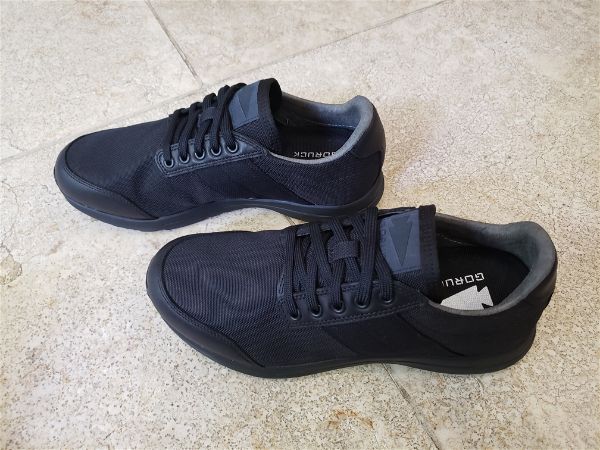 Though the trainers are a bit thicker and chunkier than my previous go-to travel shoes (the Altama OTB Maritime), the look is still neutral and understated enough to dress down or dress up (slightly).
Ultimately, I see these shoes' style as great for travelers because these trainers are essentially a hiking shoe that looks like a low key travel shoe.
Solid color, all mesh, and a fairly streamlined design make the IO Cross Trainers visually suitable for any situations you'll run into traveling
---
THE GORUCK IO TRAINER ON OTHER ADVENTURES
Since my initial outing in the GORUCK Cross Trainers, I've taken these as my single shoe on a handful of short adventures through the hot, beachy islands of Bali and Indonesia (with my flip flops as side kicks, of course).
ADVENTURING, HIKING, AND MOTORBIKING THE ISLANDS OF INDONESIA
While the rest of the world is under lockdown, I've been lucky enough to be "trapped" in Indonesia…with 17,000+ islands, tens of volcanoes, and tons of trekking and motorbiking adventures. Given I won't be able to go home (to the US) for a shoe resupply until the end of the pandemic, I bet on the GORUCK IO Trainer shoe to get me through my adventures over the next year. So far, it's been a damn good bet, and I couldn't be happier.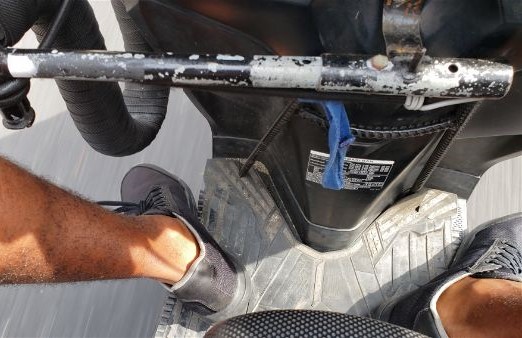 Most notably, on **Nusa Penida** I spent the day alternating between long motorbike rides in the sun and hiking hills and stairs to find secret spots and amazing views. Through the whole day, I was surprised how well the trainers breathed – on the motorbike, I could feel the wind passing through the 1000D polyester uppers drying the sweat off my feet and cooling them off.
On the hundreds of stairs and few hills we climbed, the custom-designed GORUCK insole stayed comfy and kept my feet from getting tired. The updated tread pattern and dual rubber outsole (half grippy, half durable) gripped everything I scrambled up or down, regardless of how sketchy.
These shoes have transitioned from hot and wet weather rucking, motorbiking, trekking, and cross-training without skipping a beat: socks or no socks, it's been all good (mostly). Concrete and asphalt, beach sand, and sketch trail, these trainers have grabbed well and kept my feet feeling good.
WORKOUTS, RUCKING AND RUNNING
These days, my workouts alternate between weightlifting and more functional/practical workouts, so, perfect for the cross trainers.
When rucking with 20lbs to 30lbs, the shoe holds up as good as the MACV-1, holding my heel in place more and supporting the foot well thanks to the denser, tougher, GORUCK designed sole (compared to other cross traininers and standard workout shoes).
On runs, I wear socks now, and the trainers do reasonably well on the road and off-road
I generally go barefoot in the gym, but the few times I've used the GORUCK Cross Trainers, they've felt great and made things less sketchy doing box jumps or powerlifting movements (squats, deadlifts, clean and presses) in a pool of my sweat. Weighted lunges have been the leg workout of choice lately, done in the gym or on the beach, and the sturdy yet flexible soles have handled those well while staying comfortable.
DAILY WEAR
Back in daily life, the GORUCK trainer has become my shoe of choice when picking from my travel shoe quiver. If I won't be in flip flops for the day, or if I'll do lots of riding or walking, I'm in the trainers.
The footbed stays comfortable with or without socks throughout the day, and the uppers are so breathable they keep my feet cool in the Southeast Asian, Bali heat – even though the shoes are black!

STYLE AND LOOKS OF THE GORUCK IO TRAINERS
Though the GORUCK IO Trainer isn't the most stylish shoe, its strength is its muted neutral look when it comes to style. Those rucking or simply looking for a shoe purely for cross-training won't care – but –travelers and minimalists aiming for a "one shoe" option will appreciate the neutral style for adding to the possibitly as all-purpose shoe.
Old school cross trainer and sneaker inspiration give these shoes an acceptably classic look.
All black knit materials throughout, except the leather toe and heel cap, continue the neutral look.
One downside in style is (for me) when considering these as a travel shoe is a slightly chunky look. I'm more a fan of the slim and sleek design of the Altama OTB Maritime or classic Chuck Taylors, but the comfort tradeoff (the GORUCK trainers are far more comfortable than both) makes the trainers the travel shoe pick for me.
Though these kicks won't be the cornerstone of any outfit, they'll fit well enough jeans, chinos, and shorts when you're not hiking, rucking, running, or Crossfit.
(**IMAGE OF GORUCK CROSS TRAINERS WITH PANTS, SHORTS, and WORKOUT GEAR**)

TRAVEL AND DAILY WEAR: HOW GOOD ARE THE GORUCK CROSS TRAINERS FOR YOUR ROUTINE?
If the look fits what you need, then odds are the GORUCK cross trainer will perform in every other aspect of your day.
For daily wear, whether indoors or outdoors, the solid yet comfortable enough footbed and insole stay comfortable all day long.
Going sockless for daily wear or a hike in these is doable, as the shoe wicks away and dries sweat very well, and the smooth interior (no feelable seems or sticking points) makes going sockless easy. Though I have done normal days and hikes sockless in these with no issues, I would advise against sockless runs over a few miles because of the high friction, suede heel cup (as I shared from the first day test).
Finally, the look is neutral enough to work for daily wear.

ACTIVE PERFORMANCE: THE GORUCK CROSS TRAINER IS RUN, HIKE, RUCK, ADVENTURE, AND TRAVEL READY
RUNNING
The GORUCK IO Cross trainers are lightweight with a sturdy yet comfortable insole and footbed. Expect them to be slightly firmer than your average trainer shoe but much more comfortable and soft than most boots.
Note that these shoes have 10mm toe to heel drop, meaning these shoes aren't minimalist, but I had no issue running in them even though my normal running shoes are New Balance Minimus or Xero Trails running sandals.
RUCKING/HIKING
Amazing! Again, light yet comfortable, but the high-quality materials (sole, GORUCK designed heavy-duty insole, Cordura uppers) feel durable and feel like they'll last.
For rucking (hiking with weight), the shoes (soles and uppers) are sturdy enough to handle the extra weight while still staying stable.
WORKOUTS
Just like during the runs, the lightweight performance combines with the grippy forefoot of the sole to make the shoes barely noticeable. Powerlifting movements, lunges, and sprints were all good in my training wearing the GORUCK Cross Trainer.

CATEGORY BY CATEGORY REVIEW OF THE GORUCK IO CROSS TRAINERS
---
PERFORMANCE
TREAD AND GRIP: ALL TERRAIN READY AND CONSTRUCTED TO LAST
The updated sole of the new version of the GORUCK IO Cross Trainers grabs asphalt, concrete, and dirt amazingly. The tread pattern on the new GORUCK IO Cross trainer makes the most of the rubber, giving me grip on concrete and asphalt as well as look rocks and scree when hiking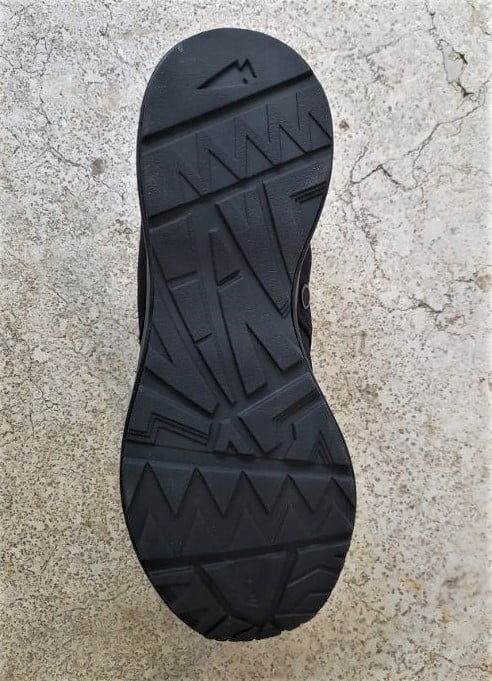 The outsole's dual-compound rubber combines the best of grip with durability into a single shoe.
The rubber in the toe portion of the sole consists of a stickier rubber compound for grip in powerful and speed centric movements.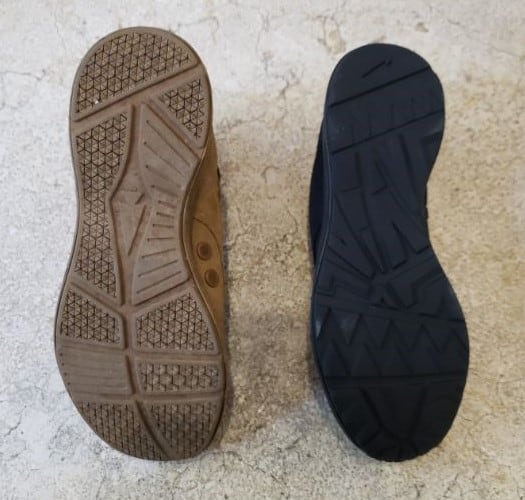 The heel rubber consists of a more durable rubber compound for equal performance. Still, more durability, abrasion resistance, and longer life as the heel strikes more frequently but in lower speed, lower torsion/power movements.
FIT: HUGS THE HEEL WHILE LEAVING COMFORTABLE ROOM IN THE TOE FOR NATURAL FOOT SPLAY
Note that the new GORUCK IO Cross Trainers run true to size. I normally wear a size 8.5 to 9 in Chuck Taylor's, and I'm satisfied with my size 9 in the GORUCK Cross Trainer.
The suede-wrapped heel cup's shape and friction locked my heel in place and kept my heel/midfoot movement to a minimum regardless of speed or incline.
The toe box on this shoe has a ton of room to allow natural foot splay and allows plenty of room for foot swelling when hiking, training, or on your feet all day.
The suede coated heel cup does an amazing job of locking the heel in place in fast and slow movements. Though the suede's heavy friction can lead to hotspots after miles of running without socks, it is still a great touch that I love. Just wear good wool socks to keep your feet happy when moving a lot or in hot environments.
BREATHABILITY AND MOISTURE MANAGEMENT: INSANELY BREATHABLE AND DRIES FAST
The cross trainer's greatest strength for me is breathability. The 1000D Cordura polyester uppers (which are also durable) are so breathable I could feel the wind flowing through my shoes as I rode my motorcycle. In the hot heat of Southeast Asian Bali, this is a clutch trait that makes these shoes great for traveling through multiple climates and locations.
For those wet adventures, shielded drain holes on the arch of the shoe allow the shoes to drain quickly after taking a dunk
(**IMAGE OF GORUCK TRAINERS IN WATER**)
COMFORT: FIRMER THAN YOUR AVERAGE TRAINER BUT REMARKABLY COMFORTABLE FOR ITS DURABILITY
Though these shoes aren't as squishy and soft as your average cross trainer, the tradeoff is light, and these shoes are still comfortable while lending durability and the kind of support your feet need when hiking with heavy loads on your back or for long distances.
GORUCK's custom footbed/insole delivers slightly firmer support than most trainers but is still comfy enough for miles of concrete/asphalt running
For sockless use, the inside of the shoe stays comfy (for hikes and walking) with a completely smooth interior, no friction spots (other than the suede heel cup), and no loose threads or edges to ruin the sock free experience
---
MATERIALS AND CONSTRUCTION OF THE GORUCK CROSS TRAINER
1000D Cordura Polyester Uppers: 1000D Cordura (coated) polyester for softness, adaptiveness (to your foot), breathability, comfort, and durability
Challenge Leather Reinforced Abrasion Points (Toe and Heel): A tough, GORUCK selected leather covers the toe cap and heel at the main abrasion points to add durability while keeping the shoe lightweight
Suede wrapped heel cup: Locks the heel in place with all movement and minimizes blisters
Shielded Drain Ports on shoe instep: Metal drainage port on the inside of the foot to allow water/vapor to escape easily as you step
Dual compound outsole for strategic grip and durability: Combines two types of rubber to maximize grip in the toe (for quick, powerful movements) and durable abrasion-resistant rubber in the heel for longevity over slower, heel dominant movements (hiking, rucking, walking) in the shoe's lifetime

GORUCK CROSS TRAINER SHOE SPECS (STRAIGHT FROM GORUCK)
Weight (One Shoe): 0.8 lbs (13 ounces)
Dimensions (One Shoe): 12″L x 4.5″W x 4.6″H
Shoe Height: 3.3″
Upper Materials: Full-grain Challenge Leather™ & 1000D Polyester CORDURA®
Midsole: Lightweight EVA
Insole: Custom Compression Insert Included
Outsole: Dual Compound Rubber Outsole – forefoot compound for grip, heel compound for durability, 10mm Heel to Toe Drop
Built-in Vietnam
Return and Testing Policy: 30 Day money-back guarantee

HOW DOES THE GORUCK IO TRAINER COMPARE TO THE ALTERNATIVES?
TRAINERS (NIKES, ADIDAS, NEW BALANCE, BROOKS, ETC.)
Just as light or lighter while being much sturdier – both the slightly stiffer sole and the high-quality uppers.
The GORUCK trainer does have a much wider toe box, so if you have extremely narrow feet and like tight-fitting shoes, you may prefer typical trainers over the GORUCK IO Trainer.
HIKING SHOES
Though the GORUCK Cross Trainer is just as suited for hiking – great foot support, durable materials and build, and all around adventure-ready design – the trainers pack down a lot smaller than even most good hiking shoes and travel ready boots. In the GORUCK trainer, the single layer of 1000D Cordura polyester upper keeps the shoe durable and comfortable while eliminating the bulk of leather hiking shoes or synthetic hiking shoes with mesh linings.
The GORUCK Trainer is essentially a hiking shoe, and just a minimalist version styled like a trainer.
THE ALTAMA OTB
The Altama OTB Maritime Assault shoe is a military assault boot styled like a pair of Chuck Taylors and (until now) was my adventure travel shoe of choice. Tough, stylish, and hiking ready. However, the GORUCK Cross Trainer one-ups the Altama OTB by being comfortable in addition to tough and minimalist.
I still think the Altama OTB Maritime looks better but comparing comfort, performance, and the full package, the GORUCK Cross Trainer, is a better adventure travel shoe if you like trekking, running, and hiking.
THE GORUCK MACV-1
The impetus for the GORUCK Cross Trainer – the GORUCK MACV-1 – was GORUCK's first piece of footwear and an update on the Vietnam era jungle boot.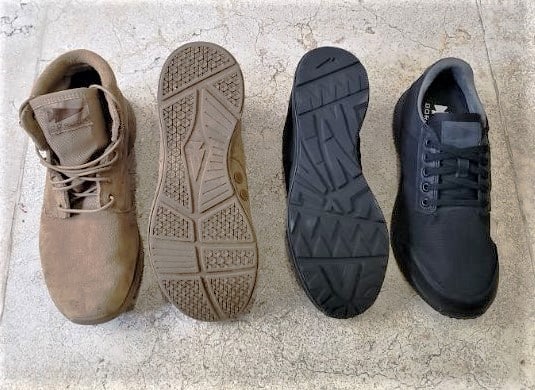 If you choose footwear for hiking and are choosing between the MACV-1 and the GORUCK IO Trainer, I recommend the Cross Trainer.
The fit and hold of the GORUCK Cross Trainer were much better for me. The updated sole not only feels better but performs better. For travelers and daily users, the cross trainer simply looks a lot better too.

THE BOTTOM LINE: THE GORUCK IO CROSS TRAINER IS AN EXCELLENT OPTION FOR ADVENTUROUS WANDERING
If you require a versatile shoe for training, traveling, adventuring, or general daily wear, the GORUCK IO Cross Trainer is hard to beat.
CHECK OUT THESE OTHER GREAT TRAVEL AND HIKING SHOES WE RECOMMEND…
However, if you want more solid options for great hiking and rucking shoes, check out our list of 6 best shoes for rucking and 11 favorite boots for rucking.
If you're a fellow adventurous traveler looking for a pair of durable yet stylish kicks, click here to read our list of 27 best shoes for travel.