When traveling, shoes can make or break an adventure. Uncomfortable shoes that aren't up to the task will hamper the adventure. However, carrying too many shoes will weigh you down and stress you out.
The key to finding the best travel shoes for you is to find the single pair of shoes that are likely to feel comfortable for your particular adventure, perform well for those particular activities you'll be doing, and still look good according to your personal tastes. Keep that in mind in your hunt, and you undoubtedly find the best pair of footwear for your unique travels.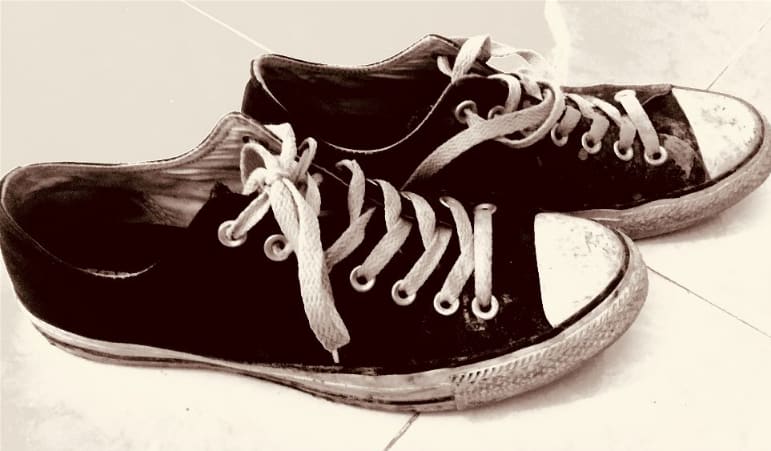 But with thousands of kicks out there, all claiming to be the best travel shoes for men, for adventure, for…anything, how do you filter through the noise and find the best kicks for you and your style? My suggestion – skip the big shoe brand and consider these traveler tested kicks
With this list of my favorite shoes for travel and the best travel shoes, by category.
Over three years flying, motorbiking, trekking, wandering and generally enjoying the world I've kept a running list of the shoes that consistently pop up as my unstoppable favorites as well as the shoes that other travelers consistently rave about. Every pair of shoes on this list has either been tested extensively by me (over more miles than I can keep track of), or recommended by other adventurous, minimalist travelers who demand comfort, style, durability and performance from everything they carry…even shoes.
Save yourself the trouble of wandering through the internet and start with this list of the best of the best.
---
Read on to discover the best shoes for every type of style and traveler recommended by consummate travelers in this Ultimate List of Travel Shoes for Men.

CONTENTS OF THE BEST TRAVEL SHOES FOR MEN

QUICK SUMMARY: MY 7 FAVORITE SHOES FOR TRAVEL
Though the "perfect travel shoe" doesn't exist, because each traveler's feet, needs, and adventures differ so much, there are a handful of shoes I've tested and noticed during my travels that they're hard contenders for as the best travel shoe for men. Which shoe is the best? Well, they're all durable, stylish, comfortable, high performing (for the activity they were designed for) and reasonably priced.
The best travel shoe for you depends heavily on your own style and style of travel, but I can absolutely say these are my 7 favorite shoes for travel to start out the list. Or continue reading to discover the best shoes for travel by category.
---
A Quick List of My 7 Favorite Shoes for Travel
Altama OTB Maritime
A shoe designed for swimming and hiking with the style of a classic canvas shoe. Intended as "Over the Beach" assault shoes ready to tackle anything. Quite possibly the most well-rounded travel shoe in existence. Excellent for adventure travel.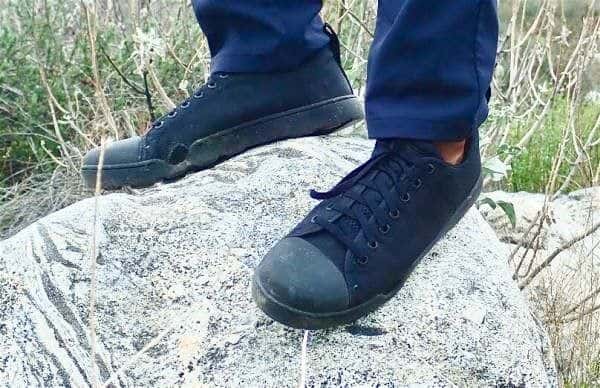 Click to Read More on the Altama OTB Maritime Assault
---
Lems Boulder Boots
Possibly the most comfortable pair of shoes (or boots) I've ever worn, and the most packable too as well as the
Possibly the most comfortable pair of shoes (or boots) I've ever worn, and the most packable too as well as the best walking shoes on this list. Soft, supple leather with a fleece lined inner and an amazingly comfy sole that all compresses down into nothing.
on this list. Soft, supple leather with a fleece lined inner and an amazingly comfy sole that all compresses down into nothing.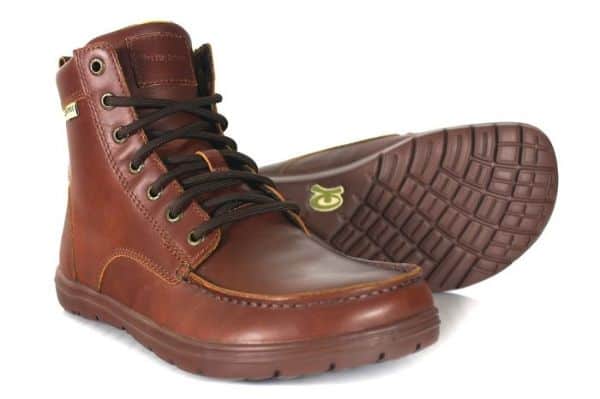 Click to Read More on the Lems Boulder Boots
Sperry Topsiders
A classic, versatile shoe that looks good, does well in water and warm climates and is perfect for Europe and Southeast Asia travels. Originally intended as a boat shoe with a sole designed for traction on ship decks and an easy draining design, this slip-on is perfect for beach life and tropical adventures. The lack of arch support pushes these shoes further to the "minimalist" side, but as long as you are comfortable with minimalist shoes, these shoes will be a near perfect option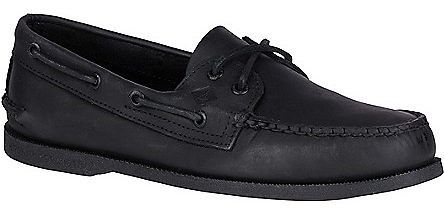 Click to Read More on the Sperry Topsiders
---
Scarpa Mojito
A comfortable sneaker with the soul/sole of a hiking boot. Scarpa's rock climbing and hiking boot DNA make this shoe perfect for wearing continuously from city to crags and trails further out. An amazing single shoe for trekking and mountain centric travel.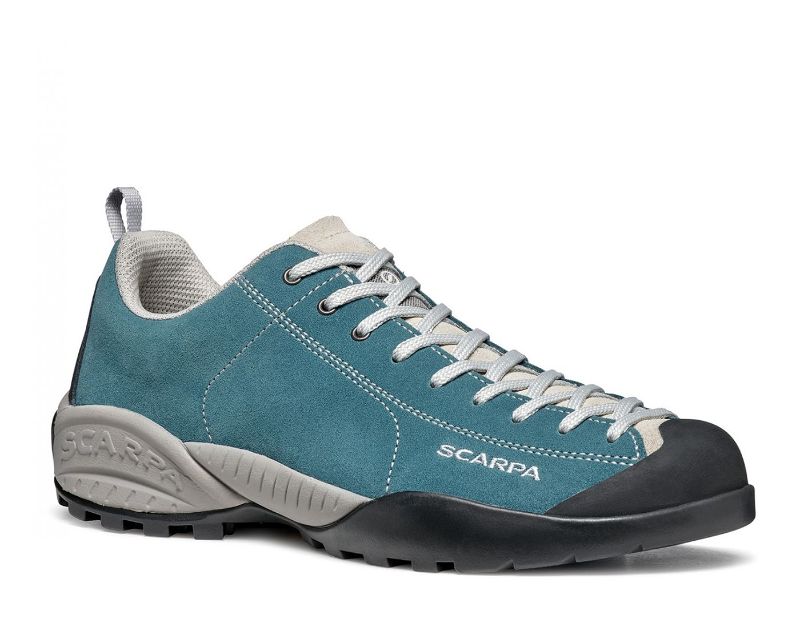 ---
Click to Read More on the Scarpa Mojito
Xero Z-Trail
An adventure ready sandal that's versatile and ultra-packable. Z-Trails were actually my running shoe of choice for years of travel. Tested running, canyoning, trekking, motorbiking, and more. For Southeast Asia and tropical locations, this could easily be your only piece of footwear.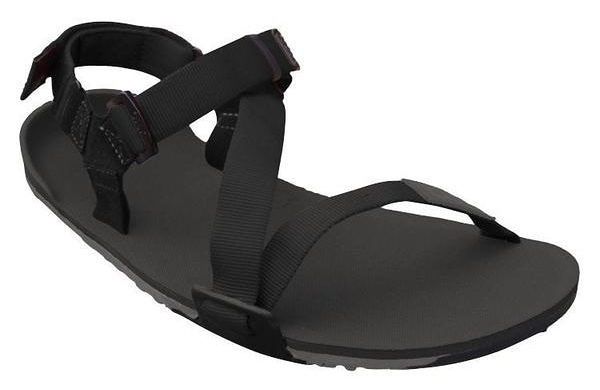 ---
Click to Read More on the Xero Z-Trail
New Balance Minimus Trail
A minimalist trail running and athletic shoe that's insanely comfortable and lightweight, and packs down small enough for lightweight travelers. The sole is one of the most efficiently small yet comfortable I've worn and the shoe hugs like no other. I've put hundreds of miles on a few pairs of these shoes and they're hands down my favorite athletic shoe for lightweight travel.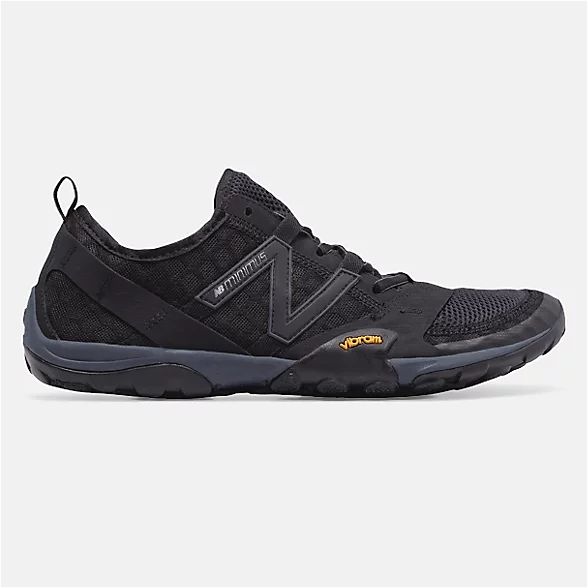 ---
Click to Read More on the New Balance Minimus Trail 10

THE POINT OF THIS LIST…
Make your shoe decision easy…
Make you aware of some adventure ready travel shoes you hadn't guessed…
With all of the "best travel shoe" lists out there, honestly most aren't that helpful and the footwear recommends doesn't stack up to the demands of real travel – lots of walking, hard use, and unexpectedly varied adventures.
This list delivers true travel ready footwear and aims to recommend "one bag" shoes, or a single pair of shoes that'll last through all of your adventures helping you travel lighter, with a single bag – travels in which you walk and hike for miles, get wet, swim, wander, and more, ideally with a single shoe. Travels in which you need durable footwear that performs through running walking and more and still looks good at night.
Every piece of footwear on this list is vetted by minimalist travelers who aim to explore, wander, and keep their bags light. We've organized the list (its pretty long) by category so can jump to the footwear that meets your needs. comfortable walking shoes, minimalist shoes, hiking boots for travel, versatile athletic shoes, and more.
Keep reading to discover the perfect footwear for your unique travels.

BEFORE YOU BUY: WHAT YOU NEED IN A GOOD PAIR OF TRAVEL SHOES
#1 Comfort: A comfortable footbed (insole and outsole) and soft uppers that mold to your feet are the base of good walking shoes that enable you for miles and hours of wandering
#2 Toe Box Fit (Length and Width): Aim for enough room for foot swelling (when walking and standing for hours) plus enough room that your toes don't touch the front of the shoe when walking downhill to avoid bruising on long hikes
#3 Secure Heel Cup Fit: A good heel cup locks your foot, minimizing sliding movement within the shoe and minimizing blisters
#4 Good sole traction and performance for your activity: Traction in your chosen conditions (rain, rocks, trails, slick city streets) and the suppleness/stiffness for your chosen activity (running, walking, hiking on rocky terrain)
#5 Breathability & Moisture Management: Allowing sweat vapor from your feet to escape easily before accumulating and allowing your shoes to dry as quickly as possible when wet
#6 Durability: Durable uppers, solid stitching, sole molded from a single piece of rubber, and reviews of long term use add up to a reliable pair of shoes to purchase
#7 Neutral, Versatile Style: Classic designs with versatile style (canvas, loafer, chukka, athletic etc.) in neutral colors add up to a shoe that can be worn for any occasion, casual to classy.
#8 Versatile Performance: Good performance over varied activities means more comfort through your adventures with less weight (and fewer shoes) to carry
#9 Lightweight and Packable: Shoes that are easily packed away for carryon travel when you're not wearing them make one bag, lightweight travel much easier
#10 You actually like them: Never EVER buy a pair of shoes that you don't like, regardless of what reviews and other people say. You'll never actually wear them, and you'll hate yourself when you do.

HOW MANY PAIRS OF SHOES SHOULD YOU TAKE?
1 Shoe + 1 Sandal (+ optional athletic or hiking shoe)
First, a sandal and a shoe combo should be your base for travel.
Second, don't feel ashamed if you take an extra pair of shoes just for running or hiking, if you're a consummate runner/hiker.
---
A base travel shoe that is comfortable for walking and looks good should be the base of your travel footwear setup. Low top options are best as they go just as well with shorts as jeans, and many low top options dress up better.
Then, add a good pair of comfortable, durable sandals to your setup. Sandals are great in hot weather (you'll wear them more than shoes in Southeast Asia), essential for tropical travels, and essential if you're using shared showers. Though flip flops do work, grabbing a trekking or running sandal, like Chacos or Xero Z-Trails adds an adventure ready set of footwear option that let's foot breathe and is perfect for adventures on the water.
If you're a consummate runner or hiker, don't sell yourself short and completely skip the running or trekking shoes.
In my initial searches for the perfect "one bag travel" shoe, I attempted to force my shoes to do everything. I ran and hiked in my Chuck Taylors, or I did traveler friendly Crossfit workouts in my hiking boots. Though this option did work, it finally dawned on me – if I put that many miles on my running shoes or hiking boots, that's a good thing and I shouldn't necessarily pressure myself into leaving them at home.
Running, hiking, and working out are all healthy activities that enhance life in general, as well as travel. If bringing a pair of minimalist running kicks or trek ready minimalist boots will resulting in you running or trekking more, and more enjoyably, just bring them. Its worth it.
Personally, I still maintain one pair of shoes on short trips – either the Lems Boulder Boot, the Altama OTB Maritime, or the Sperry Topsider – and run in my Xero Z-Trails, but I'm comfortable with that.
Your shoe setup should keep you comfortable doing more of what you love, even if that means bringing extra shoes.

THE BEST TRAVEL SHOES FOR MEN BY CATEGORY
Unfortunately, there is no "perfect travel shoe" for men, women, or anyone in between. While there are some fantastic "all-purpose shoes" for one bag travelers wandering the world for a year, most of us are better off planning our footwear based on our adventures. If you'll be in Europe and potentially wandering through the rocky, cool alps, plan accordingly. If you'll only be wandering tropical Southeast Asian countries mere miles from the ocean (and where no one wears shoes) plan accordingly.
Ultimately, pick the footwear that fits what you'll be doing. That's it.
Read on to discover the best travel shoes for men broken down by category to help you find the footwear that suits how you'll travel and adventure.

THE MOST COMFORTABLE MEN'S WALKING SHOES FOR TRAVEL
LEMS BOULDER BOOTS
Possibly the most comfortable men's walking shoes for travel
The Lems Boulder Boot is a comfy, minimalist, travel boot that feels amazing, packs down small, and handles hiking, running, and working out with no problem.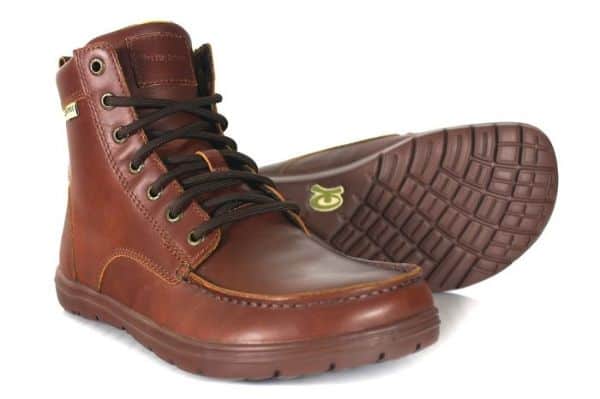 Why: The Lems Boulder Boot is one of the best travel shoes for men that are tat are feeling adventurous and plan to explore. If you want to look good and be prepared to travel, but prefer boots over boat shoes and sneakers these are your choice.
I've run, hiked, and worked out in these and loved them. I will, however, take my Altama OTB Maritime shoes instead, simply because I like the look of the Altama OTB and its versatility over the look of Lems' Boulder Boot. Additionally, the Altama OTB is much more durable, but the Boulder Boot is hands down more comfortable.
For most men, when heavy walking in the city is a possibility, they immediately opt for a shoe – as I've done. However, if you're planning lots of time moving on your feet, I highly recommend the Lems Boulder boot as it is the most comfortable mens walking shoes for travel, hiking, and versatile adventures I've tested. I wear mine on motorbike rides, planes, treks, and more, just because they're so reliably comfortable.
If you'll be spending a lot of time on your feet, its hard to beat the Lems Boulder Boot.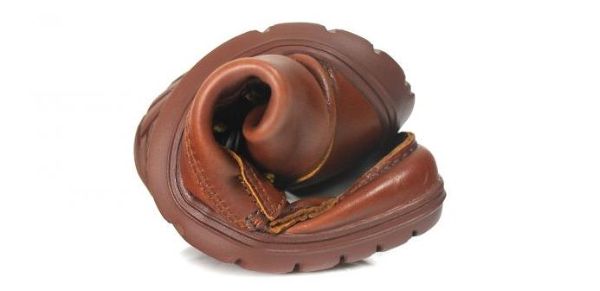 Performance: Minimalist soles are comfortable and feel great, but for long, multi-day treks, the wearer should fully comfortable walking in minimalist (e.g., thin sole, zero heel to toe drop) footwear
For the perfect setup for RTW travel, I recommend pairing these with the Xero Z-Trail sandals and medium weight wool socks to round out a shoe setup for all places and climates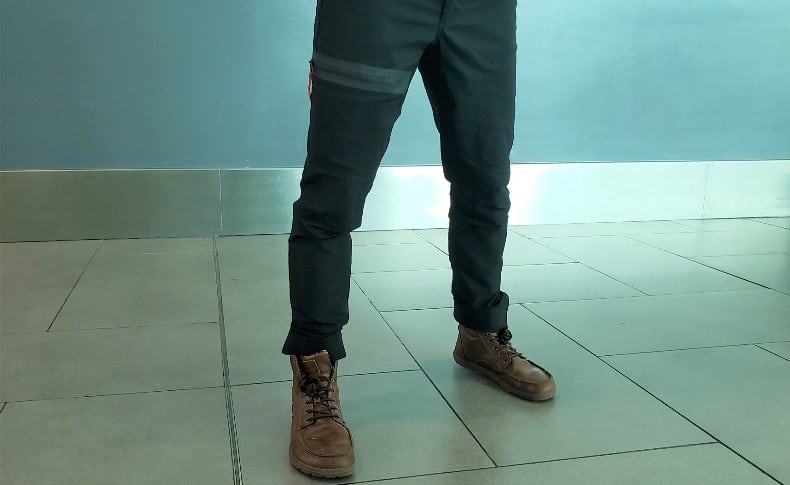 ---
Purchase the Lems Boulder Boot at Lems Online
---
Interested in the Lems Boulder Boot? Check out our full Lems Boulder Boot Review for Travelers
These hard use shoes were designed for comfort and performance during trail runs and adventure races and staying comfortable every step of the way.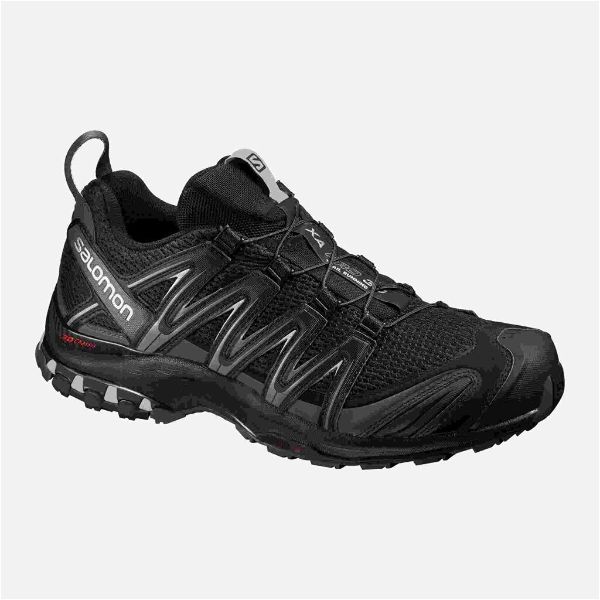 Because of this conscious overbuild, the Salomon X series becomes a perfect walking shoe for staying comfortable during those extended times on your feet while traveling – through airports, on walking tours – while having enough performance to be your go-to hiking and trekking shoe.
If you're a trekker and runner and want a dedicated shoe that can take on any run or hike in between your normal walks, check out the Salomon X 3D trail runner.
Available in a weatherproof, waterproof Gore-Tex option, or highly breathable, non-waterproof mesh. Between these two options the Salomon X Trail running series is suitable for anytime, any place.
Also Consider: The Salomon X Ultra GTX mid, for a higher top and a bit more ankle support
---
Click here to see styles and availability of the Salomon XA Pro 3D Trail Runner at REI
---
or click here for prices on Amazon
The entire Allbirds line is touted by a handful of avid fans as being the most comfortable shoe they've ever worn, hands down. Though Allbird's most popular shoes are the wool runners, the eco-friendly Tree Runners are another comfy, lightweight, and walk ready shoe for your travel adventures.
These lightweight kicks with classic are actually made from Eucalyptus tree fiber knitted uppers (hence the "tree" skipper name) and as Allbirds describes is "…breathable, silky-smooth, and complete with a cooling effect to keep things breezy…" to give most of the same benefits as wool while being friendlier on the planet than plastic and petroleum based shoes.
The laces are made from 100% recycled polyester
The insoles are made of super-fine merino wool to keep your feet comfortably cool and dry, while the foam insole is made from castor bean oil (instead of petroleum based foams like other shoes) to make them even more eco-friendly.
Note that though wearers rave about Allbird's comfort, some do complain about the wear life, and that they significant wear within a year if you're a hard traveler. This is somewhat of a known tradeoff and worth the comfort if you're spending a ton of time on your feet. However, if you plan to do an activity that applies a lot of force to your shoes (think sprinting and Crossfit) or your lifestyle will cause a lot of abrasion (think hiking on uneven terrain with bushes and jagged rocks) then opt for another shoe.
The Bottom Line on Allbirds Tree Skippers: if your travel style simply involves a lot of hours on your feet and lots of miles in concrete jungles (between museums and cafes) and you want something sleek yet comfortable, the Allbirds Tree Skippers may be what you're looking for.
---
Click here to discover the Tree Skippers at Allbirds.com
---
The Allbirds WoolRunners are the OGs of the Allbirds line, and the shoe that got most Allbirds fans hooked. Superlight, flexy, and comfy soles combined with an all Merino wool upper create a comfy shoe that breathes insanely well and keeps your feet performing tops through most temperature and moisture conditions
Pair these with some solid ankle high or no show wool socks (I recommend the Darn Tough Tactical T4016 No Show Merino wool athletic socks)
---
Click here to discover more about the Allbirds Wool Runners at AllBirds
CLARK'S DESERT BOOT
A classic pair of true traveler footwear since the 1700's.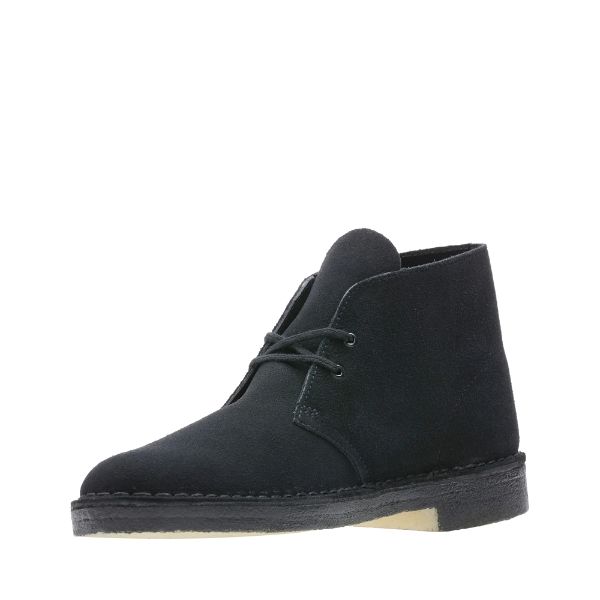 Originally adapted and created in South Africa as kicks called "Veldskoens", a similar piece of lightweight, desert friendly footwear worn by nearly everyone in South Africa, Nathan Clark eventually stumbled on this same boot in Cairo bazaar in the 1940's. He recreated the shoe into "Clark's Desert Boot" which became the boot of choice for Army Officers during World War 2, and after that, the legacy stuck.
The shoe's design roots, all of the way back to the Khoisan people of southern Africa add up to an all purpose, comfortable, and adventure-ready shoe. Soft, breathable suede attached to a durable sole – previously rawhide or car tire rubber but now, soft and sticky yet durable crepe soles.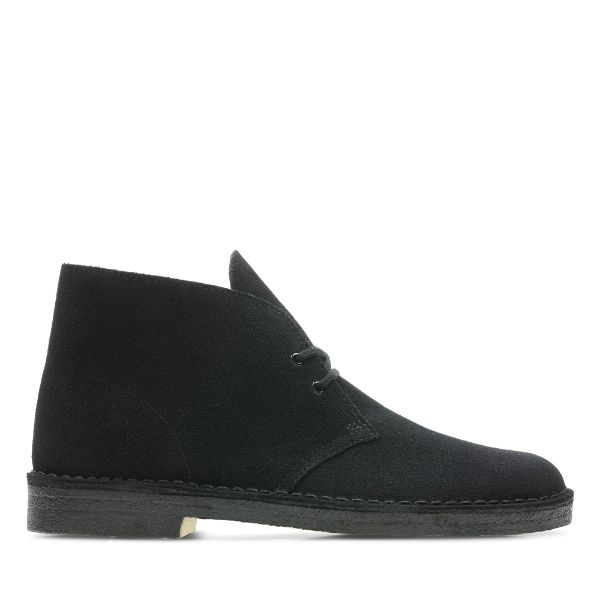 The Desert boot excels in all areas because it dresses up well with a casual touch but its DNA is all about walking long distances in hot climates, extreme durability, and comfort along the way.
Downsides of Clark's Desert Boot: Note that the crepe sole (made of coagulated latex) provides great grip and comfort, they will get a bit dirtier over your travels than a normal sole and way a slight bit more than more techy shoes. Accept those two items, and you have a great shoe for walking and wandering, especially in warmer climates.
Bottom Line: If you want a long lasting shoe that is foremost comfortable for walking but also dresses up well (enough), consider the Desert Boot.
Also Consider: The Vivobarefoot Gobi II which takes that classic desert boot design and updates it with the latest minimalist footwear tech.
---
Click here to discover the entire Clarks Desert Boots line of colors

ALL PURPOSE, MINIMALIST SHOES
ALTAMA OTB MARITIME
Durable, good looking sneakers that swim as well as they hike
The Altama OTB Maritime delivers a classic canvas style shoe look, in an extremely durable sneaker package capable of hiking, running, and working out once broken in.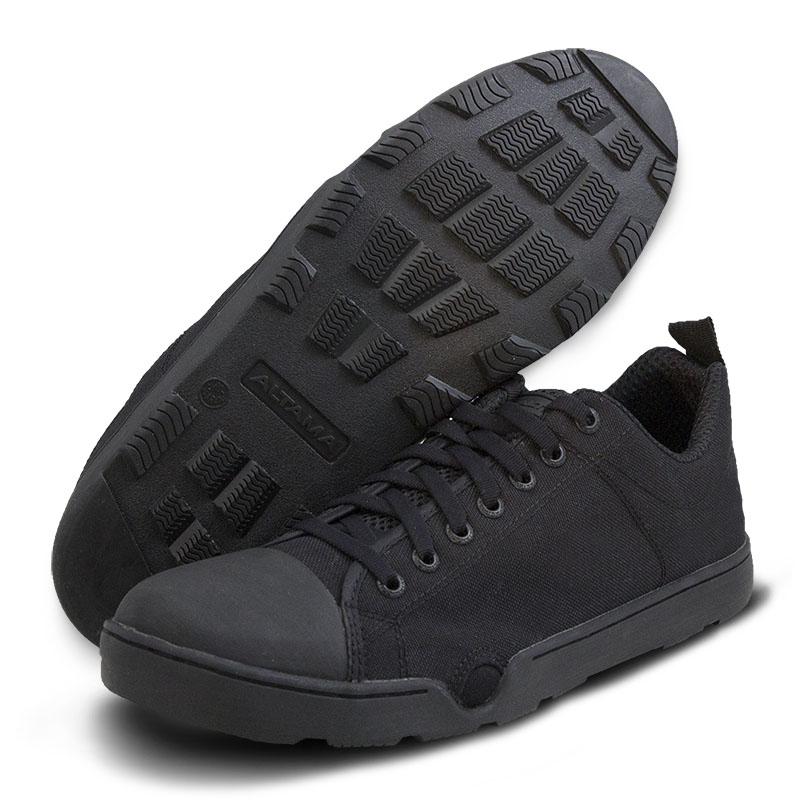 The result is a go anywhere, do anything shoes that looks just as good whether you're in board shorts or Outlier slacks. These shoes are some of the best travel shoes men planning for wet or dry adventure, like hiking, canyoning, and more, or casual outings, like rooftop cocktails or museums, could possibly take.
The uppers are made of 1000D Cordura Nylon and soles are made of rock climbing shoe rubber designed to maintain traction and wet and last through plenty of hikes. The look is muted yet timeless and classic allowing it to pair well with jeans, chinos, shorts, and more.
Best Locations to wear: Everywhere. Mountains, beaches, lakes, rivers, cities. The shoes are designed for military operations "Over the Beach" (hence the "Altama OTB" name) and in the water, so you can get them wet and they'll dry quickly.
Strengths: Looks great yet versatile (sporty vs. classy), extremely durable, designed for swimming in.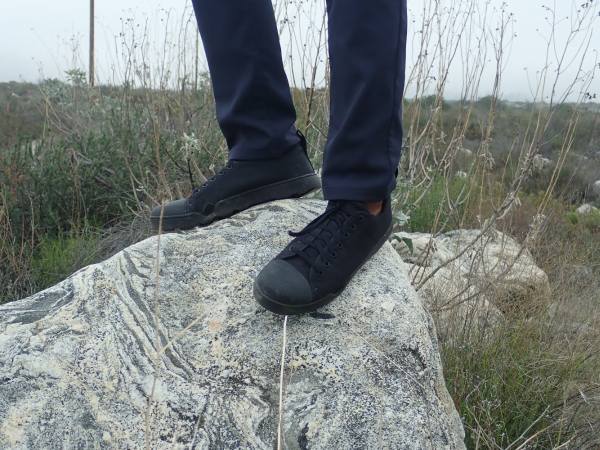 Weaknesses: Durable materials take about 2 weeks to break in. After that, these things are the perfect all-around travel shoe.
Performance: Exceptional. Performed well on 5 mile hikes, workouts, and walks through the city
Discover more in the full Altama OTB Maritime Review
SCARPA MOJITO (& MARGARITA)
A "mountain town" shoe with rock climbing and approach shoes in its DNA, designed by a trusted boot manufacturer.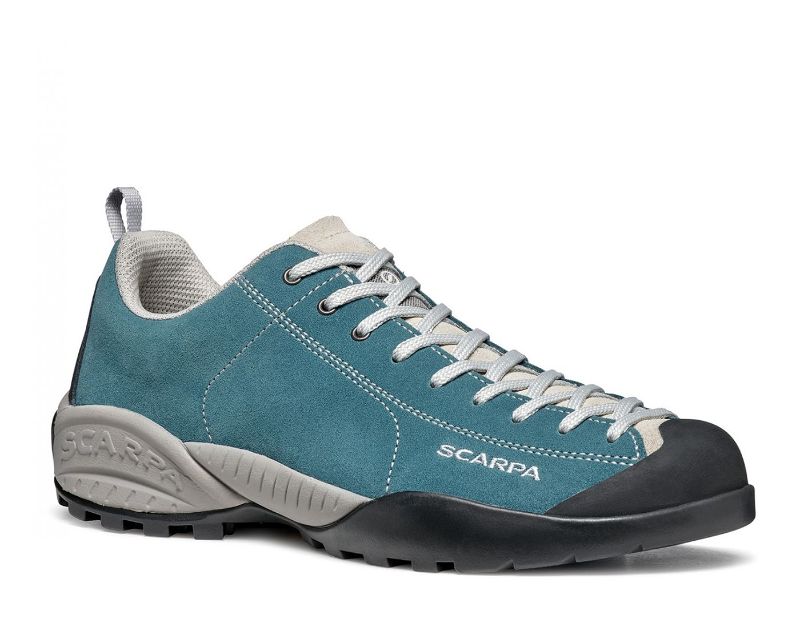 A hiking ready casual shoe with a reputation for durability. Inspired by rock climbing and approach shoes, the Scarpa Mojito performs very well on the trail and looks decent enough to wear around town.
The Scarpa Mojitos give my Lowa favorites stiff competition as these shoes (supposedly) perform nearly as well while being fairly compact and understated.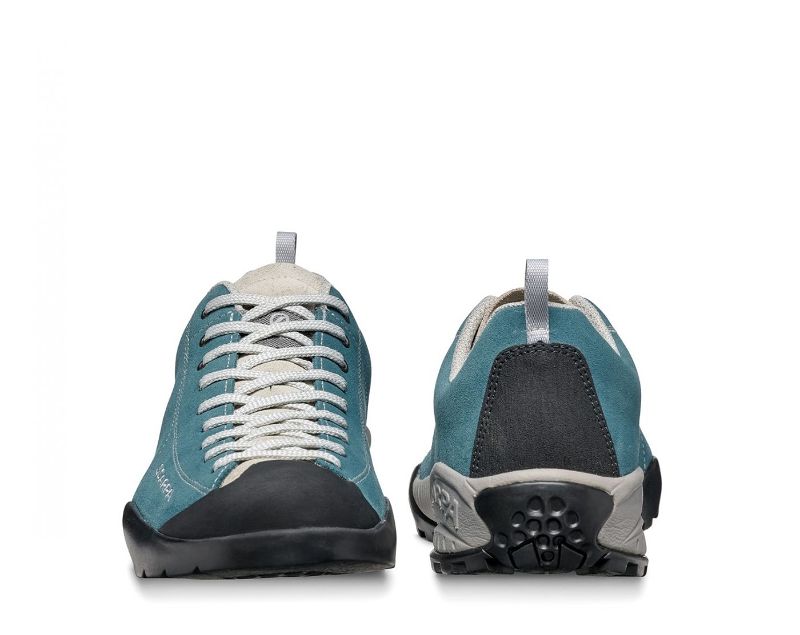 A "one bag traveler" with a hiking addiction mentioned these as his only hiking shoe for 3 years of travel, and he loved them. Scarpa's product reputation and the low top cut of these shoes make them absolutely worth a look for lightweight travel.
Best Uses and Locations: Mountain adventures and treks everywhere. GTX and waterproofing so there's no climate or adventure these aren't suited for.
Also Consider: The Scarpa Margarita, another durable shoe from Scarpa with hiking DNA and a versatile look
---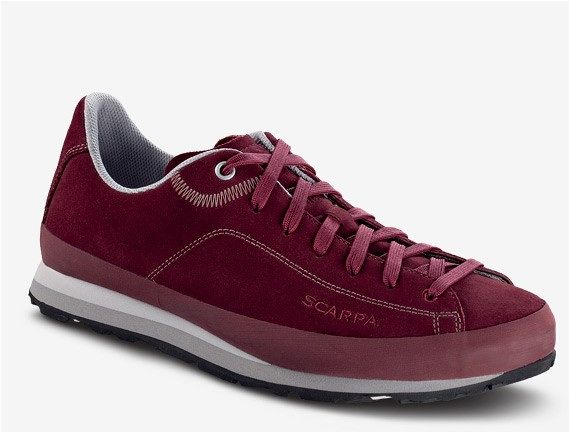 FORSAKE PHIL CHUKKA
A classic, casual looking that's durable and geared for comfortable walking and hiking thanks to its hiking boot sole.
Durable, waterproof leather uppers and the DNA of a hiking boot in the Chukka's sole combine to create a functional shoe with a classic, versatile style. The resulting adventure and travel shoe will grab rocks, dirt, and tree trunks on the trail while keeping your feet comfortable yet still fit with classy jeans or chinos for a nice happy hour that evening. If you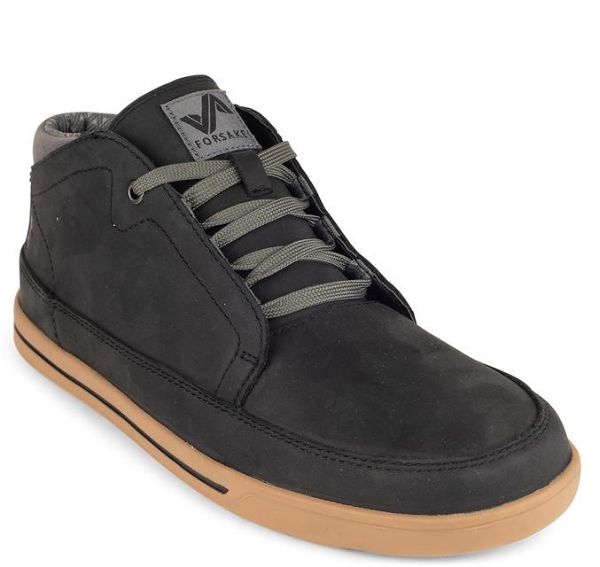 In my search for the best travel gear (especially shoes) the Phil Chukka popped up several times. Travelers and trekkers rave not only about the comfort and style but how well it handles all things from city to trail with grime, weather, abuse, and everything else you can think of in between.
Several wearers admitted to going months at a time wearing only the Phil Chukka with no complaints. This shoe is not only stylish and comfortable but also great for treks through the forests on weekends. The soles perform like hiking boots. The style would fit into a party later that night, still looking good.
That is what we want from a good adventure-ready travel shoe.
If you're in the market for a durable, do it all, adventurous shoe, check out the Forsake Phil Chukka at REI.
---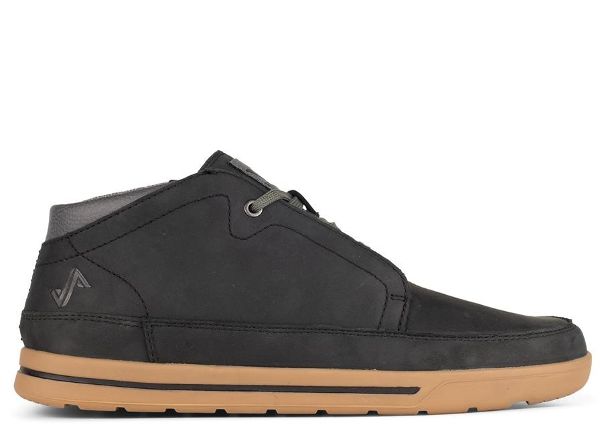 STYLISH SHOES FOR MEN THAT TRAVEL
Timeless and stylish shoes for men that travel that look good and adventure well. Highly recommended in Black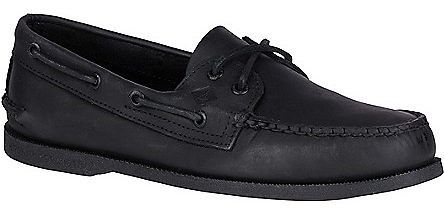 The original Sperry Boat Shoe sole is designed with grooves in the sole that move with each step and maintain traction in wet and slippery conditions on boats, mimicking the paw of a puppy.
The all-leather outsole and heavy-duty rubber outsole mean these shoes will last much longer than you think and lend a casual "loafer" look that pairs well with shorts, jeans, or chinos for the nightlife after the adventure. For an even more versatile look, go for black.
The result is a shoe with a classic loafer look with the added function and durability of an aquatic, activewear shoe. Hot and humid, wet or dry, this shoe will excel, ready for shorter hikes, beach days and light adventures.
In locations, like Southeast Asia, where shoes are commonly taken off before going indoors, boat shoes give you the "slip on, slip off" convenience with more function than a flip flop.
If you're looking for a single travel shoe for Europe or any predominately urban adventure, the Sperry Top Sider Boat Shoe might be the travel shoe for you.
The Vivobarefoot Gobi II and Ra II are the quintessential minimalist shoes in design and function, and great looking men's travel shoes for "one bag packers". The Oxford style low top and Desert boot style low boot cut round out two versatile, packable, and stylish boots.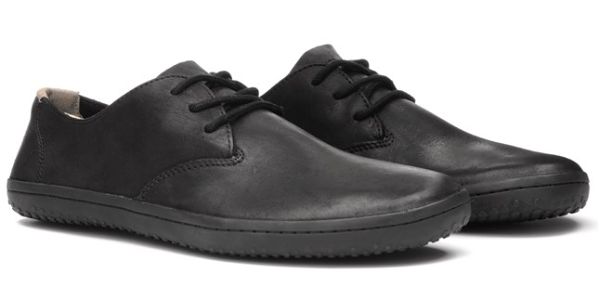 Both shoes pack small easily and look good but are limited in how adventurous they can get.
If you're citybound or just want a classy, packable shoe the Gobi II and Ra II are great options and particularly suited to the "One Bag" travel crowd.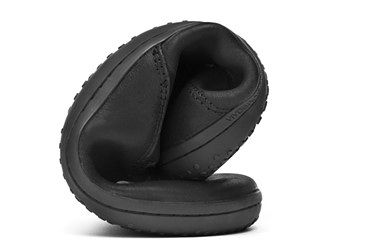 Weaknesses of the Vivobarefoot Gobii II and Ra II: As a single travel shoe, reviews have reported that the shoe's threads may begin to breakdown at the 9-month mark, with heavy wearing. Extremely minimalist sole increases ground feel and will take adjustment to walk on concrete for extended periods. Do note that these shoes do have an unusually wide toe box, so you'll need to accept that.
I recommend pairing either Vivobarefoot choice with the Xero Z-Trail or to round out your minimalist footwear setup – one for active and adventurous times (the Z-trail) and days in the city, and the Gobi II or Ra II chill times and nights out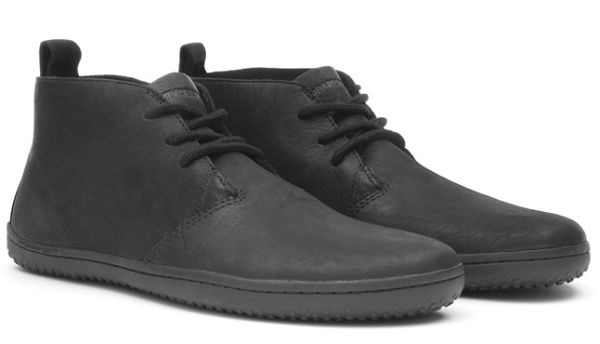 XERO IPARI HANA
An understated and versatile, minimalist shoe, the Xero Ipari Hana is designed by the company that created my favorite running sandal. The Hana is a minimalist and very packable travel shoe worth considering.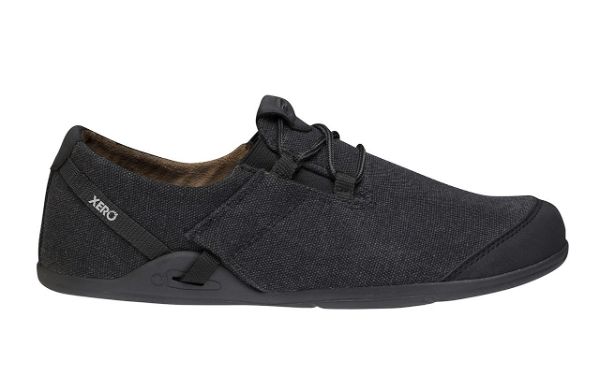 The Xero Ipari Hana shoe builds off of the Xero Z-Trail running sandal sole to create an enclosed shoe that is still packable and minimalist. The look is understated. The lacing system is simple. The sole warranty is still 5,000 miles. Beat that.
Weakness: A cotton canvas upper means these shoes will take longer to dry and have less of a place for "one bag packing" that the Altama OTB Maritime – but this still puts them on par with the Vivobarefoot Gobi II and Ra II, with a little more casual look.
A fellow traveler who owned the Xero Ipari Hana shoes for a year reports them as being in great condition and "durable but dirty", which means they will likely meet our standard for a reliable city shoe. The Ipari Hana definitely isn't suitable for running. You may be able to make a quick getaway briefly, but don't wear them to any bank robberies. The Ipari would be suited for walking and any city activity but not heavy trekking
The Iparai Hana is available at Xeroshoes.com or
Find the Xero Ipari Hana on Amazon and get free shipping via the Amazon Prime Free Tria
If you want a comfortable walking shoe that dresses up, it's hard to do better than the Monte Driver.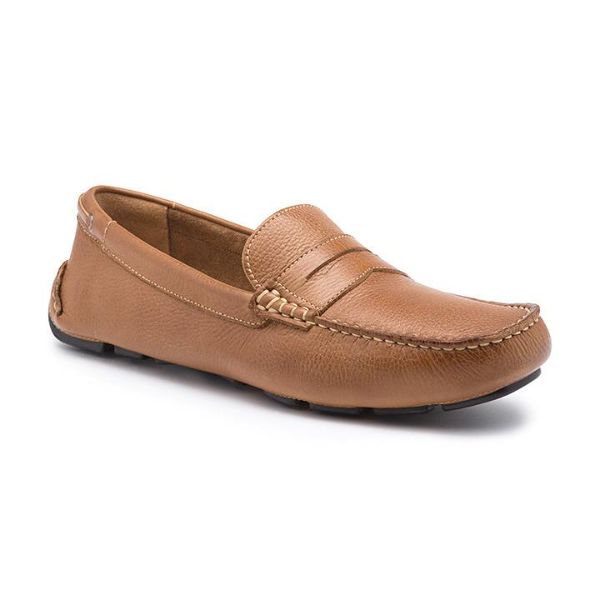 A soft leather loafer with sewn moccasin-style construction and a rubber outsole designed for traction make this an excellent choice if you need to stay comfortable while on your feet with the opportunity to go a little more classy than casual.
Also Consider: The Mario Driver from Bass** if you want the loafer look without the penny keeper.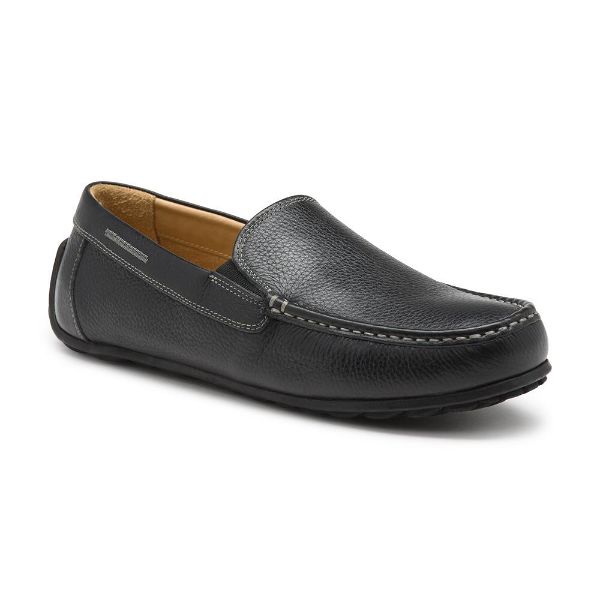 The Indosole Prahu** is a very solid, eco-friendly, and more budget-friendly alternative to your normal boat shoes while being more durable than the comfy Tom's original shoes thanks to solid welting and a car tire outsole. All for ~$60 (often $40 on discount).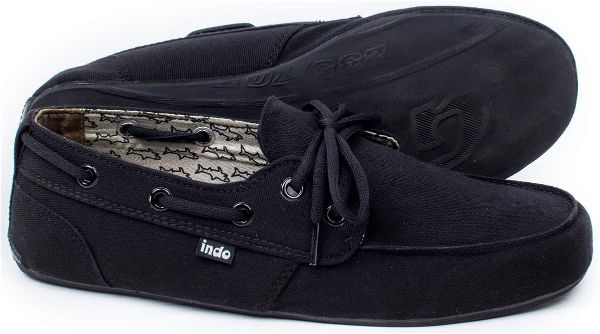 A repurposed car tire sole is attached to a 100% canvas upper making for a shoe that's both durable and machine washable. As much as I love my Sperry Topsiders a major problem with going cockles for months at a time in the Southeast Asia heat is those shoes get fuuuuuuuunky, and washing/drying can be difficult. Though the Prahu's use simple canvas, which could be a downside, being able to throw them in the washer without fuss and dry in the sun balances things out, making these another great travel shoe.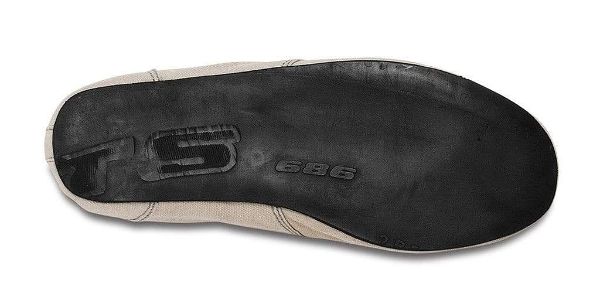 The style is low key and absolutely casual but looks good enough for most occasions.
To boot, Indosole is a pretty awesome company that focuses on upcycling and recycling (car tires, plastic bottles, etc.), responsible manufacturing practices, and putting out good gear to boot (I love their basic Indosole ESSNTL Flip Flops and they're currently my fave on the market).
Downsides: Canvas uppers aren't the techiest or foot-friendly, but the breathability makes these good for hot, tropical climates.
Super comfy, lightweight (each pair clocks 12.28 oz / 384 g), compressible, and durable soles that'll last more miles than you're likely to walk.
Click here to head to the Indosole website to check out available colors and styles

HIKING BOOTS FOR TRAVEL
Hiking is an excellent addition to your travels, and even an excellent reason to travel. If you intend to spend a solid of time on the trails, then be kind to your feet and be sure to pack a pair of trail-ready travel kicks.
The following hiking boots and shoes are the best travel-ready options that will stay comfortable on jagged trails, look good enough to do double duty in the city, and some even pack down enough to maintain the extra pair for pure, carry on travel.
Don't forget to check out our full list of travel boots for men
Possibly the most comfortable pair of shoes (or boots) I've ever worn, and the most packable too. Soft, supple leather with a fleece lined inner and an amazingly comfy sole that all compresses down into nothing.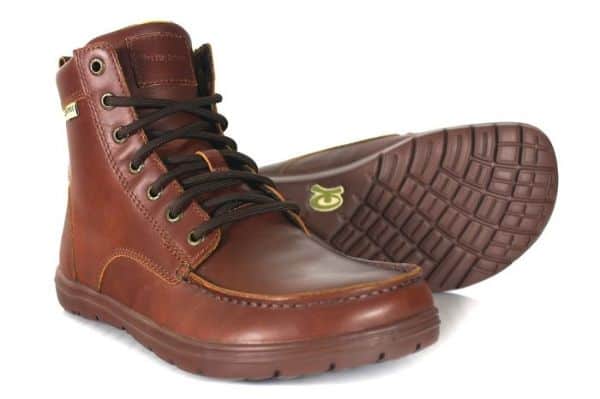 ---
(Click to Read More on the Lems Boulder Boots in the "Most Comfortable Shoes for Travel" section)
A remake of a retro classic alternative to heavy hiking boots while still being entirely geared for the outdoors.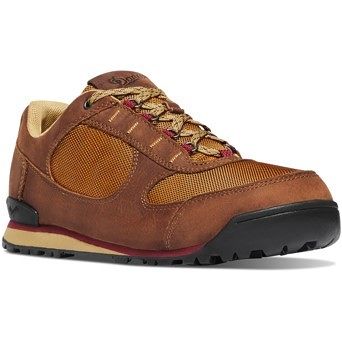 The new Danner Jag includes upgrades from the last 30 years of shoe innovation (since the original shoe's inception). 100% waterproof with a breathable mesh lining makes these ready for any weather and the robust build and durability that make Danner a legendary bootmaker.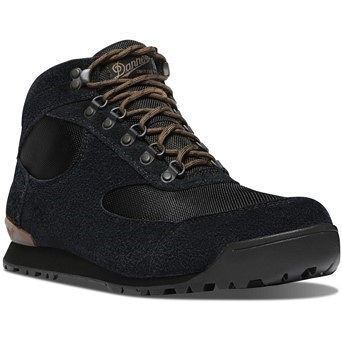 The Danner Jags might not pack down easily into your bag, but the solid 80's aesthetic, comfort, and trail performance might make them the only boot (or shoe) you need on your journey.
---
Click here for the Danner Jags prices and availability
---
Also Consider: The Danner Jag Low Tops
The Lowa Renegade GTX Lo is an overperforming hiking boot with an understated look that feels exceptional right out of the box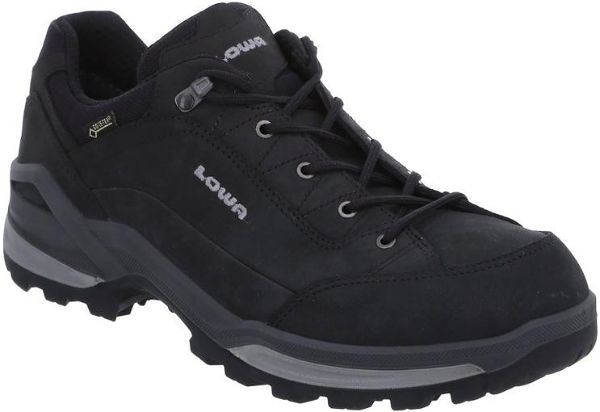 When clean, these boots could pass for a chunky pair of trainers, especially when purchased in black. This gives the Lowa Renegade GTX Low versatility in terms of look, and you can sneakily get away with wearing them at night – as long as you're not pairing them with the kinds of skinny jeans that will make your kicks look like SUVs strapped to your feet.
In my search for the best travel shoe for men, the Lowa Renegade emerged as the best hiking shoe for me.
---
For 6 months I hiked at least once a week and often multiple times per week, and this was my boot of choice. For the 8 days/72 miles of the Everest Trek and through the 3 days of the Inle Lake Trek in Myanmar I tried to beat down the Lowa Renegades, but to no avail. I haven't once had a blister, hotspot, or uncomfortable point in these shoes, and they have fit comfortably from the moment they came out of the box.
These may not be the best travel shoes for men, because of their bulky size but they are exceptional hiking boots. The understated look is just a bonus.
Bottom Line on the Lowa Renegade GTX: If you're adventuring enough on your travels that dedicated hiking boots are a must, take the Lowa Renegade GTX Lo hiking shoes.
---
Available on Amazon or from REI
---
Read our Review on the Lowa Renegade GTX Hiking Shoes
XERO DENVER
A weatherproof, minimalist boot perfect for lightweight, carry on only travel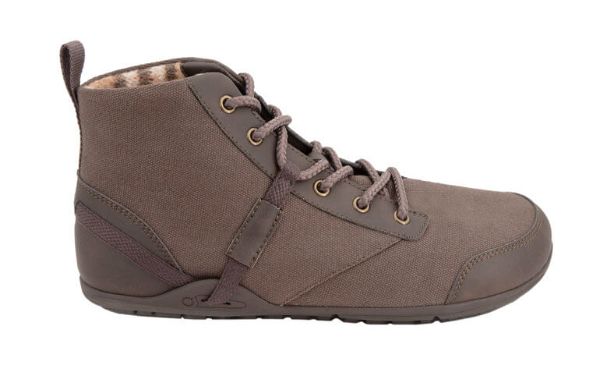 The Xero Denver is a minimalist boot following in the line of the minimalist Xero Z-Trails sandals, but with some trail-ready, "all-purpose shoe" upgrades.
The Xero Denver follows in the footsteps of the Lems Boulder Boot in function and style.
A more durable car tire sole, common to all Xero shoes, is the base of the Xero Denver, making way for miles and durability.
Fleece-lined inner and heat-reflective insoles make the shoes more comfortable and winter-ready – sole plan on buying new inserts to use these shoes year-round.
For travelers, the compressible, foldable, and packable nature of these light boots makes for easy packing and lightweight traveling.
Lastly, breathable, water-resistant canvas that performs well at repelling the wet rounds the Denver out as a great minimalist boot.
Bottom Line on the Xero Denver: A great pair of weather-resistant, all-terrain ready , and stylish boots that are suitable for lightweight, adventurous travel.
Check out the styles and colors available for Xero Denver
---
Also Consider: The just as lightweight, just as travel-friendly Xero Daylite Hiker, better suited to warmer climates, but just as many adventures
Lightweight, Durable, and Stylish (if you like military-inspired design)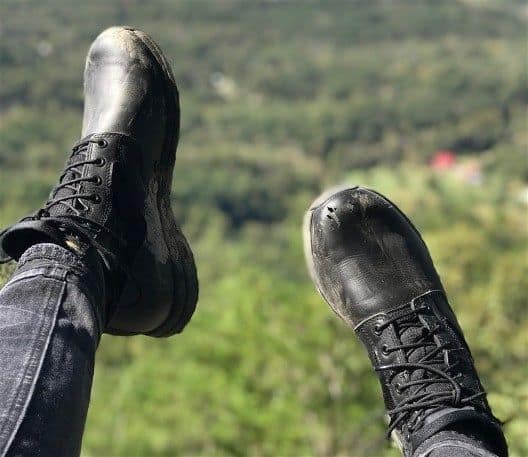 Extremely light and extremely comfy from the start, with an old school 1970's style military "jungle boot" look. The MACV-1 was designed to be a tough, ready for anything rucking and hiking shoe – light and comfortable enough to walk in for miles and tough enough to stand up to abuse. All of this adds up to another versatile travel shoe that packs down easily.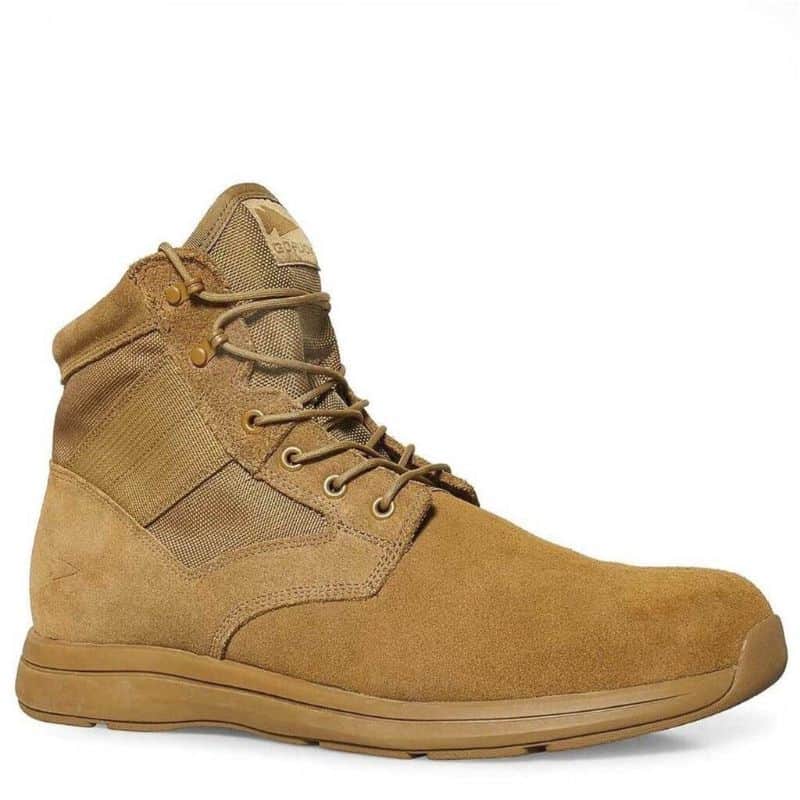 The smooth, black MACV-1 boots are great for those that can work the look of military-inspired look well.
If you prefer the classic tan "rough out" look of Timberland boots, the MACV-1 in Coyote brown could make a city suitable and adventure-ready shoe option.
In either case, these boots are an upgrade for travelers, in look and weight, from your average multi-colored hiking boot.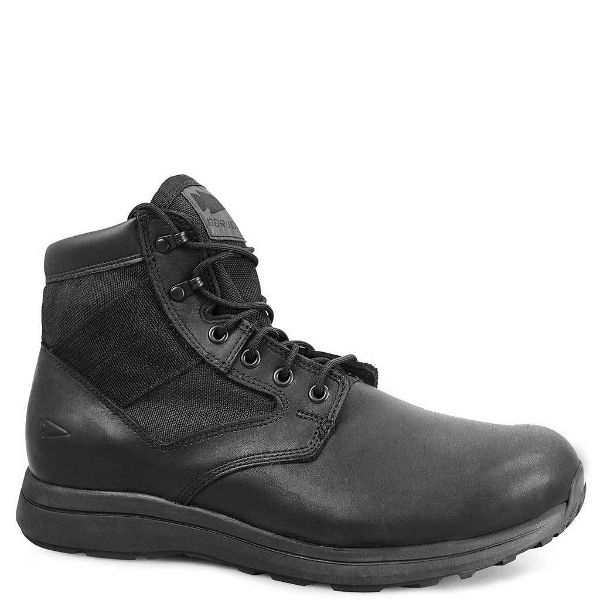 The latest evolution of the MACV-1, the "Gen-2" incorporates a deeper treaded sole for a lightweight boot for fast movement that still grabs well on any terrain
Read more in this MACV-1 Review or click here to check GORUCK MACV-1 prices and availability in Coyote Suede and Black

PALLADIUM PAMPA
Cheap, Comfortable from the Start, and Stylish with "Chuck Taylor" cues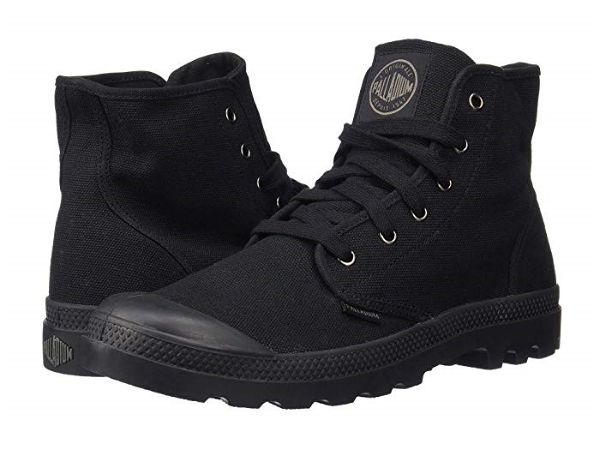 If you're on a budget and need an affordable yet fashionable boot (I mean…they're French boots) that is comfortable enough to hike in, the Palladium Pampa and Pampa Waterproof may be perfect for you.
These Chuck Taylor's styled hiking boots were initially worn by the elite French Foreign legion, meaning adventure is in their DNA. An extremely comfy and soft rubber sole and canvas uppers make these a true "zero break-in period" shoe, meaning they're comfortable and ready to hike in the second you put them on. The old school canvas shoe look makes them versatile enough to stay stylish in most situations too.
---
Click here to see the Palladium Pampa and Palladium Waterproof Pampa options
A comfortable sneaker with the soul/sole of a hiking boot. Scarpa's rock climbing and hiking boot DNA make this shoe perfect for wearing continuously from city to crags and trails further out. An amazing single shoe for trekking and mountain centric travel.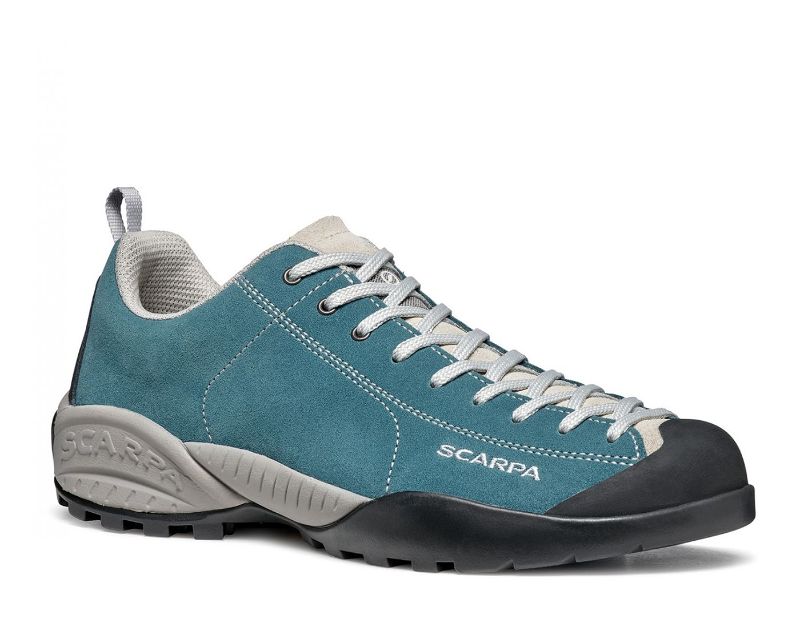 ---
Click to Read More on the Scarpa Mojito and Margarita in the "Best Multi Purpose Shoes for Travel" Section
Sustainable, comfortable, durable, adventure-ready, and stylish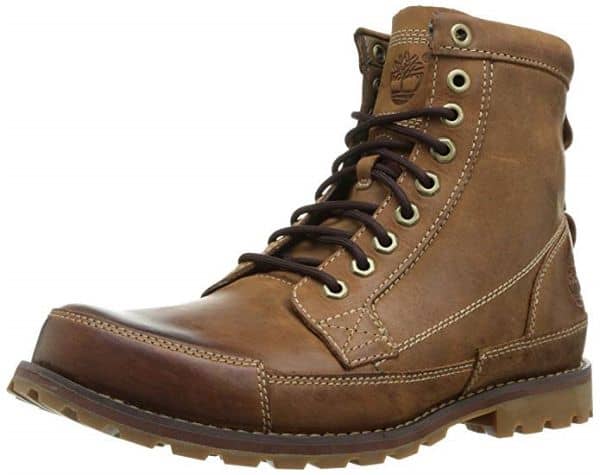 The Timberland Earthkeeper Originals are an out-of-the-box comfortable pair of high top boots with a rugged look and ready to explore. The Earthkeeper's "anti-fatigue technology" makes them perfect if you want a shoe that will keep your feet fresh after miles and hours of walking and standing on city tours, waiting in line, or scrambling on trails. And as long as there's no suit and tie affair, these comfy boots will look good anywhere you go.
---
Click here for the Timberland Earthkeeper's Original Boot prices and styles

ATHLETIC SHOES FOR TRAVEL
For those that need a relaxing run or a solid Crossfit workout while traveling to stay grounded, its worth bringing a dedicated pair of athletic shoes, or at least a pair of travel shoes that double well as athletic shoes. Additionally, a good pair of trainers can be the perfect shoe for walking and hiking through the city during travels.
The following shoes first and foremost high performing shoes and secondly look good enough to be worn outside of your run/gym without detracting from your travel. Last, a select few pack down unnoticeably small, so you can add them to your existing luggage without overpacking or tipping the scales.
GORUCK I/O TRAINERS
A tough, rucking boot inspired shoe designed for Crossfit style cross-training, and fast hiking with weight. The GORUCK "Inside / Outside Trainers" take the hard use and lightweight focused base design of the "GORUCK MACV-1" and minimalist style military boots and roll them into an athletic shoe designed for hiking fast with heavyweight and high intensity activities like Crossfit and strength training.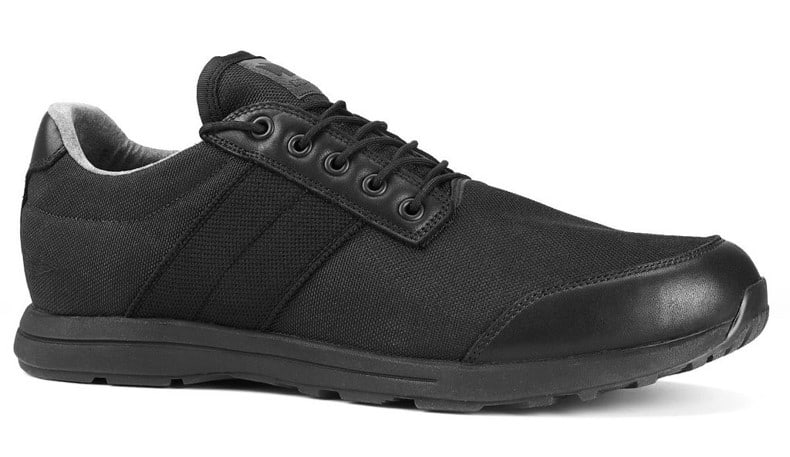 The high-quality leather and abrasion-resistant/breathable 1000D Cordura nylon canvas uppers mold to your feet and deliver the same breathability and durability you get with the Altama OTB Maritime shoes, making for a shoe that molds to you and lasts through the adventures. A wide toe box allows for natural foot movement and spread and allows space for natural foot swelling that takes place over a day of walking and hiking.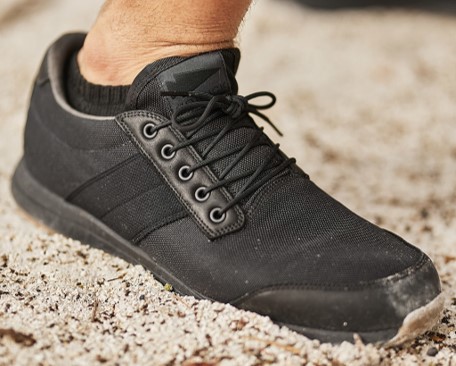 Vietnam era Jungle boot style speed lacing makes for a fit that is easy adapt to the bridge of your foot, while a 2" webbing reinforcement adds midfoot support and stability, while still keeping the shoe on the "minimalist" side. A suede heel counter locks your heel in place, and combined with the speed lacing system, keeps your foot from sliding, avoiding blisters and staying comfortable.
Bottom Line on the GORUCK I/O Trainer: A tough, minimalist, military hiking boot design packed into the function, comfort, and aesthetic of an athletic shoe package. If you want a low key shoe that will last for miles of walking, doubles for hours of training, and has a classic "tennis shoe" design, the I/O trainer is it.
Click here to learn more about the GOPRUCK I/O Trainer at GORUCK.com
Minimalist running shoes with a very comfortable sole and pack down small.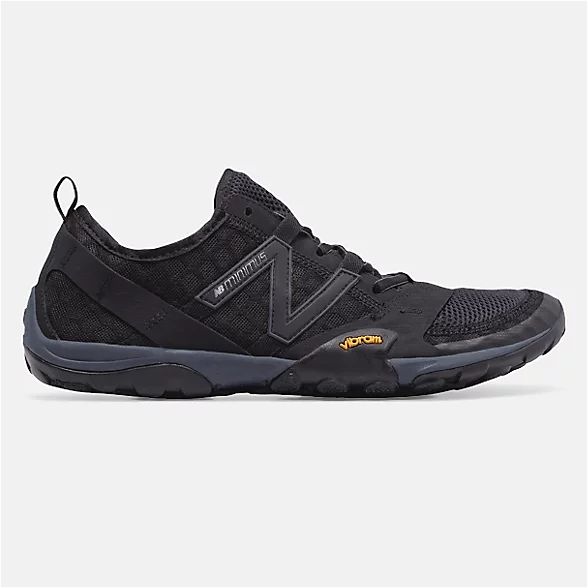 The extra cushy sole (for trail) gives just enough comfort on any terrain (off-road or on concrete) to be comfortable for long periods. The lightweight mesh breathes and dries well. The anti-microbial footbed can stand months (literally, I've tried it) off sweaty, sockless wear without smelling like death. The midfoot wrap and flexible sole let the shoe hug your heel and midfoot while the subtly wider toe box allows for natural splay, all while preventing sliding and blisters/hotspots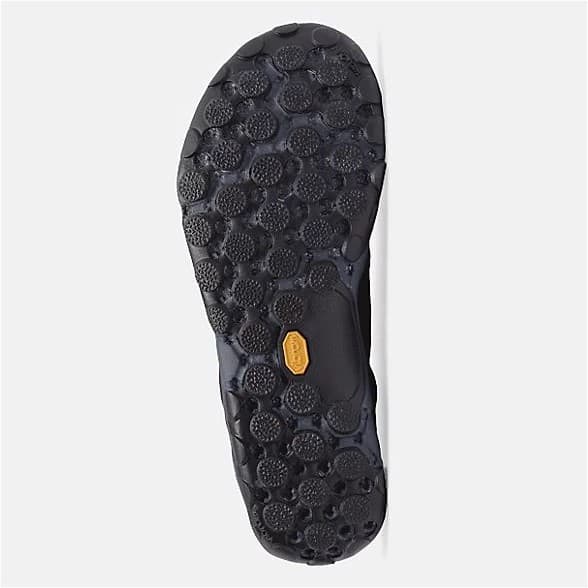 To boot, the muted aesthetic makes these shoes wearable in most casual circumstances without any odd looks – especially if you opt for all black.
Best of all for travelers, these shoes collapse down nearly as well as the most minimalist shoes on this list (Xeros, Vivobarefoot), making them a great "extra shoe" option for runners and hikers and generally great for travel
---
Downsides of the New Balance Minimus: Because of the comfort and softness of the soles, I've never gotten more than a year out of my New Balance Minimus shoes when I've used them in hot climates (i.e., Afghanistan) or extremely rocky terrain. I've ripped the soles off sprinting or doing Crossfit workouts, but that never happens before a year of wear. However, the tradeoff of how comfortable my feet were during that year of use and how easy these shoes are to pack is a reason I still keep a pair.
Bottom Line on the New Balance Minimus: Highly recommended for runners and athletes considering bringing an extra pair of shoes for running during travel. Just ensure you're comfortable with minimalist (low heel drop) footwear before fully committing.
---
Click here to check out the wide variety of colors and styles available for the New Balance Minimus
Another extraordinary piece of minimalist footwear, the Merrel Trail Glove has been another favorite of mine.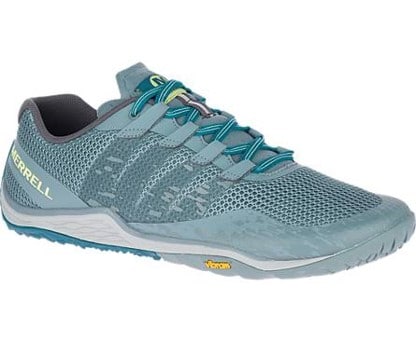 Originally intended to be a minimalist hiking boot/shoe but adapted over time as more of a trail running shoe, the Trail Glove delivers more durability that the New Balance Minimus (appropriate for rockier trails and harsher terrain) while giving the same foot-hugging, minimalist feel.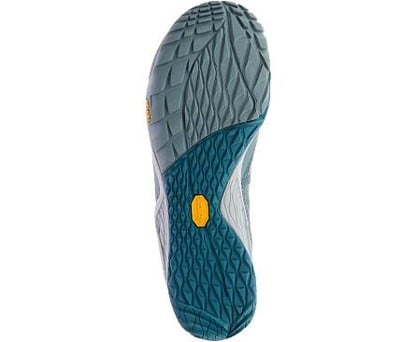 Whereas I've destroyed most of the shoes I've owned, busting stitches and literally ripping the tread off during workouts, the Merrel Trail Glove is the only athletic shoe I've down until the tread was bald…and nothing else was wrong.
I've gone on multi-day treks with this shoe and even ran a marathon in it (accidentally) and it performed well through it all.
Highly breathable and quick-drying uppers keep your foot comfortable and dry or at least drying quickly. The heel cup and lacing system lock in your heel and midfoot well, while the room toe box allows for foot splay without looking awkward. A durable, jagged trail-ready Vibram outsole tops of the package a solid, minimalist trail running shoe.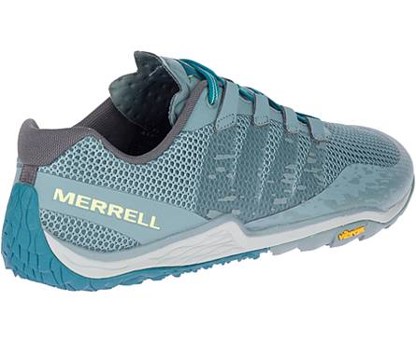 For travelers, the tiny size (when compressed) and low weight make it another easy option to pack as extra shoe dedicated to running and wandering trails.
Downsides: In exchange for durability, the Merrel Trail Glove does have a noticeably denser, and less soft, sole. On the trail it won't matter much, but running on concrete will take a slight adjustment and be slightly less comfortable than with the New Balance Minimus Trail 10. However, if you'll be on the road adventuring for an extended period (6+ months) and want a minimalist athletic shoe you know will last, this is your shoe.
---
Click here to see available colors and styles for the Merrel Trail Glove
When I canvased trail runners and ruckers for their favorite shoes all around, the Brooks Ghost came up continually…and then popped as a favorite with other travelers as well. Light, flexible, responsive, and with just enough cushioning to make a run (or walk) of any length unnoticeable to your feet.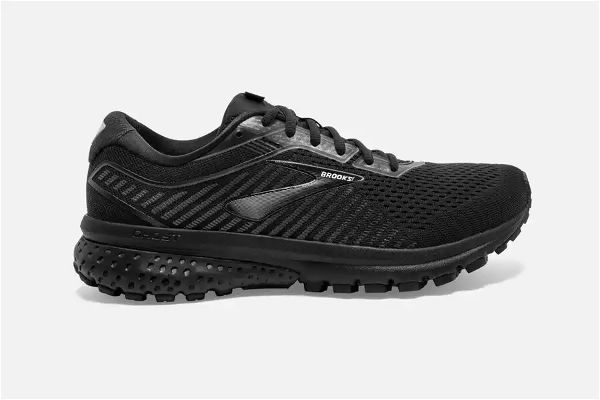 Over 12 generations this shoe has adapted from a high performance running shoe, to a neutral cushioning do it all athletic shoe with some effective shoe tech in the soles.
The running shoe DNA will still serve you very well on those long transits through airports, walking tours, and impromptu hikes.
Bottom Line on the Brooks Ghost 12: If comfort running, walking, standing, and hiking is your primary concern, consider the uber cushioned (yet responsive) Brooks Ghost line for your travels.
Click here to see available colors and styles of the Brooks Ghost 12
A 100% waterproof and breathable knit sock is layered on an antibacterial sole (for sockless wear) and a lightweight, grippy outsole make for a lightweight, waterproof, and comfy sneaker for exploring.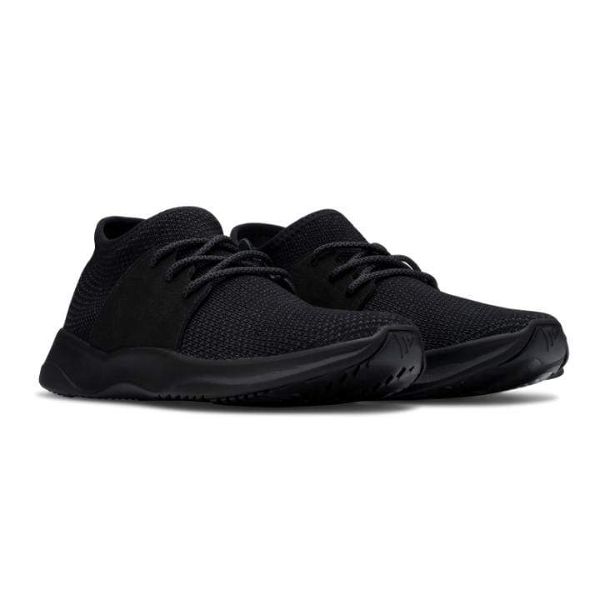 A fantastic alternative to the commonly suggested Allbirds, if you're specifically looking for a versatile, comfortable, and practical sneaker for traveling through cityscapes, the Vessi Everyday Sneaker is a great option.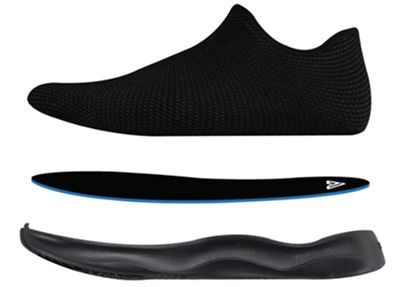 Also Consider: The Vessi Slip-On sneaker, for an easier wearing, slipper styled
Click here to explore the Vessi Everyday Sneaker's available style and colors

WATER FRIENDLY TRAVEL SHOES
A shoe designed for swimming and hiking with the style of a classic canvas shoe. Intended as "Over the Beach" assault shoes ready to tackle anything. Quite possibly the most well-rounded travel shoe in existence. Excellent for adventure travel.
---
Click to Read More on the Altama OTB Maritime Assault in the "Best Multi-purpose Travel Shoes" Section
VIBRAM 5 FINGERS – KSO EVO
If you can get beyond the "unique" look of the Vibrams Five Fingers you can experience them for exactly what they're meant to be – a do it all water-friendly shoe that keeps the wearer in touch with the ground.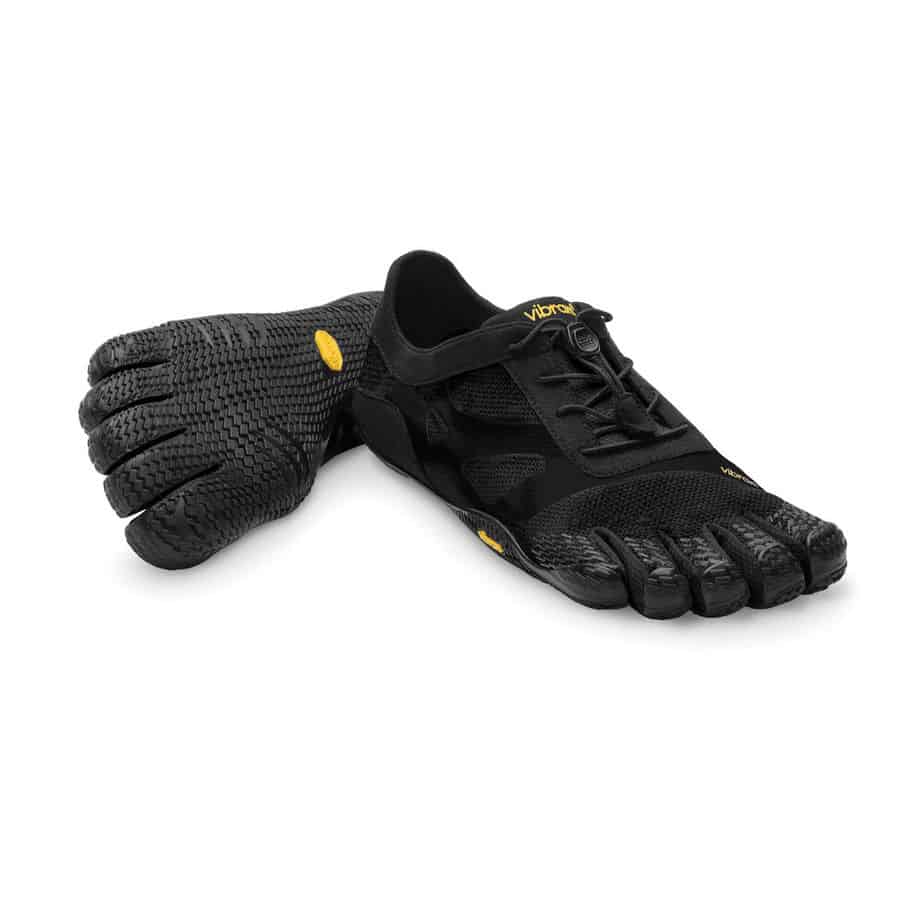 The FiveFingers were originally designed by Vibram as a "deck shoe" meant for crew members on sailboats to wear on wet decks, allowing them to maintain traction and better feel on the decks of boats. Since then, the FiveFingers grew into a monster taking on a new life as a "barefoot shoe". Though the craze of barefoot shoes and barefoot running has passed, the FiveFingers are still extremely useful.
If you plan to spend a lot of time adventuring in wet conditions – whether canyoning in Vietnam or island hopping in the Philippines – and don't want to be bothered by taking shoes on and off or losing sandals, the FiveFingers are an excellent option. Additionally, if you're used to minimalist running, the FiveFingers make a solid running shoe.
Even better for travelers, the FiveFingers pack down to nearly nothing, as small as any other travel-friendly footwear I've seen (flip flops, Vivobarefoot shoes, Xero Z-Trails) making them a great extra shoe option for your travels.
These days, I even use my FiveFingers KSO EVO as a reef shoe while surfing – worn on those low tide days when I don't feel like cutting my feet on the reef.
All in all, if you're adventuring hard and plan to spend a lot of the time wet, and don't mind the unique look, the Vibram Five Fingers are another excellent choice.
The FiveFingers line has tons of variants, such as insulated, neoprene (wetsuit material), etc. However, I've found the mesh FiveFinger KSO EVO shoes to be perfect for everything from running, to surfing, to swimming (back to my board after wipeouts). If you want an all-around performer, get the KSO EVO.
Downsides: Outside of the unique look (considered ugly to some) if you plan to run in these, make sure accustomed to running in minimalist footwear first, or look up a good beginner's minimalist running plan to start.
The Bottom Line on the Vibram FiveFingers: An excellent activewear shoe for adventures, both wet and dry. Give your body the time to adapt to minimalist running and you'll have a true, do-everything shoe on your hands.
Click here to explore the Vibram FiveFingers KSO EVO in available colors, and other FiveFinger styles
VESSI WATERPROOF SNEAKERS
A 100% waterproof and breathable knit sock is layered on an antibacterial sole (for sockless wear) and a lightweight, grippy outsole make for a lightweight, waterproof, and comfy sneaker for exploring.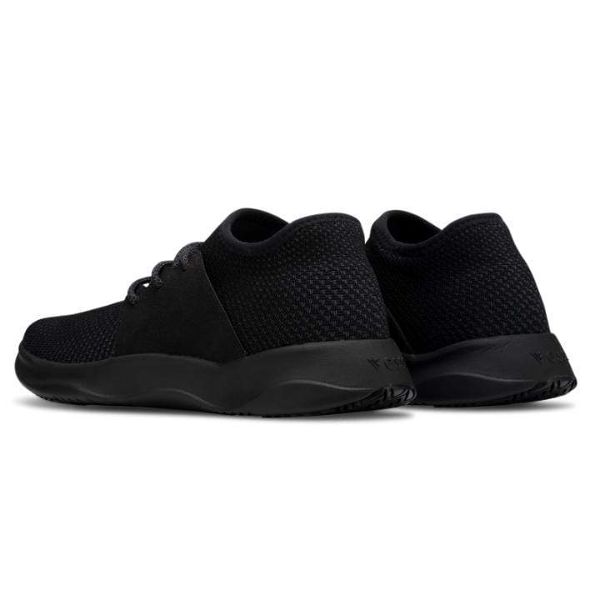 Bottom Line on the Vessi Everyday Sneaker for Water: Though this is a waterproof sneaker, its best for rainy weather, puddle hopping, and the occasional wetness that happens in citylife. However if you're on a live aboard cruise or soaking up beach life, we recommend the Sperry Topsiders, Altama OTB Maritime, or the Xero Z-Trails instead as they allow water to flow through drain ports and dry while wearing.
Also Consider: The Vessi Slip On sneaker, for an easier wearing, slipper styled
Click here to explore the Vessi Everyday Sneaker in available styles, as well as the Vessi Cityscape and Slip
As boat shoes by design, water performance is in the DNA of these shoes, hence why they're my favorite for Southeast Asian destinations like the Thai islands, Bali, and the Philippines.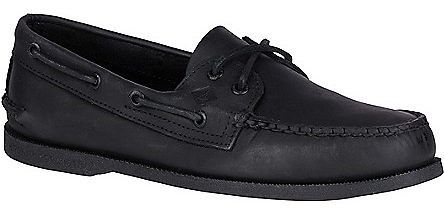 A classic, versatile shoe that looks good, does well in water and warm climates of the tropics, but with a muted, classy look that is just as suited for Europe. Originally intended as a boat shoe with a sole designed for traction on ship decks and easy draining design, this slip-on is perfect for beach life and tropical adventures.
---
Click to Read More on the Sperry Topsiders in the "Best Stylish Shoes for Travelers" section

BEST SANDALS FOR TRAVEL
Sandals are quite possibly the most essential and versatile pieces of footwear for travel. From the hot climates of the Caribbean and Southeast Asia to relaxed bars across the globe – a good pair of sandals can take you anywhere and keep you comfy every step of the way.
This quick list of great, travel-worthy sandals provides some durable, comfortable, and stylish options – some perfect for adventure, some perfect for chilling, but there is most definitely a perfect pair for your unique trip.
For a deeper look into these and my other favorites, read our full list of the best sandals for travel.
XERO Z-TRAILS
Functional enough to run and hike yet minimalist enough to look good and pack small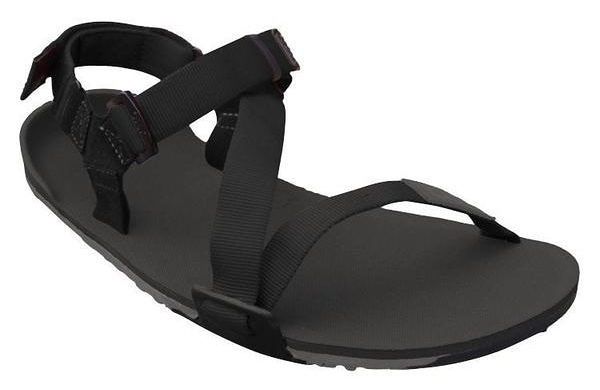 The Xero Z-Trail – A highly capable sandal designed for running, but ready for hiking, adventuring and even relaxing
After 6 months of adventure wear, I highly recommend the Xero Z-Trails as your go-to travel sandal. The Xero Z-Trail minimalist running sandals fashioned after the footwear of a Mexican "running tribe" (the Tarahumara), meaning they're rooted in travel and adventure as their purpose. The sandals are very packable, lightweight and minimalist and deliver amazing function, well worth the space in your pack.
The Z-Trail differs from other running sandals in that the front strap goes over the toes, instead of between them, holding the sole to your toes while running. Also, the Z-Trail soles are designed with a 3 piece blend of car tire rubber for long life and durability and proprietary "Trail Foam" for health and comfort on rocky trails. No other running sandals or minimalist adventure sandals incorporate a similarly well-engineered sole while staying minimalist.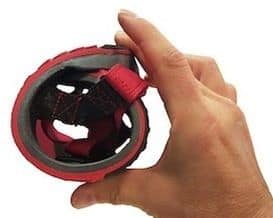 When considering the best shoes for travel men usually jump straight to hiking shoes or boots. Though could be perfect for all trekking adventures, the choice can make your pack heavier and leave your feet sweaty in the hot, humidity of Southeast Asia. A perfect balance between no shoes and overdoing the footwear is an adventure-ready, minimalist sandal like the Xero-Trail. Durable, grippy, adventure-ready, lightweight, and comfortable.
The Z-Trail's minimalist and lightweight design not only make packing easy but also helps the sandals to hug your feet enough for you to swim, run, and workout in them easily – that's something the bulkiness of Tevas, Chaco's, and other non-minimalist adventure sandals keep them from doing.
Best travel destinations for the Xero Z-trails: In Southeast Asia, you could easily and comfortably wear the Xero Z-Trails and nothing else for your entire travel. Southeast Asia, beaches, hot & humid climates, and everywhere else are perfect for the Xero Z-Trails or any other running focused minimalist sandal. The Z-Trail excels in places like Asia where the weather is hot and most making your feet uncomfortable, but there are too many adventures for flip flops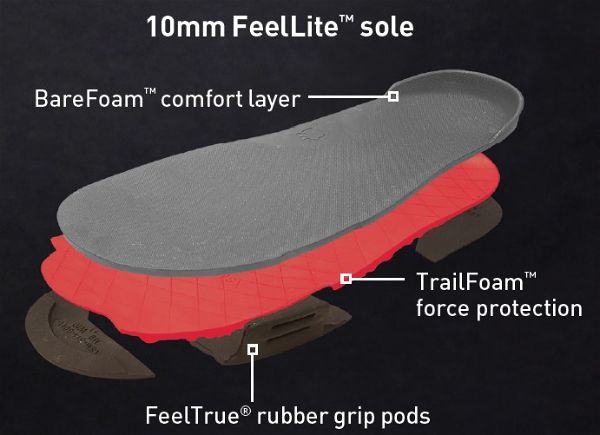 Strengths: Durability and a "5,000-mile warranty", versatility (running, hiking, swimming), and minimalist design makes the Z-Trails look a lot better with casual attire than other adventure sandals,
Performance: The Z-Trails was my only workout and running shoe for a year, and my go-to shoe for warm weather adventures, from hiking to riding
---
Other worthy Sandals: Other great travel sandals for men include the Luna Mono 2, Luna Oso 2 and Luna Origen 2, or Bedrock brand and Shamma brand running sandals – all of which lace between the toes instead of over, Like the Xero Z-Trails and Z-Treks. All 4 brands are highly reviewed by the minimalist sandal and running sandal crowds
Check out the latest Xero Z-trail sandal styles, available on Xeroshoes.com or Amazon.com.
---
For more on my experiences with the Xero Z-Trails checkout the Full Review – The Best Travel Sandals on the Market: A Review of the Xero Z-Trails
Indonesian born and produced by a fellow Californian, Indosoles were inspired by the Indo practice of taking old car tires, stripping the tread, and cutting them into sandals that last nearly forever. The Indosoles founder and team recognized that upcycling flip flops from car tires is not only an eco-friendly practice but creates tough sandals with a fairly long life – and I love them.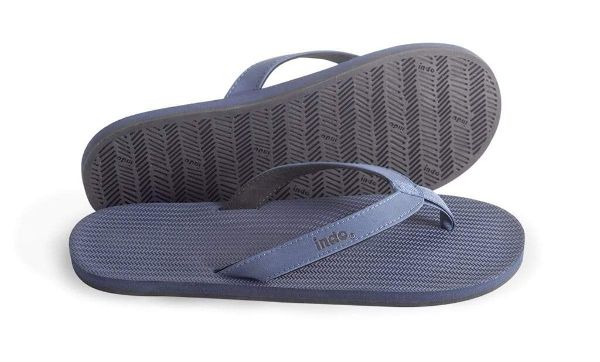 The sole of Indosoles is made of reconstituted car tires with a hefty tread pattern that's good enough for light hiking – if you're used to hiking in flip flops. The footbed is made of a softer rubber that's durable but molds to the shape of your foot, hugging it more over time.
If you're in the market for flip flops, I highly recommend the Indosole ESSENTLS Flip Flops as they look great, and are a great value for the money. Both the flip flops, and the slides if that's your style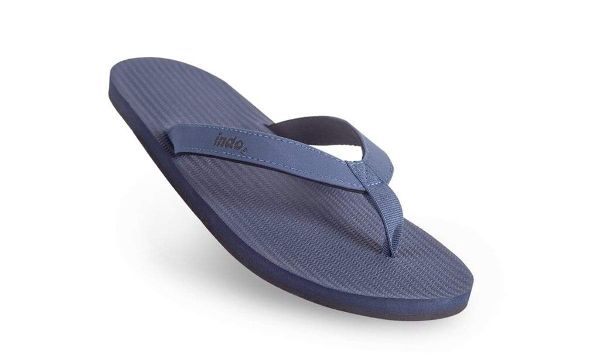 For the ladies looking for something a little different, the Indosole ESSNTLS Slides are solidly comfortable and just as great.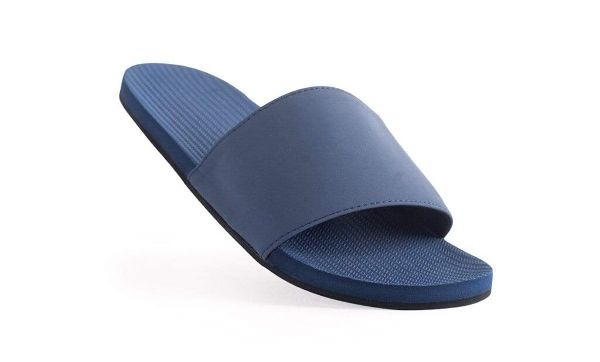 ---
Click here to check out the entire Indosoles collection
A hiking boot sole with an adventure sandal top. Comfy. Grippy.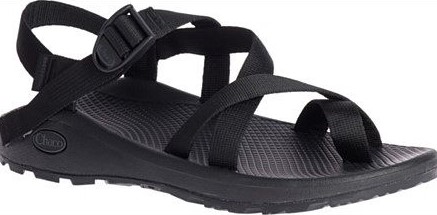 The Chacos Z-Cloud is essentially a hiking boot sole with straps attached to keep it sticking to your foot. The result "sandal" gives the protection and comfort you need to explore any warmer weather terrain, wet or dry.
Chacos were designed by a rafting guide working in the Grand Canyon. Today, they're a hiking staple. If you want your feet to be free and breathe while you hike, Chacos are a great option.
Click here to see prices and availability for the Chaco's Men's Z-Cloud
Another hiking sandals option for those that like sandals "between the toes" instead of over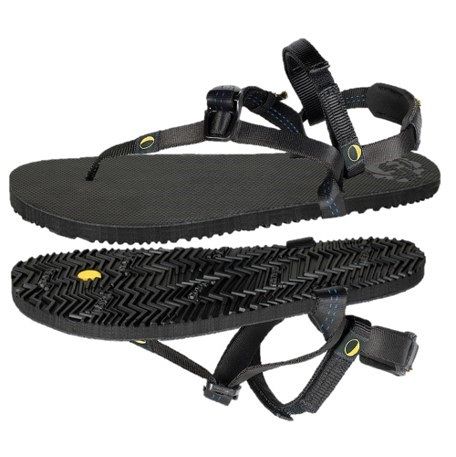 The Luna sandal line, including the Oso and the Mono, continues the design and function of barefoot hiking sandals that Xero does – except the Luna sandals lace between the toe (instead of over the top of the foot like Xero sandals). Additionally, Luna's different lines (Oso and Mono) differ in sole thickness (for comfort) and tread style (to perfectly match your chosen terrain), allowing you to pick the sandal that's best suited for your pack, feet, and trails.
Click here to check out the Luna Oso and Luna Mono prices and availability
Initially designed for whitewater rafting guides, now perfect for adventures, wet or dry
Slightly lighter than the Chacos Z-Cloud but still just as adventure-ready, the Teva Hurricane sandals are another hike-ready set of footwear that keeps your feet free.
Click here to view the Teva Hurricane style options
Also Consider: Teva Original Universal or the Terra Fi

Other Geat Shoe Recommendations from "The One Bag Crew"
The Lem's Primal 2: Proclaimed as "The Best 'One Shoe' Ever!"
Adidas Ultraboosts
Vans UltraRange and UltraRange 3D: Breathable, old school skater upper with a comfy midsole and durable outer designed for trekking and adventuring
Johnston and Murphy Waterproof sneakers
Vivobarefoot Primus Swimrun FG Mesh
Arcteryx Aerios FL GTX Mid
Astral Loyaks
Shammas All Browns: Minimalist leather sandal, inspired by "barefoot runners"

TRAVEL READY CLASSIC SHOES
Some designs never go out of style, and despite that these shoes are the most "techy", they're still good looking and functional enough to literally be your only shoe for travel, so don't dismiss them
These Vans Classics, the ERA 59s are generally a good investment for your wardrobe (especially if you don't already have a canvas pair). A versatile classic look means you can wear them anywhere from a bar in the Caribbean to a night out on the town with a suit (if you're feeling bold).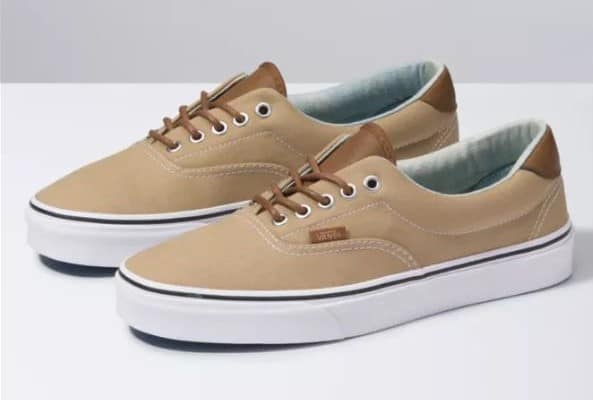 They're as comfortable and practical as any shoe you've worn but if we're being honest, these shoes are about aesthetic versatility. Pair them with a set of minimalist, activewear footwear (like the Xero Z-Trails or the New Balance Minimus Trail and you have yourself a good, onebag shoe setup for any occasion.
---
Click to explore all styles and colors of the Vans Classic Era 59's
CONVERSE CHUCK TAYLORS
The GOAT – in my humble opinion. They're not the most beautiful. They're not the most durable. They're not the most high performing. They're not necessarily perfect for travel. But they are awesome. And they are classics.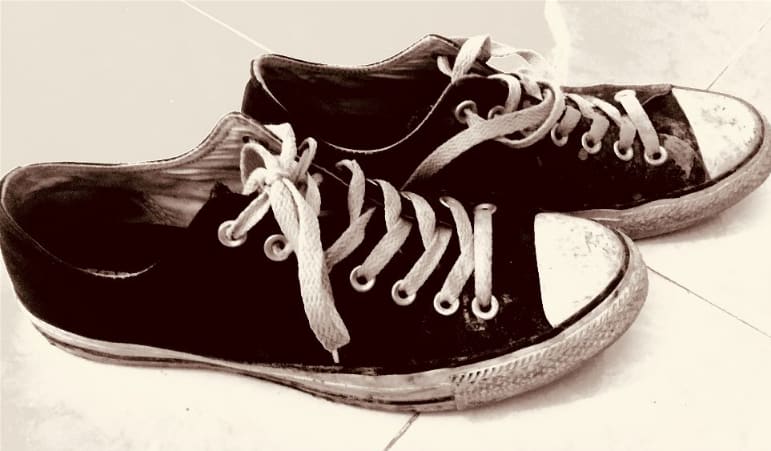 During the first portion of my initial travels through Southeast Asia, through Thailand, Laos, and Vietnam, I wore my Chucks to death. After four months I had literally walked, hike, and motorbiked the soles out of them. But I still love them, because they can do nearly anything, they can be worn with anything, and if you break them, you can replace them in any country for $40 new, or $10 for knockoffs.
Keep in mind that the traction isn't the best under wet conditions, so I don't recommend hiking too much in them, but these shoes are still fantastic classics.
If you're strapped for cash and want a single shoe that you can wear through most adventures and won't be too hard on your shoes, go classic and get the chucks. Chucks are always a good choice.
---
Click to explore all of the available styles and colors of my faves, the Converse Chuck Taylors

BEST SHOE ACCESSORIES
So now that you have (hopefully) picked the perfect you for your travels, what next?
I recommend you consider the following extras to keep your feet happy and packing easy.
Nothing enhances how well a pair of shoes perform like a pair of wool socks. The natural sweat-wicking effect keeps your feet drier even in the sweatiest conditions and the loftiness of wool (and comfort it creates) lasts miles longer than synthetic or cotton footwear.
Even more, wool is naturally antimicrobial, fighting bacteria growth and funk for longer between washes. With a good pair of wool socks, or a good wool shirt, I've been able to go days between washes when I was in a pinch and moving too quickly to do laundry while traveling.
---
Check out this list of best wool socks for hiking and travel to find a short list of my favorite wool socks that I wear and recommend.
SHOE BAG
Having a dedicated bag to put your shoes in makes it a lot easier to pack, especially if you're packing everything tightly. And you don't have to worry about getting the grime and nastiness of the ground and street on the rest of your luggage.
On the cheap end, even a large, heavy duty Ziploc bag will do – and I actually recommend always bringing a few.
Beyond this, REI stuff sacks are reasonably priced, and perfectly sized for a pair of shoes, and can be used as organizers for anything else in between.
I personally use my GORUCK Tough Compression Bag. It straps easily to the bottom of any bag with webbing on the bottom (for sleeping bags) and is so tough its outlasted all of my other stuff sacks. Works well as a shoe bag, dirty clothes bag, or impromptu grocery bag/beer holster. Highly recommended.
If your feet naturally get pretty funky, be honest with yourself (mine definitely do) and pack a small, travel-sized bottle of foot powder. Good foot powder will keep your feet dry and comfy, and prevent the nasties from growing as quickly. Additionally, on long periods without showering (red-eye flights or trekking in the backcountry) foot powder will keep you fresh longer.
I always carry a travel-sized bottle of Gold Bond foot powder or body powder as its highly effective and hasn't failed me yet. A plus of body powder over foot powder is you can use it on your armpits and other funky places to stay pseudo-fresh on extended dirt baggish travels.
As nasty as it sounds, that little bottle will extend the "fresh-scented" life of your socks and shoes by more time than you think.
An unsung hero amongst dirt bags everywhere – denture cleaner tabs are the lazy man's way of cleaning anything. I started using denture cleaner tablets to get the old smells – beer, old orange juice – out of my Nalgene bottle, and it worked like a charm.
I branched out and now clean my shoes quickly with denture cleaner tablets. Simply put them in a sink or bucket, drop a tablet into each shoe, then fill the shoes and bucket with water and wait for 30 minutes. The antibacterial properties of the tabs kill everything in your shoe that makes it smell funky, and you're quickly back to new.

OTHER GREAT TRAVEL GEAR