Finding those perfect travel pants – those pants that look good, stay clean, stay comfortable, and are durable enough to last your travels – is like chasing a unicorn and the ongoing quest of frequent travelers. In some part of our minds, we think they exist…but those mythical "perfect travel pants" are nowhere to be seen! That is…until now. In this Outlier Slim Dungarees Review, discover why these pants have been stylish enough for daily wear, functional enough for 1 year+ of backpacking, and minimalist enough to make my life easier (and better looking) every day in between.
Enter, the Outlier Slim Dungarees.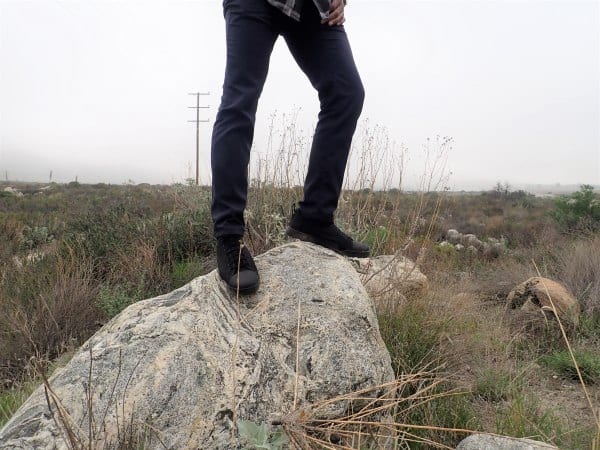 I spent a good 6 months before my trip around the world trying on countless "travel jeans" and travel pants, hoping to find that perfect pair – that pair which could be my only pants for a trip around the world. That pair of pants that I could wear hiking, during a workout, or for a swanky rooftop cocktail, and still not worry if I got caught in the rain or I couldn't find a washer for a week. Lucky for me, Outlier delivered with the Slim Dungarees.
After a year of travel, I can say that the Slim Dungarees are the best travel pants I've ever worn. Not perfect for everyone, but the closest we'll find at the moment.
Now, just because the Outlier's travel jeans were perfect for me doesn't mean that everyone will love them…but I'm certain most will. Read on to see why after a year of wear, and 3+ years of traveling and hunting for the perfect pants, these Outlier Slim Dungarees are hands down the best travel pants I've owned.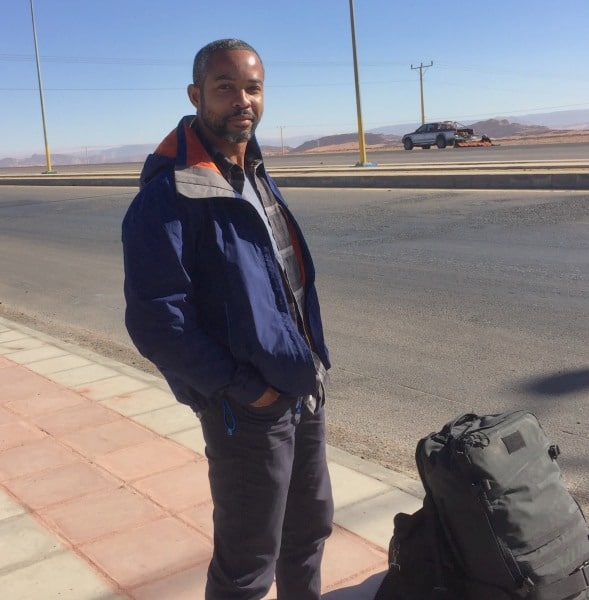 ---
Contents of this Outlier Slim Dungarees Review
Quick Outlier Slim Dungarees Review

Quick Outlier Slim Dungarees Review
Let's start with the top 7 reasons the Outlier Slim Dungarees are the best pants for travelers on the market
7 Reasons Outlier Slim Dungarees Are The Best Travel Pants on the Market
These pants stretch, move, and feel good like a pair of manly yoga pants – making them perfect for any activity
They resist grime and liquid so well you can wear them for a week+ without noticing
Water resistance and quick dry nature make rain less of an issue and "sink washing" easy on the road
They're durable enough to stand a year of travel, hiking, riding, and anything else that happened over 25 countries and varios climates
The dungarees look great with a timeless cut and adaptive stretch that makes the pants tailor to your body within 10 minutes of wear
The Slim Dungarees could easily be your only pant (paired with some great shorts) for any period of travel
The high tech Workcloth fabric is breathable enough to be your best pant hot climates and pairs well with long underwear to handle even Eastern European winters
---
The Slim Dungarees are designed to look like fashionable jeans, perform like gym gear, and stay comfortable throughout – but – did Outlier achieve its goal?
The Outlier dungarees were designed to be a fashionable, classically styled jean upgraded from archaic cotton materials. Outlier Clothing's target "jean" would not only look great but also shed grime and liquid, dry quickly, allow for maximum movement (for cycling and hiking) while staying comfortable through it all.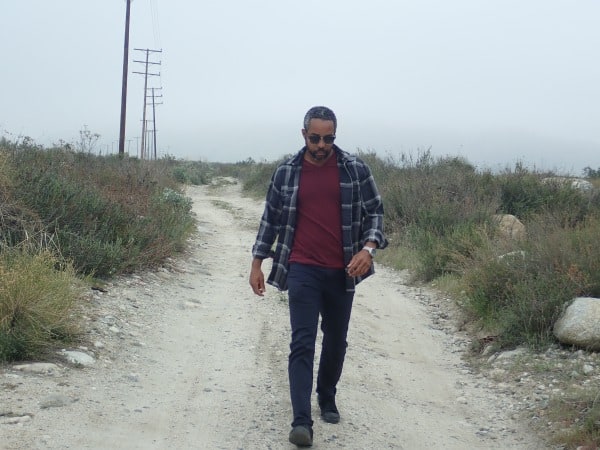 Conveniently for us, this is exactly what most travelers want in their perfect travel pants
Fashionable design and fit
Stretch for freedom of movement
Comfort through continuous wear
Durability to last (hopefully forever)
Resistance dirt and liquids
Staying fresh during extended wear between washes
After a year of travel wearing the Slim Dungarees, how did the pants deliver against these goals?
In spades. The Outlier Slim Dungarees are hands down the best pants, travel pants or otherwise, I've ever used on my adventures when compared against these goals. Let's see why…
Suitability for Travel
Outlier's travel jeans delivered in every area with a slight hiccup in durability, but, this hiccup actually pushed me to use the jeans harder (more on that later). The pants felt and looked great and performed well every step of the way.
The pants shed water in light rain, and dried quickly after heavy storms. After a week straight of wear there was no funk. The pants were comfortable enough to sleep in on couches, trains, and ferries. The dungarees were also freeing enough to do impromptu yoga and workouts in airport lounges without busting a single stitch thanks to ample two-way stretch.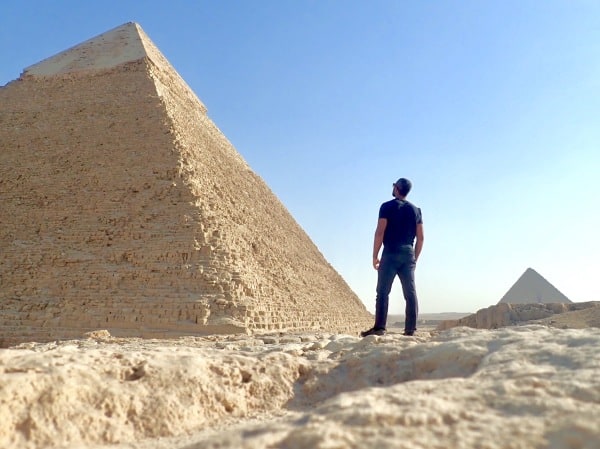 The high tech "Workcloth" fabric, made of crazy strong Cordura Nylon, allowed the pants to breathe in a way that kept me comfortable in the heat of Bali and the Philippines just as much as the winter cold of Ukraine (with long underwear, of course).
The bottom line: the Outlier Slim Dungarees perform very well in every area important for travelers.
---
Quick Pros and Cons of the Slim Dungarees
As good as these travel jeans are, no product (especially clothing products) will be perfect for everyone's needs and tastes. This rollup of pros and cons will let you know if these Outlier Dungarees are right for you
Pros: Look great in any situation, stay comfy, and hide grunge after weeks of wear
Look great, better than most travel pants
Stays clean and resists odor longer
Water and dirt resistant
Quick drying
Easy to wash in a sink or dry bag
Cons: Threads snag easily and the pants stretch (slightly) after ~day 4
Loses pristine look quickly due to thread snagging (but the pants are still very durable)
Stretches with wear requiring a belt after ~4 days of wear, but tighten up with a wash
Lack of hidden or zippered security pockets will be inconvenient for some travelers (carry a compressible daypack or a slim waistpack so this doesn't bother me much)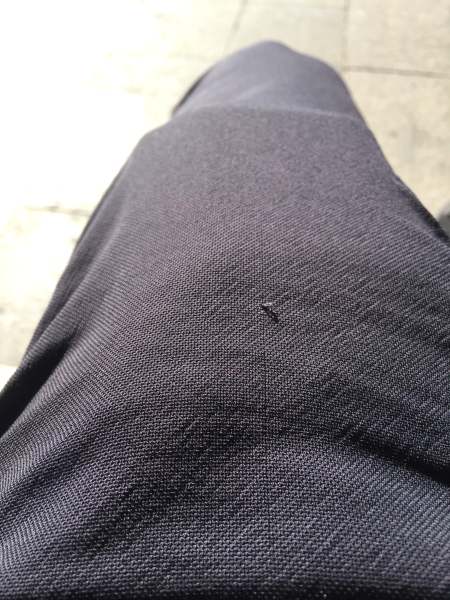 ---
Usage Timeline: 1 Year in, going strong
I've owned the Slim Dungarees for roughly a year and I've noticed how the "character" of the pants changed along the way. Though the pants aren't as pretty as they were brand new, they're still going strong and looking pretty good considering what I've put them through.
Here's the timeline of the jeans stood up to a year of travel:
Brand New: Looked great right out of the box and adapted to my body after a day of wear
1 Month: No issues. Though the style is slightly different than jeans (due to the look of the fabric) the dungarees dressed up and down easily for any occasion. Very versatile aesthetic
3 Months: Started to notice snags (read on for pictures), after which I started using the pants more adventurously and carelessly– hiking, working out. Aside from snags, the pants were still extremely versatile and durable (Traveled through Europe and Middle East, in fall and Ukraine in winter)
6 Months: Moved to hotter weather (Bali) and wore the pants in Bali heat to avoid mosquito bites. The dungarees breathed insanely well and stayed remarkable comfy in the heat. More snags. No holes, tears, or busted stitches.
12 Months: Snags and loose threads in fabric have stayed small, no holes, no stitches popped, fit remained the same. The stretch, softness, and comfort of the pants still stand out as strengths during long haul travel (Traveled through Indonesia, Philippines, Malaysia during wet season and summer)
---
Overall Rating of the Outlier Slim Dungarees: Excellent Travel Pants, if your budget can handle them
Outlier Slim Dungarees Review: The Perfect Stylish Pants for Travelers and Minimalists
Summary
An impressive pair of pants that go anywhere and do anything while staying comfortable and looking good along the way. If you're looking for a single pair of pants for your travels, you'll be hard pressed to find better than the Outlier Slim Dungarees.
Comfort: 5/5
Versatility: 5/5
Grime Resistance/Travel Readiness: 5/5
Durability: 3/5
Value: 5/5
Price: $198
Purchase the Slim Dungarees at Outlier.nyc
Or Save money by purchasing the Slim Dungarees used on Ebay or Grailed
If you're not sold on the Slim Dungarees, checkout our list of 15+ great travel pants to find a pair of travel pants for every style and budget
To hear more about how the Slim Dungarees stood up to a year of travel through 25 countries and 4 continents, keep reading…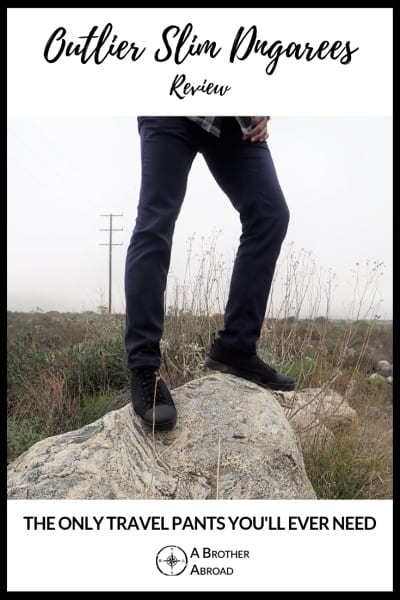 ---
A Detailed Review of the Slim Dungarees
25 Countries on 4 continents and Outlier Clothing's Slim Dungarees have proven to be the best all-around travel pants I've ever worn. Here's why….
I've traveled by plane, boat, and train, with a single carry on backpack very adventurously for the past year. At my fastest, I traveled through 5 countries in 6 days in the Balkans, sleeping in the Outlier Slim Dungarees during overnight travel for most of that. I've traveled through Ukraine in the winter, Bali and the Philippines in their summer, and plenty of climates and places in between.
Traveling with only a carryon sized backpack has made travel life easier, getting into and out of airports quickly and saving hundreds of dollars on bag fees. The problem with traveling with only a carry on is that there's only space for one or two pairs of pants. Those pants need to be suitable for as many activities as possible, be comfortable, and look good enough to meet your personal standard for looking good for the entire trip – an entire year.
After those 12 months and 25 countries of travel, through hot and cold, through hiking, sweating, rainstorms, working out, and sleeping in the Slim Dungarees, these pants performed better than any travel pants I've owned.
Plus, with all of that capability, comfort, and 12 months of wear, I still get compliments on how classy they look.
That is why the Outlier Dungarees are the most badass travel pants on the market
So what makes these pants, or any pants, great for travel?
Read on for a detailed review of why Outlier Clothing's Slim Dungarees are still the perfect travel pants (for me) after a year of travel…
|Performance & Travel Function| |Fashion & Fit | |Comfort| |Durability| |Technical Features|
---
|Overall Performance & Travel Function|
5/5
The Outlier Dungarees Perform well in every area important to travelers adding up to a pair of pants that can be work for weeks, through a variety climates and activities, and still look & smell better than you (or at least me)…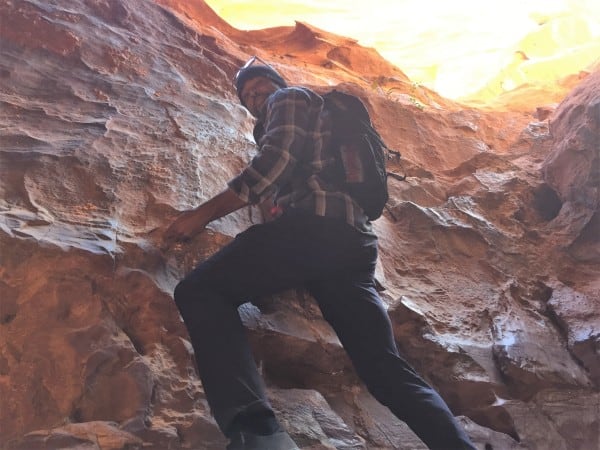 Comfortable weight and comfy to touch: A soft inner lining balances with the durable outer canvas of the Workcloth fabric. The material and pants feel remarkably light (~2/3 the weight of raw denim) making these pants as easy to wear as track pants
Two-way stretchy fabric gives unmatched freedom of movement: Yoga sessions and Crossfit workouts were handled with zero issues
Resists dirt, spills, and stains: The "Nanosphere" treatment on the fabric makes the pants "self cleaning" and resistant to dirt, coffee, wine, rain, and everything else you might spill. I've spilled tons on these pants, and it always beads up and rolls off instantly
Warm & Breathable: These pants managed to stay comfy in the heat of Bali and summer in Greece, while staying warm enough to wear in Ukraine just before winter…with long underwear, of course. Being able to wear the dungarees in the heat comes in handy in mosquito ridden Southeast Asia where pants are the easiest solution to mosquito bites. Honestly, in the Southeast Asia humidity, I'd rather be naked…but these pants felt much better than my trusty Levis.
Quick Drying: Whether it was a rainstorm or washing the pants in the sink, the dungarees always dried within a few hours to half a day tops, and less than an hour in direct sunlight
Easy to Clean: A little shampoo in a sink or dry bag to wash and these pants washed easily in a few minutes – which isn't the case with cotton jeans
Look Very Good: I can't tell you how often I get complimented on these pants and the shock I get when I "nerd out" and tell people what these pants are capable of
Durable materials and construction: The one weakness of these pants are how easily they snag (read on for details on snagging). Aside from that, the dungarees are pretty durable. Not a single hole, tear, or popped stitch after a year of hard and heavy wear.
All of these traits add up to a "travel pant" that doubles as the perfect "nice jeans" for city life…between your adventures
---
|Fashion & Fit |
5/5
A timeless cut and adaptive fit combined with unique colors makes for a travel pant that can be your only pair of pants, even for a year around the world
While Outlier stepped up the travel clothing game by using futuristically advanced, synthetic technical fabric over ordinary cotton, they made a great move by going with timeless styling and fit.
The 5 pocket "jeans" design is a well tested aesthetic touch and has been around for over a century. On the same note, the adaptive "slim fit" is stylish enough to have fit into the 60's and 70's just as much as today.
This timeless design and fit makes the Outlier Dungarees an investment and versatile piece of your wardrobe that dresses up (with a blazer) as well as it dresses down (with flip-flops). Just like white t-shirts and Chuck Taylors, you'll still be able to wear these jeans 5 to 10 years from now.
Naturally adaptive stretch
The awesomely technical fabric in these jeans, Outliers "Workcloth" has a unique two way stretch that not only frees up your movement, but allows the Slim Dungarees to naturally tailor themselves your body.
Just after washing, when you put the dungarees on they'll naturally fit more "skinny" than slim. Give it 10 minutes of wear and everything from the waist will stretch just enough that it stays comfortably in place without being restrictive, giving the pants a tailored look. Its kind of awesome, and just interesting to experience as it is to read…in a year after wearing.
From then on, the pants' two way stretch will handle any movement (or lack of movement) you can throw at them. I routinely go through stretching, mobility, and yoga routines when I'm in airports on long layovers while wearing the Slim Dungarees and they've never had an issue.
The Slim Dungarees color options are bold but smart
The Outlier color options are just as experimental as the idea and fabrics of the pants. Translate this as – don't expect to get something that looks exactly like denim or the colors you're used to.
Expect the colors to differ in the sunlight vs. inside much more than with "ordinary" cotton denim. My advice on color is to roll with it. Outlier has done great with these (and several other) pants, and you'll be surprised how GQ even the oddest colors look in real life when you give in. I went for the Indigo and shades of grey across the Slim Dungarees, Strong Dungarees, Futureworks, and New Way Shorts. None of them were what I expected…but now I'm a big fan of all of them.
If these are going to be your only pants for an extended period, I do suggest going for the minimalist colors – blues, greys, and black, leaning towards darker instead of lighter. These colors will allow you to wear the pants more often (without being noticed) combined with a wider array of tops and shoes.
So, on color, manage your expectations and roll with it…and take advantage of the 45 day return policy if you don't get what you expect.
---
|Comfort|
5/5
Lightweight fabric with a soft inner lining and tons of stretch make these pants extremely comfortable regardless of what you're doing…or not doing
A "manly pair of yoga pants" with stretch and soft inner fabric that make them as comfortable as pajamas and as functional as track pants – that's the best way to describe the comfort of the dungarees.
The two way stretch allows full movement (I stretch all of the time in these pants) without being restrictive.
The Cordura Nylon Workcloth has a soft, fleece like inner lining that feels comfortable on the skin for those "going commando" days…and every other day too.
Despite being full featured and very technical, the nylon fabric is still extremely light – literally just as light a pair of pajama pants. The only thing that really will prevent you from wearing these to sleep is that you'll feel like you're not doing the pants justice by just sleeping in them, instead of adventuring around the world and climbing mountains.
You'll really understand the comfort of these pants when you wear them for a week and then try to wear jeans again. I picked these up a year ago, along with the Outlier Futureworks and the Outlier Strong Dungarees. They replaced my Levis commuter jeans that I was a true fan of and had worn out to cottony softness – but after a week of wearing the Slim Dungarees, even my Levis softened from years of wear felt restrictive and uncomfortable.
You'll be hard pressed to find a more comfortable pair of pants that aren't pajama pants or track pants.
---
|Durability|
3/5
The Outlier Slim Dungarees' one weakness is durability. These pants will absolutely last through the worst, but you'll lose that pristine "new" look within the first few months of wear
I almost lost faith in month three of wearing the dungarees, as the seemingly delicate nylon snagged quite often, leaving tiny loops of fabric exposed. Given the price tag for these pants (~$190), I expected more than that. Lucky for me, I was traveling and had no choice but to continue wearing the dungarees.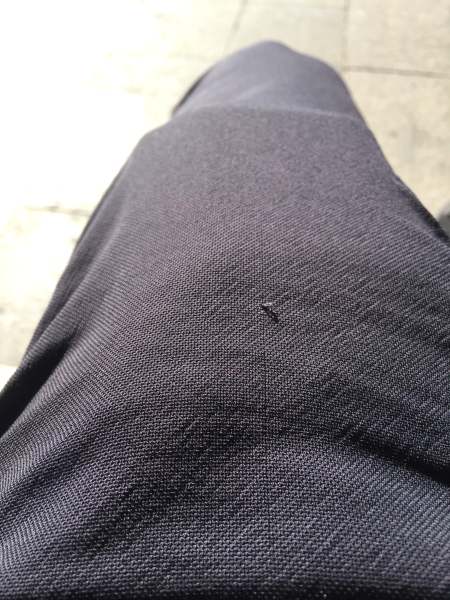 After a quick snip of the loose thread with small scissors or nail clippers, the snag was nearly nonexistent.
The fabric itself remained strong, with no holes or tears (beyond the loose, snagged threads). Despite stretching, working out, hiking, running, riding, and plenty of other strenuous activity in these pants, there was no other damage. There were no popped stitches at the seams.
One other issue I experienced was a popped rivet, on the front right pocket. From other reviews I've read, this is uncommon and a one off experience. Unfortunately, I was outside of the US so I had to do a quick, down, and dirty stitch job to repair the pocket. Note that if this was in the US, Outlier would have gladly accepted the pants, repaired the rivet, and sent them back out to me (I contacted them to check).
(Peeps at Outlier, if you read this and want to replaced my Slim Dungarees with a popped pocket rivet, that would be amaaaaazing. Just sayin'…)
As much as I love these pants, the question of durability is the pants' only downfall. Given that Outlier is a fairly young clothing company that is already churning out great products, I'll given them a pass on the busted rivet in hopes that they'll work towards a more consistently durable product in the future.
For you, if you're traveling the world (like I am) and won't be able to ship them back, decide whether the risk is worth it for the price tag, then wear the pants nice and hard before leaving – just to test them and send back if necessary.
---
|Technical Features|
5/5
Super technical fabrics and durable hardware, patched together to create a high tech, durable, high performing pair of pants
The Slim Dungarees are a meticulously designed pant that is much more "high tech" than most threads you'll find. The main technical features that stand out are the "self cleaning", water repellent fabric, and the bombproof hardware s
Outlier's Tough yet highly technical "Outlier Workcloth" Fabric
This fabric is made of tough Cordura nylon threads woven such that the outer side of the fabric is a durable canvas and the inner fabric is soft with a fleece like feel. This contrast makes these pants amazingly comfortable – so comfortable I could sleep in them easily – yet remarkably strong and durable.
The two way stretch is pretty stretchy. Stretchy enough that the pants will handle most workouts and stretching/mobility/yoga sessions without tearing or busting a stitch
"Nanosphere" dirt and liquid resistant fabric coating mimics the lotus leaf
In light rain, I've noticed the pants shed water very well. In heavy rain, the pants do get wet (after about 10 minutes in the rain) but it only takes 15-30 minutes of wearing the pants (inside at room temperature) to dry.
This treatment additionally makes the pants resistant to dirt, oils, and funk causing germs. These odor and liquid resistant features are why I was able to wear these pants for a couple weeks without feeling disgusting.
I've noticed (as have other reviewers) that water resistance does drop off the longer you wear the pants between washes, but they still dry quickly.
Slim Dungarees Tech Specs
Made with Workcloth Doubleweave Canvas: 82% Nylon, 16% Polyester, 2% Elastane
Fabric weight is 10oz per meter, compared to ~14oz. for raw denim
Swiss fabric
Reinforced crotch, for increased durability
High fabric breathability, to wick and shed moisture
Two way stretch allows great freedom of movement
Certified "Bluesign" sustainably produced
Manufactured in Portugal
Outlier Clothing Warranty and Return Policy
Outlier Clothing products purchased on Outlier's site can be returned within 45 days of purchase for any reason, and they'll pay for return shipping.
---
|Value|
5/5
At $190 the Slim Dungarees are steep and twice the price of other jeans…but they're the only ones you'll need, saving you money and packing space
Read reviews and comments across the net about Outlier Clothing and most complaints revolve around the same thing…price.
At $190, these pants are a steep investment. About the price of a round trip flight from Los Angeles to Colombia or Costa Rica. So…are these pants worth the price?
If you can scrounge up the cash without compromising your travels, then absolutely.
These pants cost twice as much as others, but with the Slim Dungarees you won't need any other pants. During my travels over the last year, everything I own has fit into a single carryon sized backpack. Because I only fly with a carry on, the baggage fees alone that I have saved have paid for these pants and a few other items I purchased to help fit everything into a carryon.
Note: I highly recommend checking my Carryon Only Packing List to make sure you're not taking unnecessary gear and weight on your "freeing travels around the world"
These pants essentially do the job of every other pair of pants in your closet, in addition to being awesome jeans, which makes my backpack smaller and life easier on the road. For that reason, these pants are a solid value. Twice the price of other pants, with more than twice the value delivered as other pants.
---
The Cons to Beware of – Snags & Excessive Stretch
The Slim Dungarees are a fantastic product, but not perfect for everyone, mainly due to how they easily snag, and how they tend to stretch after ~day 4 of wear.
Snags mean they won't be as pretty in month 3, but they'll still perform
As mentioned above, the highly technical nylon fabric is impressive – but just like Superman, it has a single weakness. The fabric snags quite easily (as Outlier admits on their website). If you have a cat, keep it away from these pants. If you brush against bushes or trees, plan on these pants snagging. The result is that the clean, "dress pant" aesthetic will be ruined by these tiny loops of thread showing. The upside is, you won't care about the aesthetic anymore and will be able to truly use them how Levi Strauss intended jeans to be used…for everything.
At month three, when the snags started popping up in the fabric, I unofficially discounted them as destroyed and started using them for everything, from dirty nights out, to hard workouts and hikes through the woods. During this apathetic test period was when I found out how awesome these pants actually are. They took it all in stride. No holes. No tears. No busted stitches or seams. Just a few snags.
Around this time I remembered…that's how normal jeans are anyways. The look of normal jeans degrades over time, giving them character, with holes and loose threads, but they still do their job. The Slim Dungarees are the same way. Don't plan on them to look pristine for more than a few months, but plan to adventure far in them.
The great two-way, adaptive stretch means you'll need a belt after day 4 of wear
Outlier's flagship travel jean has the awesome trait of a built in stretch that lets the pants adapt to the shape of your body, giving them a tailored, slim look on everyone who wears them. After about 10 minutes of wear (after washing) the fit is perfect, and stays perfect for about 4 days. After day 4 (from my experience) the fabric stretches a little more making the fit just slightly larger than tailored and causing them to sag a bit.
This isn't the end of the world, I just plan on wearing a belt if I'm doing anything active in the jeans after day 4.
---
The Outlier Slim Dungarees Rating for travel: Great in Comfort, Versatility of Wear, Resisting Grime, and Durability
Comfort: 5/5
You'll be hard pressed to find a more comfortable pair of pants that aren't track pants or pajamas. These are essentially men's yoga pants disguised as a club ready jean
Versatility: 5/5
Fashionable enough to get into anywhere that doesn't require a suit. Stretchy enough to workout, do yoga, hike, or run from ostriches. Functional enough to be worn as the only pair of pants for a year. The versatility of these pants is hard to beat.
Grime Resistance/Travel Readiness: 5/5
You can easily wear these for a weak of active travel, riding, walking, wandering, partying, and they'll look and smell just about the same as they did on day one. I've pushed the limit to wearing the pants for nearly daily for three weeks with no issues…just to test them. They'll wash easily in the sink in 5 minutes and dry in a few hours once the funk becomes too much. Bottom line: perfect for travel and "dirt baggery"
Durability: 3/5
The one weakness of these pants. Don't expect them to fall apart but do expect the aesthetic and look to quickly look less than brand new but count on the fabric and stitching to stand up to the worst of it.
---
The Bottom Line: The Outlier Slim Dungarees are the best travel pants on the market for looking good and staying active on your adventures
As long as your pocket can handle the hefty pricetag, and you go in knowing that the pants will snag occasionally around month three (if you're hiking or carrying logs) then you have a badass pair of pants on your hands.
For travelers aiming for a single pair of pants to keep their load light, I highly recommend the Outlier Slim Dungarees
Where to buy the Outlier Slim Dungarees, for cheap
Of course the Slim Dungarees are available at Outlier.nyc, but if dropping $190 sounds like a hard stretch, don't afraid to buy a gently used pair online.
Ebay, Grailed, and several other great options can hook you up with a new looking pair of dungarees at less than half the price. These are your best options for picking up cheap Slim Dungarees
If you're sold on the Slim Dungarees, get the most out of them by pairing with an equally versatile short, and neutral travel shoes for the perfect travel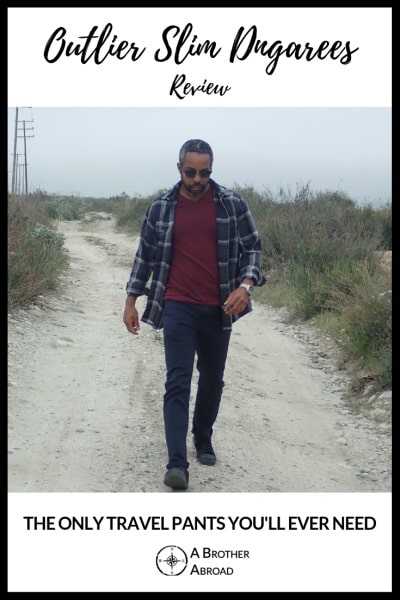 If you're not sold on the Outlier Slim Dungarees, what travel pants should you consider?
Outlier Futureworks: More durable (no snagging) than the Slim Dungarees, but less stretch make these pants more limiting.
Prana Brion: Just as functional and much cheaper, but lack the refined style of the Slim Dungarees
H&M Track Pants: If you don't plan on going to any swanky bars or clubs, these pants are comfy, functional, and cheap
Checkout our list of 15+ travel pants for every style and budget for more ideas on great travel pants options

An Update From One Year Traveling with the Outlier Slim Dungarees
The longer I traveled with the Slim Dungarees, the more these pants proved to be the ultimate travel pants and one bagging pants. Whether you're aiming to pass through 100 countries while carrying a single carry on bag, or just looking for a go-to pair of pants in daily life, the Outlier Slim Dungarees are worth the investment and live up to (actually exceeding) their reputation.
During brief periods back home in the US from my two years of travel, I still find myself wearing these Outlier pants 5 days a week, even with an entire neglected wardrobe waiting. These pants are just that good. That perfect.
For travelers, pairing these with a great pair of good looking, active lifestyle friendly, and quick-drying shorts (I recommend these, my 5 favorite shorts for travel) and a good pair of travel-friendly shoes or boots and a few good travel shirts and you'll be ready to go.
For non-travelers aiming for a more minimalist lifestyle while still looking good – most people wear the same comfy jeans every time they have the opportunity. Owning the Outlier Slim Dungarees just helps you look better and feel (and smell) cleaner while doing the same, replacing your go to pair of pants.
Bottom Line: Two years of travel behind me, and I still highly recommend the Outlier Slim Dungarees

What now?
For starters, pickup the slim dungarees at Outlier.
Next, check out our other great content delivering great, stylish, and functional clothing gear for a light traveler and generally minimalist lifestyle – while staying fashionable and comfortable every step of the way.
---