For people that travel light, and adventurously on occasion, and minimalists that love the outdoors, finding footwear that performs well on trails without being too bulky and taking up valuable packing space has been a nearly impossible problem…until now. — This is a Lems Boulder Boot review for lightweight travelers and minimalists.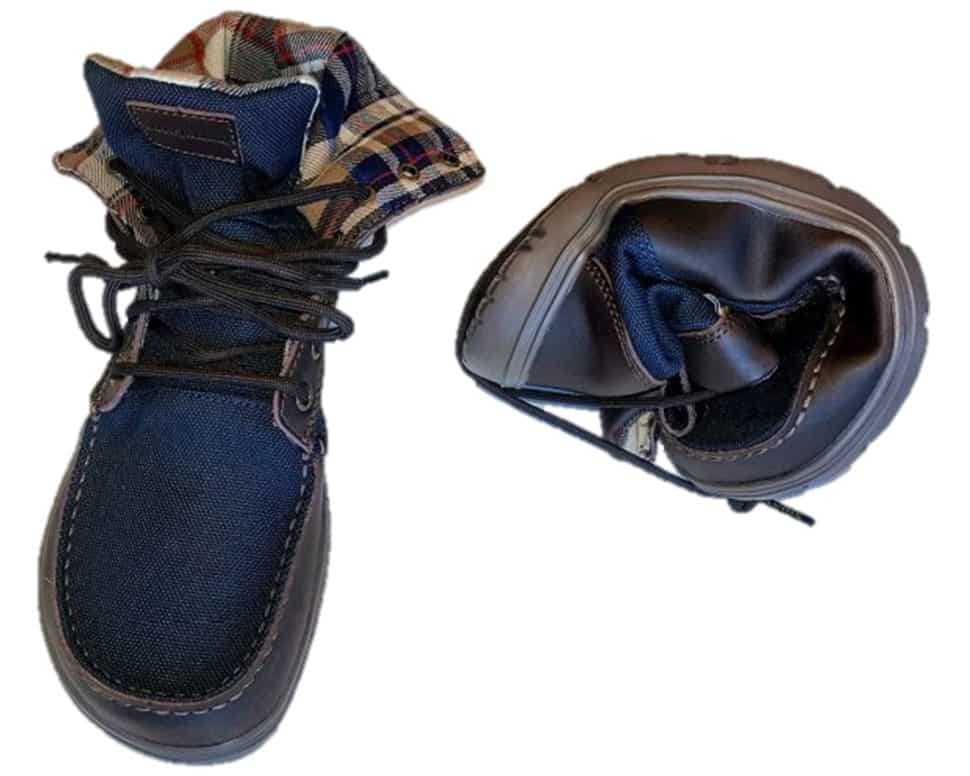 I've been traveling the world for 2+ years with only a carry on backpack and been everywhere from the remote trails of the Himalayas to the swanky jazz clubs of Lison, Portugal. Every piece of gear I carry needs to perform well, be comfortable, and be suitable for the variety of situations between trails and time out on the town. The Lems Boulder Boot fits the bill as a pair of packable boots, ready for travel, comfortable enough for daily wear and hiking, and still looks good to be your shoes for traveling Europe and going out at night.
Read on for my experience, a Lems Boulder Boots review, and to understand why these boots are the perfect set of kicks for adventurous travelers who want to stay light and look good.
Note: Affiliate links are included in this article to pay for the cost of writing, at no cost to you

Contents of this Lems Boulder Boot Review:

---
Why is the Boulder Boot so awesome? (According to Lems)
Packable – Compress down to the size of a jacket so they take up minimal packing space
Minimalist – Lightweight on the feet, allows freedom of movement and foot feel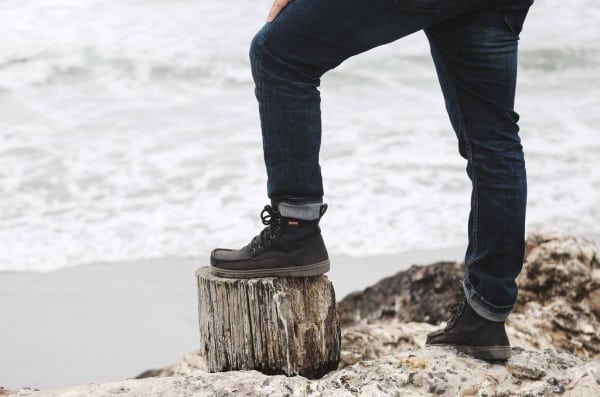 My Experience:
---
Why I like the Boulder Boot
Stylish – Timeless look is great with a pair of jeans, so you can easily go from trail to town
Comfy – …yet minimalist through walking, hiking, cycling and everything else
Great for travel – Pack down extremely small while being ready for a variety of situations & adventures
In short, these boots are very comfy, pack down small, and actually look good enough to wear in most circumstances.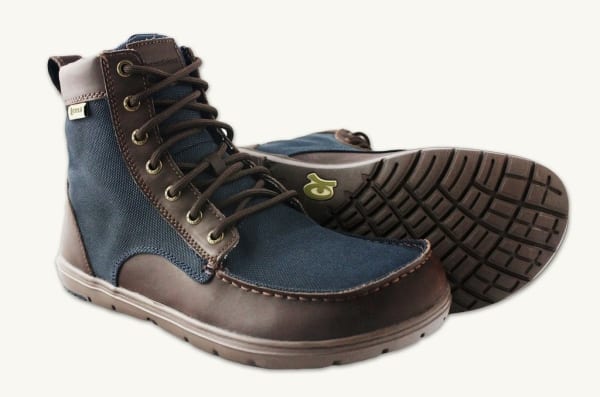 From hiking to cycling, to extended walking, they feel great right out of the box – just let your feet adjust to the "minimalist style" of the footwear before multi-day hikes with heavy weight.
The shoes are not only light (~10oz.) they pack down small enough to fit in a water bottle pocket, making them great for carry on only travel
After the travels and adventures, they still look great with a pair of jeans and fit in well at a coffee shop or happy hour, unlike many other hiking boots.
---
What I don't like about the Boulder Boot
The only thing 2 things I'm not completely convinced of on the Lems Boulder Boot are:
Cotton Lining – could potentially trap moisture and get uncomfortable when hiking
Thread strength/stitching durability – one stitch on the shoe popped, but the customer service was great and reassured me of the quality of the oot (and company) and I repaired the stitch with a needle and thread in less than 5 minutes with no issue from then on out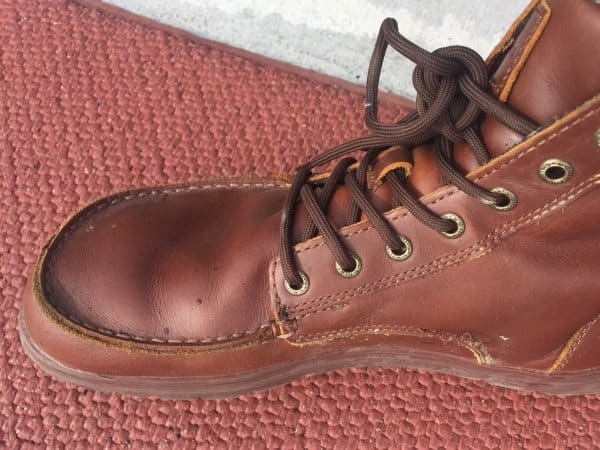 Strengths | Weaknesses
Pros
Packable
Lightweight
Travel Ready
Allow your feet to move freely, building strength, flexibility, and health in the lower leg
Great customer support from Lems + a 1-year warranty
Cons
Cotton lining can trap moisture
Thread durability and overall durability (remains to be seen)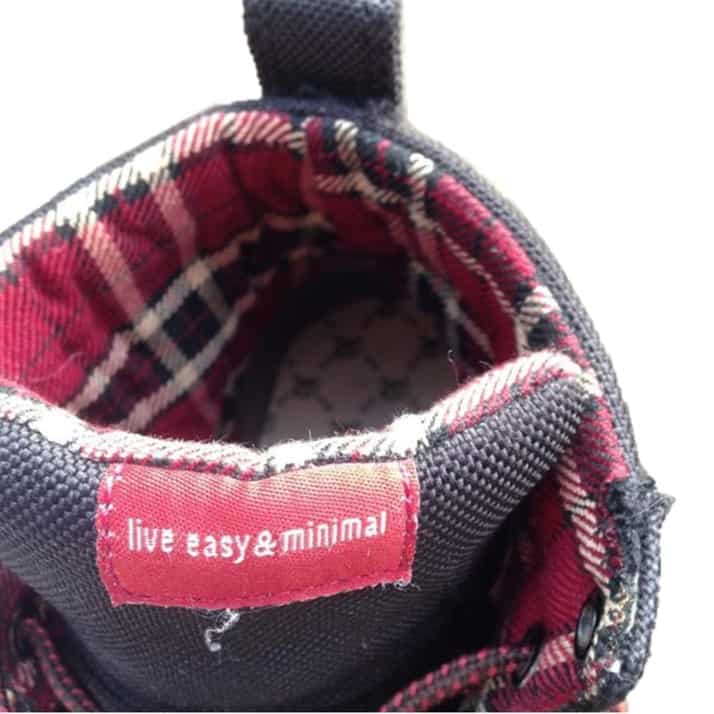 Specs (Price, Weight, Materials, etc.)
Price: $125 at Lems online
Weight: ~10oz.
Outer Materials: Leather and/or 1200 denier nylon
Inner Lining: Cotton and Nylon
Sole: 9mm injection molded rubber with zero heel drop

Verdict
[wp-review id="6133″]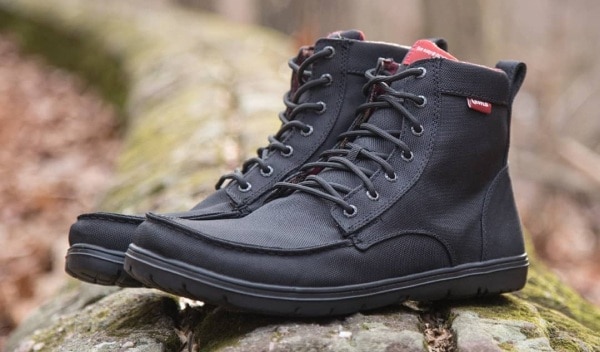 Full Review of the Lems Boulder Boot
---
Why is the Boulder Boot so awesome? (According to Lems)
What's so great about the Lems Boulder Boot? They're…
Packable
Minimalist allowing feet to move freely
Stylish
In short (according to Lems), they look good and keep you light while letting you adventure. Let's dig into each of those claims a little more.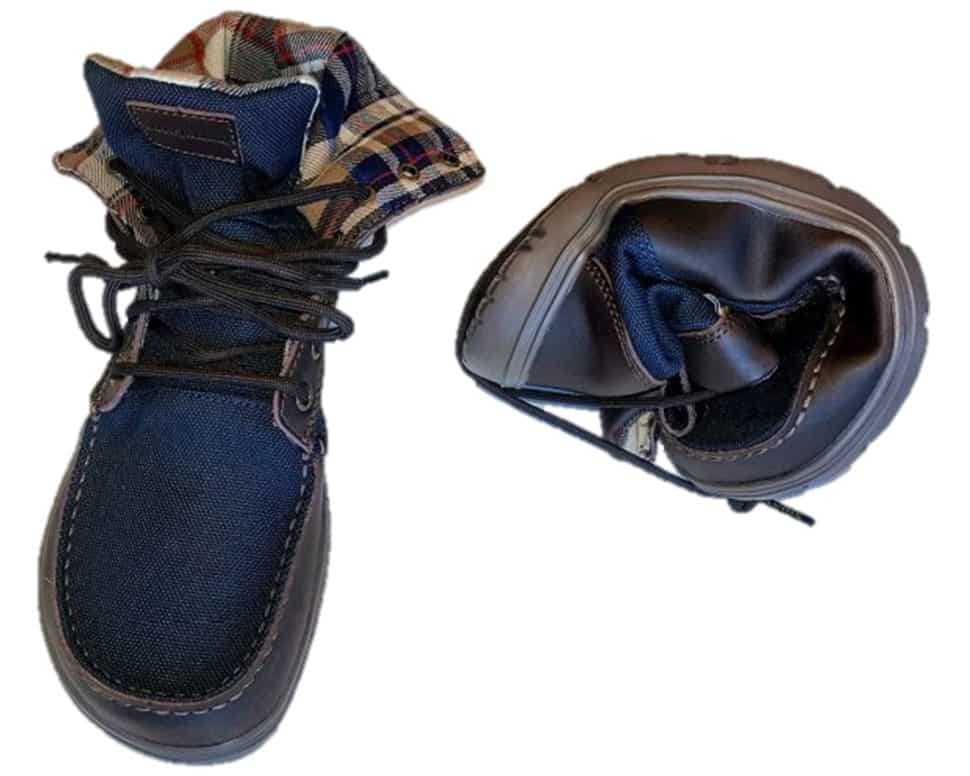 ---
The Lems Boulder Boots pack down small enough to fit in your bag easily and are lightweight
The soft (yet durable) materials and flexible sole compress down to the size of a rolled up jacket, allowing them to fit anywhere in your bag without taking up your valuable space. At 9.9oz on average, they won't eat into that precious weight allowance for carry on bags on budget airlines.
---
The Boulder Boot is designed to let your foot move naturally, offering protection, but leaving your foot "free" to move
Though these shoes are great for travel, they were designed to be a minimalist boot – meaning, they protect your foot without being bulky and allowing your foot to flex, move, and support your body naturally – compared to normal boots and shoes that paralyze your feet like a cast. The result, with Lems Boulder Boot, is an experience that allows your foot to flex, move, and support your body naturally, aiming for healthy knees, ankles, feet, and back, as your body "reawakens" during hikes, treks, and time outside.
The Lems team spent days, weeks, and months, running around barefoot and testing soles and shoe designs to ensure these shoes protect your feet while letting them move freely, and staying lightweight and travel ready along the way
---
The Boulder Boots still look good – with durable canvas, soft leather, and a unique yet stylish aesthetic – where most "minimalist" and "travel gear" is generally ugly.
The biggest pain with much of the "minimalist" and "travel ready" apparel out there is…it's straight up ugly most of the times. When you're traveling light, you usually have one pair of shoes and sandals or two pairs of shoes maximum. If those shoes are ugly as sin, they may feel great but they're not as much fun on a night out. With the Boulder Boots, as long as you don't mind the boxy toe style, its hard not to like these boots. They go well with a pair of jeans, chinos, or whatever else you've got and look good in a range of situations.

My Experience & Why I like the Boulder Boot
In short, these boots are very comfy, pack down small, and actually look good enough to wear in most circumstances.
---
Initial Thoughts
Right out of the box these shoes were comfy. The soft leather and flexible soles moved with my foot in every step while still being comfortable on concrete and lightly rocky trails.
---
Comfort
The soft lining combined with the thin and flexible yet soft and supportive sole combine to make a boot that lightly hugs your feet and feels good. The roomy toe box allowed my feet to move naturally (like they were barefoot) but the well-designed heel cup and lacing system held my foot in place to avoid sliding and potential hotspots on long hikes.
---
Travel
As funny as the photos look, these boots do pack down extremely small – small enough to compress and stick in my water bottle pocket. When I flew with these I wore them, just because they're comfortable, with loose laces, but they would have fit reasonably into my carry on if I decided to wear sandals.
---
Style
Ok, let's be honest, the boxy toe style isn't immediately for everyone – simply because we're used to seeing round toes on shoes. If you don't care about that (or once you get over it) they're damn nice boots. Mine came in russet leather, a little lighter than chocolate, and I loved the aesthetic. I'm a t-shirt and jeans kind of guy, normally wearing Chuck Taylors or Altama Maritime Shoes, and these slid easily into my wardrobe allowing me to go for a long afternoon hike around Big Bear or Malibu without changing shoes. Afterward, I could dust them off quickly and hit a happy hour in LA with ease.
The flannel patterned lining is a nice, stylish touch. When I'm camping, after a long day's hike and while sitting around the fire, I usually wear my boots "baggy style" very loosely laced, taking the pressure off my feet and allowing them to breathe. This flannel lining shows off perfectly when I wear these that way (lazily, more often than I should), and the boots are light enough and hug my feet lightly enough that I can wear the boots like that, loosely, normally.
Compared to my Lowa Renegade hiking boots the Lems Boulder Boots allow me to hike the same places while easily transitioning to coffee shops and nightlife without sticking out – that's exactly what travelers want and need in a pair of footwear.
---
Hiking
From walking around southern California to hiking 5 to 10 miles in the LA hills and Big bear, I liked the Lems Boulder Boots. They manage to remain soft and comfortable with each step, without feeling the rocks too much but still allowed my feet to flex and move while barefoot. Personally, I would feel comfortable wearing these boots with a light backpack (10lbs to 25lbs) for a multi-day trek, but I've been wearing minimalist footwear (New Balance Minimus, Vibram Five Fingers, etc.) for over 5 years.
For someone new to minimalist footwear, the Lems Boulder Boots are a great transition, as they'll let your feet "wakeup" just like if you were walking through the grass in a park barefoot. For hiking and trekking, however, I would recommend easing in with day hikes and avoiding backpacks with heavy weight. The Lems Boulder Boot strategically provides less cushioning and ankle support, encouraging your foot and lower leg muscles to work more – which is a good thing.
The problem arises if you walk too far (multi-day trekking) or carry too much weight. In these situations, your feet and lower legs will tire before the end of your hike, putting extra stress on bones and tendons, and potentially leading to injury. The easy way get around this for new minimalist footwear wearers – start off with day hikes, or shorter multi-day hikes and give your feet a chance to "wake up", building the right muscles and regaining the foot & lower leg flexibility necessary for healthy barefoot and minimalist trekking in the long term.
The Takeaway on Hiking with the Lems Boulder Boots: If you're used to "minimalist footwear" proceed as normal. If you're new to minimalist footwear, use these as a normal shoe, but ease slowly into multi-day hikes, and hiking with weight.
---
Daily Wear
These boots are comfortable generally and look good. During a good chunk of my wear time I was cycling around Los Angeles, in Santa Monica and Venice beach, between coffee shops, the beach, happy hours and everywhere in between. I wore the boots continuously and they fit well, from hiking in Malibu, to wearing on a quick workout on muscle beach, to an afternoon coffee and work at a swanky coffee shop on Abbot Kinney Blvd and a happy hour a few stores over. In every situation, the boots wore well, looked good, and fit, allowing me to go from sunup to sundown switching from active to casual and swanky without a shoe change.
For the same reason these boots are great for travel, they were great for daily wear.

Durability and Construction:
The leather uppers, welt, and lacing all held up well and seemed like great quality but unfortunately I did have a few stitches pop dring my first few months of wear. Fortunately, Lems customer service was extremely responsive and offered to replace or refund the cost of the shoes within a day. I find that kind of action reassuring of the possibility that these are actually great shoes, and I experience a one off manufacturing defect.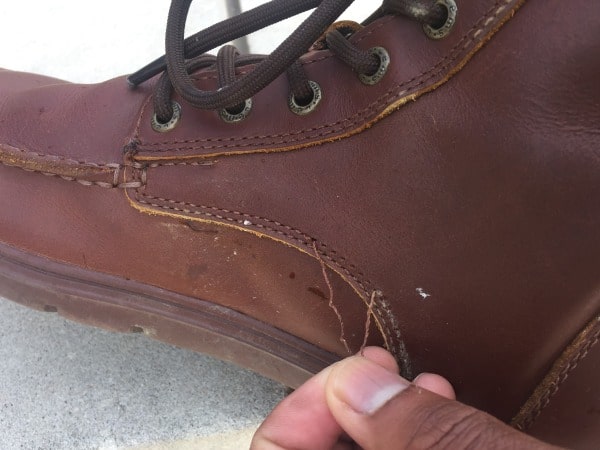 I decided not to toss the boots (not wanting to waste), easily replaced the stitching in 5 minutes, at home, with a needle and high tensile strength nylon thread and wore them like hell after that. Repair was easy as the holes (in the leather) were already punched and the leather is great quality – soft and supple yet durable. I had no more issues with the boot's durablility after that. Read on for more about that experience.

What I didn't like about the Boulder Boot
The only thing 2 things I'm not completely convinced of on the Lems Boulder boot are:
Cotton Lining
Thread strength/stitching durability
---
Cotton Lining
The flannel patterned lining on the Boulder Boots is admittedly comfortable and looks good. The only problem is that its cotton.
Cotton and feet don't generally go together well when hiking is concerned, mostly because cotton traps moisture, unlike polyester and wool which wick cotton away to dry. The problem arises if you're not wearing socks and your feet sweat too much. Generally, with cotton socks, once moisture is trapped in the sock it doesn't dry while being worn and has a "cheese grater" effect on your feet, keeping them damp which isn't good in the long term.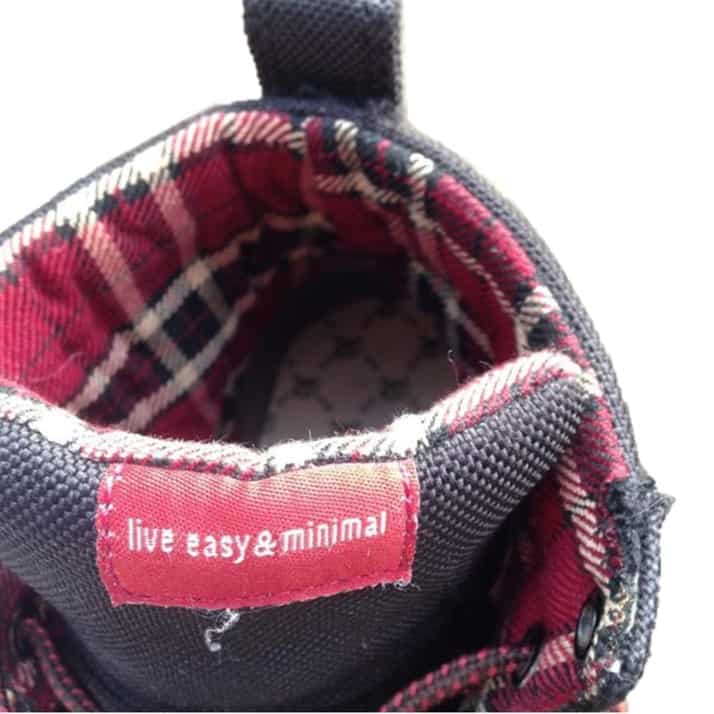 However, I didn't experience this on any of the handfuls of hikes I went on with the Boulder Boots. I paired them with Midweight Wool socks from REI like I always wear, and the boots felt great over 5 to 10 miles. No damp feet. No blisters. No hotspots.
I would love to see a different material in the lining that doesn't trap moisture, but as is, the boots still feel great. I would avoid getting caught in rainstorms though
---
Thread strength/stitching durability
The only issue I had was a popped stitch in the boots, which makes me question their durability in the long term. It happened within the first month of normal wear.
The redeeming feature was Lems' customer service. I sent them a picture and described the issue and within the day they offered to replace the boots or refund me for them. My choice. Any company that responds that generously and quickly makes gear they can stand behind – so I'll discount this as a rare manufacturing defect. All of the other elements of the build – the quality of the leather, heel welt, lining – stood up well to a couple of months of heavy wear and hiking.
I still have the Boulder Boots (I re-stitched the few popped stitches with a high tensile nylon thread) and look forward to wearing them for years to come. So, if you grab a pair, inspect them, and wear them hard during the first year (Lems warranty period).

Who are the Boulder Boots for?
Outdoors Travelers
Lightweight Travelers
Outdoorsy minimalists
If you like to get outside, hike, and trek, and you need a lightweight shoe, for packing convenience or to keep your feet feeling "free" the Boulder Boot is a great option.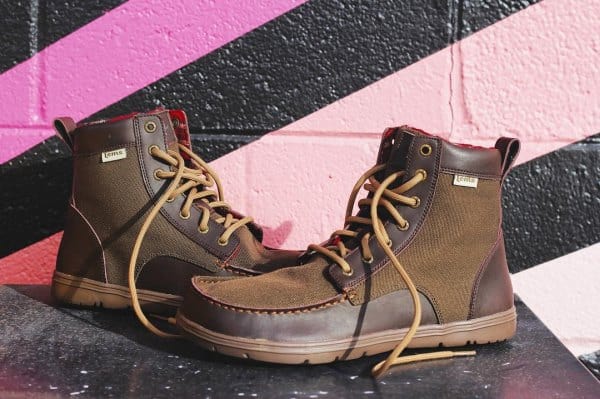 Keep in mind that as your hikes get longer, the more your feet and lower legs should be conditioned for barefoot/minimalist running and hiking.

Who are the Boulder Boots not for?
Trekkers with heavy bags
"Cushy shoe" lovers
If you're climbing Everest or going on a long, multi-day trek with a heavy pack, opt for traditional hiking boots, sturdily built with solid soles and support.
As great as the Lems Boulder Boot is, their function is limited by the strength of your feet. Until your feet and lower legs are strong enough and flexible enough to trek with weight barefoot, plan on using traditional hiking boots.
Also, if you prefer bulky, cushy footwear, avoid the Lems Boulder Boot altogether. These are absolutely minimalist boots.

Tips for Travelers and Pairing the Boulder Boots
Pair these with the Xero Trails for the perfect minimalist footwear set up, that'll allow you to run, hike, and travel anywhere while taking up very little space in your backpack.
Also, consider the Vivobarefoot Gobi II or Ra II for a minimalist shoe perfectly designed for looking classy, or any of these other great travel shoes for men
If you're a frequent traveler, check out the Outlier Clothing Slim Dungarees that is a near perfect travel pant that pairs well with the Lems Boulder Boot. If that doesn't fit your style, check out the rest of our list of Men's Travel Pants.

Specs (Price, Weight, Materials, etc.)
Price: $125 at Lems online
Weight: ~10oz.
Outer Materials: Leather and/or 1200 denier nylon
Inner Lining: Cotton and Nylon
Sole: 9mm injection molded rubber with zero heel drop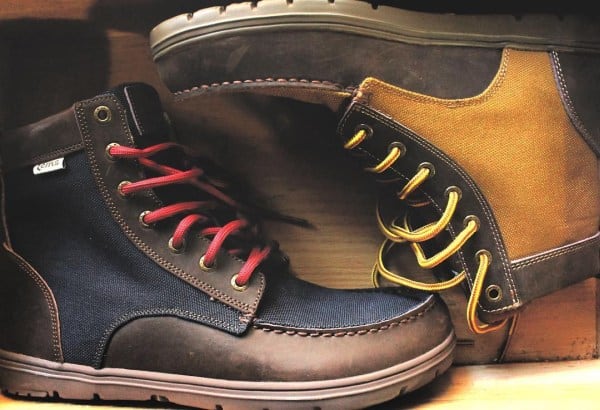 A Sidenote: What is "Minimalist Footwear"
The Lems Boulder boots are minimalist footwear not just in the sense that they're packable, lightweight (~10 oz.), and use little material, but because they don't restrict your feet – like normal footwear. That is actually the ultimate goal of "minimalist footwear".
In minimalist footwear, the thin, flexible sole with "zero heel drop", and flexible upper materials and wide toe box are essential to let your feet move freely, reawakening them.
The wide toe box allows the front of your foot, and toes, to spread, flex, and grip naturally just as if you were running through the grass barefoot.
The thin, flexible sole lets your foot flex and adapt to the ground, forcing your feet to use their own flexibility and strength to support themselves, and the rest of your body.
Normal footwear binds your feet so tightly that your foot isn't allowed to flex much, forcing you to rely on the "support" of the shoe instead of the strength and flexibility of your own feet.
The "zero drop sole" means that the sole is completely flat, unlike traditional footwear that is thicker in the heel and thinner in the sole. This "zero drop" makes the footwear experience more like walking on flat ground, in the real world, barefoot. Additionally, less cushioning in the heel forces the wearer to change from striking the ground with the heel to striking the ground with the mid-foot and forefoot, using the muscles of the feet and function of the knees to absorb the shock of each step instead of relying on a cushy sole. The result is a healthier step and joint alignment.
---
The Benefits of Minimalist Footwear
The health benefits of the Boulder Boot and other minimalist shoes comes not only in building more flexible, strong feet and lower legs, but also a different style of walking, hiking and running. A more pronounced feeling in your feet (through thin soles) leads to a style of stepping and running with softer knees and transitioning to a mid-foot or forefoot strike, instead of a heel strike, ultimately making each step softer on the knees and joints.
These are just the start of plenty other benefits that come from wear the Lems Boulder Boot and other minimalist footwear and by transitioning to more natural walking and running styles – the kind if you lived your life barefoot as our ancestors did.
If this topic interests you, then I highly recommend reading the book Born to Run which did a lot to jumpstart the barefoot and minimalist footwear movement.

My Verdict on The Lems Boulder Boot: Get 'Em
As long as you don't mind the boxy toe and you appreciate the idea of minimalist footwear, the Lems Boulder Boot is a great bet. Comfortable right out of the box and ready for near adventure – as long as it's not too far or too heavy, too early. They look good, feel good, and fit in the pack of the continuously on-the-go traveler.
If you're looking for a boot to travel the world with a small footprint (in your bag) opt for the Lems Boulder Boot. You won't regret it.

Like it? Pin it!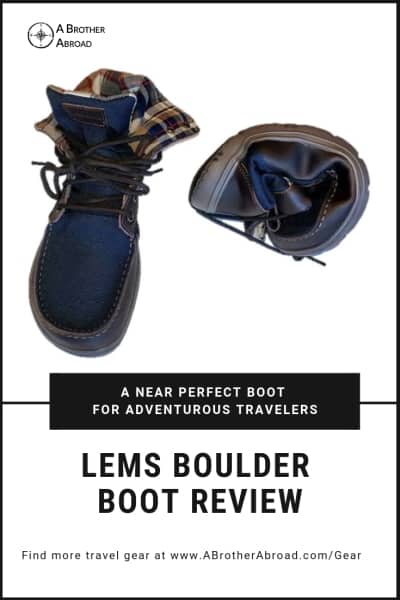 ---
Other Great Travel Gear Content: