Since the 1970s, travelers and backpackers have used guidebooks, like Lonely Planet and Frommers, as their maps and mentors for exploring the world – filled with itineraries, cities, histories, and stories that incited backpacking around the world and dictated the most popular destinations.
---
The Banana Pancake Trail | The Gringo Trail | The Balkan Walk | Arabian Trail | Maya Trail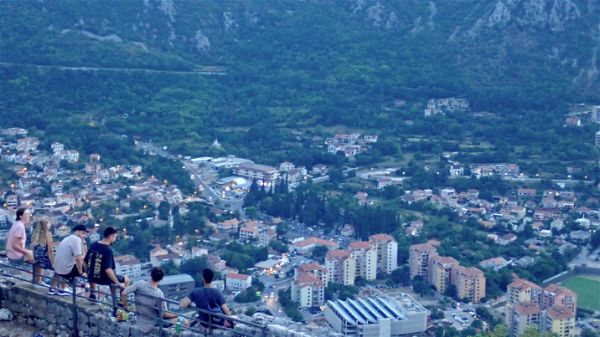 But the world has changed much since the 1970s. So has backpacking.
The amazing experience of backpacking the world while living out of a single pack has been influenced and polished by a few trends:
Newer, more comfortable hostels offer all of the knowledge, hosting, and traveler introductions, while still being a cheap yet comfortable place to sleep.
A rise in "gap year travel" by college kids, "mini-retirements" by mid-career professionals between jobs, and digital nomads living the dream of remote working from paradise
Connected travel wherein travelers are connected continuously to information/suggestions about destinations, and other travelers creating a constant stream of "word of mouth" travel information
But the most influential new aspect of travel is "The Trails."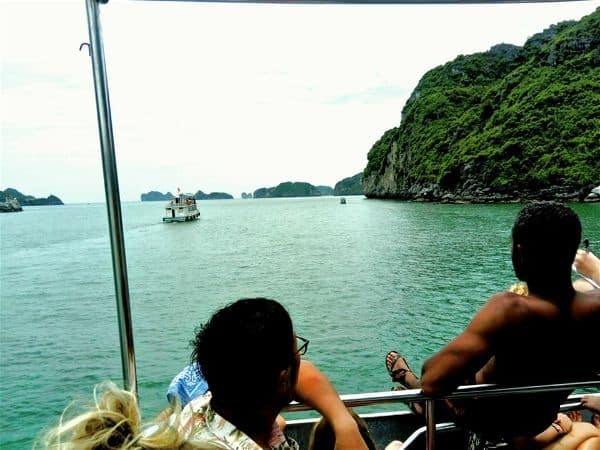 "The Trails" are a set of well-trodden itineraries in each region of the world: South East Asia, South America, the Balkans, the Middle East, and Central America
Each "backpacking trail" delivers the highlights of the respective region through rich travel experiences made easy with straightforward logistics for accommodation, transit, sightseeing, and more. Even more, the trails are filled with like-minded travelers to share the experience with.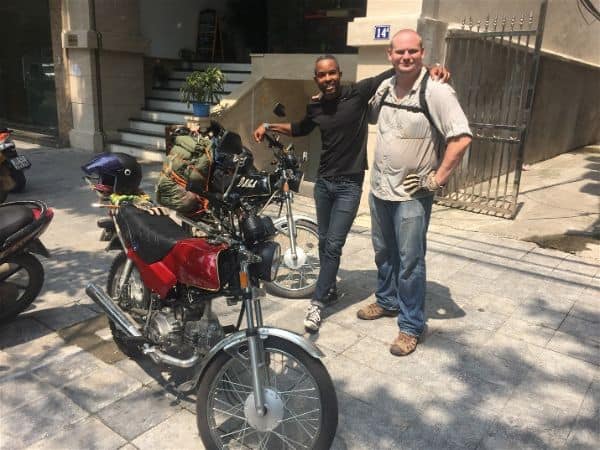 Whether you have two weeks, two months, or two years to wander, "The Trails" will guide you through the best the world has to offer, on a budget, easily navigated, and surrounding you with great company.
The Banana Pancake Trail (Southeast Asia), the Gringo Trail (South America), the Balkan Walk, The Arabian Trail (The Middle East), and the Maya Trail (Central America).
These are the "Trails" of travel. Read on to discover more everything you need to know…
This article may contain affiliate links
Now let's find the right "Trail" for you.

CONTENTS OF THIS GUIDE TO BACKPACKING AROUND THE WORLD VIA "THE TRAILS"

MY FIRST EXPERIENCE BACKPACKING THE WORLD ON THE "BACKPACKING TRAILS"
Argentina unguided and the Balkan Blitz
My own experience with the Trails of Backpacking happened by accident during my very first backpacking adventure abroad, to Argentina, and then seven years later with a friend wandering through the Balkans hitting five countries in 7 days.
---
ALONE IN ARGENTINA: AN UNEXPECTED YET MEMORABLE ADVENTURE
Back in 2011, during a "mini-retirement" between jobs, I bought a ticket for a three month trip to my dream destination – Argentina. Immediately before my flight, on the exact same day, I bought a Lonely Planet guide to South America.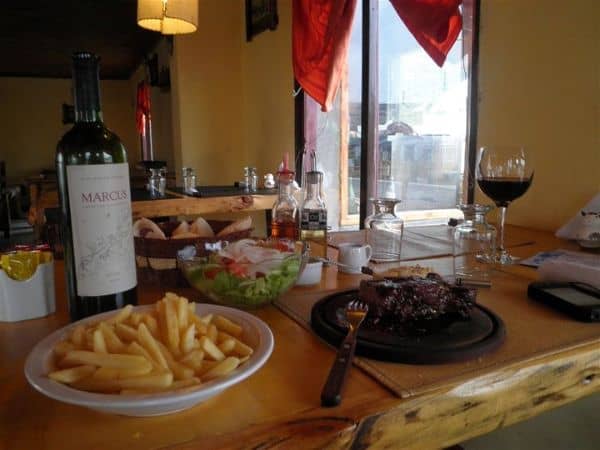 My goal was to just learn and plan my travel along the way – if only I had known how real that goal would become! I would read the guide as I saw fit, planning my destinations a couple of weeks in advance. I read the Argentina portion of the guide lightly and planned just enough of the Buenos Aires leg to get me through the next week. I found a fun hostel (in the guidebook), wrote down the address, and noted a few sights to see in my first few days. Then I forgot my travel guide on the plane!
I didn't realize my guidebook was missing until I arrived at my hostel, so there was no hope of reclaiming it. At the time, it was virtually impossible to find a travel guidebook for South America in English. I didn't have an international sim card either, so Googling along the way wasn't an option either. My only hope of learning where to travel was option 1) lots of research on my computer on the wifi in the hostel or 2) talk to people.
I chose option 2. I struck up conversations in the hostel and simply asked, "Soooo…I have no idea what to do today. What should I do?"
That accident (losing my guidebook) and that choice (choosing to ask other travelers on the road for their recommendations) changed my travels to come in a way I never would have expected – and in a way that outdated guidebooks never truly capture.
I went from knowing nothing about Argentina and Buenos Aires to wandering the wine country of Mendoza with other travelers by back, trekking through Patagonia with new friends, falling into soccer heated soccer games, and being adopted by travelers. After 3 months, I'd seen every notable sight in Argentina and experienced every spot to its fullest. No guidebook necessary.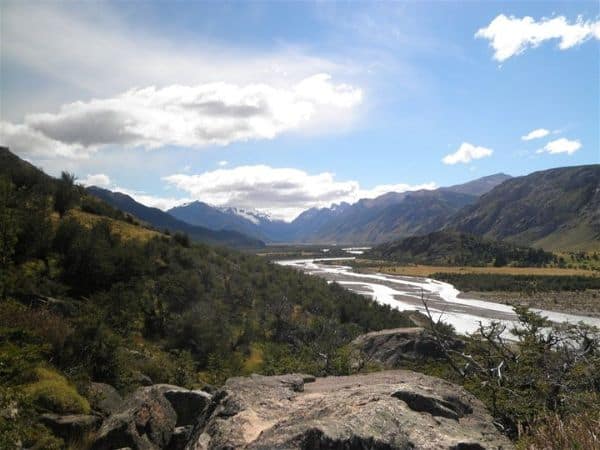 What's even funnier is that along the way during my unstructured itinerary on the trail, I ran into travelers that I'd met at hostels and on walking tours in Buenos Aires, thousands of miles and months later in Patagonia at the end of the world. We were all on the same trail, sharing the same highlights and the same adventures. And every single one of loved our experiences on that portion of the "Gringo Trail. All unique. All our own. All unguided. All shared. All we needed.
---
Therein lies the beauty of "The Trails." You just need to go. Once you reach the first city of the trail (or any city on the trail), the momentum of travel and travelers will guide you to the next "quintessential" destination, without a travel agent, a guidebook, or even a clue. It's beautiful. But we'll dig deeper into how the trails work a little later.
But, let's be honest, one success doesn't validate a great idea, does it?
Let's err on the side of caution and say…no. Instead, I'll share a vaguely similar experience from 8 years later.
---
BLASTING THROUGH THE BALKANS WITH NO ITINERARY: 4 COUNTRIES IN 7 DAYS
During a "mini-retirement" I took traveling the Banana Pancake Trail through Southeast Asia, I met a group of travelers who would become some of my closest friends – and who I still connect with to this day.
A couple of years after that experience, I was still on the road traveling the world. At the time, I was volunteering in a refugee camp in Greece when one of the "Sons of Pai" (as we called ourselves) reached out.
He had one week, and he would meet me anywhere in the world.
Of all the options for destinations to travel to, the Balkans resonated with him the most.
Done.
But what did he want to do? Hike? Eat? Swim? Party? Sightsee?
His answer: Everything.
At the time, I'd never visited the Balkans and had no idea where we should go or what we should do.
He had no problem with this. We agreed we'd figure it out along the way. We both bought our flights into Croatia and agreed to go wherever the Balkans took us.
The Balkans had us now.
One week. No reservations.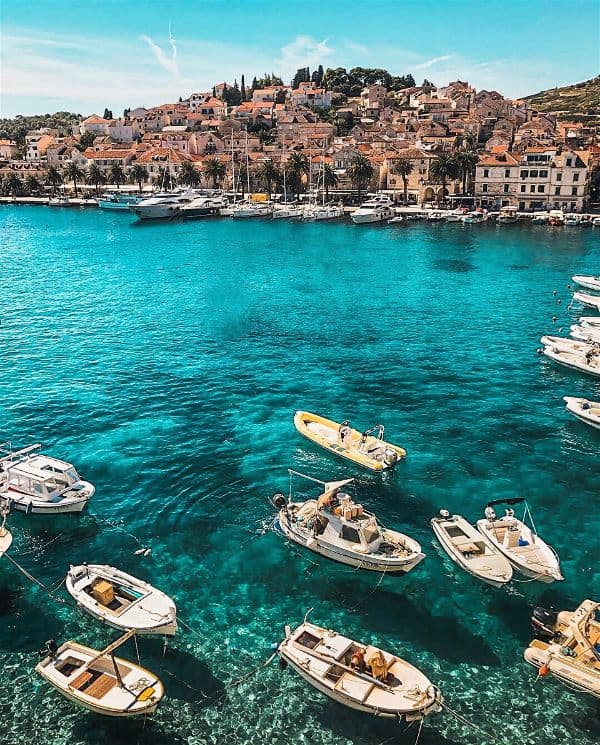 When he arrived, I met him at the bus stop from the airport, we went to our hostel, checked in, asked the staff & travelers in the lounge where we should go next (the following day), booked our bus, then proceeded to enjoy our day on the town. We returned to our hostel, knackered, went to sleep, woke up, departed for and arrived in our next city, asked the travelers and staff in the lounge where we should go next, booked our follow-on bus which we took the next day – repeating the process.
That week of travel was the most potent I've ever experienced, hitting the highlights of the Balkans at lightning speed.
Croatia to Montenegro. Montenegro to Serbia. Serbia to Bosnia. Bosnia to Croatia.
We explored the castles of Game of Thrones. We road a boat tour between the fjords of Montenegro and trekked to towering views. We slept on the beach. We explored the Rakja scene of Belgrade. We partied till sunup on a private island. We captained our own boat between the islands of Croatia.
And this was all in 7 days. Thanks to the Trails.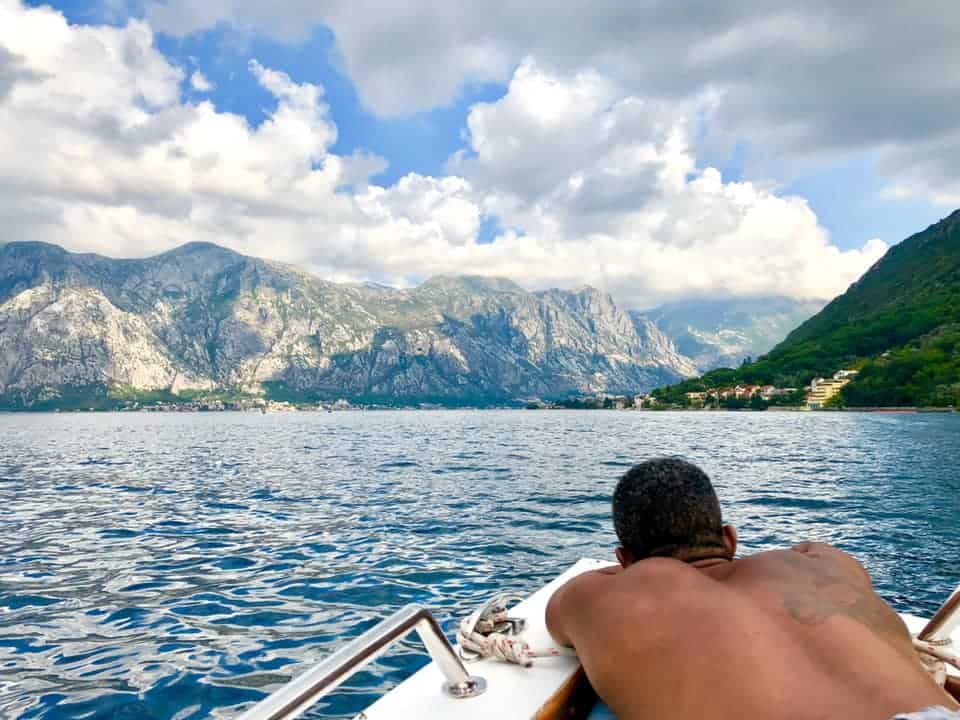 Now, if the trails can transform a seven-day trip into an adventure like this, what can they do for your two weeks a year? And how?

HOW DO "THE TRAILS" WORK?
These mysterious "backpacker trails" are so intriguing because, though we can clearly see they exist via itineraries on the internet, you might never know how potent they are with comfort and how much "travel momentum" these trails provide you with until you experience them. Great hostels, plenty of traveler friends, easy transport between destinations, and the highlight sites of the world all exist in spades on these "backpacker trails."
This momentum and well-trodden paths mean that all you need to do is arrive at one of the starting cities or significant cities on the trail, stay at a decent hostel (don't worry, it's ok to stay in a private room), and just wait for the magic to happen. Not too long into your stay, you'll hear the best experiences in your current city (and a few others), the best places to go next, and how to make it happen.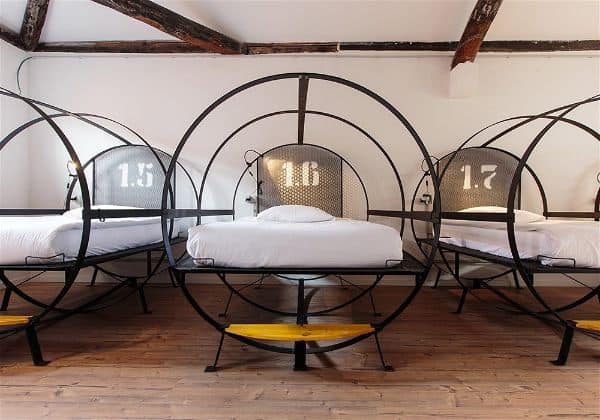 The staff might even point you to free walking tours, book your follow on accommodation for you, help you sort out shared transportation to your next destination (with other travelers…who you'll learn from as well), and so much more.
That process repeated, city after city, country after country, all of the way around the world is how I've experienced the best this world has to offer, without a guidebook, over two years of wandering.
My secret to fantastic travel.
The Trails.
Just go.
---
So we've talked about how amazing the trails are, let's talk about what the "Backpacking Trails" actually are.

OVERVIEW OF THE TRAILS
The trails can be thought of as a "conveyer belts for travelers" with infrastructure, assistance, good company, and experiences at every turn that naturally guide travelers through the best itinerary possible – without a guidebook.
Each "trail" covers a region of the world – Southeast Asia, South America, the Balkans, the Middle East, and Central America – delivering the highlights and rich experiences in a potent, efficient way.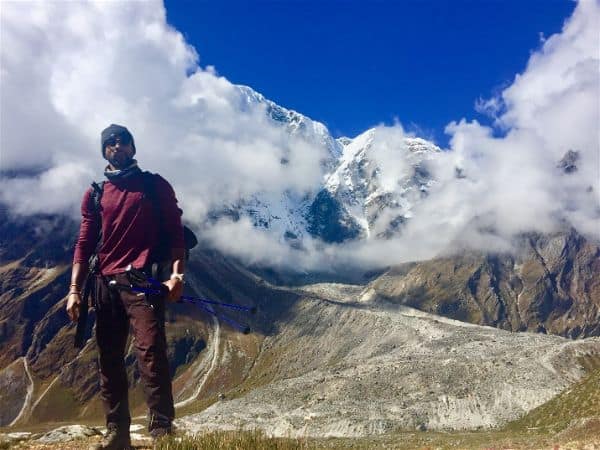 Plus, from a personal perspective, the ever-adapting nature of each trail and the personal experience (learning where to go and what to do from travelers and locals) adds a very genuine feel to the adventure.
Now, let's quickly review each trail. If nothing else, this section is all you need. If you arrive at the start point city (or one of the major cities) of your chosen trail with a decent

THE BANANA PANCAKE TRAIL
THE BEST OF SOUTHEAST ASIA & PERFECT INTRO FOR YOUNGER TRAVELERS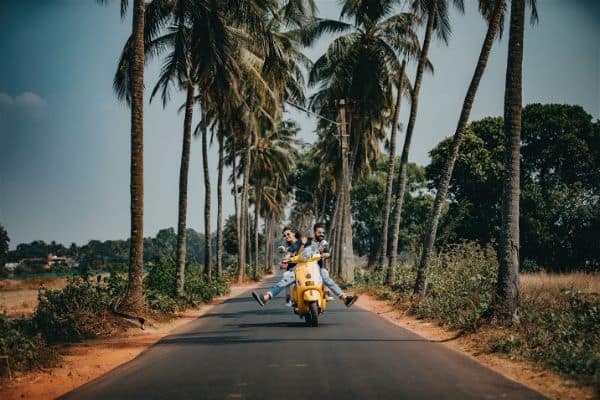 BEST FOR: Gap year travelers, college kids, budget travelers, water lovers
HIGHLIGHT EXPERIENCES: Street food, tropical islands, parties, pub crawls, and motorbike adventures
BEST START POINTS: Bangkok, Hanoi, Ho Chi Minh City
---
The "Banana Pancake Trail" is arguably the original backpacker trail and an especially great one to start on as a young traveler. Extremely cheap daily costs, rich experiences, a robust network of nice hostels, and easy transportation across the region (via ground and air) make Southeast Asia, and the Banana Pancake Trail, an excellent travel choice.
If you love the cuisine of Southeast Asia, combining fire, sweet, and spice, you will fall in love with the "street food" scene, which is half of the experience. From fired fish and noodles on the sidewalks of Bangkok to hearty dishes in Vietnam, to the otherworldly experience of the Tsukiji fish market, South East Asia is a mecca for foodies of all calibers. The Banana Pancake Trail will help you experience food in droves that you'll experience nowhere else in the world.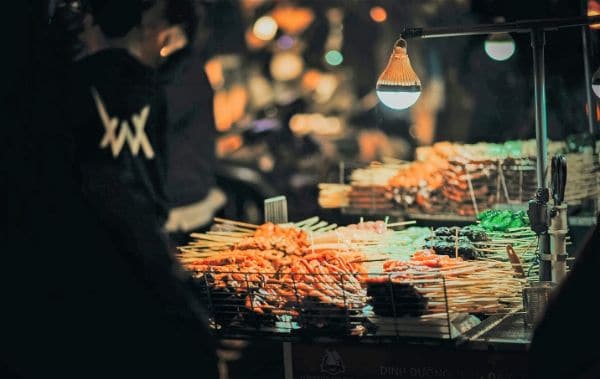 Beyond the street food and rich urban hives lies thousands of island paradise, a mere bus and boat ride away. From the raved about (and raving) Thai islands which tend to be touristy and party-filled, to the pristine waters of the Philippines with week long liveaboard cruises between islands that have never seen foreigners, Southeast Asia is a mecca for beach and aquatic paradises. Freedivers and SCUBA divers will fall in love. For surfers (or aspiring surfers) Bali, Sri Lanka, and the Philippines deliver cheap places to learn and fantastic waves, wrapped in a backpacker experience.
For first time travelers, exploring foodies, and water lovers, the Banana Pancake Trail and Southeast Asia will blow your mind.
MAJOR STOPS: Thailand -> Laos -> Vietnam -> Cambodia
WORTHWHILE ADDITIONS: Sri Lanka, Myanmar, Bali, Nepal, Philippines, Japan
---
MY EXPERIENCE ON THE BANANA PANCAKE TRAIL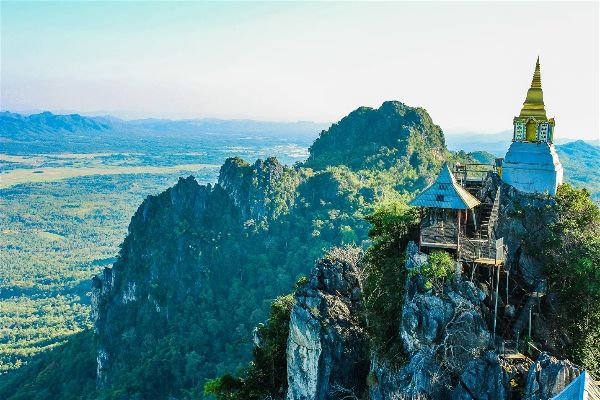 Wandering through Southeast Asia on the Banana Pancake Trail was an irreplaceable experience filled with adventures, new friends, and a "Never Never Land" like fantasy that just didn't seem to end.
Back in 2017, I decided to take on my long time dream of traveling the world…for longer than a vacation and the aim of an indefinite adventure. The only goals I had in mind were to see Mount Everest with my own eyes and hideaway in a cottage on a beach for a while. I couldn't have predicted the unexpectedly amazing experience that was ahead when I just gave in to the Banana Pancake Trail.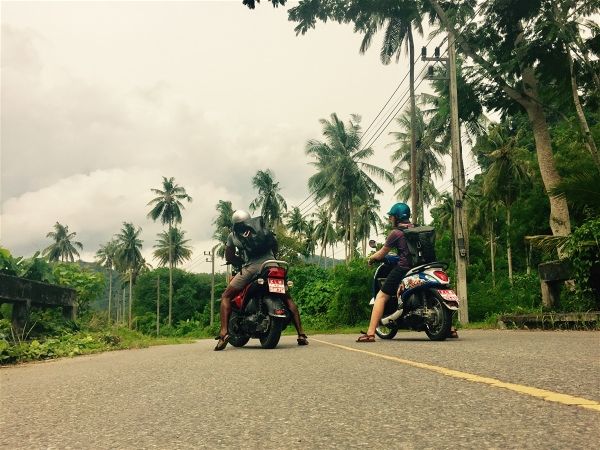 The adventure started in Bangkok, Thailand on the infamous Khao San road. I had a rough itinerary to enjoy the street food scene of Bangkok before wandering back to the tiny island of Koh Tao for peace and reflection. That plan went to hell within 18 hours of giving in to Bangkok.
I ran into a fella (now a very close friend, we still keep in touch to this day) who convinced me to change my itinerary completely and travel with him, with no itinerary. Our duo added one more (still a very good friend) and then a fourth (another good friend) until our "tribe" was assembled and continued growing. We traveled through Thailand for weeks together, motorbiking, cliff jumping, eating things we probably shouldn't have eaten, but most of all, just enjoying the experience of travel, of backpacking with a group of likeminded backpackers.
Therein lies the quintessential element of the Banana Pancake Trail.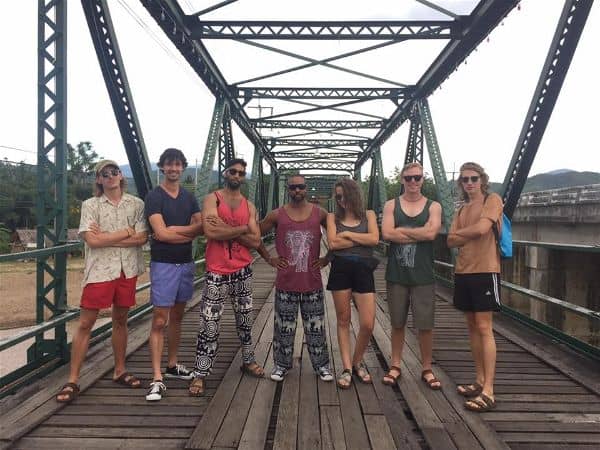 Backpacking Southeast Asia, you will never be alone or bored. There will always be a friend a conversation away. There will always be an adventure awaiting. And you will leave with memories that you likely can't even fathom today.
The funny thing about my experience on the Banana Pancake trail – the experience only got better.
I finally found that island I was searching for, but I already had a taste of backpacker life on the move, so I reunited with my buddies and explored Vietnam, motorbiking, cliff jumping, and exploring new histories and cultures.
We wandered the temples of Angkor Wat in the early morning.
We explored hidden bays in Cambodia with plankton that glow at night with no lights in the distance or stars in the sky.
We zipped between the thousands of temples in Myanmar, watching hot air ballons climb into the sky by sunrise.
We motorbiked the Ho Chi Minh trail through Vietnam into the hidden and forgotten histories of Laos.
And to end it all, I saddle up my pack and went solo, hiking to Everest Base Camp and fulfilling a dream of seeing Everest with my own eyes.
This 3 month trip was without a doubt life changing, eye opening, and something I wouldn't exchange for anything.

THE GRINGO TRAIL
THE BEST OF SOUTH AMERICA, FILLED WITH ADVENTURE, AND PERFECT FOR LATE 20'S AND 30'S TRAVELERS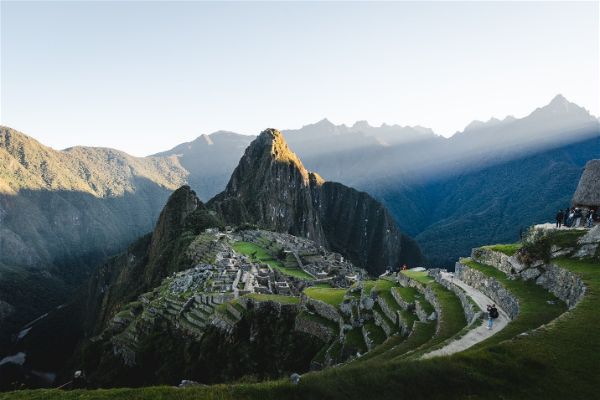 BEST FOR: "Career Gappers", late 20's and 30's travelers, trekkers and outdoors lovers
HIGHLIGHT EXPERIENCES: Latin passion expressed, trekking, wine, a gritty version of Europe
BEST START POINTS: Buenos Aires, Bogota, Santiago
---
For older travelers (in their late 20's and 30's) on mini-retirements, on sabbatical, and between jobs, South America's "Gringo Trail" delivers age and adventure appropriate backpacker experiences on a convenient loop.
South America is a tad more expensive than Southeast Asia's Gringo Trail. Still, the Gringo Trail has some benefits that make it my favorite trail:
South America delivers more easily accessible adventure experiences on dry land (camping and trekking through the Andes and Patagonia) than any other region of the world
The region easily be navigated by learning a single language (Spanish)
The experience of traveling South America caters to more western and European tastes with wine, steak, and plenty of delicious food that's closer to western palates but still delicious.
One thing that does differentiate South America from Southeast Asia is how quickly and easily a traveler can assimilate into the local cultures. Though the cultures of South America are as different as countries in Europe, learning a handful of Spanish words is all you need to assimilate into life as a Latin local in South America.
In contrast, in traveling Southeast Asia – on the Banana Pancake Trail – you'll quickly find yourself a traveler family. Still, most travelers won't assimilate into the culture of their destination country so quickly as they might in South America. This opportunity to "blend-in" with the locals makes South America travel a uniquely captivating experience.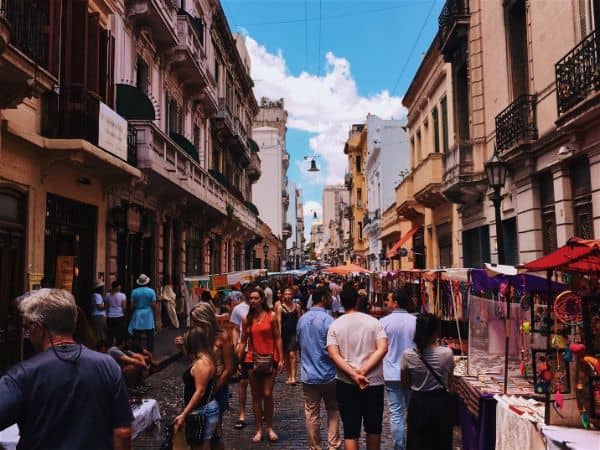 Lastly, where Southeast Asia delivers thousands of tropical paradises with beachy experiences, South America is a mecca for mountain adventures. Whether through the legendary mountainous treks of Patagonia or rugged adventures through the Andes, for travelers that like to hike and camp, South America will embrace you with more adventure than you can experience in a lifetime.
A bonus of South America: wine.
While Napa Valley of California and the wine regions of Europe cost a small salary to experience, Chile and Argentina deliver world-class wineries to explore in true budget and backpacker style – by bus and bicycle amidst your larger adventures.
For the late 20's and 30's traveler with a few months to spare, there are few destinations and itineraries more worth your time than South America and the Gringo Trail.
MAJOR STOPS: Argentina -> Uruguay -> Chile -> Bolivia -> Peru -> Ecuador -> Colombia
WORTHWHILE ADDITIONS: Brazil, Maya Trail, Galapagos Islands
---
MY EXPERIENCE ON THE GRINGO TRAIL
In 2011 I had three months off from a job and had my mind set on returning home to San Diego, California and enjoying a life of hammocks and tacos – until a friend suggested a (then) very radical idea.
"Why don't you go to Argentina?"
At the time, I honestly had no idea what Argentina offered. I had no idea about the "asado culture" barbecues and sacred beef. I had no idea of the delicious wine. I had no idea about the cocky Porteno heritage, the Italian, German, and Spanish influence mash up. I had no idea about the wilds of Patagonia and nights out that last until 6AM.
And that was just one country in South America I had no idea about.
So, a better question was, "why don't I go to South America?"
Within a week I was on a plane to Argentina. I lost my itinerary and my guidebook enroute to my hostel and was forced to just "wing it", asking locals for advice and making plans as I went.
Losing that guidebook was the best thing that ever happened to me because it introduced me to the Gringo Trail, wandering the same path as many other backpackers that enhanced my adventures rather than detracting from them.
I spent sleepless nights exploring the nightlife, asados, and wine of Buenos Aires with locals, learning the proud heritage and ways of Portenos.
I studied Spanish in the Argentine college town of Cordoba and learning about the hidden histories of military dictatorships.
I rented a broken down bicycle and rode for hours between wineries in Mendoza, tasting the best Argentina had to offer while learning its heritage.
I hiked through the wilds of Patagonia, so pristine that we could drink water from the streams. So peaceful that, with my own stillness, there wasn't a sound. Towering mountains and fjords. Glaciers. Wilds
And this was one country on the trail, to be followed by swimming with sharks in the Galapagos, seeing the ancient ruins of Macchu Pichu, exploring coffee plantations and salsa scenes in Colombia, and more.
For the late 20's and 30's aged traveler with an itch to wander, you'll be hard pressed to find a travel adventure as rich and as soothing as Latin America.

THE BALKAN WALK
THE BEST OF THE BALKANS: THE CHEAPER, MORE ADVENTUROUS SIDE OF EUROPE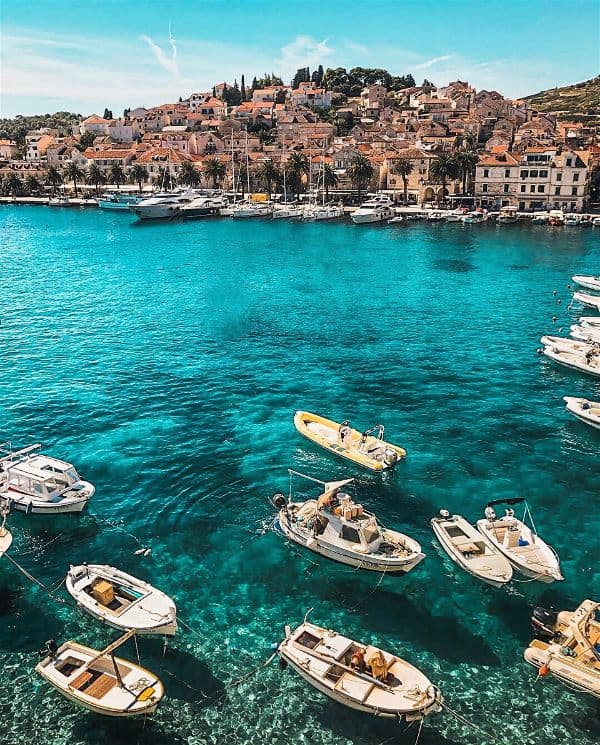 BEST FOR: Older and experienced travelers, history lovers, medieval castle lovers
HIGHLIGHT EXPERIENCES: Castles, wine, neverending nightlife, beautiful beaches and boating, deep and tumultuous history
BEST START POINTS: Dubrovnik, Croatia
---
If you crave Europe, but your budget craves something cheaper, consider the Balkan Walk. The Balkan Walk is a loose trail that takes travelers through the best of these former Soviet States with the budget of eastern Europe and the cuisine and experience of western Europe.
Former Roman empires, well preserved medieval castles and cities, and local wines and hearty dishes sit around every corner.
With half of the Balkan countries sitting on the warm waters of the Adriatic sea and housing the southernmost Fjords in Europe, the Balkans hold incredible beach paradises in Europe as well kept secrets for budget travelers.
For lovers of history, remnants of the Roman Empire, the Soviet Union, and last centuries wars make for a delightful and eye opening experience.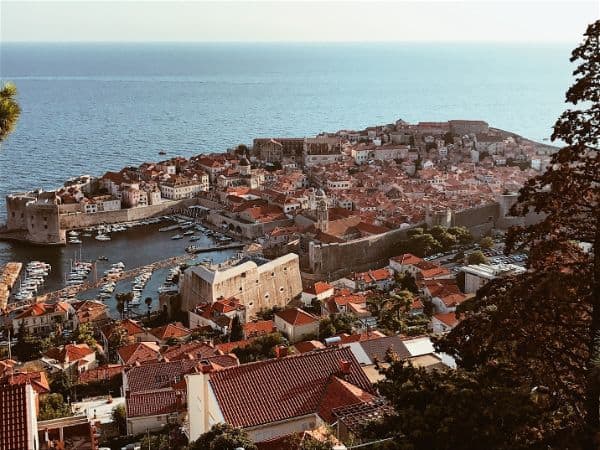 For lovers of culture, experiencing a clashing of east meets west (Islamic and Christian), clashing of powers (western capitalism and Soviet Communism), and modernity (the pristineness of Croatia vs. the developing state of Albania) pack more than most would expect into a 1 to the 2-week itinerary.
All of this happens against the backdrop of a slightly abrasive yet welcoming eastern European persona that offers the all-night partying and amazing views that more "unique" travelers would hope to find anywhere else in the world.
If you're on the hunt for a history and castle filled yet unique and cheap itinerary, consider the Balkan Walk.
MAJOR STOPS: Croatia -> Bosnia & Herzegovina -> Serbia -> Kosovo -> Albania
WORTHWHILE ADDITIONS: Bulgaria, Hungary, Slovenia
---
MY EXPERIENCE ON THE BALKAN WALK
After a taxing stint of volunteering with refugees in Lesbos, Greece, I deeply needed to return to my trip around the world. But, I craved adventure and wanted to stick to my budget, so western Europe didn't fit my tastes.
However, the Balkans fit the bill perfectly.
Wandering through ancient castles and sampling a different version of cuisine on the Adriatic accompanied by interesting preferences for nightlife in the Balkan states made for a very interesting adventure.
Over the course of a week, a friend and I explored the castles of Croatia, captained our own boat between islands, explored the darkside of Serbia, and partied until sun up on our private island.
We explored the southernmost fjords of Montenegro for some of the most beautiful landscapes I've seen in Europe.
After he left, I explored some of the most pristine and beautiful beaches I've ever seen wandering through Albania and feeling the vibes in a country that just open it's borders to the world in the 1990's and is still catching up.
The contrast of tastes, sites, ancient architecture, complex history, and a gritty yet still European vibe make the "Balkan Walk" another favorite travel adventure that I highly recommend.

THE ARABIAN TRAIL
THE BEST OF THE MIDDLE EAST & A TRULY EXOTIC EXPERIENCE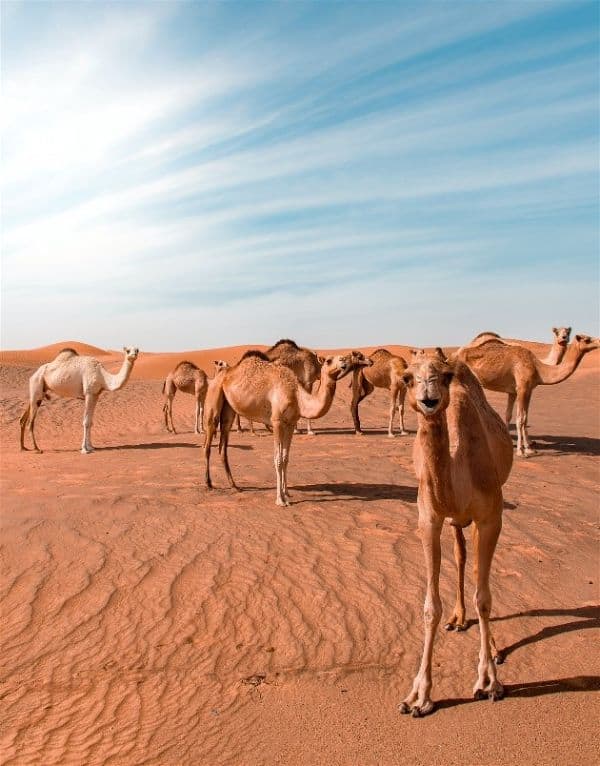 BEST FOR: Experienced travelers, older travelers, travelers that value a day of exotic experience over a night of parties, history lovers
HIGHLIGHT EXPERIENCES: Vast Arabian deserts, clashing histories, current events, and experiencing the exotic cultures of Arabia steeped in Islam
BEST START POINTS: Tel Aviv, Amman, Istanbul
---
For travelers that value profound, exotic cultural experiences over neverending nightlife, the Arabian Trail is well worth considering.
An entire region of the world built on a single, non-Christian religion unfolds into uniquely different cultures (from the west) that are thousands of years old in culture and history.
Otherworldly and martian landscapes, from the Dead Sea to the beautiful red wadis (Wadi Rum), stack the cultural experiences that await you with physical experiences and sights you'll see nowhere else.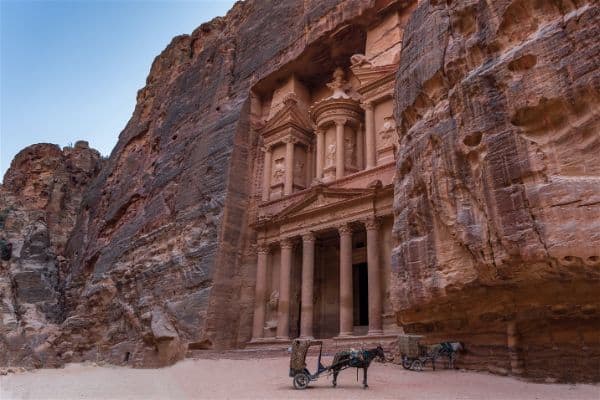 Being in the epicenter of a region so often portrayed in a myopic light quickly puts the individual traveler (and her own culture) into a more accurate perspective on the world stage.
Beneath these layers of experience, travelers wandering the Middle East will discover well preserved ancient Roman cities, beautiful beaches, and light culinary scenes steeped in culture and the natural wealth of each country.
Note that of all the trails, this trail is the least social and most expensive but still easy to navigate, but possibly the most eye-opening. As such, I recommend doing this trail after a couple of others – but I absolutely recommend doing this trail.
MAJOR STOPS: Egypt -> Israel -> Jordan -> Lebanon -> Turkey
WORTHWHILE ADDITIONS: Greek Islands
---
MY EXPERIENCE ON THE ARABIAN TRAIL
Of all of the places I've traveled in the world, from Latin America, to Asia, to Europe, to newly opened countries, the Middle East and Arabia has the most exotic feel by far.
Anywhere else in the world you travel to will likely have green landscapes, some form of nightlife and local liquor, and Christian, Buddist, or Hindu roots.
None of that applies to Arabia.
A land of misunderstood and misrepresented cultures that, when they exist freely in the vaccum of the Middle East have a unique beauty and eeriness that must be felt and can barely be described.
---
Flying into Jordan and exploring the country felt like one of the safest travel experiences I've ever had, with welcoming locals open to sharing their culture without being pushy. Wandering "suqs" (local markets) by day and night and hearing the call to prayer while eating sweets from vendors created a uniquely simple yet irreplaceable recipe for adventure.
Exploring the Bedouin deterscapes of Mars-like Wadi Rum and awe inspiring Petra (the city of stone) were enough alone to warrant the flight into the Middle East.
After Jordan, wandering into the oddly unwelcoming Israel created a contrast to the experience.
I explored Tel Aviv by day and night, hearing several versions of the story behind the city and country's establishment.
I visited Jerusalem, touching the Wailing Wall and walking by the Tomb of Christ in arguably one of the holiest places on earth.
I walked by foot across Jerusalem into the West Bank to view life of "the others" and see a hidden Banksy museum that highlighted those inequities and raised questions that should be asked by all visitors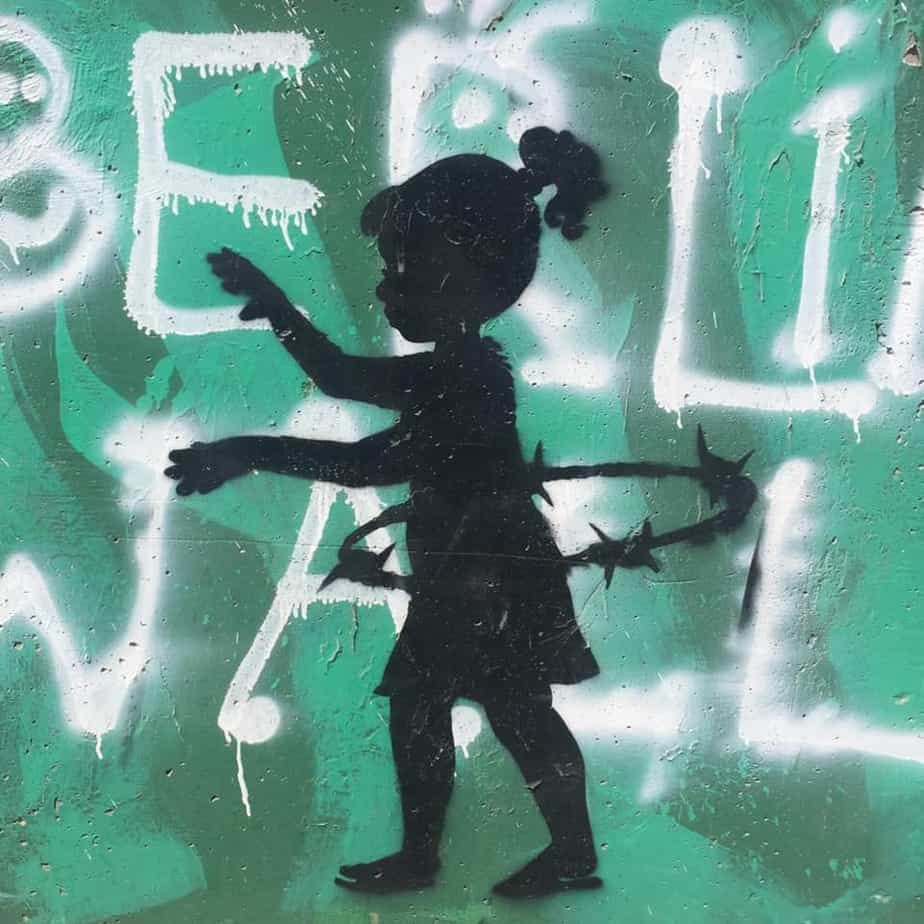 ---
For any traveler that prides themselves on having seen and experienced the world, visiting and understanding Arabia is a must.

THE MAYA TRAIL
THE BEST OF CENTRAL AMERICA: NORTH AMERICA'S "BANANA PANCAKE TRAIL"
BEST FOR: North American travelers, College student breakers and gap year travelers, water lovers
---
THE MAYA TRAIL – COMING SOON…
I'LL be honest…Central America is one of the last places on my list (along with Africa) that I need to explore more deeply…and will soon. This portion of our guide to the trails – The Maya Trail – is a work in progress and will be done to help you travel better, soon.

WHY THE TRAILS ARE IMPORTANT FOR YOU AS A TRAVELER, BACKPACKER, AND WANDERER
2 Weeks, 2 Months, or 2 Years, "the Trails" will help you make the most of your adventure
When traveling, there is a string of tasks that create a domino effect, ultimately dictating how much our travels feel like play (or work). From how much experience we squeeze into the limited time we have, to how enjoyable those experiences are – or better said – how worth your time they are, these "tasks" profoundly impact the richness of our travel.
When we plan based on guidebooks, this planning process can be a bit of a gamble.
Did we pick the best destinations for our budget, desires, and tastes?
If we have a multi-city/country itinerary, how easy is it to get between destinations?
Given the limited time we have just to wander, is there a balance between transit time (in airports, on buses, and in taxis) and genuine, worthwhile experience?
When we plan every detail of our trips, we risk botching any of the above.
When we choose one of the trails, whether it's a major trail like the Gringo Trail or Banana Pancake trail or micro trails like Turkey, Vietnam, or Patagonia, our travels naturally achieve a balance between transit, adventure, and making sure the journey is worth the destination. Word of mouth on the trail helps us quickly find the best of everything while adding another layer of experience by connecting us with other travelers, backpackers, and locals.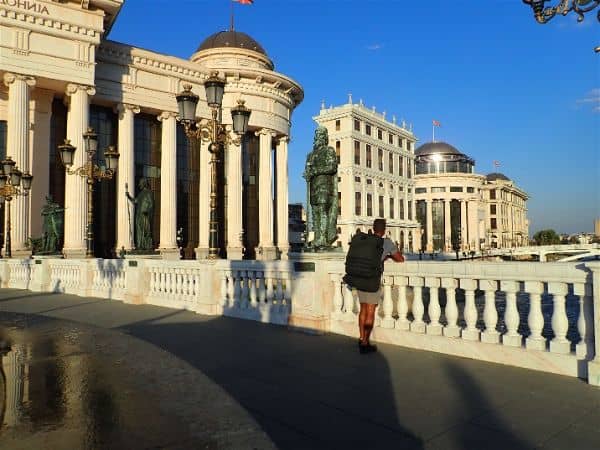 But there's another one up for strategically choosing a "travel trail," especially if you only get to travel for two weeks a year. There are a handful of rich "micro-trails" within countries or small regions that deliver that same, rich backpacking experience but packed into a smaller area. The structure the "trails" bring allows us to squeeze vibrant sights, the same kinds of experiences, and the same satisfaction within a shorter timeframe without the long transit times that eat into our adventure.
I call these more condensed backpacking trails, the "micro-trails."

THE MICRO-TRAILS: CONDENSED TRAVEL ADVENTURES FOR TWO WEEK ESCAPES
The "micro trails" allow us to squeeze backpacking style adventures, with the sights, the experiences, and the connections, into our precious two weeks a year by picking strategic destinations dense with exposure to the world, packed tightly to shorten transit times, and with the same excellent travel infrastructure.
If you have limited time to travel or are new to "backpacker" style travel and worried about all the moving pieces, micro trails are a great place to start.

OVERVIEW OF THE "MICRO-TRAILS
Around the world, there are hundreds of viable "micro-trails" in which a traveler could easily plan a fulfilling two-week "backpacker adventure," but the trails to follow are hands down my favorite.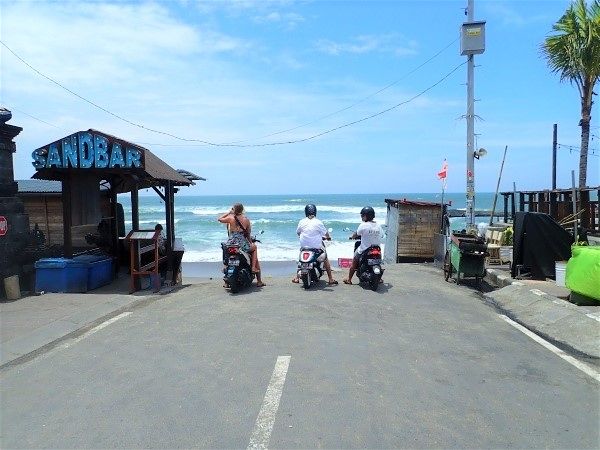 Each of these micro-trails and destinations delivers irreplaceable memories that you can only create in that specific country/region with a few benefits that help you pack more into less time.
Great transit infrastructure allows you to get around easily. Backpacker and budget traveler friendly accommodation at all comfort levels aids your budget and social life. Most importantly, each "micro-trail" is built on experiences that will leave you wanting more – all easily accomplished in 2 weeks or less.
This list will deliver some novel ideas for travel. Now, let's look into why each of these tiny itineraries is perfect for your annual vacation.
Click here to read more about these mini-adventures suitable for those "2 weeks a year vacations" and discover The Micro-Trails…

Are you ready to pick your trail?
Click here to get our full guide to "The Trails," and discover the shorter "micro-trails" perfect for those "2 weeks a year" travel experiences


WORLD TRAVEL FAQ
With all of the information we've presented, you're bound to have a few questions, and we're here to help! The last thing we want is for an unanswered question to be what stands between you and your dream travels.
If you have a question that's not on this list, email [email protected] and we'll help wherever we can!
---
Why hostels? What if I don't like hostels?
Hostels are the perfect tool for backpacker travel because:
Hostels are cheap, much cheaper than hotels (usually 10% to 25% of hotel prices)
Hostels are social, making it easy to meet new friends when you're traveling solo. If you stay in hostels, trust me, you'll never be alone, and a friend will always be right around the corner
Hostels offer lots of information and services that make planning travel easier. At a decent hostel, on arrival, you'll get a map of the town and recommended sites and food recommendations, and they will likely book tours, travel to your next destination, and recommended accommodation at your next destination all through the reception
---
What if I'm "old"? Isn't staying in a hostel a bad idea?
Hostels aren't just the dank dorm room you may be imagining and absolutely have some very luxurious shared accommodations available. For example, this wine cellar hostel that I stayed in for a stint in Porto, Portugal, was AMAZING. A comfy queen bed, squeaky clean accommodations, and a full spread of meals that were cooked by a Portuguese grandma that came by daily.
However, we're staying at hostels more for the social atmosphere and resources than budget concerns, so if you're scared of sharing accommodation, you can achieve the same ends by booking a private room at a hostel. This way, you get the social atmosphere and the planning assistance of reception, but you don't have to worry about the "sharing" issues you might typically have in a hostel.
---
How will I get around? From the airport to my hostel? From one city to the next?
A few options making getting to your hostel easy
Directions provided by hostels in Hostelworld.com

Google Maps directions using public transportation

Rideshare (Uber, Grab, Go-Jek, etc.)

Airport shuttle
If you're staying at a hostel, book through Hostelworld.com and check the hostel description for directions. Any good hostel will list the cheapest and most efficient methods for getting from the airport to your accommodation
Getting from the airport to your hostel/hotel, the best bet is to use the "Public Transportation" feature in Google Maps. This feature has saved me tons of money and hassle. Using this, you'll be able to find if public transportation (metro, train, bus) is available from the airport to your destination.
These days, nearly every country has a rideshare app, and in every country listed above, rideshare is cheaper than taxi rides. Know the rideshare app for your country in advance, download it in advance and ensure you have a way to stay connected, and make this an easy go-to
An airport shuttle booked at the airport is another safe bet for getting to your hostel quickly that will be cheaper than a taxi.
Getting from one city to the next:
Buses, vans, trains, and any ground transportation (excluding taxis) will be the most cost-efficient way to get around.
To find the best way between cities, I recommend Rome2Rio.com (or the app), which provides an array of options, or asking your hostel staff.
When using Rome2Rio, I recommend searching on the app to find out which providers offer transportation and then going directly to their sites.
In Southeast Asia, Asia2Go is a great, full-spectrum travel aggregator that I book boat, bus, or rail travel directly through.
---
What if I'm alone? Should I still travel, even alone?
Still travel if you're alone.
Stay in hostels, and you won't be traveling alone for long.
In total, I've probably spent four years backpacking with at least 3 of those completely unaccompanied. These "solo travel years" were the times that I had the most adventure and made the most new friendships. Being alone allows you to follow the current of travel and let it go where it wants to take you, and where you need to go.
Though the times I traveled with a partner or friend have been great, traveling with someone made it harder to meet other travelers and harder to give in to the spontaneity and constantly arising opportunities that make travel even better.
Bottom line: If you have to travel solo, embrace it. You're in for an unexpected but pleasant surprise. And stay at hostels. Definitely stay at hostels.
---
How much should I plan?
The better question is, how much do you need to plan. The answer is, not at all. I recommend knowing the following elements of information before you travel.
The kind of experiences that make life worth living for you
The countries on your itinerary and the start cities for each country
The highlights (2 to 4) of the country that you can't miss
The average budget per day and how much above that you can afford
The hostel you'll stay in initially in your first city, and check for directions to there from the airport
…and that's it—anything else you can discover on the road. If you know all of the above when you start your trip, regardless of how long you'll be on the way, you'll be just fine.
---
How do I meet people and get this "word of mouth" information while traveling
Meeting people while traveling is as natural as breathing. However, to allay your fears put these on your list as sources of friends on the road:
Hostels: Hangout in the lounge or join some hostel activities (walking tour, pub crawl, game night), and you'll have more friends than you can handle

Free Walking Tours: Arranged through your hostel or found online, these tours are great activities and fun places to mingle. Just Google "Free Walk Tour [city]" and you'll get plenty of options

Facebook Backpacking Groups: For every country on every trail above, there's a Facebook group for backpackers and travelers. Follow these, watch the chat, and you'll quickly find where everyone is gathering.

Hostel Reception Staff: Making friends with the hostel reception staff is like making friends with the bartender. If you know the bartender, you'll meet everyone you need to. Same with hostel staff.
---
How will I stay connected (Wifi, cell phone service, etc.)
In this connected world, knowing how you'll stay connected is an understandable concern. Also, having a constant connection is partly why we don't need to lug around hardcopy guidebooks anymore.
To stay connected while traveling, either get a local sim card at the airport, on arrival, or signup for Google Fi for cheap and constant coverage abroad.
Both of these options will keep you connected for the duration of your trip.
Learn more in this Complete Guide to Staying Connected Abroad

DID YOU LOVE THIS? MORE COMING SOON…
The Trails | Financing the Escape
Was this a pleasing read for you? Do we have you craving more of the trails and the micro-trails? Or perhaps you are salivating to start your own adventure.
Would you like more?
Well, don't worry, we won't leave you hanging.
This guide was the first step in a two-part project on "The Trails" and Financing the Escape.
The Books: The Trails & Financing the Escape
A Brother Abroad will complete and publish the full guide to the trails in late 2020 to deliver all of the information you need to travel the world as a modern backpacker in the upcoming book "The Trails."
Additionally, we'll be releasing our prep book, "Financing the Escape," all about planning your life for and saving the cash for your dream trip, whether its two weeks, two months, or two years on the road. If you decide to take it one step further and go full ex-pat or digital nomad (like me), Financing the Escape will deliver everything you need to know.
The Course: Planning Your Escape
Last, if you want all of this info in an easy to digest package, our full course "Planning the Escape" is on the horizon. Videos, podcasts, and tutorials that help you in all things travel – planning, itineraries around the globe, backpacking as efficiently as possible, saving for travel, and (the biggest one) planning a life of indefinite travel.
---
If you're interested in hearing about updates or beta testing our books and coming course for free, email [email protected] and we'll get you on the list.
We're honored to have helped you. See you on the trails!


OTHER GREAT ARTICLES ABOUT BACKPACKING THE WORLD