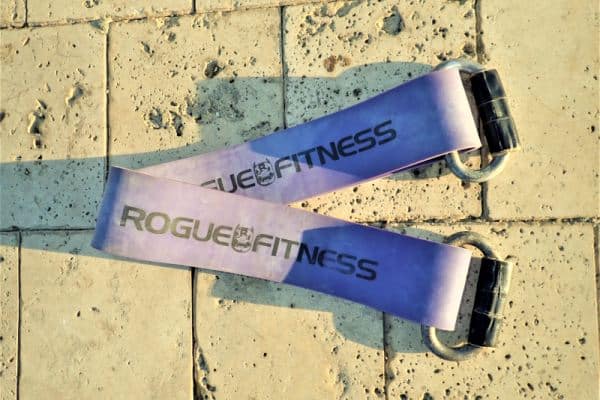 When traveling around the world, adventures can be amazing. Unfortunately staying in shape for them can be a more difficult adventure itself – especially if maintaining lower body strength is a priority.
Without weights, barbells, or dumbells, maintaining good lower body strength normally achieved via deadlifts, weighted back squats, and weighted front squats can be difficult – until now. The 12″ Rogue Fitness Shorty Monster Bands are the best resistance bands I've tested for training lower body strength and are a staple part of my setup for getting in heavy deadlifts and squats to maintain leg strength. The endstate: I can stay fit and adventure-ready – no matter where I am on earth.
---
This article contains affiliate links
---
With these mini Monster Bands from Rogue Fitness resistance bands a and the addition of a cheap carabiner squats and resistance band deadlifts are possible at resistances from 5lbs up to 280lbs with a single pair of bands. Even better, these mini resistance bands pack down small enough to pack for travel or add to a minimalist home gym and provide great durability. Simply add a carabiner to each band and create makeshift heavy resistance bands with handles and enabling a slew of high resistance band exercises for legs while traveling or stuck at home.
Read on to discover why the Shorty Rogue Resistance Bands are a must-have tool for lower body strength and fitness for your minimalist home or travel gym.
Note: This review is for the 12″ Shorty Monster Bands from Rogue Fitness, excellent for lower body strength training, especially deadlifts and squats. If you are interested in full length resistance bands, check out our review on the 41 inch Rogue Resistance bands and what they're capable of.

Contents of this 12″ Rogue Resistance Bands Review

For most gym-goers, athletes, Crossfitters, and anyone else who's made a healthy habit of going to the gym, the biggest problem while traveling is how to get in a good resistance training workout with an inadequate gym or no gym at all. A good suspension trainer (like the Pocket Monkii or this DIY gymnastics rings suspension trainer) takes care of upper body resistance exercises you need, but when it comes to lower body, how can you do deadlifts and squats while traveling and with resistance but without carrying hundreds of pounds of weights, or signing up for an overly priced gym in every city you visit?
The answer is mini band exercises, done with a pair of short resistance bands, like the Rogue Fitness Shorty Monster Bands, and a little ingenuity.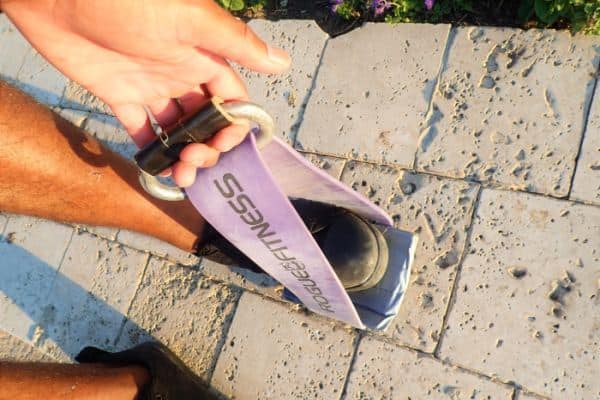 The Quick Fix for Deadlifts and Squats at Home and During Travel: Rogue Shorty Bands + a Carabiner Handle
Grab a pair of Rogue Shorty monster bands and attach a carabiner as a handle to create resistance bands with handles that can be anchored with your feet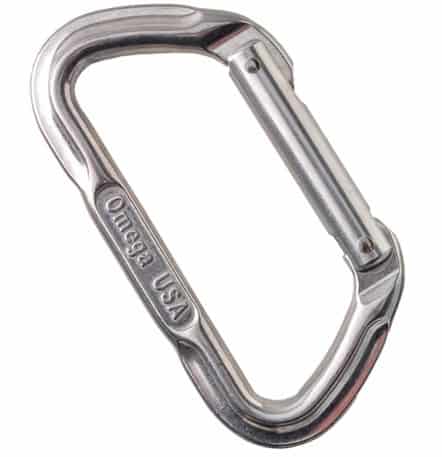 ---
These 12″ long Rogue Bands are short resistance bands that come in heavy resistance ratings ranging from 15lbs to 140lbs for a single band, and providing enough resistance for most athletes to train squat and deadlift movements at the resistance levels of their normal workouts.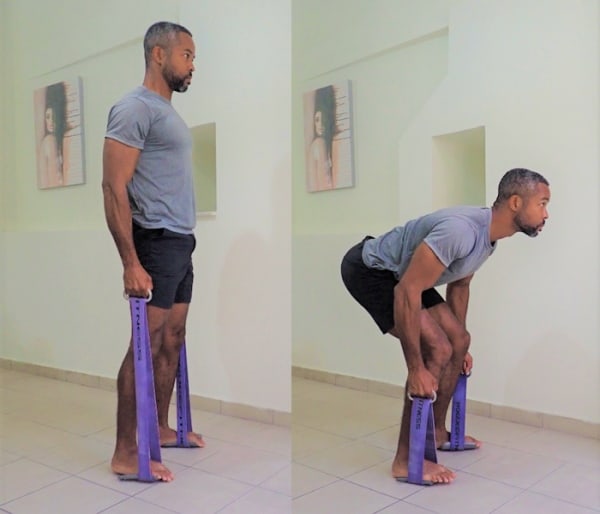 The short length of these bands lets us quickly and easily setup for the resistance band deadlift. When paired with a minimalist suspension trainer, like The Monkii Bars 2 or our DIY suspension minimalist suspension trainer "The Minimus" we can create resistance bands with handles, ultimately expanding the number of possible exercise to include resistance band squats with up to 280lbs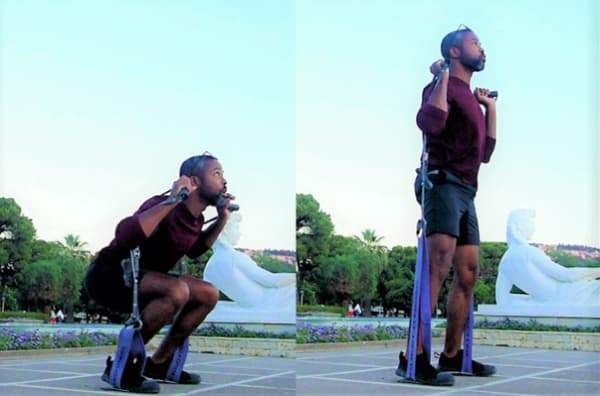 Why do I recommend these short, 12″ Rogue Bands specifically?
The compact size of the bands is perfect for fitness conscious travelers with small bags
At only 12 inches long, these bands take up minimal space in your carryon bag meaning that whether you're after a hotel room workout or just some exercise outside, you can add resistance band exercises for legs to your repertoire without compromising precious packing space.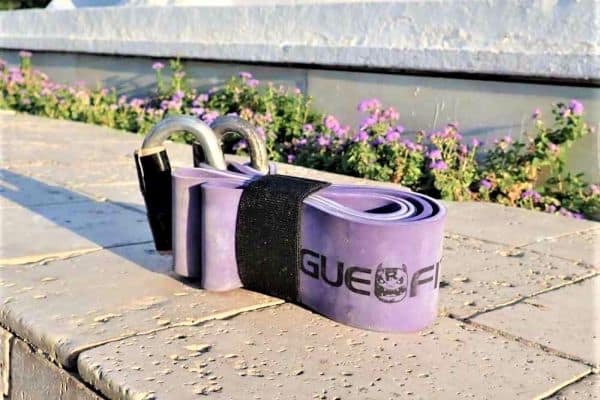 Mini band exercises, done with the resistance of Rogue Fitness Bands, let you train lower body for strength or muscle without the weights and 15lbs – 140lbs resistance per band
---
Despite being so small, compact, and travel friendly, resistance for the 7 different Rogue Monster Bands ranges from 15lbs to 140 lbs. This means that a pair of Rogue Fitness bands can provide up to 280 lbs resistance when paired (the way I use them), making resistance band exercise for legs, such as heavy resistance band squats and the resistance band deadlift, possible anywhere with sufficient resistance.
The short length (12″) increases exercise versatility and ease of setup
The Shorty Rogue Monster Bands 12″ lengths let you step into the bands and anchor with one foot while pulling with one arm, potentially allowing you to use two bands at once. This small detail, starting with resistance closer to the floor, is what makes squats and deadlifts possible, as well as upper body exercises like the row, high pull, curl, etc. Most resistance bands are 41″, making them larger and tougher to pack and travel with, cumbersome to anchor and use without special equipment or a squat rack, or meaning you can only use one at a time limiting resistance to 140lbs.
A set of high resistance bands for legs paired with a minimalist suspension trainer make the perfect travel gym
High resistance mini bands for legs, such as the Monster Bands, do a great job of making your deadlifts and squats possible on the road. Adding a minimalist suspension trainer, such as the Monkii Bars 2 that I reviewed and use regularly on my travels or our DIY suspension trainer "The Minimus", lets you get in a solid upper body workout with all of the essential upper body exercises using a suspension trainer in addition to your lower body mini band exercises, indoors or outdoors.
The major plus of adding a suspension trainer is the option to connect the suspension trainer to the exercise bands creating a useful pair of heavy resistance bands with handles. Adding the length and a functioning handle to the Rogue Bands adds a whole slew of full body exercises possible with high resistance, no weights necessary. The most notable of which is the resistance band squat. Achieving a squat with 280 lbs with gear that fits in the side pocket of a daypack is pretty awesome.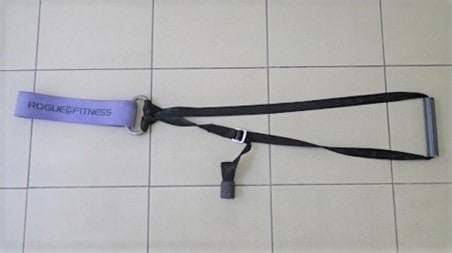 The Durability of Rogue Fitness Exercise Bands has withstood two years of abuse, and I expect two more years of use
This is specifically why I recommend Rogue Fitness's Bands over Fringe's and the options on Amazon. I know what to expect from Rogue Fitness.
The other benefits of these specific bands (packability, short length, resistance levels) can be found with any short, high resistance exercise band available. Given my experience with Rogue's equipment in general and especially the Shorty Monster Bands, Rogue Fitness' gear seems durable enough to last longer but is still offered at a very reasonable price
Short, heavy resistance bands are a great idea for travelers offering a lot of utility, versatility of use, and number of potential exercises. When choosing a brand, I recommend Rogue Fitness as they provide the durability the company is known for in their bands at a high poundage (resistance) that makes these perfect for resistance bands for legs and lower body exercises


Pros | Cons of the Shorty Monster Bands
---
Pros
Makes lower body resistance exercises (squat, deadlift) possible without a gym (Up to 140lbs resistance with a single band, and 280lbs with a pair)
Extremely durable build (have lasted me 2 years, I expect 1-2 more years)
Simple yet useful and versatile – add carabiners for resistance bands with handles, and a suspension trainer for plenty other exercises
Perfect for travelers – compact and suitable for "carry on only" travel
Cons
Will degrade eventually (as all exercise bands do)
Gradual resistance (less at the beginning of the exercise range, more at the end)
Takes a little creativity to use well
12" Shorty Rogue Resistance Bands Review
Durability

Function / Resistance

Price & Value

Travel Readiness
Summary
Rogue's Shorty Monster Bands are essential for any fitness-conscious traveler that wants to maintain lower body strength when gyms aren't available. Over my 2 years traveling, deadlifts and squats in the middle of a sunny, green park become easy and convenient, and the entire kit packs down to the size of a coffee cup – all at an amazing price. These Shorty Monster Bands can't be beat and I highly recommend them.

Bottom Line
The Rogue Fitness 12″ Shorty Monster Bands are perfect for travelers and gym free folk to do the essential lower body resistance exercise – deadlifts and squats – without a gym.
Clip on a carabiner to create a handle, throw them into your bag and be ready to get a leg burning workout anywhere you choose.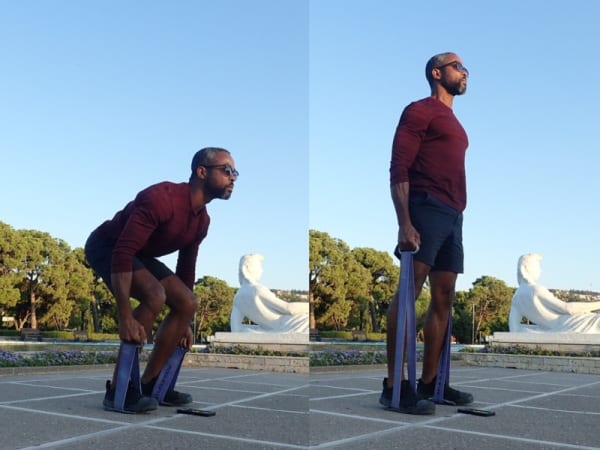 Full Review of the Rogue Fitness Shorty Monster Bands
---
What are the Shorty Rogue Monster Bands?
Travel ready resistance bands for legs strong enough to recreate a heavy squat, deadlift, and plenty of lower body resistance workouts, no weights necessary
Resistance bands, fitness bands, and general exercise bands have been around for quite a long time. Generally, the bands are made from a latex rubber giving the bands stretch and providing resistance to your movement when you pull against them. The result: You get a resistance workout similar to how you would when weight training, but without the hassle of lugging around the weights.
Until recently, the problem with resistance band exercises for legs has been in two areas – setting up and achieving adequate resistance.
Setting Up: When doing resistance bands squats or deadlifts, setting up with the traditional 41″ bands has been difficult or awkward at best – as the user usually has to either anchor the 41″ bands to a squat rack or something heavy, or step in the middle of the bands, limiting resistance to the maximum resistance of a single band. With the 12″ Rogue Fitness Bands, clipping on a carabiner (to create a simple handle) and stepping in to anchor the resistance bands makes setup easy.
Resistance: For most resistance bands with handles, resistance maxes out at around 30lbs, making them too weak to be suitable as resistance bands for legs and lower body workouts. The Rogue Fitness Monster Bands provide heavy resistance (up to 140lbs) and the short design makes it possible to use two bands at once. This significantly raises the maximum resistance we can achieve in our resistance band exercises for legs. But – let's be clear – this is possible with any short, high resistance exercise bands, not just the Rogue Fitness Bands.
So what makes the Rogue bands so different? Why do I specifically recommend the Rogue Fitness Bands?

Why Rogue?
Great durability (from my experience), price, and overall value.
The Rogue bands offer the same utility as most other short, high resistance exercise bands but the Rogue Fitness resistance bands have been much more durable in my experience and the price is great considering the high quality of the product ($6.50 to $18.50 a band, depending on resistance level). Personally, I've ripped through two sets of the traditional, weaker, tubular band sets that have the traditional plastic handles attached and most other heavy, flat resistance bands are twice this price without the quality and durability.
I will note that even Rogue Bands degrade over time. I've had these bands and used them regularly for ~2 years with the added friction of the carabiner as a handle and the bottom of my shoe as an anchor. As such, the rubber has begun to flake and the bands will eventually need replacing. I estimate I'll replace the bands within the next 1-2 years – sooner if I use them on concrete often. But personally, paying $37 plus shipping to replace this portion of my travel gym and get a good lower body workout on the road is excellent value. So, just note that the Rogue Fitness bands are very durable and a great value, but even these resistance bands won't last forever.

My Experience with the Rogue Fitness Bands
Durable, great value, function as desired in every aspect
I originally purchased the Rogue Bands ~2 years ago to be the lower body resistance component of my "travel gym" by allowing me to do resistance band squats and deadlifts with the resistance equivalent to the weight I would normally use in the gym.
Durability – Because of the nature of rubber, expect these resistance bands, or any resistance bands, to degrade over time as you use them. Expect the bands to degrade and peel even more quickly if you attach any objects to the bands as handles (such as I do with carabiners) or use the bands on an abrasive surface, such as concrete.
Over the last couple years, I've used the bands approximately once to twice weekly with carabiner handles to do deadlifts and squats, anchoring the bands with my feet, and peeling from friction is clear, but not serious. Stretch and resistance has stayed pretty good and close to it was when brand new.
Because the bands are built with thin layers of rubber stacked, as each of these layers peel off the resistance bands degrade but there is little risk of the bands snapping as would be the case if the Rogue Bands were made of one, solid piece of rubber, like tubular bands, and were lightly cut or nicked.

Converting Rogue Fitness's Shorty Monster Bands to Resistance Bands with Handles
I've tried a few of the resistance bands with handles commonly sold (such as these resistance bands with handles on Amazon) but the main issue is that the resistance level is too low for a good lower body workout. With the Shorty Monster Bands, I actually feel like I'm getting in a workout comparable to what's possible with free weights and iron in the gym. The handles are a very functionally plus of these bands, but using the carabiner (and suspension as listed below) provides all of the function needed with the high resistance of the short Rogue Fitness Monster Bands
---
Why the 12″ Exercise Bands are better 41″ Exercise Bands:
I started with the 41″ resistance bands, which are by far the most common, but realized that 41″ resistance bands generally require a squat rack or other solid anchor to setup. If the user steps on the bands to anchor the 41″ bands via the feet then max resistance is that of one band.
At the same time, I was trying Roguue's 12″ bands and they proved to be much more functional and effective. The shorter band length means tension is created earlier in the exercise movement and more quickly. The 12″ bands can easily be anchored with the feet by stepping on the inside of them and providing resistance for movements that starts close to the floor, like the deadlift. I have a full set of 12″ and the 41″ lengths and the 12″ bands are by far my most used and the only bands I travel with
---
Negatives from my experience with Rogue bands and resistance band exercises
Gradual resistance is annoying but common with all resistance bands: When using any resistance bands, the amount of tension and resistance at the start of stretching the band is much lower than the maximum rating. This is a fact of resistance band training that you'll have to work around.
Resistance isn't adjustable, so if you're traveling and take these as your lower body workout tool of choice, you are stuck with the chosen resistance rating for the duration of your travels. Because of this problem of adjustability, I always take the maximum rated bands (140lbs). Before traveling, I train up to the level of fitness required to use them and during my travels, I focus on maintaining lower body strength instead of increasing. For my lazy days, I simply use one band instead of two and use the single band just as I would use a kettlebell.

The Bottom Line from My Experience with Rogue Shorty Monster Bands:
The Rogue Fitness 12″ Monster Bands aren't perfect, but they're durable and the best option for doing resistance band squats and deadlifts on the road. The bands have the same functional flaws (e.g., gradual resistance, degrading over time) of any resistance band but these sacrifices are well worth the utility of the resistance band exercises for legs that become possible and the resistance level achieved, all while traveling and without compromising too much packing space.


Why you need to get in a lower-body resistance workout
This could be an article in its own right but in short, you never want to skip leg day…for two reasons.
Any good fitness program should be balanced and provide balanced stimulus for the body to promote balanced development – balanced between movements and bodyparts. If you're exercising the upper body exercise the lower body just as much. This approach encourages long term health and resistance against injuries. For every pushing movement, do a pulling movement. If you train one muscle group or body part focusing on strength be sure to train the opposing body part or muscle group in the same fashion to build a body that will be balanced and healthy in the long term.

Lower Body resistance exercises have A TON of benefits for the body in the short term and long term…so don't miss these benefits. From metabolic boosts to healthy hormone boosts that keep the body running at its peak, to increasing bone density in a healthy way, and maintaining muscle, training the lower body with resistance exercises and "structural exercises" provides excellent benefits that complement a good cardio program and stretching program. Having an option for resistance training the lower body will keep you healthier and more fit on the road.
Your suspension trainer, whether it's the Monkii Bars 2 or the Minimus, and the travel workout program will help you max out your health and fitness potential through upper body exercise.
The Shorty Rogue Fitness Bands will help you keep your lower body at its peak and your body in balance. Combined, your travel gym will help you keep your body at its peak wherever you are.
Combine your resistance bands with a Minimalist, Gymnastic Style Suspension Trainer to Create a more complete travel gym and resistance bands with handles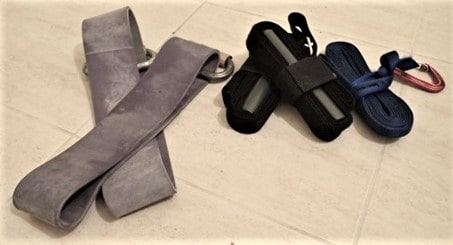 Combining a minimalist, gymnastics style suspension trainer with the Rogue Fitness is perfect for two reasons…
1. Attaching the individual suspension trainer straps to each of the bands creates resistance bands with handles. This allows you to do a proper squat that full loads your core. This also allows you to do upper body exercises such as curls, the bent over row, and overhead presses
For details on how to setup your suspension trainer with your resistance bands checkout this article "How to make heavy resistance bands with handles for the perfect lower body travel gym"
2. The suspension trainer is an excellent way to get an upper body resistance workout. The resistance bands offer a great lower body workout. Combining the two offers a great option to resistance train the entire body


My Favorite Rogue Shorty Monster Bands Exercises for Legs: "Resistance Band Squats" and the "Resistance Band Deadlift"
What truly makes the Rogue Shorty Monster Bands a valuable, but still tiny, cluster of fitness equipment is the option to do heavy resistance squats and deadlifts…anywhere.
The ability to perform a heavy (~280lbs) deadlift or squat is a valuable tool in your travel or home fitness kit, and my favorite of the possible Rogue shorty monster bands exercises
---
How to use the Shorty Monster Bands – Doing Resistance Band Squats and the Resistance Band Deadlift
---
The Resistance Band Deadlift
Hook a carabiner onto each resistance band
Place a cardboard block on the inside of the resistance band and under your feet to support your feet
Grab the handles and setup for a squat as you would with free weights
Go nuts
For full details check out the article "How to do resistance band squats and the resistance band deadlift"

---
Resistance Band Squats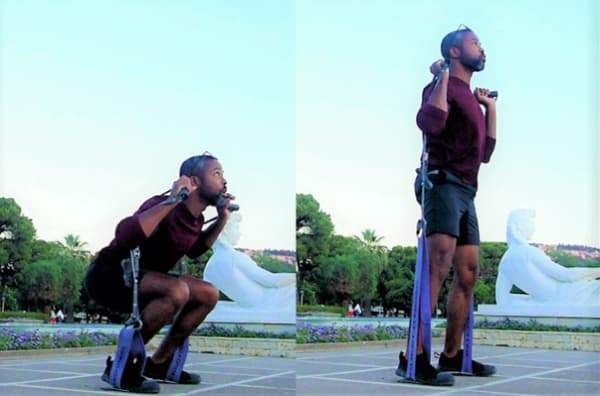 Attach one suspension trainer handle to each resistance band's carabiner using a pipe hitch knot
Step into the resistance bands and setup as you would for the the resistance band deadlift
Adjust the length of the suspension trainer straps such that each handle is just long enough to allow your hand to comfortably sit in the "racked position" at the bottom of a squat with the suspension trainer strap running over the back of your arm
Get into the bottom of the squat and proceed to squat as you would with free weights in a back squat
For more information on how to do the resistance band squat with short resistance bands, checkout this article "How to do the squat and deadlift with resistance bands"

Other Options for Resistance Bands
Sold on the idea of resistance bands but not convinced about the Rogue Fitness Bands? Checkout these other options…
---
Fringe Fitness Resistance Bands

Fringe Sports offers short, flat resistance bands similar to Rogue Fitness but actually offers them in much higher resistances (up to 200lbs).

Fringe Fitness is a smaller company that I haven't tried but a great one recommended by friends. Also, they're based out of Austin, TX (home to my alma mater). If you're looking for an alternative to Rogue Fitness, give them a look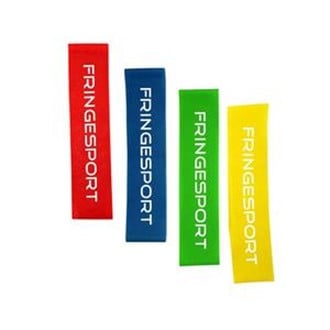 Fringe Sports Mini Bands (200lbs Resistance)

---
Amazon has plenty of well rated, heavy resistance bands, but, all of them are too long for our purposes – 41″. But things change, so maybe more retailers will get smart and offer a cheap option to Rogue's Shorty Monster Bands. Give them a look and see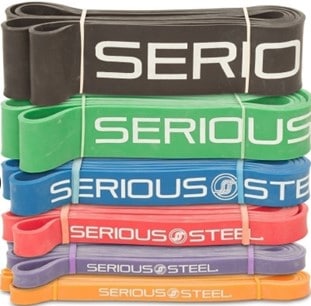 Serious Steel 41″ Resistance Bands
---
Resistance Bands With Handles
Most of these options max out at 30lbs resistance, but if that is sufficient for you, ready made resistance bands with handles are just what you need. For the best deals, hit Amazon and get a well rated product to avoid paying extra just for a name brand.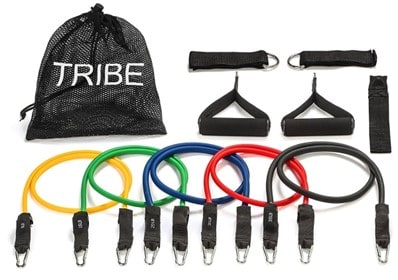 FAQ
How do you use Rogue Shorty Bands?

Rogue Shorty bands can be easily attached to a carabiner, which can be used as a makeshift handle. Then step on the inner loop of the resistance bands to anchor and pull, using the carabiner as a handle

Are Rogue Resistance Bands color coded?

Rogue Monster Bands are color coded with different colors indicating different resistance levels

What are the best resistance bands?

Rogue monster bands, shorty or regular, are the best resistance bands you can buy. However, this list of the 5 best resistance bands offers the other best options

Get involved with the conversation
Have you had a different (better or worse) experience with the Rogue Fitness Bands?
Do you have a different method for achieving high resistance in your deadlifts and squats?
---
We'd love to hear your thoughts!

Disclaimer: Throughout this article I recommend gear and potentially link to affiliate partners for the gear I recommend. Your purchases through these links helps keep me on the road, writing stories of travel, and experimenting with fitness…for that, I thank you! Any gear I recommended in this article I have purchased or would purchase with my own money due durability and reliability (from my experience), value, and functionality. If your experience with any products I recommend differs, please let me know! Thank you!


Other Great Travel Fitness Links