Finding a perfect travel shoe – one that allows you to walk, explore, socialize, and spend the night out in a single shoe – is tough. Even further, finding a shoe that is comfortable, packs down small, and could even be washed after weeks of wandering would be an even better find. Lucky for us, the Suavs Zilker, and Suavs shoes, in general, deliver a pretty awesome option that's just as good for lightweight travel and daily wear.
In this Suavs Zilker review, and a full Suavs Shoe review later, you'll discover my experience with this new to the scene packable, washable, and comfy shoe designed by travelers and kickstarted for travelers.
Months motorbiking, walking in the rain, and exploring Southeast Asia brought out the best and the most niche characteristics in this shoe.
Later, we'll review the whole Suavs shoes line from the Legacy (high top and adventure-ready), to the Barton (a loafer in the same functional package), and ending with the Eddy (a pair of lazy slides), and how Suavs is starting and ending with sustainable production, making shoes from recycled materials, and ending their efforts with social impact.
Read on for the full Suavs Zilker and Suavs shoes review.
This article contains affiliate links

CONTENTS OF THIS SUAVS ZILKER REVIEW
QUICK REVIEW OF THE SUAVS ZILKER
FULL REVIEW OF THE SUAVS ZILKER

SUAVS ZILKER QUICK OVERIEW
The Suavs Zilker is a new approach to shoes, aiming to create one shoe that can be worn in the office, out to a happy hour, and packed as your only shoe for a vacation in Europe.
Out of the box, these shoes were comfy with zero break-in and molded to my feet from top to bottom. The low-density rubber soles felt soft comfy from the jump and after miles of walking, molding to my foot in a minimalist way. The knitted uppers formed perfectly to my foot, flexing and returning with every step, and so breathable I could feel the breeze from the ocean flow through as I walked.
The shoes live up to their claim of being "perfect to wear sockless" for me, feeling comfy. However, my feet sweat a ton, but being able to throw the shoes and insoles in the washer at the end of the week (instead of socks) makes wearing the Suavs Zilkers in Southeast Asian tropical heat make these shoes nearly perfect for backpacking Southeast Asia and warm Southern Europe in the summer.
Though I loved the freedom of wearing these shoes sockless, my girlfriend (who loves the shoes more than I do) wasn't a fan of the feel of wearing them without socks and instead wears them near daily with ankle-length wool socks and is just as happy. In the months we've tested the shoes, we've been on ~7 trips and the Suavs Zilker is the only shoe she takes and she continues to reach for them
CLICK HERE TO LEARN MORE AT SUAVS SHOES
ONE DOWNSIDE: SLIGHT FOOT SLIP ON STEEP INCLINES, DECLINES
Though I love the feel of these shoes for daily wear, the lack of structure (which is intentional and a good point) makes them a little difficult to wear on very steep inclines due to foot sliding, from the lack of a heel cup. However, in most of Southeast Asia, Europe, and everyday life, you're not walking up or down inclines steep enough for that to matter.
If you do plan on walking lots of hills but want the same packable, washable, breathable comfort, checkout the Suavs Zilker Legend for an extra rubber toe cap and high top design that better keeps your heel in place.
Alternatively, other users mentioned pairing the Suavs Zilker with a light to medium weight wool sock and the (more structure) insole insert of your choice made these perfect for treading up and down hills.
SUAVS ZILKER FOR TRAVEL: PERFECT FOR SOUTHEAST ASIA AND WARM WEATHER TRAVEL
From weekend adventures to weeks on the road, the Zilker has been just as travel friendly as the Kickstarter campaign and Suavs promised.
Easy on, Easy off
The form-fitting, digitally knit uppers stay comfy while walking but at the same time slip off just as easily without untying. As small as this detail is, in Southeast Asia, you commonly remove shoes anytime you entire a building, which can be nerve-wracking, and which is why many people opt for flip flops instead. However, you should always have a pair of closed-toed shoes when traveling, for motorbiking, hiking, and nights out.
The "easy on easy off" nature of Suavs makes them perfect for the days and nights of Southeast Asia.
Breathable and perfect for Southeast Asian and Summer Heat
Summer destinations, and generally places with beautiful beaches are hot. On the other hand, most closed-toed shoes are thick, confining, hot, and miserable. On the other hand, the Suavs Zilkers breath so well that whether on a beach or motorbiking you can feel the air flowing through the shoe – and it feels great. This means that even in the heat, my feet stayed cool and dry.
Machine Washable Shoes and Insoles
If you're traveling for weeks, especially if you're going sockless, your shoes are going to get funky at some point – or at least mine do. This normally leads to a nasty session with an old toothbrush, dish soap, and scrubbing the funk out of my shoes and boots every few months to keep them from smelling too bad – especially in the heat of Bali, Thailand, and Vietnam.
With the Suavs Zilkers, I've literally just thrown the shoes (with insoles removed) in the washer every two weeks to experience a fresh pair of shoes. I love it.
Quick Drying
After the wash, or even after the rains we've gotten caught in, these shoes dry fast! 2 hours in the sun after a wash or rain and they're bone dry and ready to be worn again. For travelers, that means you can wash your shoes a few hours before departing if you're desperate for clean kicks, and be ready to lace up by departure time
Tip: Pack a good pair of ankle high Merino wool socks for a little extra comfort and shoe stability.
SUAVS ZILKER FOR DAILY LIFE
I believe I had such a great experience traveling with the Zilker because they're built well, and perform well in everyday life.
Breathable, stretchy uppers and the low-density sole just make the shoes comfortable to wear for hours and miles.
Easy on, easy off design allows me to easily pull on the shoes (without unlacing) when leaving and wear sockless, then easily pull them off before going to the beach.
The "Tennis shoe" style design, straight minimalist coloring, and neutral aesthetic make these shoes go just as well with Chinos as jeans, chinos shorts, sweat pants, and more. This means that you can get away with wearing the Zilkers in the office for a smart casual day, easily look good wearing them at an upscale happy hour, and still wear them to the park on a summer day.
Comfy, all-day wear feel makes them solid for running errands too.
The Bottom Line: I've seriously gotten away with these performing on stage and at happy hours, and they've still been comfortable wearing them everywhere around town.
BEST FOR: PRETTY MUCH ANYWHERE…BUT HIKING
The Zilker's comfiness, neutral aesthetic, and packability make them suitable for virtually any circumstances
Professional: Daily wear in the office, without breaking dress code thanks to low key aesthetic
Traveler: Packable, lightweight, washable, and designed for sockless wear
Urban Dwellers in concrete jungles: Designed for comfortable all day wear when you're on your feet
Walkers: Low density rubber sole is super comfortable and moves with your foot
Hikers
Note Recommended for: Hiking
The only situation I wouldn't recommend the Suavs Zilker for is dedicated hiking. If you're planning on trekking, walking through Patagonia, or putting miles of trail on these shoes, opt for a travel boot or hiking shoe instead.
The low-density rubber soles are super comfortable, but the comfort sacrifices durability. As a result, those rocks and pebbles will chip out pieces of the sole over time. Additionally, the form-fitting knit at the toe and heel and around the ankle won't prevent the foot from sliding over the edge of the sole when scrambling and climbing steep inclines or rocks.
I still like the Suavs Zilker and recommend them a lot, so consider a minimalist hiking option like the Xero Trails or Lems Boulder Boot for those miles on the trail
SPECS
Weight: 8 oz. per shoe
Price: $95
Upper Materials: 100% 3D knitted threads made from post-consumer recycled plastics
Insoles: Micro fiber and sweat wicking and breathable foam
Soles: Low density rubber
CLICK HERE TO LEARN MORE ABOUT THE ZILKER AT SUAVS SHOES

PROS & CONS OF THE SUAVS ZILKER
| | |
| --- | --- |
| PROS | CONS |
| EXTREMELY breathable and great for hot climates | Not meant for running or workouts |
| Packable – lightweight and pack flat | Feet may slide on steep inclines |
| Machine washable – both shoe and removable insole | |
| Comfortable AF – light wearing socks with a sole | |
| Soft and comfy out of the box, both soles and uppers, with no break in | |
| Great for backpacking Southeast Asia and summers in southern Europe and the Balkans | |
| Fantastic walking shoe | |
| Quick drying | |
| Forms to the foot, on top (uppers) and underneath (low density soles) | |
| Made for sockless wear | |
—————————————-
QUICK RATING OF THE SUAVS ZILKER
SUAVS ZILKER QUICK RATING

Read on to discover more about my experience with the Suavs Zilker.

Or, visit Suavs online to see the Zilker options before they sell out.

OVERALL

4/5




VALUE: Though these shoes ~$30 more they deliver more travel friendly function, replace other pairs of shoes, and are produced sustainably with social impact – add tons of value to the shoe 4/5




4/5

MATERIALS: Low density rubber sole for comfort
and moving with your foot. Uppers made from 100% plastic 4/5




4/5

CONSTRUCTION: 3D knit makes these shoes extremely breathable and construction stands up to repeated washes 4/5




4/5

DESIGN, AESTHETIC, AND FUNCTION: Very neutral look is low key, versatile, and does well in any environment through your day 4/5




4/5

DURABILITY | RELIABILITY: No issues in months of use and the shoes are backed by a 1 year quality & workmanship guarantee. Long term reliability TBD




4/5
QUICK VERDICT ON THE SUAVS ZILKER
With the Zilker, Suavs shoes effectively created one of the most comfortable, versatile, packable, and travel friendly shoes on the market.
Through blazing 90+ degree heat, miles of walking through concrete jungles, and countless nights on the town, I've enjoyed The Zilker every step of the way.
Add in easy washing and quick drying to keep these shoes fresh and I'm sold.
If you're looking for a comfortable, easy-to-wear shoe in daily life, get The Zilker.
If you're traveling to Southeast Asia or summering in Southern Europe, traveling light and backpacking, and need a "do it all" shoe, I highly recommend the Zilker.
Pack a pair of ankle high wool socks and consider adding a structured insole insert and you'll be ready for anything.
I highly recommend the Suavs Zilker.

FULL REVIEW OF THE SUAVS ZILKER
MY EXPERIENCE WITH THE SUAVS ZILKER: PERFECT FOR ONE BAG TRAVEL AND THE SOUTHEAST ASIA HEAT
DOES EVERYTHING BUT HIKE
Over the last few months I've been testing the Suavs Zilker shoe as a do it all, comfy, travel shoe.
The Zilker is described as its creator as a shoe that can go from the office, to happy hour, to travels and be comfortable every step of the way.
For me, the important parts of travel friendly shoes are being comfortable, packing down, looking good through any situation, and being good for hiking.
COMFORT
The Zilker was surprisingly comfortable right out of the box and requires exactly zero break in time. The low density rubber soles had the right amount of "squish" to be perfectly comfortable on the concrete sidewalks. The knit is interesting in that it flexes perfectly with the shoe to give a barefoot feel without the normal "clown shoe" look of barefoot shoes. Somewhat like wearing a light sock, with a sole
BREATHABLE UPPERS
The knit was so breathable I could seriously feel the ocean breeze through my shoes walking on the Bali beaches, and flowing through my shoes on motorbike rides. Even in 90+ degree heat, neither my feet nor the shoe got sweaty.
QUICK DRYING
In Southeast Asia, the climate goes from humid and 90+ degrees, to rainy, to hot again, so I was caught in more than a handful of rainstorms on the way home. In most cases, after the shoes got wet on a noon motorbike ride, they were dry and ready to wear again by the evening.
That quick-dry nature is solidly convenient for washing. ~2 hours in the sun and the Zilkers were bone dry again.
WASHABLE
After all of those puddles, walking on trails, and stepping in mud that inevitably happens in adventures – these shoes can get dirty. Every couple of weeks I've thrown the shoes in the washer and they come out looking fresh and feeling like new, and the construction quality has stood up to it all well
PACKABILITY & TRAVEL
The Zilkers fold down completely flat, taking up very little space in my bag. I insist on traveling with only one bag, either the GORUCK GR3 or the Tortuga Outbreaker, no more. Taking the Zilker didn't affect my one bag packing at all. Having the Zilker plus my flip flops covered any travels without hiking, and adding lightweight travel boots like The Jedburghs from GORUCK finished off my packing list.
Whether working at coffee shops, checking out temples, attending a night of comedy, or riding a motorbike in the rain, the Zilker did it all, took it in stride, stayed comfortable, and cleaned up easily after.
Note: I did bring a pair of ankle-high, lightweight and medium-weight wool socks on the trip. When the shoes felt too cool while riding (from the breathability) I added the socks and I was good. Same for rainy rides.
Definitely bring a pair of ankle-length wool socks, just in case.
NOT GREAT FOR HIKES
No shoe or boot is 100% perfect for everything, and often the elements that make something specialized and great at what it does create a weakness in other areas.
In the Zilker, the sock like feel lacking structure in the knit feels great but is a weakness when walking steep inclines. The slip that happens between your foot and the insole (due to lack of a heel cup and firm perimeter on the shoe) can cause your foot to slip over the edge of the sole on inclines.
Also, these soles are incredibly comfortable and have a nice softness that is perfect for flat concrete and cobblestone roads, but undoubtedly this affects the durability and life you'll get walking on small rocks.
For hiking, I recommend getting a dedicated piece of footwear with a more durable sole and a design that keeps the heel in place and reduces slip in the forefoot. For minimalists and light packers, the Xero Z-Trail and the Lems Boulder Boot are excellent options.
TAKE A FEW DAYS TO ADJUST, IF YOU NORMALLY WEAR STIFF, CONFINING FOOTWEAR
Though the Suavs Zilker felt comfortable out of the box, the feel took a few days to adjust to. My daily wear shoe is a years-old Sperry Topsider, essentially an all leather, waterproof loafer. Though I love them and they've formed to my feet, they are confining, and leather uppers add lots of structure to the shoe. They're good for virtually any activity because, thanks to possibly thousands of miles of wear, they fit like thick leather moccasins.
By contrast, the Zilker lacks that structure. It isn't a bad thing (actually a strength) however, I had to make the mentally switch to wearing "socks" instead of "shoes." If you wear beefy shoes regularly, beware of that "it feels weird" when you first put on the Zilker. If you like the breathability and flexibility of the Zilker but need a little more structure, grab that ankle-high wool socks and a good, supportive insert (like Superfeet) and you'll likely love the Zilker.
THE BOTTOM LINE ON MY EXPERIENCE
A few months of wear and I'm convinced. Suavs did a great job on the shoes. They're comfortable in almost any circumstances, look good enough for daily life and beyond, and have performed very well in the Southeast Asian heat.
THE SUAVS ZILKER FOR WOMEN: JUST AS AWESOME
My girlfriend tested out a pair of Suavs Zilker's the same time I did, and she loved them more than me. The Zilker's have quickly become her favorite shoe – for daily wear, travel, and even nights out.
Our single differing point in preference is that she always wears her Zilker's with ankle-high socks out of preference and wasn't a fan of wearing the shoes sockless. With the socks, these shoes are definitely her fave, wearing them anytime she's not wearing flip flops.
Click here to read the full Suavs Zilker review for female travelers
HIGHLIGHTS OF THE SUAVS ZILKER
Perfect for the heat of Southeast Asia and Summer
Constantly Comfortable
Great for barefoot wear – being washable is convenient for stinky feet
Extremely Packable: Lightweight and fold flat
3D Printed knit – with varying breathability and stretch at different points of the shoe
Machine washable shoes
Machine washable, removable, replaceable insoles
Sustainable manufacturing
Flexible (in packing and on the foot)
Minimalist
Quick drying
Encourages natural patter of movement – flexible sole gives the barefoot shoe feel, without the overly wide toe box
Low density rubber outsole for comfort, flexes and moves better with the foot, and freedom movement
Odor resistant and moisture wicking insole made of micro fiber, special poly foam is lightweight and machine washable

ABOUT SUAVS: THE STORY BEHIND THIS ECO-FRIENDLY TRAVEL SHOE COMPANY
Just before 2015, Monxi Garza, the founder of Suavs, was a footwear designer in Vigo, on the coast of Galicia, Spain when she came up with the idea of a better shoe. Life in Spain is more commonly lived on foot – walking and taking public transport to work, to do errands, out to the bar and meet friends, and out to the gym. But few pieces of footwear have the versatility, in function or aesthetic, to pass through all of those situations, look good, and stay comfortable. Even fewer deliver that same function for travel, so Garza set out to make the perfect shoe for – everything.
After moving to Austin, Texas, and launching a successful Kickstarter, Garza's new company, Suavs, launched The Zilker shoe after one of Austin, Texas's most enjoyable landmarks – Zilker park.
Suavs Shoes founder Marxa Garza walking down the legendary "SoCo" Ave in Austin, the town that holds the namesakes for many of the Suavs Shoes lines
Since its inception Zilker has committed to sustainable practices, aiming to recycle materials, waste as little as possible, and give extra shoes back to the community.
Since the first successful Kickstarter, Garza and Suavs have gone on to launch a second successful Kickstarter, delivering the Legacy followed by the Barton, and the Eddy (both named after Austin, Texas icons as well).
WHAT OTHERS HAVE SAID
Around the internet, Zilker wearers have praised the comfort of the shoe, and the few that didn't like the feel upfront added light socks and an insole to make shoes they loved.
Durability remains to be the only question for this new shoe company with one user citing he got 6 months of hard use out of the shoe before punching a hole in the sole, but Suavs 1 year guarantee covers the shoes for the first year against quality or workmanship issues, so rest assured.
One other wearer reported experiencing "slippage" in the heel on inclines and declines, due to lack of structure in the shoe uppers and lack of a heel cup. He reported adding light wool socks and a support insole from another shoe and loving the shoes from that point on.
If you have a problem with sliding or "heel feel" consider swapping out with a different shoe insert and getting good socks (light to medium weight wool) if you're walking a lot (miles).

CATEGORY BY CATEGORY REVIEW
AESTHETIC AND STYLE: WEAR JUST LIKE CHUCK TAYLORS, FROM CASUAL TO SNAZZY
The Zilker follows the same style as Chuck Taylors and classic canvas shoes.
Low top, low profile uppers and standard sole give it a stylish yet muted aesthetic that is technically athletic but stylishly casual as well.
The Zilker goes well with slim-fitting Chinos and jeans (like the Western Rise Evolution Pant) as well as nice shorts, like the Unbound Merino Essential Shorts or the Outlier New Way Shorts and look good for any warm-weather event
COLORS
The Zilker color scheme adds to its minimalist style, coming in colors that are versatile (for your wardrobe) and either heel/uppers color coordinated or with a gum sole.
Black Uppers + Gum Sole
Vino Uppers + Gum Sole
Navy Uppers + Gum Sole
Black Upper + White Sole
Olive Green Upper + Gum Sole
Navy Uppers + White Sole
Vino Uppers + Vino Sole (Burgundy)
Charcoal Uppers + Black Sole
Butter Uppers + White Sole
Heathered Grey Upper + White Sole
CLICK HERE TO SEE ALL COLORS OF THE ZILKER
Being a minimalist, consummate traveler, I immediately opted for black. However, my girlfriend opted for burgundy, and thanks to the neutral look, her shoes are just as versatile (in wear) as mine
ECO-FRIENDLINESS & SUSTAINABILITY
At its roots, Suavs is an eco friendly and socially conscious company
All of Suavs' shoes' uppers, including the Zilker, are made from 100% recycled materials – specifically post consumer recycled plastics.
The digitally knit uppers are printed to perfectly form the shoe, meaning that no fabric is cut, eliminating the waste common in the shoe manufacturing process
All extra footwear in production runs are donated to the Soles4Souls, which donates shoes to those experiencing homelessness, and the Lifeworks charities
VALUE
Though the pricetag for a pair of Suavs Zilkers is $95, ~$30 more expensive than a pair of Converse Chuch Taylors All Stars, that small uptick is worth it.
From a shoe performance standpoint, the comfort, function, packability, versatility, and fabric performance these shoes deliver over other options is unmatched, which is part of what that extra $30 is paying for.
Second, the eco-friendliness of this shoe, using post consumer recycled plastics, to create threads and make uppers with no waste is a value added feature that other, cheaper shoes aren't doing.
Last, supporting a company with your dollars that is making a social impact (if you believe in the impact they're striving for) is part of the value proposition
So, at $95 the Zilkers are $30 more than a pair of Chuck Taylors, the extra cash goes to travel oriented performance features, earth friendly practices, and social impact.
The Zilkers are priced about the same as other shoe startups, and cheaper than travel shoes like Lems and VivoBarefoot.
All in all, considering what you're paying for and what you get – in the shoe and the company – Suavs are a great value with some great benefits.
OTHER SUAVS OPTIONS FOR MEN
The Zilker spawned a string of other packable, breathable, and eco-conscious footwear – The Legacy, The Barton, and The Eddy.
The Legacy takes the comfort of the Zilker and makes it a high top (holding the sole in place more) and adding a rubber toe cap.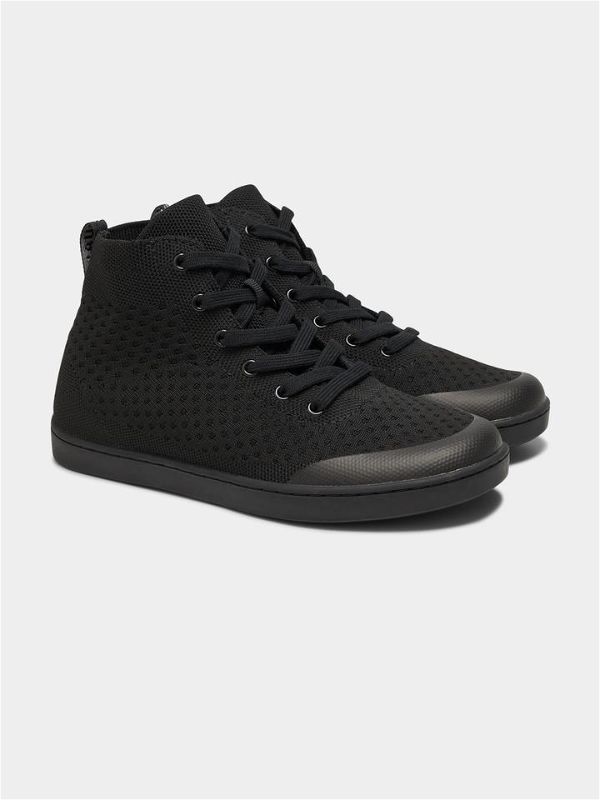 The Barton takes the 3D knit and comfortable sole of the original ZIlker and places it in a Slip On shoe package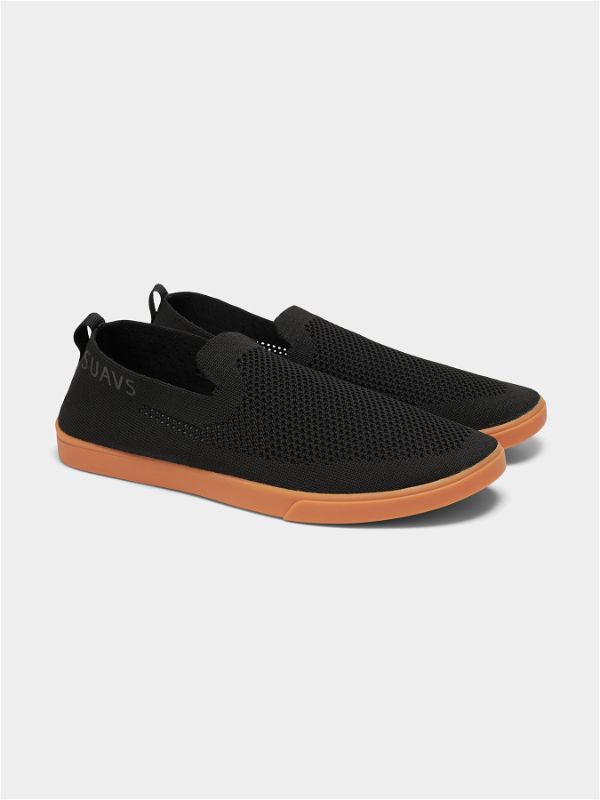 Comfortable slides, made even more comfortable by adding Suavs' signature knit uppers.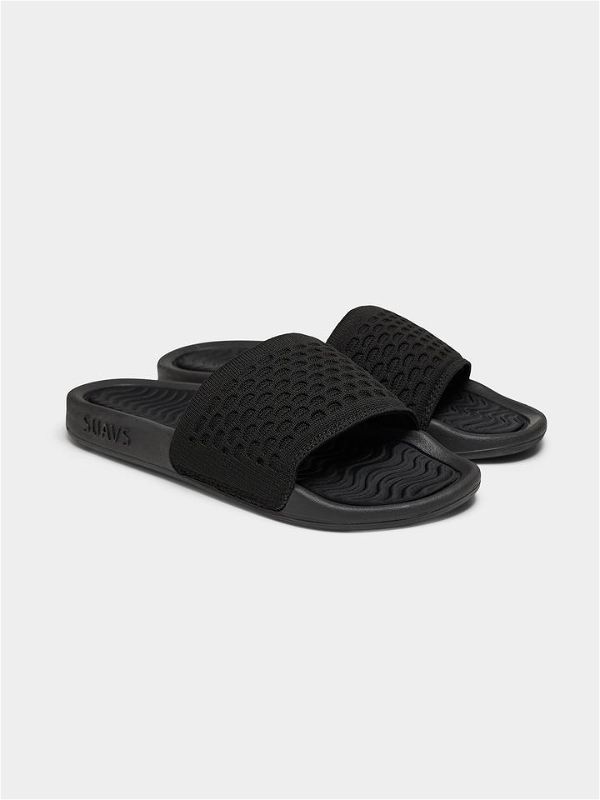 ALSO CONSIDER…
If you're after minimalist or highly breathable shoes, consider these great options
Softstars Dash Runamoc**
Softstars M3 Runamoc**