Indonesia is a dream destination with beautiful beaches, adventurous treks, luxurious treks, world class diving and snorkeling, and a nightlife and social scene that can't be beat.
But whether you're in Bali, Lombok, or Flores, no trip to the Indonesian archipelago is complete without a visit to the Gili islands. But in order to book your trip to the famous "turtle islands" you need to discover which Gili island is best for you, your travel style, and the adventure you want. Gili Trawangan? Gili Meno? Or Gili Air?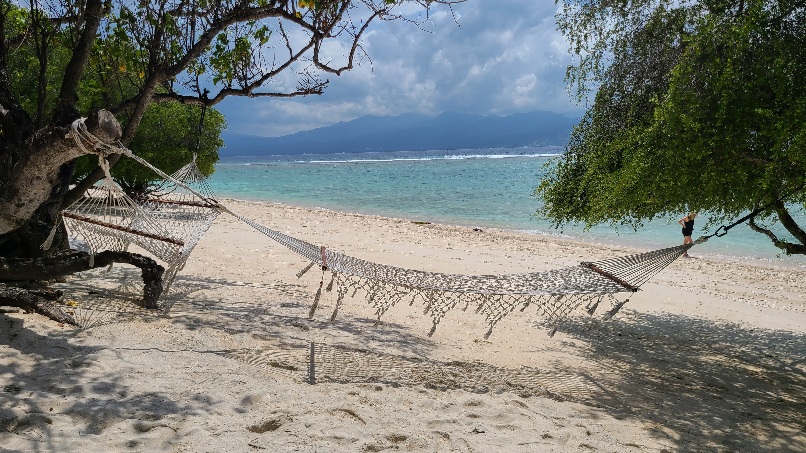 In this article we'll quickly review what each island has to offer, what each island delivers best, and what type of traveler each island is best for.
Quick answer of what each Gili islands excels at:
Gili T: Better sunsets, more social, more night life, stronger internet, SCUBA and Freediving training and scene
Gili Air: More "chill social", better food
Gili Meno: More quiet and secluded
All: Diving, snorkeling, surfing, beautiful beaches, access to other islands
Quick answer of who each Gili island is best for:
Gili Trawangan: Partiers, divers, and generally social travelers, going on "excursions" and quick diving trips
Gili Air: Older travelers, travelers that prefer daytime activities to nightlife
Gili Meno: Lovers and loners

TABLE OF CONTENTS

Whereas Bali is a quintessential Southeast Asian island destination filled with an adventurous 5,780 square kilometers of busy cities, chic surf towns, UNESCO rice terraces, waterfalls, and more than any person could experience in a single trip or even a long stay, the Gilis are a manageable, slower, and more peaceful island experience that makes for a perfect 3 to 7 day trip.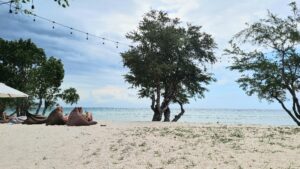 With Gili Trawangan being only 3.4 square kilometers (vs. Bali's 5,780 square kilometer area) and only 6.6 km around in a loop that can be walked in only 1 hour and 30 minutes, and Gili Air and Meno being much smaller, everything about the "Gilis" adds up to being a chill, peaceful adventure with beautiful paired with your choice of aquatic adventures or island social life.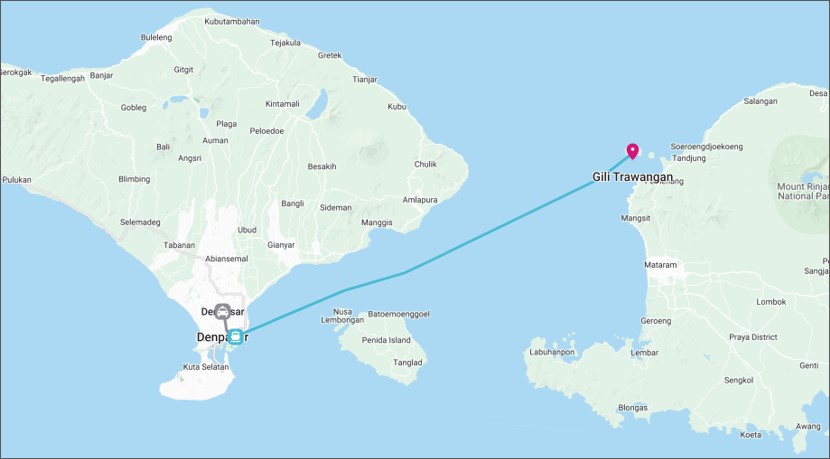 What do all of the Gili islands offer in common? Beautiful beaches, diving, and motorbike free living!
The three Gili islands – Gili Air, Gili Trawangan, and Gili Meno, are three serene specs of white sand beaches filled tiny islands sitting a 2 hour ferry from Bali and twenty minute ferry Lombok. Each of these that balance the chaos of Bali by being quiet, walkable, motorbike and free island adventures perfect. All three of the tiny islands are dotted with great accommodation right next to beautiful beaches – ranging from lux modern resorts, to budget hostels, to cabins and palm trees with hammocks – great restaurants that you could eat from repeatedly, and world class diving, snorkeling, and watersports just off the shores, whether you want to snorkel with turtles or SCUBA dive around underwater sculptures.
Additionally, as cheap public boats and private boats connect Gili T, Meno, and Air with a short 5 minute ride between each, the experiences that happen during the day (from ~8AM to 430PM) can be shared between the islands as day trips.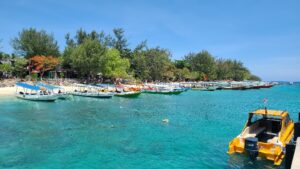 Last, all of the Gili islands connect easily to Lombok's Bangsal Port (20 minute ferry) and to each of Bali's three ports (Sanur/Serangan, Padang Bai, and Amed) as well as to boats that travel to Lombok for Mount Rinjani treks, and on to Sumba, Sumbawa, and Flores for more epic adventures
in the Lombok Strait between the Indian Ocean and the Java Sea
Which Gili island is best? That depends on your vibe and what you're looking for
If you're easy to please and aren't particularly craving chill time or alone time, opt for Gili Trawangan. Though each of the three islands offers a very different personality, "Gili T" offers plenty of beautiful beaches, diving opportunities, bars, socializing, white sands beaches, and parties, that are all a 20 minute walk away from having an entire beach to yourself at any time of day.
Additionally, the public ferry runs more than hourly between Gili Trawangan, Gili Air, and Gili Meno on a 5 minute trip for ~$2.50 so you'll have no problem bouncing between the islands.
I'll share more about why Gili T is the perfect starter island, and what make the other options fantastic for different cases, but if you're trying to book tickets as you read this book to Gili T and then keep reading!

Gili Trawangan: Formerly the "Party Island," now equally "Party or Chill" as you wish
Best Gili Island for: Partying (on the east side), chilling (on the west side) diving and dive training, a little of everything
: Best for traveler types: Social travelers, social travelers, divers, families, and virtually anyone
Whereas Gili Meno and Gili Air specialize in chill and quiet, the new Gili Trawangan has a little of everything – parties, diving, luxury hotels, and quiet corners of the island that feel like private beaches. Of all the islands, Gili T delivers the most well rounded experience.
As you walk the 6.6km loop that wraps around the tropical paradise of Gili Trawangan, sometimes the island can feel like an island from pirates of the Caribbean with the pirates replaced with backpackers, but 5 minutes later you'll pass a screening of the movie "The Beach" for free on a beach in front of a resort, then 5 minutes later pass a dreamy sunset view with a volcano backdrop, bean bags, and a lofi DJ, and then walk past a white sand beach that is completely beautiful and empty for 30 minutes. That is Gili Trawangan.
(My apologies for the long sentence)
"Gili T" is the largest of the three Gili islands and the furthest west giving clear views of the open and is generally a quite charming and enjoyable island – almost an essential Indonesian experience. The western side of the island and main street bustles by day and night with plenty of coffee shops and cafes (Banyan Tree is by far the best), dive shops for introductory and advanced SCUBA Diving and Freediving training (I always go with Trawangan Dive), and countless bars and bar crawls with a standard rotation of which bar to go each night of the week.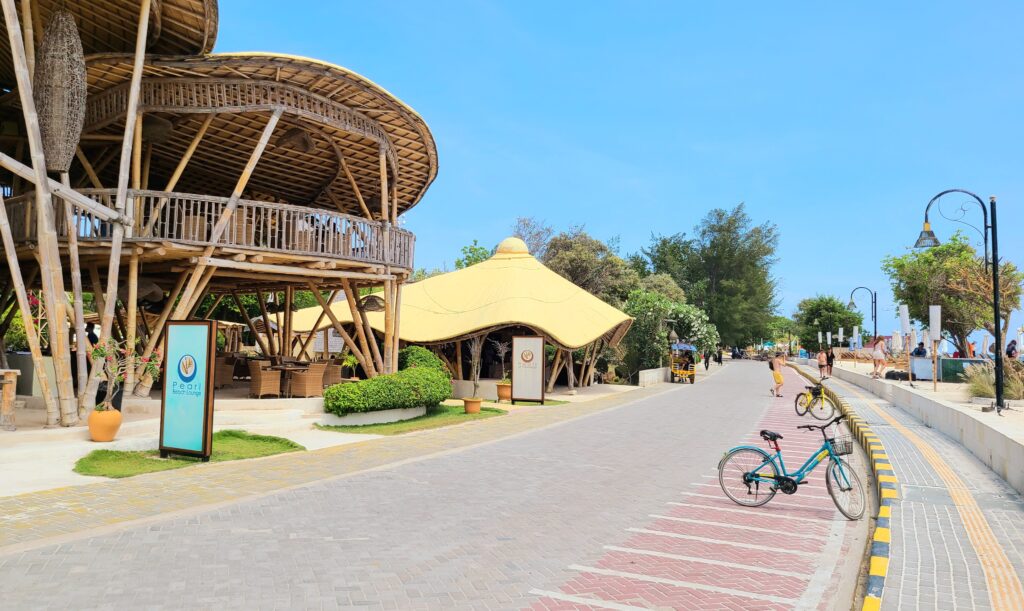 Additionally, on Gili Trawngan you'll find the best wifi, a robust diving community (making it easier for divers to be social), a small handful of short hikes, and plenty of places to eat and chill throughout the day making it the best option for general needs, backpackers and travelers without a strict preference, and families that need to think about how to keep everyone happy.
Lastly, the new Gili Trawangan (with a looping road around the island that connects east and west) delivers a very serene, quiet, and chill west side with a wonderfully paved road (with ocean views as you walk the 1.5 hour loop) and empty beaches.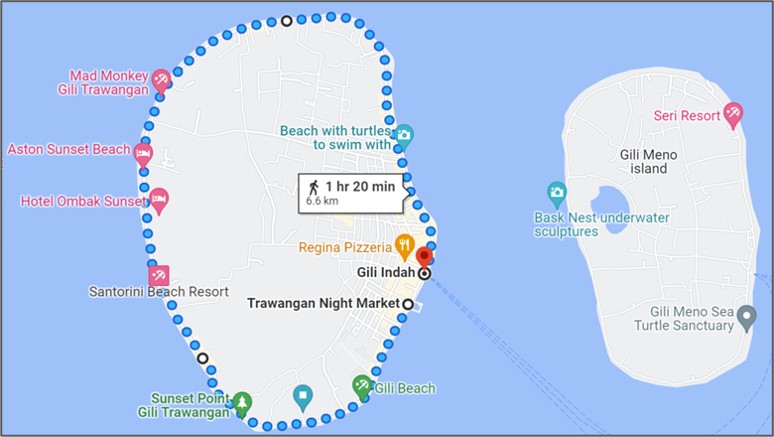 A Note: Things Have Changed and Gili Trawangan is much more developed now
Most guides to Gili Trawangan and which Gili island is best blanketly label Gili Trawangan as "the party island" almost encouraging all others to stay away from the island – however – most of these recommendations are incorrect because Gili T developed so much in 2022 that the island developed two separate personalities on opposite sides of the island.
On the east side of Gili Trawangan, the main street (next to the old port and newly built harbor) still stands and is still the main strip for nightlife, bars, and the social scene on Gili Trawangan. But before late 2022 the same road did not connect to the west side of the island. The road that loops around the island was completed in late 2022 and several hotels, hostels, and resorts have popped up, but all with a very chill, relaxed, bean bag vibe.
Additionally, most of the space and beaches on Gili Trawangan's west coast remain undeveloped allowing you to walk 30 minutes (from Trawangan's main street) and have a white sand beach with clear views into turquoise water of the Java Sea – and this is the case, any day or night. I spent many days on Gili T sipping a morning coffee alone on the west coast, and even a few nights alone on a quiet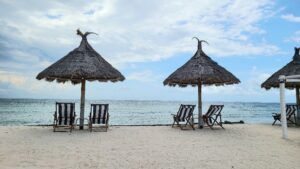 The bottom line: The new Gili T delivers party and chill equally, and you can choose from either at any time.
Now, on Gili, parties happen on the east side, and chill happens on the west side – and you can pick from either as you choose.
Best Things to Do on Gili Trawangan
Walk or bike the 6.6 km around the island
Dive with the many dive shops and dive schools that do basic SCUBA courses, fun dives, advanced courses, or get social with other divers at night
Watch a sunset at the best sunset points in the Gili Islands (Pink Coco, and a few other beach clubs)
Watch a movie on a movie screen on the beach, next to the ocean**
Party once the sun goes down at the bar of the night
Sit on an empty beach looking out onto an empty ocean (west side)
Largest of the 3 islands at 3.4 km2 with a road looping completely around the island
Visit the Gili T Night Market
Surf at Gili's single surf point, just in front of Ponte Villas
Pros of Gili Trawangan
Vibes like Koh Tao, Thailand, but with much better dive sites
Where to Eat
Jali Kitchen (lunch and dinner)
Gili T – night market, for authentic Indonesian street food and seafood
Banyan Tree (Coffee, Breakfast, Lunch)

Gili Air: A chill island paradise with less party and more gourmet food
Whereas Gili Trawangan is the paradise island that delivers party when you want it, and chill when want it, Gili Air delivers very few options for late night partying (after ~10PM) and delivers more gourmet food and lux accommodation than the other two islands.
Generally, older or mellower travelers that have no intention of enjoying the heavy bar and party nightlife will enjoy Gili Air a bit more than the drunken scene that kicks up around Gili Trawangan's main street (around the area of Sama Sama, Tir Na Nog, Lava Bar, etc.).
If you plan it right there are a few mellower late-night activities. Live music happens Mondays at Gili Lumbung and Tuesdays at Pura Vida. Zipp Bar and Bel Air host live music inconsistently throughout the week, so drop in and ask about times.
Additionally, Chill Out Bar hosts a beach party from 10PM on with electronic and house music and Legend Bar plays trance music from 9pm to 4am. Given that the Gilis are also known as the "Mushroom Islands" you can guess what's fueling these mellow late-night experiences.
By day, Gili Air delivers the same epic watersports activities – SCUBA diving, freediving – that Gili Trawangan does, but with fewer long term dive students doing long courses, so take that into account.
Why Go to Gili Air
Ultimately, if you want everything that Gili Trawangan has to offer, without the boozy party vibe, or if you have the time and want to chill, visit Gili Air.
Laid back Rasta vibes with a mix of the best of Gili Trawangan and Gili Meno: if Bob Marley designed an island, this would be it
Great island for peaceful activities like yoga retreats, and plenty of yoga centers
Great for the crowd that wants island chill without the heavy partying
Plenty of gourmet food and restaurants

Mowie's
Begadang
Dolcemare
Pachamama
Warung Sunny
Classico Italiano
Gili Bliss (Vegan options available)
Pink Coco restaurant

Plenty of great dive hubs, and access to the same dive sites as on Gili Trawangan
Beautiful, unimpeded views of Mount Rinjani, the second tallest volcano in Indonesia, and mainland Lombok
Mild, "just enough" and mellow nightlife for the "non-partying crowd"

Gili Meno: Quiet and secluded, with a "couples only" feel
Last, and honestly least, is Gili Meno. This island which is sandwiched between the other two islands is the best place for "lovers and loners" as the island offers very very luxurious accommodation, but little more beyond that besides solitude and is quite possibly to quiet for most travelers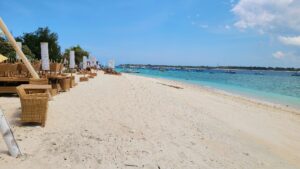 Beware that accommodation on Gili Meno is the most expensive of the 3 islands.
If you are trying to take sometime to yourself to focus, or some time with your honey without distraction, Gili Meno may be a great option for you. Otherwise, stick to either Gili Trawangan or Gili Aire.
Why Go to Gili Meno
Peace, quiet, beautiful beaches, and lots of time alone are the only reasons to visit Gili Meno
A place of romance and relaxation for lovers and loners
Very romantic vibes and honeymoon atmosphere
Found someone on Gili Trawangan that you want a little more "privacy" with and you need an escape close by
Feels like a private island
Best beaches of the three islands with powdery white sands and clear turquoise water
Good for one day to disconnect from the other islands, or travels in general – visit Gili Meno for a chill day trip
Good dive sites close by, but shares the same dive sites with Gili shops
SCUBA diving special: The "Nest" underwater sculptures from British artist Jason deCaines Taylor of 48 life sized human figures
Where to eat on Gili Meno

How to Get to the Gili Islands from Bali
Getting from Bali to the Gili Islands is easy, cheap, and quick, and simply a 1.5 to 3 hour ferry ride from Bali's ports of Padang Bai, Sanur/Serangan, or Amed. Simply book your ferry online, arrive at the port and check in, and enjoy the ride.
Click here for a full guide to getting from Bali to the Gili Islands Trawangan, Air, and Meno or, click here to see available ferries from your port of choice
**3 BUTTON S for Ferries**

How to Get to the Gili Islands from Lombok
To get from Lombok to the Gili Islands, simply show up at the Bangsal port and take a public ferry from Bangsal to Gili T, Air, or Meno.
Click here for a detailed guide, prices, and ferry times for getting from Lombok to Gili T, Gili Air, and Gili Meno

Gili Trawangan, Meno, and Air FAQs
Which Gili islands are best?
Gili Trawangan delivers the best well rounded experience with world class beaches, flexible accommodation, diving, and partying, while Gili Air delivers all of the same without the party. First time travelers should start with Gili Trawangan, while mellow travelers should head straight for Gili Air
Which side of Gili Air is best?
The west coast of Gili Air has the best beaches
Are the Gili islands worth visiting?
The tiny islands of Gili T, Air, and Meno, are a must visit destination in Indonesia as the walkable islands with perfect, powdery white sand beaches and no motorized vehicles as the islands feels a peaceful and dreamy destination from decades ago with modern comforts
Which Gili island has the swing?
All of the Gili islands have a swing, but the west coast of Gili Trawangan has the best swings for sunset pictures and sunset views as the backdrop is pure empty ocean and sunset
Which is the best Gili island to visit?
For first time visitors, Gili Trawangan is the best island to visit as it delivers a little of everything in a way that will leave nearly all travelers satisfied
How many days do you need in Gili Trawangan?
To relax and enjoy Gili Trawangan, 3 days should be the minimum for your trip, with 7 days being just enough to feel satisfied when leaving.


Other Great Articles in the Moving to Bali Series
Other Great Nomad, Travel, and Expat Lifestyle Articles