The Cost of Building a Villa in Bali
Whether you're drawn to Bali as a cheap alternative to Hawaii or simply assessing your budget for the possibility of building a beautiful Bali villa, your important questions are likely about what it costs to build a home in Bali.
The short answer to this question depends on the size of the villa you intend to build, the level of luxury and finish you want, and where in Bali you would like your villa to be.


My experience building Villa Balifornia: Trial by (ring of) fire
HOW MUCH DOES IT COST TO BUILD A HOUSE IN BALI
OTHER PARTS OF THIS BUILDING IN BALI SERIES
BALI VILLA DESIGN AND PLANNING PROCESS: ARCHITECTURAL, STRUCTURAL, INTERIOR DESIGN, AND MORE

We'll get into the differences and details later, but for the sake of answering the question of the average cost to build a villa in Bali we'll assume the following:
The average villa in Bali has 2 bedroom and 3 bathrooms totaling 150 square meters (1615 square feet) of indoor space with a pool and sits on 2 are of land (200 square meters of land / 2150 square feet of land). Roughly 1.9 Billion IDR, approximately $126,500 USD to build.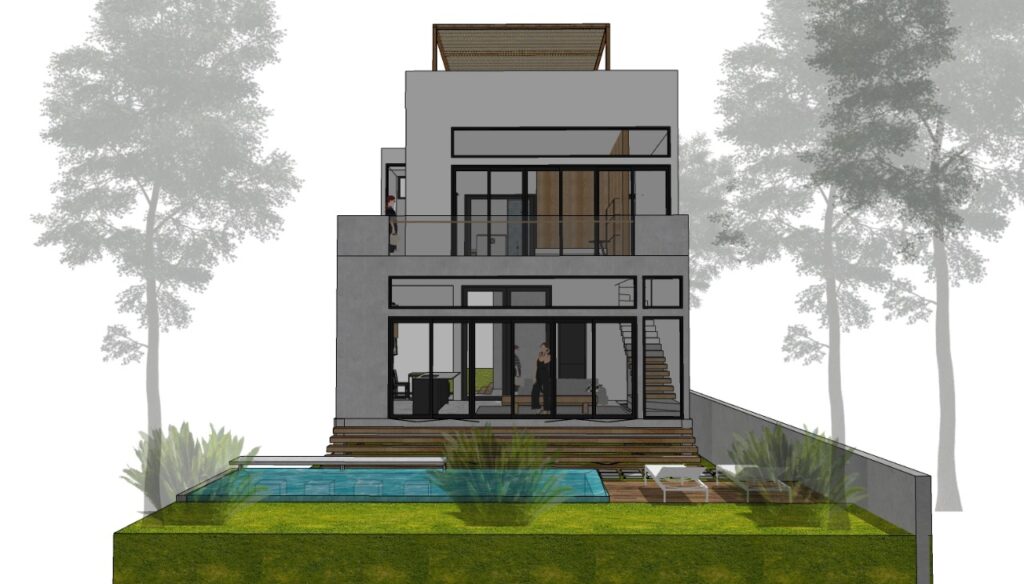 For a villa with these specifications:
2 Bedrooms
3 Bathrooms
150 square meters of indoor space
Good quality construction and finish
3 meter x 6 meter pool
2 are of land (200 square meters) land near the popular areas of Canggu, Uluwatu, or Ubud
Estimated cost of construction (labor and building materials ) alone is 1,050,000,000 IDR, approximately $70,000 USD
Estimate cost of building a pool is an additional 100,000,000 IDR, approximately $6,500 USD
Estimated land costs for renting 200 m2 of land on a 25 year lease near a desirable area in the 2023 real estate market is 750,000,000 IDR, approximately $50,000 USD.
So, the approximate cost to buy land and build an average villa in Bali would be roughly 1.9 Billion IDR, approximately $126,500 USD
(Assumptions: Build cost of 7 million IDR per square meter, land lease cost of 15 million IDR per 1 are per year)
What this estimate does not include:
Due diligence research fees, contract drafting, legal costs, professional fees and sales transaction fees from notary for all the paperwork
Villa planning, design, and drawing fees: Architectural drawings, structural drawings, Mechanical Electrical Plumbing (MEP) drawings, soil tests
Land preparation costs: Access roads, electrical hookup, water, septic systems, dirt fill
Permitting Fees: Use aspect change (aka Aspekt), permitting fees (IMB building permit, PBG building permit, or SLF permit), and required village "donations" (fees paid directly to the village)
Landscaping
Developer fees
Maintenance fees
Keep in mind that this is a cost estimate for an average villa for a fixed price contract for construction with the building process managed by a professional building contractor and project manager. If you go larger or smaller, your price could balloon or shrink accordingly. If you decide to go with luxurious with finishes, fixtures, and appliances, importing items to achieve western standard finish and furnishing, expect the price of construction to increase by 50% to 100%.
But, these are simply cost estimates. So, you are absolutely wondering what do real world villa construction prices look like lately?
Luckily for you, I and a couple of friends are willing to share exactly what it costs to build an average villa in Bali

How does the price of building a house in Bali compare to the price of buying a house in Bali?
Though building a house in Bali may be more expensive on average than one would expect, at 1.9 Billion IDR, approximately $126,500 USD, this is far cheaper than the cost of purchasing a finished or existing home in Bali.
In 2023, the price to purchase a home in Bali was as cheap at $150,000 (~2.5 Billion IDR) on average in less desirable places, such as Denpasar and Karangasem, and as expensive as $500,000 (~7.7 Billion IDR) on average in hotspots like Canggu, Cemagi, and Jimbaran.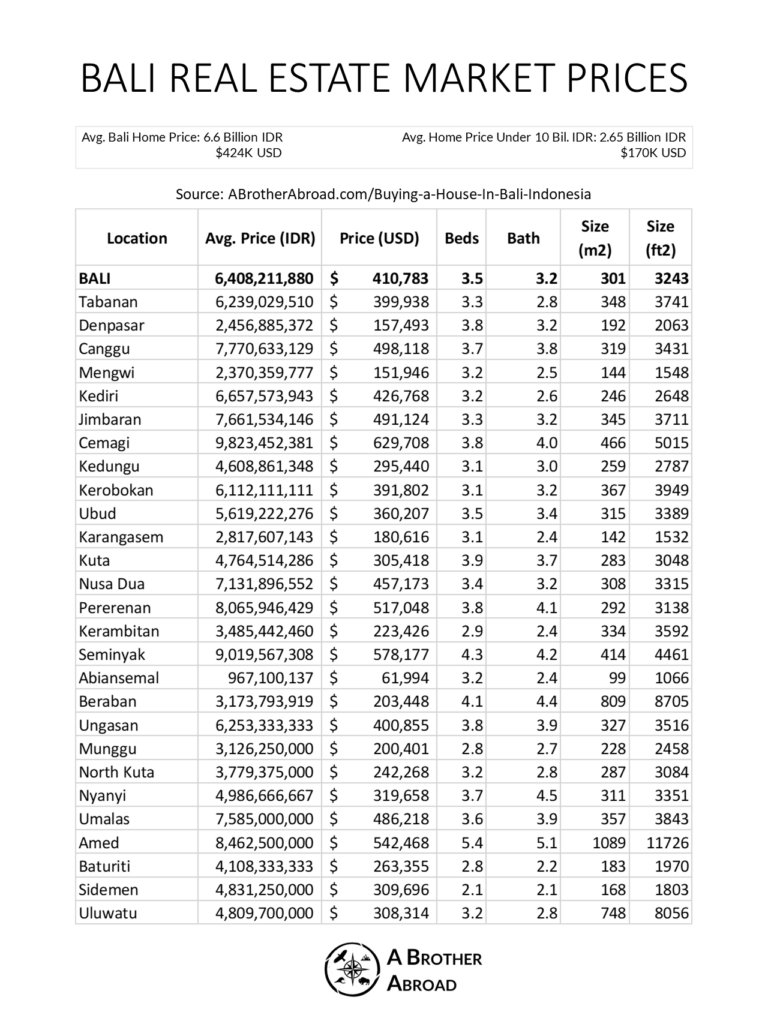 Read our Guide to Buying a House in Bali, Indonesia to learn more about existing home sales prices right now.

The Cost of Building a Villa in Bali: A detailed look
Though that quick price of 1.9 Billion IDR, approximately $126,500 USD for the price of a villa in Bali seems good, the devil is in the details. The cost of your villa build in Bali can skyrocket to more expensive than a villa in Europe, or dip to a rock bottom price, depending on your location, the level of "luxury" in your finish, how much of the process you do yourself, how close to a tourist area you'll be building, and your timing for buying and building among many other things.
These factors will influence the sale price of land you purchase, the price and ease of permitting, labor, materials, taxes, and how many unexpected hiccups you'll have. Ultimately, the price of your villa can drop to ~$80,000 or lower like for my friend Claudio's villa, or balloon to the hypothetical rebuild cost of my villa at close to $200,000 USD which is actually cheap compared to some villas on Bali.
Rest assured, we'll walk you through the details to help you understand build costs and estimate yours with the Bali villa build calculator** I've included in the bundle for this read.
Now, let's review a comprehensive list of the costs you'll need to plan for when building a villa in Bali.
Full Costs of Building a Home in Bali:
Note: All prices are quoted in millions (or "jutah" abbreviated as "jt) or thousands of Indonesian Rupiah. In the past few years 1 USD has fluctuated in value between 14,500 Indonesian Rupiah (IDR) and 15,500 IDR. For a "cheat" 1jt = roughly $70 USD / €63
Due diligence and legal research: 2jt (basic research) to 20jt (full, commercial investment worthy due diligence)
Notary fee for lease: 1% of the land sale (~2jt to 10jt+ IDR)
Land lease: commonly between 300jt and 2 billion IDR. Average prices per 100m2 of land are ~5 million to 30 million IDR paid per are (100m2 of land) per year and prices to depend on location and lot size
Soil test: 4 million IDR
Dirt fill for lot: Varies widely. For low lying rice field, expect to spend 10jt per 100m2 of land you will landscape.
Build Access roads: 1jt to 2jt per meter of length plus 150k m2 for paver blocks
Boundary wall and boundary wall foundation: 1jt per meter of length for a 2 meter boundary wall with proper foundation

Note: Drawings and building plans are cheaper when purchased as part of a single

Lump sum Drawings including architectural, structural engineering, MEP, permit drawings: 35jt to 50jt
A La Carte Plans (Purchased individually and not from a single contractor)

Architectural Plans: 35k IDR per m2 of building drawn
Structural Analysis Work: 15k IDR per m2 of analysis
Structural Engineering Plans: 25k IDR per m2 of building drawn
Mechanical, Electrical, and Plumbing Plans: 35k IDR per m2 of plans drawn
Total of a la carte plans Purchase A La Carte": 110k IDR per m2

Permitting fees (IMB, PBG, or SLF): 25jt to 50jt if under 200 m2 build. Variance depends on location's banjar and wealthiness and whether a local representative files for the permits or the owner does
Land Usage Aspect use change permitting ("Aspekt") from ricefield to residential/commercial: 17jt to 25jt (Note: This, usage aspect change, is different than ITR)
Building Costs
Building Construction Costs:

6jt per m2 for a very basic build
7jt to 8jt per m2 for a well built Bali construction with local contractor and minor supervision, possibly including landscaping and pool
10jt per M2 for a managed quality build with western standard construction
15jt per M2 for a luxury build

Landscaping: 15jt to 25jt for an average villa in Bali, hiring a local gardener
Developer fee: 10% to 25% of construction costs
Average Land Costs
The Peninsula (The Bukit) including Uluwatu, Bingin, Dreamland, Balangan, and Nyang Nyang fluctuate between 10 to 20jt IDR per are (100 m2 of land) per year
Canggu, Pererenan, and Seminyak: 15jt IDR to 30 jt IDR, and up to 50jt IDR per are per year if within 500 meters of the ocean in Canggu or Pererenan
Seseh, Cemagi: 10jt to 15jt IDR per are per year
Ubud: 5jt to 10jt to per are per year
As you can see from the list of costs above, building in Bali can be a dream experience and far cheaper than that cramped home in California. With all of the moving parts you'll have to manage in building your own villa, the costs can balloon rather quickly, and starting with understanding the full costs is a great start to ensure you don't overshoot your budget.
However, there's no reason to live in the space of "potential individual costs" when Bali is full of case studies of actual villas, with full costing, that have been built. In the next section, we'll review the cost breakout for one hypothetical villa and a few villa builds taken on by me and friends.

Example Villa Estimate Costing
We did mention previously that, in the past, 150 m2 villas with 2 bedrooms and 2 or 3 bathrooms have been fairly common. However, with the influx of early retirees, Bali's active targeting of wealthier travelers**, and an increase in vacationing in Bali as an alternative to Hawaii, let's start by reviewing the costing of a slightly larger hypothetical villa builds, based on build costs.
The following is costing for a "new average" villa, 180 meter square build with 3 bedrooms and 2 bathrooms on 200 square meters of land
HYPOTHETICAL BALI VILA
Total Estimated Cost: 2.25 Billion IDR (~$150k USD)
Setup: 3 Bedroom, 2 Bathroom, Pool on 200m2 of land
Build Size: 180 square meters (~1940 Square Feet) | Land Size: 2 Are (200 m2)
Hypothetical Villa Notes: Land purchased just outside of the busy tourist bubble of a Bali center (Canggu, Ubud, or Uluwatu) and built by a popular developer to target a typical, white Bali villa finish with pool
Build Cost: 1.5 Billion IDR (~$100k USD) [estimating 7.5 mil per m2 to build and landscaping]
Land Cost: 750 Million IDR (~$50k USD) for a 25 year land lease (renewable) [estimating 15mil per are per year leased , common north of Canggu, in Lovina, and in the Bukit]
Additional Costs (150jt): Permitting (50jt), 50 meter boundary wall (50jt), electrical and septic hookups (25jt), landscaping (25jt)

The Real World Cost of Building a House in Bali: 3 Villa Construction Case Studies, and Prices
Now that you're familiar with general costs, let's check out the actual costs from my villa build and for the builds of 2 friends of mine.
Villa Claudio
Total Cost: 1,265 million IDR (~$83,000 USD)
Setup: 2 Bedroom, 2 Bathroom, Pool
Build Size: 135 square meters
Build Cost: 930 million IDR
Land Size: 2.6 Are (260 square meters)
Land Cost: 335 million IDR
Normalized Build Cost (IDR per M2): 7.5 million per are
Normalized Land Cost (IDR per M2): 5.5 million IDR per Are
Other Costs
Notes: Completed in 2021
Claudio hit the jackpot with his villa above. A classic white, 2 bedroom 2 bedroom villa with a pool connecting to a kitchen and cute little trimmed garden splitting the two master bedrooms.
Securing the land and the contract to build during the pandemic, he was able to take advantage of land pricing just next to Canggu that will likely never exist again for most newcomers (5.5jt per are per year). However, his build costs will be on par for most people that want an "average Bali villa" that sports as close to western quality construction as exists on Bali, accented by the simple yet chic white "Bali villa" design.
Compared to your build, demand construction prices close to this. However, for land this cheap you won't find any in/around Canggu or in the Bukit and you will likely need to head to Gianyar, East Bali, Tabanan, or Amed and Lovina.
To rebuild today, the price of land would be double to triple, incurring 300jt to 500jt in additional land fees
Villa Magdi
Cost: 1,295 million IDR (~$84,700 USD)
Setup: 2 Bedroom, 3 Bathroom, Pool
Build Size: 130 square meters
Build Cost: 1,025 million IDR
Land Size: 2.4 are (240 square meters)
Land Cost: 270 million IDR for a 25 year lease
Normalized Build Cost (IDR per M2): 7.1 million IDR per M2 (~$475 USD per M2) (~$45 per square foot of construction)
Normalized Land Cost: 4.5 million IDR Are
Other Costs
Permitting (PBG): 50jt
Boundary Wall: 50jt
Notes: Completed in 2023
Magdi is another newcomer that was lucky enough to settle in Bali after the pandemic, but just before the tourist hoards.
Magdi built a beautiful 2 floor, open format house with sliding glass living room and bedroom doors facing an uinterrupted view of the ricefields and his pool just in front of it.
This cost of construction is a great target to shoot for, assuming western standard construction – in walls, roofing, plastering, paint, floors, and plumbing standards.
In the area Magdi lives, land prices have increased ~50% to 7jt per are per year, showing once again that land (not materials, workers, and developers) is the scarcest commodity in Bali
Last we arrive at my favorite villa. Mine! My villa is not perfect by any means, but perfectly home, and perfectly designed to my preferences, my desires, and my tendency to prioritize things that last over things that are pretty.
"Villa Balifornia," as my home is aptly named, is a purpose built industrial modern villa, plopped on a relatively large piece of unused former rice field selected specifically for the views and its proximity to surf breaks.
The house itself is minimalist and "brutalist" in design aiming to avoid as much finish as possible to avoid the heavy damage that Bali heat, humidity, and moisture quickly create for villas that have too many fine touches.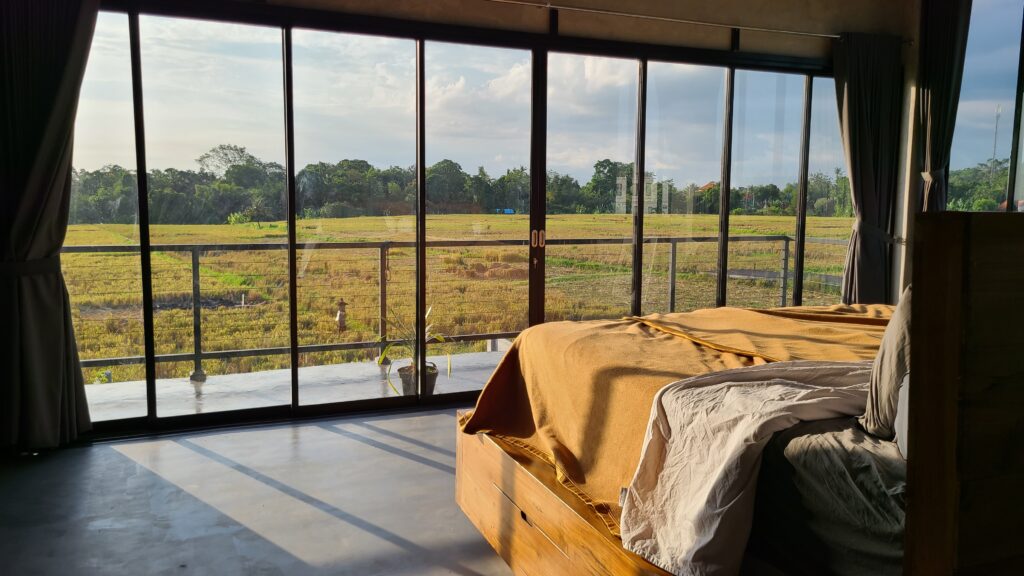 Villa Balifornia
Setup: 2 Bedroom, 3 Bathroom 180m2 villa build on 530 square meters of land
Total Cost: 2,146 million IDR
Build cost: 1,259 million IDR
Land cost: 600 million IDR
Additional Costs: 287 million IDR (Including: Permitting, boundary wall, well, septic, and power installation, and lot prep)
Normalized Build Cost (IDR per M2): 6.7jt IDR per M2
Normalized Land Cost (IDR per Are/100M2): 4.5jt per 100m2 of land per year
Notes:
Completed in 2023
Land costs for permitted land in this area have doubled in price to 10 million IDR/are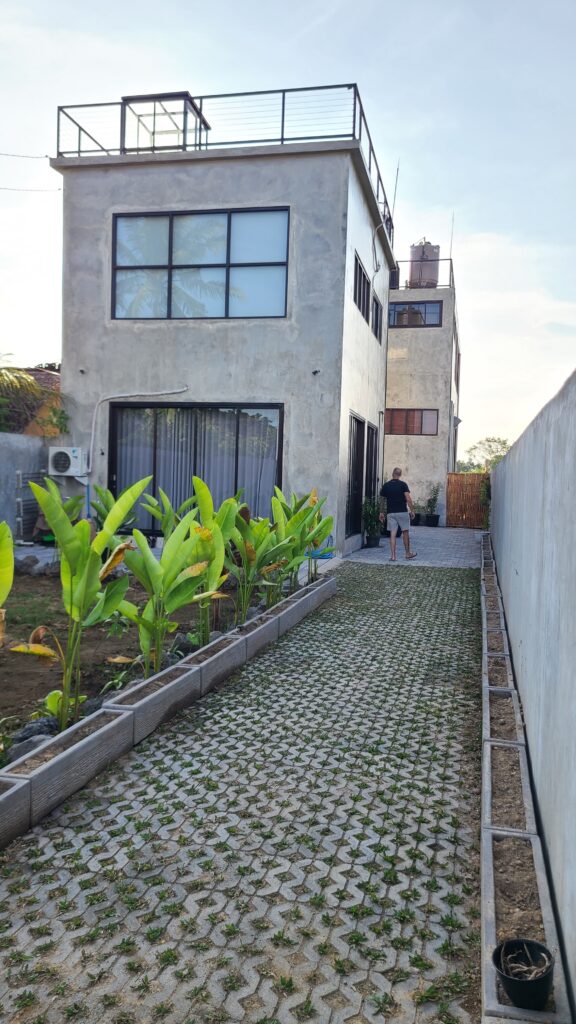 Though the other two villas, Claudio's and Magdi's, do a great job of capturing the essence of "Bule Bali," I took the opportunity with Balifornia to experiment with a different idea.
After living in 4 different villas and having the ceiling fall in 3 villas due to rain damage, mold grow as a problem in 3 villas, moisture issues in 3 in villas, and watching all of the pretty bits decay in 6 months in all 4, I aimed to design and build a house that would be spacious, comfy, and standup to the hot sun of the dry season, the wet of the Bali rainy season, and the cobras that occasionally slither in from the ricefield as a risk to villas with open living (really).
As a result, I went with a simple loft concept meets industrial modern build, with amazingly beefy columns for earthquake resistance, 3.2 meters ceilings and tall wrap around windows for extra sunlight, and built the structure a meter off the ground to fair well in the floods of wet season. Balifornia is a bunker designed for surfing in between apocalypses.
Though the building appears unfinished, it is, completely sealed and waterproof, simply with all plumbing and electrical components for easy and quick access yet organized for a clean look.
Build costs between the two buildings of my villa (completed separately) hover at $41 per square foot for the commercial grade build ($6.7jt. per M2 / 437 per M2) and was completed by a team of guys that generally built shopping malls, but wanted to stay and work on Bali. The same type of construction in the US would run between 4 and 8 times the price.
Be warned that though this project was predicted by the contractor as taking between 4 and 6 months. I finally had to kick out my contractor and fix things on my own at month 12. Though my case was extreme, construction in Bali takes 50% to 100% the quoted time because…well…Bali.
Though I did receive a 25% price hike on my quotation for materials for the guest house in my villa while the main house was underway (no contract has been signed), materials and worker costs have not increased much since my house was done in February 2023. However, the greed in place on the island at the moment has caused developers' margins to swell…by mysteriously charging more. So, if you are paying more than 6jt to 7.5jt per m2 for your build, be very particular about what you're paying for, and be sure you're not paying for another middle man.
As for land in Bali, my land (judging by the prices of the neighbors) has at least doubled in value. However, there is a catch.
In my beautiful and quite little surf break of a town, land is hot right now. Many of the neighbors are attempting to sell their land with green zoning, meaning it can't be legally built on at the moment – unlike my land which is yellow zoned and properly permitted. Despite that restriction, the current price is being set at 9jt are, twice what I purchased my land for, during the pandemic, 2.5 years ago. From my conversations with owners and ambitious real estate agents in my village, when the land zoning is changed to "yellow zoning" legally allowing residential construction, the asking sales prices will jump to 12jt per are per year or ~3 times what I paid during the pandemic.
Though I hate what is happening in Bali, the current asking sales price for land comparable to mine adds at 600jt to my home's rebuild cost (due to the underlying land) bringing the rebuild cost to 2.65 billion IDR in the current market. The planned asking, for land zoned yellow and permissible for residential builds (like mine) adds 1 billion IDR to my home's rebuild cost, taking it from the actual cost of 2.14 billion IDR to 2.75 billion IDR.
That. Is. Crazy. Bali is losing it's mind.
Unfortunately, any newcomers to Bali will need to hunt hard for the next best place, or live in the countryside to dodge these outrageous landprices.
However, I'm lucky for the price and cost stability behind the high concrete walls of Balifornia now.


THE PROCESS OF BUYING LAND IN BALI
BALI VILLA DESIGN AND PLANNING PROCESS: ARCHITECTURAL, STRUCTURAL, INTERIOR DESIGN, AND MORE
Also Consider Reading: 4 Easy Steps to Buying a Villa in Bali


Other Great Articles in the Moving to Bali Series
Other Great Nomad, Travel, and Expat Lifestyle Articles